There is almost nothing that says springtime more than fresh strawberries. When I noticed that a local grocery store had strawberries from Florida, I had to have some.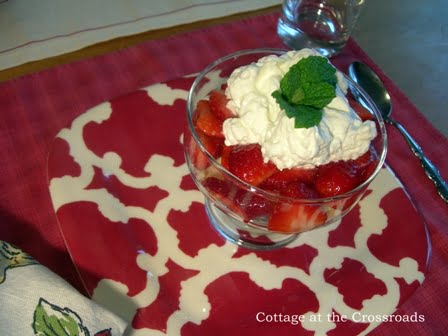 I decided to create a tablescape featuring a classic strawberry shortcake as the dessert.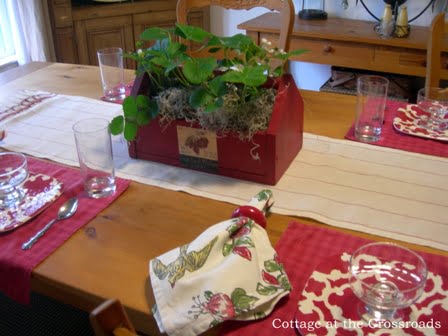 My centerpiece is a little red tool box that I recently painted. You can read about that here. The tool box is sitting on my new table runner made by Ann from Sutton Place Designs.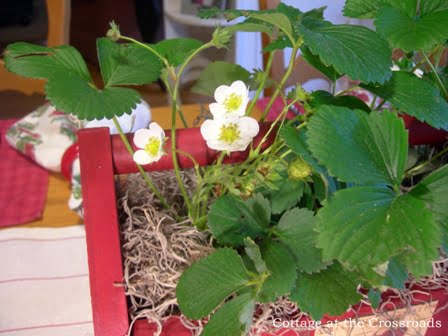 The tool box is holding some real strawberry plants. Can you see the little baby strawberries?
I used some red napkins as placemats, but I'm looking for more of these vintage strawberry placemats.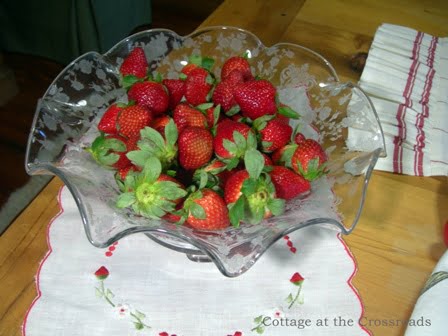 I was only able to find one of them at a local consignment store, but I'm on the hunt for more.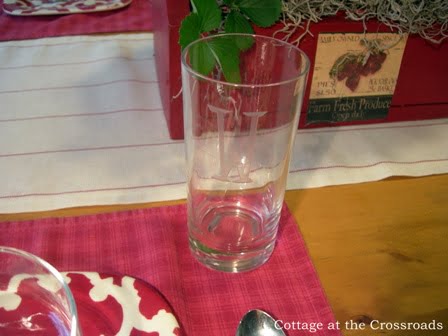 Since I was setting the table for just dessert, I used some ice tea glasses that I have.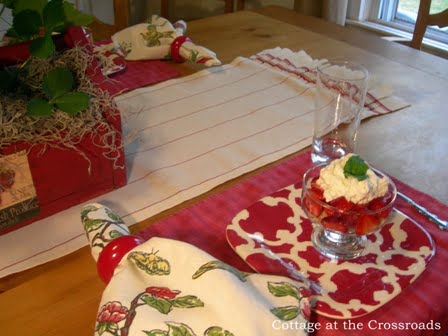 The napkins and the dessert plates were found at Target. The same consignment store where I found the strawberry placemat had the red napkin rings.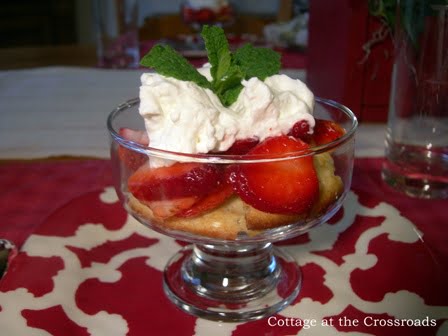 It is so easy to make strawberry shortcake. A shortcake is just a sweet biscuit, but you don't even have to roll or cut them out. It only takes a little bit of time to make your own, and they are so much better than those spongecake things that they sell beside the strawberries in the grocery store.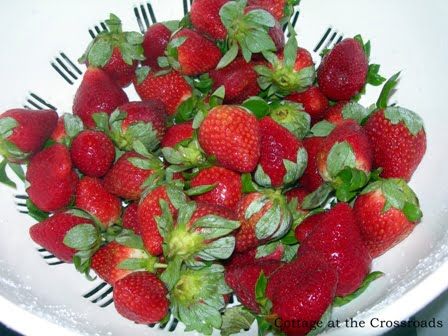 How to make strawberry shortcake
Rinse your strawberries.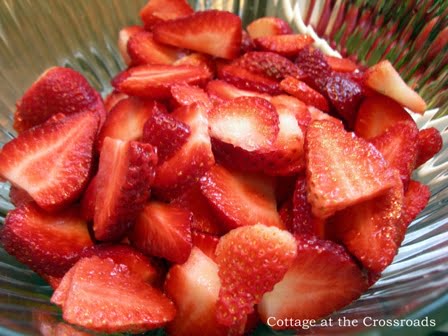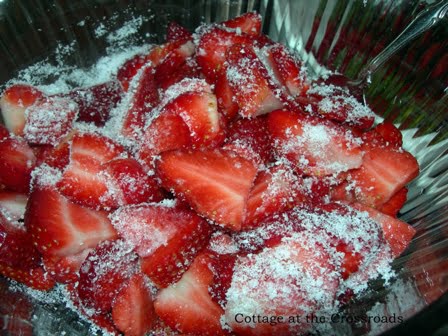 Instructions
First slice and sprinkle them with sugar. Since we are cutting back on sugar at our house, I used Splenda.
Next, preheat your oven to 425 degrees.
In a medium bowl, whisk together 1 ½ cups all purpose flour, 1 ½ teaspoon baking powder, and 4 tablespoons of sugar. I used real sugar here because I don't like to bake with Splenda.
Using a pastry blender or a fork, cut ⅓ cup of butter into the flour until it looks like coarse crumbs.
All at once, add ½ cup cold milk and lemon extract to the flour mixture and stir until it is combined.
Using a large spoon, drop the mixture into 4 equal piles on an ungreased baking sheet.
Bake 12-15 minutes at 425 degrees.
While the shortcake is baking, whip some heavy cream and add 2 tablespoons of powdered sugar once whipped.
When the shortcake is done, split the biscuits, place a layer in the bottom of a dessert dish. Spoon some sliced berries over the biscuit, add the other part of the biscuit, and add whipped cream on top.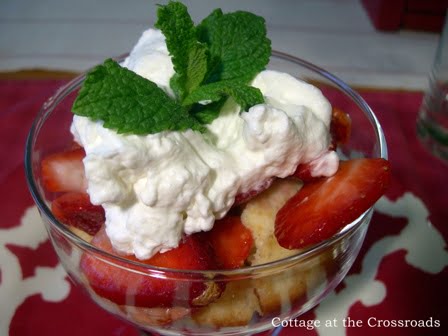 Garnish with fresh mint.
It was so good, and those strawberries that were in the tool box, they are now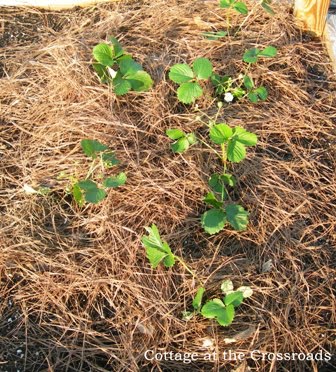 in the garden!
Hopefully, I'll have more strawberries to make more strawberry shortcake soon!