Hi friends! Have you ever wondered why pineapples are called pineapples when they don't grow on pine trees or look anything like apples? Today I'm giving all the answers as I share my pine cone pineapple wreath.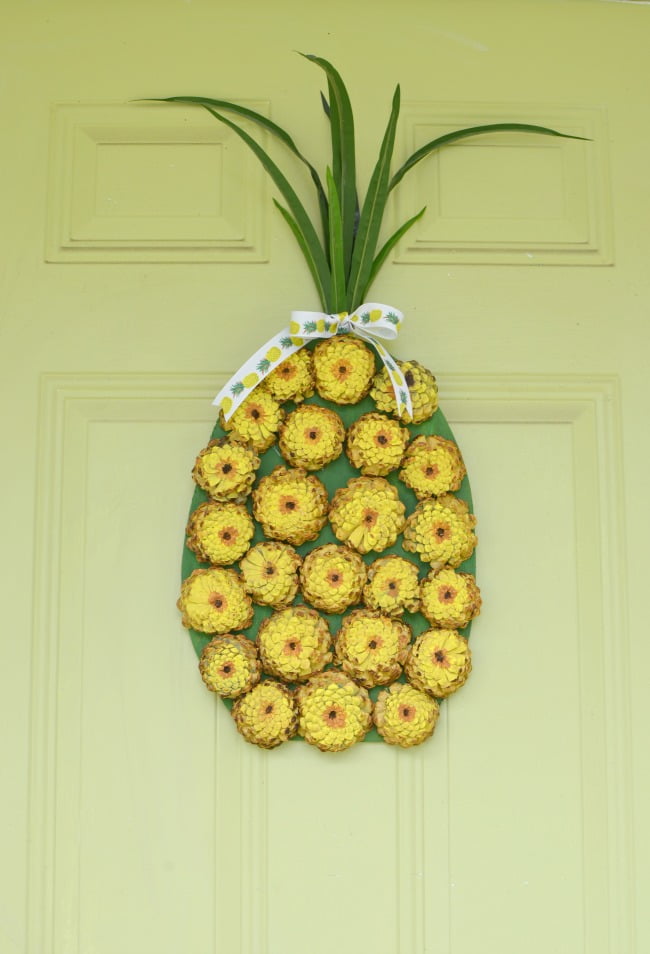 Pineapples were Named after Pine Cones
The explorer Christopher Columbus didn't just find the New World! He discovered a delicious new fruit growing in Guadeloupe in 1493. He took the fruit back to Spain where it was nicknamed "pina" since it looked much like a pine cone. Since the fruit had an interior pulp like an apple, the word apple was combined with the word pine to make pineapple.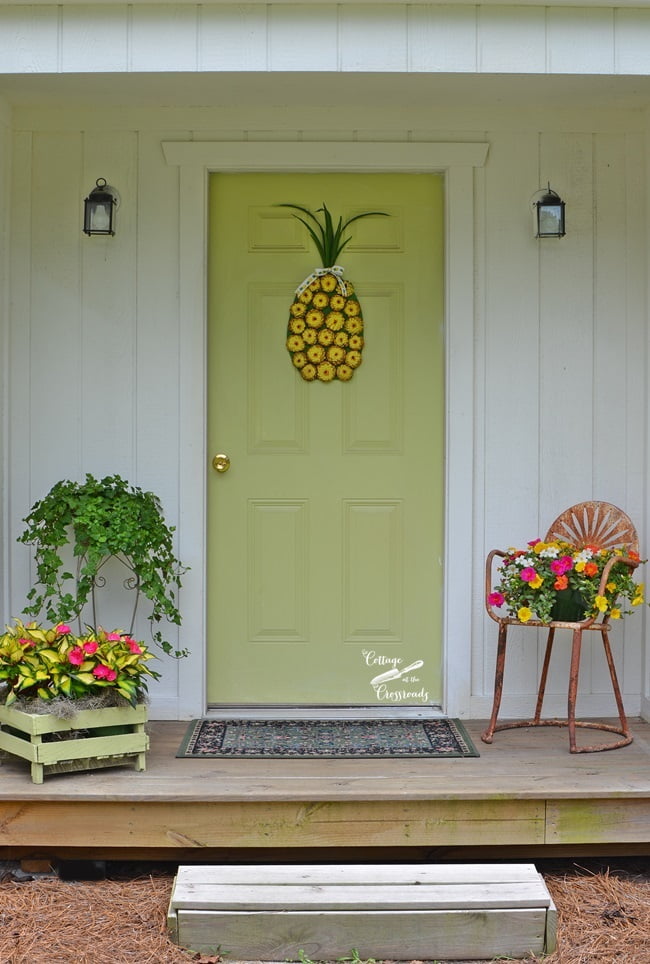 I made this wreath to hang on the door of our storage building. It's one of the first things a visitor sees when they enter our yard so I am loving this universal symbol of hospitality and welcome. And since I used mostly free things (pine cones) and other items I already had on hand, this was a very thrifty project!
How Pineapples Became the Symbol of Hospitality
It seems like pineapple items are wildly popular right now but it's really not a trend at all. Pineapples, especially in the South, have been used as a welcome symbol for several centuries. Sea captains who were importing the pineapples into the colonies would impale a fresh one on their gateposts or front door when they returned home to indicate to friends and relatives that they were welcome to visit. In addition, only wealthy people could afford to offer guests fresh pineapples so the fruit became a symbol of generosity, hospitality, and wealth.
But you don't need to spend a fortune today to bring this welcome symbol into your home. You can easily create my thrifty pine cone pineapple wreath!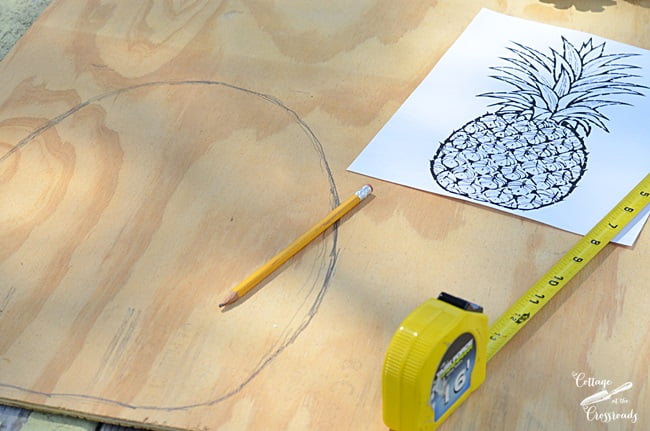 First, you need a base for your wreath. I used a scrap piece of ¼ inch plywood, but you can purchase small pieces of plywood at Lowes or Home Depot. I sketched a pineapple shape on the wood and Leo cut it out with his saw. If you don't have access to a saw, you could also use thick foam board to make your base. (I made my base 15 inches tall and 11 inches wide.)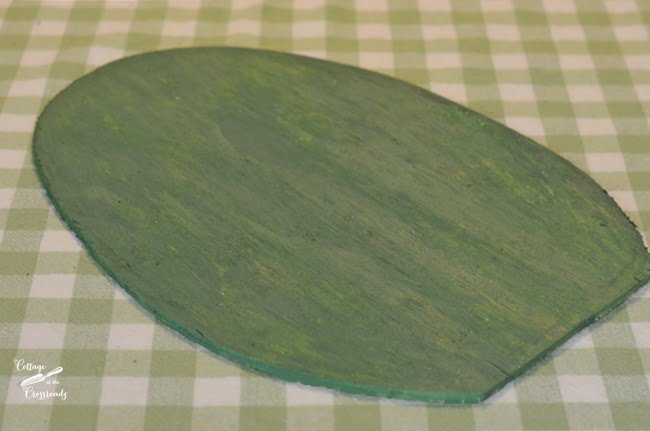 The wooden base got a quick coat of green paint. I used several different shades of green acrylic craft paint.
I did purchase this artificial tropical flower because its foliage looked like that of a pineapple. I found this at Ole Time Pottery and it was on sale for about $2.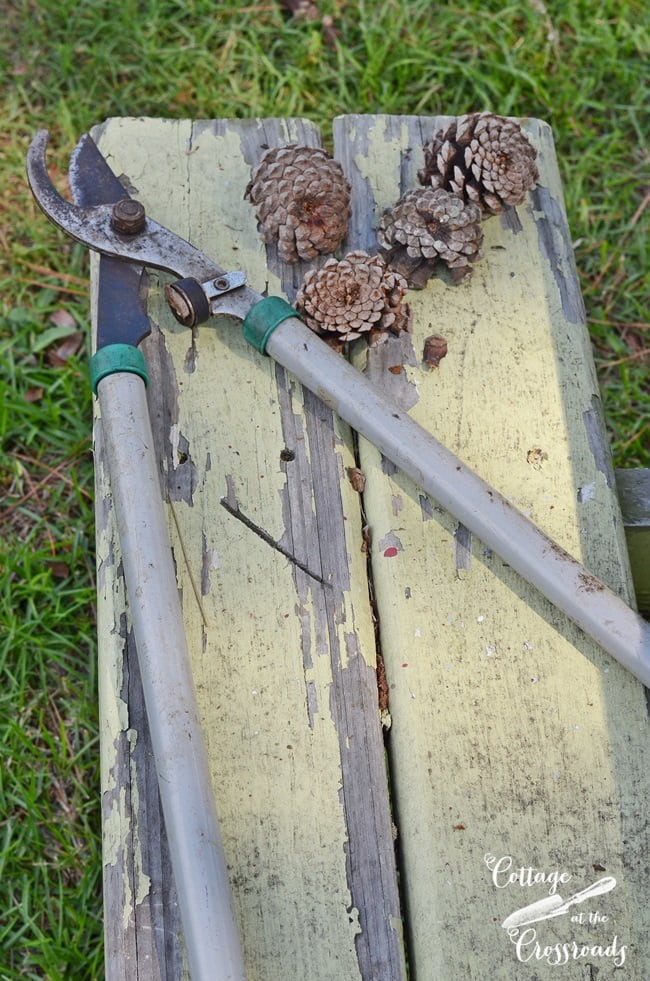 We have a very large pine tree that gives us plenty of pine cones. We have to pick them up daily and I have used them in several craft projects. You can find the directions on how to cut the pine cones in this post: How to Make Pine Cone Zinnias but we've since discovered that you can also use loppers to cut the pine cones.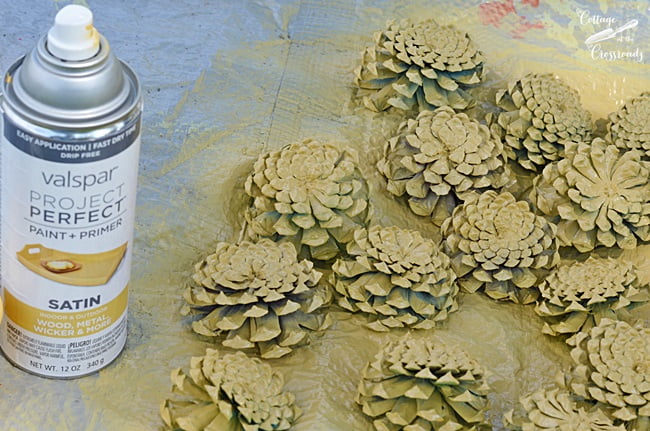 I spray painted the cut pine cones with this Valspar paint in a gold color called Afternoon Stroll.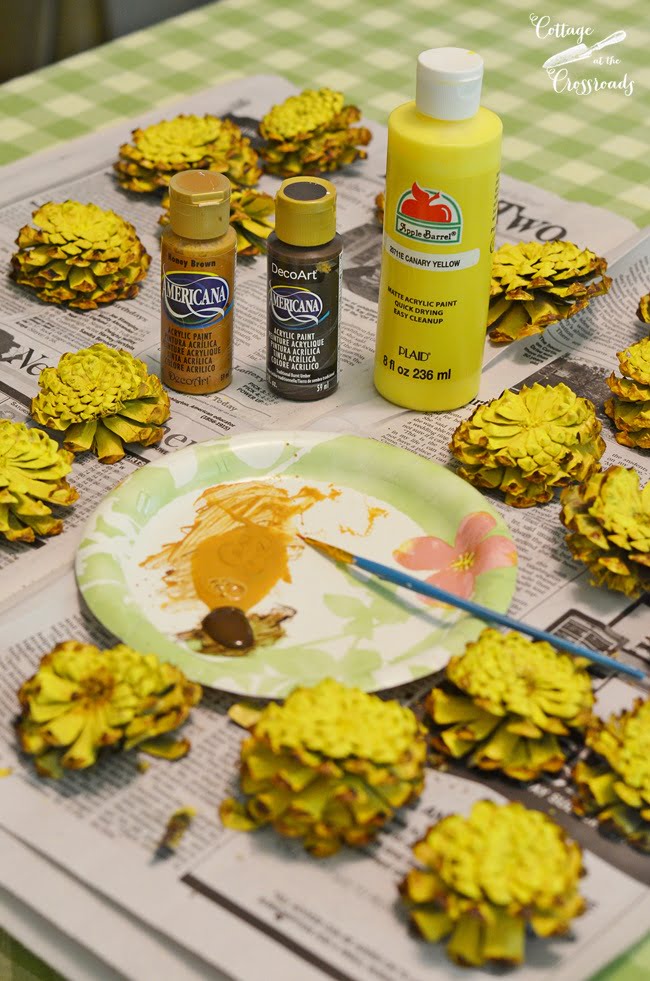 Next, I added a more sunshine yellow color on the top scales, a tan color to the end of the lower scales, and dark brown in the center.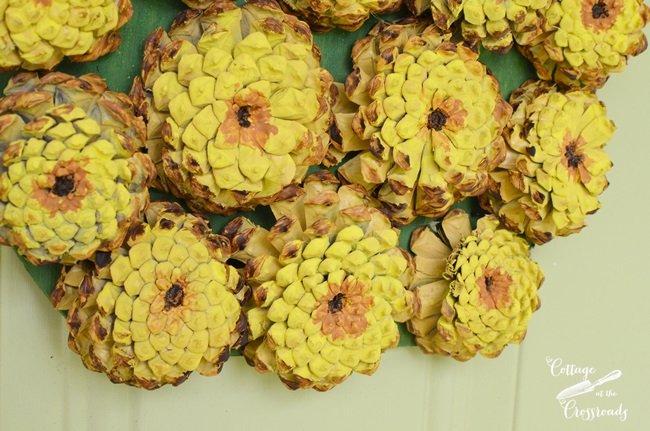 Here's a close up so you can see that better. (I'm thinking this would make a great summer craft project for children and teens!)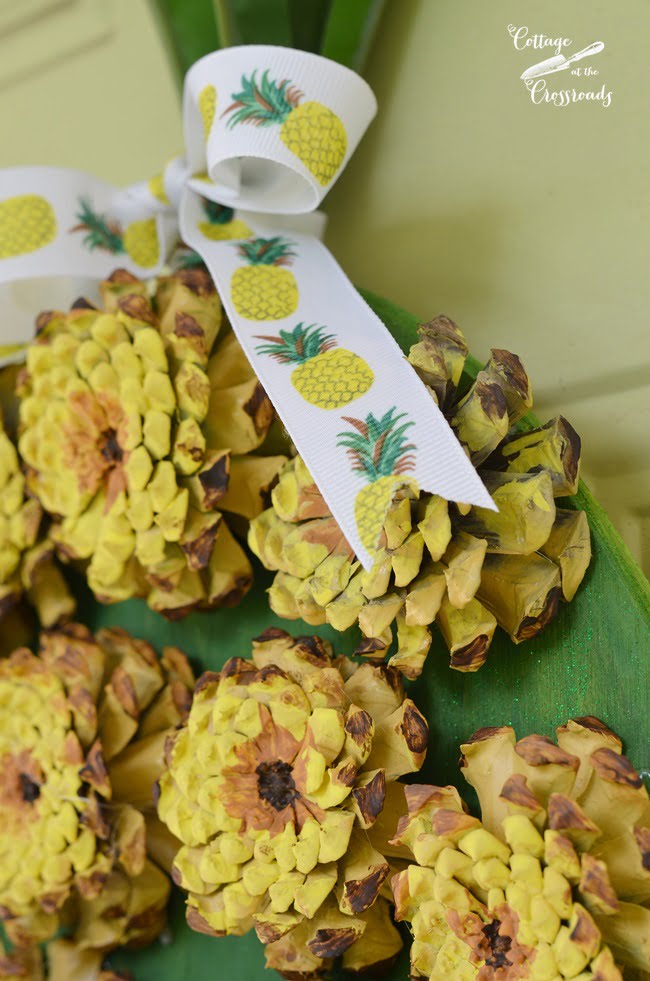 After hot gluing the pine cones onto the front of the wooden base and the foliage onto the back, the only thing left to do was to tie a ribbon onto the wreath. I found the pineapple ribbon on sale at JoAnns.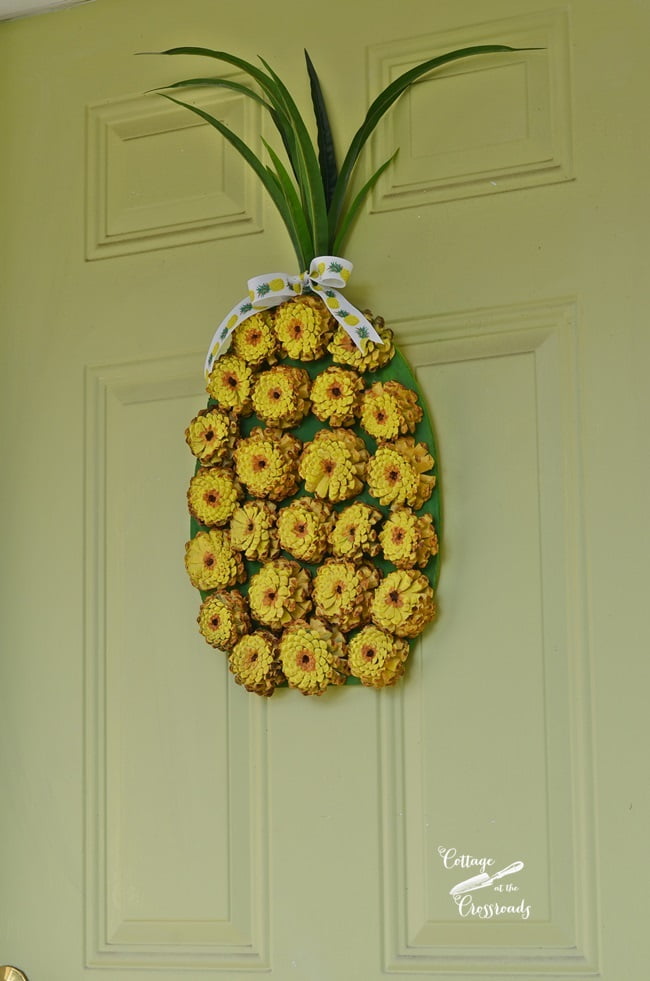 Ta-da! I just love how the pine cone pineapple wreath looks on the door of our storage building!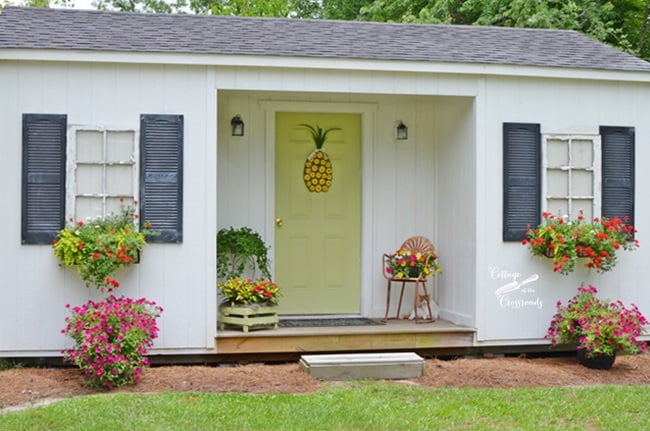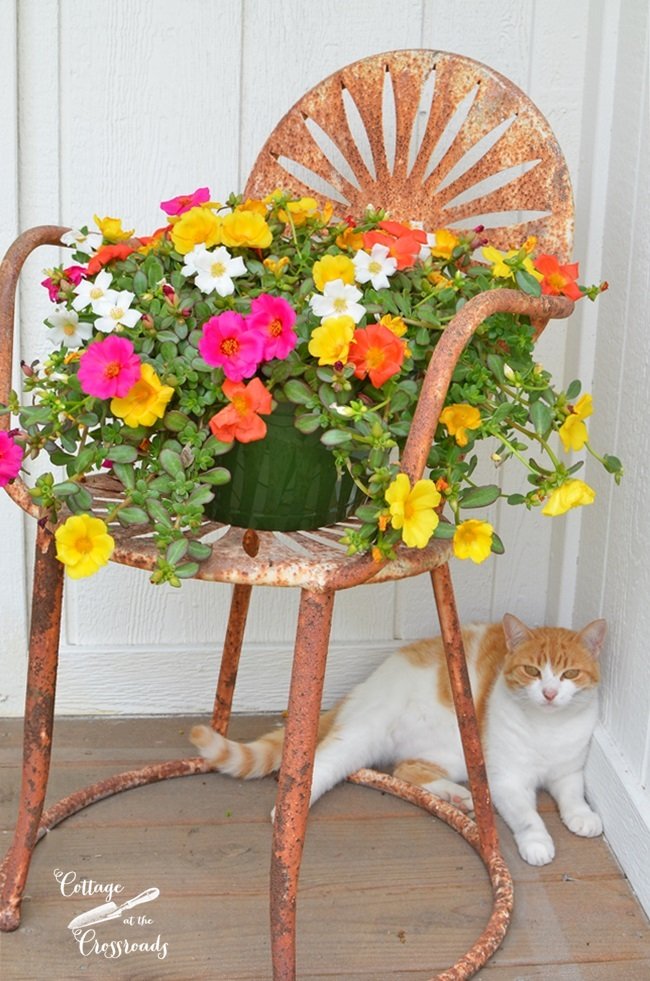 The pine cone pineapple wreath and the flowers give such a warm welcome vibe to our storage building and our home. NOTE: If you make your own pineapple wreath, you will need to hang it in a covered area where it will not get wet. Juicy, our outdoor cat, feels welcome and has found a spot for a snooze underneath the portulaca in the chair.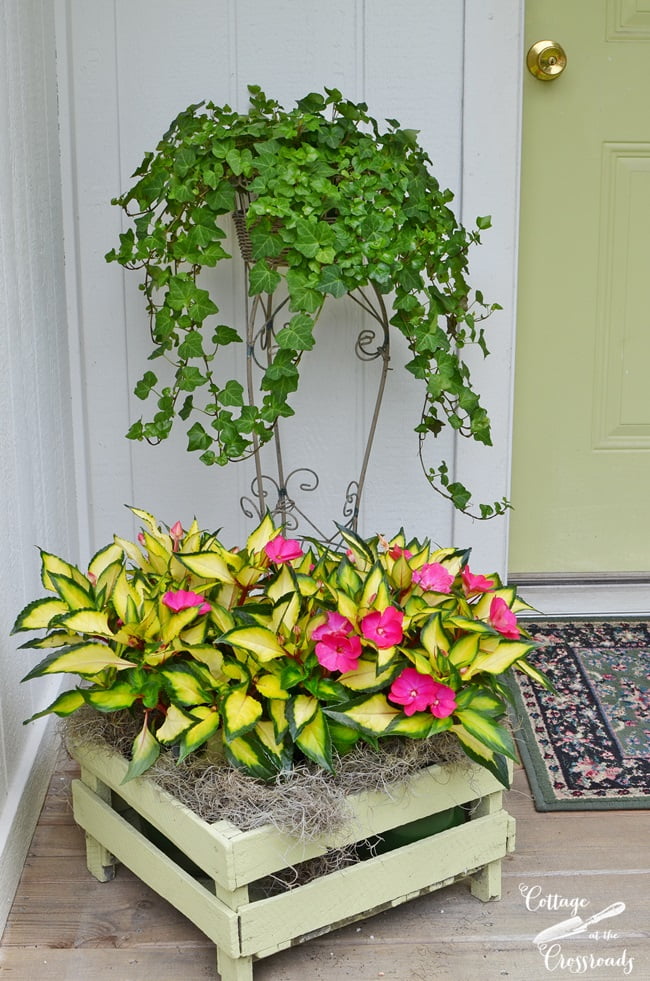 These SunPatiens in tropical colors coordinate with the pine cone pineapple wreath, don't ya think?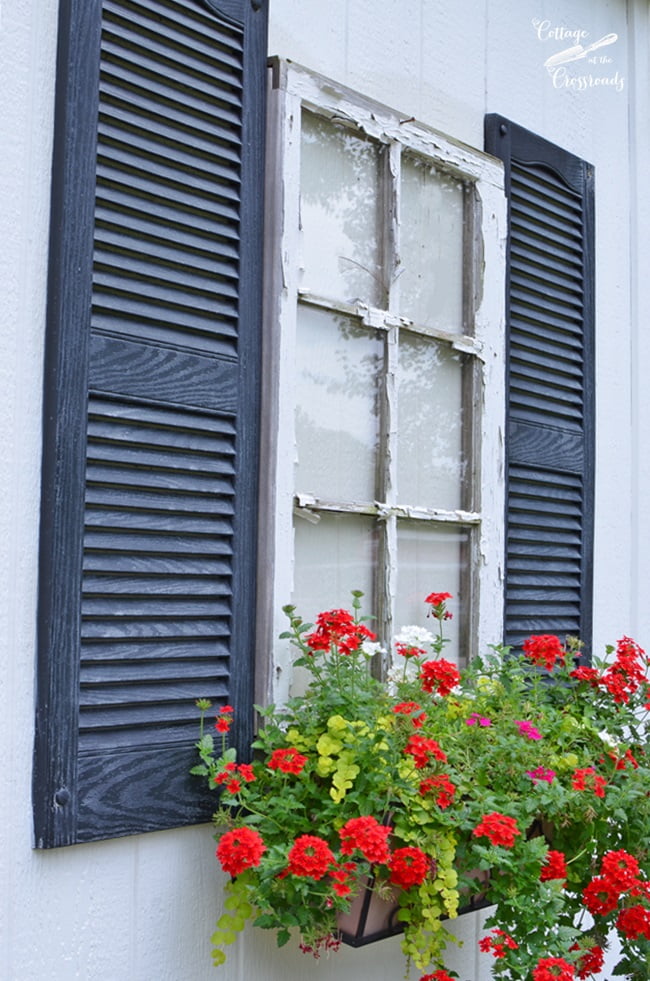 I just had to show you one of the window boxes on the storage building. If you have followed us for a long time, you may remember a post that we did when we first got the building and put up these fake windows!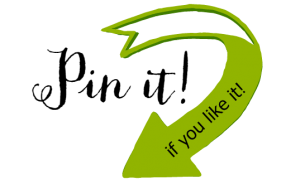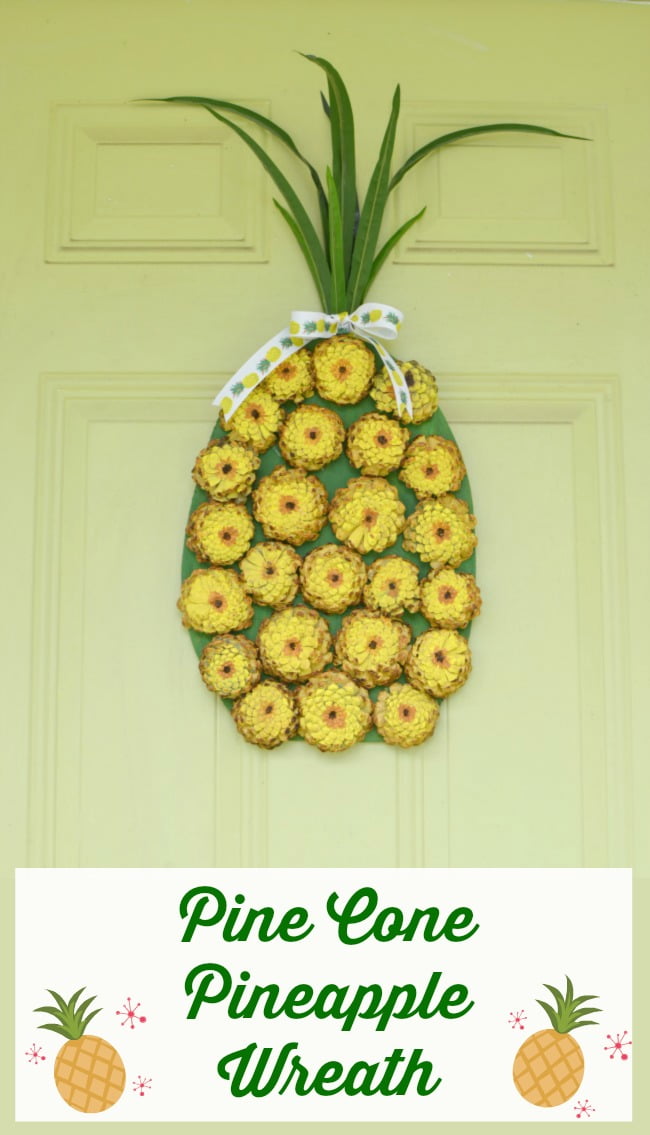 I spent less than $5 on my supplies to make this pine cone pineapple wreath so I'm joining some other thrifty friends today.