I'm back with a tutorial on how to make your own pine cone zinnias! They are super simple to make with one exception. Pine cones are hard to cut! So as I was saying in my last post, I knew that I was going to try to make some of these pine cone flowers after I saw some last year. But I didn't get around to making them until this past June. One of our granddaughters was visiting us and I thought this would be a good project for us to work on together. Little did I know that they would be so hard to cut but once we figured out how to do it, they were a breeze to make.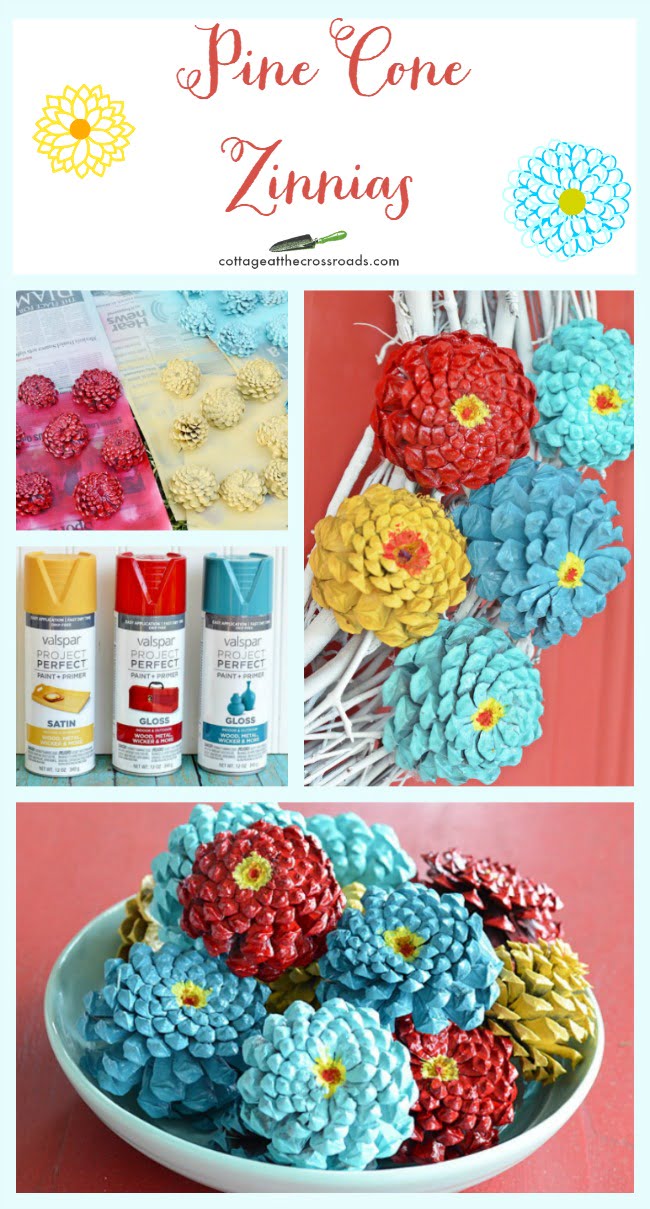 How to make your own pine cone zinnias
Step 1
To make the flowers, you have to cut off about ⅔ of the pine cone, and you will only be using the BOTTOM of the cone to make the zinnias. First I tried a really sharp knife to make the cuts. Then I got out a hack saw. I wasn't getting anywhere and was just smushing the cones that I was trying to cut. I realized that I needed something to hold and secure the cone while cutting it. So I asked Leo for a little assistance.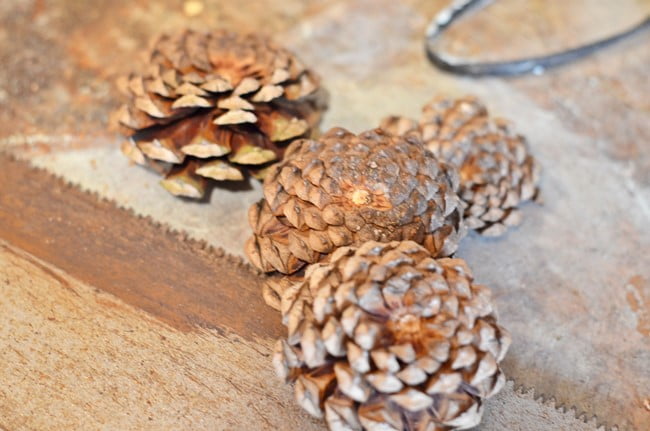 Step 2
Leo has a vise on a stand in his workshop so we clamped a cone into it. And he thought his handheld high-speed grinder would make the cut.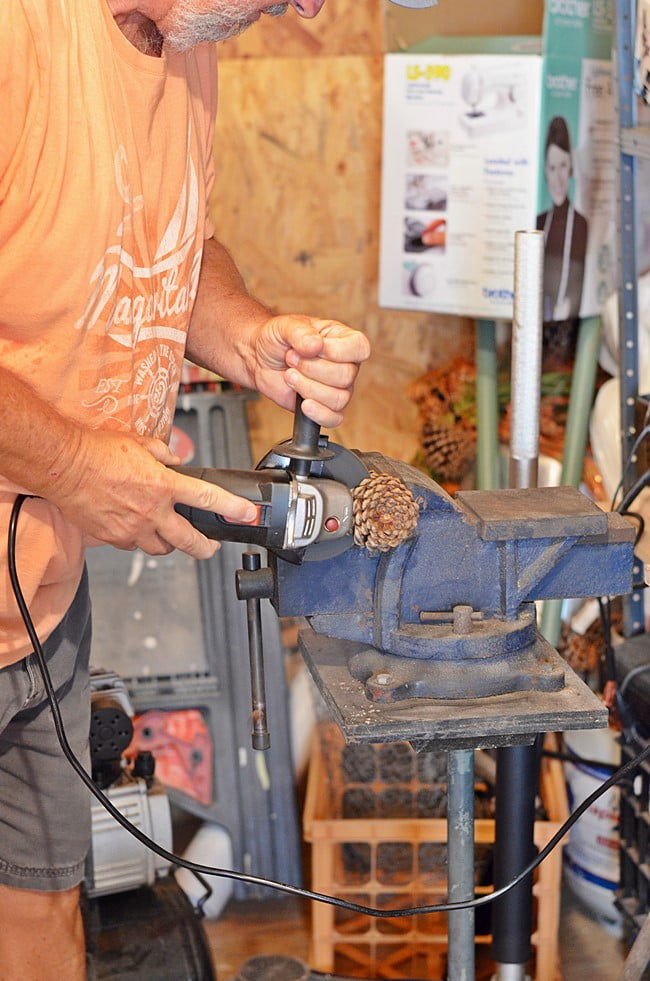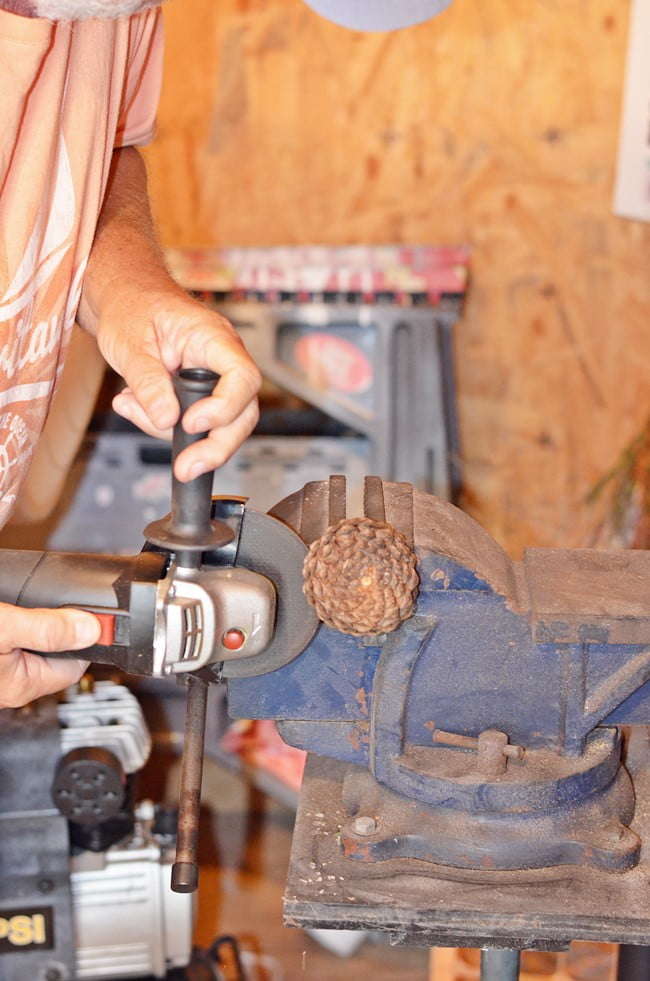 In this photo, you can see the wheel of the grinder just a bit better but it really did the trick! Of course, if you try this yourself, follow all safety precautions and wear eye protection. We did have to stop from time to time because the air was getting a little smokey since we were cutting wood. So make sure you have good ventilation as well!
I was thinking that if a person did not have a grinder that a small, hand-held saw like this that I found on Amazon would work as well.
This is what a cut pine cone looks like, and it didn't take too long to cut a whole bunch of them!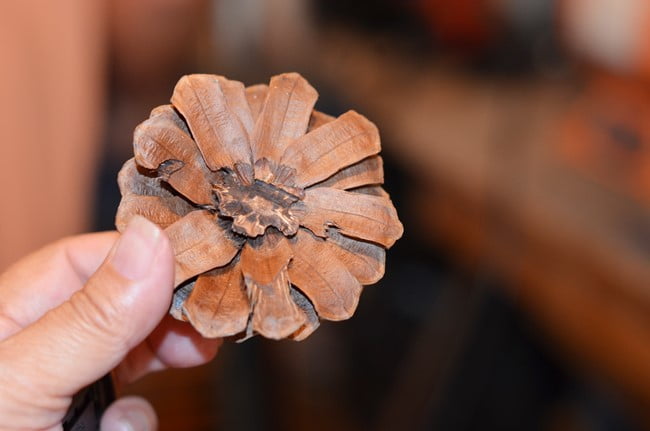 Step 3
The next day I spread the cut pine cones out on newspapers and spray painted them.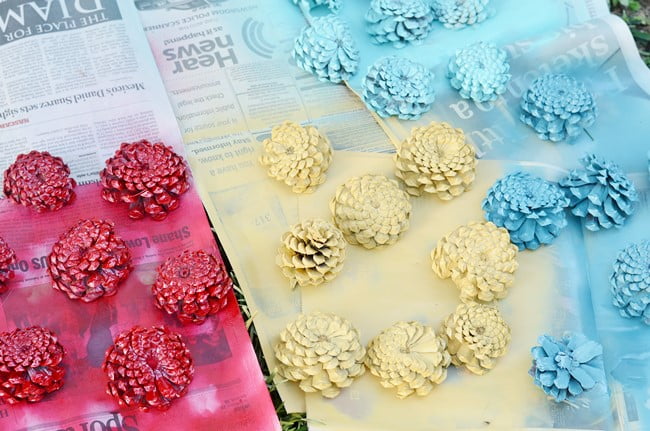 The colors I used were: Afternoon Stroll, Cut Ruby, Tropical Oasis, and the one not pictured was Nautical by Valspar also.
Step 4
All that was left to do once the paint dried was to create some centers of the zinnias by using a little craft paint. The pine cone zinnias look so pretty gathered in a bowl or on a wreath as I used them.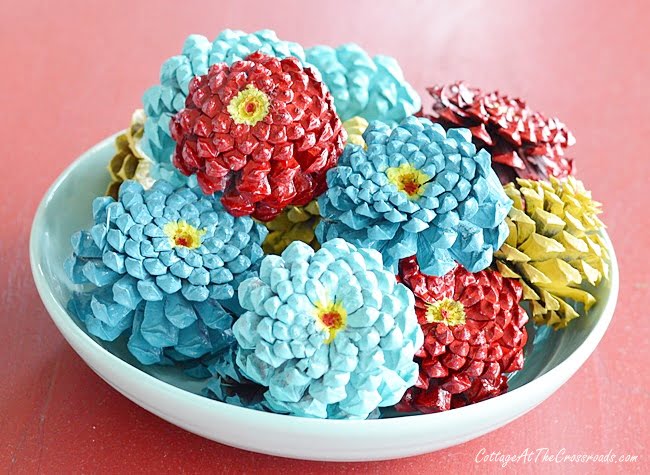 Oh, and by the way, Ruby, our granddaughter, learned some new words and names of tools while we did this project!