It seems like it's been forever since I showed you the new wooden fence panels  that we placed in the garden. We put them up in March with the intention of creating an outdoor dining area, I'm happy to say that we've finished with that project.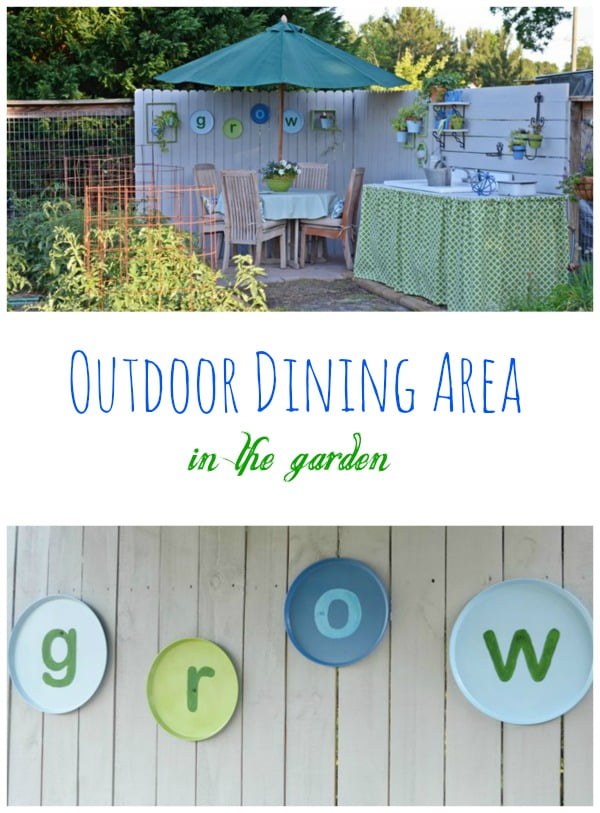 Before we could create this outdoor dining area, we had to move some large pavers that we had put in front of the potting bench last year over to the corner in front of the panels. Then Leo created a grass pathway from the entrance to the garden to the corner by tilling the path, sprigging some centipede grass, and edging it with landscaping timbers.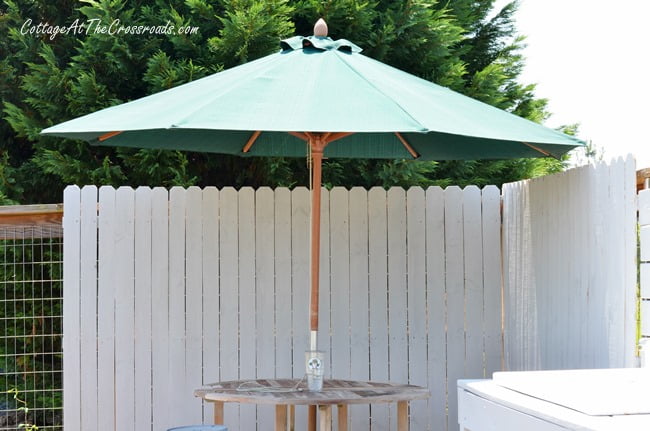 I stained the fence panels at the same time that we spruced up the potting bench and put an outdoor fabric skirt on it.  That's because the new wood of the fence panels didn't match the old wood of the bench, and I wanted all of it to look the same. After we moved our round teak table and chairs to the corner, I got busy spray painting some pots and old frames to decorate the panels.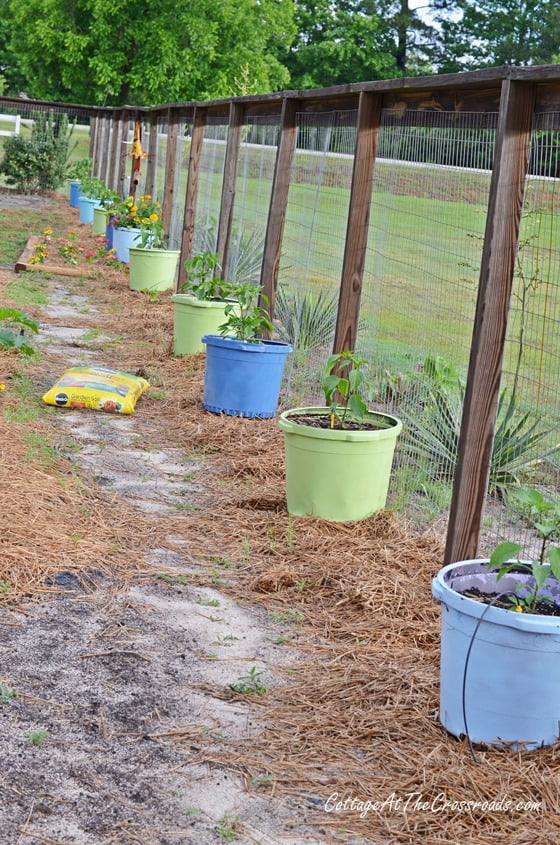 I decided to go with a blue and green color scheme because we had already painted these plastic pots earlier in the spring and I liked that mix of colors (and I already had the spray paint!)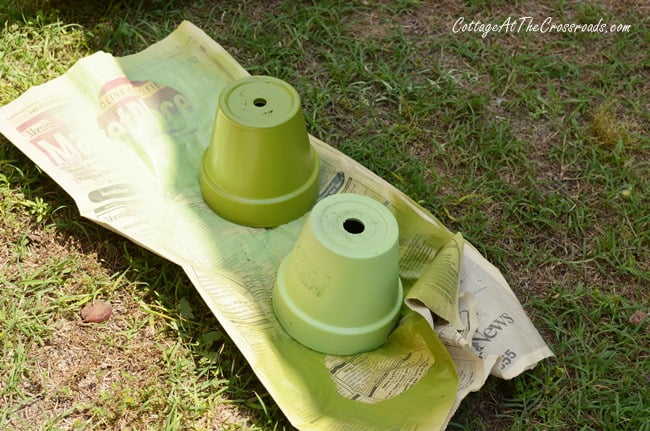 So I painted some terracotta pots and...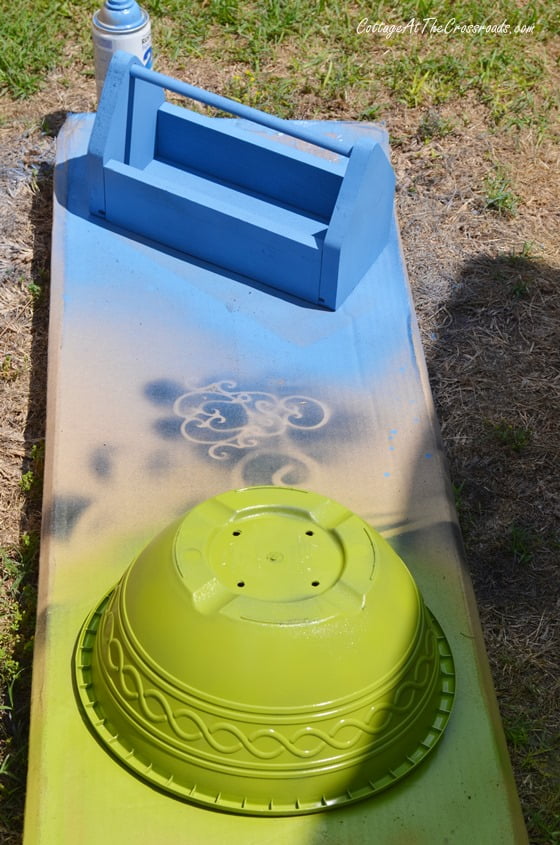 a little wooden tool box and this plastic container along with a few other things that I was planning to use to decorate this corner.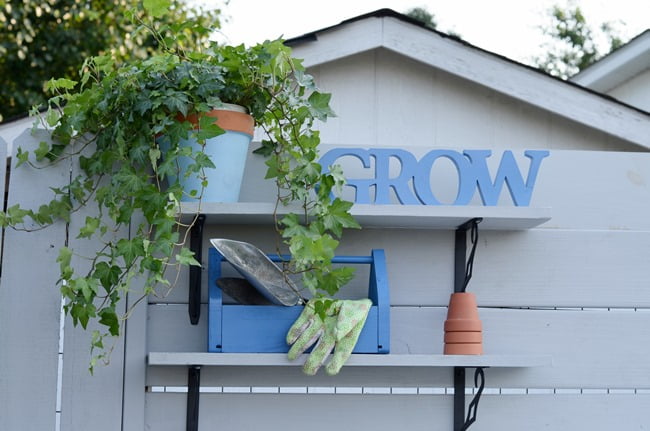 The tool box ended up on the shelves of the bench.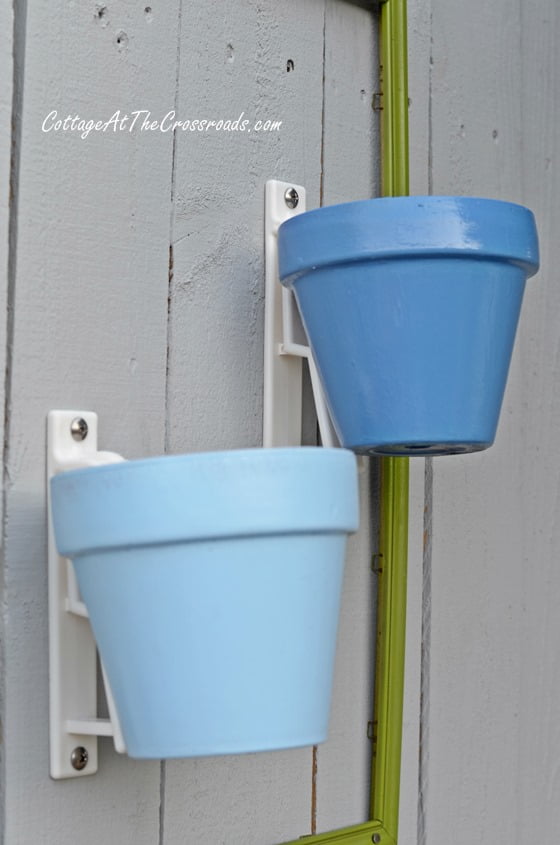 I used some of our terracotta pot holders to hang the pots inside some painted frames.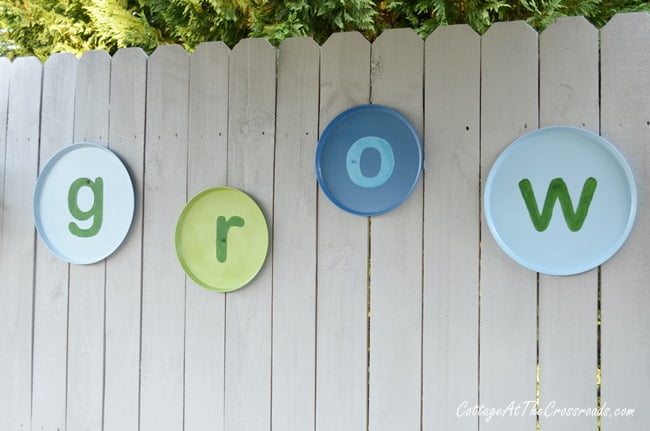 And can you guess what I used to make these G R O W letters?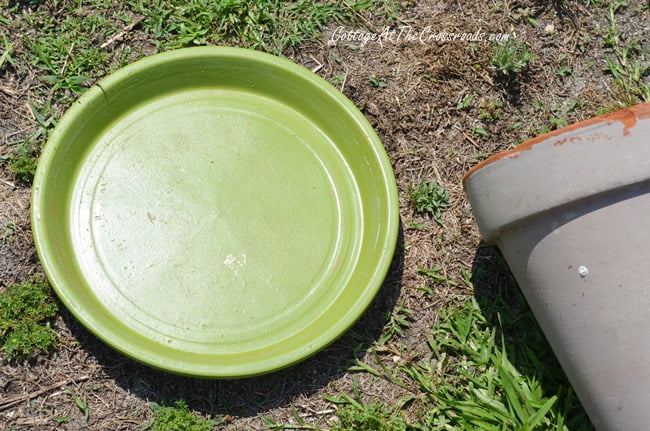 I had originally thought I'd paint the letters on some terracotta saucers, but I decided against that idea because they are so heavy.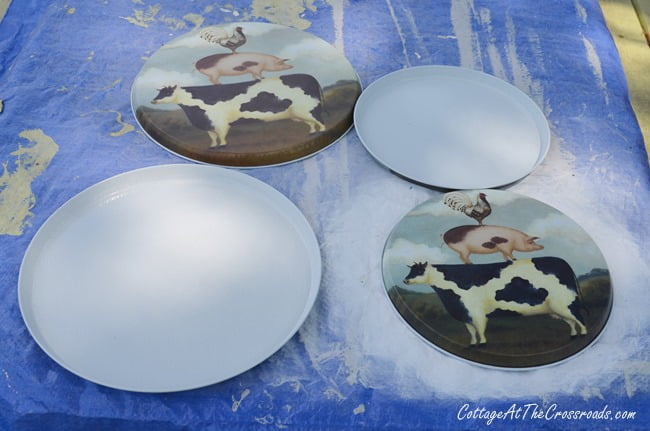 Did you guess burner covers? If so, you were right! I picked these up at the local dollar store and spray painted them as well.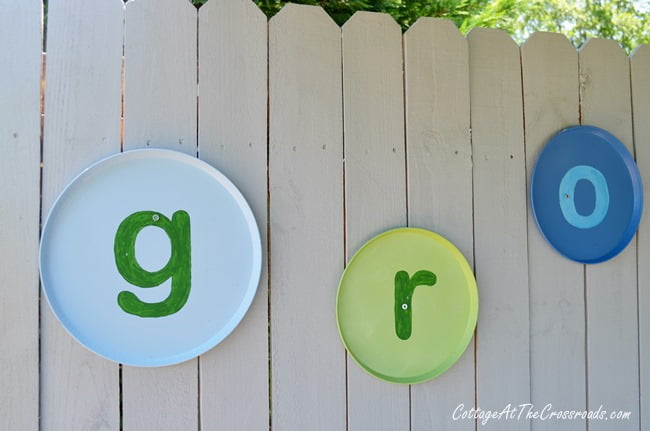 Then I traced around some letters and then hand painted them. Remember, I'm all about saving money and doing things on the cheap.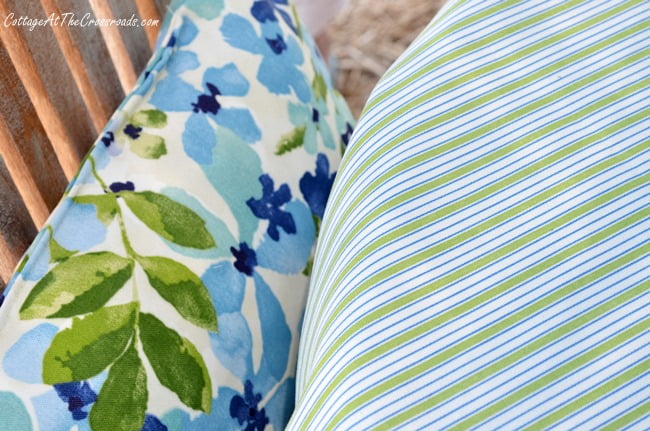 At the same time that I was having the skirt made for the potting bench, I had my friend Brenda make a tablecloth and some small lumbar pillows to coordinate with the skirt.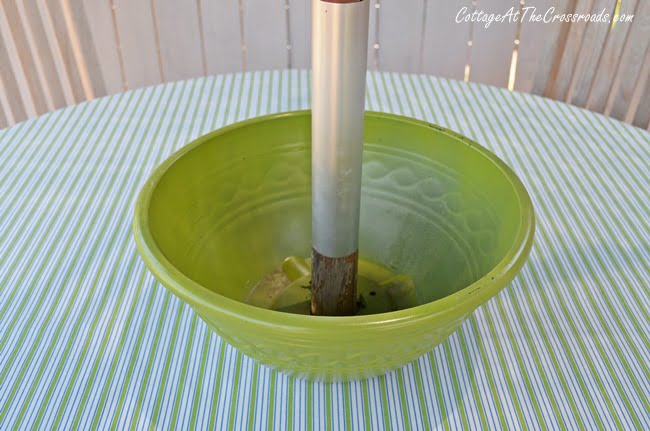 And remember the plastic container you saw in an previous photo? Well, here you can see what I did with it. After cutting a round hole in the bottom of it, the umbrella pole slid down through it, giving me a container for flowers. I did cut a hole in the tablecloth so the pole would pass through it as well.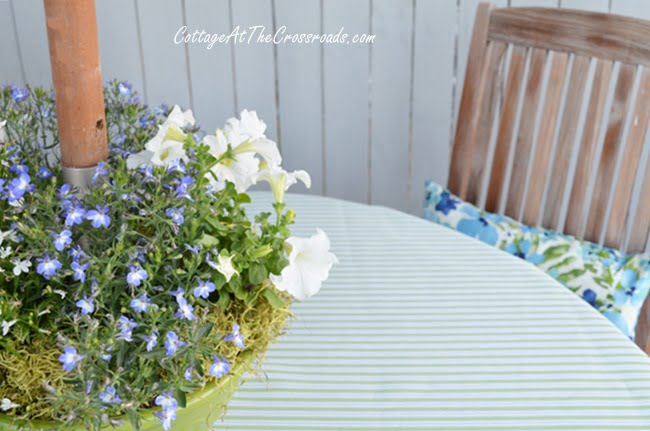 I covered the tablecloth with newspaper while I was putting the flowers in the container, and isn't it pretty? This is not an original idea of mine. I saw it on another blog earlier this spring. (If this is your idea, I'd be more than happy to link to it.) It's a great way to have flowers on an umbrella table!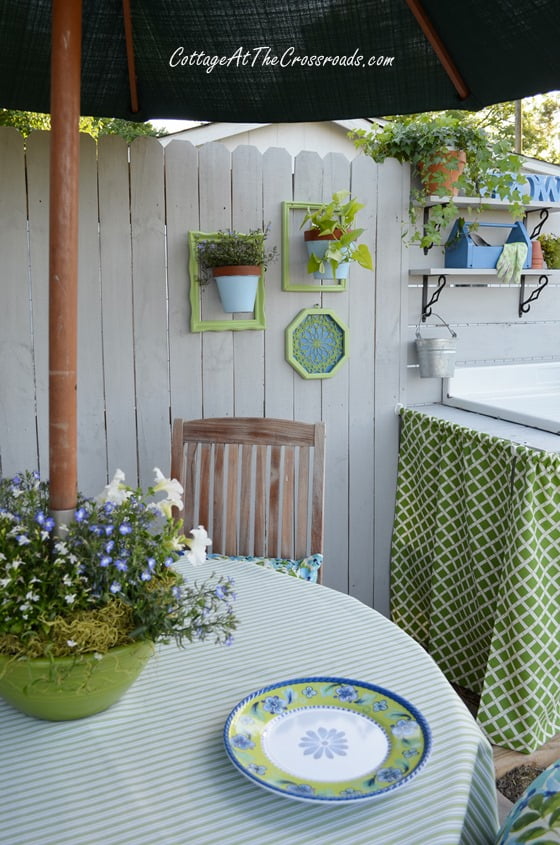 I even found some melamine plates at HomeGoods to coordinate with everything!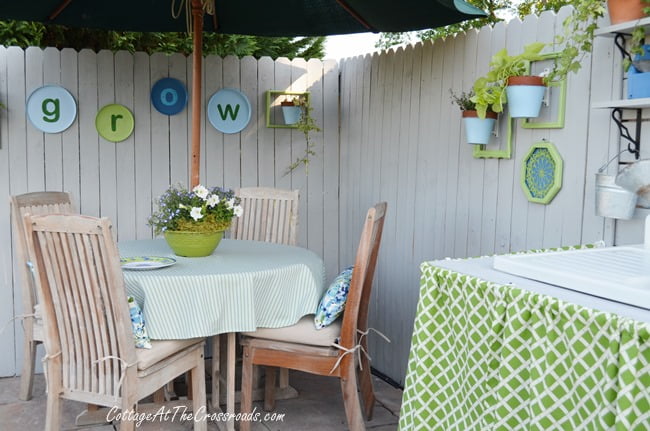 I am so happy with how everything turned out.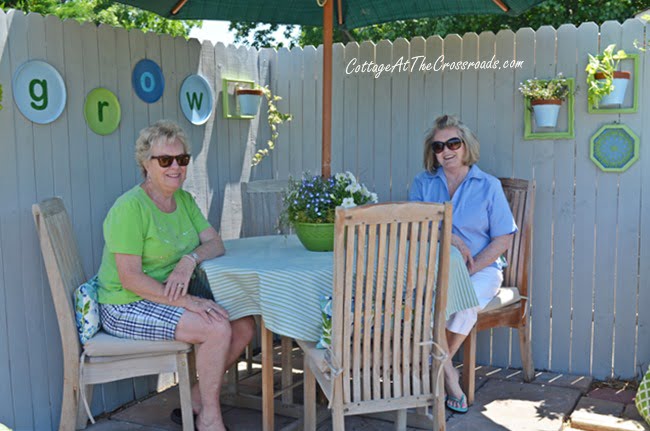 My sisters-in-law Jean and Jean came over to check it all out. And yes, they both share the same name and no, I didn't tell them to wear outfits that coordinated with the colors that I used!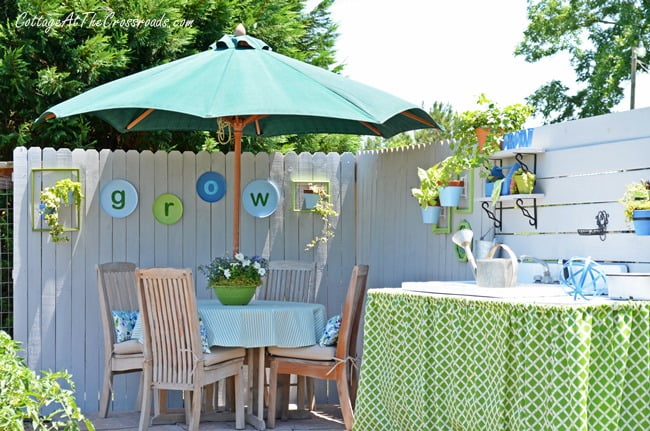 So excited to have this little corner in our garden so we can enjoy some meals  al fresco. The potting bench sink can hold some cold beverages and the top can be used as a serving table.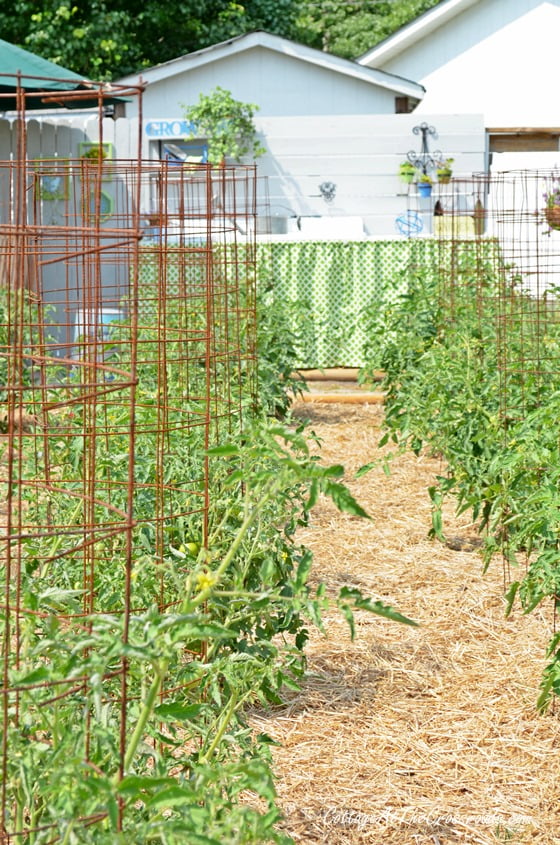 And we can look out on the garden and enjoy its bounty at the same time.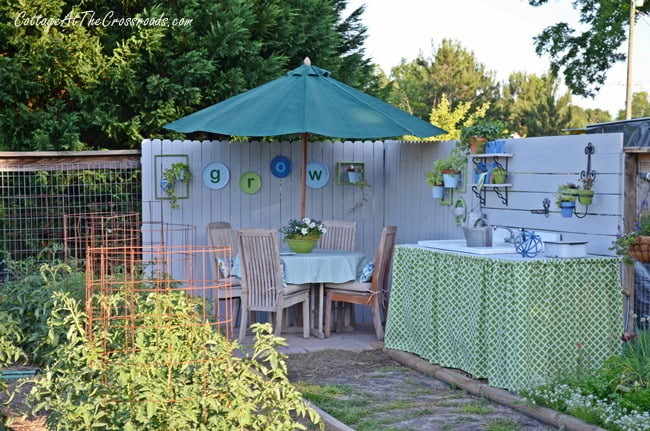 We're going out tomorrow to have breakfast in our little corner and listen to the birds welcome the new day!