In this post, you will find a tutorial on how to make your own pine cone Christmas trees. This is a fun craft you can make with kids during the holidays.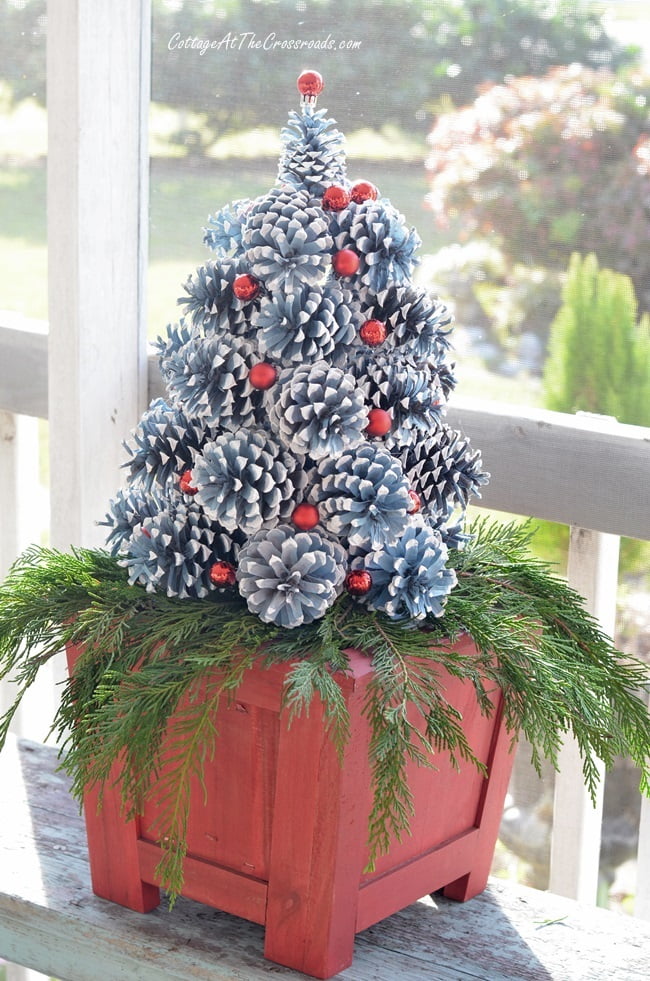 Hello everyone! Have you finished your Christmas decorating yet? If not, here is a project that I completed recently that turned out WAY better than I expected. If you have an abundance of pine cones or have access to some, then you may want to make your own...
Pine Cone Christmas Trees!
We have one tall pine tree in our yard that drops a ton of pine cones. Ever since I started crafting with pine cones, Leo picks them up and tosses them into a large container to save them for me. I like to think of these free pine cones as "nature's gift!"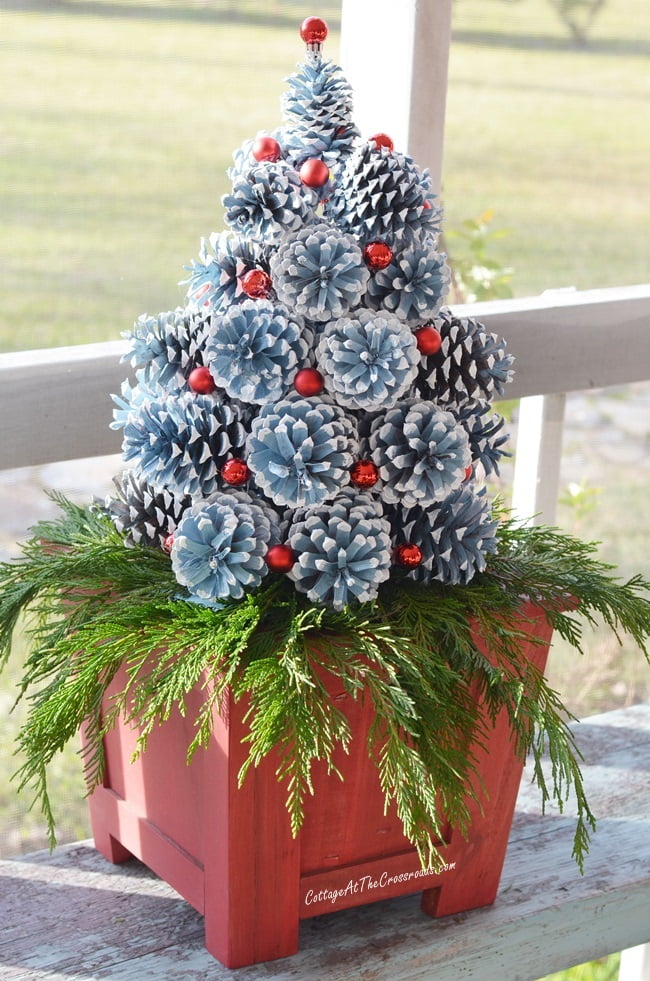 I brought one of my pine cone Christmas trees out onto the front porch so that I could photograph them better in the natural light, but currently they are residing on our hearth as part of our Christmas mantel decorations. I'm still tinkering with the mantel because it's missing something, and I haven't quite figured out what that is yet!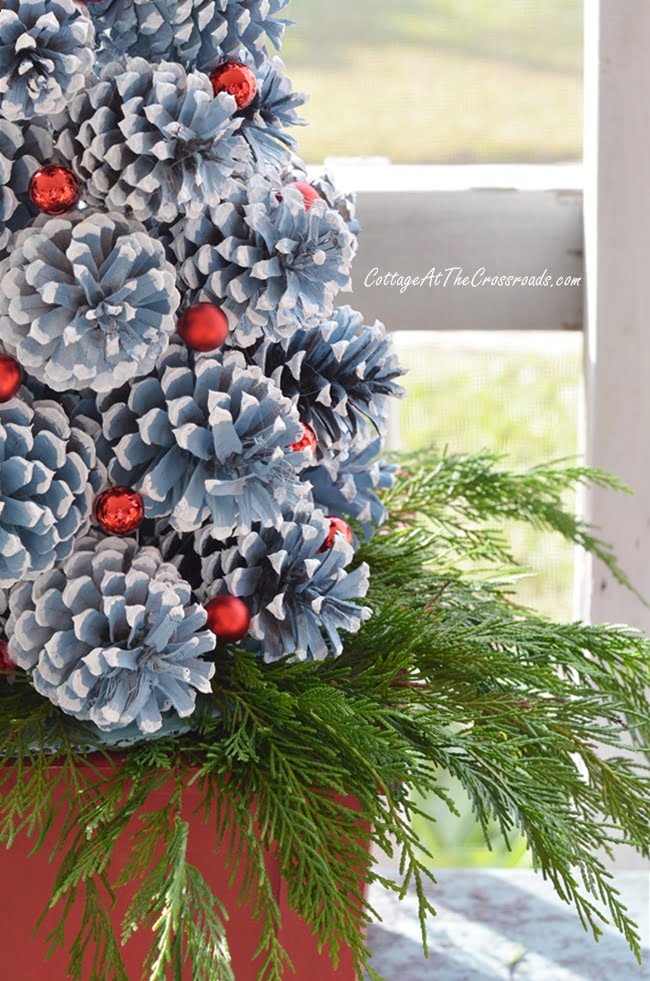 As you can see, I decided to use a blue, green, and red color scheme this year. A few months ago, I found a new and gorgeous shade of spray paint called "French blue."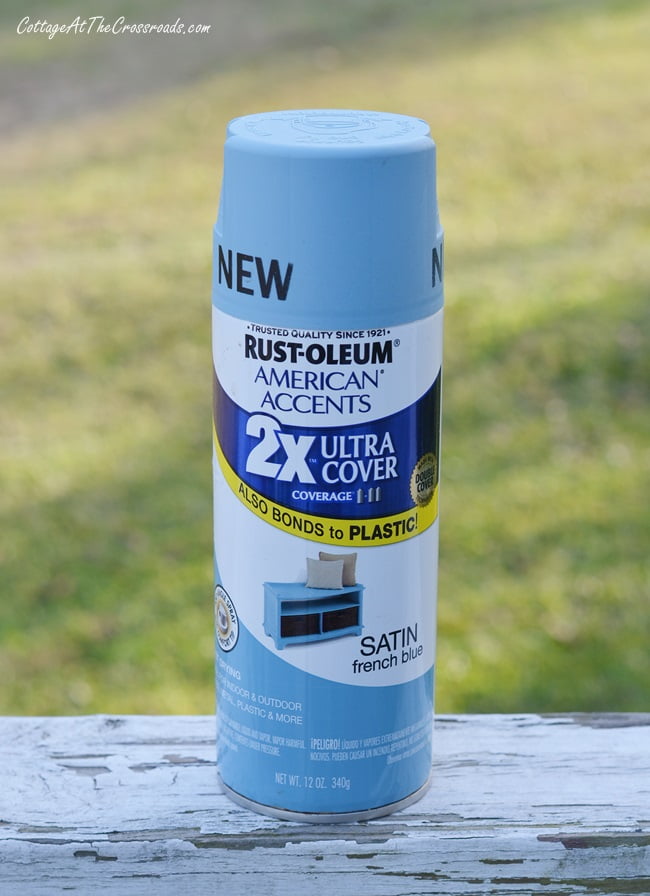 Yes, that was several months ago when I started painting pine cones blue! Now I will have to admit that you are going to need a lot of pine cones for this project, especially if you decide to make 2 trees like I did! But spray paint dries really fast outdoors and the rest of the project can be done inside.
In fact, this is a great project to enlist a few helpers and I love listening to Christmas music with my family during the holidays.
What you need to Make Pine Cone Christmas Trees
lots of pine cones of various sizes (I used 31 for each tree but you may need more)
spray paint (I needed 2 cans for 2 trees and I found the French blue shade at Walmart)
glue gun and plenty of glue sticks
round cardboard base with a diameter of 12 inches (I used cake bases).
miniature Christmas ornaments (I purchased 2 packages at Hobby Lobby)
Step 1
The first step in making these pine cone Christmas trees is to spray paint all of your cones and allow them to dry thoroughly.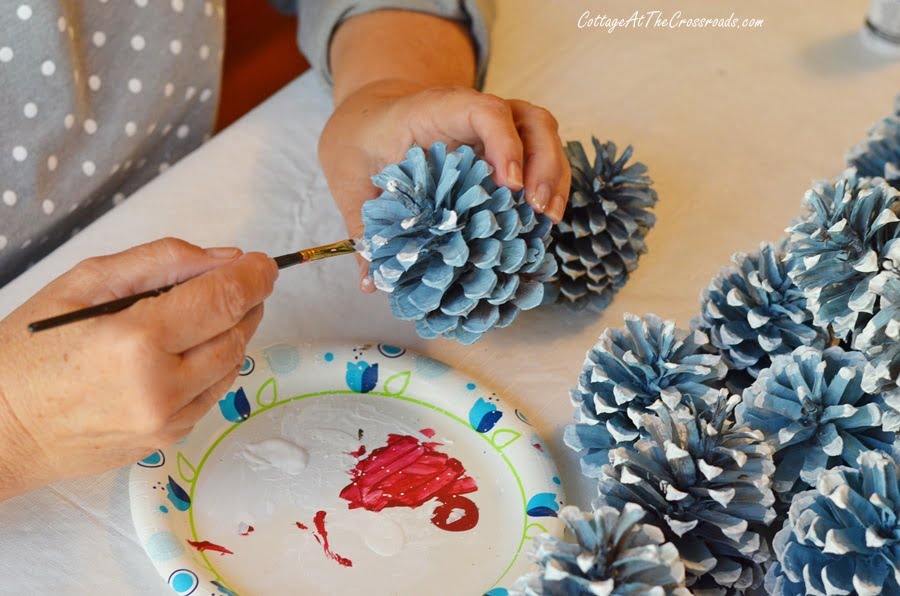 Step 2 (optional but recommended)
Then, if desired, paint the tips of each cone with white acrylic craft paint. (I used titanium white by DecoArt.) This would be a really good job for youngsters to do-you can't mess up this part!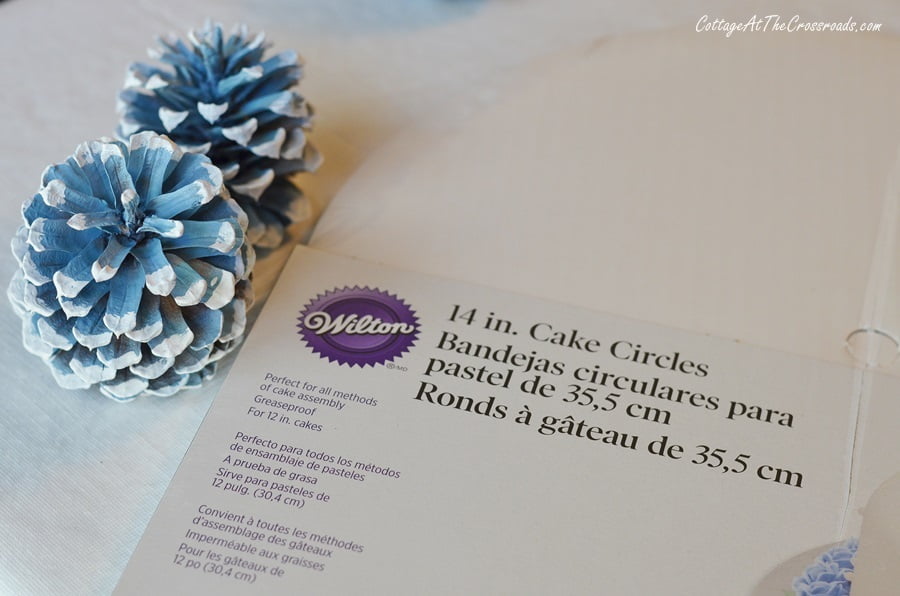 Step 3
Next, you will need a round base for your tree, and I used cake circles. I purchased these 14 inch circles, but they were too large for the wooden planters that I planned to put the trees on. So I simply cut them down to 12 inch size. You could easily cut cardboard circles from a box, and it doesn't matter if the circle is perfect or not because no one will see that part!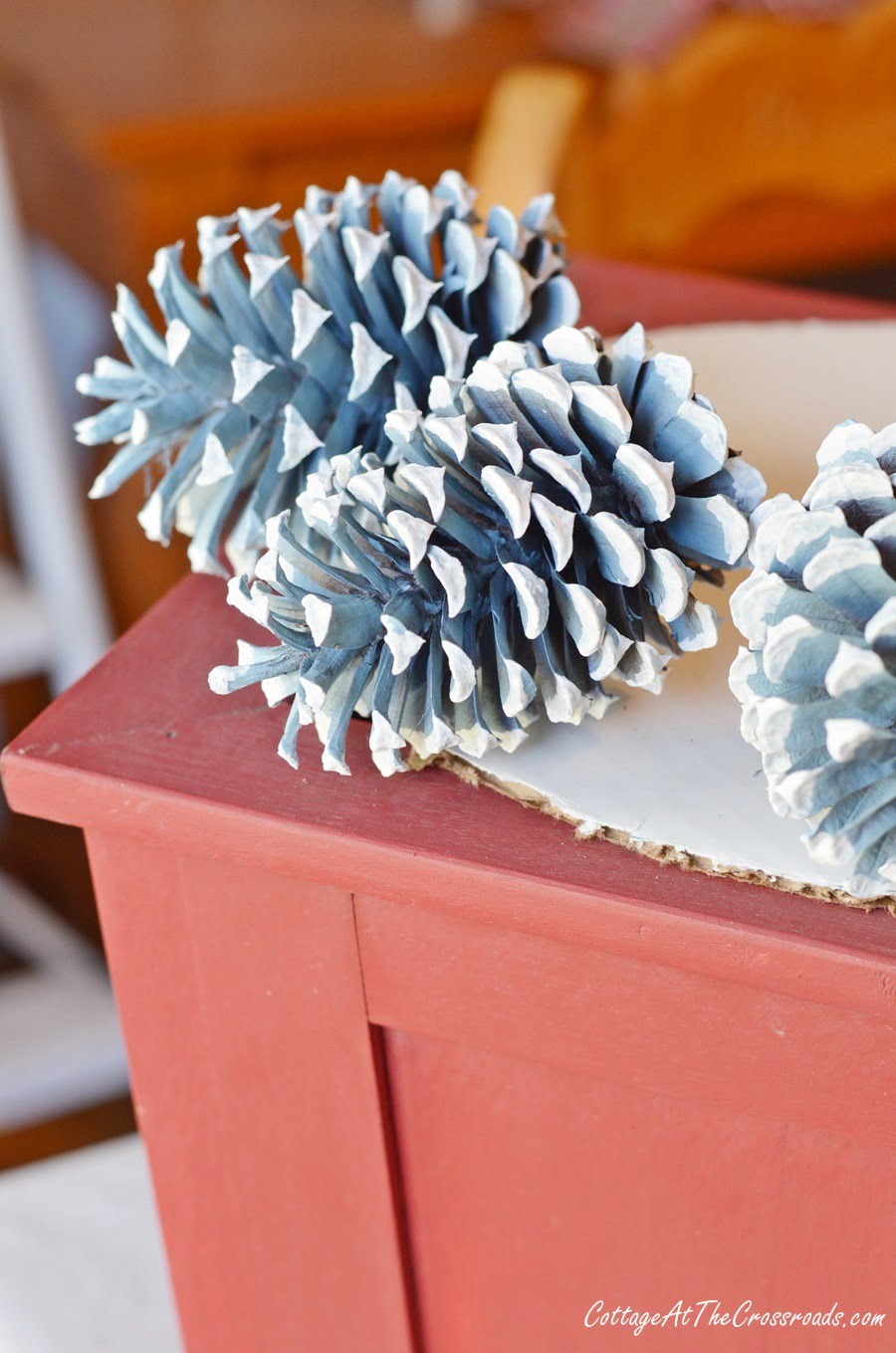 Step 4
Get your glue gun ready. Place your largest pine cones on the outside edge of the circle and glue down. (I found it easier to add the glue to the circle.) While doing this, try to nudge one pine cone into the next one. As you can see in the above photo, I didn't pull my cones all the way out to the edge. If you do so, you will have a taller tree and will need more pine cones. My 2 trees ended up being 15 inches tall.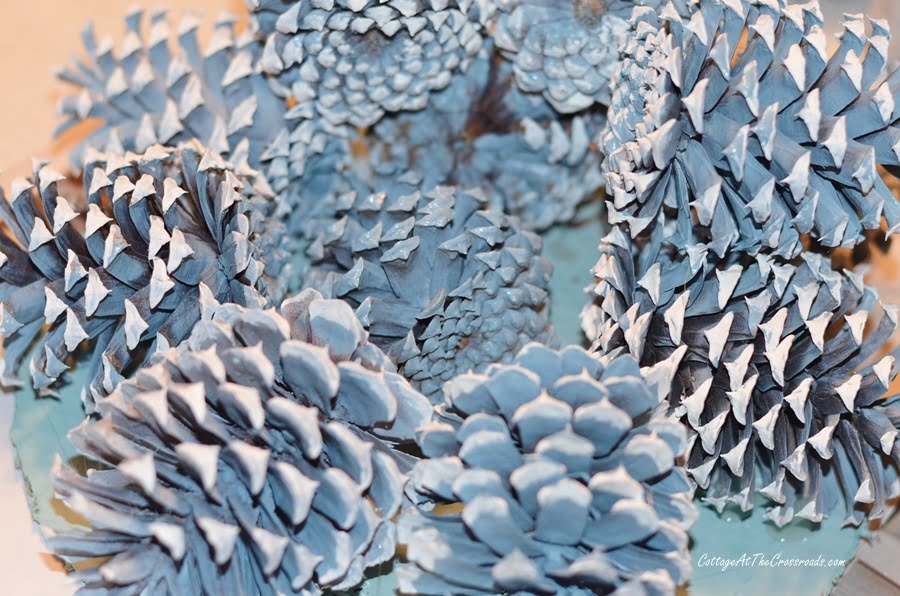 Step 6
Once you glue down the first layer of cones, then start with the next one. But this time, pull your cones in just a bit in order to start shaping your tree. I put some pine cones down inside the hole that started forming, but I don't think that you really need to do that.
As you continue your layers, use smaller and smaller cones. When you get closer to the top, start angling your cones down to make the shape of a tree.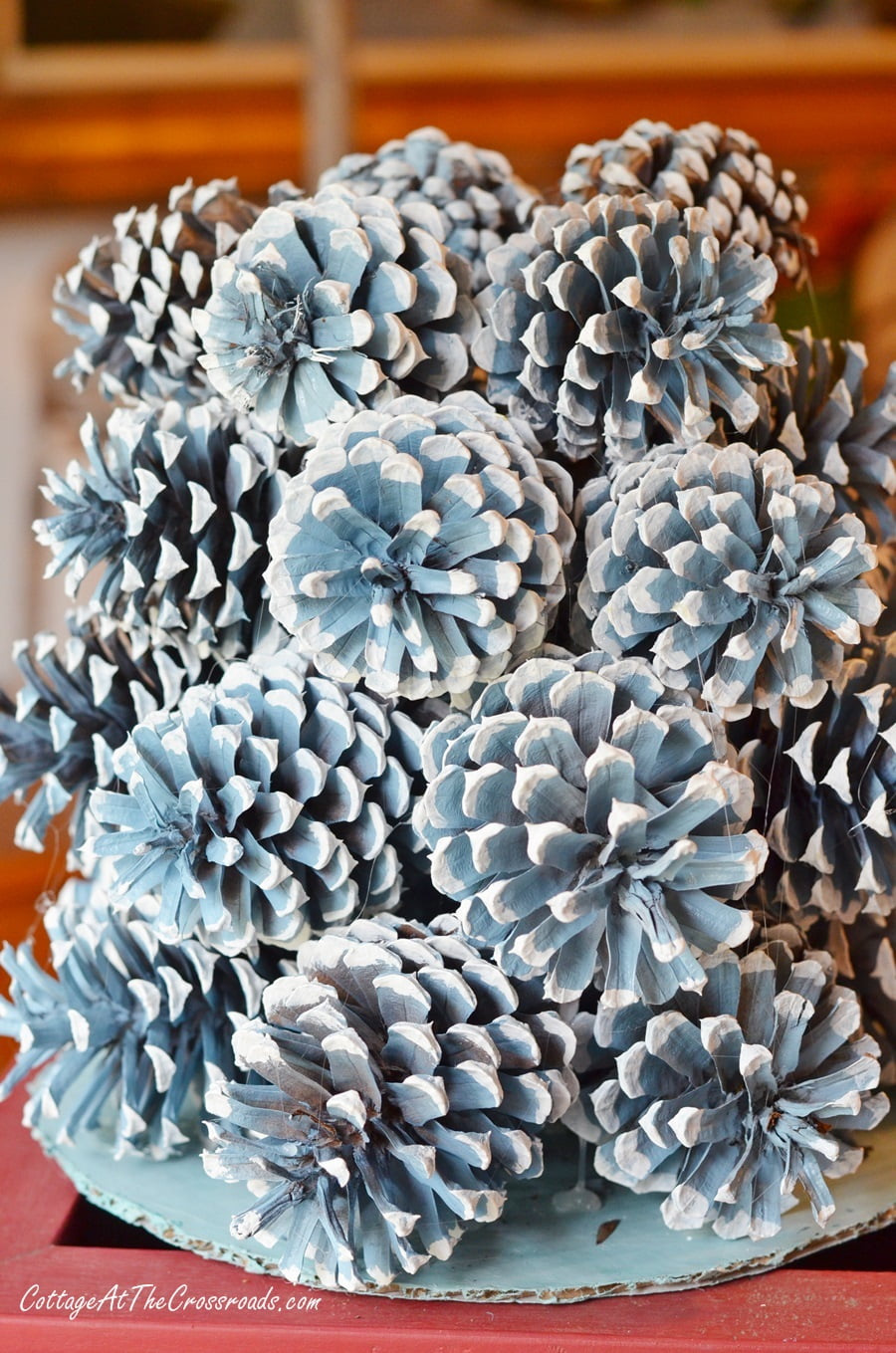 Step 7
Oh, yes. You will have lots of glue strings to remove! At least, I did. Remove excess glue strings and continue.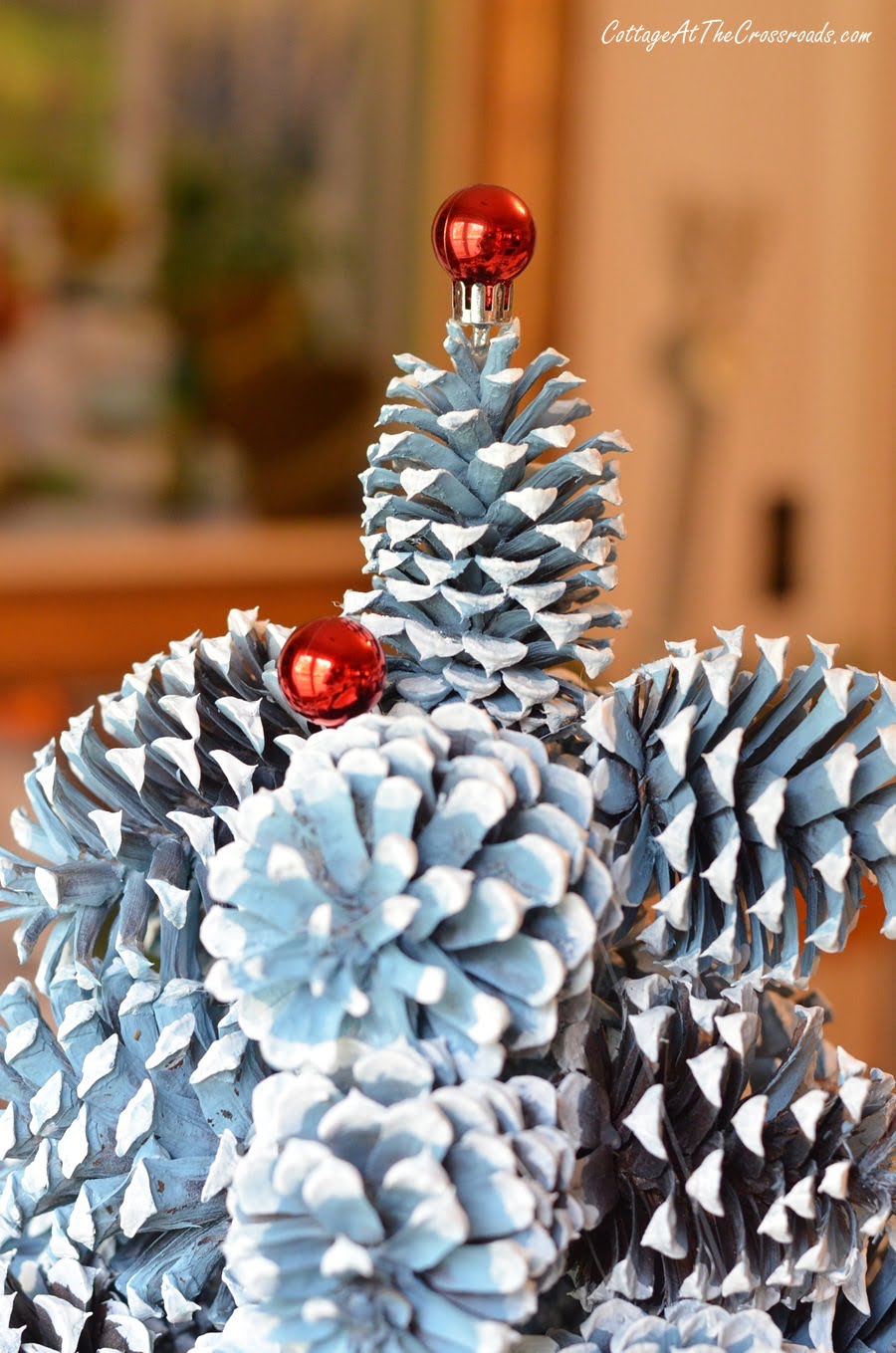 Step 8
I found that the top of the tree needed a skinny pine cone, and here I've started adding some red ornaments.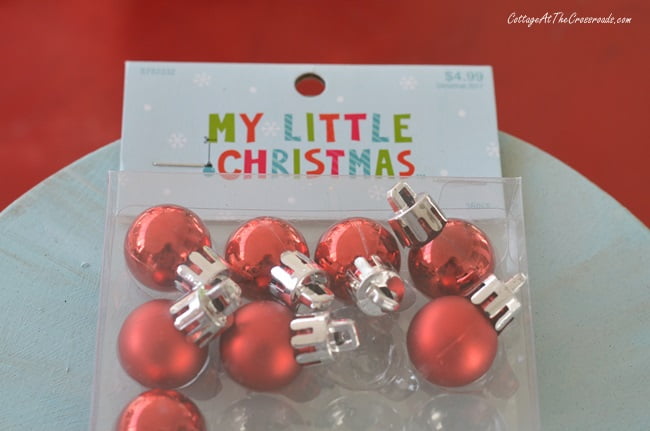 Step 9
I used 2 packages of these red ornaments that I found in the section of Hobby Lobby where the miniature tree decorations are sold. Finish adding red ornaments as seen below. You can see where I tucked them into the places where 2 cones met. I did hot glue them but only burned 1 finger! Ha! Be careful in this step!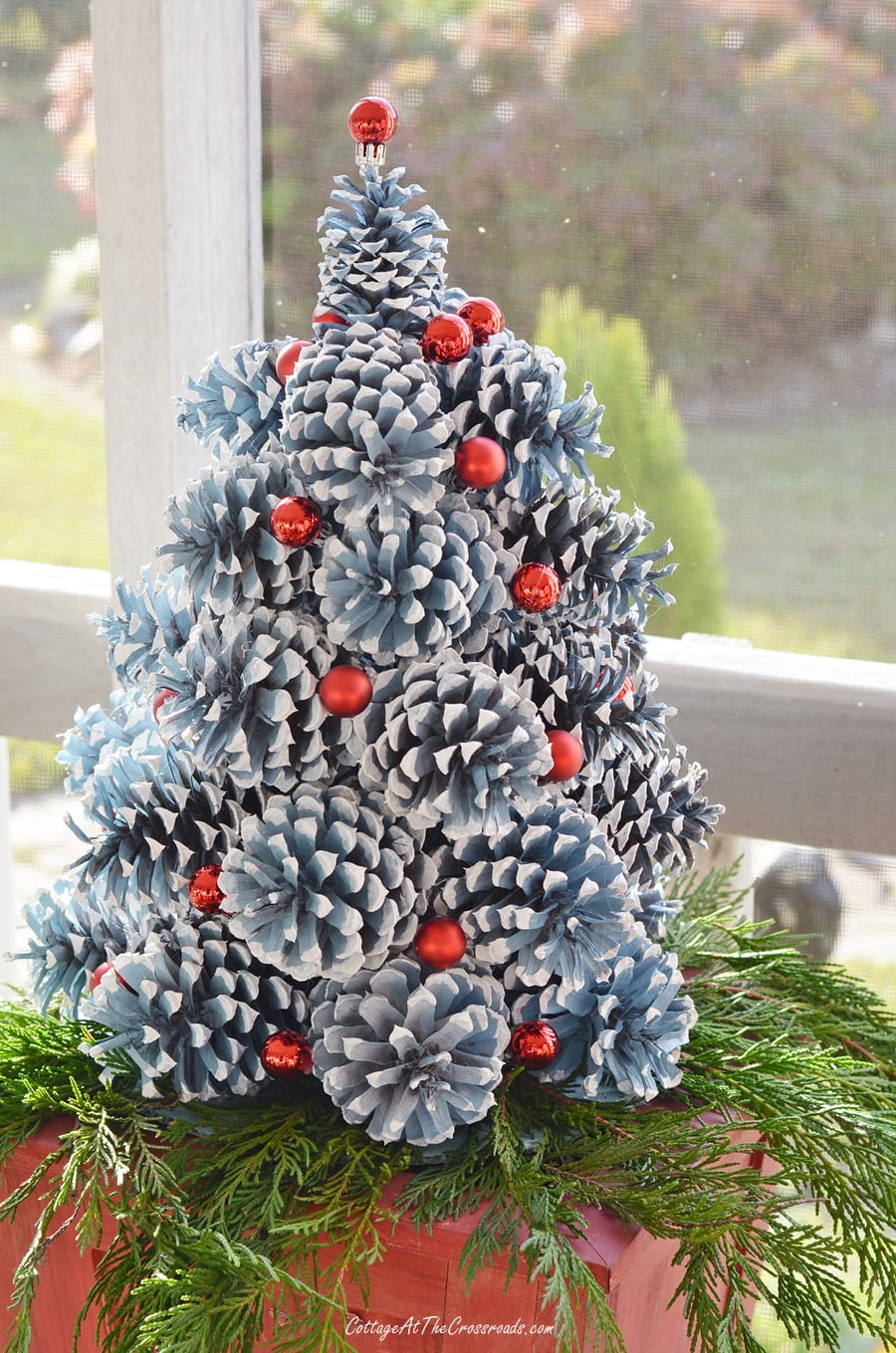 Final Pine Cone Christmas Tree
I am just delighted with how these trees turned out! I can just imagine them done in different colors or made with bleached pine cones.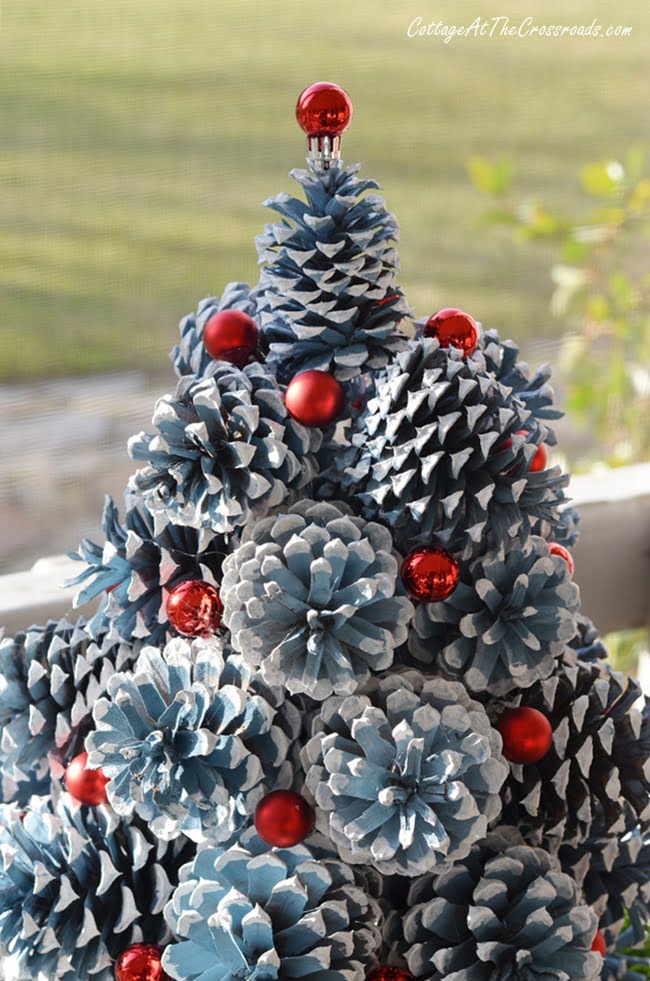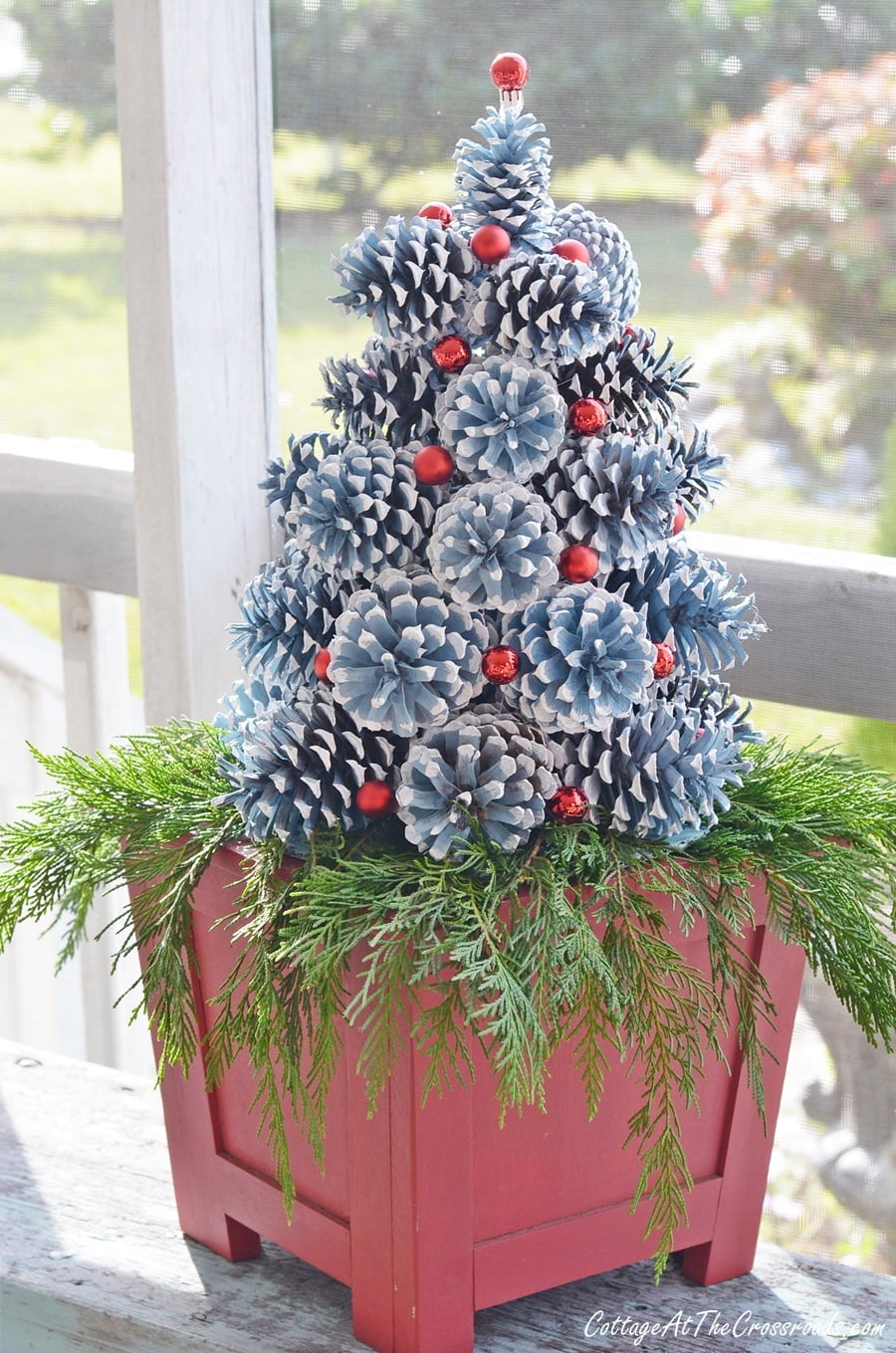 I can't wait to show you how they look on our hearth, but they would make a great gift for someone with limited space. Or, I'm thinking they'd make a great centerpiece on a table. Or...
Well, you can see how my mind works! At the time, I'm loving the blue, red, and green combo.
To see more of my pine cone crafts, you can click on any of these links:
I hope you enjoyed making this pine cone Christmas tree. And thanks in advance for sharing this with friends and family.