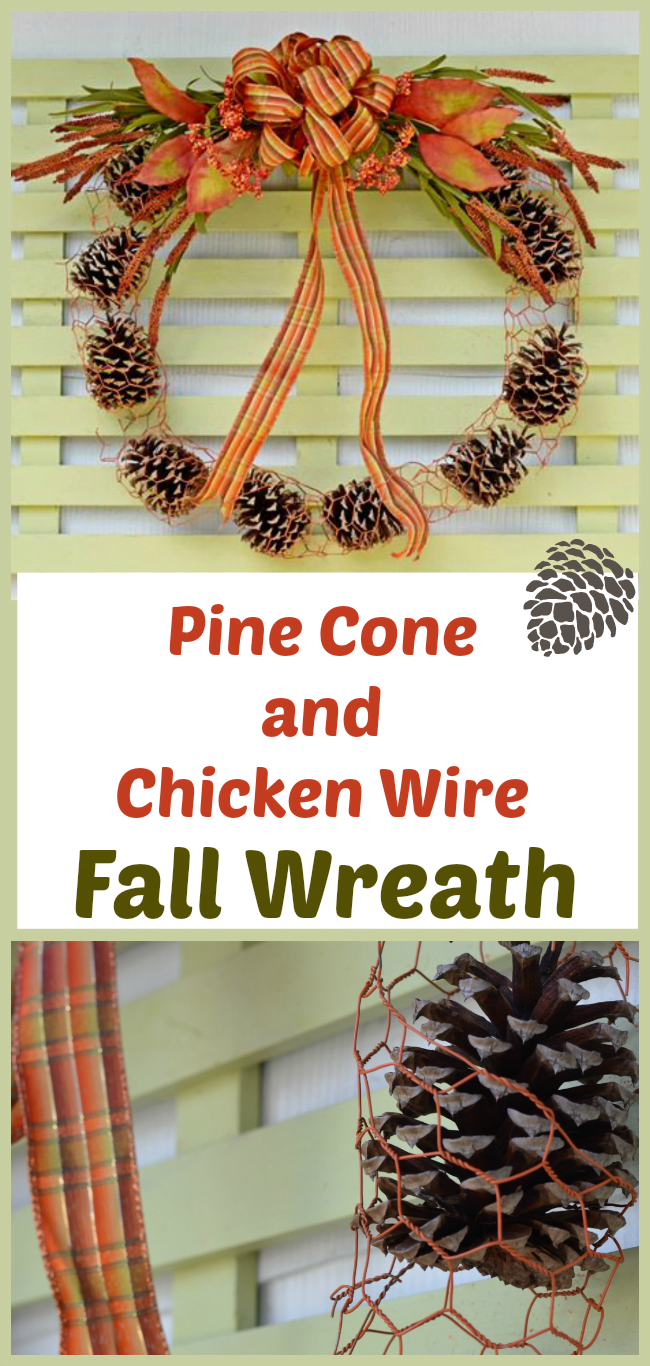 Woohoo, everyone! It's official. Fall has arrived and to celebrate, I'm sharing our pine cone and chicken wire wreath! Not only am I sharing it with you, dear readers, but I'm sharing it with any new visitors that are dropping by from the Fall Ideas Tour hosted by my friend Kathy from Petticoat Junktion.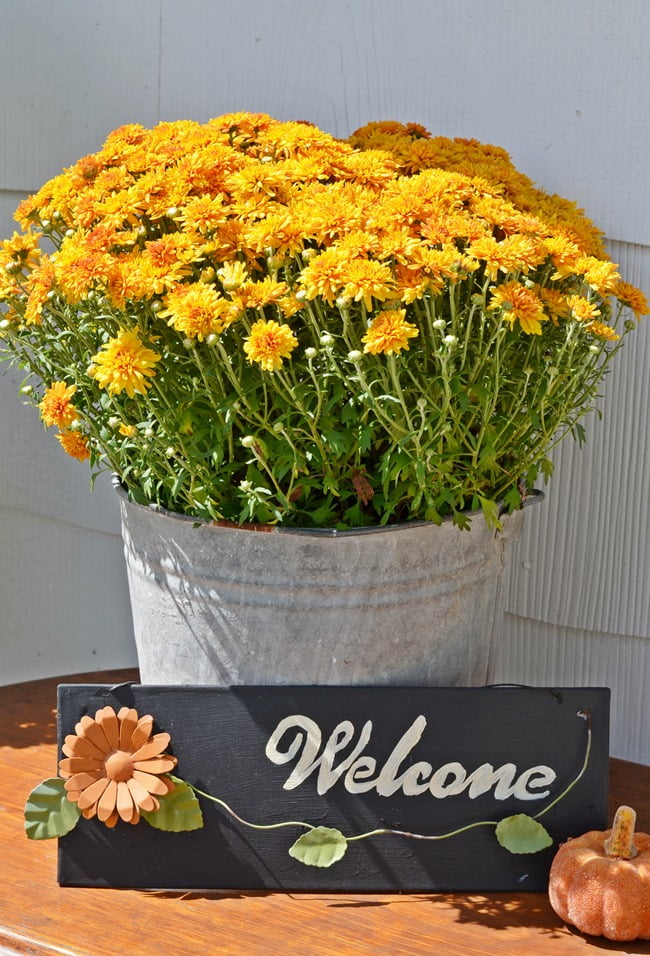 A great big welcome to ya, if you're new here!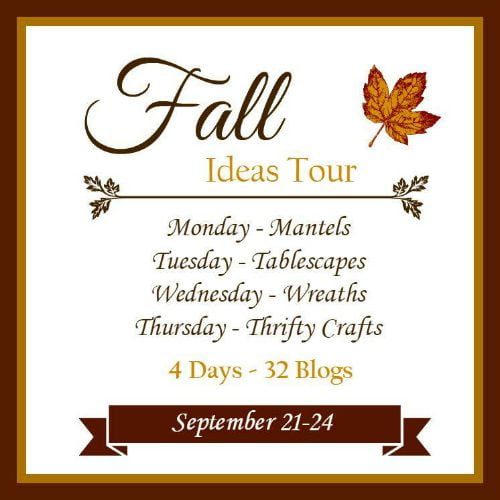 I'm so honored to be joining 31 other super talented bloggers on the Fall Ideas Tour. Yesterday I showed you a roundup photo of all the beautiful fall mantels that were shared on Monday. If you missed seeing any of those, you can click on the links at the bottom of this post.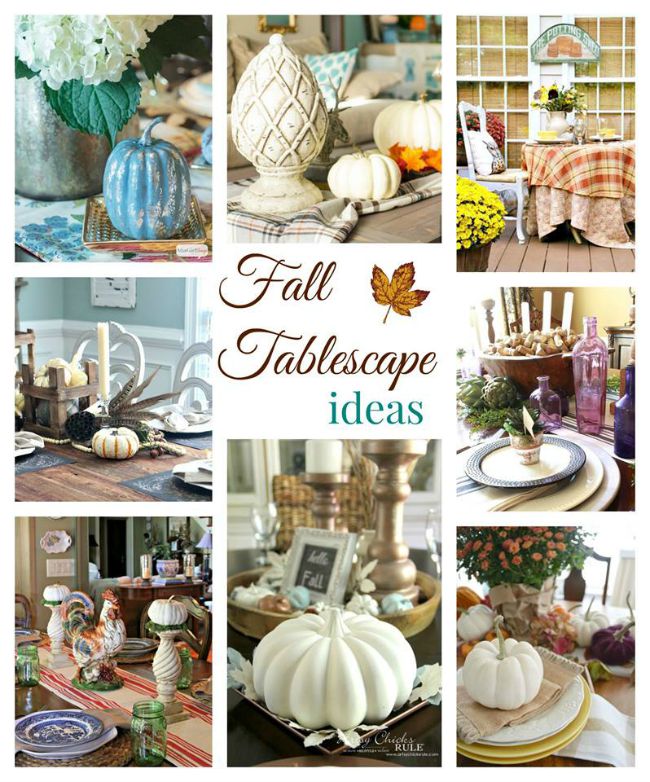 On Tuesday, the most beautiful and creative tablescapes were shared, giving you lots of ideas for decorating your fall tables. And today's theme is WREATHS!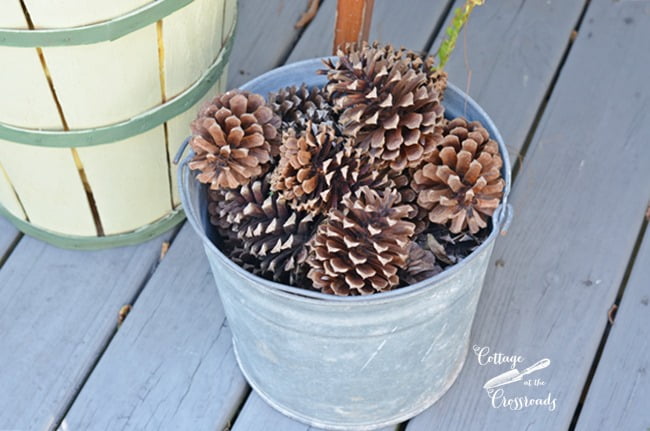 Now this whole idea of creating a pine cone wreath came about because I've been gathering the pine cones that are falling from the pine tree that's in our yard. I have a plan for using them in some of my Christmas decorating, but hey! I already had a whole bucketful of them so I decided to work with what I had. Plus, don't you just love pine cones? And you know what else we have a lot of around here? CHICKEN WIRE! We have big rolls of it that we use in our garden. So I asked Leo to cut a 5 foot length that was 4 inches wide.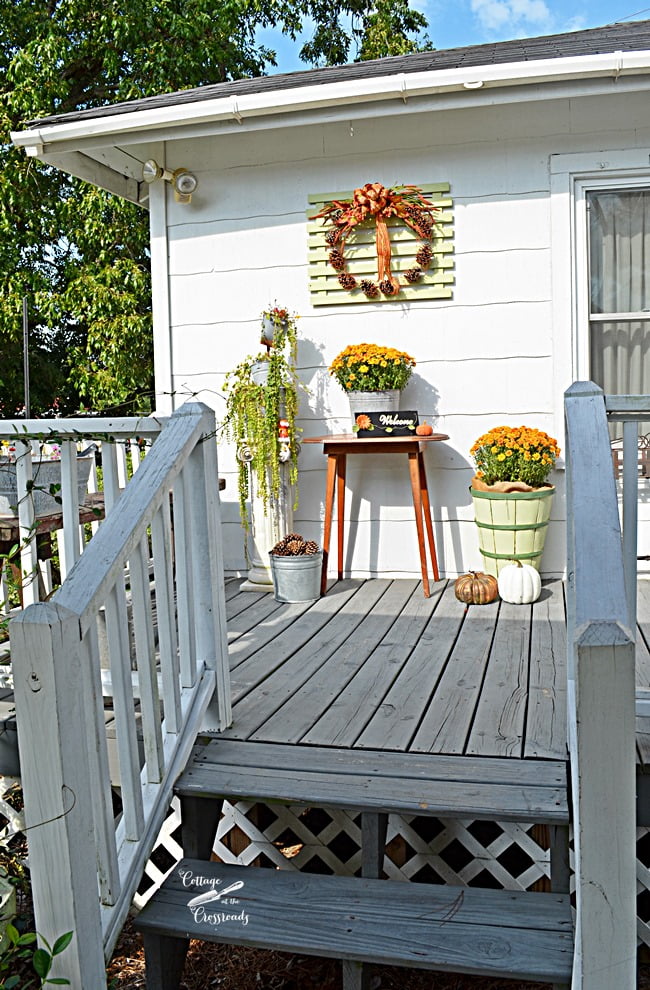 What I had in mind was creating an outdoor wreath that I could hang on the side of our house. This is our deck that leads to the back door where everyone comes when they visit the Crossroads. That's ok with me because everyone knows that backdoor guests are the best! But I had been craving a little color on the wall where you see the wreath.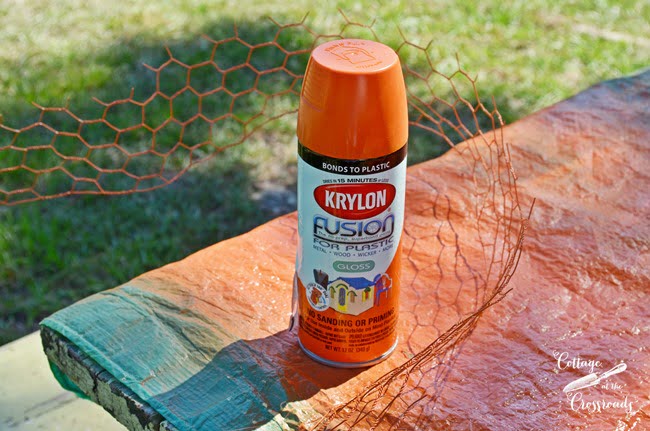 So I got out this spray paint which is aptly called "Pumpkin Orange" and sprayed the chicken wire with it.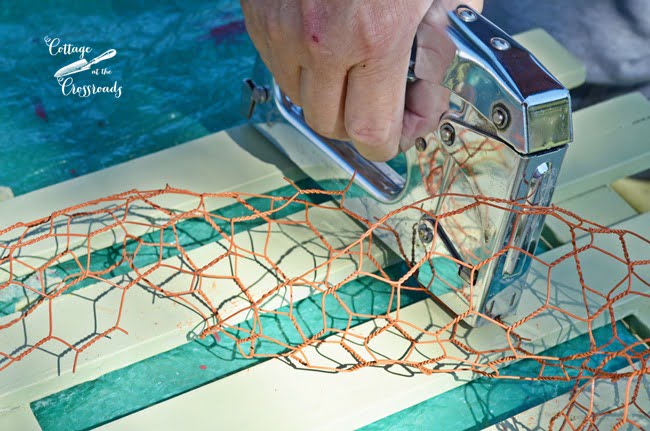 The base for the wreath is a wooden piece that I bought at the auction a long time ago, and I painted it the shade of green that we've used to paint a lot of outdoor things. Now, at this point, creating the wreath became a 2 person job. Leo attached the chicken wire at the top of the wooden piece with the staple gun, and I started twisting the chicken wire.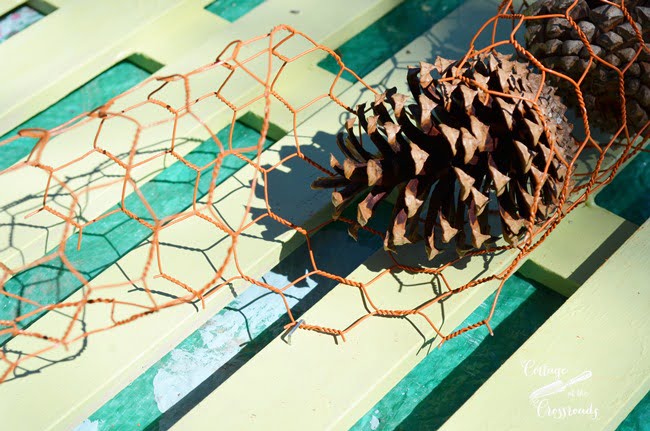 As I was twisting, I inserted a pine cone here and there while Leo continued to staple down the chicken wire. The staples were necessary to help the wire keep a circular shape.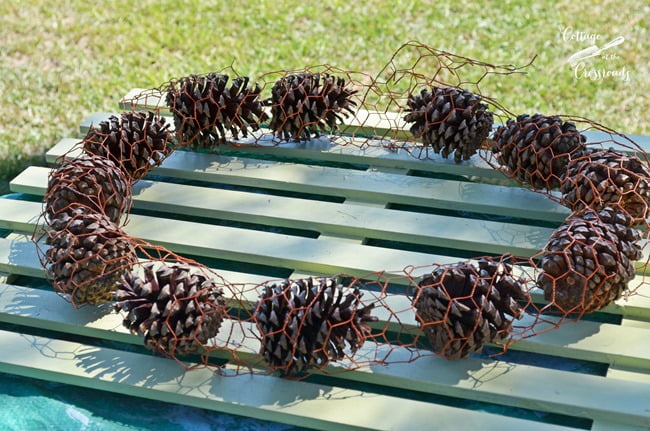 When we got that part finished, we just had to adjust one or two staples to make a better circle, and then we cut off the excess wire at the top.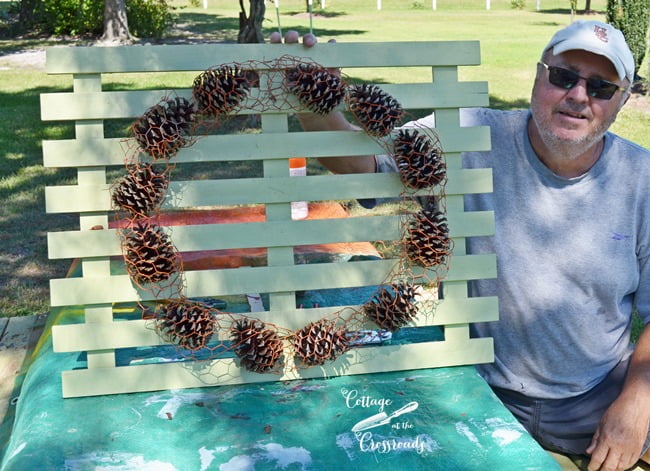 As you can see, Leo was pretty proud of his handiwork. Now, I know that lots of you don't have chicken wire hanging around your house like we do, but I have seen some wire ribbon that has moss attached at Hobby Lobby that could be used instead.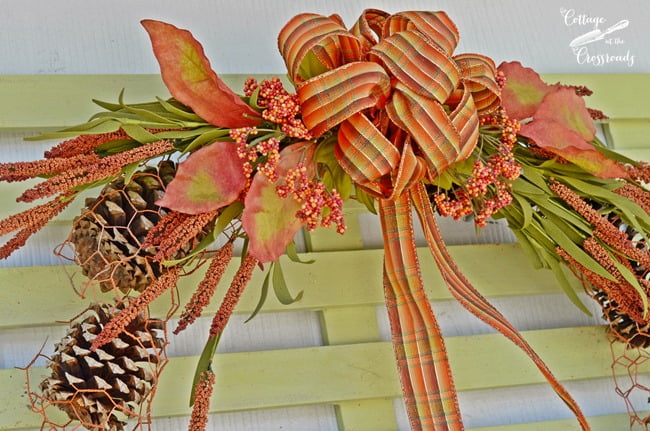 Next, I went digging in my stash and found some ribbon, berries, leaves, and those spiky things to attach to the wreath.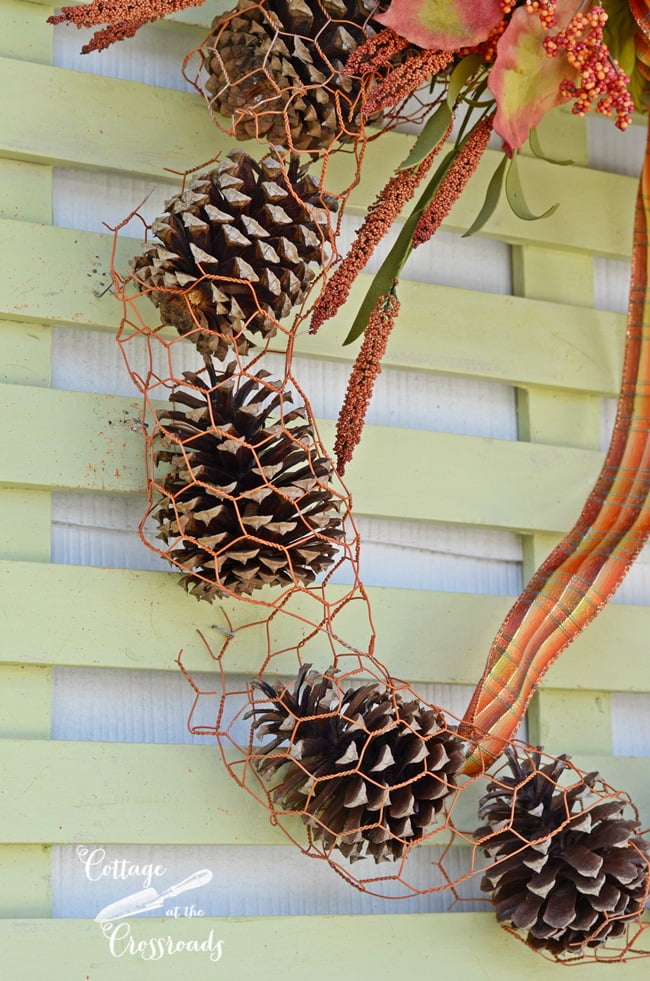 I just love the combination of the autumn colors with the pine cones.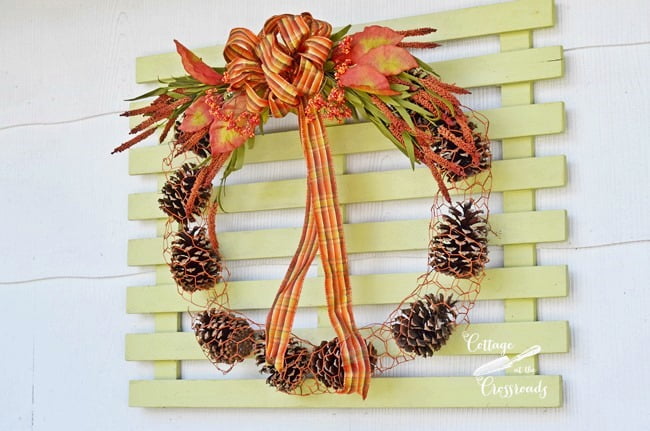 The wreath hangs under the eave so I don't think that it will get damaged unless we have a hard, blowing rain.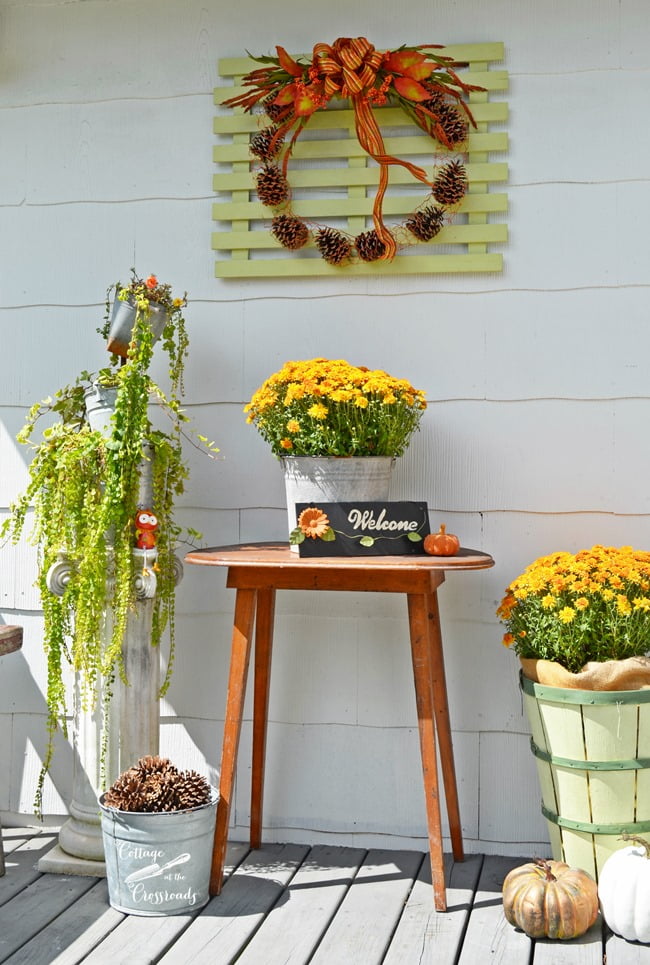 To complement the wreath, I pulled together a little outdoor vignette using some items that I already had.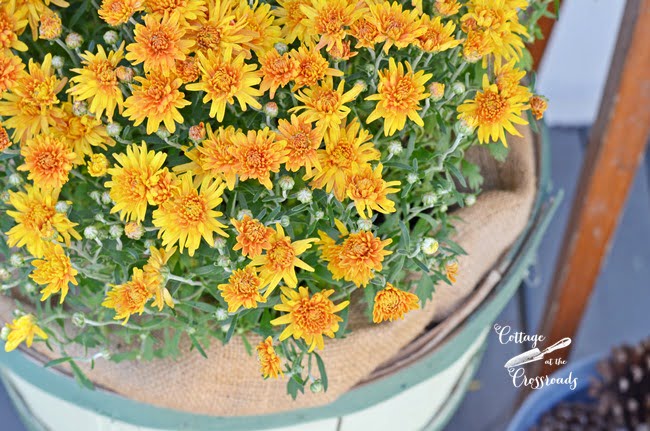 Except for the mums. They are new, of course, and do a good job announcing that it's fall.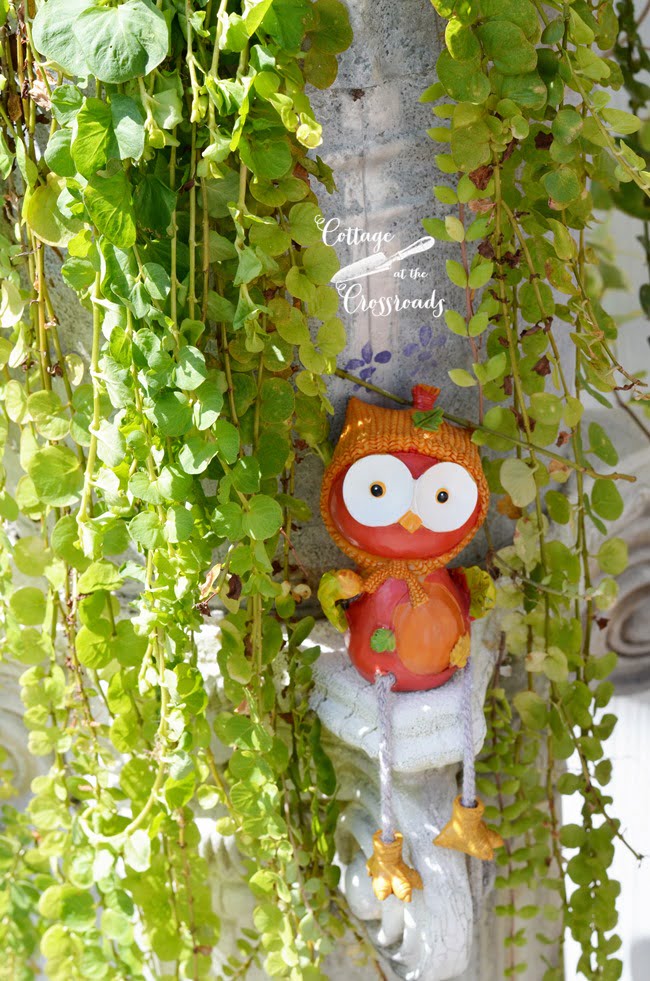 This little shelf sitter has found a ledge to watch the coming and goings here at the Crossroads.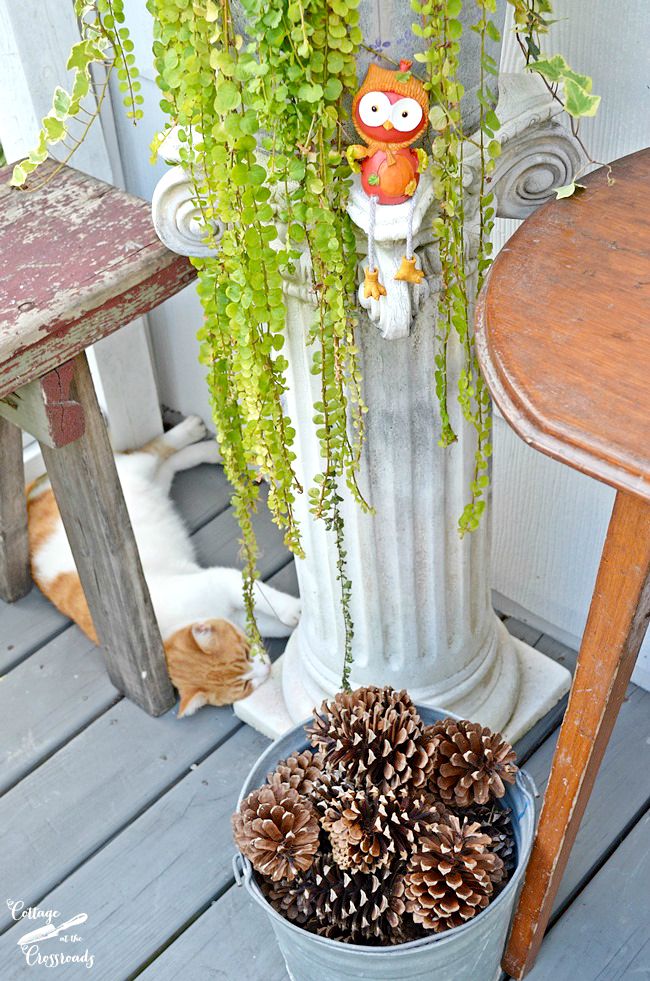 And Juicy, the outdoor cat, has found a cozy corner to nap!
I hope you've enjoyed seeing how we made our chicken wire and pine cone wreath and I hope it's given you some inspiration to create something similar. I'd love it if you would pin the first image on Pinterest.
And please follow us along at the following places so that you don't miss any of our upcoming projects:
FACEBOOK TWITTER PINTEREST INSTAGRAM
And did you realize that we had an online radio station? Check out Crossroads Radio!
Don't forget to visit the other participants on the Fall Ideas Tour. The links are below.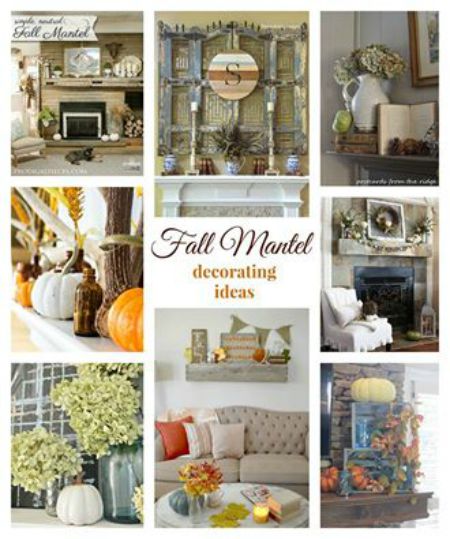 Monday
Postcards from the Ridge | All Things Heart and Home
Confessions of a Serial Do-it-Yourselfer | Domestically Speaking
Prodigal Pieces | Housepitality Designs
Mad In Crafts | My Creative Days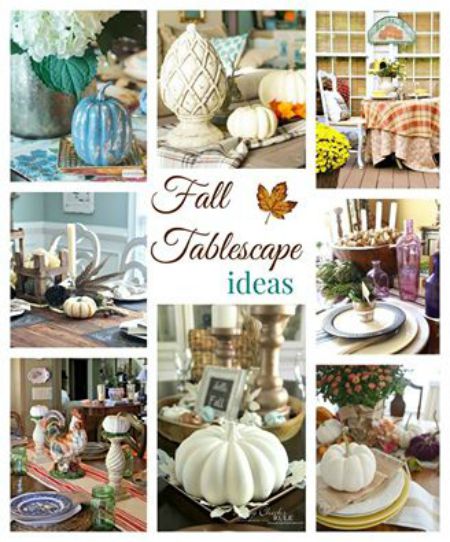 Tuesday
Refresh Restyle | 2 Bees in a Pod
Fox Hollow Cottage | Artsy Chicks Rule
Our Southern Home | Restoration Redoux
Savvy Southern Style | Atta Girl Says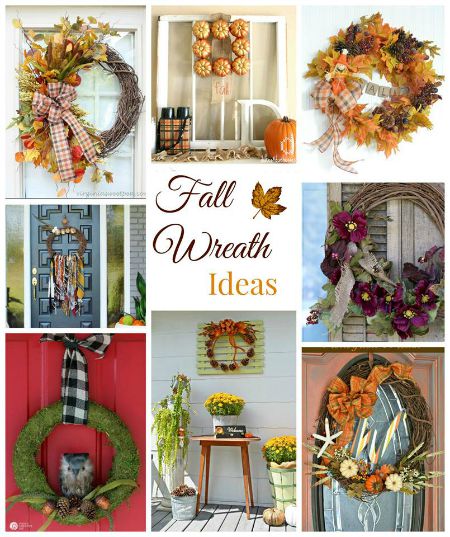 Wednesday
H2OBungalow | Cottage at the Crossroads
Today's Creative Life | Dukes and Duchesses
Hunt & Host | The Interior Frugalista
Sweet Pea | Petticoat Junktion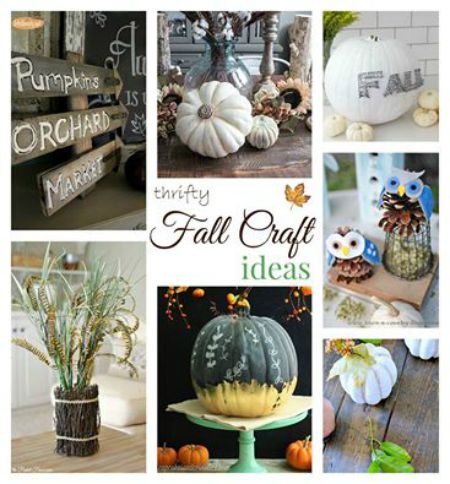 Thursday
At the Picket Fence |Town and Country Living
My Uncommon Slice of Suburbia | So Much Better With Age