In my last post about our Thanksgiving tablescape, I promised that I'd show you how to make these plaster leaves. They are so easy to do, and they can not only be used to dress up a napkin, but they could also be used to make place cards on a table.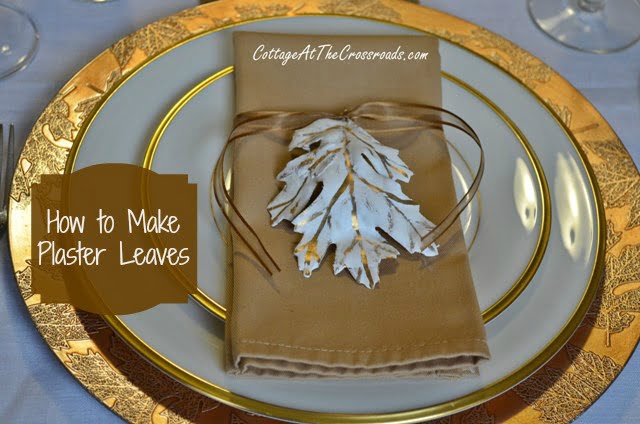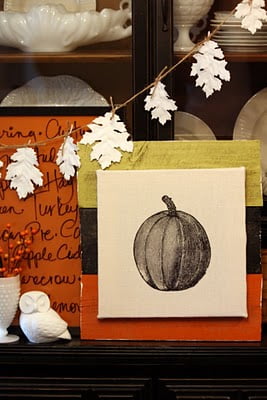 You see, I fully embrace the beautiful colors of fall and use them in my home, but by November I'm ready for a little change. So my idea was to do a neutral table for Thanksgiving, and I thought these white leaves would be beautiful on my table. So here are Michelle's (and my) directions for making these leaves.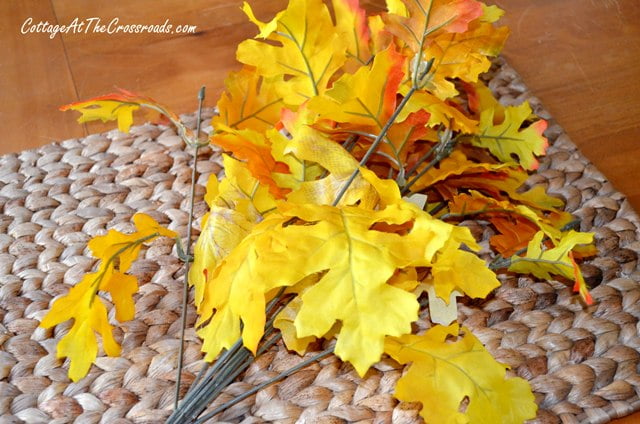 You will need some silk leaves. I actually tried making plaster leaves from real leaves from my yard, but the plaster did not adhere very well.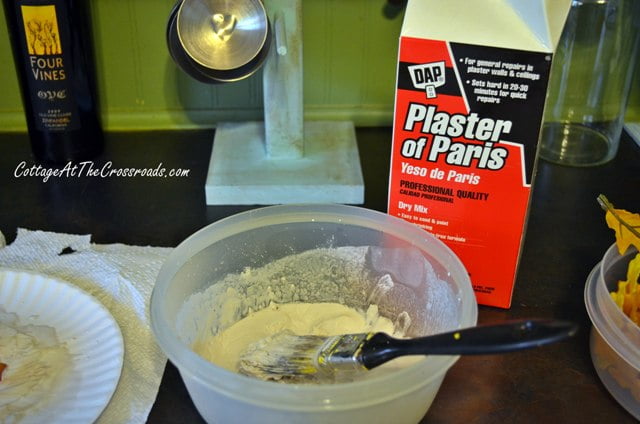 You will need some Plaster of Paris and an old brush. You can buy Plaster of Paris at Lowe's. This just happens to be some that I had left over from making homemade chalk paint.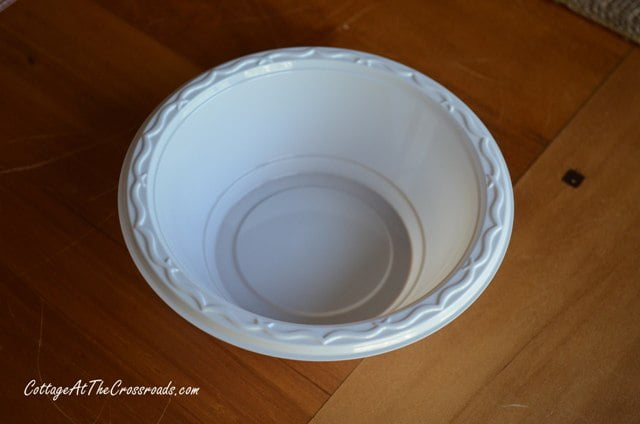 You will also need a disposable container. A plastic bowl such as this works great. Place about ½ cup of plaster in the bowl and add a small amount of water. Stir until it is mixed thoroughly. Add more water if you think it's too thick. Be careful with the amount of water that you add because you don't want your plaster too thin. If it is, just add some more plaster, but work fast because the plaster starts setting up quickly.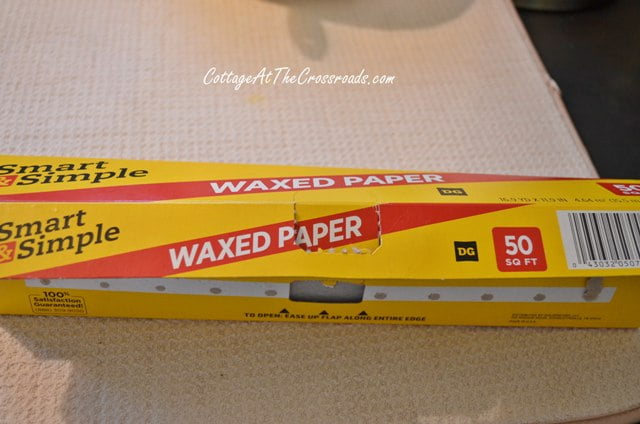 Spread out some waxed paper.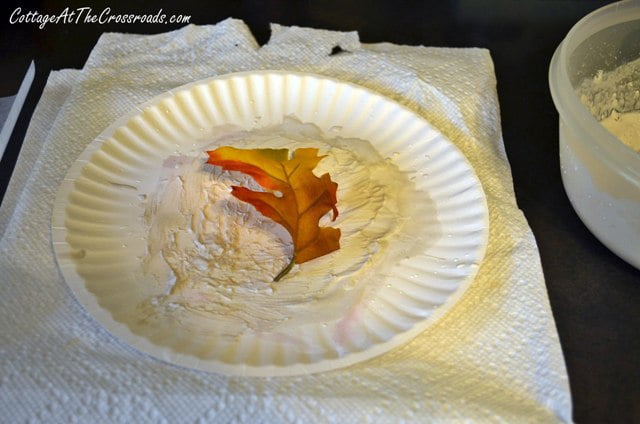 Brush the plaster on the leaf. You can use the stem as a handle to hold the leaf while you are brushing it on the leaf. I only did the front side of the leaves because of the way that I was going to use them, but you can do both sides.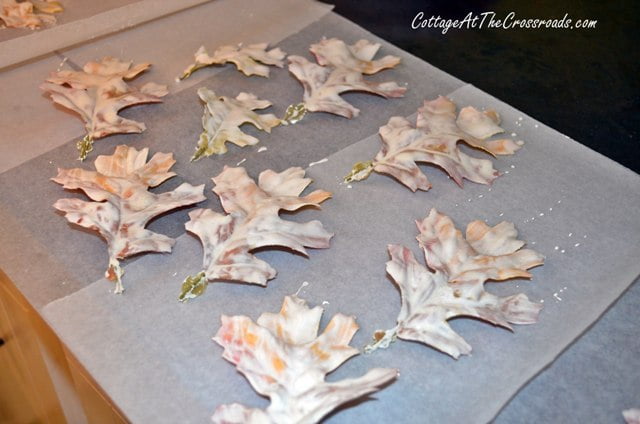 Lay the plastered leaves on waxed paper to dry. At this point, some of the original color of the leaves is showing through the wet plaster, but it doesn't when it dries.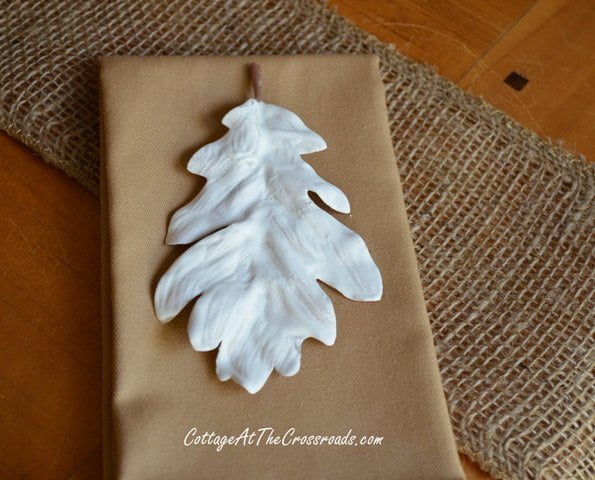 The white plastered leaf looked beautiful with the neutral items I planned to use in my tablescape, but then I got the idea to glam it up a bit since I was using some china with a gold rim.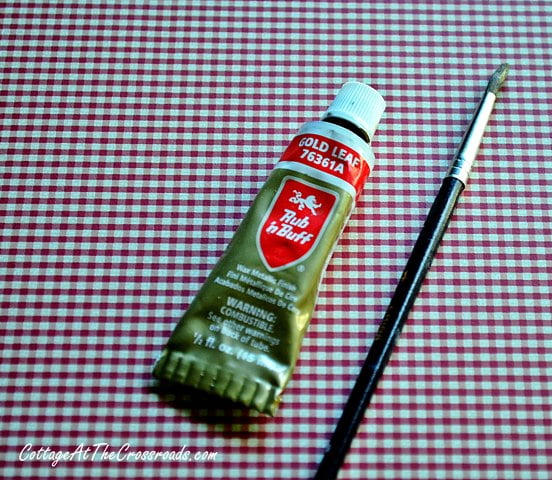 So I pulled out some gold leaf Rub n' Buff that I had won in a giveaway from Vicky at Decor and Harmony a few months ago to outline the veins of the leaves. I really liked how it looked with all the other metallic colors I was using on the table.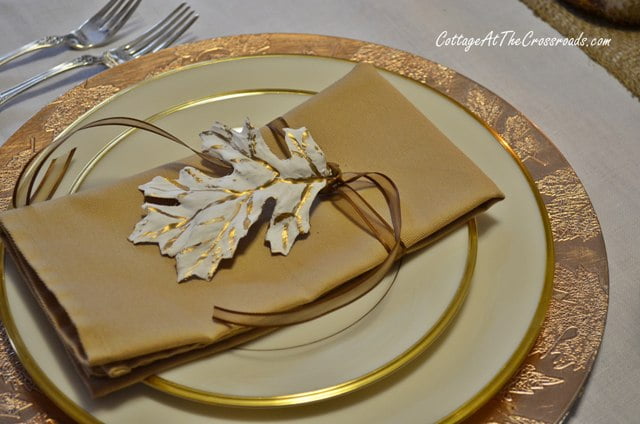 So there you have it. I told you that it was easy!