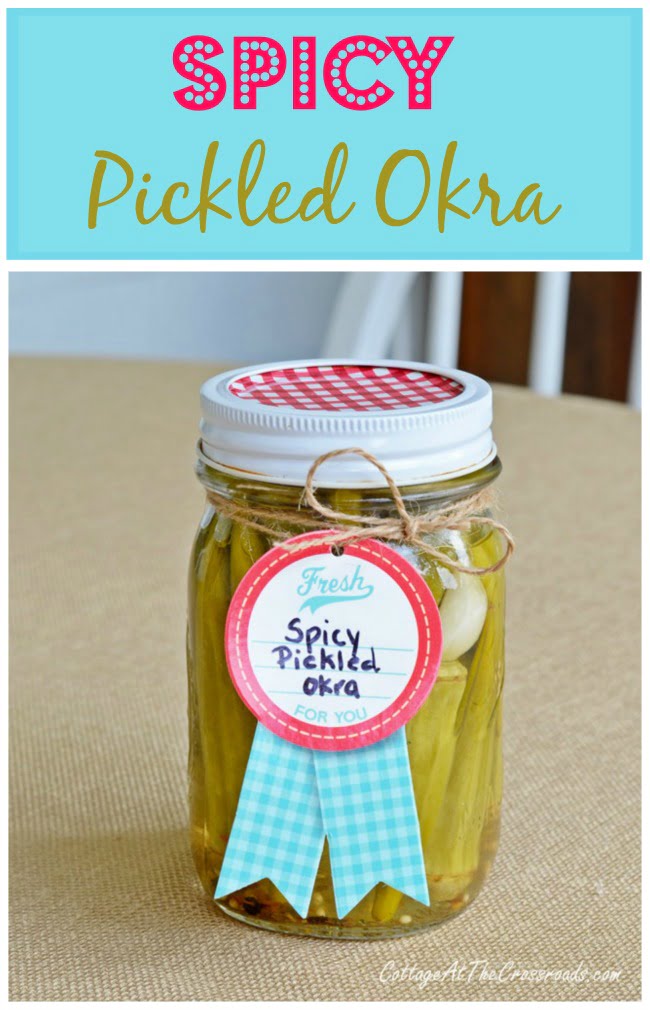 Do you love pickled okra but hate to pay grocery or specialty store prices? It really is so easy to make yourself especially since okra is so plentiful right now.
And let me tell you, we have plenty of it growing in our garden!
This post may contain Amazon or other affiliate links. As an Amazon associate, I earn from qualifying purchases. If you purchase anything through any affiliate link, I may earn a small commission at no extra charge to you. All opinions are my own.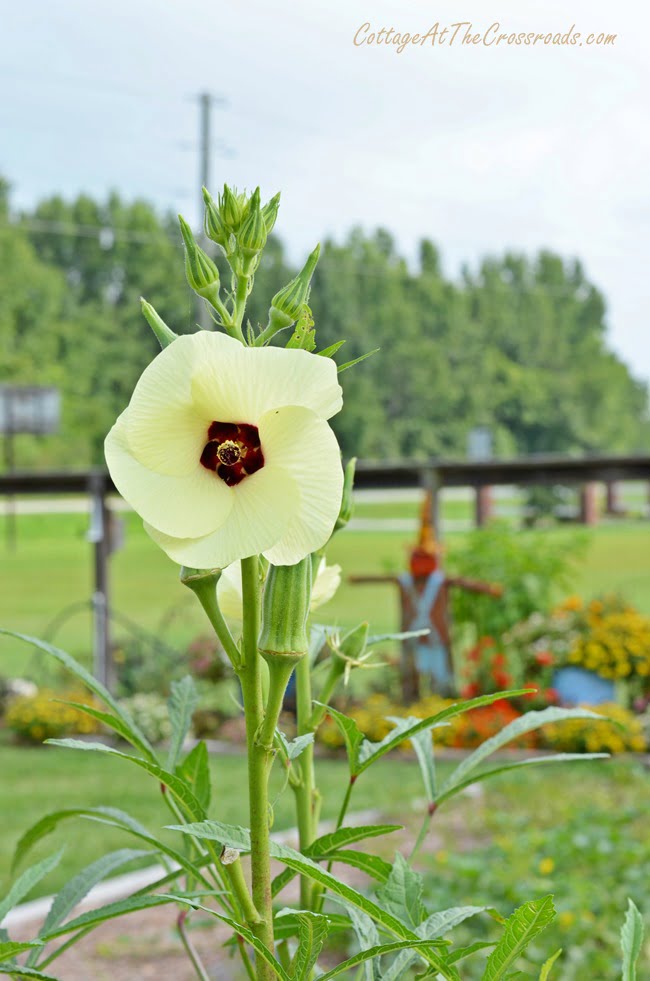 We have about 20 plants and for the past few weeks, they have been producing plenty!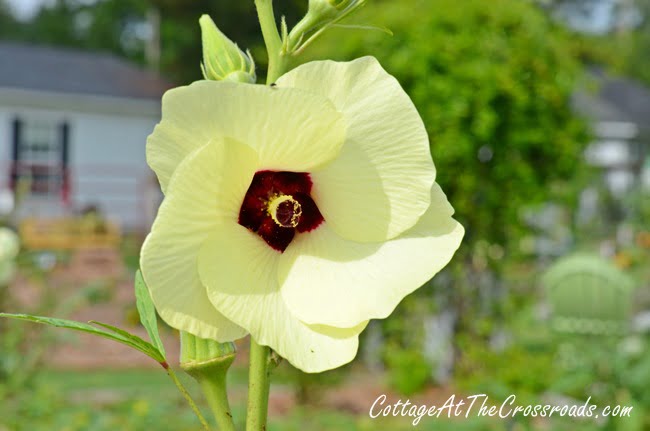 You see, okra loves hot weather which I wrote about here in my post Southern Fried Okra. And although I love fried okra, I have learned to love it roasted or grilled as well. But I guess my favorite is pickled okra. It is spicy and crunchy and not slimey at all! They disappear quickly if you put them on a relish tray.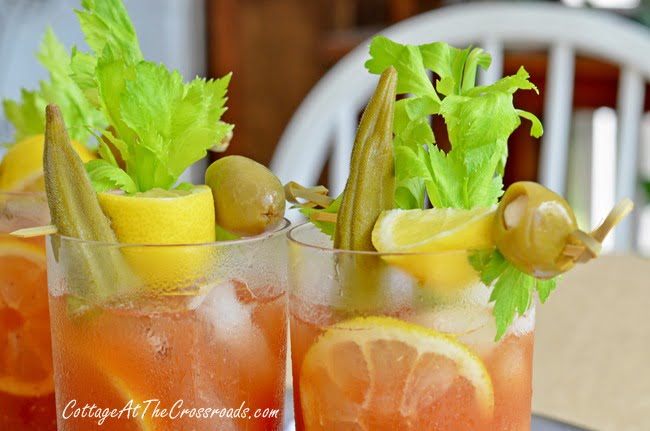 And I especially like to use pickled okra as a garnish for Bloody Marys. So if you want to get ready for fall entertaining or some football, make up a batch of pickled okra.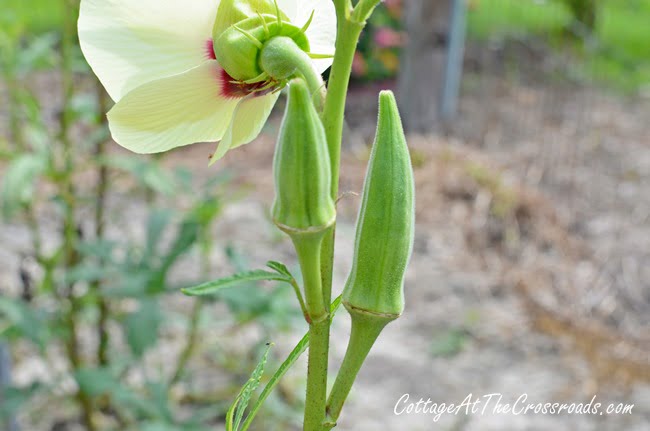 First, you will need about 3 pounds of fresh okra. When selecting your okra pods, use ones that are about 3 to 4 inches long. If they are any longer, they will not fit inside pint sized jars.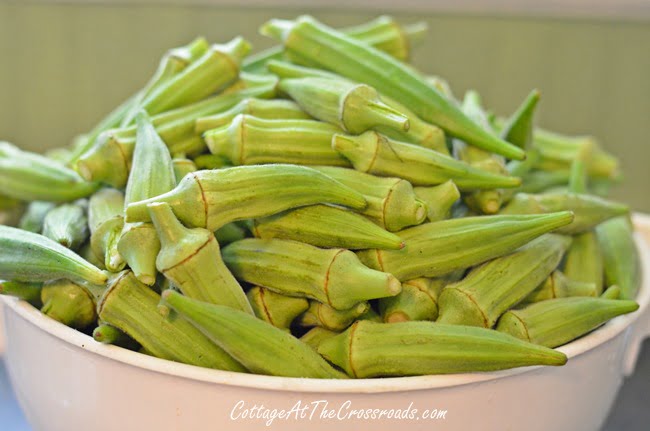 Rinse the okra.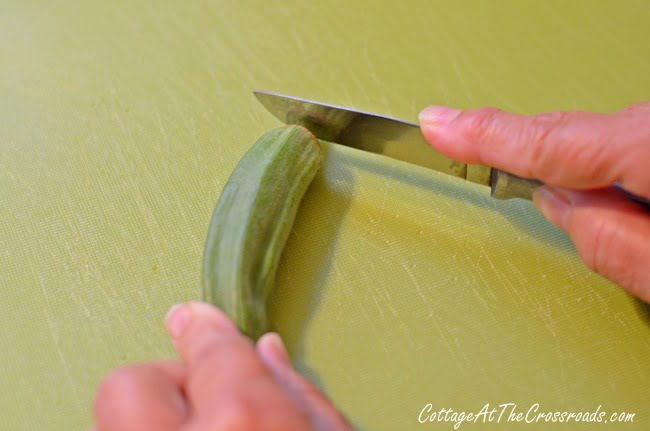 Next, you will need to trim the stem ends by cutting them with a knife.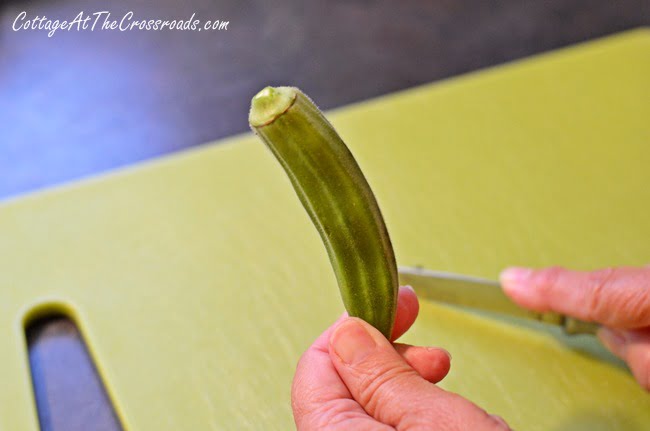 Don't remove the entire end cap or you truly will have a slimey mess! Leave about 1/4 inch of the stem.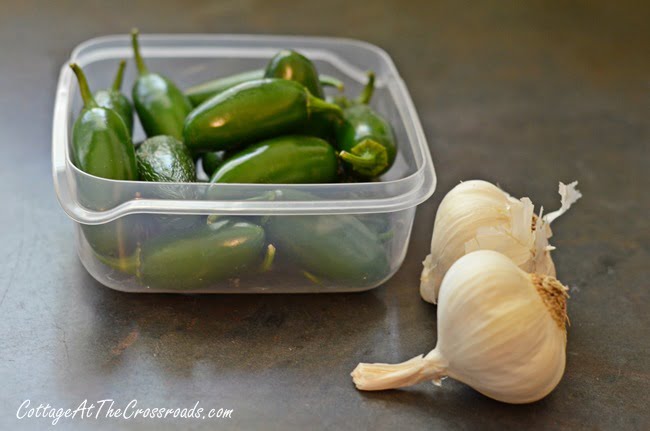 You will also need 8 fresh jalapeno peppers, cut in half, and 8 peeled garlic cloves.
Wash 8 pint size jars in hot, soapy water and rinse well. Sterilize 8 jar lids (always use new lids) and screw bands in hot, simmering but not boiling water.
Now, you can either can your pickled okra using the water bath method, or you can make the pickled okra and store it in your refrigerator for up to 2 weeks. If you are canning it, pull out all your canning equipment which includes a canner with wire rack in the bottom, tongs, and jar and lid lifters.
Fill the canning pot (or a large stock pot) about 1/2 full of water and your jars. Add more water to the pot in order to totally submerge your jars. Bring the water to a boil and continue to boil for 10 minutes. Using tongs, remove the jars from from the pot and set on a clean, kitchen towel. I always place a cutting board underneath the towel to protect my counters. Evenly divide the jalapeno peppers and the garlic cloves between the jars.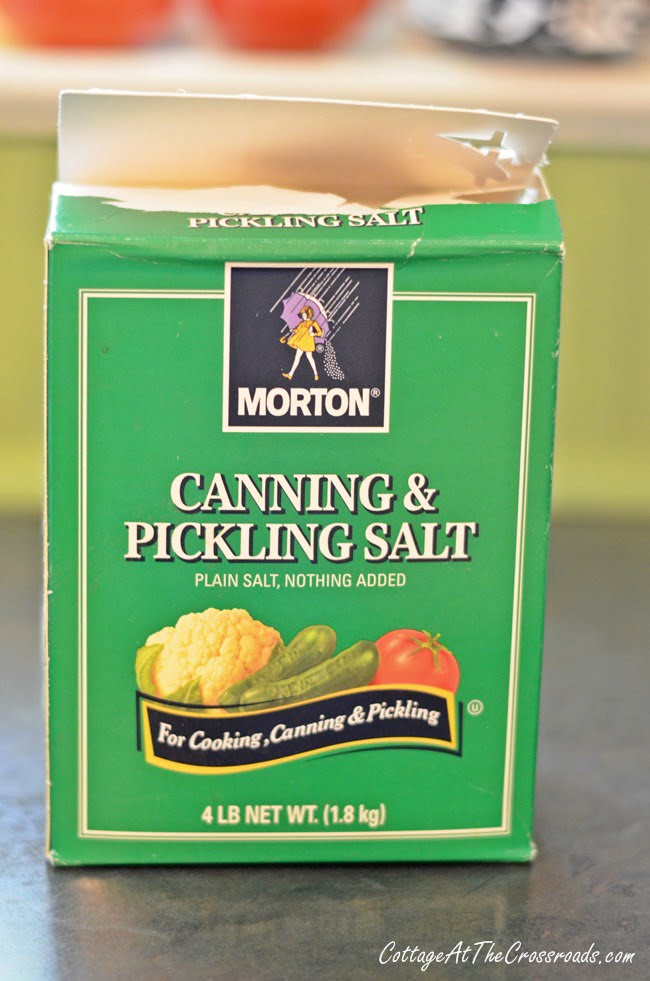 To make the vinegar solution, you will need 4 cups white vinegar (5% acidity) and 4 cups water. Place in a large, nonreactive pot and add 1/2 cup canning salt (don't use regular salt) and 1/4 cup white sugar. Bring to a boil and stir to dissolve the salt and sugar. Reduce the heat.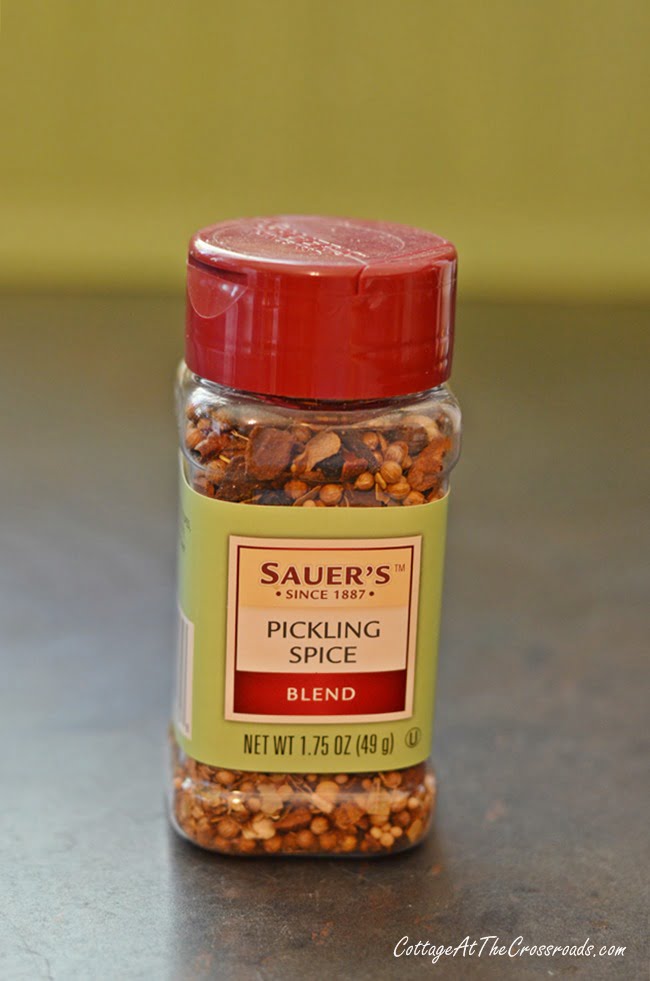 Add 8 tablespoons of pickling spice to the mixture and stir.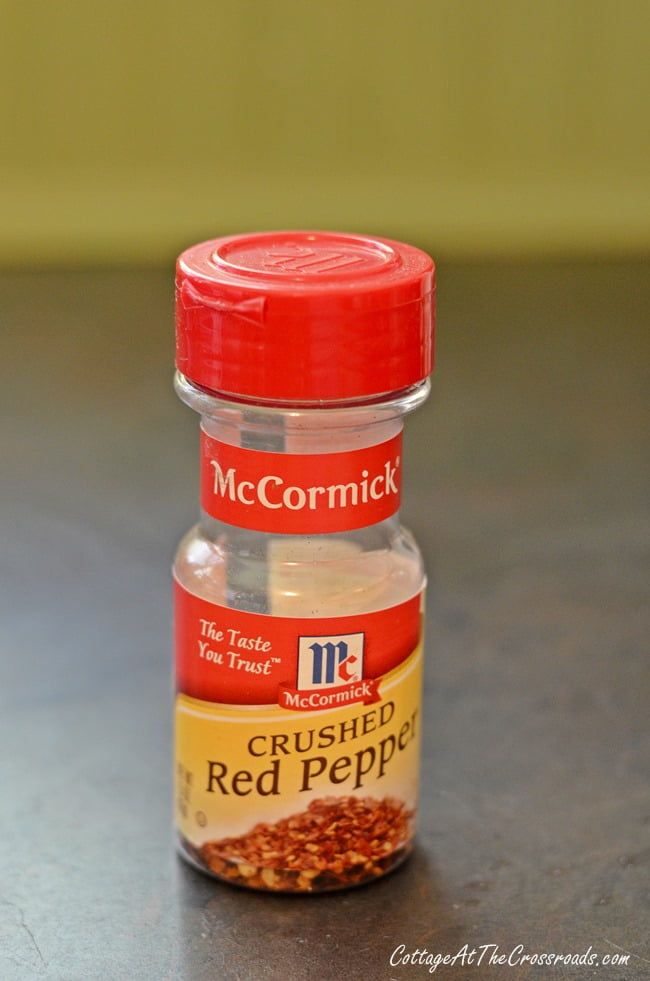 Adding 2 tablespoons of red pepper flakes is what makes the pickled okra really spicy so mix that in, too, and keep your mixture warm.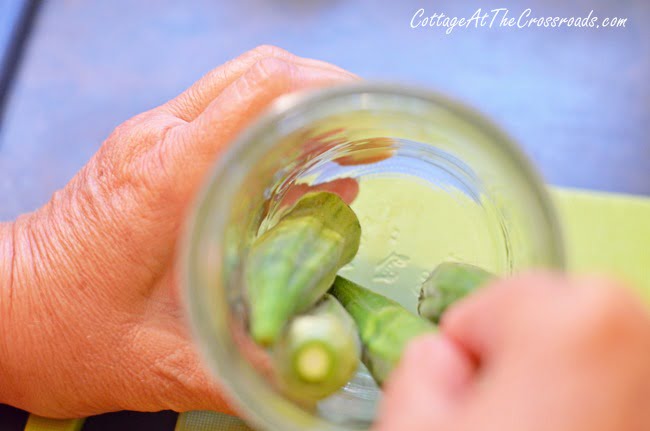 Place the okra in the warm jars, alternating stem-side-up with stem-side-down so you can pack the jars well. (Why, oh why, do my hands look so wrinkled in this picture?) Pour the vinegar mixture over the okra, filling to 1/2 inch from the top. Wipe the jar rims with a clean towel and immediately put on the lids and screw bands and tighten the bands snugly but not too tight. At this point, if you are not going to process the jars, allow them to cool and them place them in the refrigerator and use with 2 weeks.
But, if you want to preserve these babies for later use, add your jars to the canning pot and add additional water so that they are covered by 1-2 inches of water. Bring to a boil and process for 10 minutes. Be sure to begin timing when the water actually begins to boil, not from the time you placed the jars in the water. Remove the canner from the heat and allow the jars to cool for 5 minutes before removing them. Using a jar lifter, place them on a layer of clean kitchen towels and cool for 12-24 hours before storing.
Try to wait at least 2-3 days before eating any to allow the seasonings to be absorbed!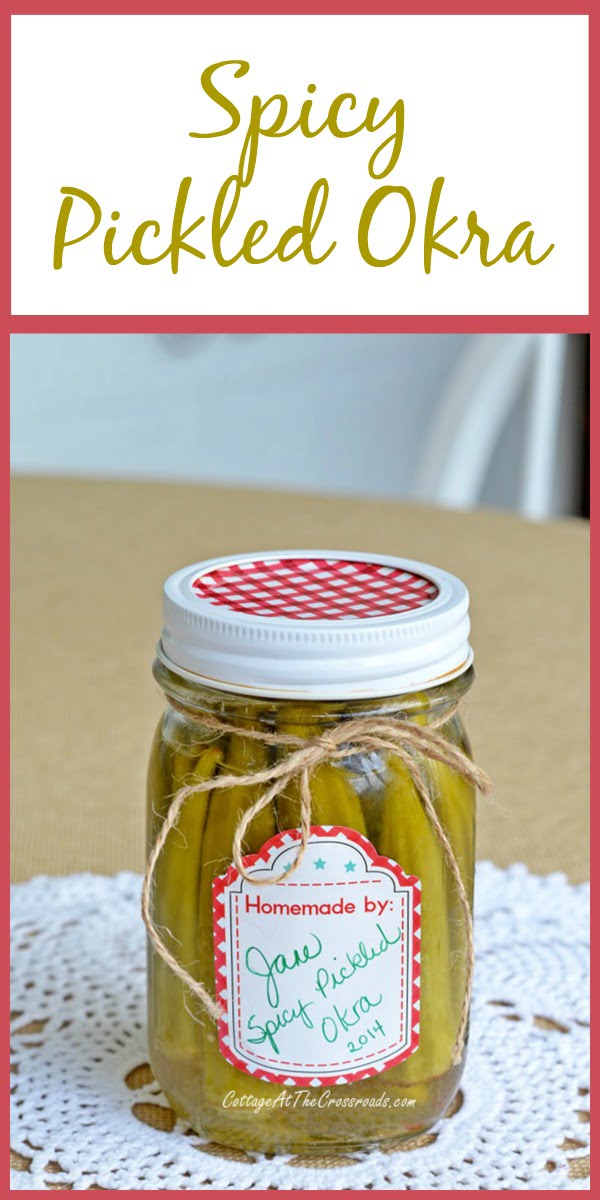 Oh my! I can hardly wait to break open a jar of these!
If you'd like a printable copy of this recipe, click HERE.
And to see more recipes for preserving the garden's bounty, you may want to follow my new Pinterest board FRESH FROM THE GARDEN.
Sharing at:
Wow Us [email protected]Savvy Southern Style