Versatile fermented garlic recipes bring piquancy and pungency to savory snacks. Compared to typical garlic paste or garlic cloves, fermented garlic has a unique flavor that is sweet and tangy and enlivens a dull dish.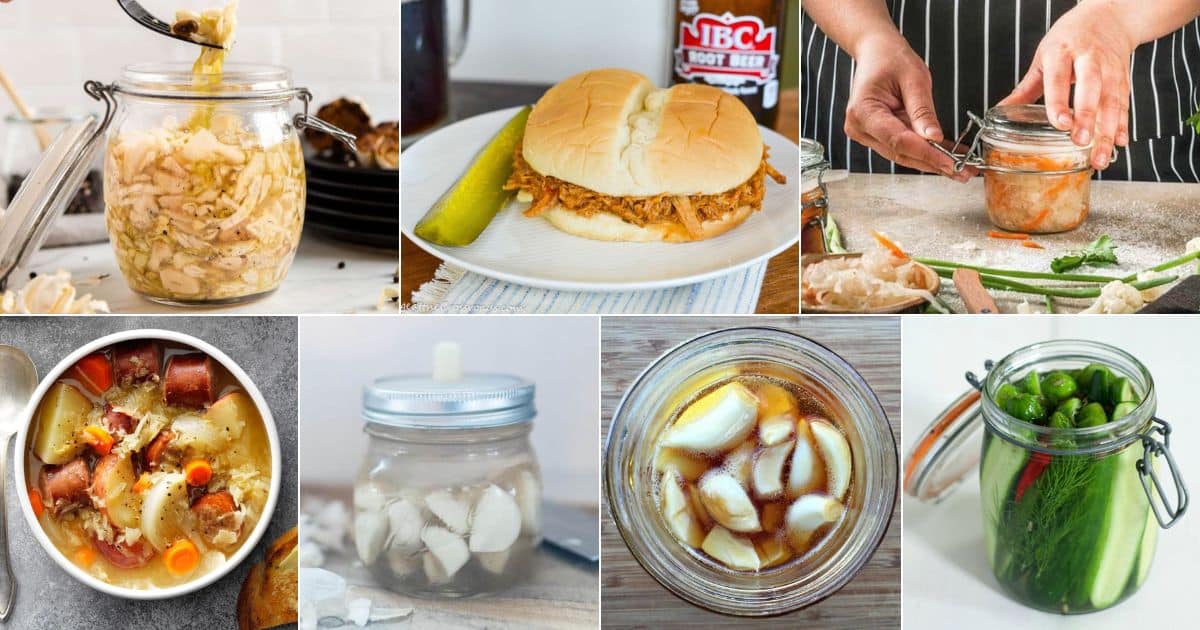 We love using fermented garlic for sauces, spreads, meat dishes, and fish. The possibilities are endless when making healthy fermented garlic recipes — check it out!
Contents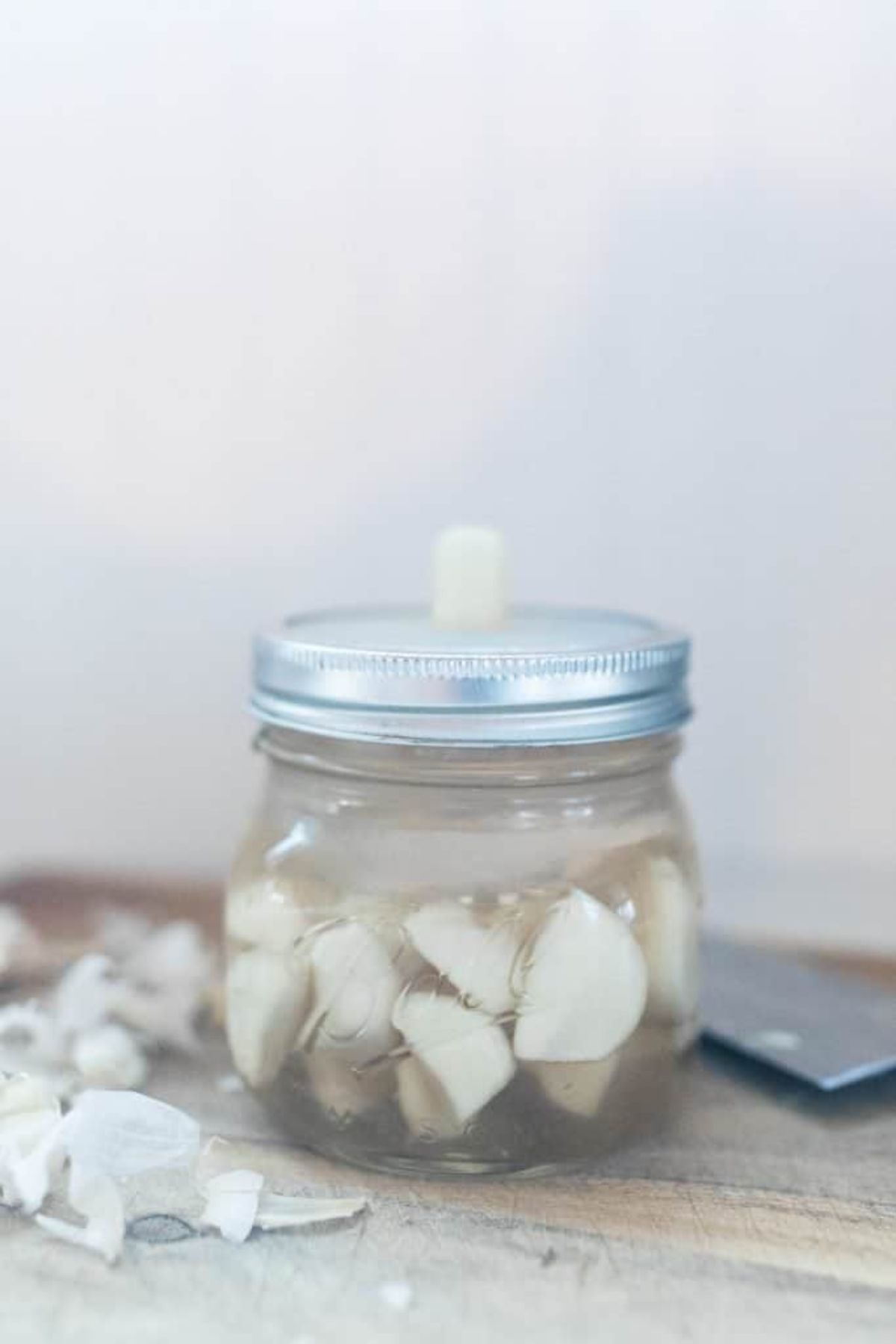 Include this healthy digestive food in your everyday diet if you want to get some extra probiotics! This garlic is easy to make and is delicious in any vegetarian or vegan dish.
We love how there are only a few ingredients for this fast-fermented garlic! All you need is garlic, herbs, salt, and water. Add this to pork, soup, meat substitutes (tempeh, tofu, vegetable patties, seitan, etc.), salad dressings, dips, sauces, stir-fries, marinades, and much more.
Plus, adding fermented foods to your diet is beneficial for your health. Probiotics help digestion and improve immunity.
When ready to make this recipe, gather the peeled garlic, water, salt, and herbs. Heat the water and dissolve the salt in it. Then, peel the garlic and add your chosen herbs. Next, pour the cooled-off brine into the garlic and place the lid on top.
Prepare the garlic and leave it to sit for three weeks after finishing. Sprinkle in some herbs, like thyme or oregano, to add flavor. Then, use the fermented ingredients in any garlic-based recipe.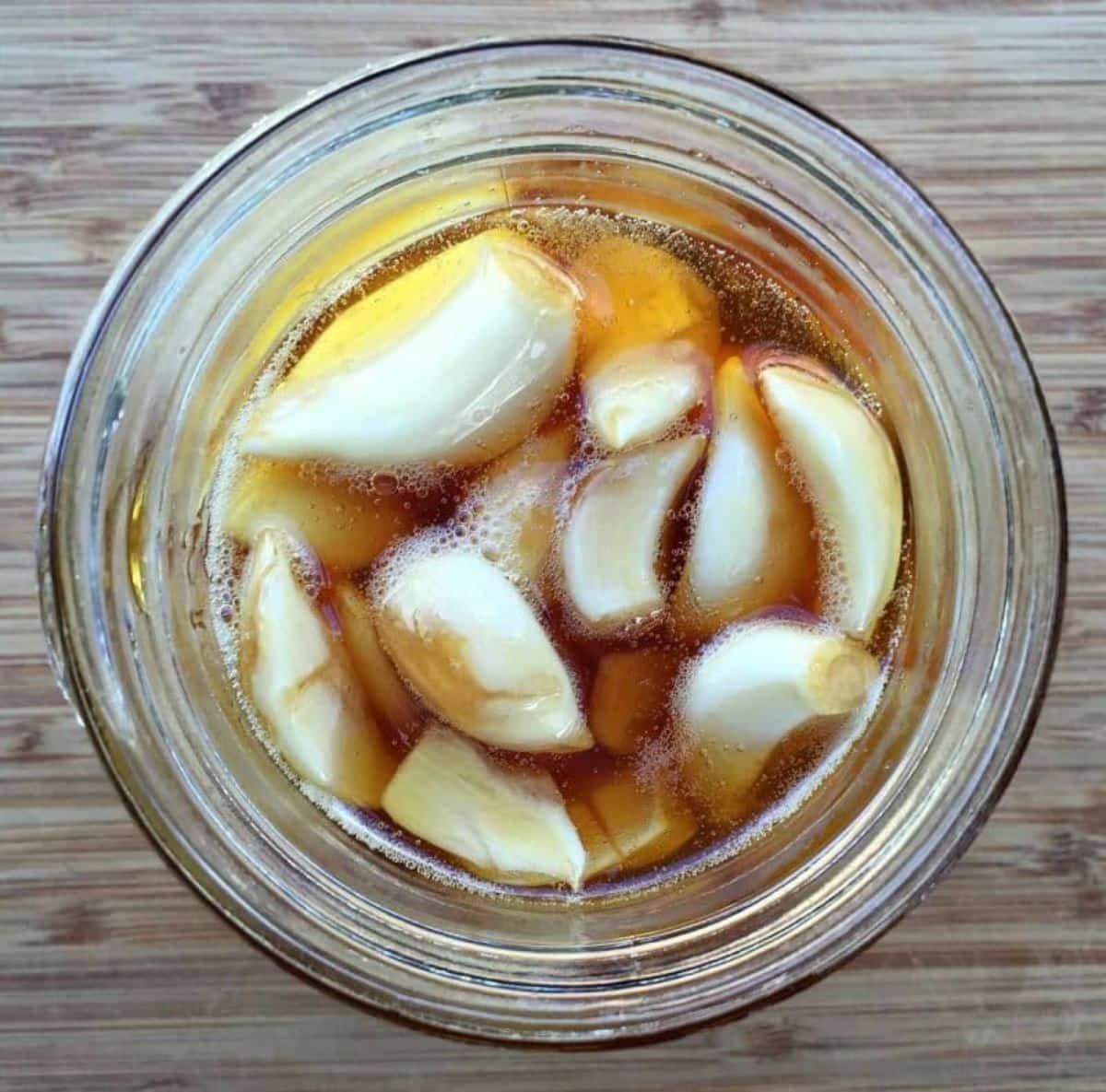 A sweet addition to any recipe, fermented honey garlic improves digestion and boosts your immune system. Add this honey garlic to teas, drinks, and sauces during the cold season so you stay healthy.
All you have to do is prepare the garlic, add the honey, cover the lid, and flip the jar every few days to ensure even fermentation. We recommend leaving the mixture to sit for at least one month. It's that simple and delicious!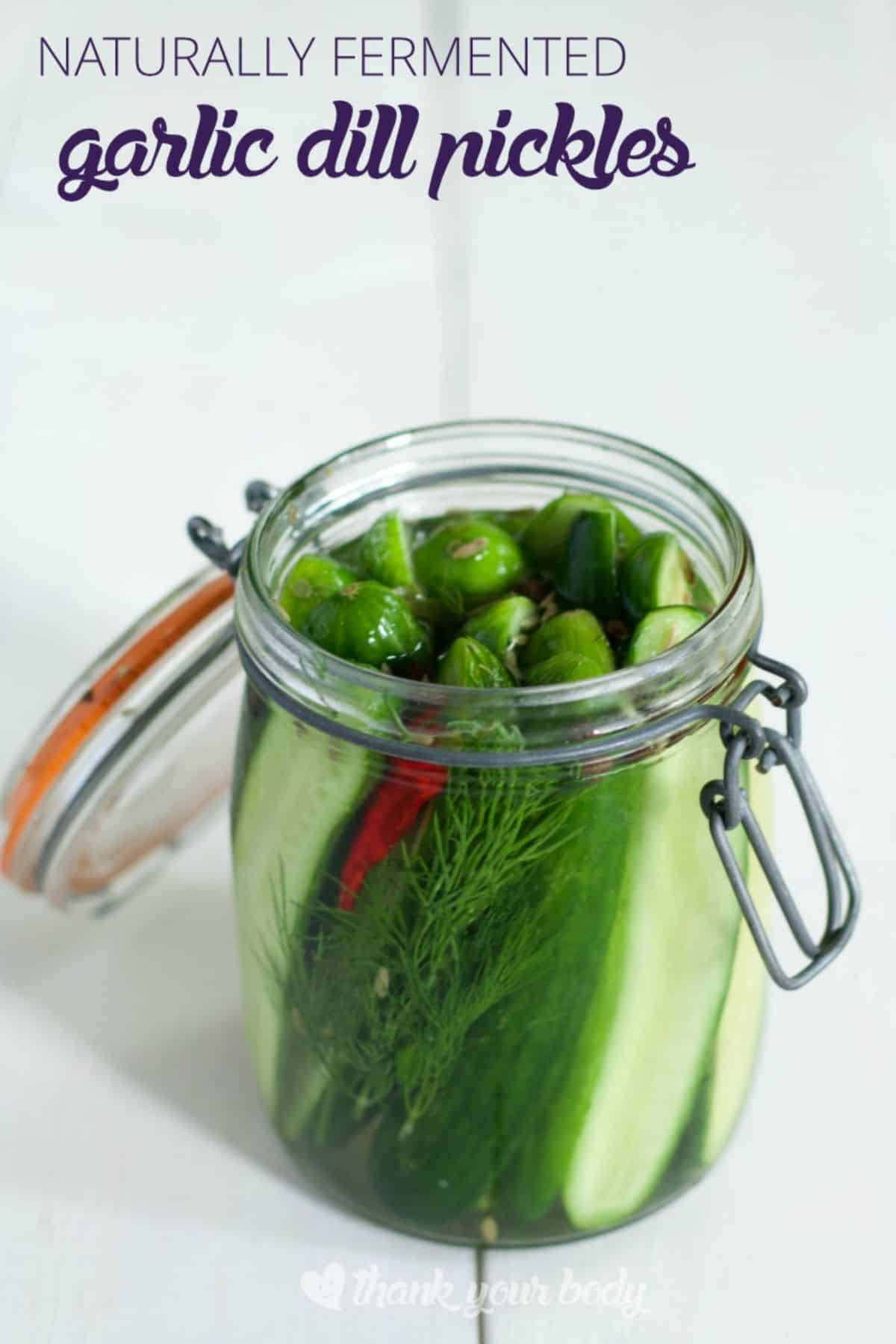 Ferment garlic to give homemade dill pickles a flavor boost. These dill pickles are great with or without dips to add to a sandwich or as an appetizer before a meal.
Make sure you choose the crunchiest and freshest dill pickles. Then, gather the organic dill, hot pepper (that's optional!), and grape leaves.
Pack the ingredients into a jar, layer the garlic down first, then the dill, then the peppers, then a grape leaf. Lastly, add the cucumbers. Use pickling spice over the top if you want an extra kick to the fermentation process.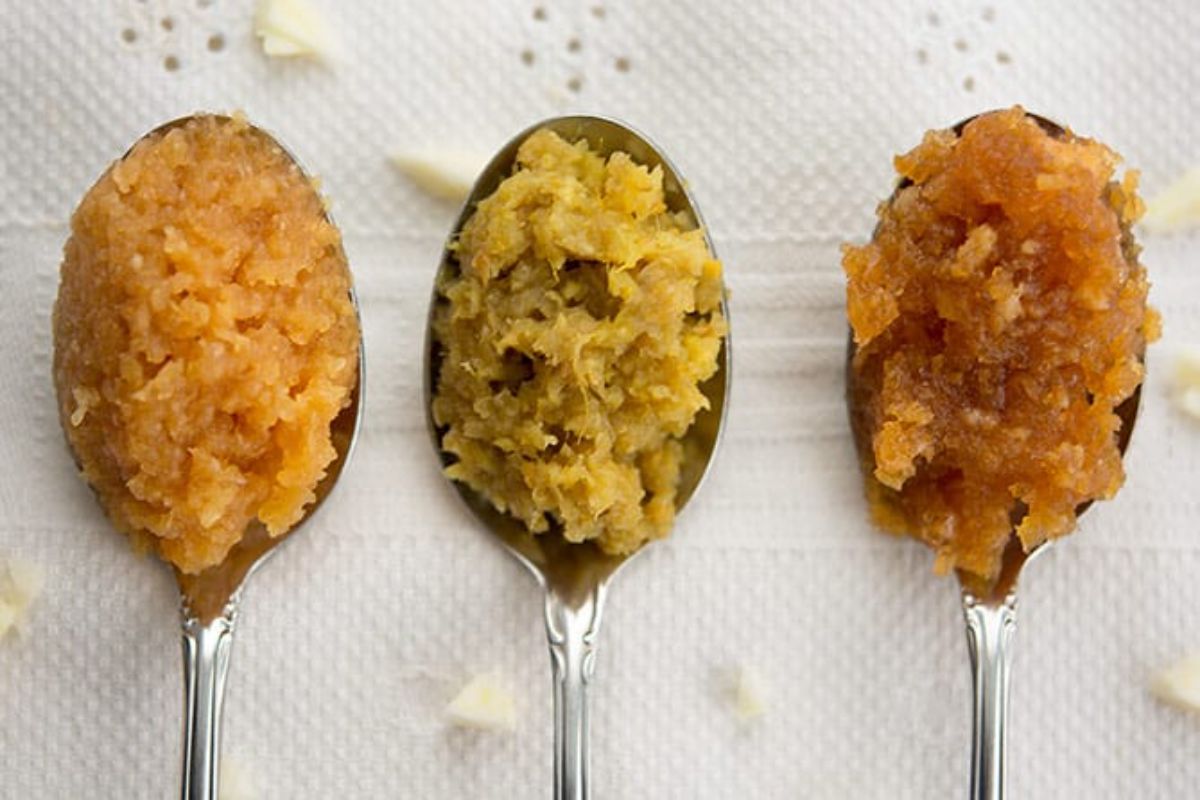 You can easily make fermented garlic paste by pureeing cloves, some salt, and fermenting the paste for a month. When you savor the bold flavor it brings to stir-fries and marinades, you will be thrilled you invested the time in this ferment.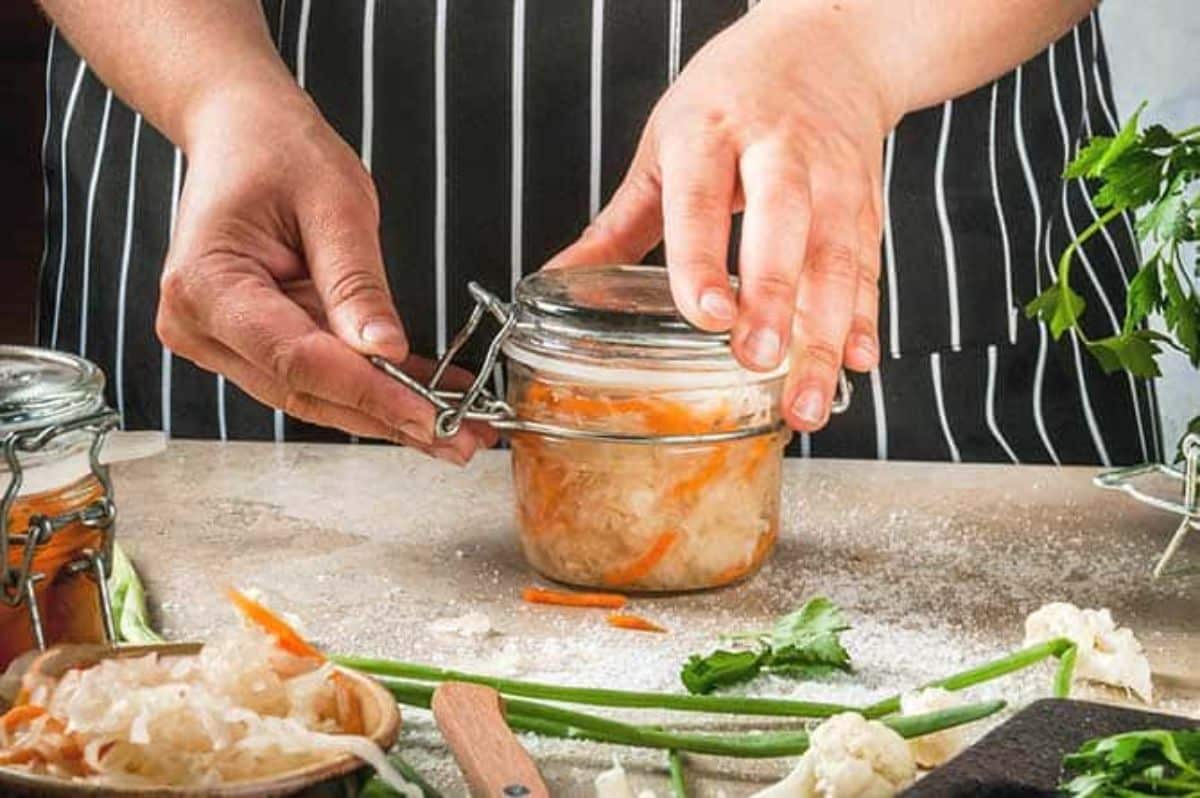 Do your crackers, dips, spreads, or sandwiches need a tangy brine for better flavor? Sauerkraut is a healthy addition to any dish that adds probiotics and boosts digestion.
Gather the necessary supplies for the sauerkraut. You will need fresh green cabbage, carrots, garlic, salt, and microbes.
Then, chop the vegetables and cabbage. Next, create the brine and pack the liquids and solids into one jar. Submerge the solids below the brine and seal the jar. Ferment the mixture for at least two weeks.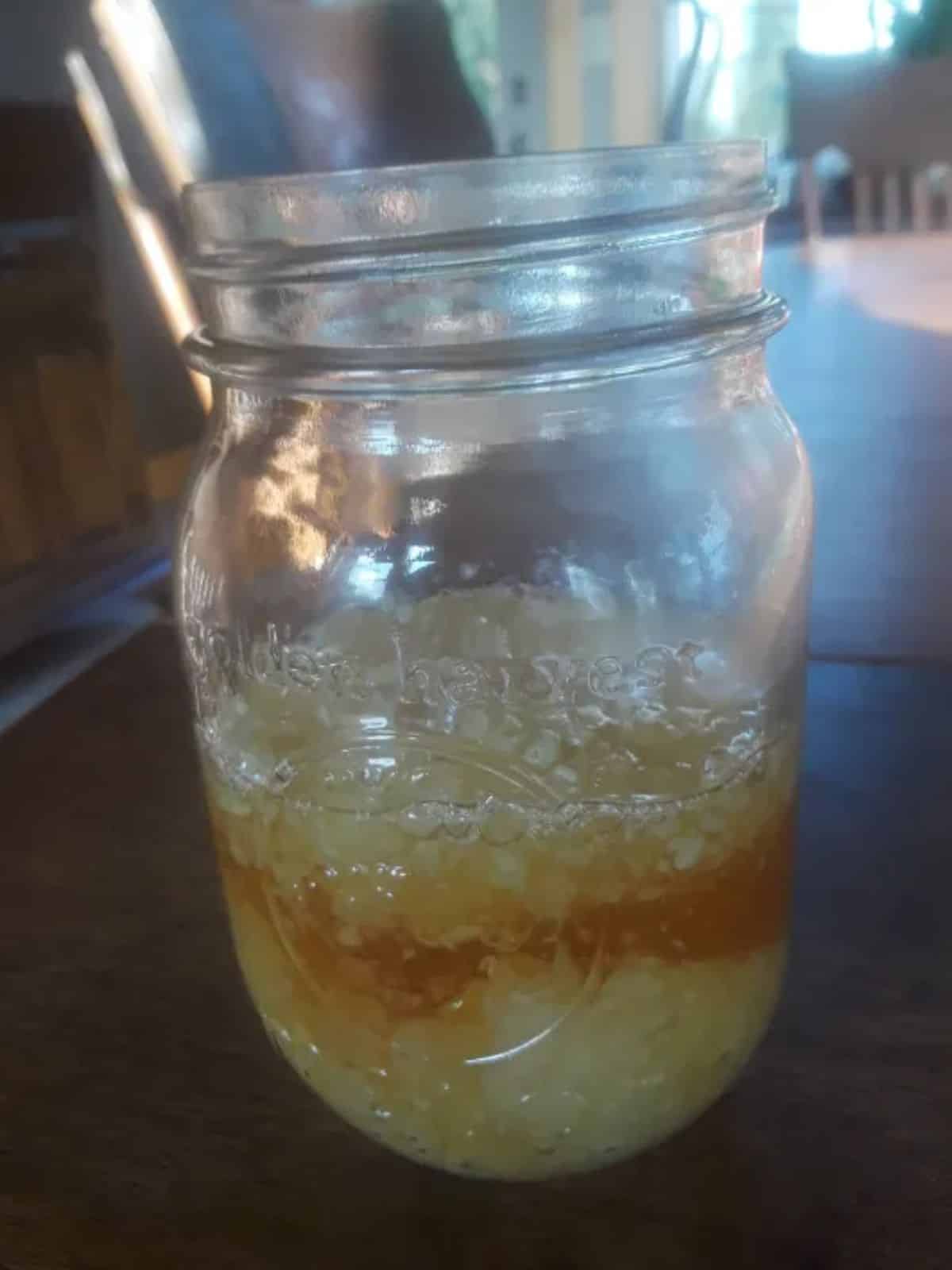 Flavor bland vegetables and enhance dishes with fermented garlic honey sauce. Or use it to spice up beverages. All you need for this recipe are large garlic bulbs and honey.
Separate garlic cloves and remove the outer peel. Add the cloves to a processor or finely dice the cloves with a knife, then put the garlic in a mason jar. Spread honey atop the garlic and let the mixture sit for at least a week. Ideal for seasoning root vegetables and meat dishes!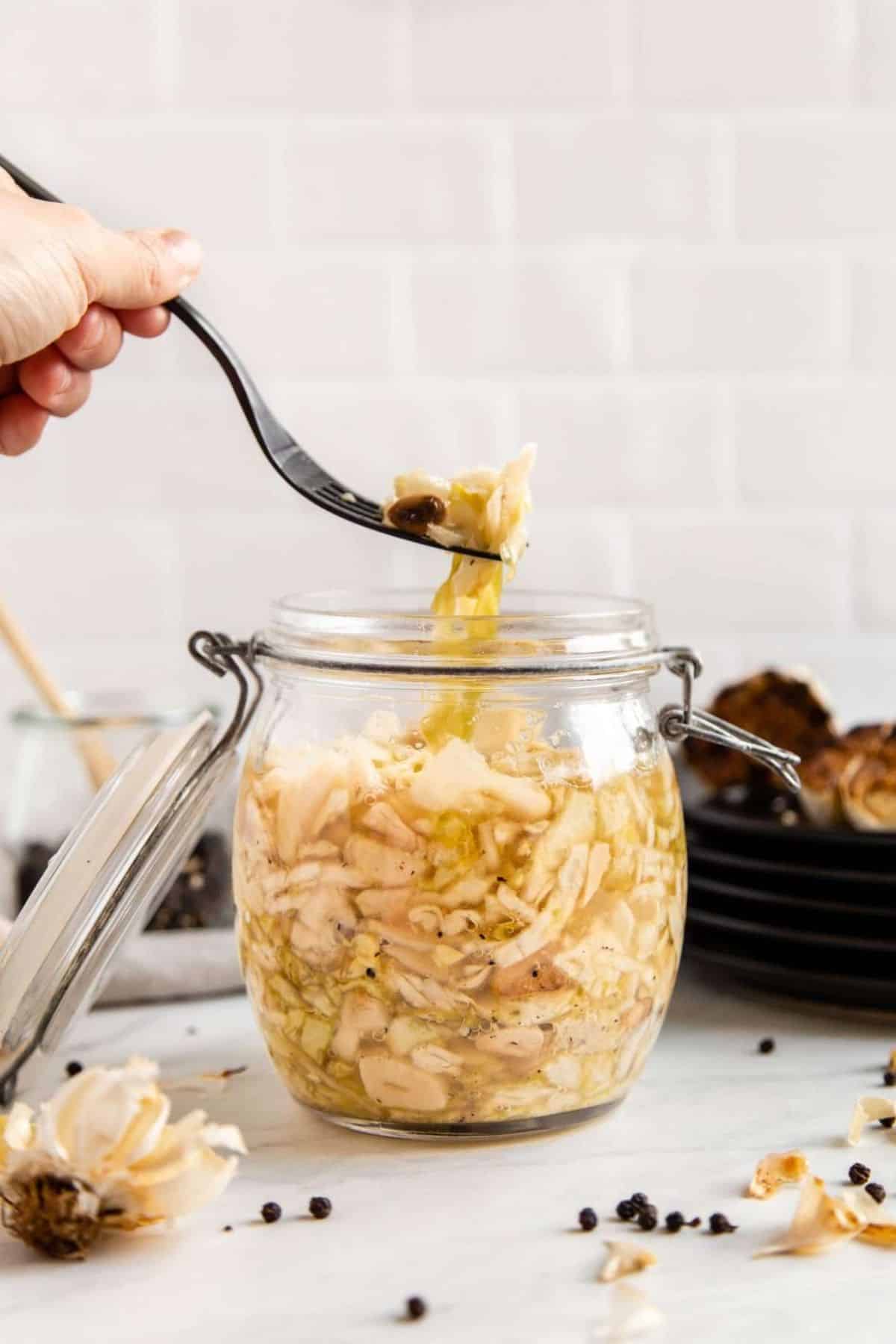 Want meat and vegetable dishes bursting with flavor? Then you must try sauerkraut spiced with roasted garlic and black pepper. We recommend using green cabbage, garlic bulbs, finely ground pepper, sea salt, and water.
The good thing about making sauerkraut is that you can make it and keep it forever! Sauerkraut is a recipe staple because it is divine in soups, stews, fish, or salted meat.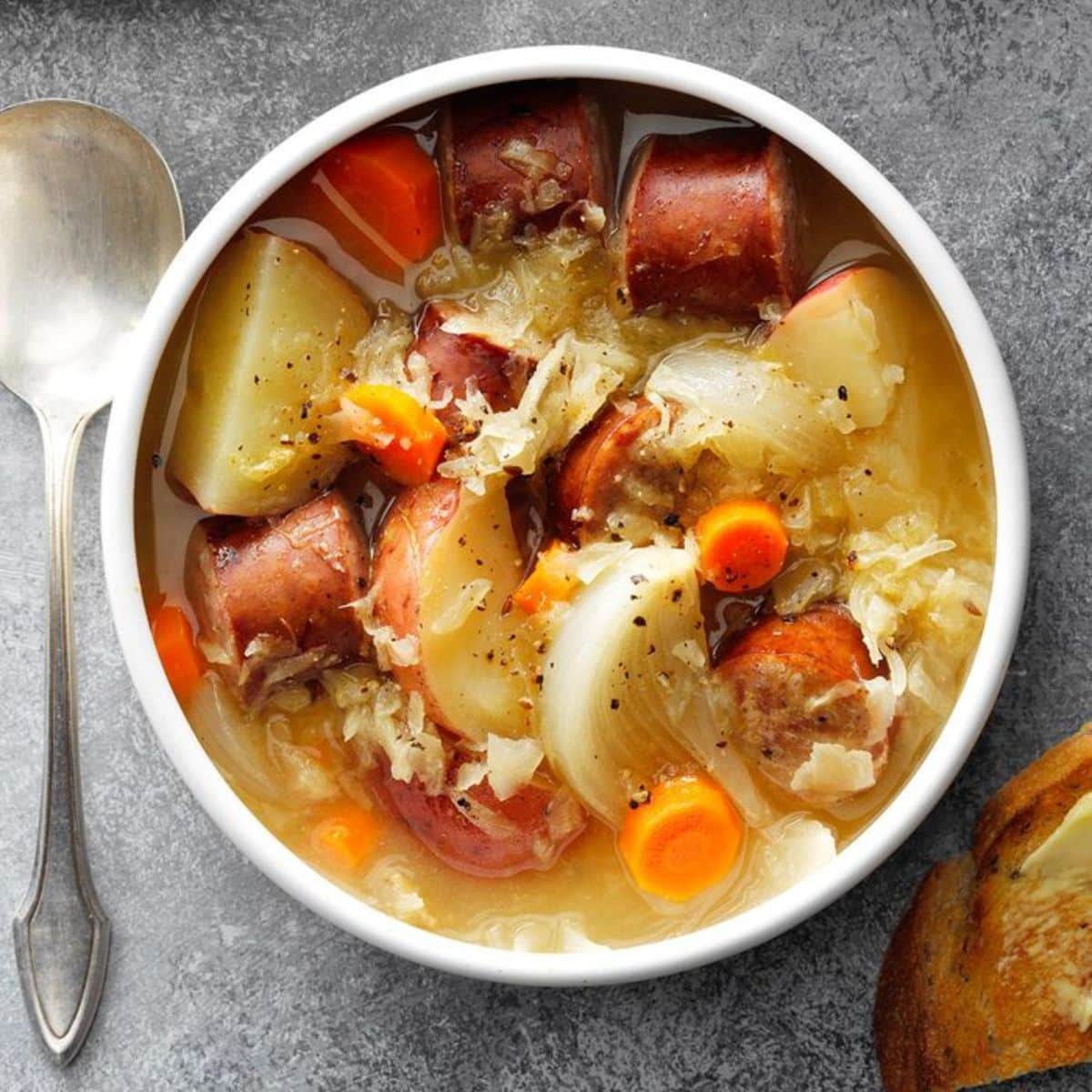 Whip up this sausage sauerkraut soup using fermented garlic to create a tangy and sweet flavor. Potatoes, carrots, onion, sauerkraut, brown sugar, chicken broth, kielbasa or Polish sausage, and spicy brown mustard are all you need to make this hearty and tasty soup for a cold winter evening!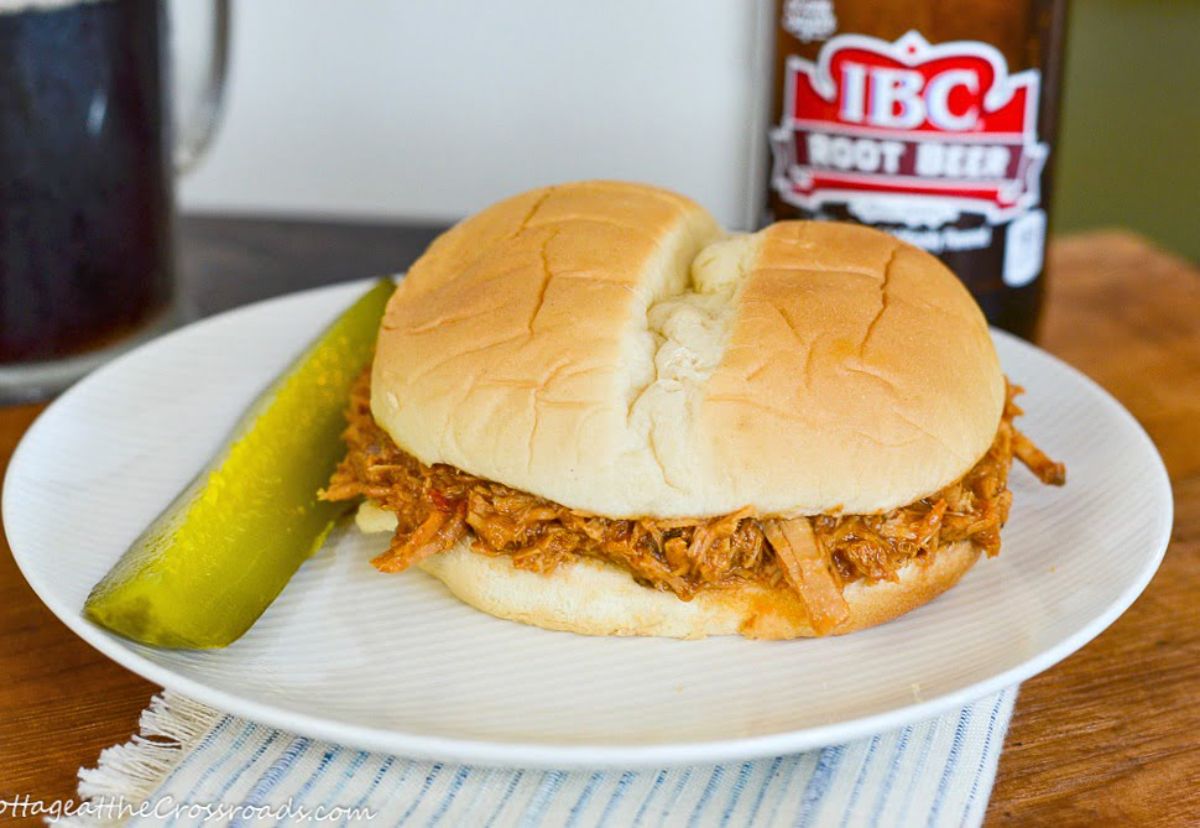 Mince or ferment garlic to add an extra kick to this healthy burger recipe! You will need a whole pork loin, chili powder, salt, black pepper, and root beer for the burger. Gather your fermented garlic to add to Worcestershire sauce, orange juice, ketchup, brown sugar, and yellow mustard.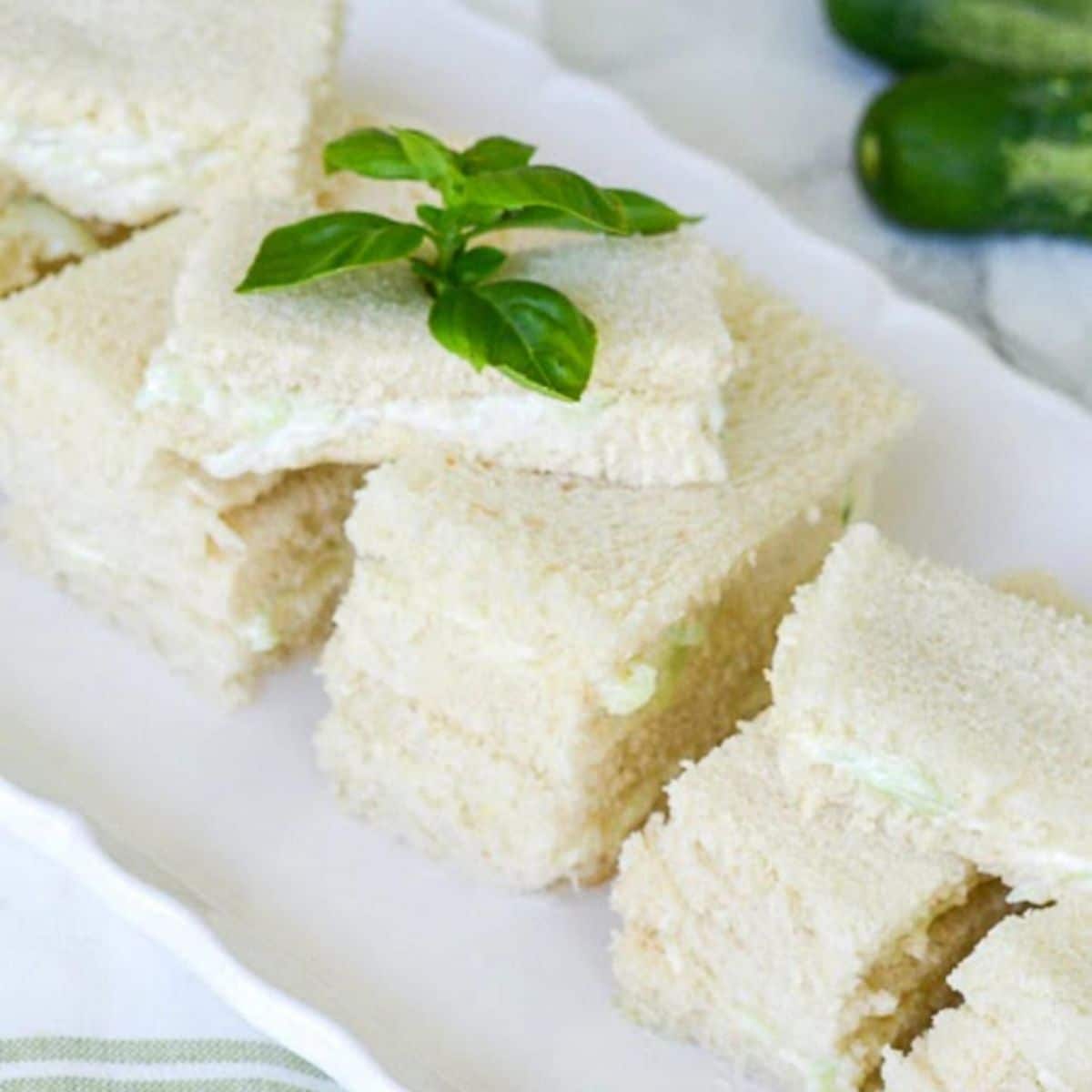 Fermented garlic, minced garlic, or garlic powder, you can make this cucumber sandwich spread in so many ways — but we think fermented garlic makes sandwiches sing!
Eager to savor this spicy, garlicky spread? Get out the cucumbers, onion, cream cheese filling, and spices. This easy recipe takes just a few minutes, which makes it the ideal addition to a last-minute cocktail party.
Grate the cucumbers and add sweet onion in a bowl. Then, mix in a block of cream cheese, mayonnaise, spices, and fermented garlic. Blend all of the ingredients, and done!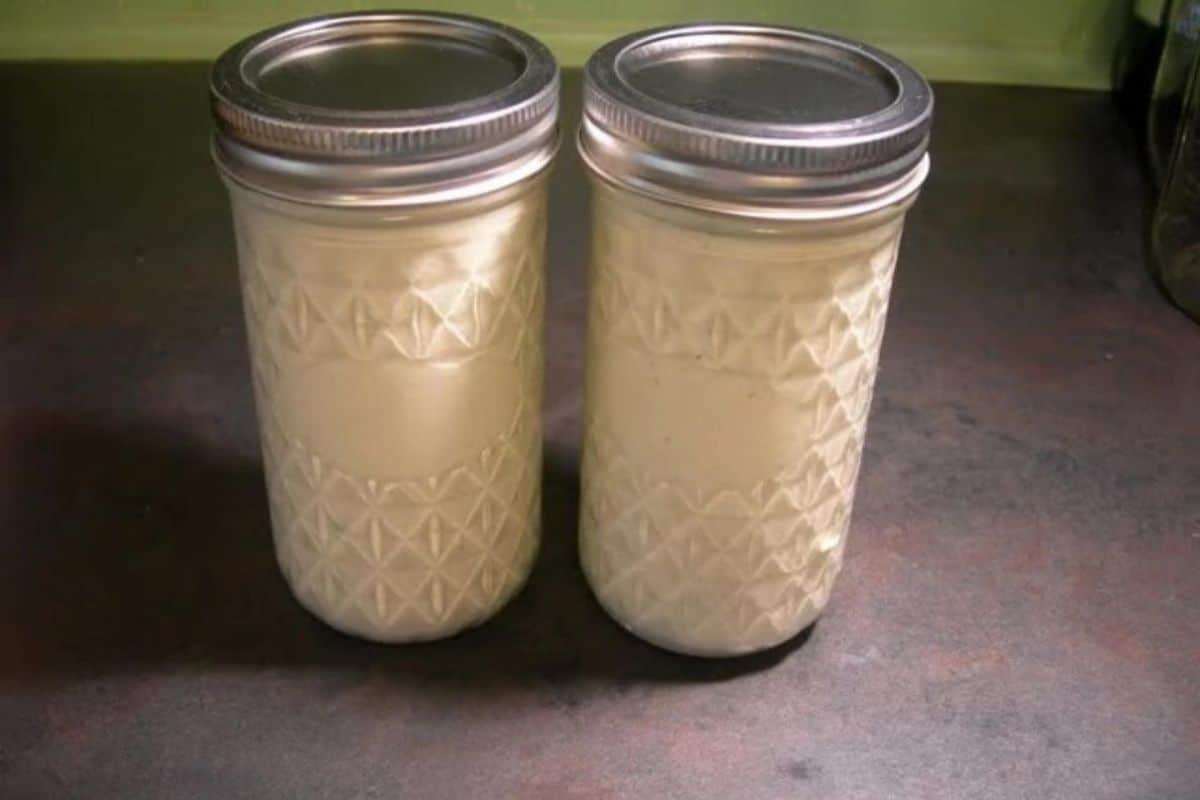 Garlic powder, garlic cloves, or fermented garlic, this super easy dressing recipe uses either. It's up to you and your garlic preferences. We love fermented garlic for a sweet and tangy taste to this light and simple dressing for the summer months.
Give this recipe some depth with cucumbers, onion, mayonnaise, lemon juice, Worcestershire sauce, sugar, and fermented garlic. Grate the cucumber and onion into one large bowl. Then, add the mayonnaise, salt, lemon juice, sugar, and Worcester sauce. Lastly, add the fermented garlic and put the mixture into a jar to save.
Final Thoughts
Fermented garlic recipes are nutrient-dense and packed with flavor, spice, and tanginess. That's why it is a must addition to every savory dish. So master meal time by adding these garlic blends to sauces, spreads, soups, and sauerkrauts!