So if you're new here, we want to say, "Welcome to the Crossroads and come on in!"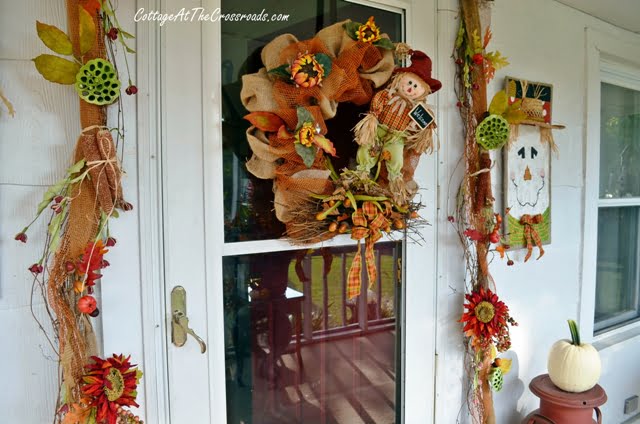 The first thing that you'll see after you step up onto the screened porch is this scarecrow wreath and garland that's around our front door.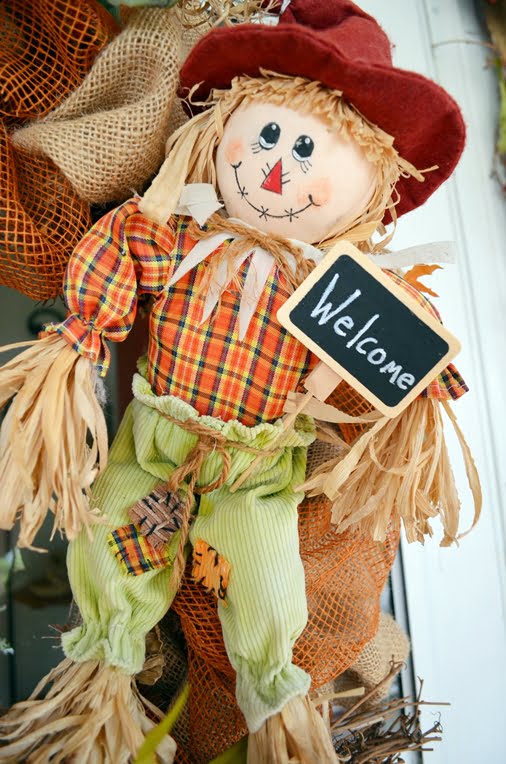 Have I mentioned yet how much I love scarecrows?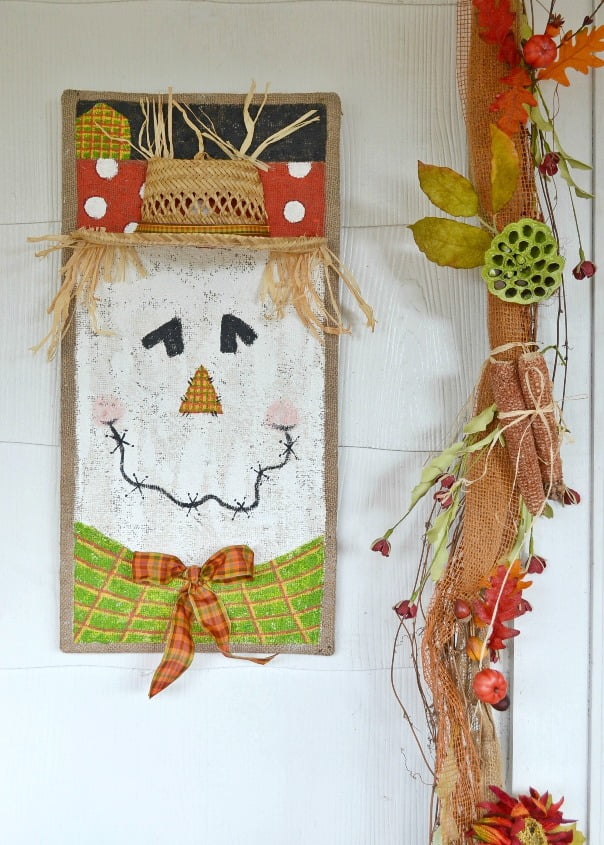 Well, I like them so much that I painted two of them this year! The directions on how I did it can be found in the post How To Paint Scarecrows on Burlap.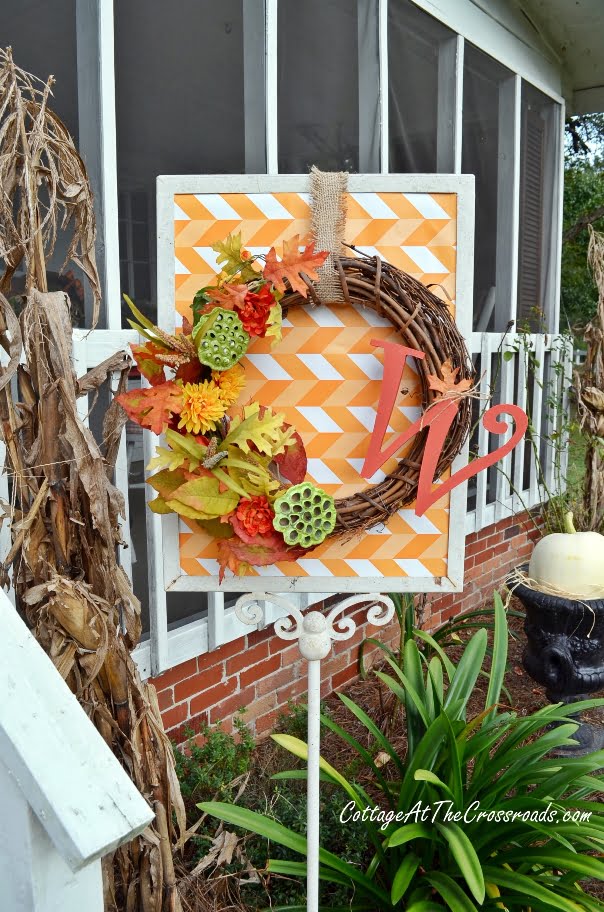 On the porch is this really cool stand that I found earlier this fall. It was outside for a while, but I brought it inside when we had some rain.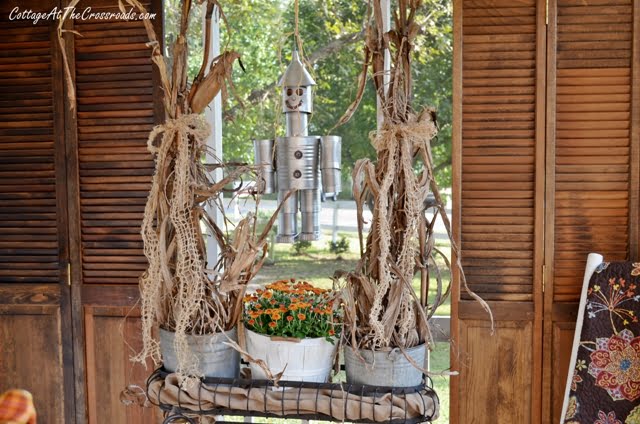 Some of you have already seen our Tin Man that we have hanging on our porch. How can you have scarecrows without having a Tin Man? I saw him in Magnolia's restaurant in our little town, and he had to come home with me.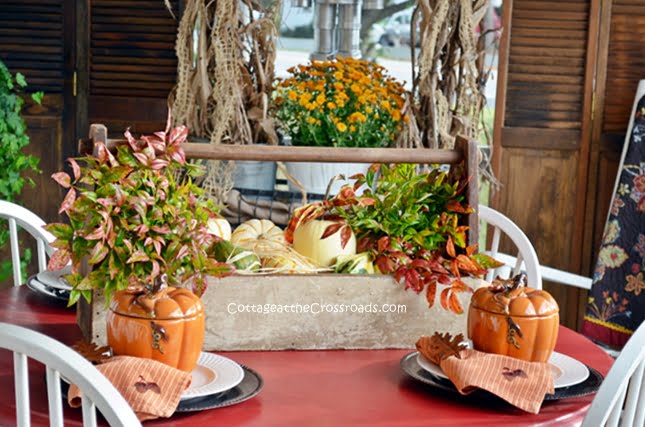 I'm so glad you stopped by because I was just setting the table on the porch for dinner.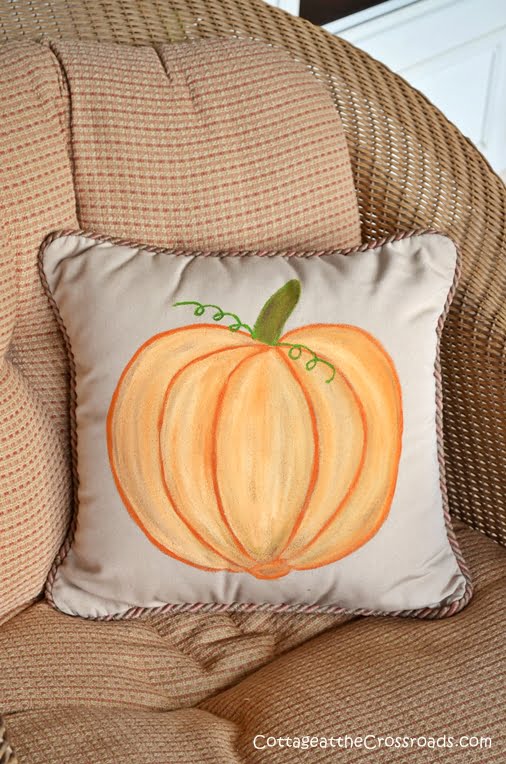 While I was in the painting mood, I whipped up this new pillow. Well, the pumpkin is new, but the pillow isn't. It's been around for quite a few years.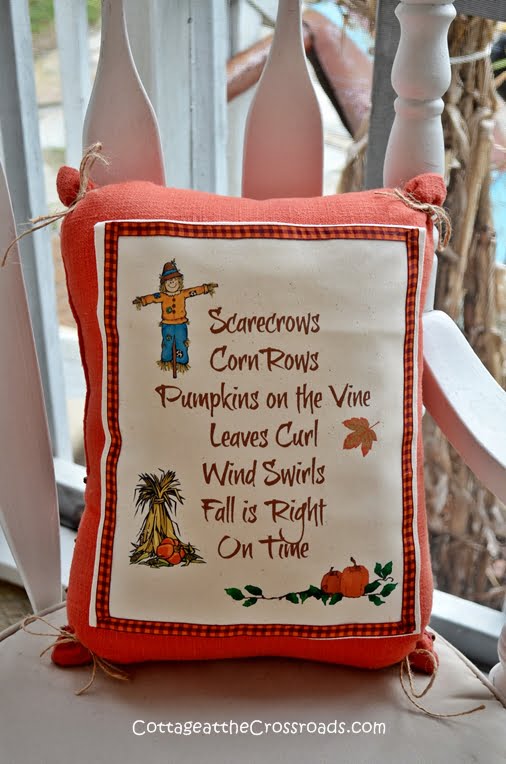 And while I was in the pillow making mood, I put this pillow together with a free printable that I created recently. It was a no-sew project because I glued the canvas onto an old pillow and tied the corners with twine.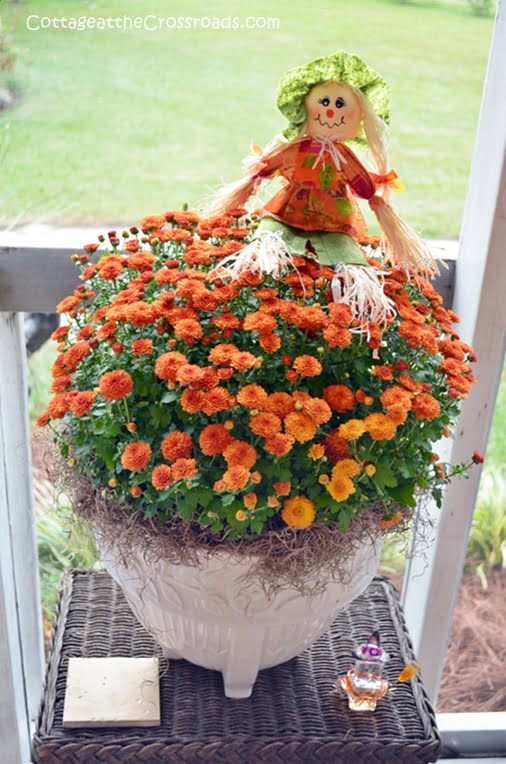 This scarecrow girl is guarding the mum and there's a little crystal scarecrow ornament on the table, too.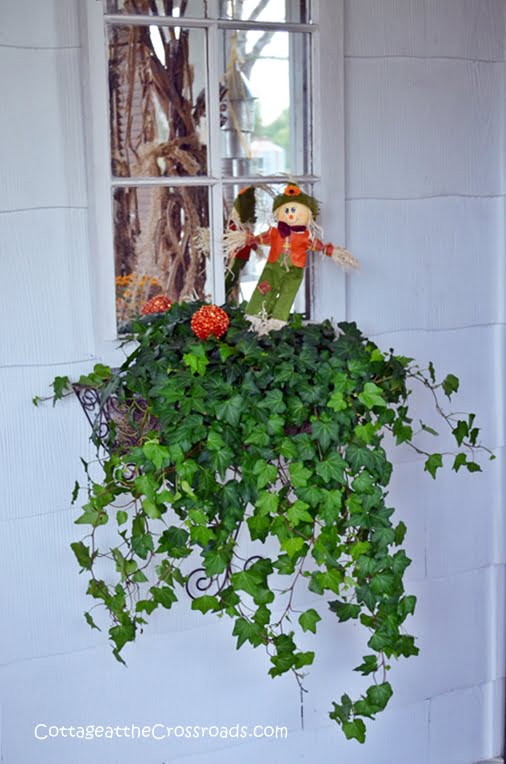 Her boyfriend is hanging out here in the ivy! Did I mention that I have a thing about scarecrows?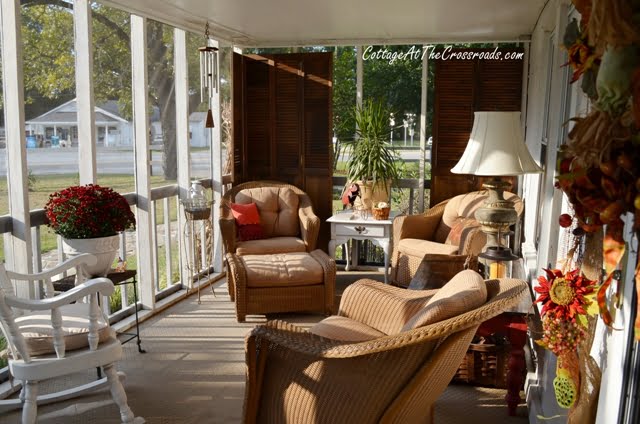 Now that you've seen our front porch, I must take you out the back door onto our little deck.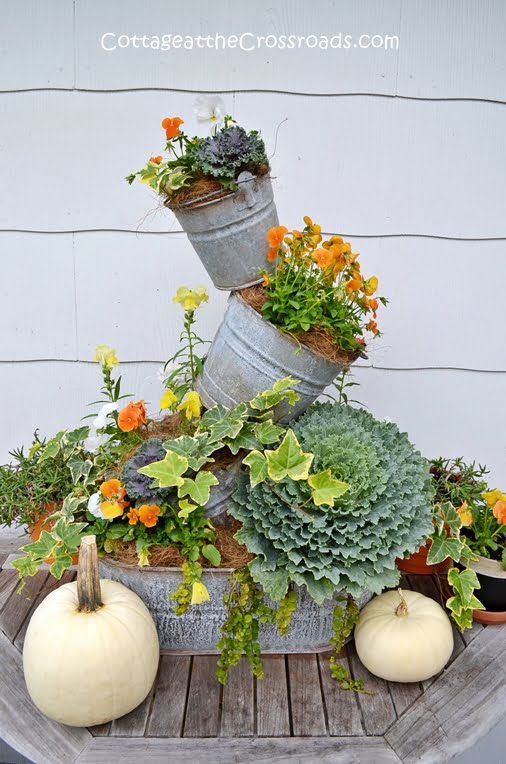 Yep! The topsy turvy planter has been recently updated with some fall plants. It was really pretty all summer, but it was time to freshen it up for fall.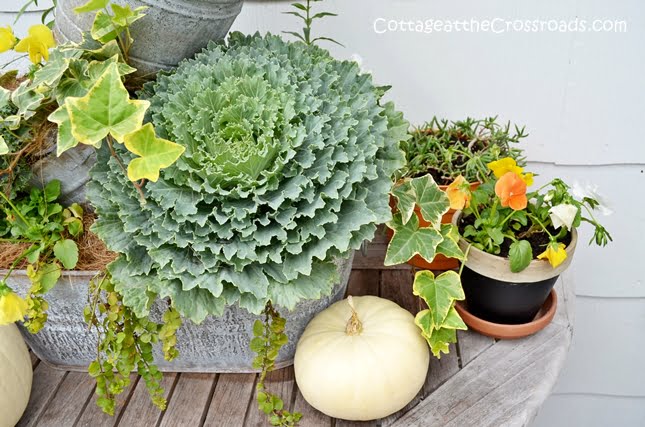 In case you'd like to make your own, the directions can be found in the post Topsy Turvy Galvanized Buckets.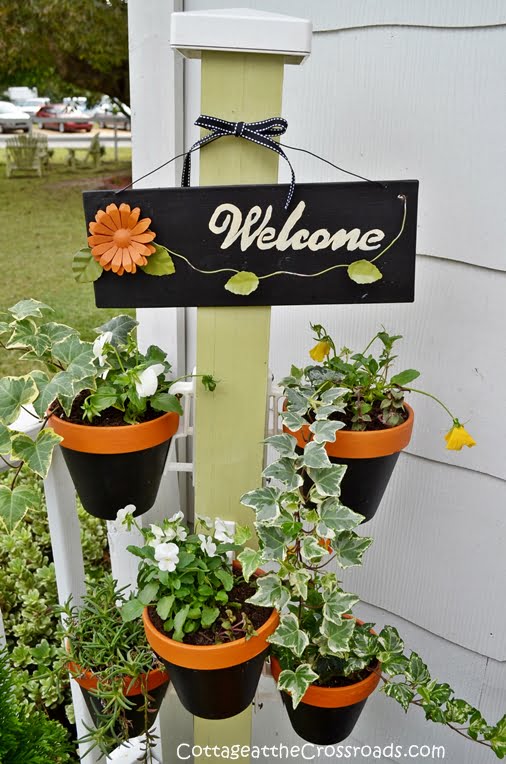 The pot holder stand was freshened up too with some plants that will live all winter.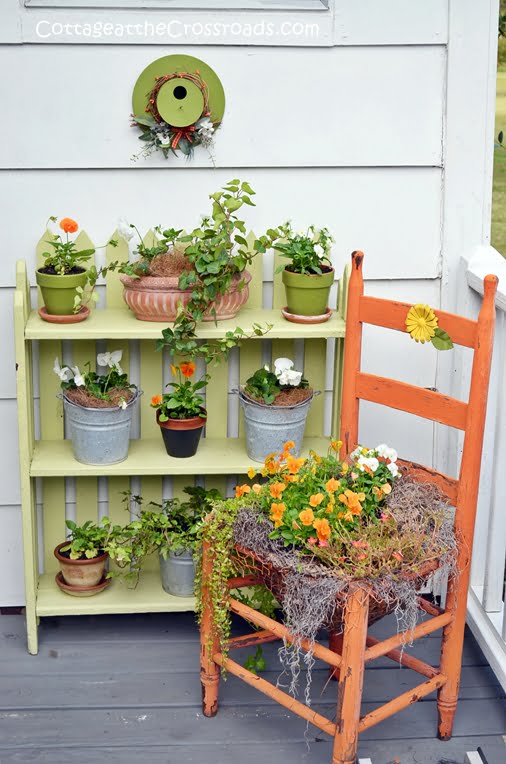 Isn't it amazing the impact that fresh plants have? The little bookcase, as well as the chair planter, look totally refreshed. Even the little birdhouse got dressed for fall.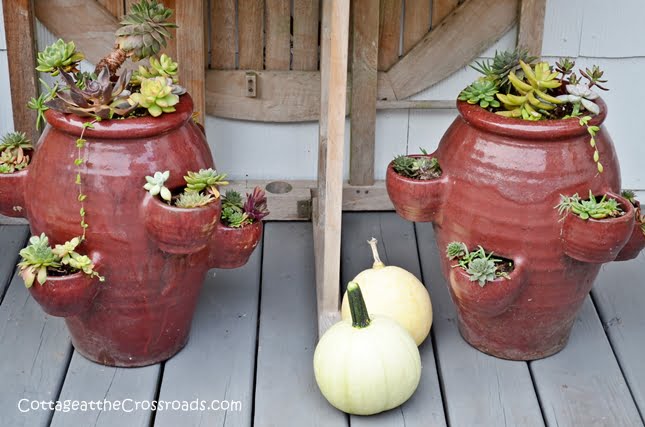 These 2 strawberry pots were replanted with succulents a few weeks ago. I tucked them under the table so that they wouldn't get too much rainfall.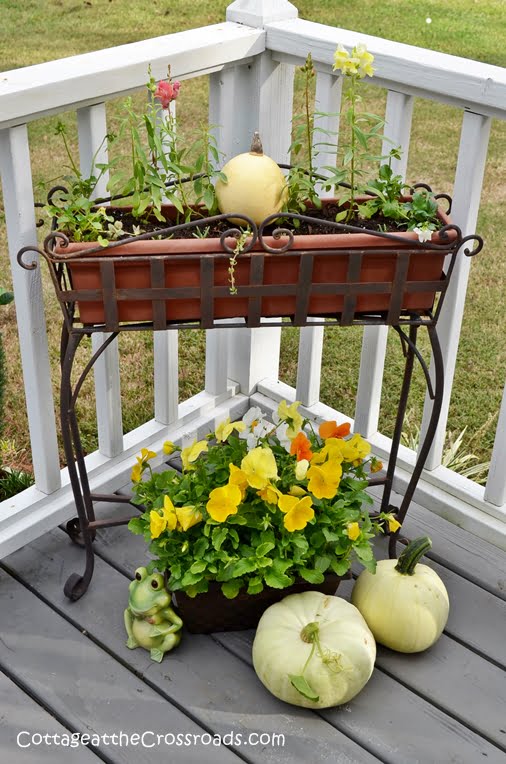 This little planter has been planted with snapdragons and pansies. They don't look like much right now but they will put on quite a show in the spring. Are you wondering about all the white pumpkins in the photos? We grew them in our garden this year! And if you had more time, I'd take you out into the garden where our fall vegetables are growing.