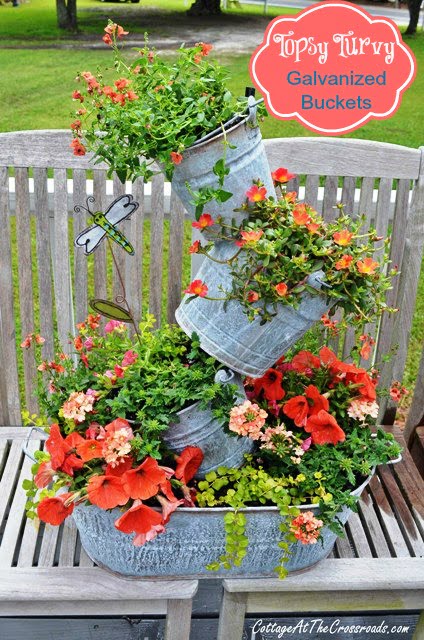 Hi everyone! I'm back with the tutorial on how to create a topsy turvy galvanized bucket planter like I promised you!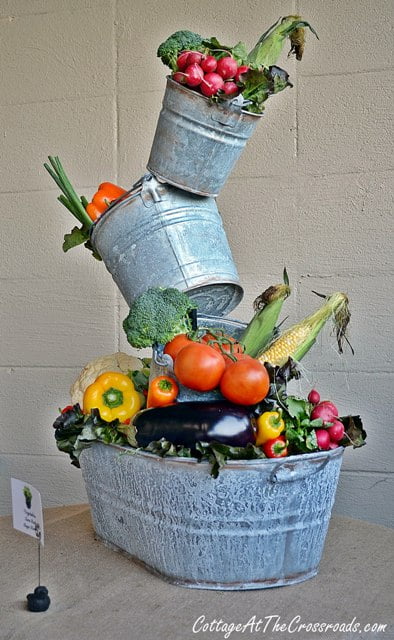 This planter was originally created to serve as a centerpiece for a recent party that I helped plan, but I knew that as soon as the party was over that I would be putting plants in it.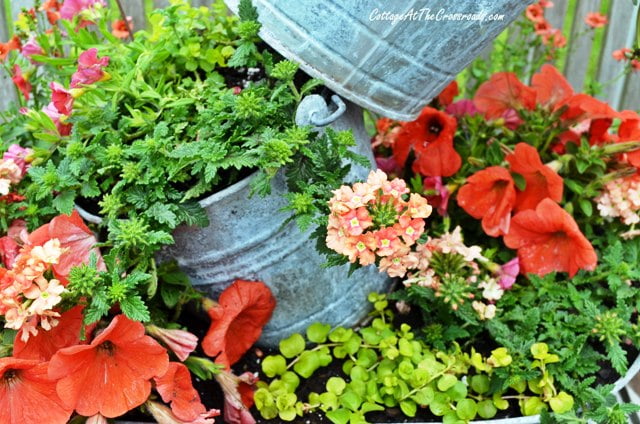 I had more fun choosing the plants because I happened to run across some pots at Lowe's with this mix of orange trailing petunias, orange calibrachoa, and peach verbena.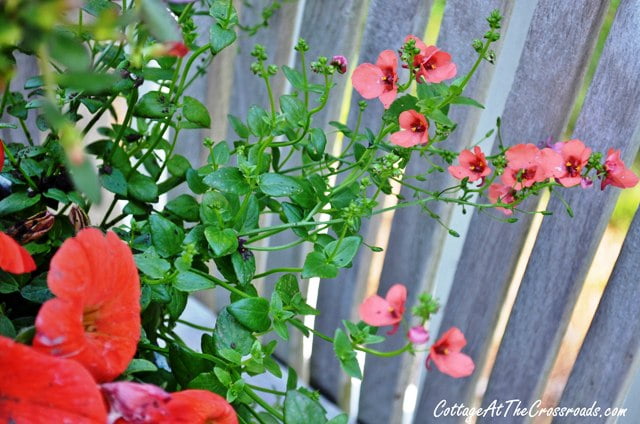 Just the day before, I had purchased two of these plants called flying colors in coral at our local garden center. I've always been partial to the color coral and wear it frequently. So when I spotted these, I bought them to go in some hanging baskets that I was making. But they ended up in my topsy turvy planter!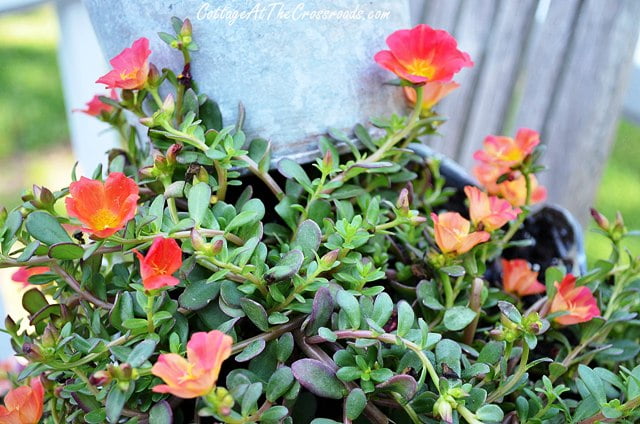 So once I settled on my color scheme, I came home with this purslane also.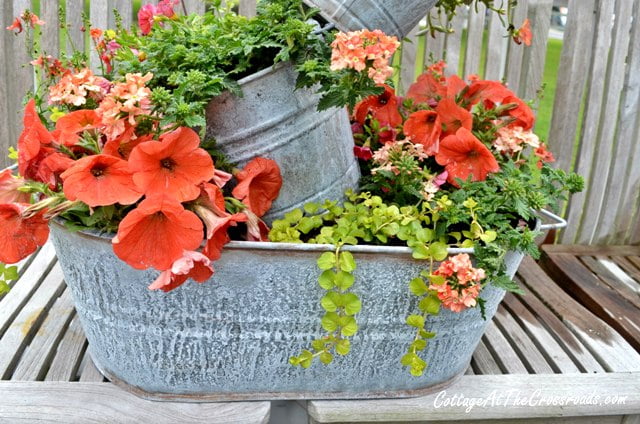 The little green plant spilling over is called creeping jenny and the label says that it needs part shade, but I have used it in full sun successfully as long as I keep it well-watered.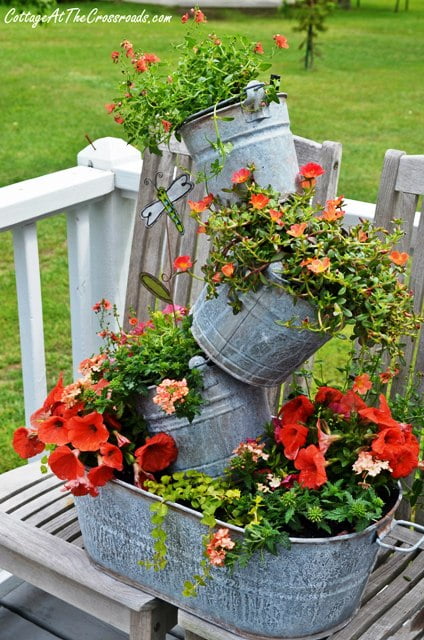 The color combination of all the orange and coral colors is so pleasing to me that I smile every time I pass by it.
So, here's a little tutorial on how we made the planter, just in case you'd like to make one, too.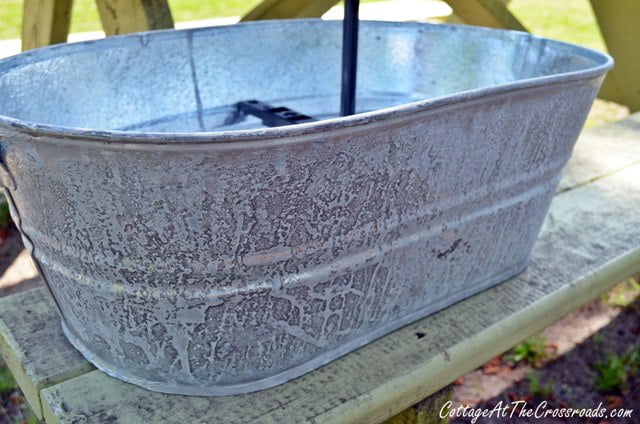 First you will need some galvanized buckets. If you happen to have some old ones around, that would be perfect. But I didn't have enough old ones so I purchased new ones at our local farm supply store. You can also purchase (affiliate link) GALVANIZED BUCKETS FROM AMAZON. The new ones are all bright and shiny, so you can knock back that shine by spraying the buckets with Clorox bleach and letting them dry in the sun. To construct the planter, I used a 3.7 gallon oval wash tub for the base, two gallon sized pails, and one 1.5 quart sized one, but you could use any sizes that you wish.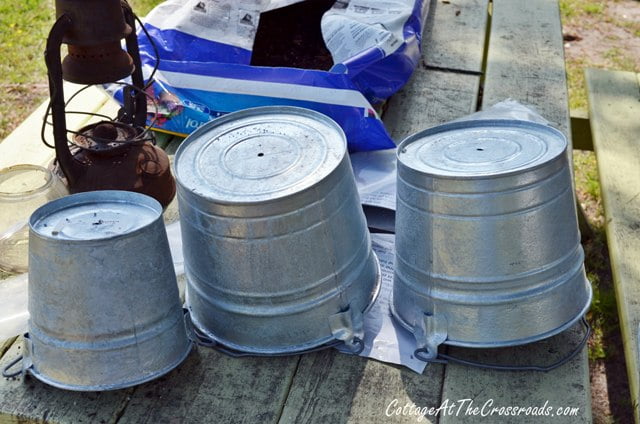 Here are the smaller pails.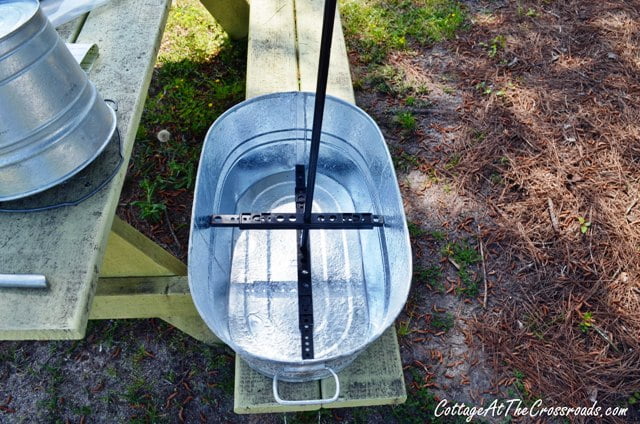 To put the pails together, you will need some sort of rod. Metal conduit pipe and rebar can be used, but we had already purchased this contraption at a garden show last fall.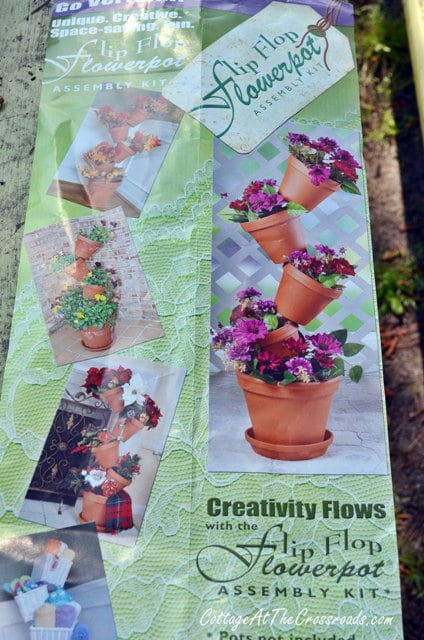 Even though we used this, I really would not recommend buying it. The rod is actually made of hard plastic and is flimsy. But, we went with what we already had and made it work.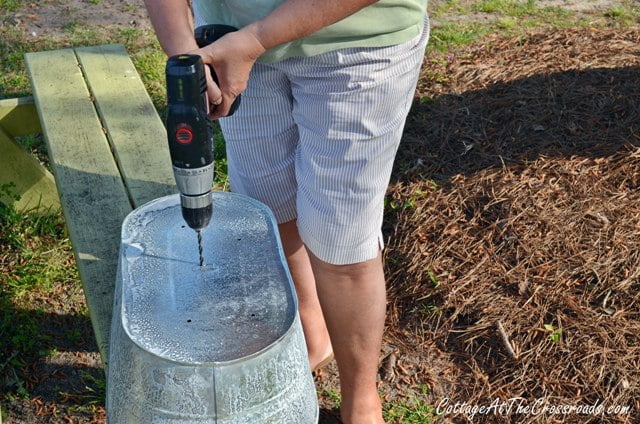 Put on your safety goggles and drill some small holes in your base and your other buckets for drainage. You will also need to drill a larger hole in each of the smaller buckets for the rod to pass through. Just make sure the hole is a little larger than the diameter of the pole because you need to be able to tilt them. If the hole is the same size as the pole, you won't be able to do that.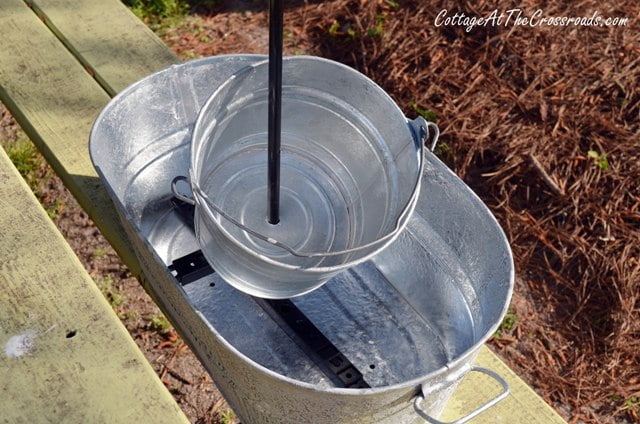 See what I mean?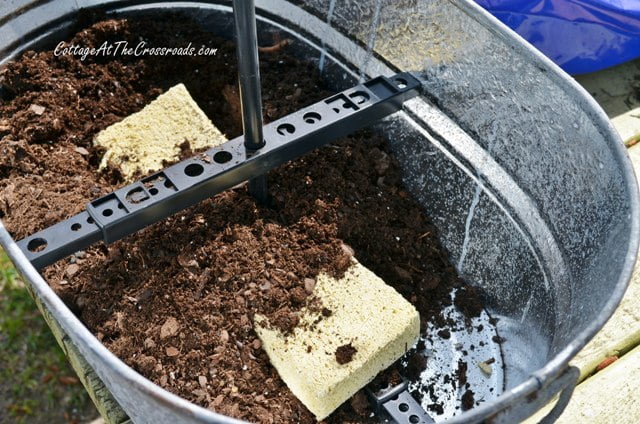 Once you get all your holes drilled, you're ready to add your potting mix. I also added two sponges because they help hold moisture in the soil. I thought by adding the soil and wetting it that it would make the pole more stable, but it didn't. So the next day, I took out all the soil and had Leo add a little concrete around the pole in the bottom. (We covered the drainage holes with paper cups so that the concrete would not cover them.) Worked like a charm, but if you are going to use rebar or conduit pipe, the best way to anchor your topsy turvy creation is to run the pipe through the bottom hole in your base and pound it into the ground about a foot. Then you won't have to worry about it tipping over in high winds!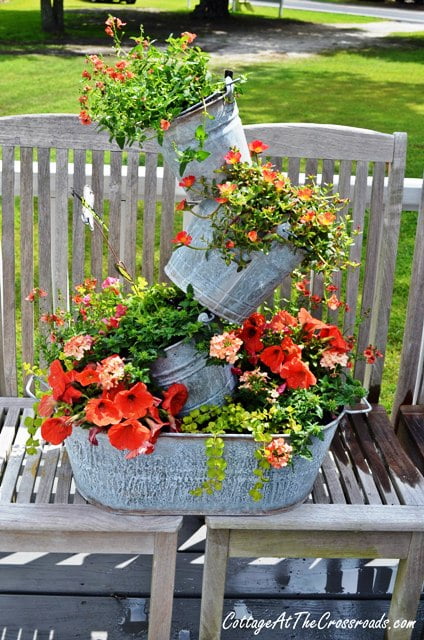 Ain't she pur-dy!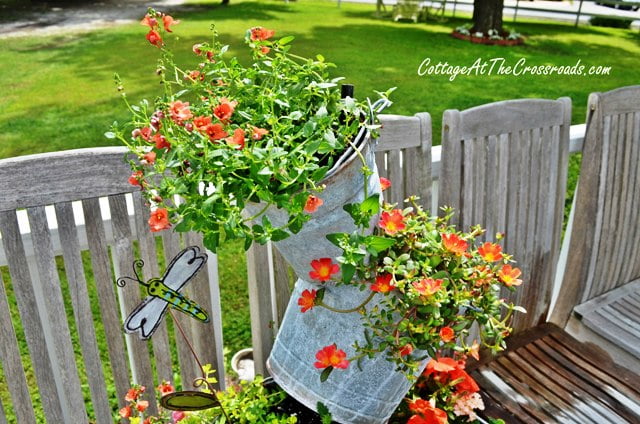 To finish off the planter, I stuck in the little flying insect stake that I recently found at Hobby Lobby. Can you see a little bit of the rod showing at the top? I can still add a small galvanized watering can or maybe even an old coffee pot!
I'm joining:
Home (Work) Wednesday@Atta Girl Says
Wow Us Wednesday@Savvy Southern Style
Simply the Best@Fox Hollow Cottage
The Best DIY Project of 2013 Contest@ Not Just a Housewife
Home Sweet Garden Party@Creative Country Mom