I'm back with the tutorial I promised you about how I painted my scarecrows on burlap. The painted scarecrows were used to decorate our fall porch.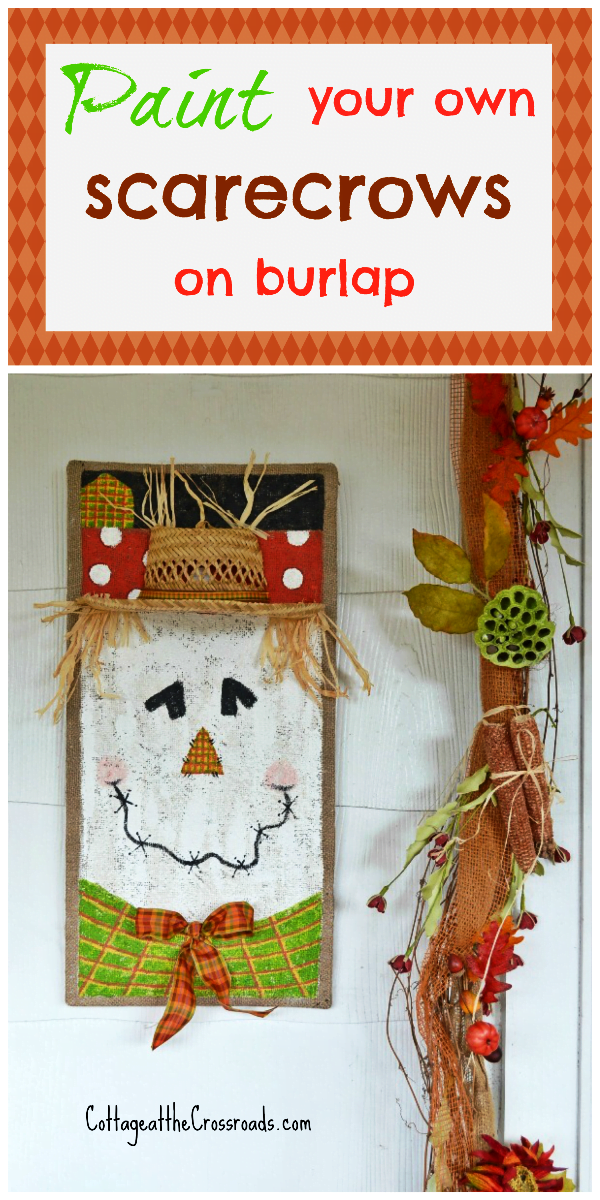 My inspiration for these scarecrows came from a visit I made to a well-known craft store in August. I spotted some similar scarecrows but each one was $29.99 and I needed 2 of them! Yikes! So I decided to try my hand at painting them. (As a true DIYer, I took a photo of one of them with my phone!)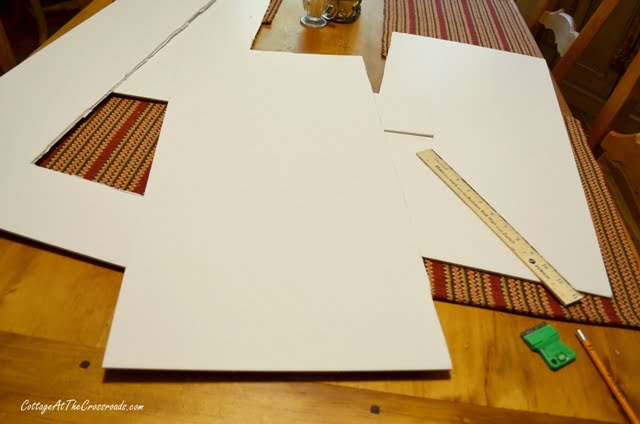 To get started, I purchased a sheet of foam board from Hobby Lobby and promptly cut it into 2 pieces that each measured 12 ½ by 26 inches. The reason I made 2 pieces is that I wanted to make 2 matching scarecrows to fill the space to the left and the right of our front door.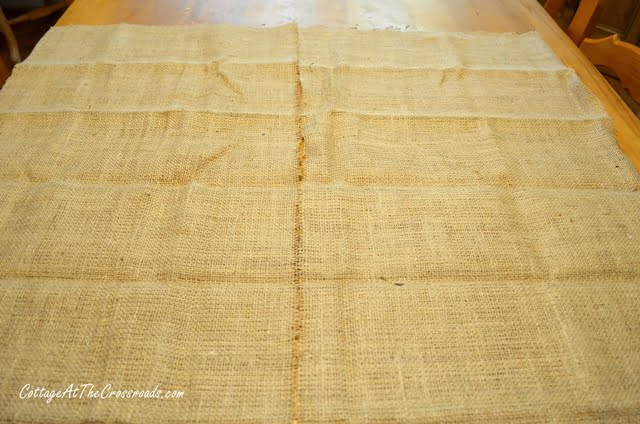 Next I pulled out some burlap fabric from my stash and cut two pieces that were about 2 inches wider on all sides than the pieces of foam board.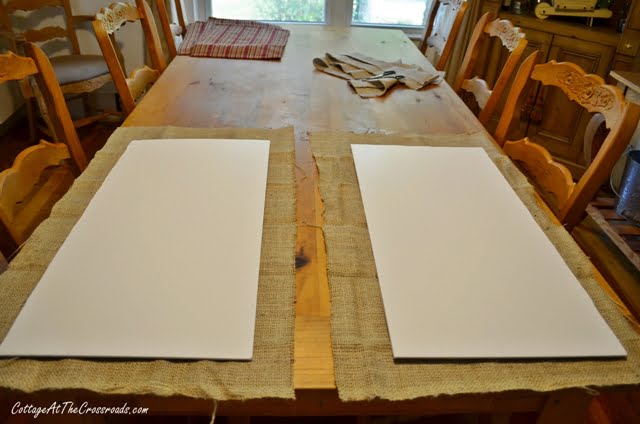 This is about how much extra you need on all sides so that you can attach the burlap on the back. Did you notice the wrinkles in the fabric? I did iron the burlap to remove them because I didn't want my scarecrows to have wrinkly faces!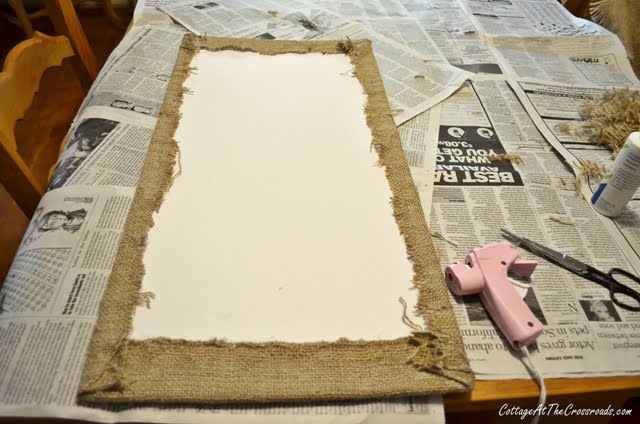 Starting on one side, I pulled the burlap taut and glued it down with both fabric glue and hot glue. I wasn't sure that the hot glue would stick to the foam board so that's why I doubled up on the glue. Turns out you only need hot glue!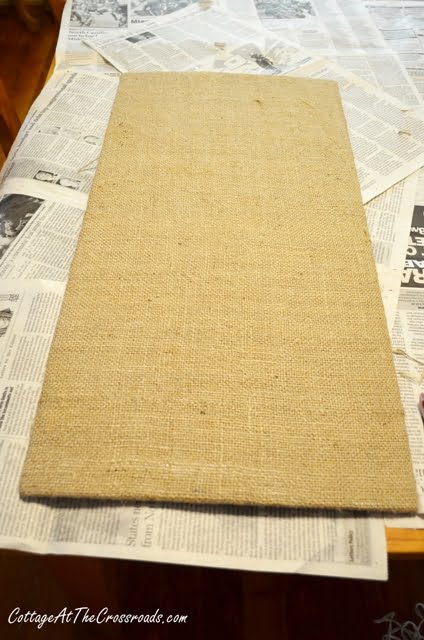 Once I got the burlap secured onto the pieces of foam board, I spread out some newspapers because I was ready to paint. Now I need to tell you that I am no artist, but if I have a picture to look at, I can copy fairly well. So if you look the following photo, you will see my inspiration photo that I used as my guide.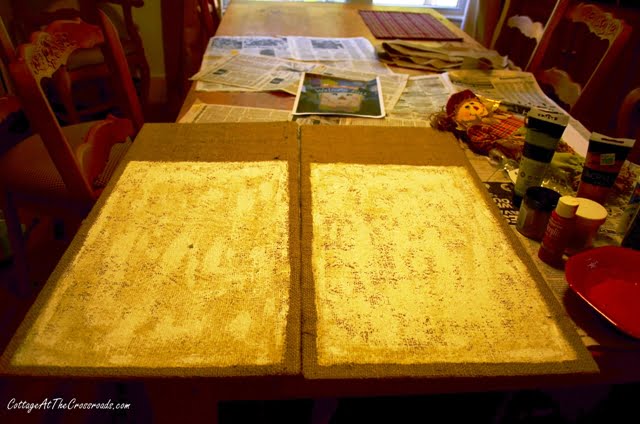 I apologize for this horrid photo! I have been playing around with the settings on my camera and I forgot to change them when I started taking more photos! Oh well. Using some craft acrylics, I painted two large rectangles using a mixture of white and beige. You don't want to put the paint on too thickly because you want the texture of the burlap to show. Then I let that dry for several hours.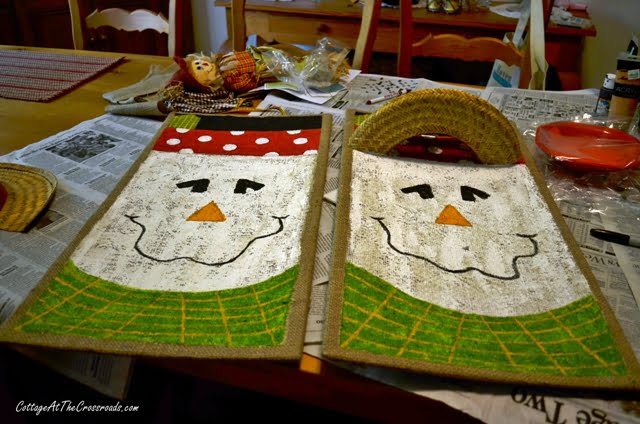 Do you see the little scarecrow at the top of this picture? I used him as a guide in choosing my colors because I knew that I was going to put him on the front door wreath and I wanted everything to coordinate. Using my picture as a guide, I just freehanded the details. Often I would add a color of paint and then I would go do something else while I waited for that to dry. For example, see the reddish orange bands at the top of the scarecrows' heads? First I painted that section and after it dried, I went back and traced a quarter with a sharpie pen to make the circles. Then I painted in the circles with white paint.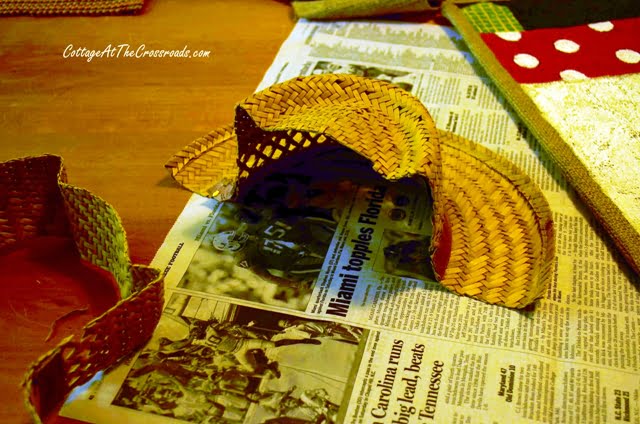 I decided that the scarecrows needed hats so I just cut one of Leo's straw hats in half. Actually, he said it was ok because the hat was too tight on him!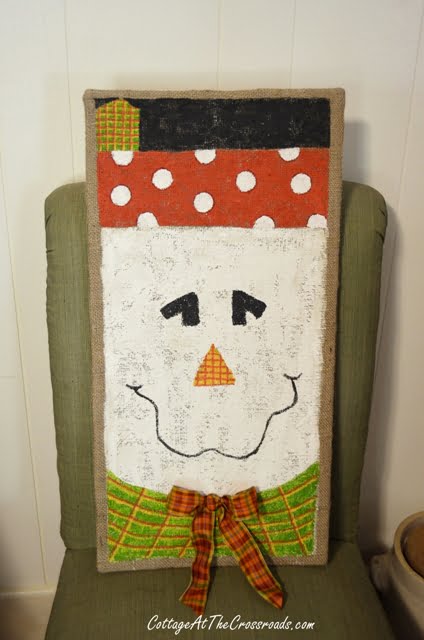 Here's one that is almost finished. See what I mean about him needing a hat?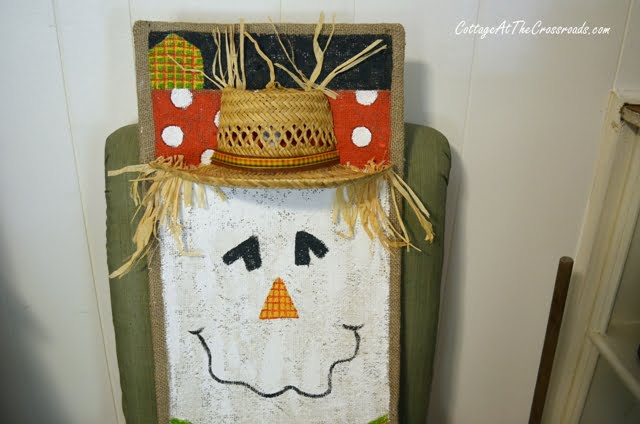 Much better! I just hot glued some raffia onto the scarecrow, added a little ribbon onto the hat, and then hot glued it on, too.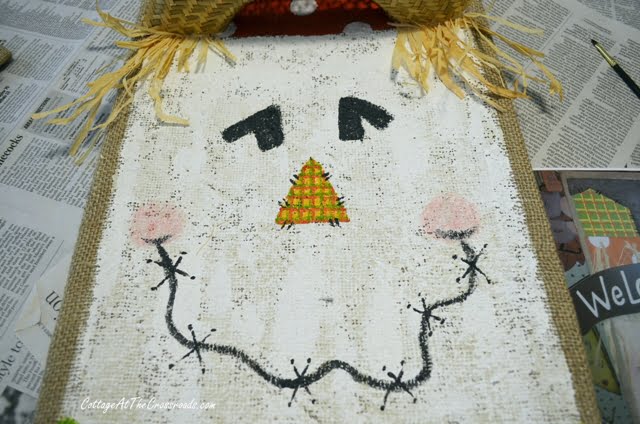 Here's a closeup of this one's face. More details were added including those rosy cheeks and the stitch marks on his nose and mouth!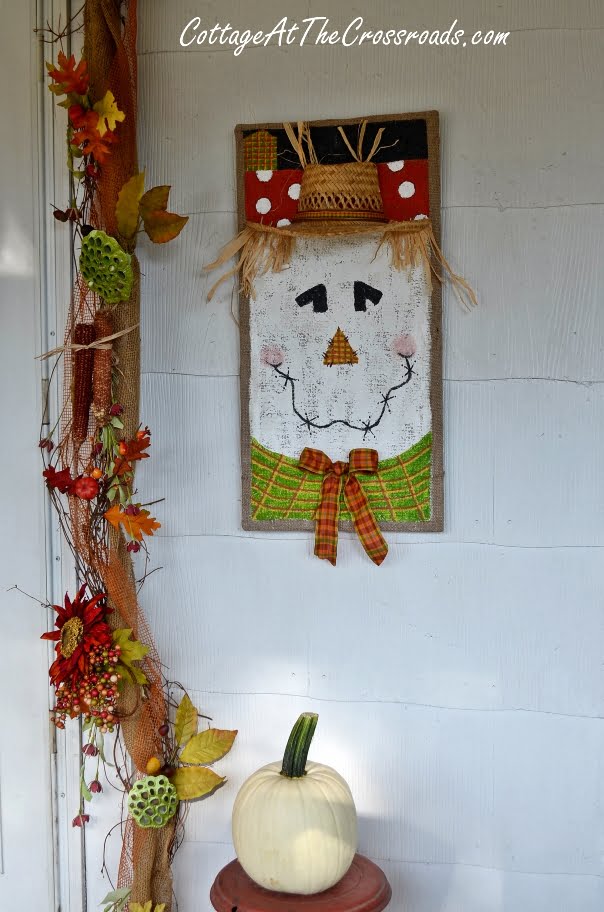 You can see how painting on burlap gives the scarecrows a rustic look. If you want to try to paint your own scarecrows, you could just right click on any of my photos, download, and print them to use as a guide. I promise, it wasn't hard at all!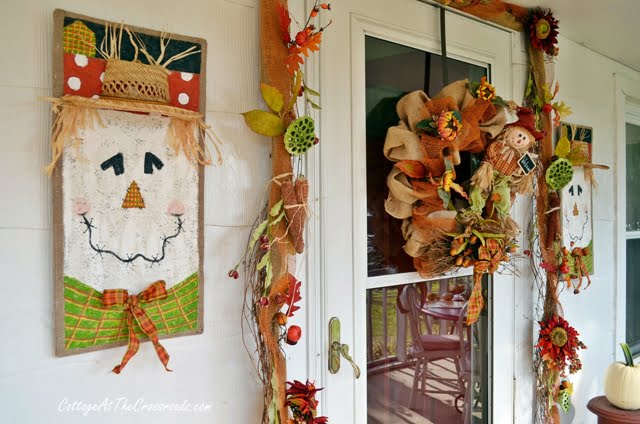 Here you can see how the scarecrows add so much fun to our front porch display-perfect for our country home!