Today I'm sharing the rest of our home decorated for Christmas. Join me for a country cottage Christmas home tour!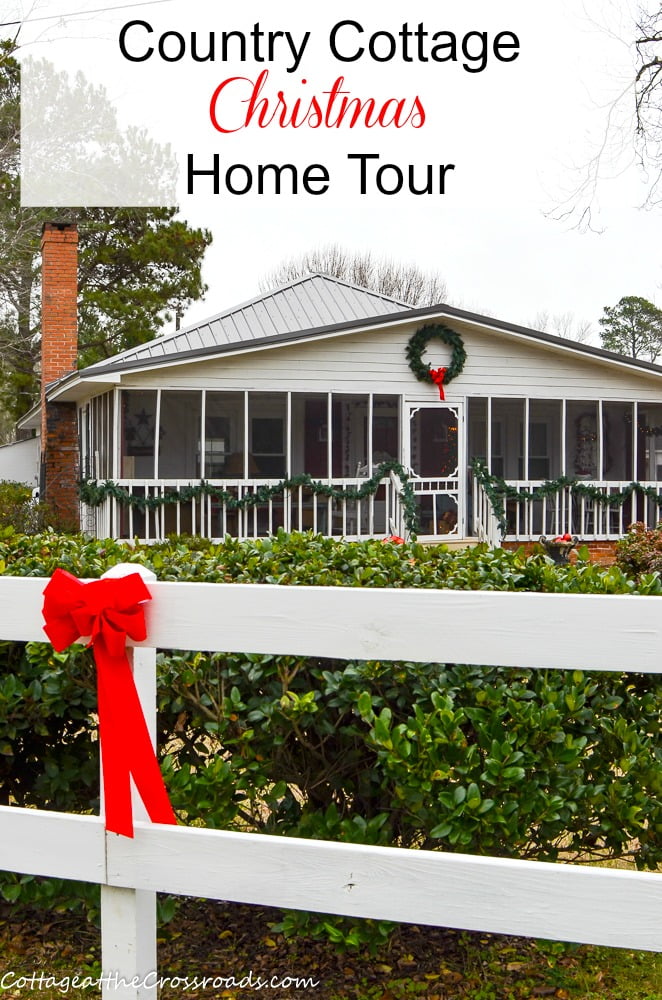 Gosh friends! Did Christmas sneak up on you the way it did me? Seems like it was just Thanksgiving and in just a few days it will be Christmas!
For any one who is new here, my husband and I live in an old country cottage in South Carolina that's been in his family a long time.
THE FRONT PORCH
On the front of the house is a large screened-in porch. It's one of the first things that I decorated for Christmas.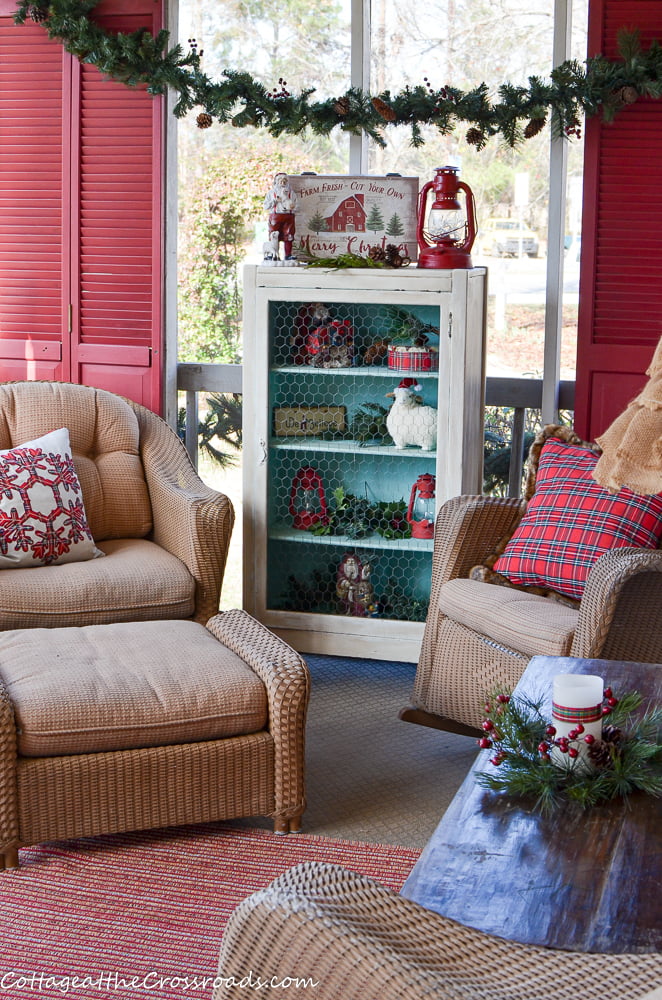 If you missed seeing the porch all decorated for Christmas, you can see it here: PLAID AND AQUA CHRISTMAS PORCH
THE LIVING AREA
When you enter our home, you will be in our living area and will immediately see our fireplace mantel and tree.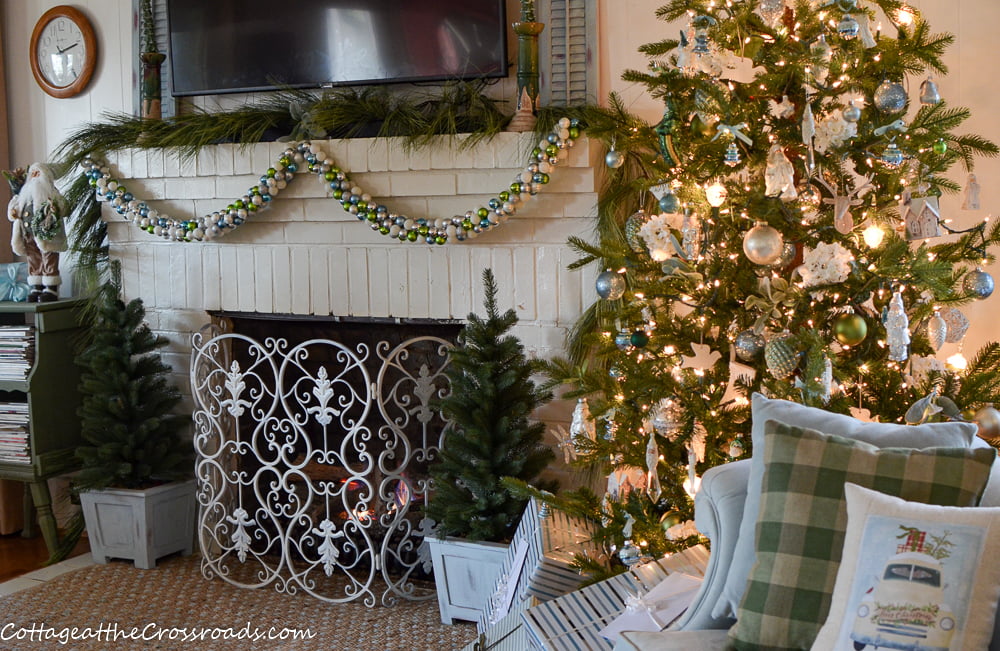 I am gradually switching over the colors in this room to green and blue. On the mantel is the ornament garland that I made last year using those colors.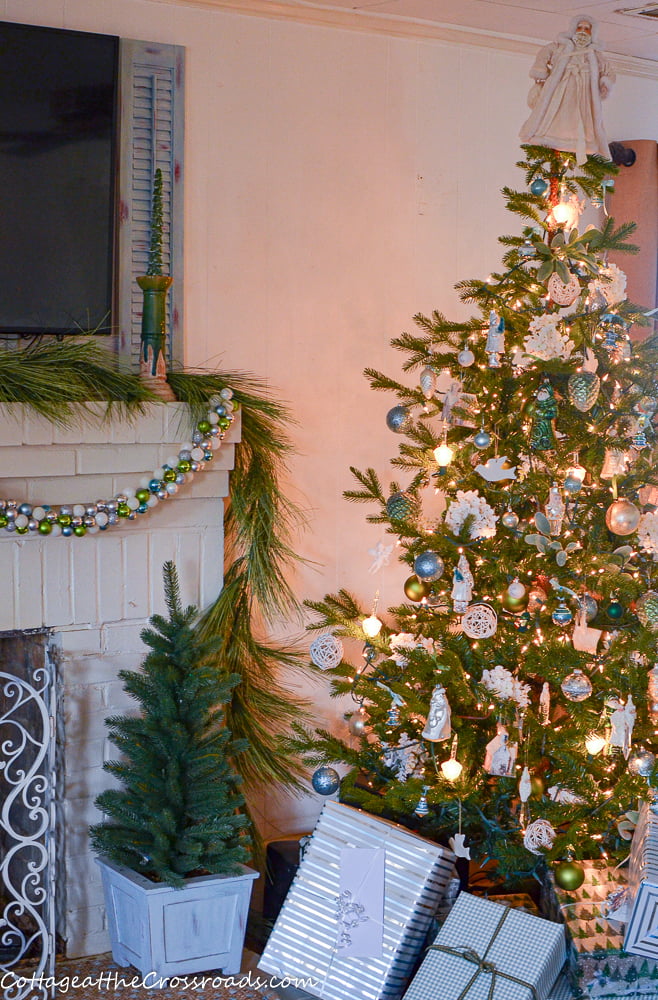 The tree is decorated with white Santa ornaments that we've been collecting for years. The topper on the tree is even a white Santa that is over 25 years old.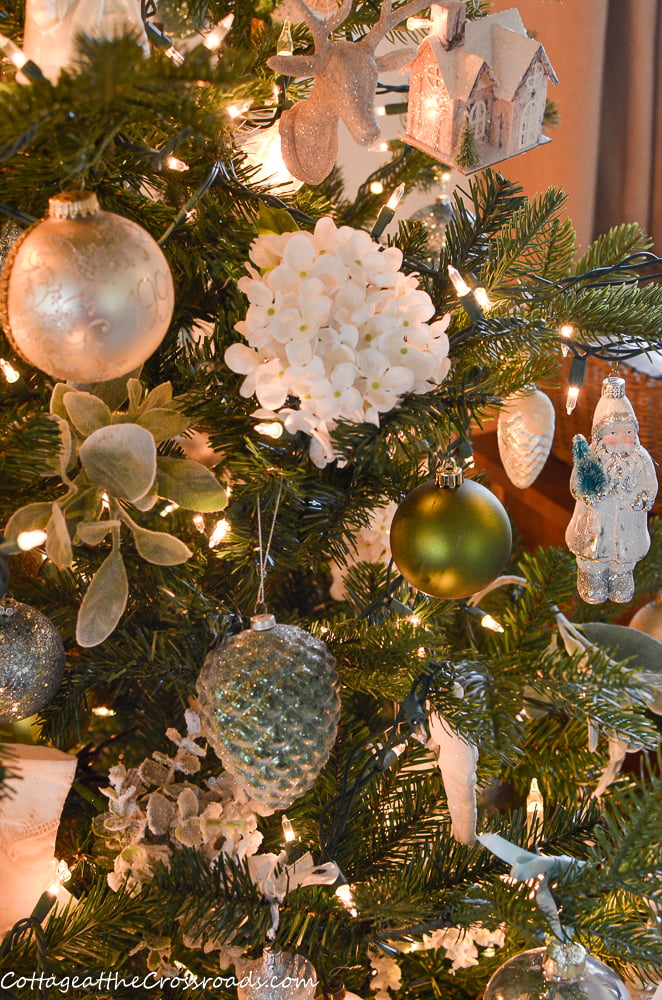 Faux white hydrangea blooms and lambs' ear picks are tucked into the tree.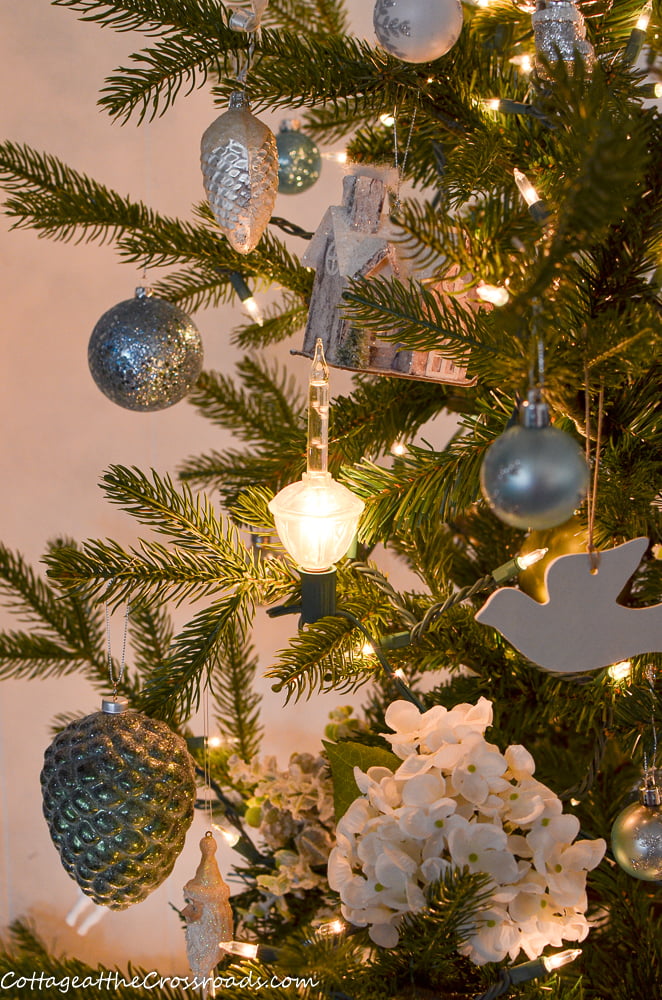 Clear bubble lights that I've had a few years were placed on this tree. The tree, though, is new and I ordered it from Amazon. You can find it here: NORWEGIAN SPRUCE TREE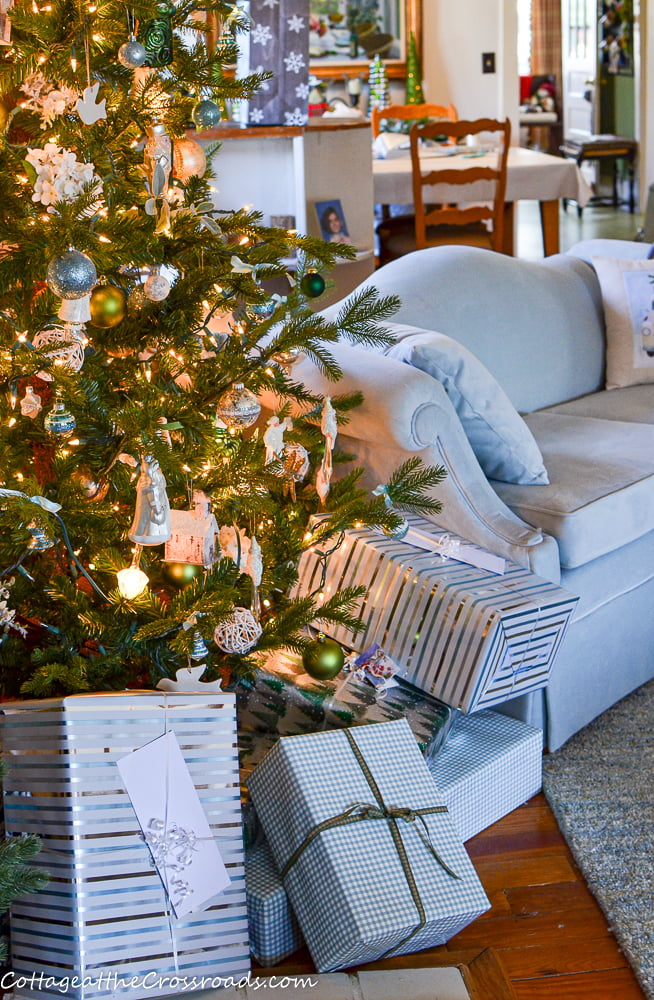 There are two new things in this room. One is the light blue loveseat which is actually not new, but reupholstered in a pretty, pale blue performance fabric. Hmmm. We shall see if it survives Christmas shenanigans!
The other new item is the rug. It is a mix of different shades of blue and came from Amazon. You can find it here: BLUE AREA RUG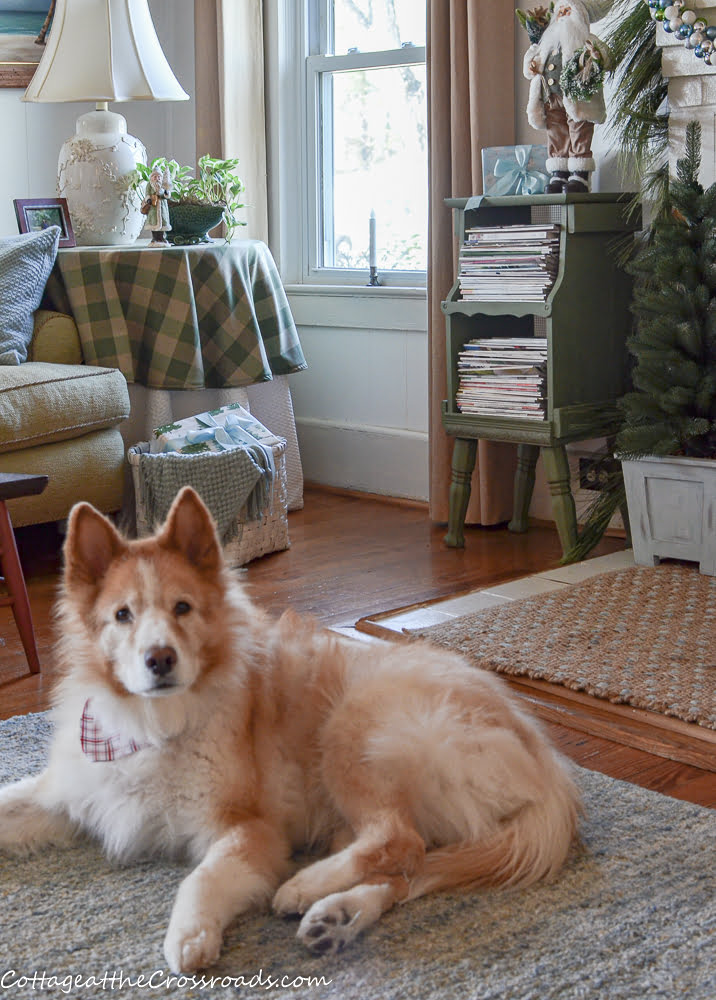 Lucy likes the new rug because it's much softer than the seagrass rug that we had in here.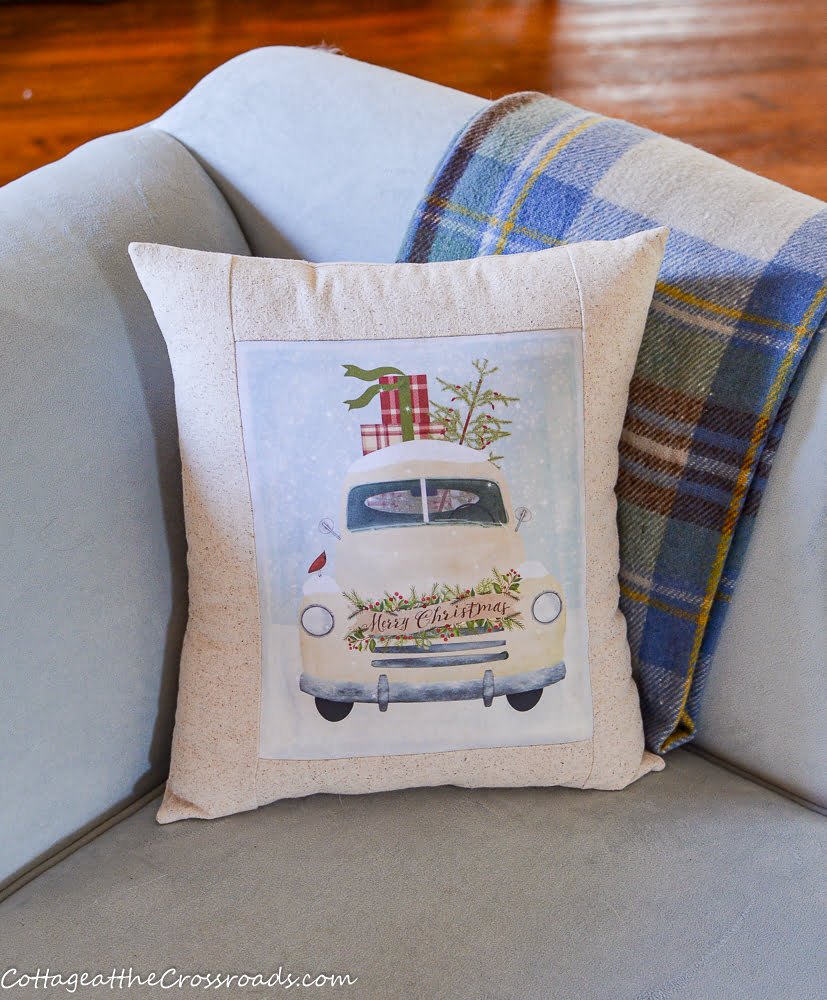 I found the white truck pillow on Etsy and the blue and green throw came from Amazon. You can find it here: BLUE TARTAN BLANKET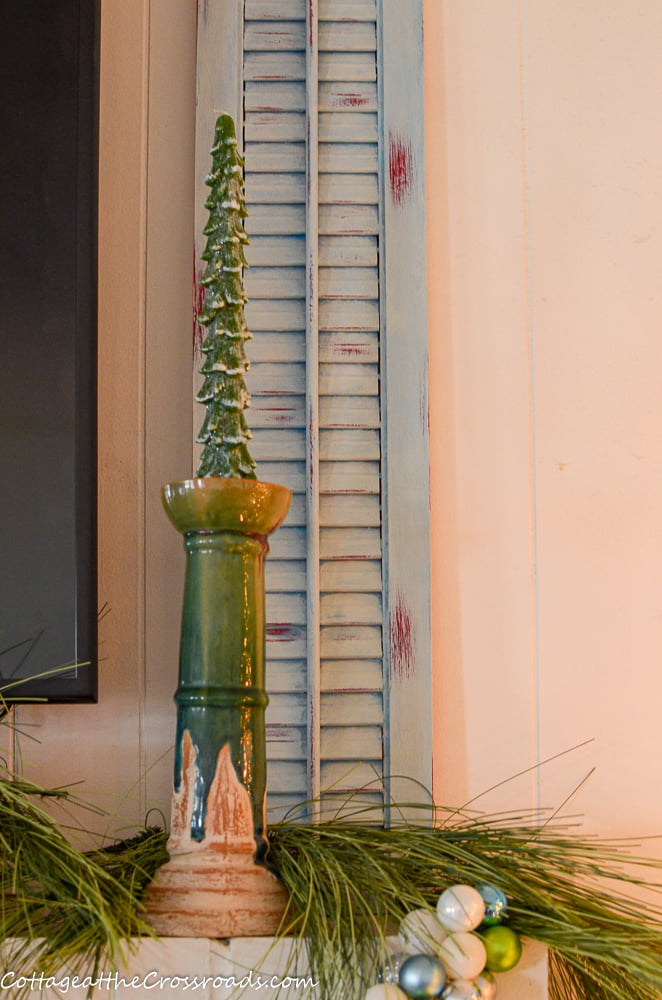 I went very simple on the mantel this year. I used faux pine garland along with some old candlesticks. The tree-shaped tapers were found at Vermont Country Store.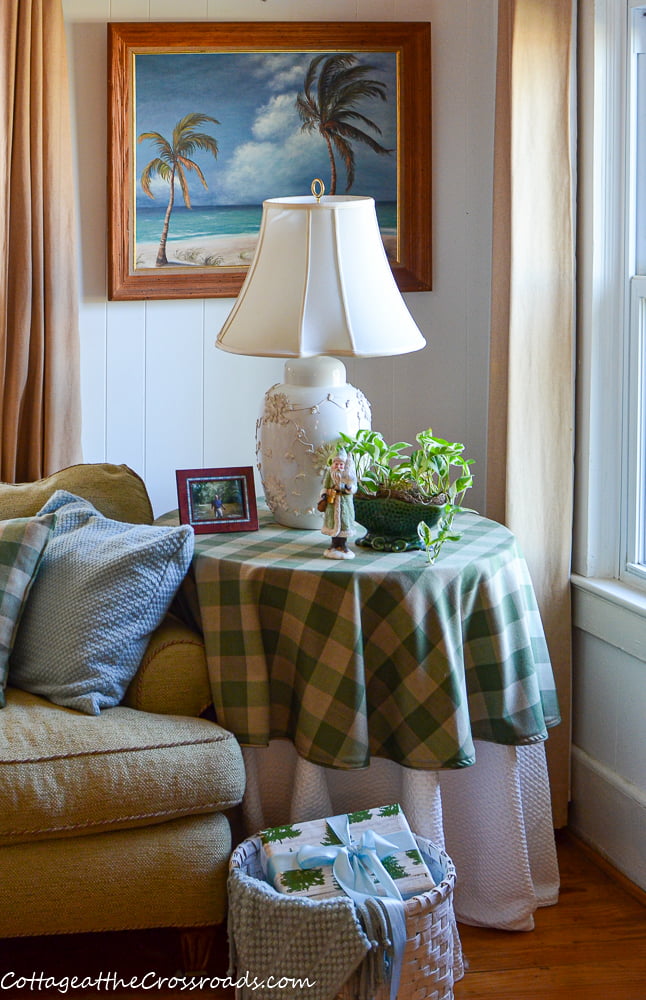 If you look closely, you can spy a small green Santa on the round table in this corner.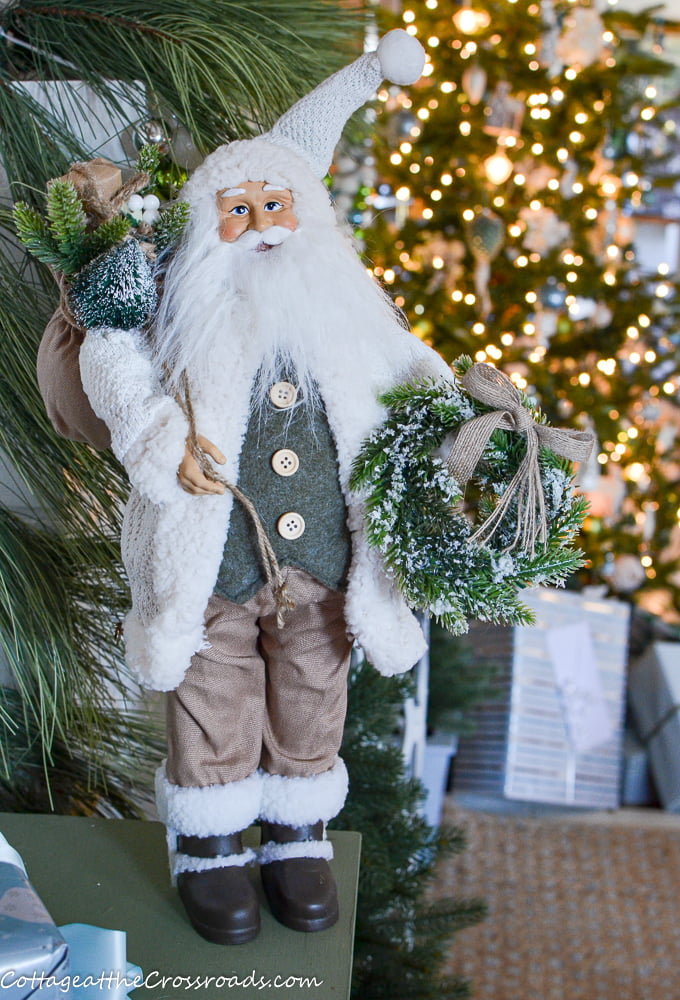 On top of the little green magazine holder is another Santa. He is new this year and I ordered him online but I cannot for the life of me remember where I got him!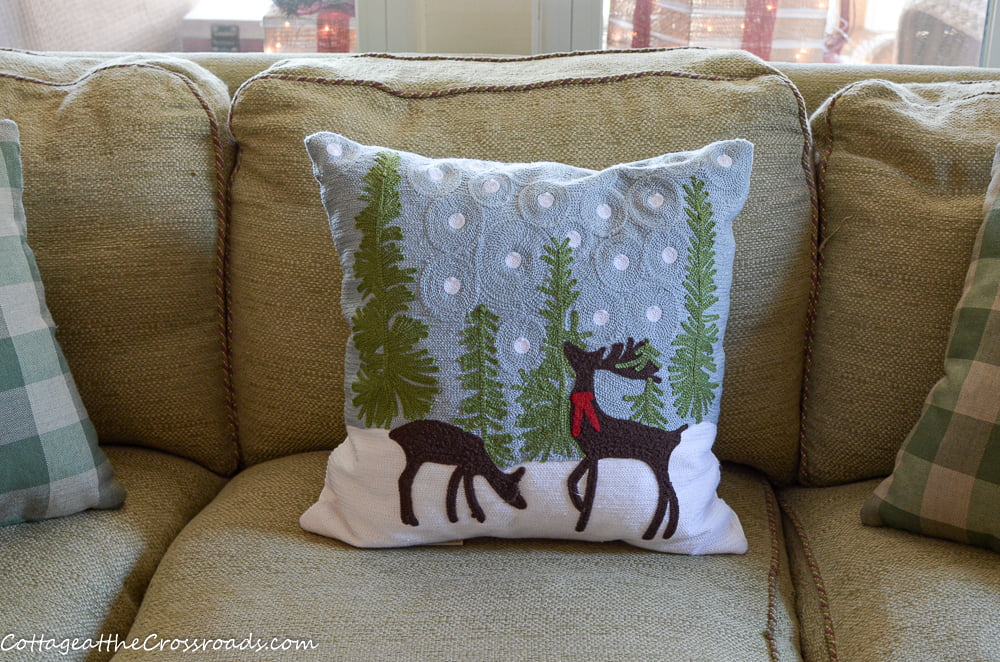 On the green sofa is another Christmas pillow from last year.
THE DINING ROOM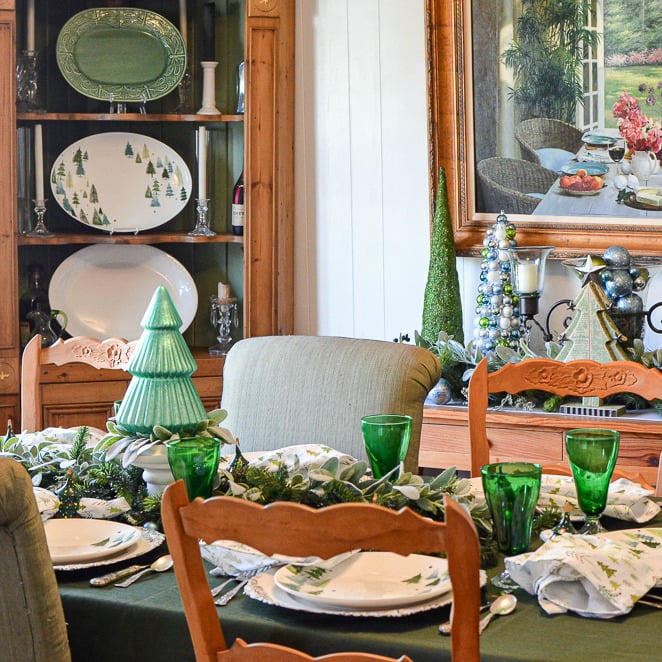 The blue and green color scheme carries over into the dining room. Here the table is ready for Christmas dinner. You can see more of it here: BALSAM LANE TABLESCAPE
THE KITCHEN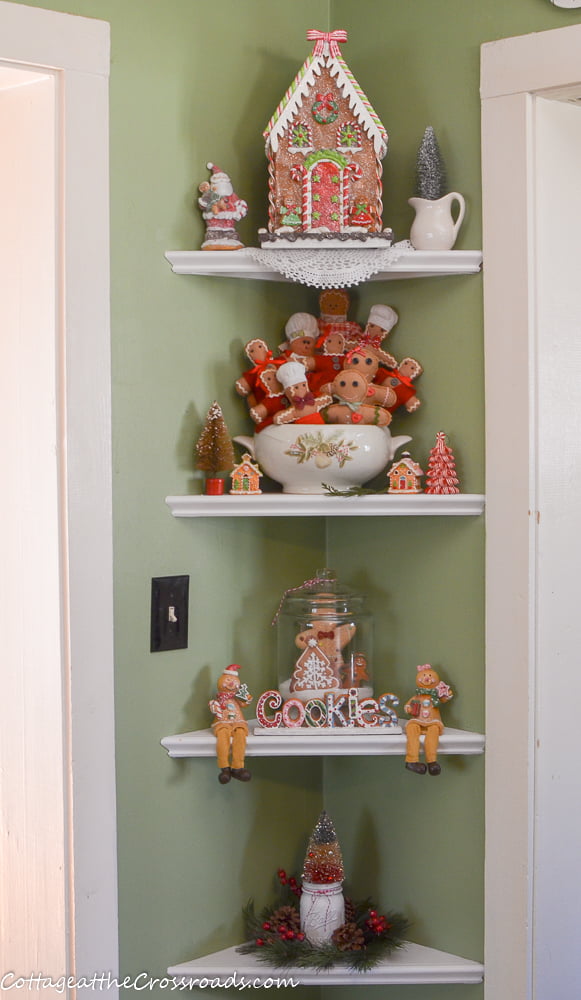 The kitchen is decorated with a gingerbread theme. These shelves that we had built in this corner lend themselves to seasonal decorating!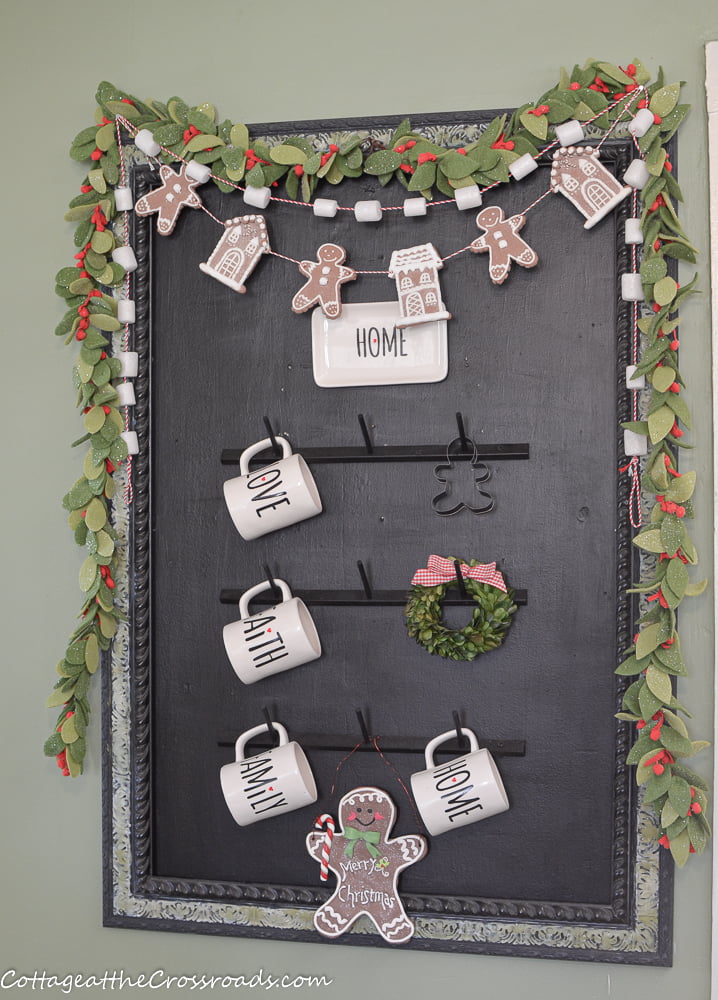 The large chalkboard has a lot of gingerbread favorites that make an appearance each year.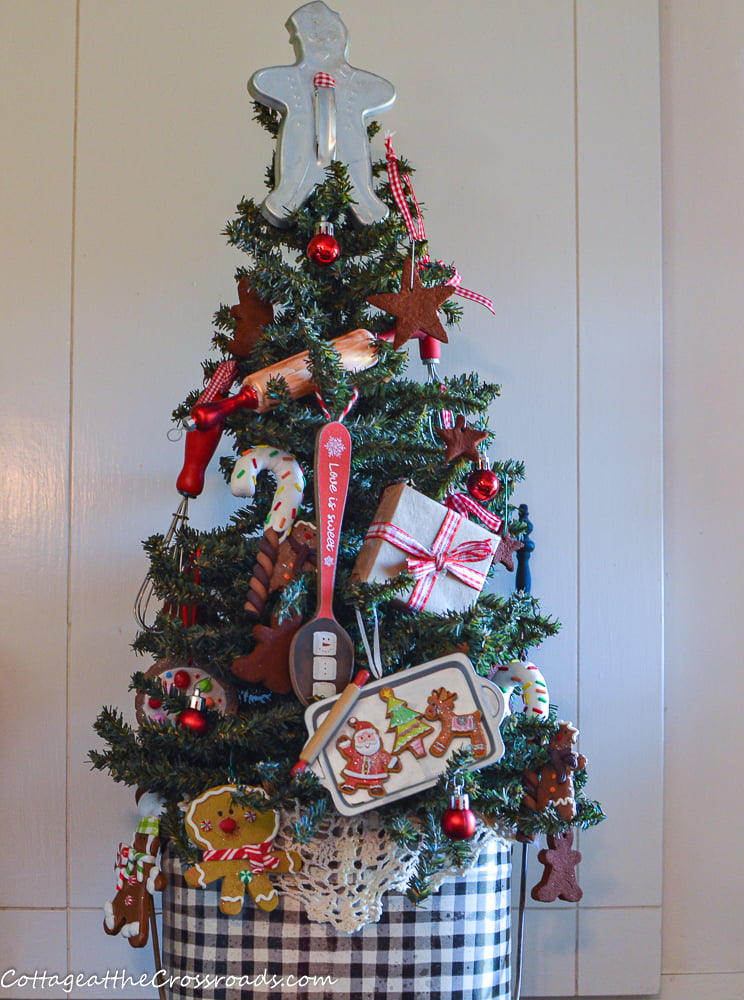 In one corner of the kitchen is a gingerbread tree.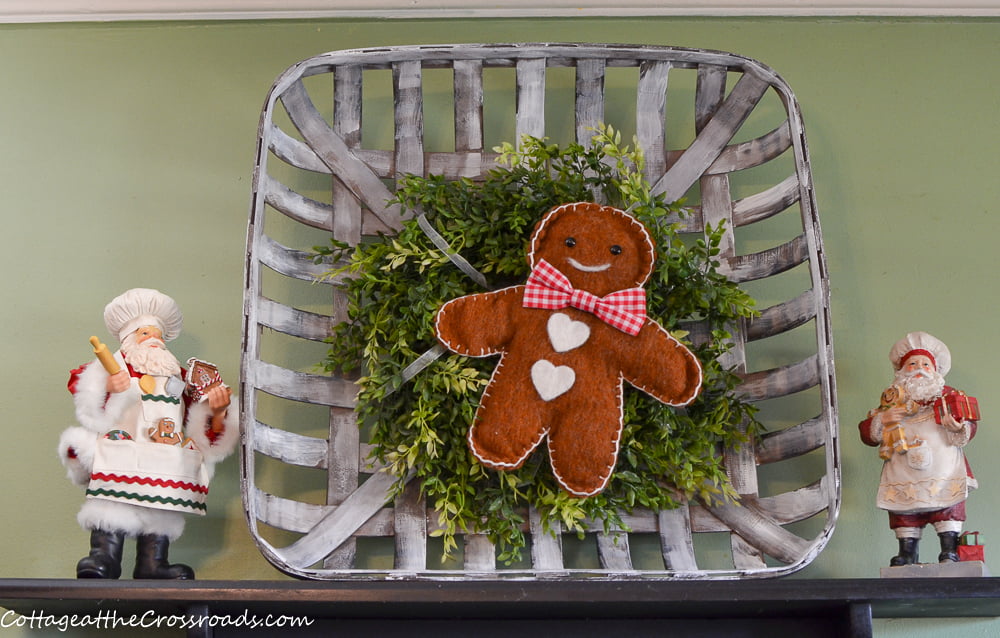 Over the stove is a gingerbread boy along with some baking Santas.
A simple candy garland that I purchased at my friend's garage sale graces the kitchen windows.
THE HALF BATH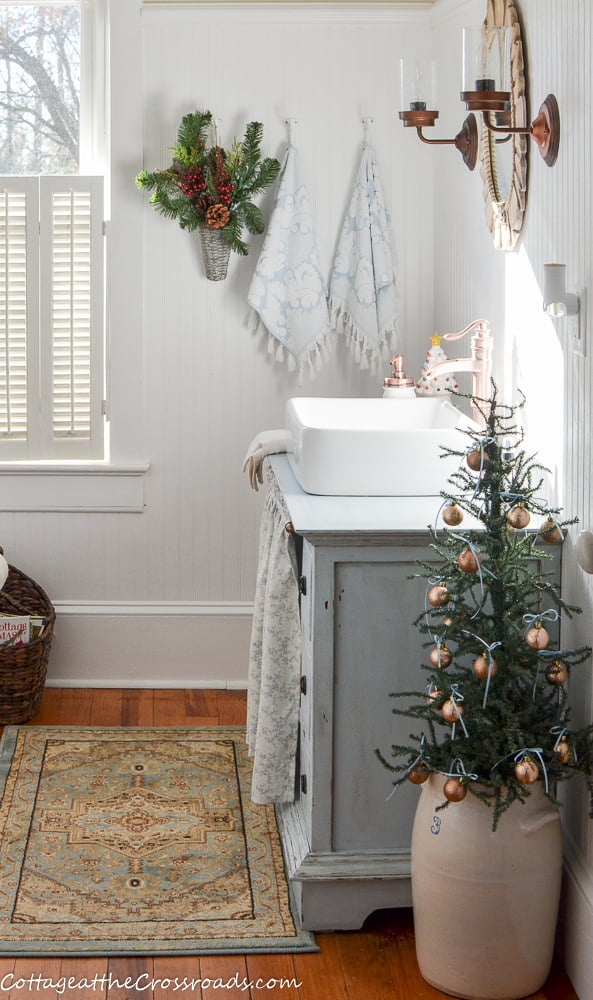 It's been fun decorating our new half bath for Christmas.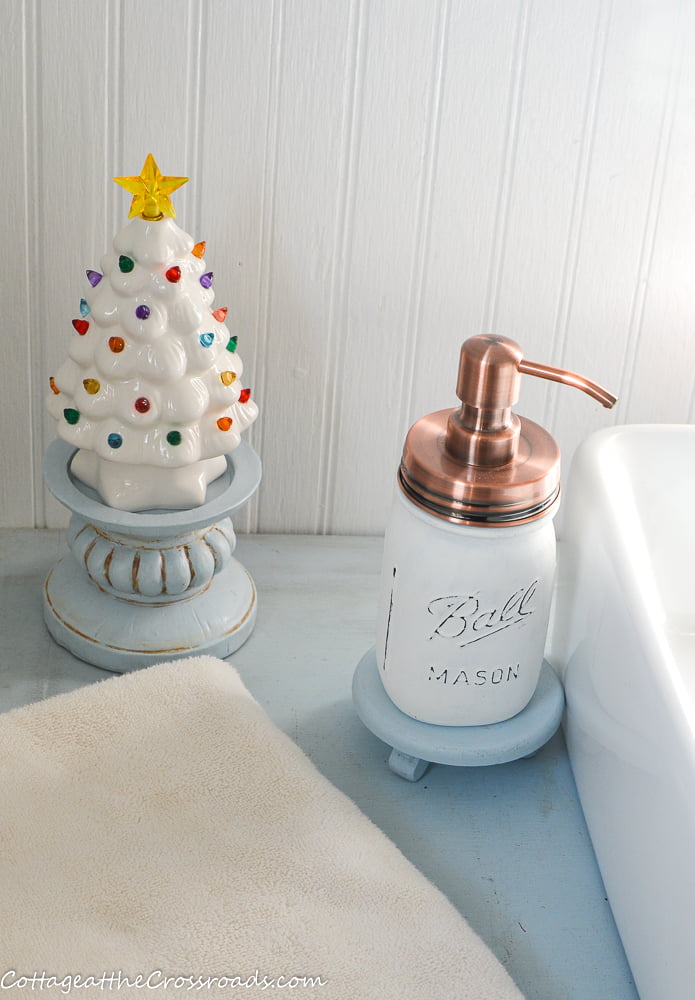 As soon as I saw this white ceramic tree, I knew it would go great in this room.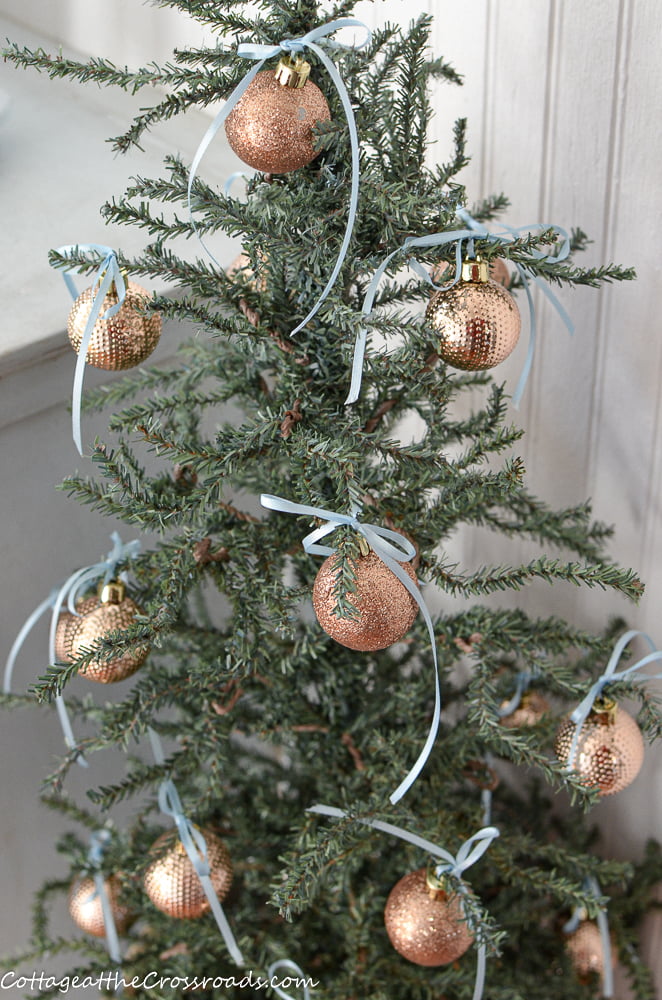 And imagine my surprise when I found some copper Christmas ornaments at Hobby Lobby! The faucet in this half bath is copper.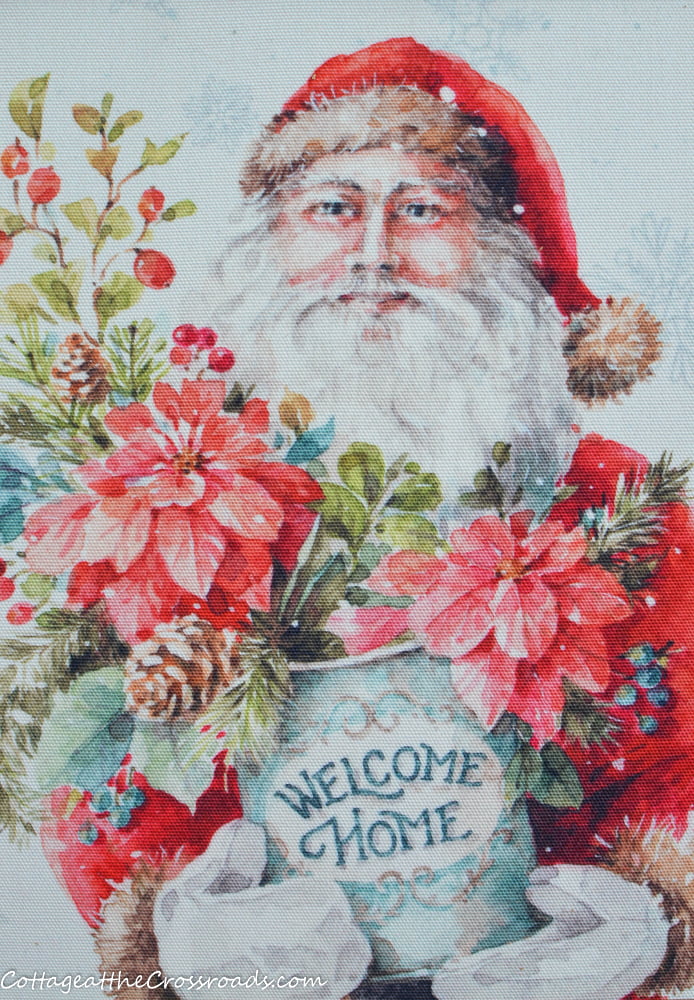 This Santa artwork (found at Hamricks) goes great with the soft blues in this room.
THE LAUNDRY/MUDROOM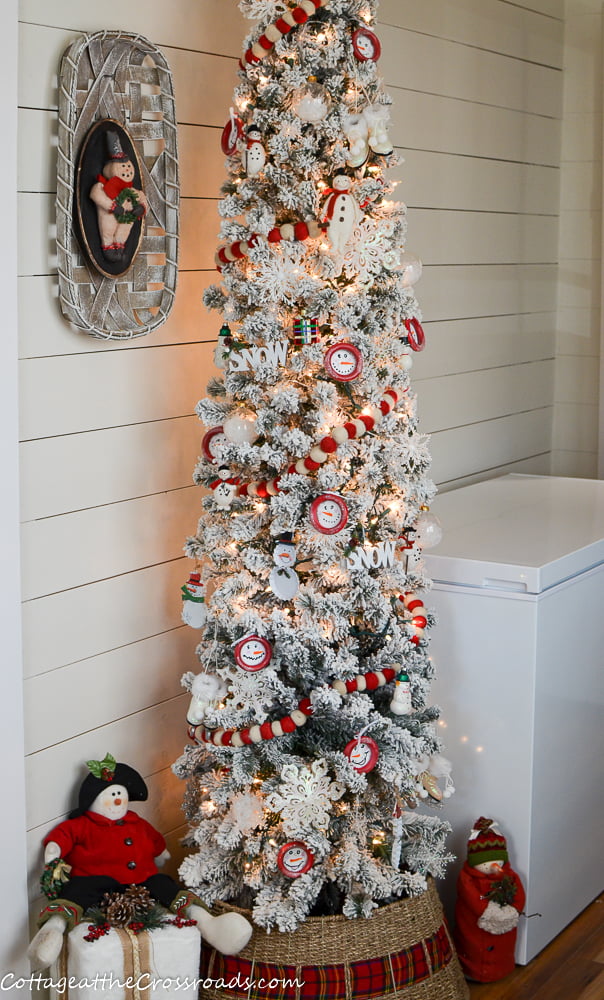 In our new laundry/mudroom area, there is a snowman tree.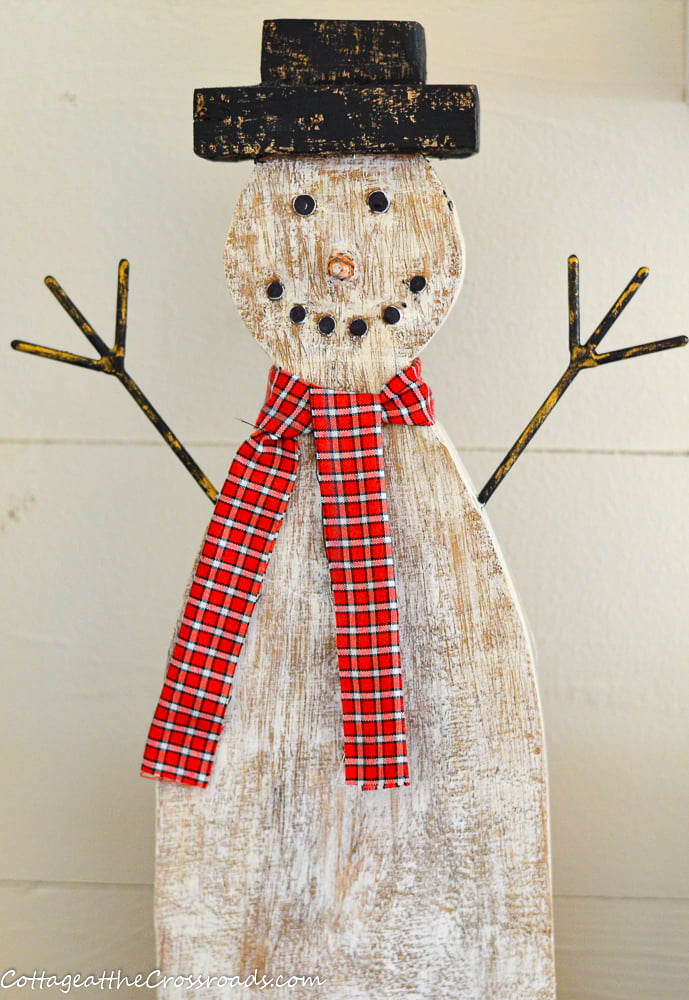 This wooden snowman is one of my favorite decorations this year. Isn't he cute?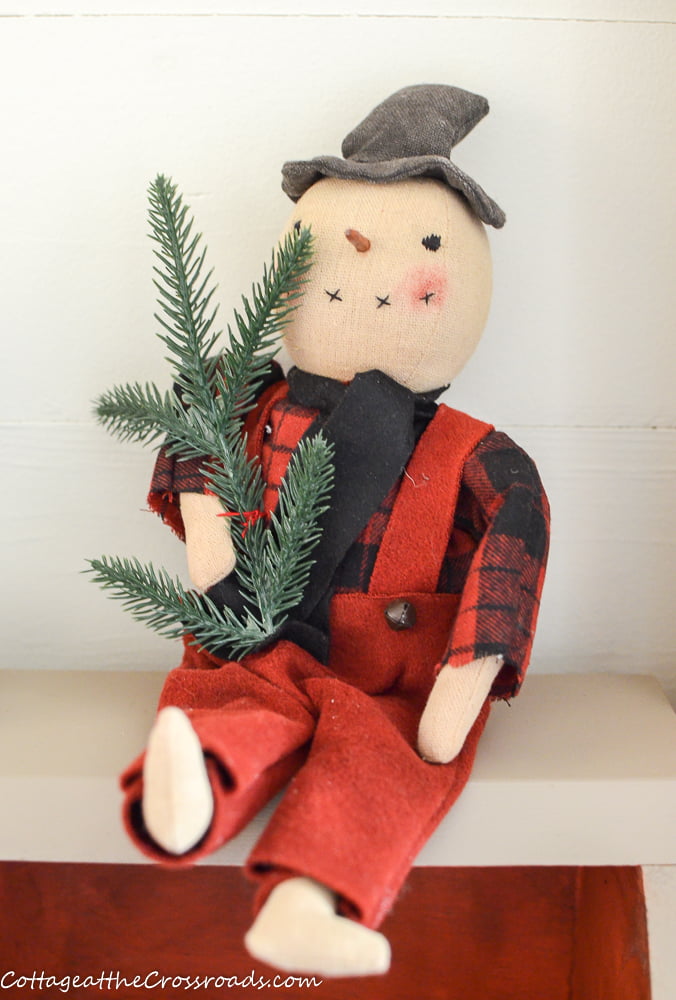 And this one is as cute as can be, too! They just make me smile every time I see them.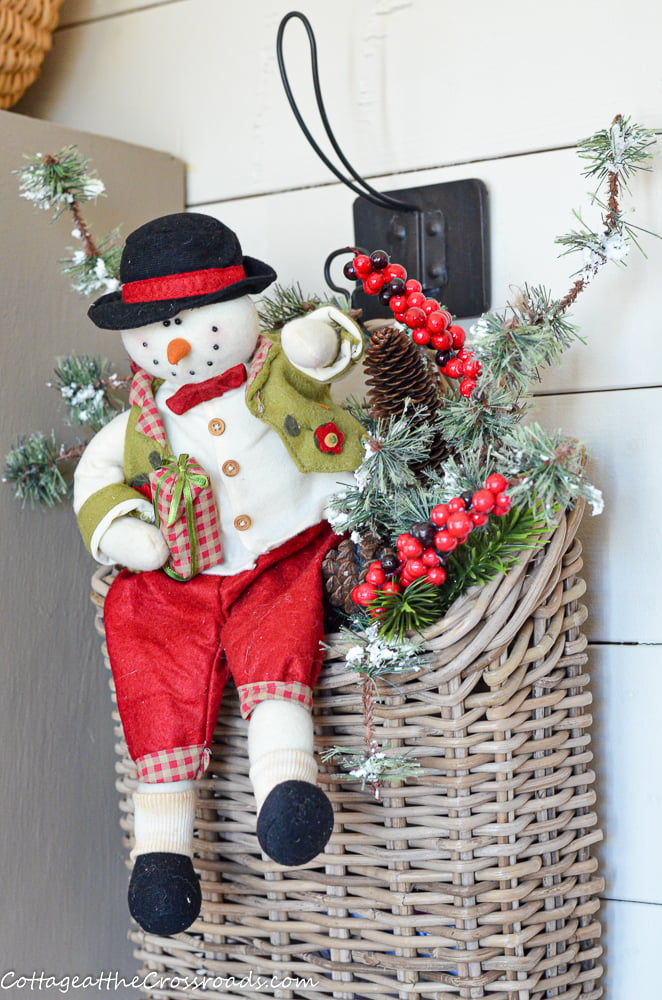 And this little guy I've had for years and years.
THE BACK DECK
When visitors come to our back door, they are greeted by this snowman wreath. We don't get much snow in South Carolina so I guess that explains my obsession with snowmen!
That concludes our country cottage Christmas home tour. You guys! It is almost Christmas. Leo and I are so delighted that there will be a full house here on Christmas Eve. Four of the grandkids will be here along with all the cousins, aunts and uncles, friends, and boyfriends. It's a wonderful time of the year and our home is ready.
Wishing you all the joys that this season has to offer as we celebrate the birth of Jesus.