Welcome to our 2019 plaid and aqua Christmas porch! And red, of course. Lots and lots of red and a very unique and vintage wooden tree! Come see it all and a dozen more bloggers' Christmas porches.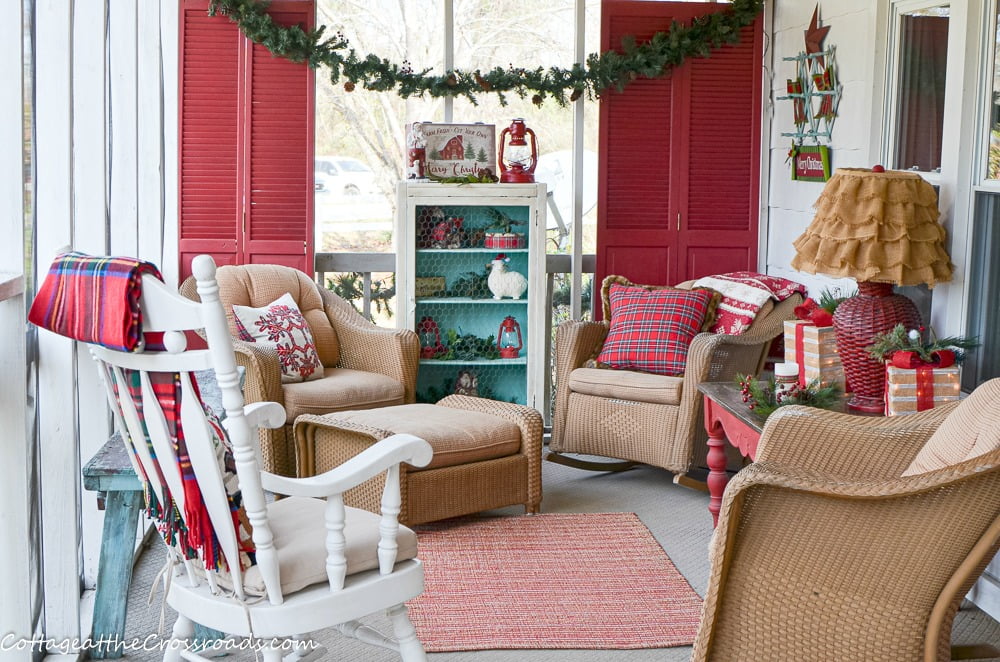 Fa! La! La! Friends, are you ready to see how we decorated our front porch this year? It's my favorite space to decorate for Christmas because I like to make it all fun and whimsical. I'm so glad you're here to see it.
Today I'm joining the Christmas Porch Tour hosted by Amy from Atta Girl Says. Amy has hosted this tour for many years and I have always felt honored to be asked to join the tour.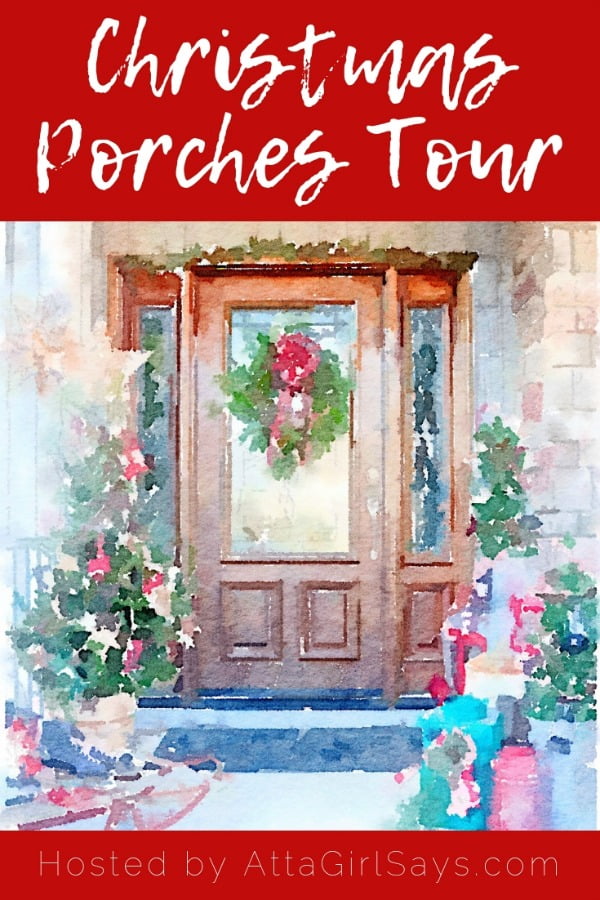 I hope that you're able to visit as many of the participants as you possible can today. You'll find the links to those porches at the bottom of this post, and if your time is limited, just pin the graphic above so that you can get back to the tour.
This year I kept with the aqua and red color scheme that I've had going on for quite a few years. But this year I threw in a lot of plaid in the mix.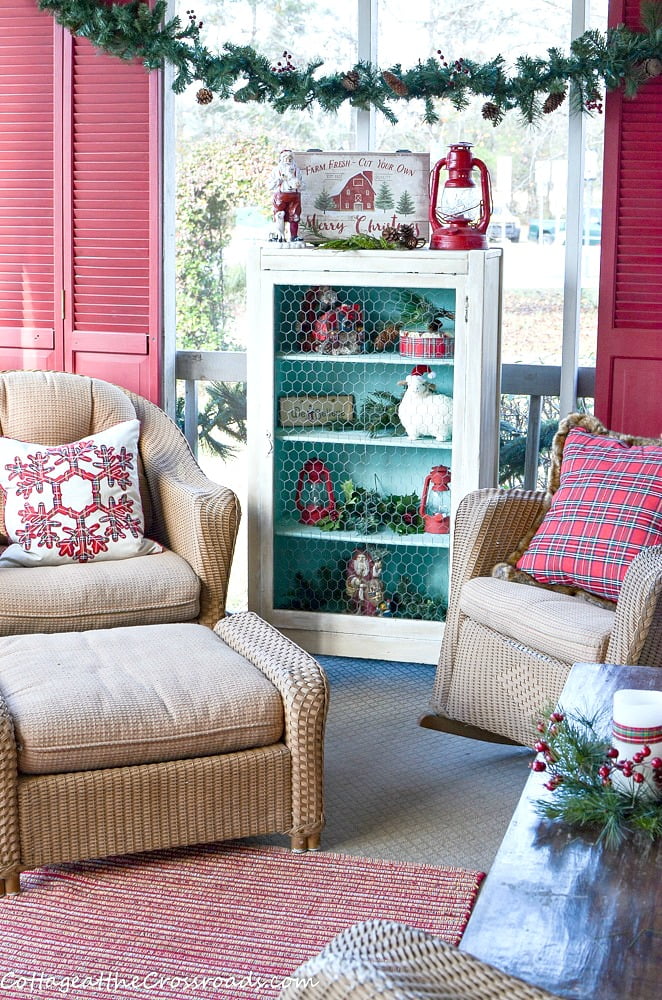 For those of you who may be visiting for the first time, my husband and I live in an old country cottage in South Carolina that's been in his family for many years. In fact, my husband grew up here. The house has a large screened-in front porch that is divided into a seating area and an eating area.
THE SEATING AREA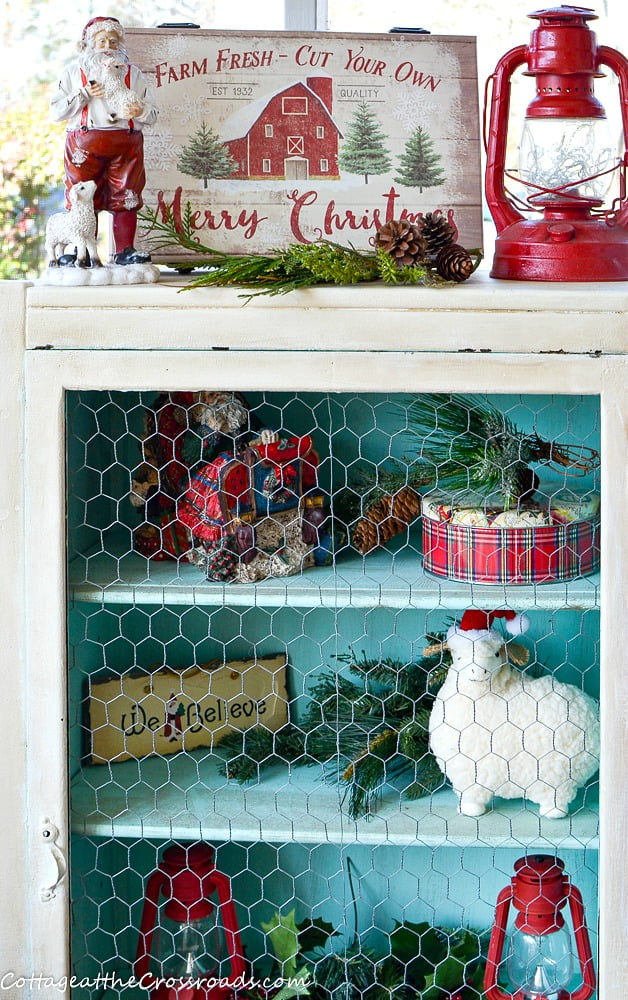 This year I've anchored the seating area with an old jelly cupboard that I painted back in 2011 when the blog was new. It has been hanging out in our hallway since then until we moved it onto the porch about a month ago.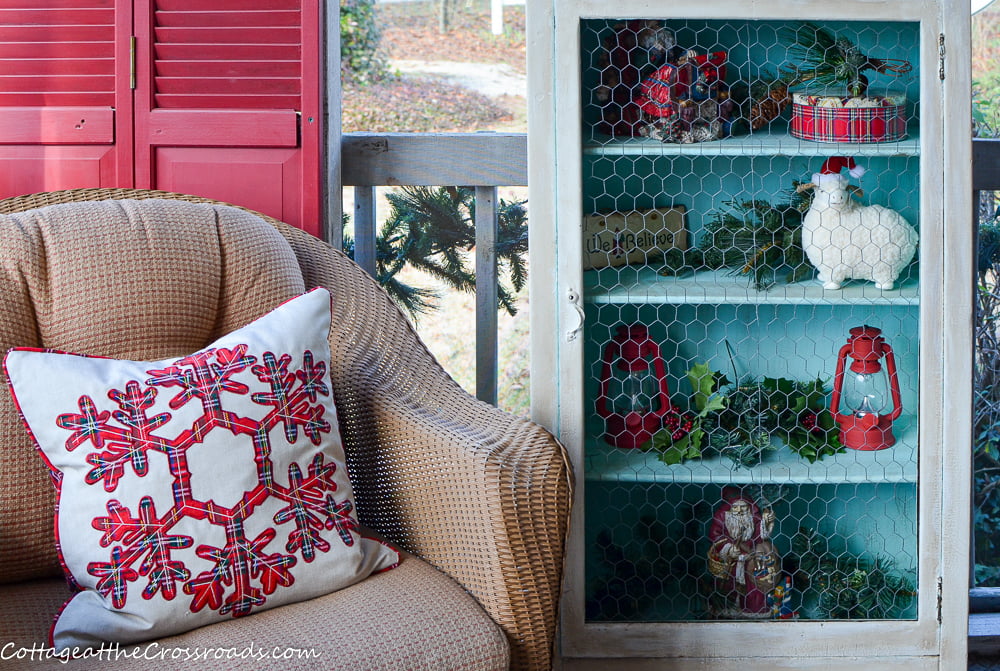 The plaid snowflake pillow was found at HomeGoods recently.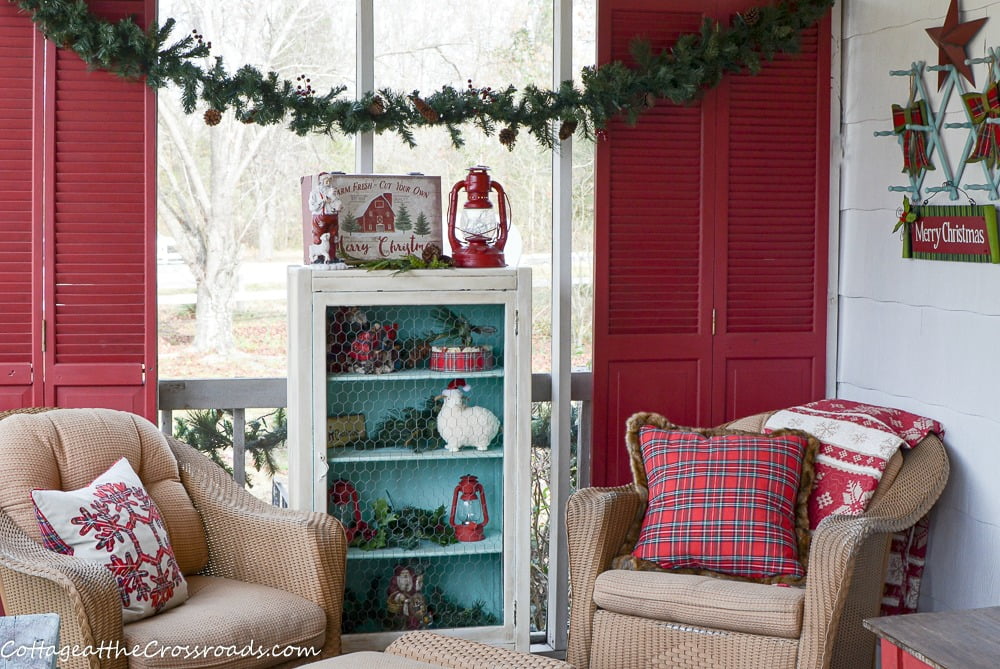 The other plaid pillow and the snowflake throw I've had for several years.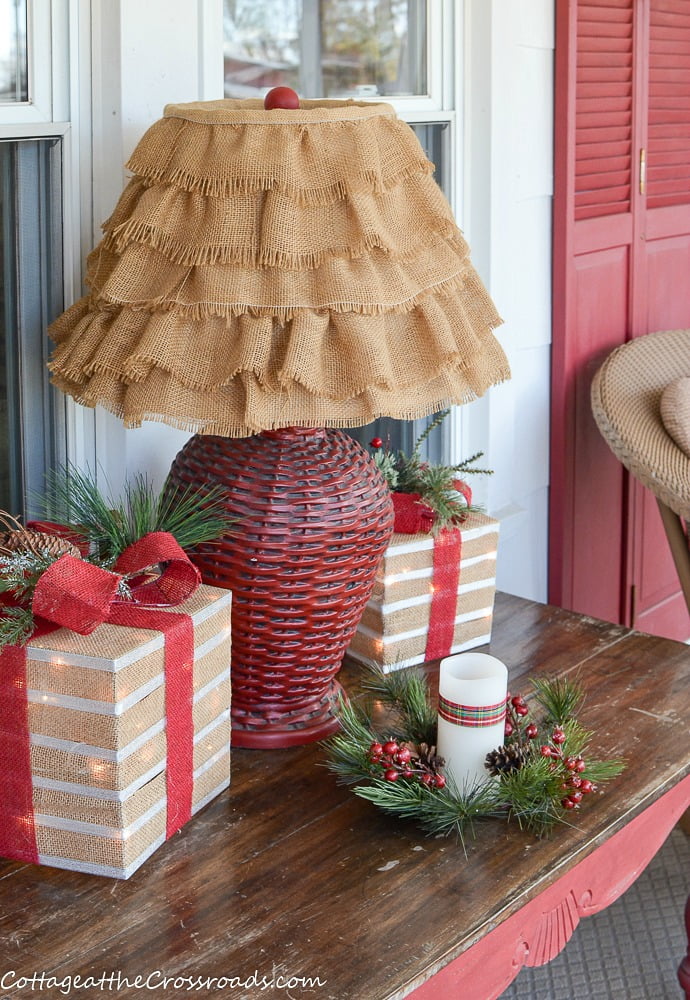 On the table is a red lamp with a burlap shade that I made years ago along with some lighted boxes.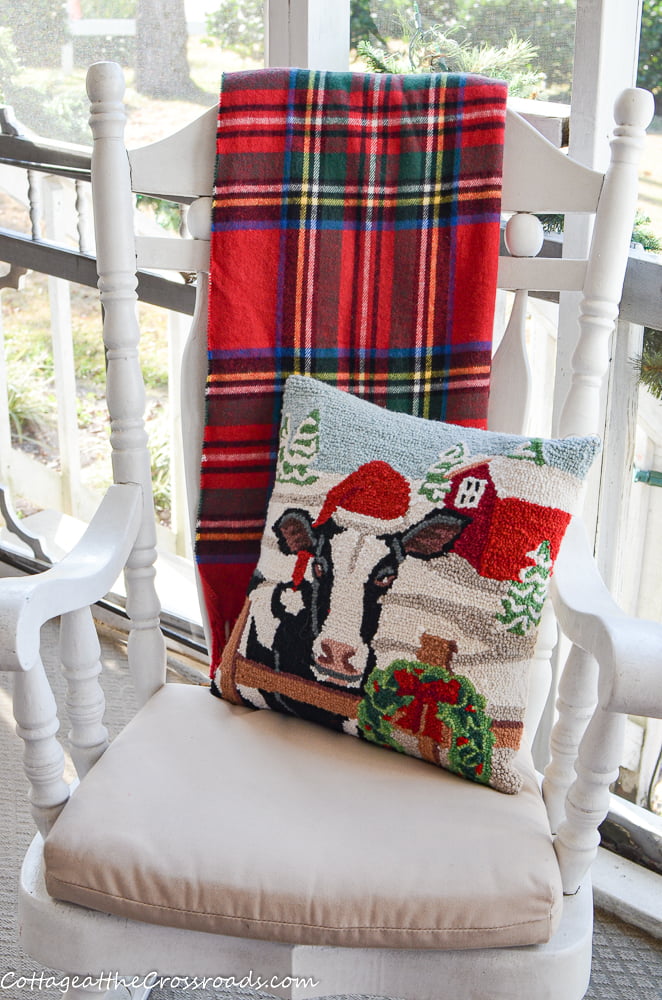 The plaid throw on the rocker is new, but you may remember this pillow from last year's porch.
THE MIDDLE AREA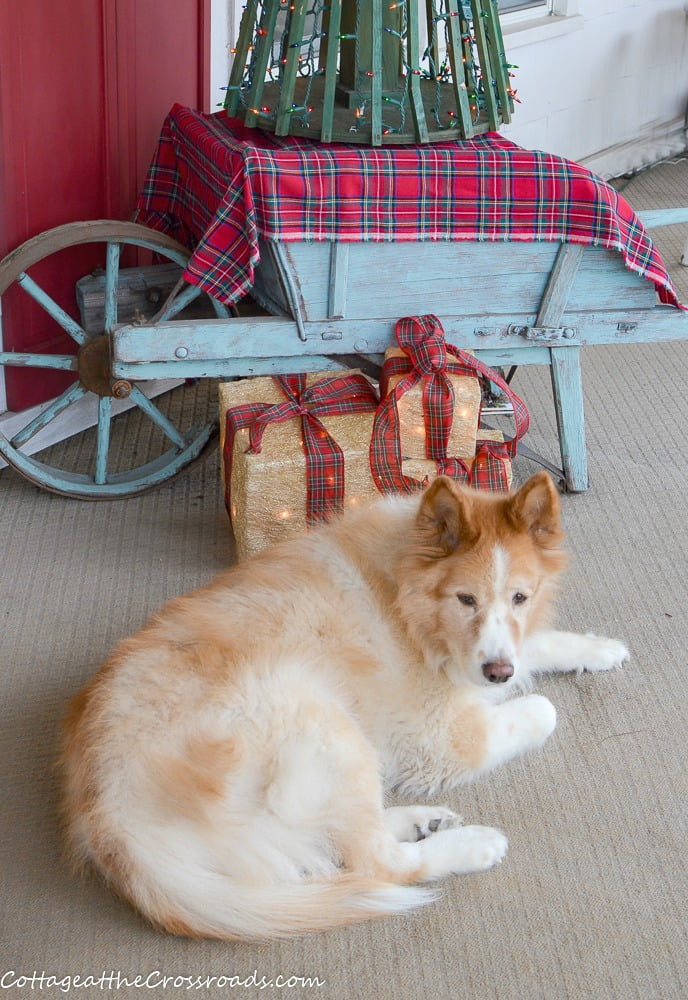 By the front door is an old wheelbarrow that is a regular fixture on our porch. Lucy, our dog, loves to be on the porch.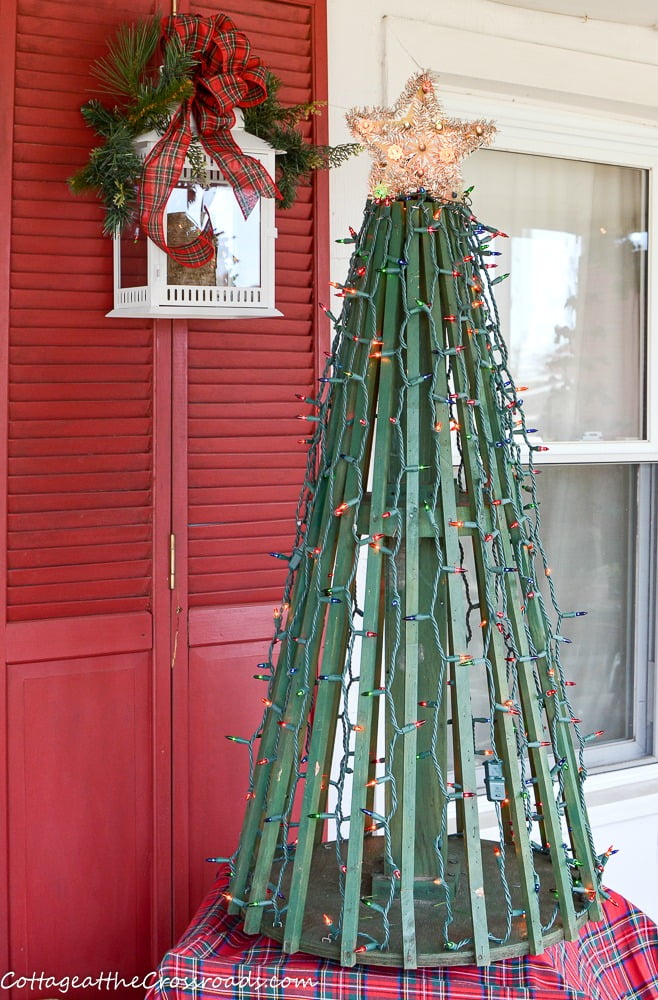 In the wheelbarrow this year is a vintage wooden Christmas tree that we found at an auction years ago. It originally had some green tinsel garland stapled around it but I decided to remove the garland to expose the wood.
Let me tell you, that was a JOB! Whoever added the tinsel must have put in thousands of staples which we had to remove! But I love how quirky and old fashioned it looks on the porch.
We added the colored lights and you should see it at night!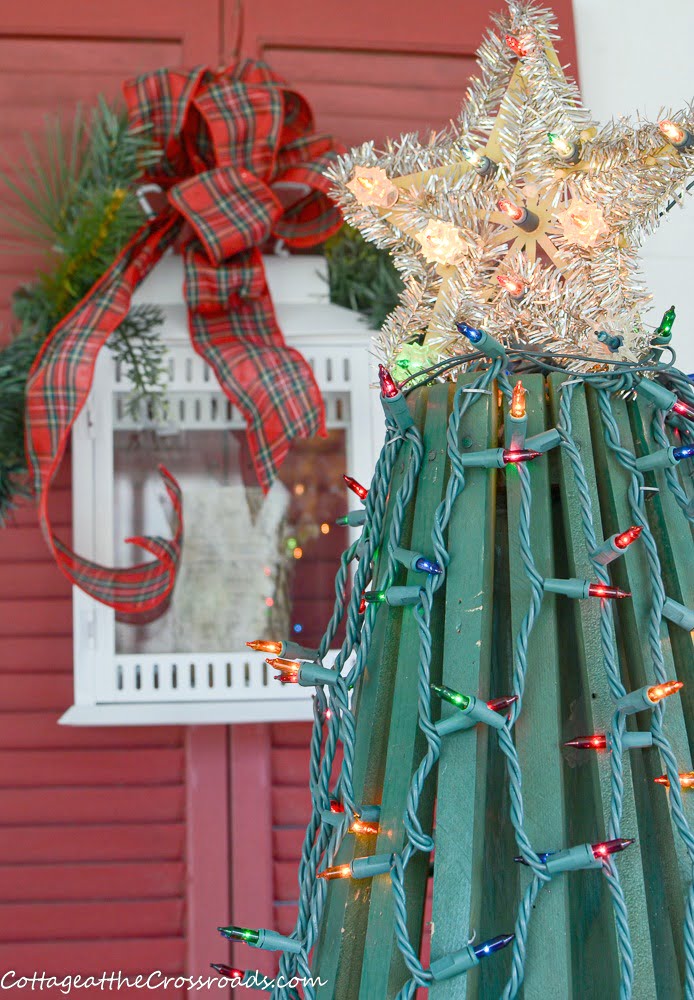 At the top is an old tinsel star. Reminds me of stars that people put on their Christmas trees when I was young.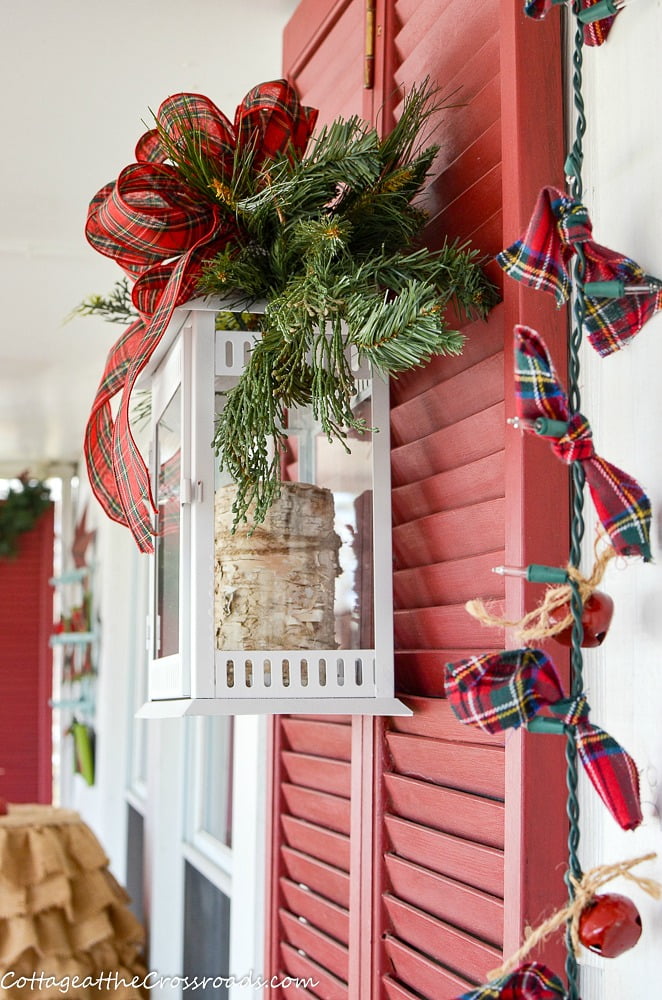 Around the front door is a jingle bell garland with plaid bows tied onto a strand of Christmas lights.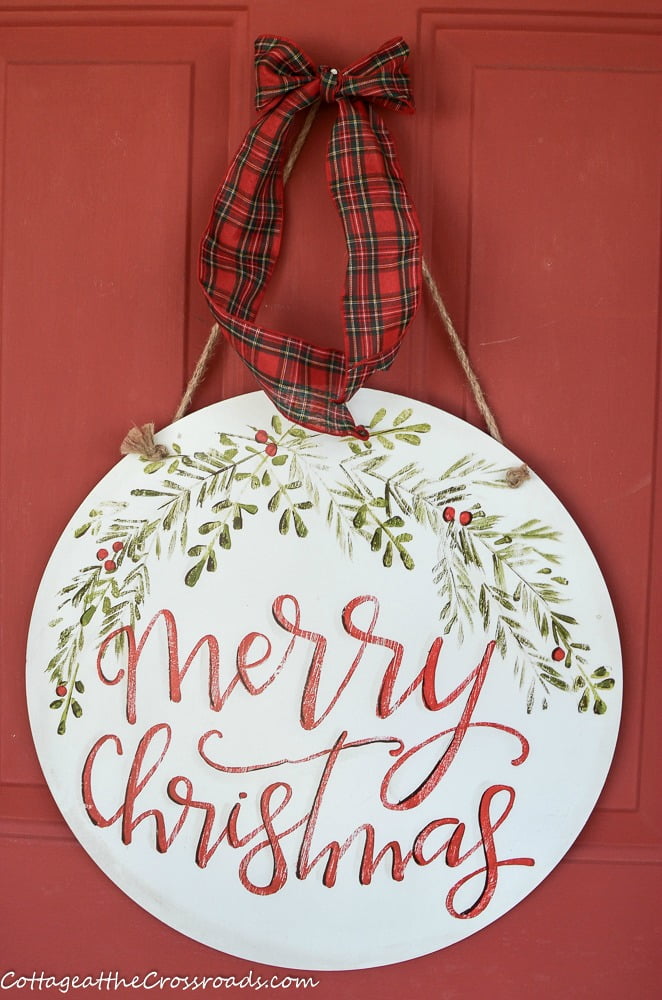 Hanging on the front door is a Merry Christmas door hanger with a plaid bow, of course!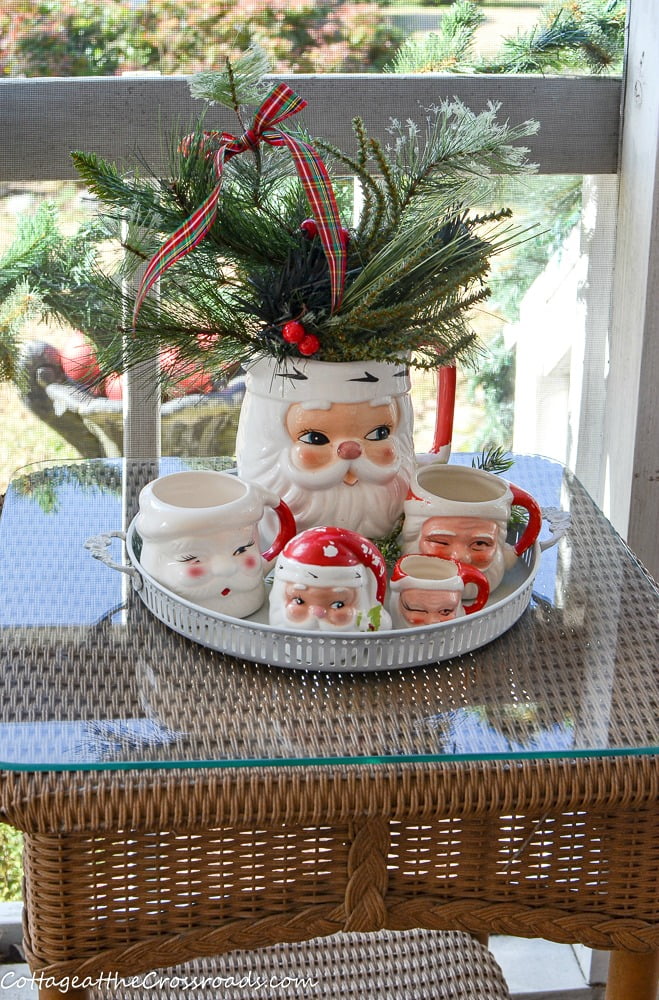 Across from the wheelbarrow is a small table with a set of vintage Santa mugs with a pitcher filled with greenery.
THE EATING AREA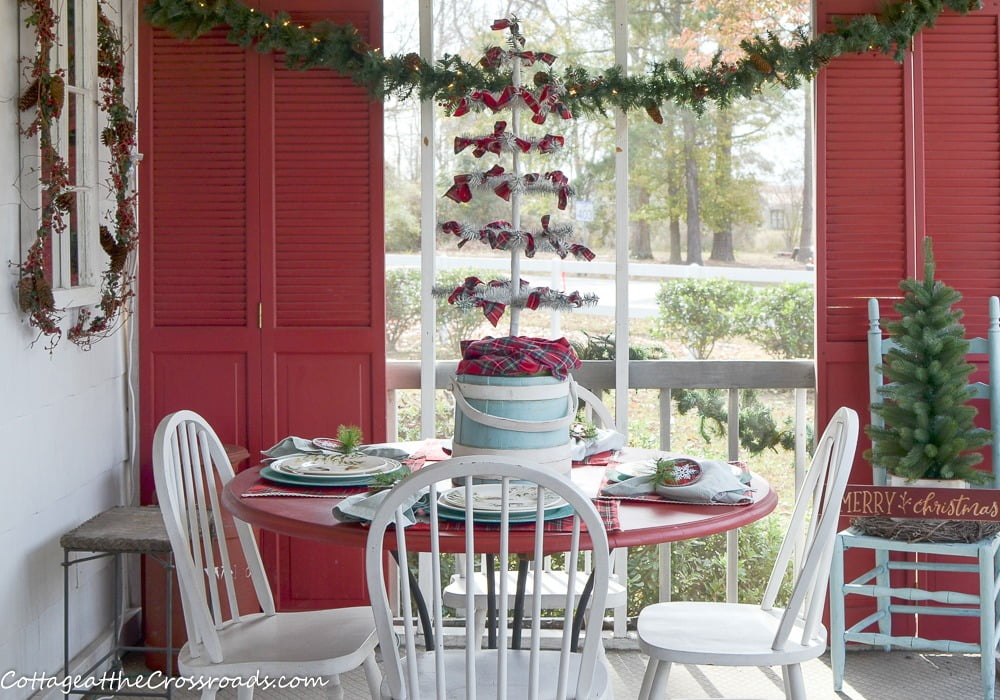 On the other end of the porch we have an eating area. It serves as an overflow area during the holidays when the weather is warm enough to eat outdoors.
The centerpiece on the table is a reproduction feather tree tucked down inside a vintage firkin bucket.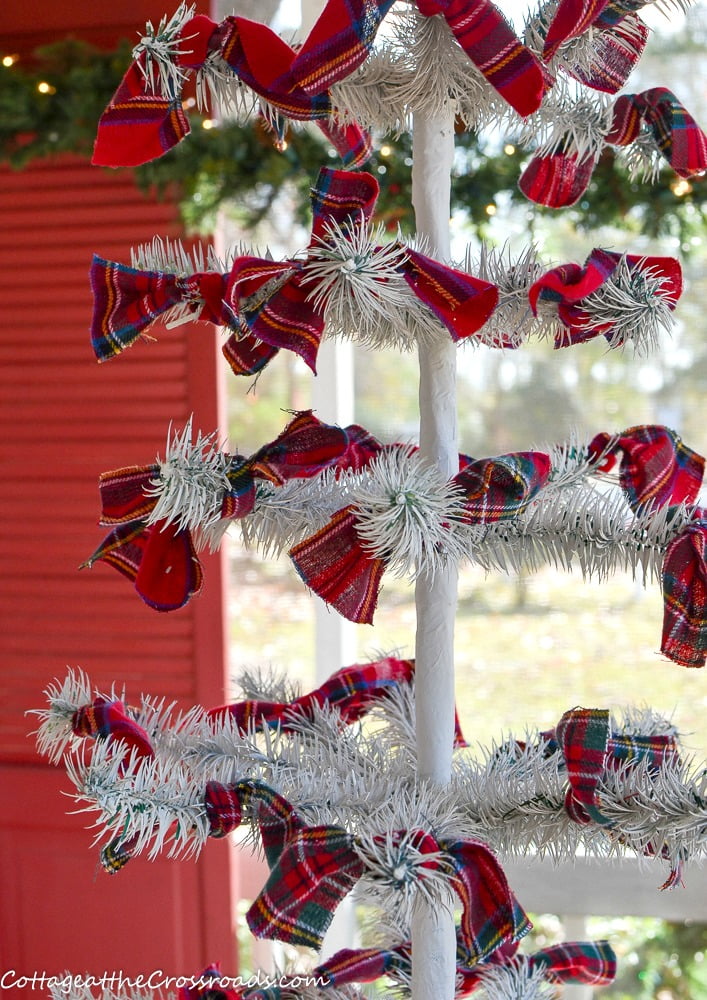 Plaid bows are its only adornment.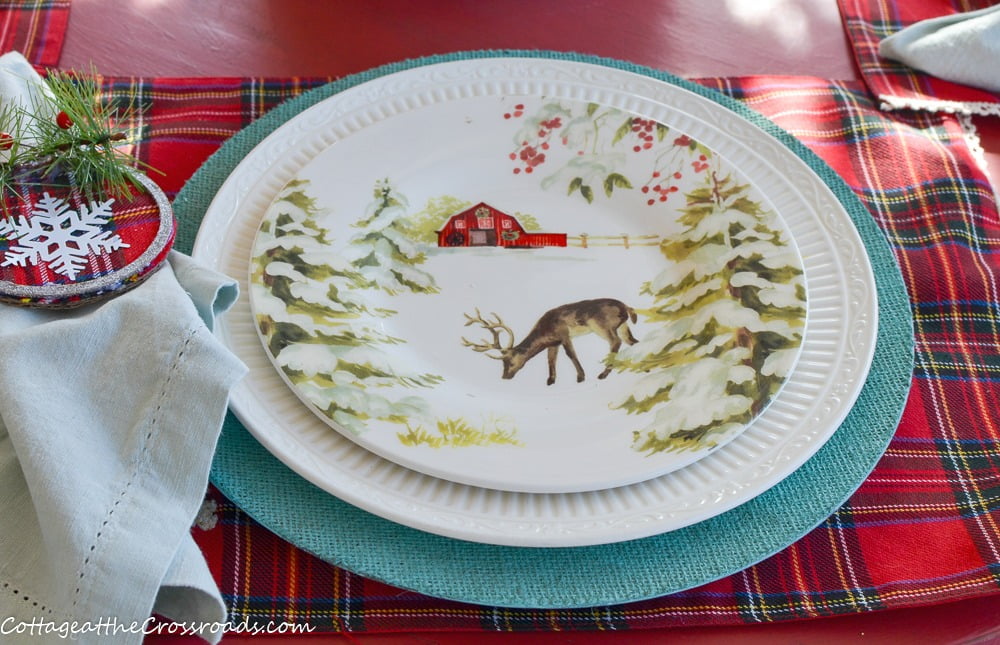 On the table are plaid place mats, and ornaments from the Dollar Tree serve as napkin rings.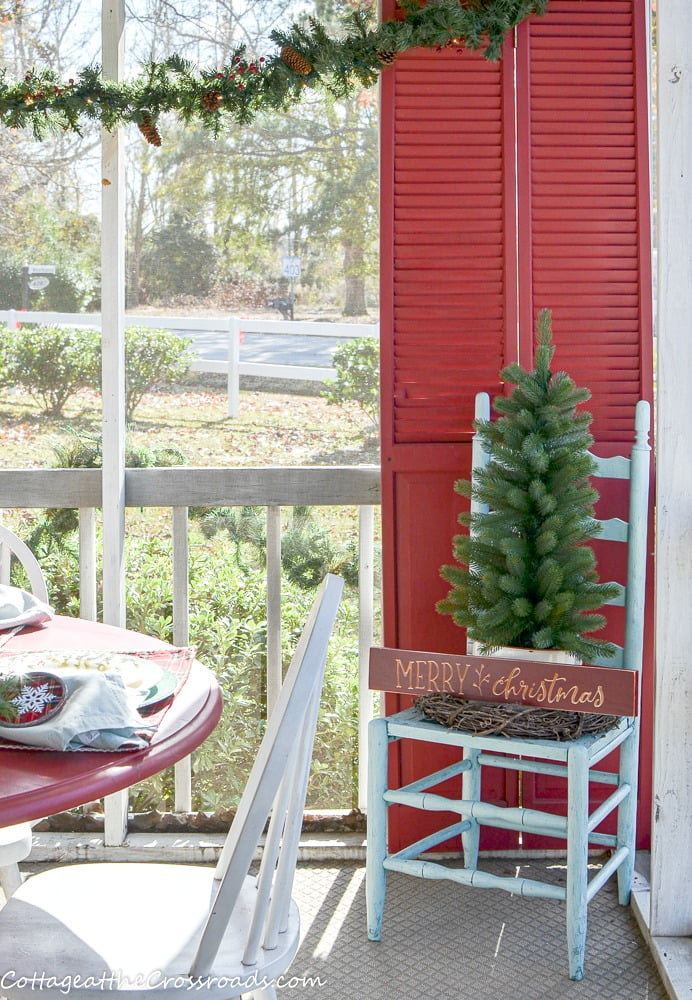 In the corner is the aqua chair that was already there from the fall porch decorations.
Thanks so much for taking time out of your busy schedule to visit our porch.
If you are a regular reader, I wanted to tell you that this is most likely the last time you will see the porch in its current state.
We plan to complete some badly needed renovations on the porch during 2020. The ceiling, the railing, the screens, the door, and the flooring all need to be replaced. Stay tuned to see what we do.
More Christmas Porch Inspiration
Be sure to visit all the participating bloggers for festive decorating inspiration for your front porch, patio, sunroom and screened-in porch.
Atta Girl Says // The Frugal Homemaker // House of Hawthornes // Southern State of Mind
2 Bees In a Pod // The Chelsea Project // Virginia Sweet Pea // T. Moore Home
Top Row: Our Crafty Mom // Postcards from the Ridge
Bottom Row: Cottage at the Crossroads // Worthing Court // Major Hoff Takes a Wife