Cotton has played important role in my life so I've paid homage to the plant on our cotton pickin' fall front porch.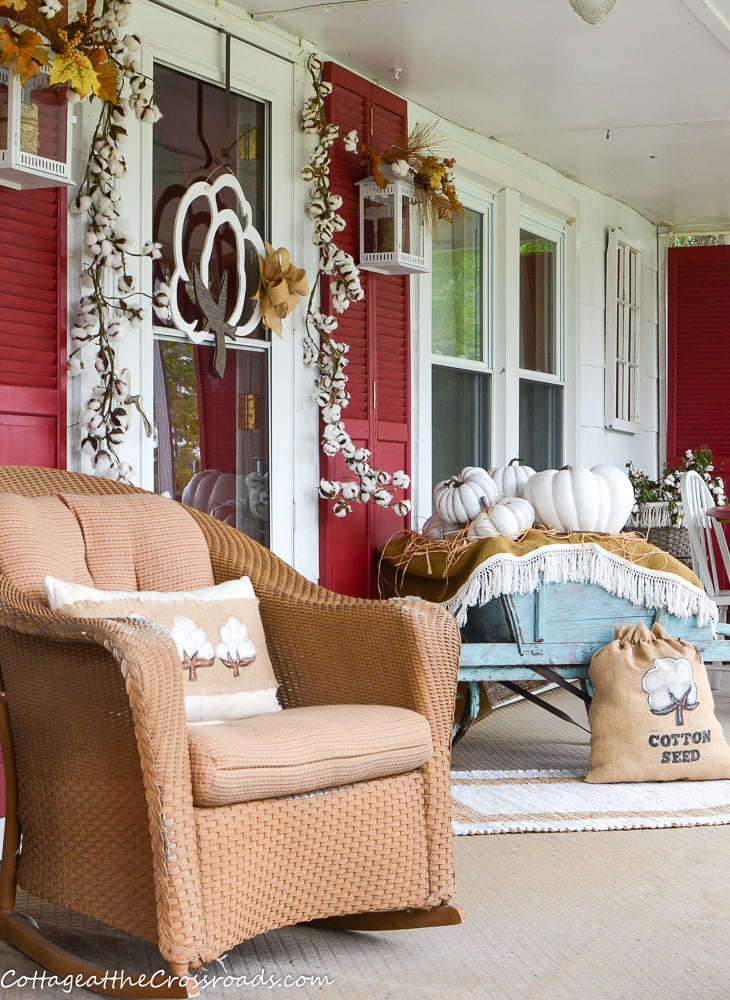 Hi there friends! Today I'm sharing our fall front porch decorated with a cotton theme.
In case you are new here today, I'm Jane and my husband and I live in an old southern country cottage that was built by his grandfather. On the front of our house is a large screened-in porch where we spend a lot of our time. It's my favorite place to decorate for the seasons.
I always like to choose a theme when decorating our porch, and this year's theme is cotton (with some white pumpkins thrown in!)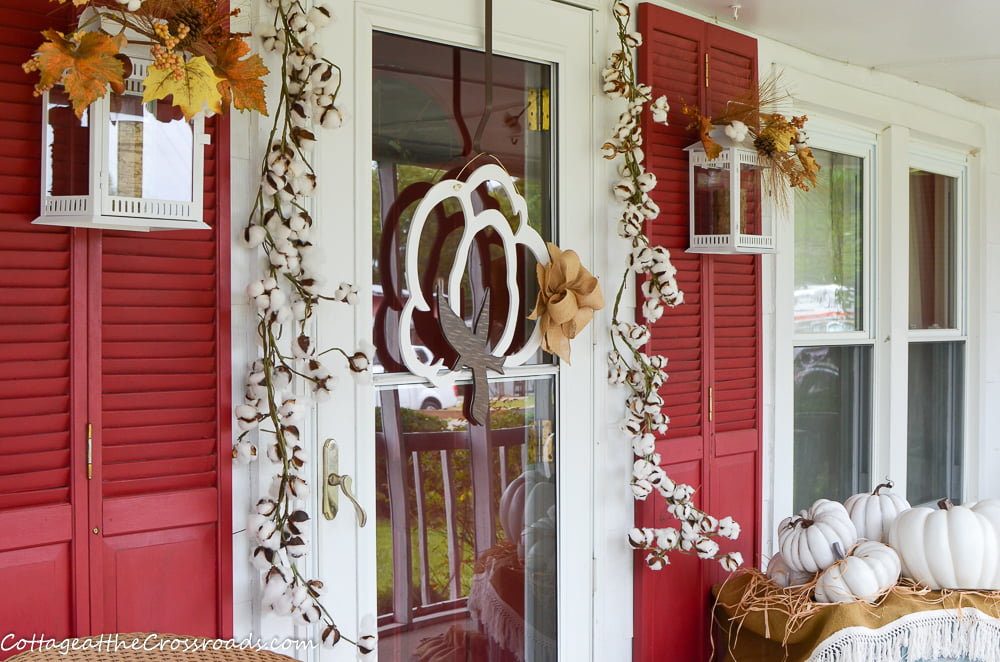 Why cotton? Well, my grandparents on both sides of my family were cotton farmers, and as a young girl, I picked cotton to earn some extra money. Pickin' cotton by hand is hard work, but today it is all harvested by machinery.
Right now is cotton pickin' time. We live in an area of South Carolina where a lot of cotton is grown, but we do NOT grow any cotton ourselves.
Most of the cotton that I've used to decorate our porch with is faux cotton, but this is what real cotton looks like.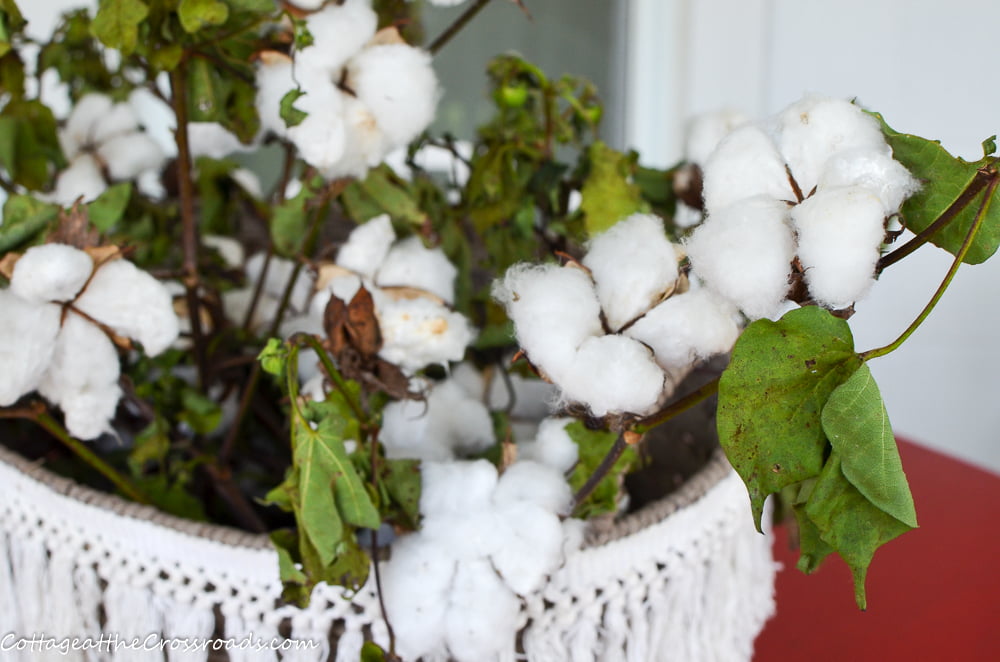 Leo went into a cotton field and gathered a few stalks of cotton for me to tuck down into this basket.
It really is better to use faux cotton in decorating because it looks so realistic and is not messy!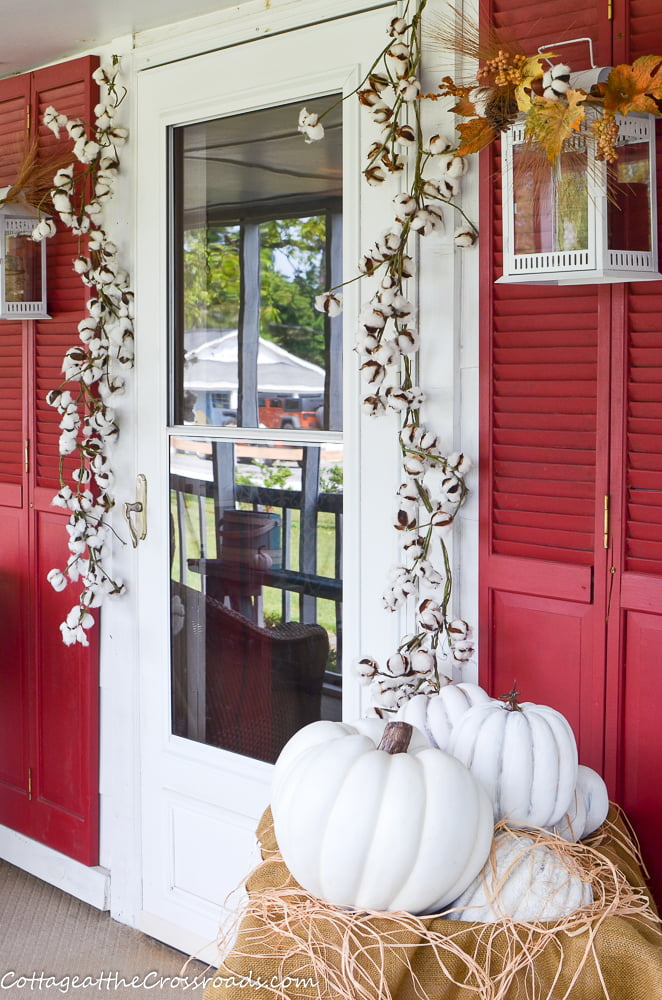 I started decorating the porch by hanging these cotton garlands from Hobby Lobby by the front door.
The red panels that you see are not really shutters. They are repurposed closet doors that friends were going to throw away. They've been a regular fixture on our porch for a number of years, but we just recently moved some beside the front door.
The lanterns were given a new lease on life when I spray painted them. You can read more about my updated painted metal lanterns here.
The lanterns got adorned for fall, and I placed some battery operated candles inside.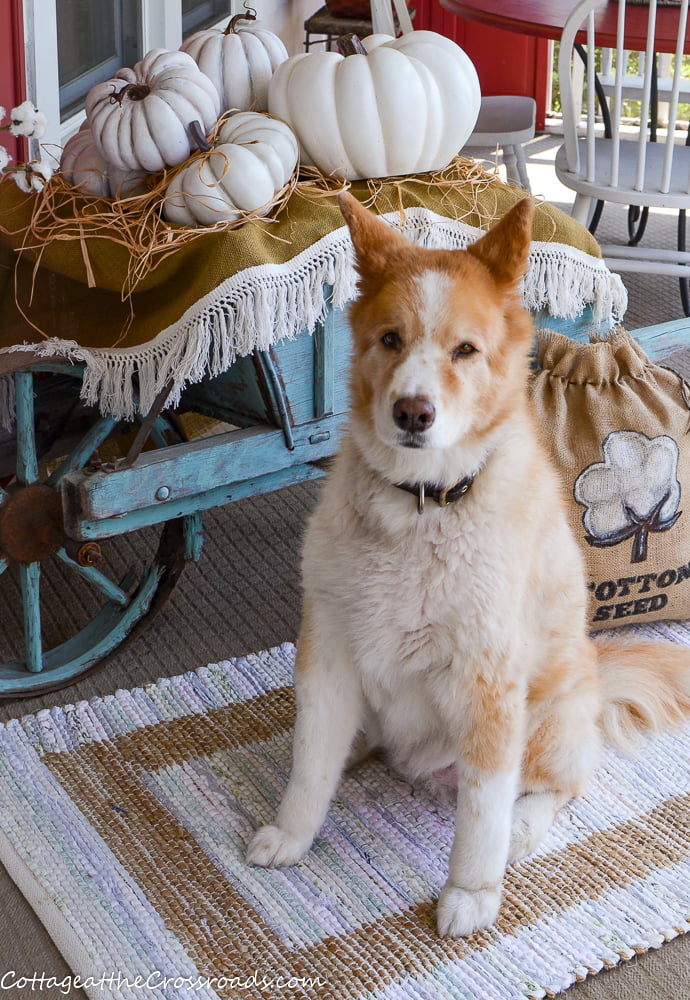 Lucy is a regular fixture on our porch along with the blue wheelbarrow. This time I've loaded it up with white pumpkins.
They are all faux, too, but several years ago, we grew a lot of white pumpkins in our garden.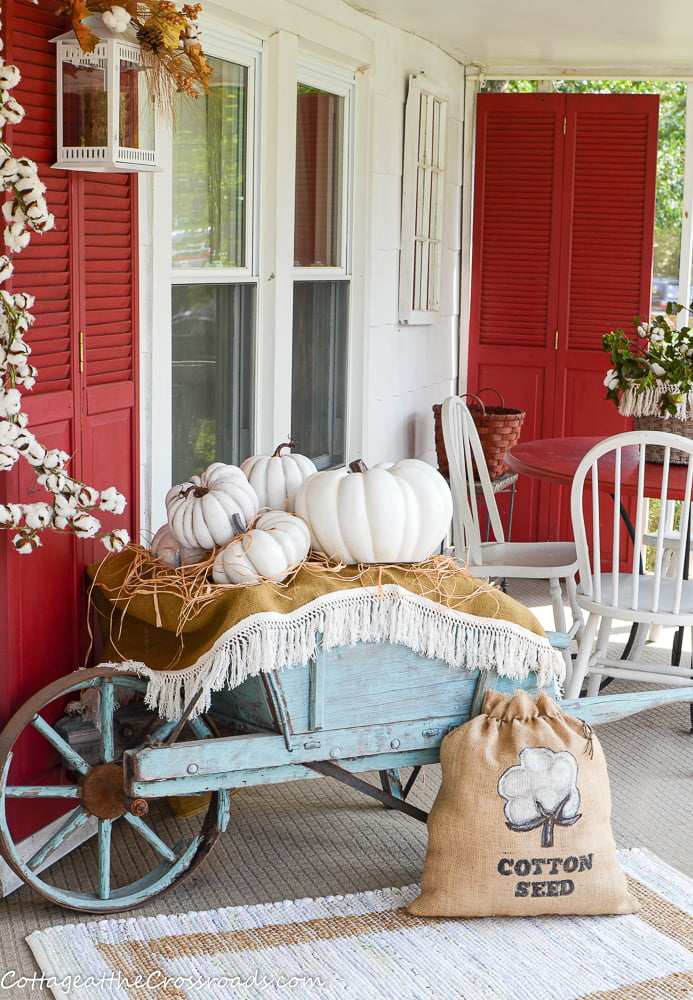 Next I decided that I needed a cotton seed bag on my cotton pickin' fall front porch.
I really don't have any memory of what cotton seed bags looked like, but you can find the details on how I created my DIY cotton seed bag.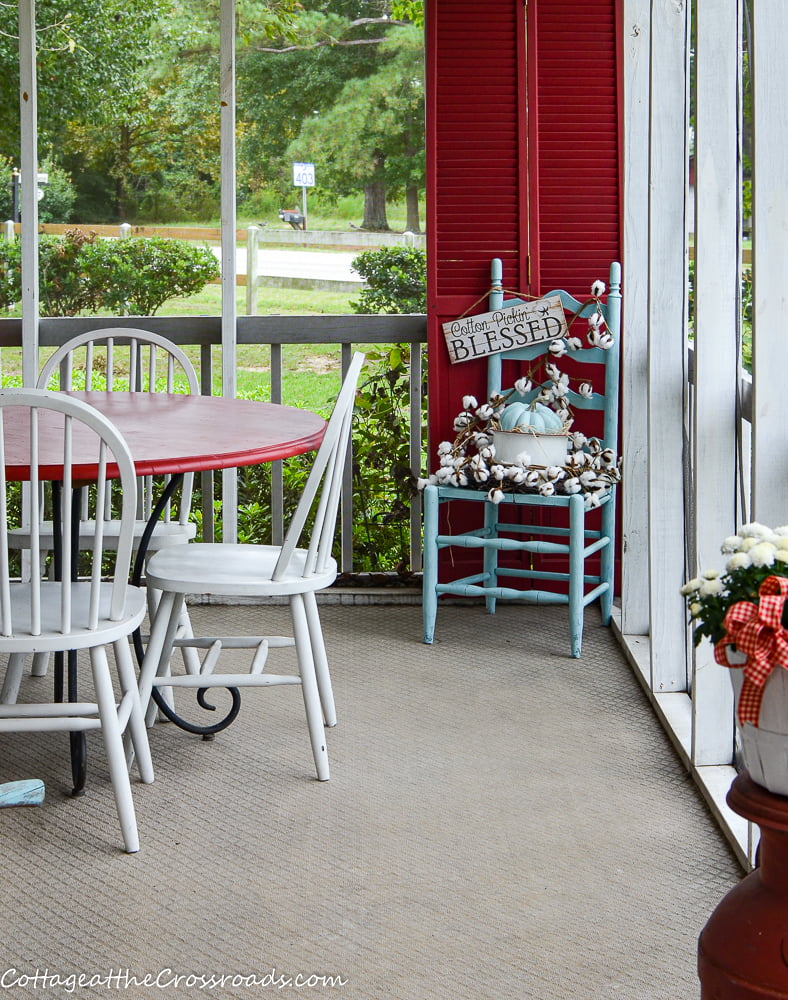 On one end of the porch, I decorated an old chair with some cotton.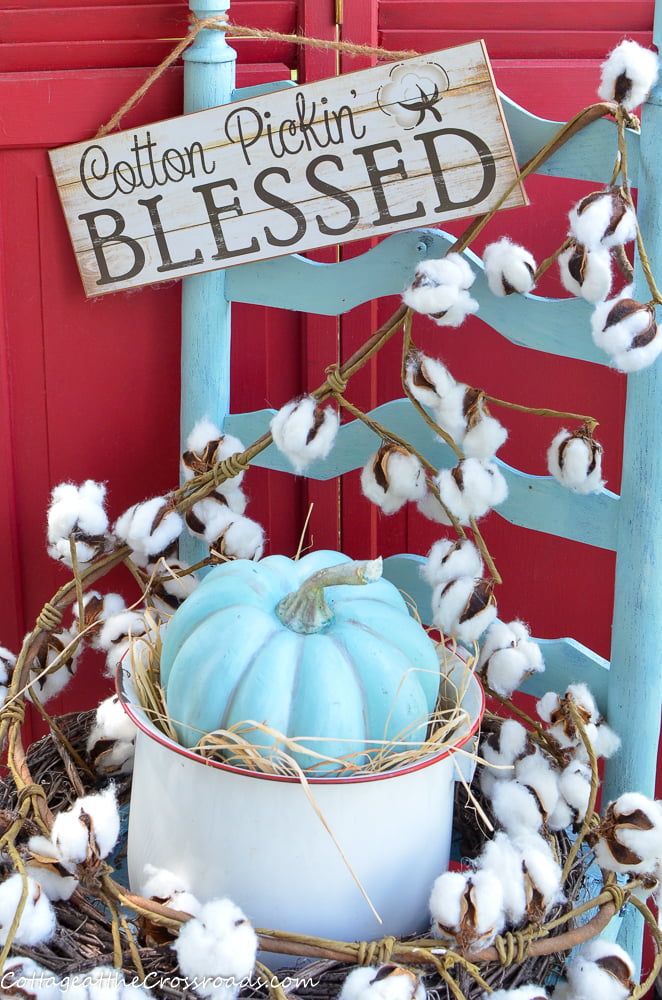 Yep! That's an old chamber pot sitting in the chair! I found the Cotton Pickin' Blessed sign on Etsy.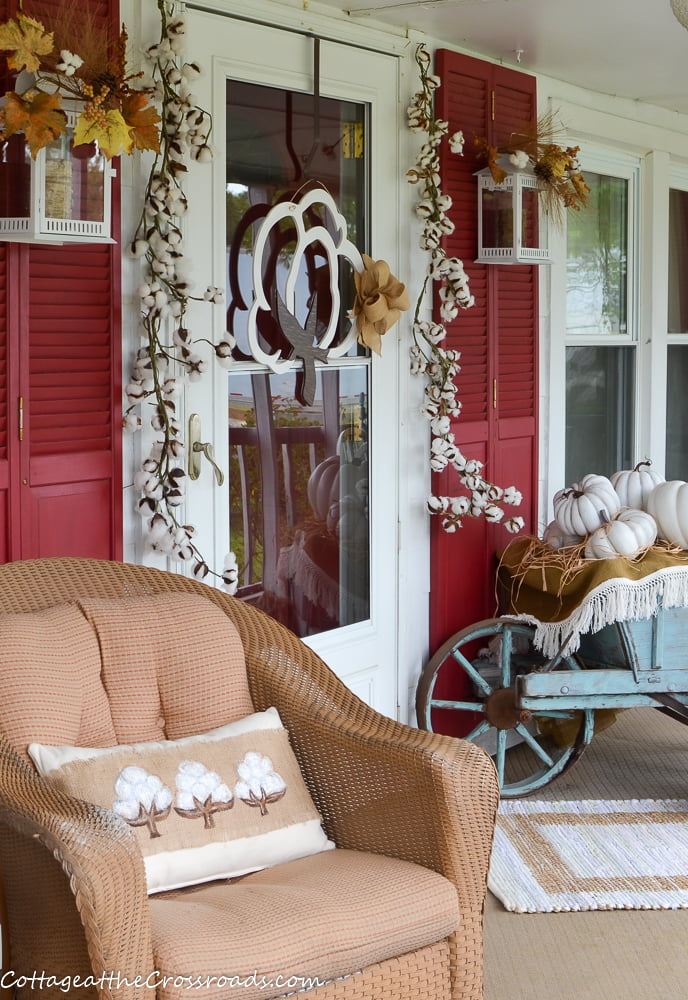 Next I just happened to be looking on FB Marketplace and saw that a local person was making and selling cotton door hangers. The pillow in the chair was whipped out by...moi!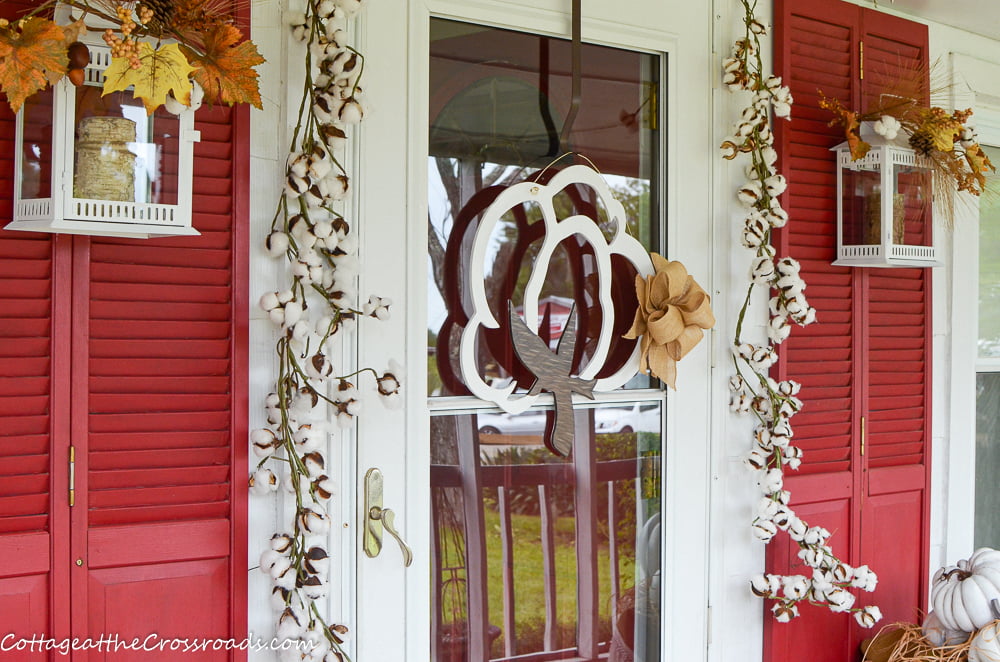 Here you can see up close the wooden cotton door hanger that I purchased here.
Don't worry if you're not local because they can ship the door hangers, too.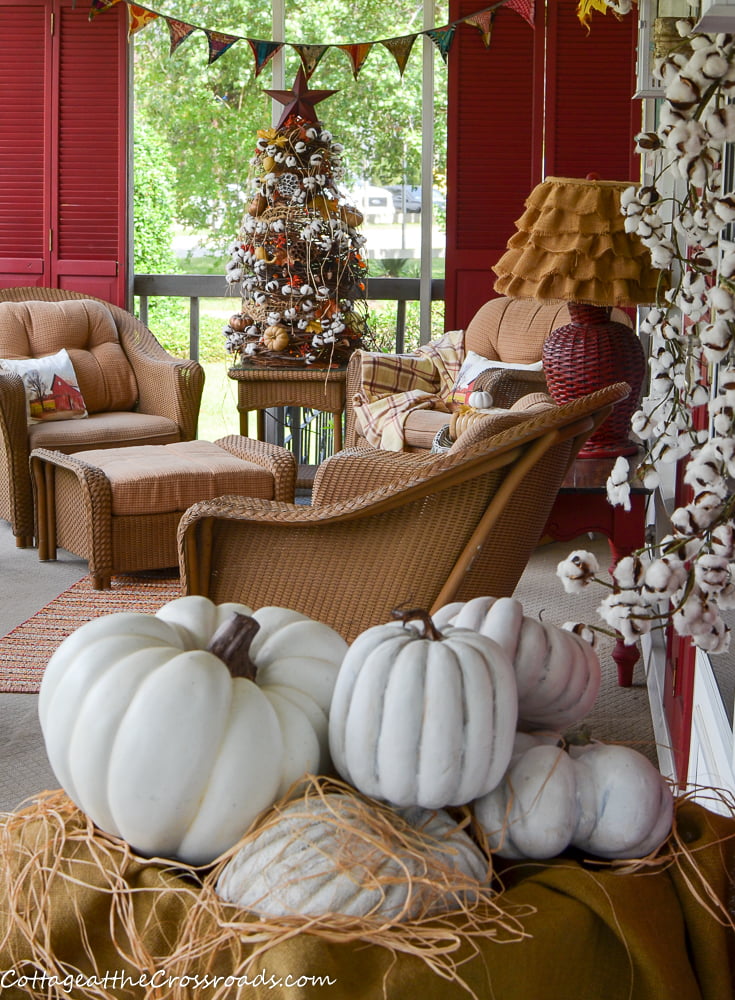 On the other end of the porch where we sit is a twig tree decorated with cotton.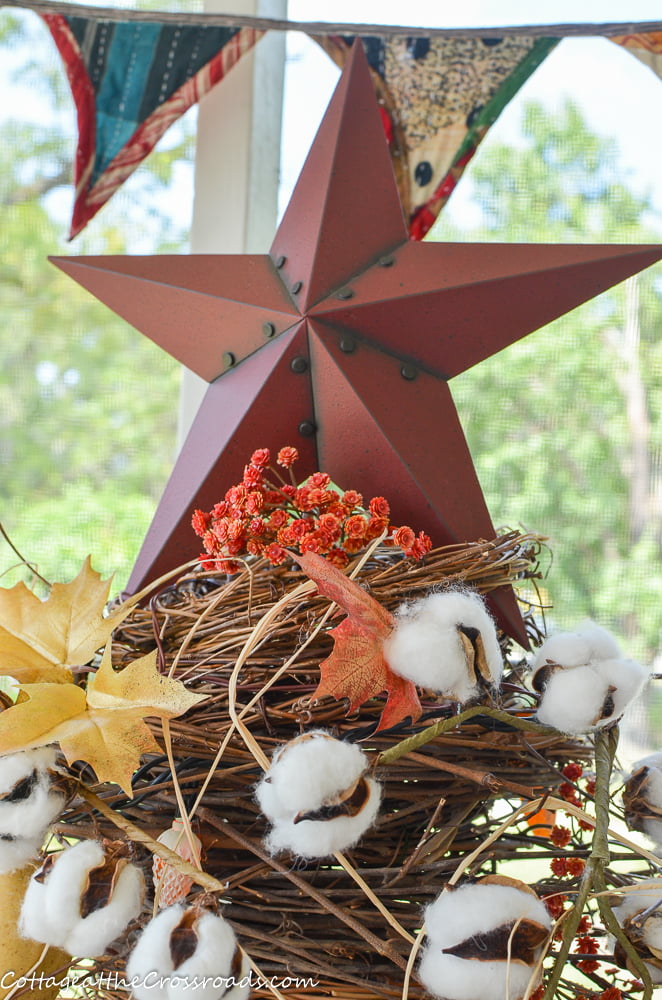 There are two types of lights on the tree. Some of them twinkle and some of them glow.
Behind the tree is a kantha cloth bunting that I purchased from here.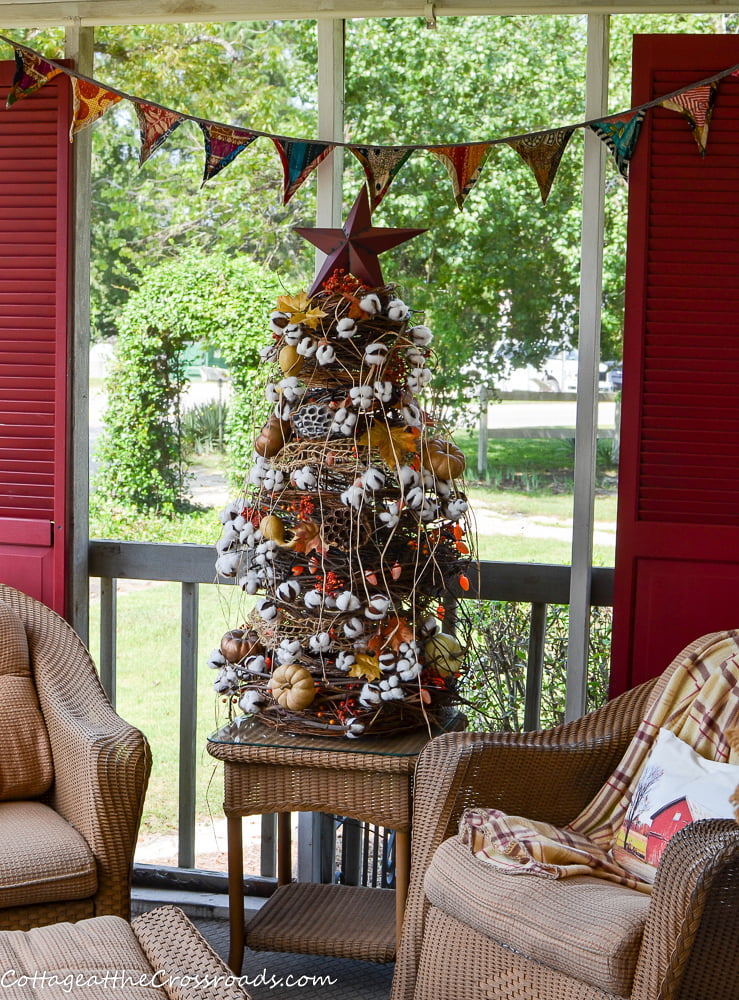 The bunting reminds me of old cotton piecework quilts.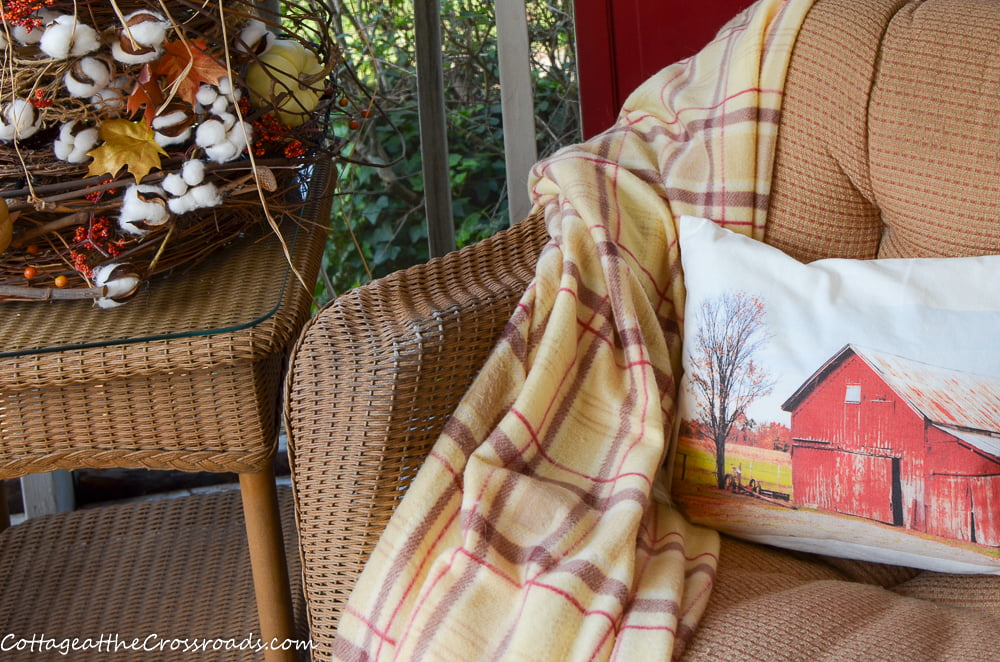 The red barn pillows I already had. Cotton, though, would not be stored in barns. Farmers baled the cotton and carried them to a local cotton gin.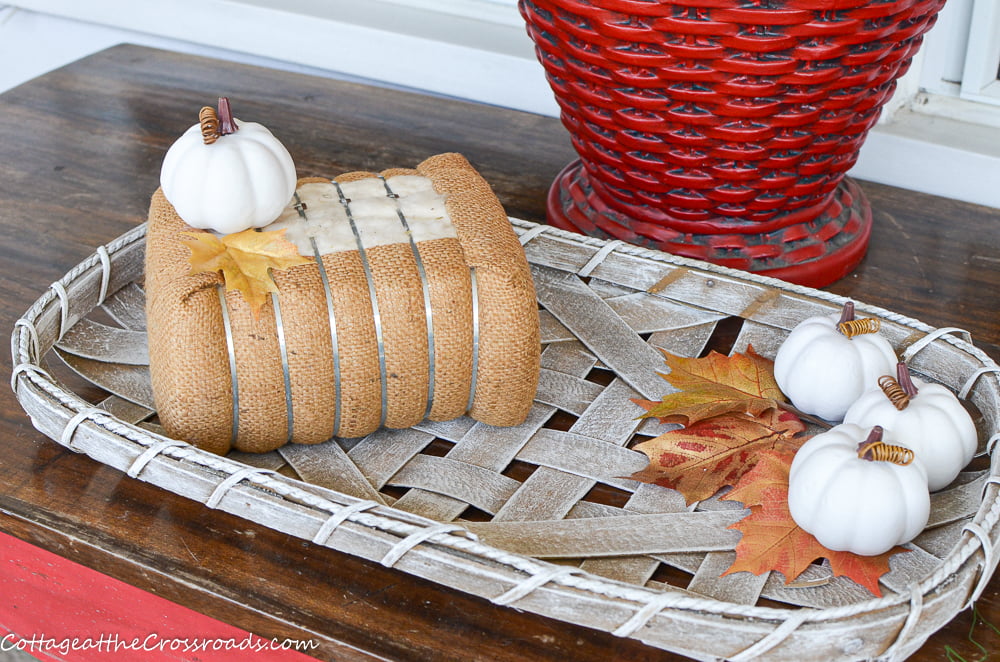 On the table I've displayed a reproduction cotton bale. I found this one on Etsy.
The cotton bales today are huge. You can see some of them and learn more about cotton in my post It's cotton pickin' time!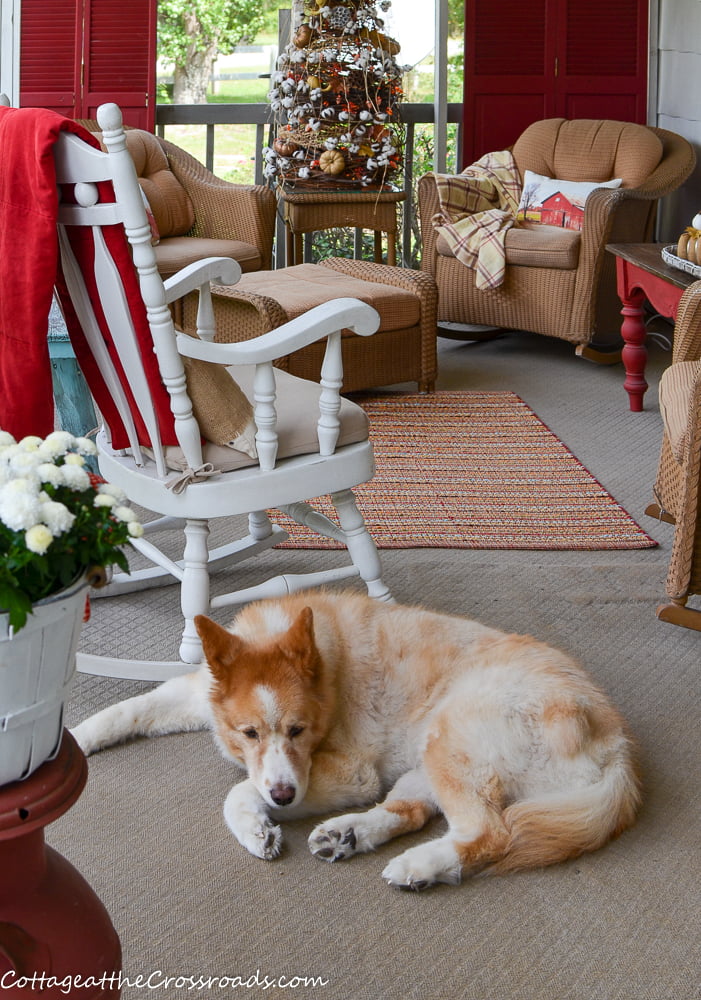 Lucy, our dog, is glad that some cooler weather has blown in and is enjoying her time on our cotton pickin' fall front porch.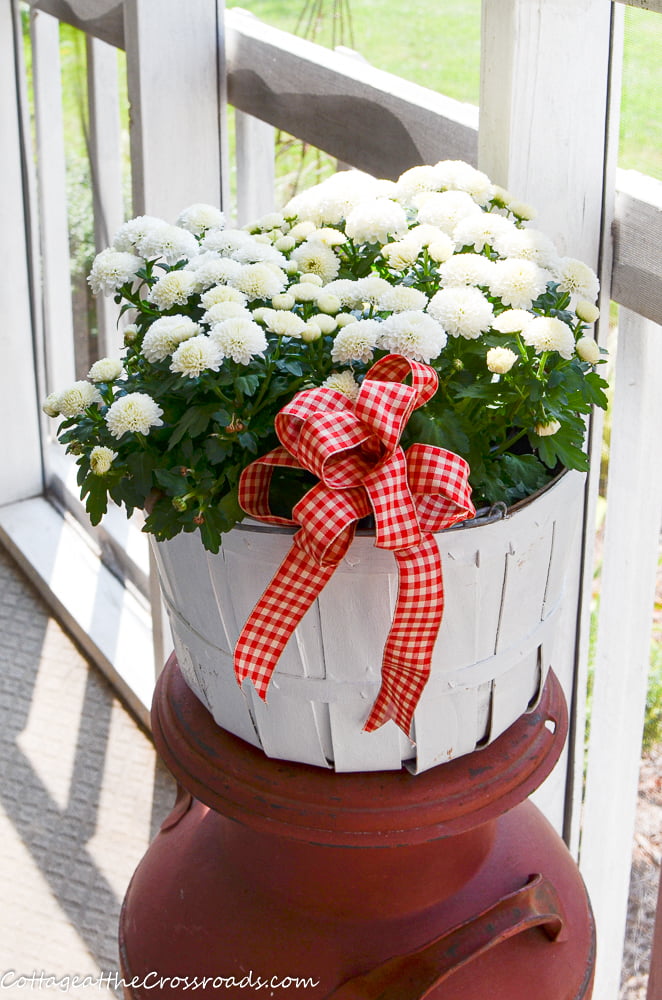 The old milk can got topped with some fresh fall mums...as white as cotton!