It's cotton pickin' time in the South, and the fields located near our house are snowy white with cotton that's ready to be harvested. This scene below is one that I've taken for granted because I've seen it all my life.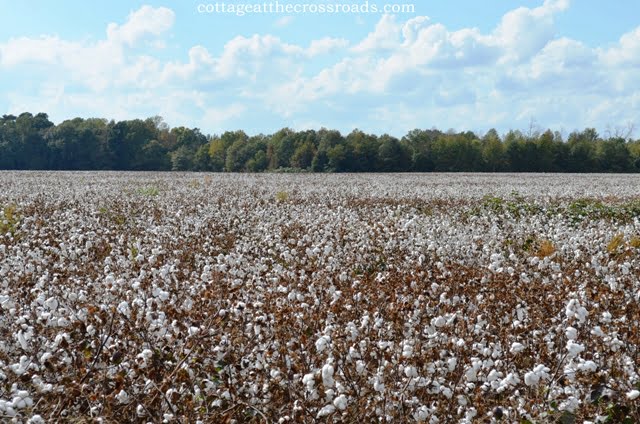 But I've discovered that so many of you are interested in cotton, and that discovery started with this box of cotton that I sent my friend Ann. She had mentioned in a post that she wanted some cotton bolls to use in decorating, and I boxed up some and sent them to her.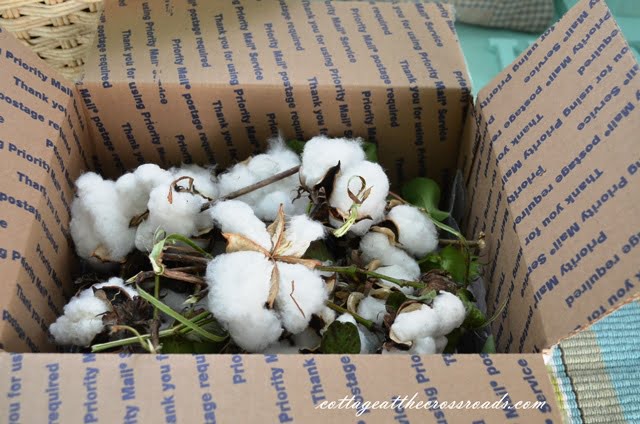 And I was intrigued to learn that so many people had never seen cotton growing in a field, and that you wanted to see and feel some of it yourselves! So I thought I'd do a post about it because cotton and I go waaaay back!
Cotton is a product that we use from the time we wake up in the morning and dry our faces with a cotton towel to the time we climb into bed at night between cotton sheets. It's hard to make it through a day without using numerous cotton products, including food, soaps, and cosmetics. Cotton is, without a doubt, the most important plant known to man.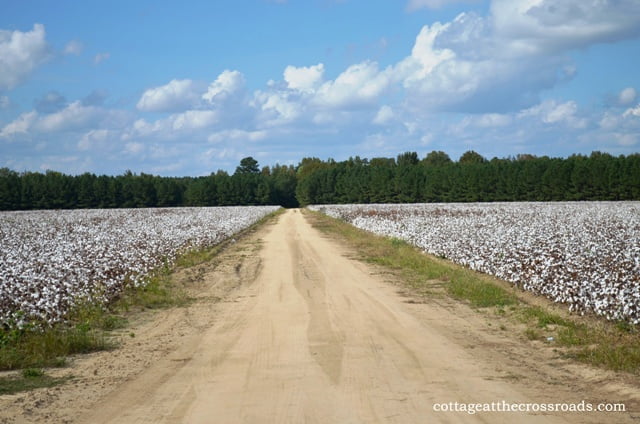 So I thought I'd take you down this road and share a little of my history with this plant that's sometimes called "white gold."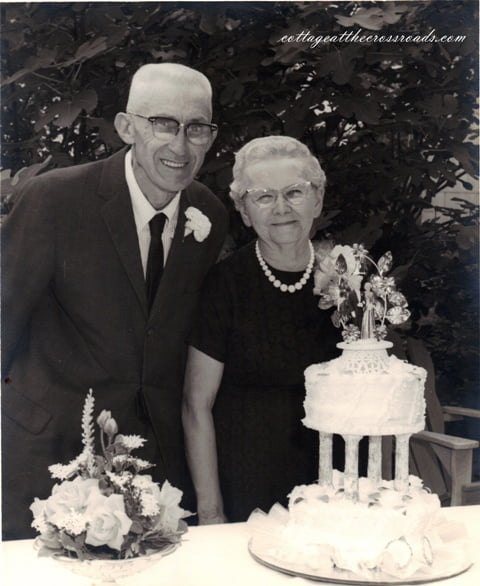 My grandparents on both sides of the family were cotton farmers. Pictured above are my mother's parents, and I picked cotton in their fields a few times when I was a little girl. Back in those days, cotton was hand-picked and hard work. The local schools even had a fall break in order for children to help pick the cotton. I remember trying to pick some to earn money to attend the fair. After a short while, my brothers found me napping between the rows! So much for my cotton picking career!
Today cotton growing is all mechanized from the planting, weeding and insect protection, to the harvesting. My brother used to sell some of that big and expensive farm equipment to farmers in the central part of the US.
So I thought I'd tell you a little bit about the growth stages of the cotton plant. Cotton is planted in the spring after the soil warms up, and the foliage on the plant is quite attractive. Buds called "squares" eventually form on the plant and develop into flowers.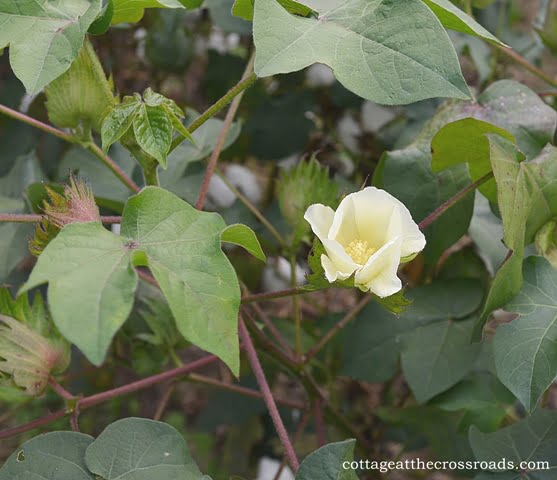 Cotton is a member of the mallow family, along with okra, hollyhocks, and Rose of Sharon. You can read a post I wrote last year about fried okra in which I showed the flowers of each plant.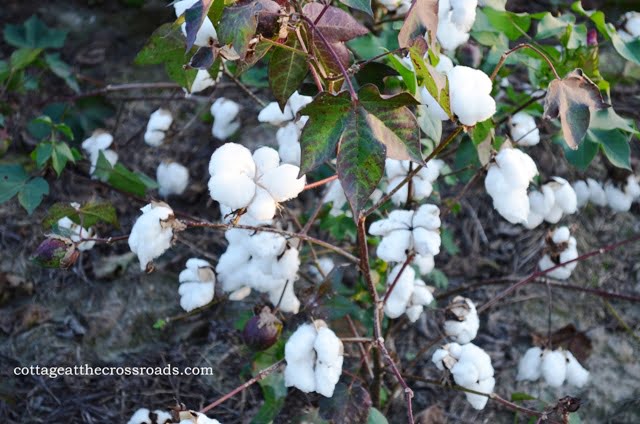 The flower will pollinate itself, change color, and fall off the plant, exposing a small green boll which is shaped like a football. The boll is considered a fruit because it contains seeds. As the fibers grow and thicken within the boll, it will split open along the segments exposing the ripened cotton.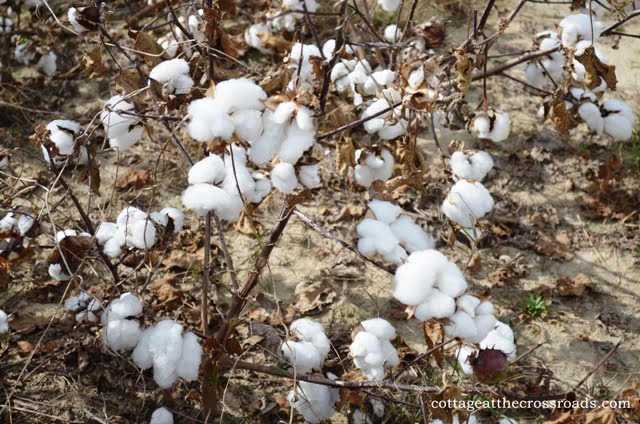 A final step before the cotton is harvested is the defoliation of the plant. This allows the grower to hasten the gathering of the cotton. Then machines move through the fields cutting the plants, and the cotton is either stored in huge modules in the field or in round bales at a gin.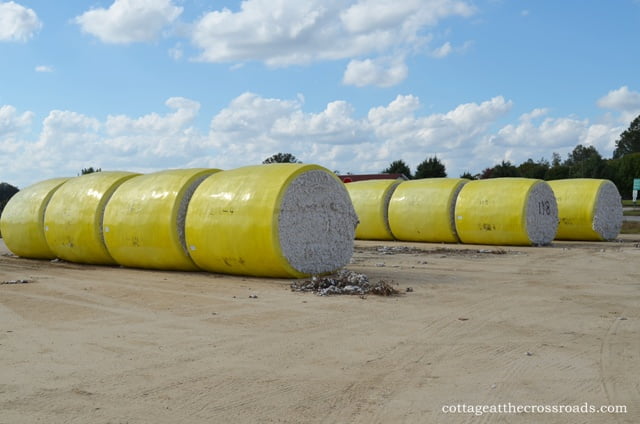 Each one of these bales weighs about 500 pounds. A bale of cotton can make about 325 blue jeans or 1,200 T- shirts.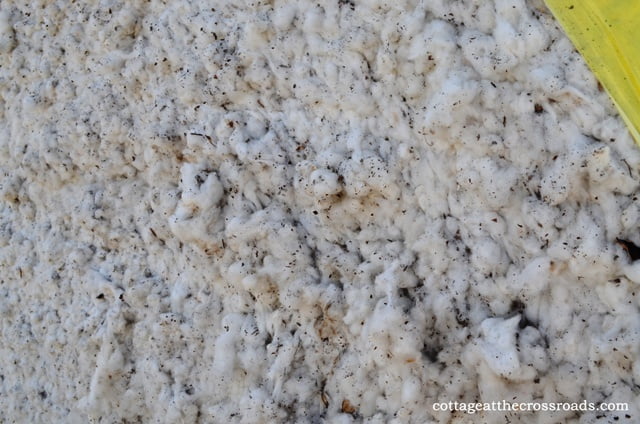 At the gin, the seeds are removed from the fibers and the cotton is cleaned. The lint will be transported to textile mills and the cotton seed will be taken to a cottonseed oil mill to be used in making mayonnaise, frying oils, cosmetics, and many other products. Leftovers from the oil extraction process are used as livestock feed, and the sticks and burs are tilled back into the fields by the farmers making all parts of the cotton plant useful.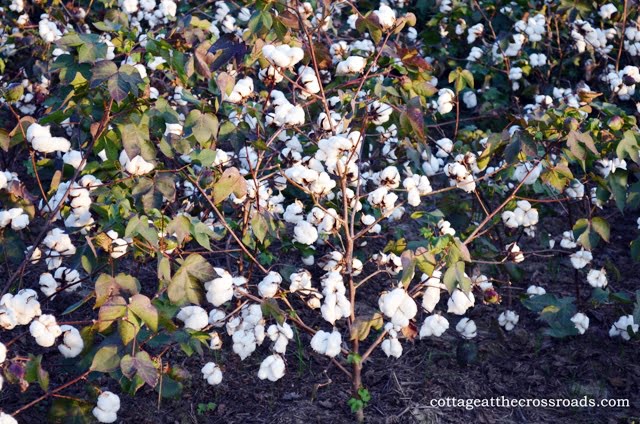 After all this recent interest in cotton, Leo and I had the idea that perhaps we should plant a few cotton plants next year to serve the decorating needs of our blogging friends. But in my research, I learned that that was not a good idea. Farmers don't want the dreaded boll weevil insect that devastated the cotton crops years ago to get started up again. I'll just leave the cotton growing to the experts. And by the way, I'll be supporting our American farmers even more by trying to buy cotton products produced in the good ole USA.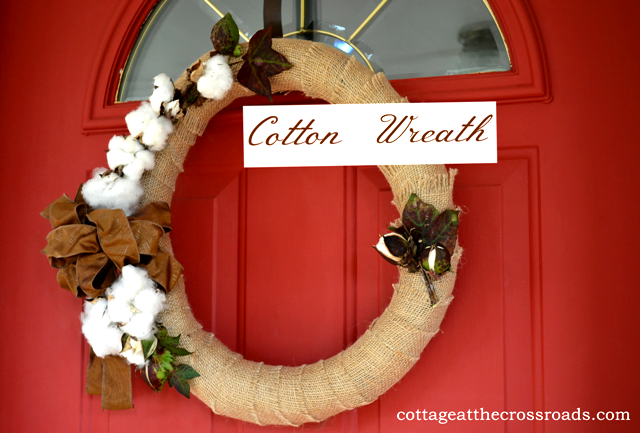 So what did I do with the cotton that I picked lately? Well, I made a wreath, of course!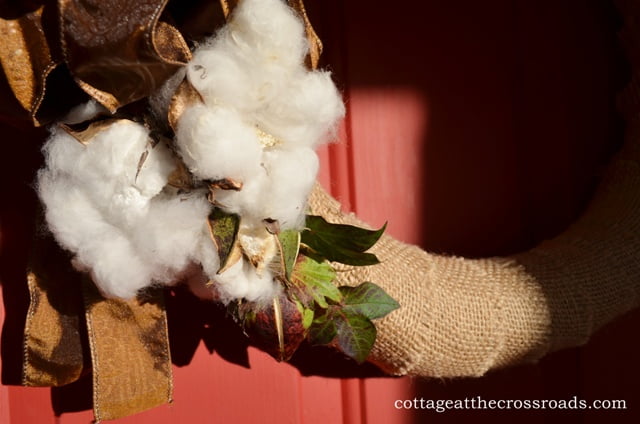 My grandparents would be disdainful of me using cotton to decorate. Cotton, to them, was a means of making money.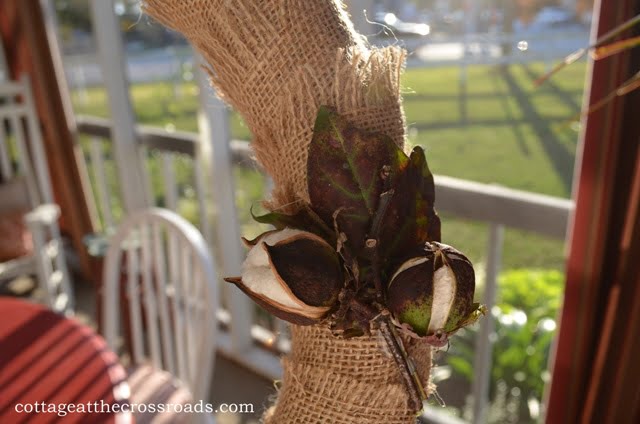 But to me, cotton is a gift of nature to be admired for its beauty as well as its usefulness.
So I thought I'd leave you with a little song about the boll weevil performed by a South Carolinian who grew up on a cotton farm not too many miles from here.