If you've ever canned tomatoes before, you know that it can be a bit of a process. It can be time-consuming and it's not always easy to get the results that you want. That's why I'm here to help!
In this tutorial, I will show you how to can whole tomatoes in an easy and efficient way - with only 2 ingredients! And I'll walk you through each step so that you can do it yourself at home.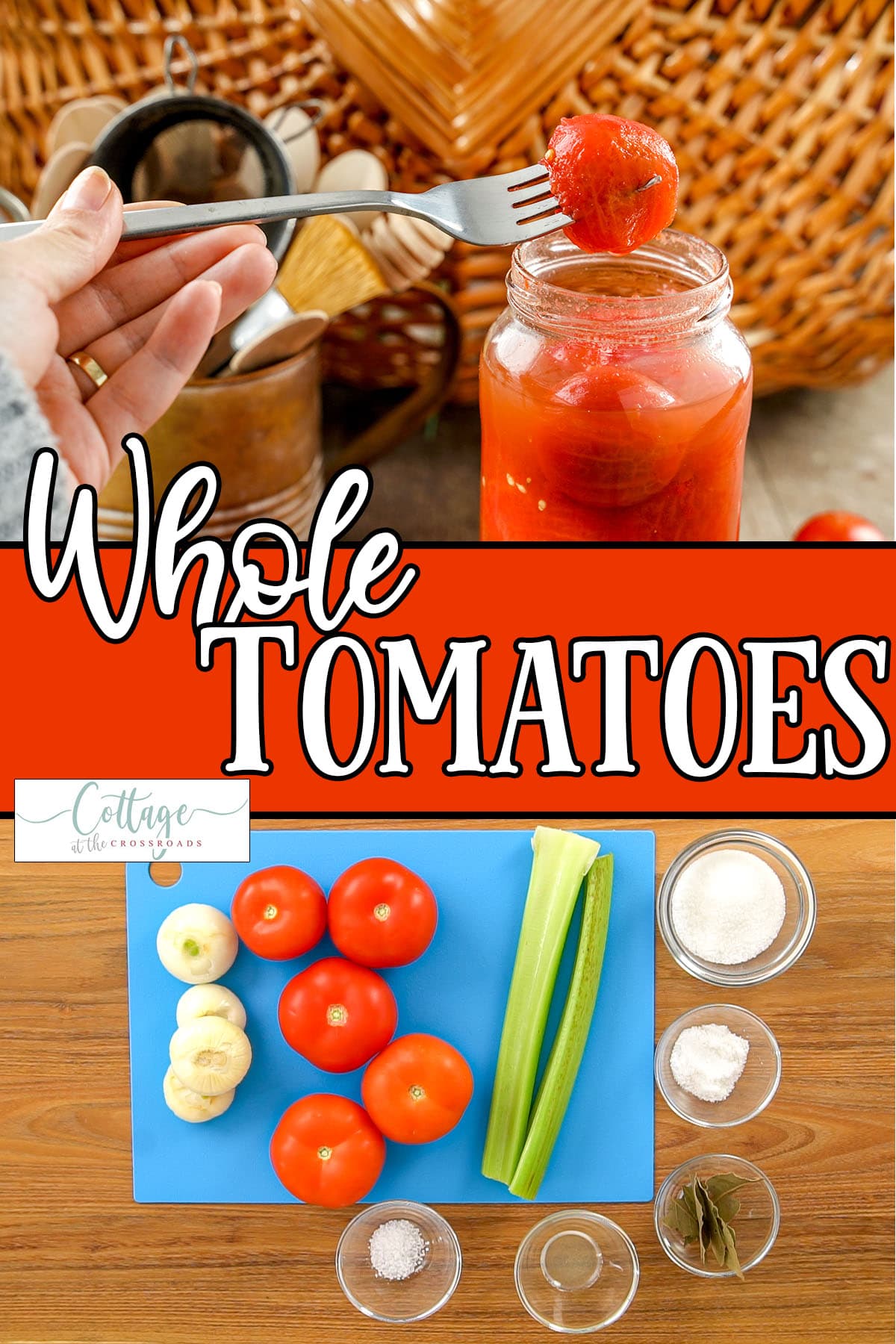 Canned Whole Tomatoes the Easy Way: A Step-by-Step Tutorial
The best time to can whole tomatoes is late summer or early fall when the fruit is ripe and in season. This will ensure that you get the freshest, tastiest tomatoes for your canned goods.
It's also important to choose tomatoes that are firm but still ripe - this will help them hold up better during the canning process. But, if you're not looking for whole tomatoes, but want chopped or diced tomatoes, a little less firm is going to work ok, too.
So, you're going to want to keep that in mind when you're planning your canning adventure.
But, let's get down to the brass tacks and really get into this tutorial.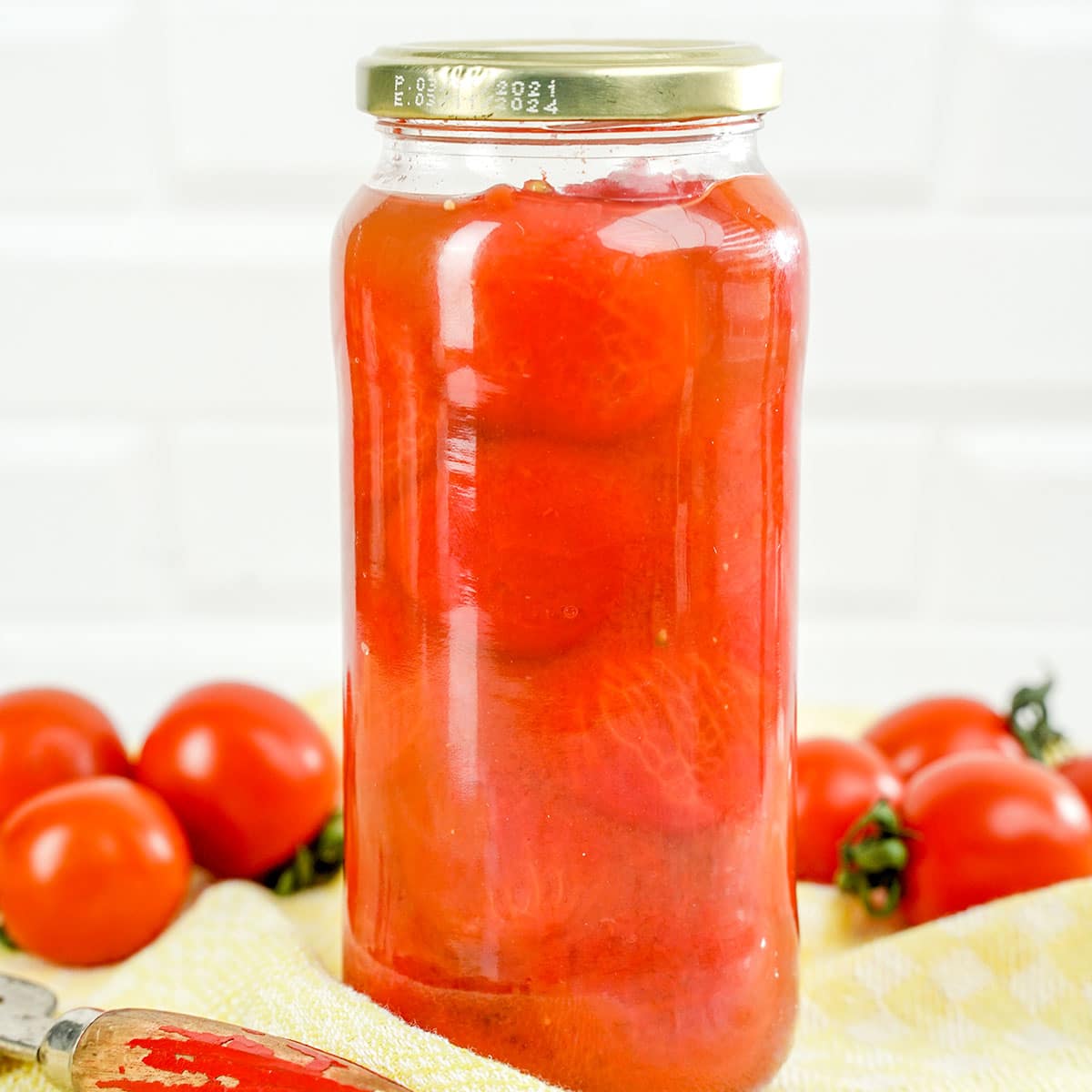 What You Need To Make Canned Whole Tomatoes
1 tablespoon canning salt (per jar)
5 pounds small fresh tomatoes (small so you can place them in a jar)
Jars (mason jars or any other canning jar)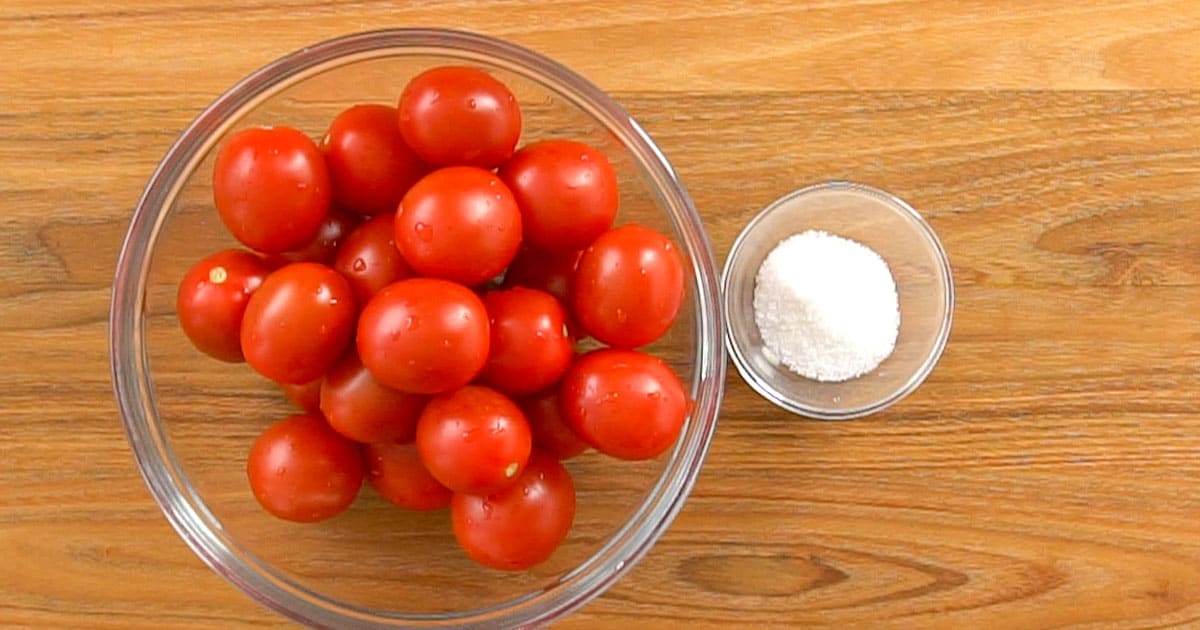 How to Make Canned Tomatoes
First wash the tomatoes and peel them. To make the process easier, place them in a pot with boiling water and leave them to boil for 2-3 minutes until the peel starts to crack.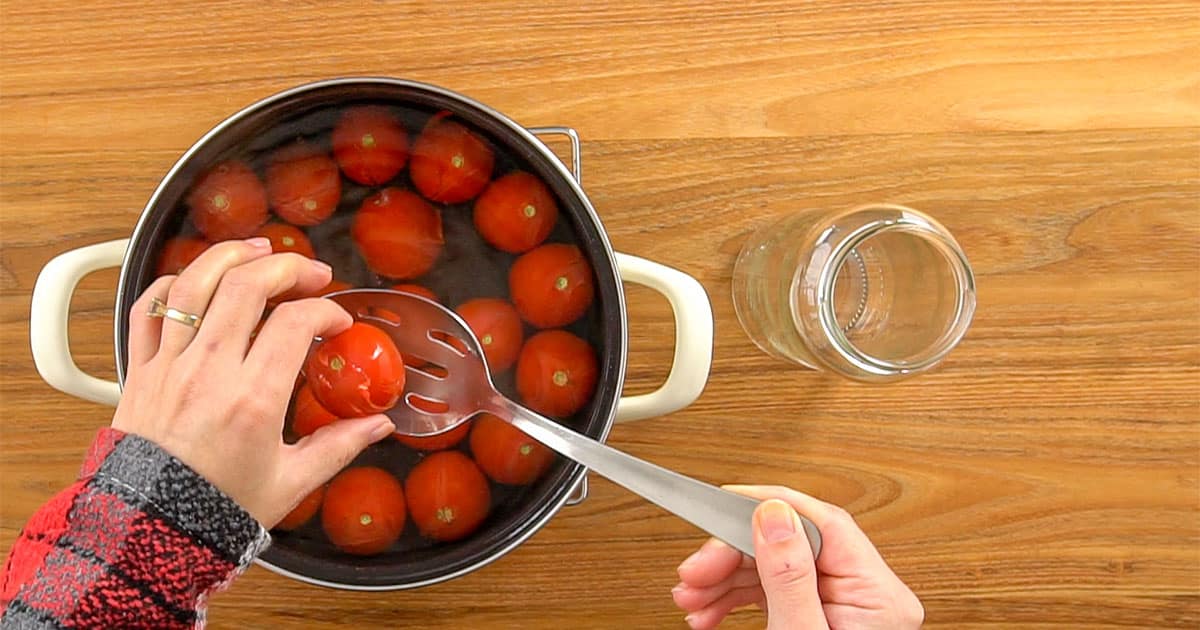 Leave the tomatoes to cool a little so you can peel them really easily. We don't need to burn our fingers here.
Place the tomatoes in the jar and make sure you don't leave gaps between them. You can add some of the water used to boil them in to fill any spaces, if necessary, but be sure to fill the jar leaving about an inch on the top free.
Add the salt in the jar, 1 tablespoon in each jar and close the jar. Repeat the same procedure for all the jars.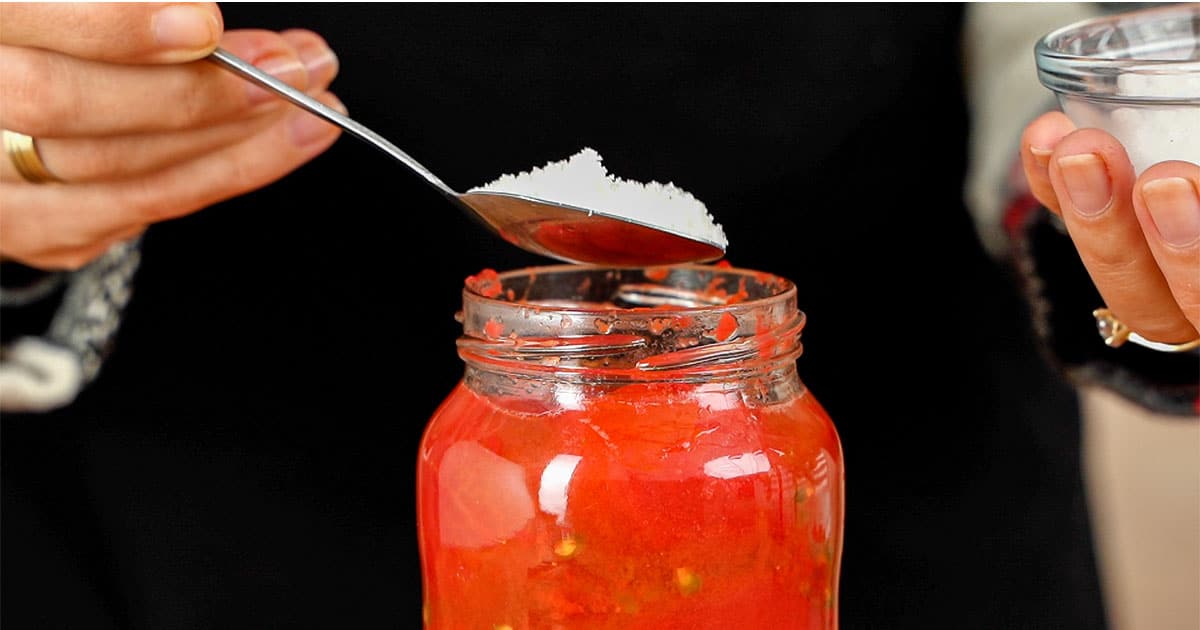 Fill ¾ of the pot with fresh, clean water and set it to boil. Make sure the pot you are using is big enough to fit the jars inside.
Once it's at a rolling boil, place the jars in the pot and leave them on a low boil for 40 minutes to seal.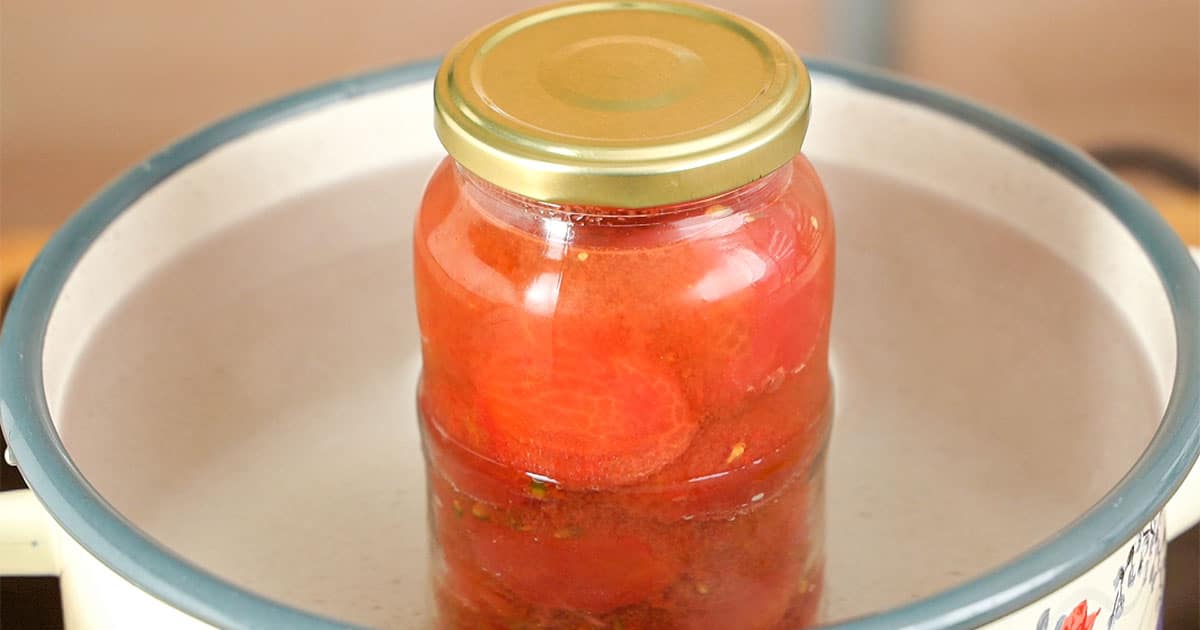 Allow the pot to cool completely before trying to remove the jars - they're going to be hot for a while.
The whole tomatoes are ready to eat - but can be stored for SUPER long!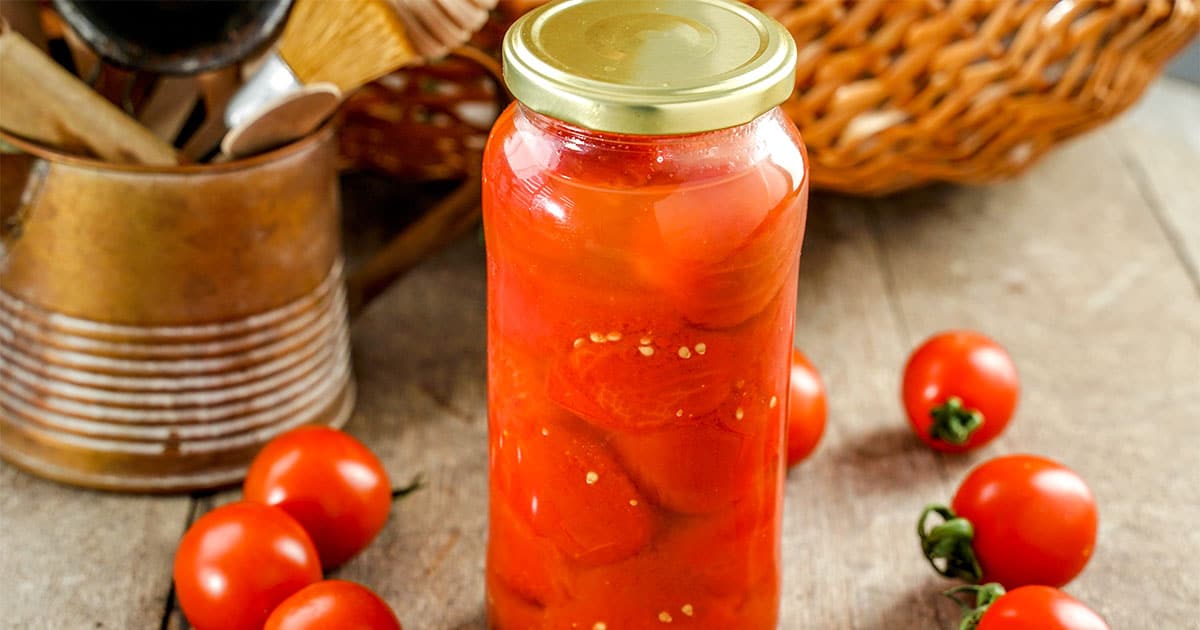 FAQs About Canning Tomatoes
How Long Does it Take to Can Tomatoes?
The process of canning tomatoes typically takes about an hour, not including time for preparation and cooling. Now, knowing that, if you're canning a lot more than 2 jars of tomatoes (say you're going after canning a whole case like I do sometimes), you may be looking at a half-day of work.
What Kind of Jars Work the Best for Canning Tomatoes?
Mason jars with lids and rings work best for canning tomatoes, in my opinion. I have used different kinds, but these are fail-proof, in my experience.
Make sure the jars are clean, undamaged, and free from cracks or chips before using them. Personally, I don't like reusing lids at all - I prefer to buy new lids. But you can reuse the rings, so if you save rings, you don't have to buy them again.
How Long Will Canned Tomatoes Last?
Canned tomatoes have a shelf life of 1-2 years. However, if you store them properly in a cool, dry place they may last longer. I don't ever have any that last longer than 2 years - we eat them well before that time.
Is it Safe to Can Tomatoes?
Yes, as long as you follow the instructions carefully and sanitize all equipment properly. Properly canned foods are safe to eat. This is the way a lot of food was preserved in the home before canned foods were available in the store.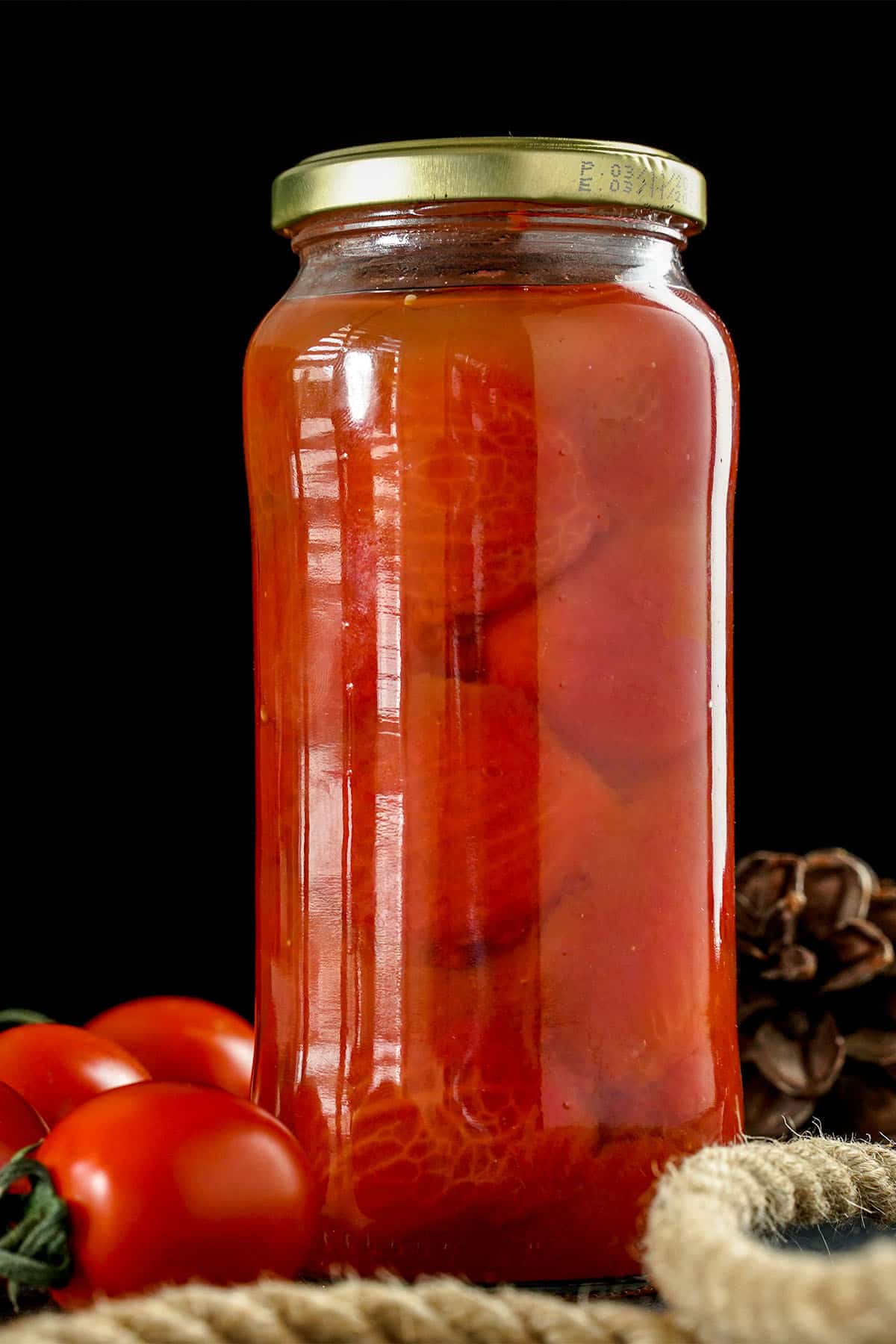 What is the Best Way to Store Canned Tomatoes?
Canned tomatoes should be stored in a cool, dry place away from direct sunlight.
It is also important to not stack jars too high as this can cause damage to the lids and jars over time. So, limit the stacking to 2 is my rule.
What Types of Tomatoes are Best for Canning?
Roma or paste tomatoes typically have the most flavor and texture when canned. That's really just my experience, though. I never have any heirloom tomatoes leftover - they're the first to get eaten fresh. But when planting specifically for canning, I have a lot of success with roma tomatoes.
Is It Necessary to Use a Pressure Canner?
No, typically it is not necessary to use a pressure canner for canning tomatoes. A boiling water bath is usually enough to properly and safely can tomatoes. People have canned tomatoes for a whole lot longer than pressure canners have been around. Might make it easier, but I don't feel it's worth it.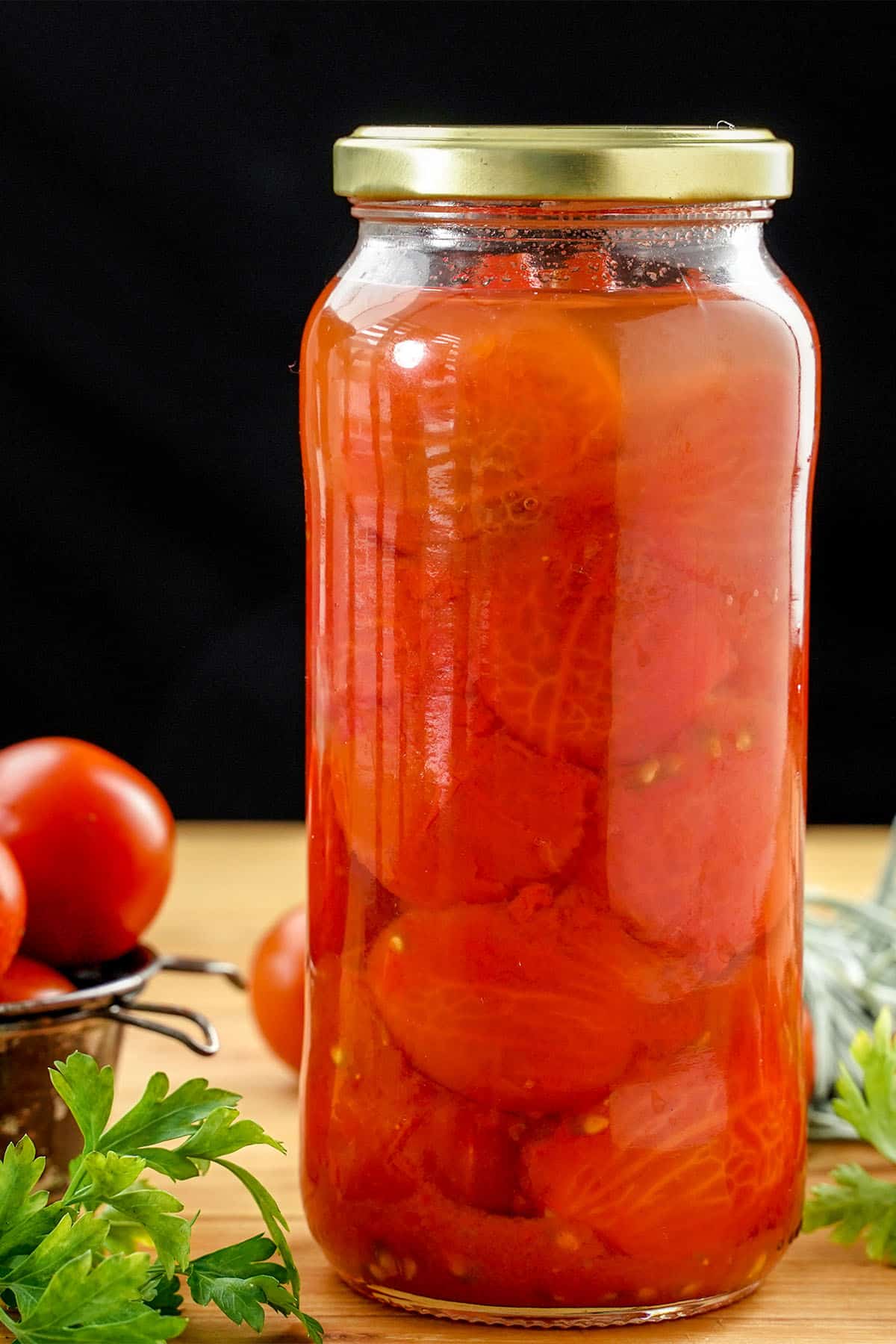 Tips to Make Canned Whole Tomatoes
Choose tomatoes that are ripe but still firm, these will hold up in the process as a whole tomato better than an over-ripe or under-ripe tomato.
Wash and clean the tomatoes to remove any dirt or debris - do not use the boiled water in your jars to fill the spaces, if you forget to wash the tomatoes before peeling them.
Cut out any bad spots on each tomato before peeling them.
Use a large pot of boiling water with a slotted spoon to lower the tomatoes into it; this will help keep your fingers safe from burns.
If you want chopped, diced canned tomatoes, peel off the skin and then slice the tomatoes now, leaving seeds intact and avoid that step late.
Add fresh herbs if desired.
Heat lids according to manufacturer's instructions and secure onto jars tightly before putting the jars into the water bath.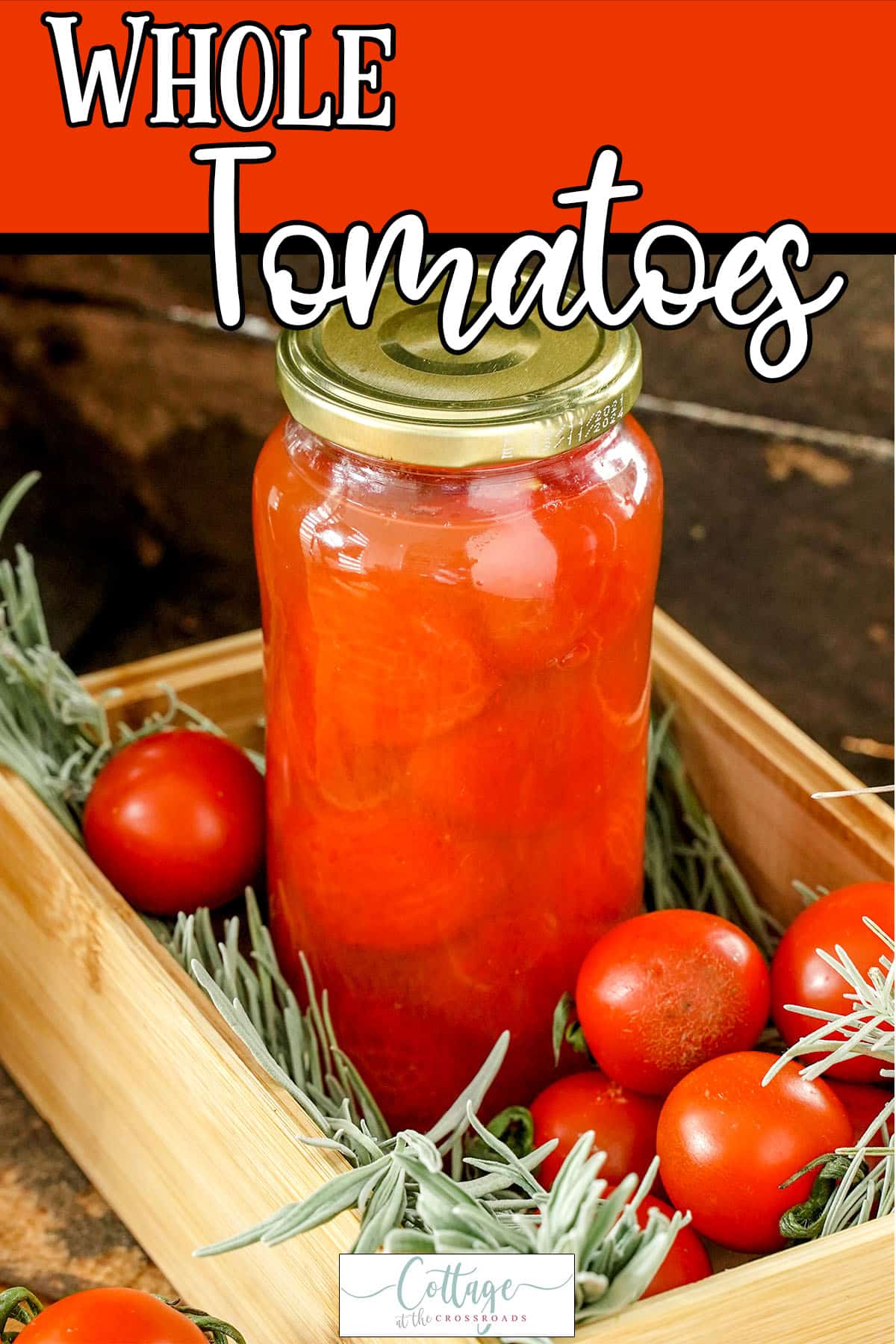 More Canning Recipes You Might Like
📋 Recipe