Today I'm sharing a Yule Log tablescape. Before you start thinking that I've lost it by putting a log on my table, I need to give you background info.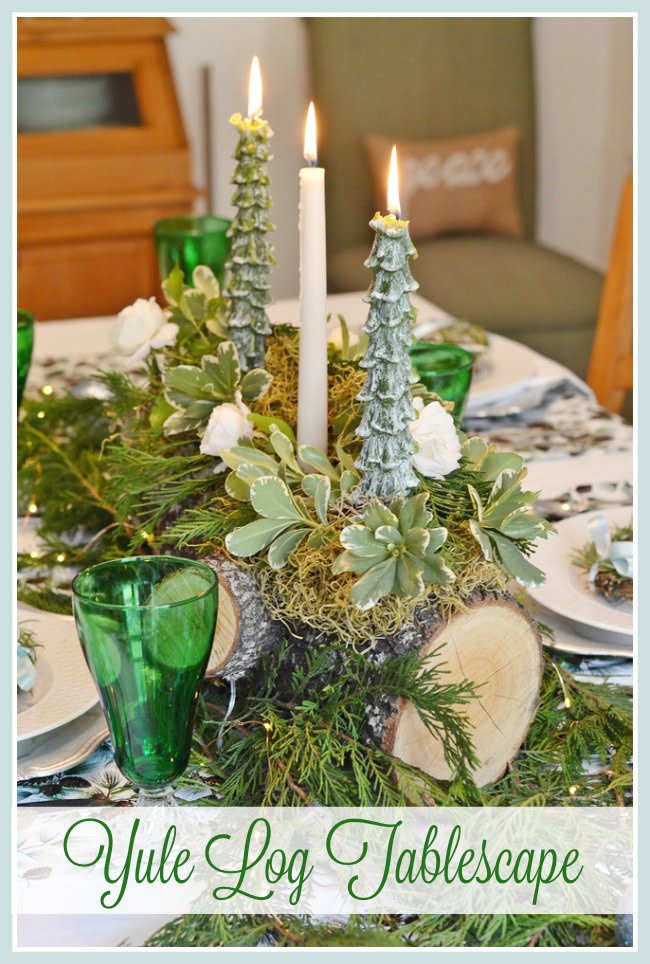 The tradition of bringing a specially selected log into a home started many centuries ago. The custom was thought to begin during Medieval times in Scandinavian and Northern European countries. The word "yule" itself refers to the darkest time of the year so the burning of a Yule Log was thought to be a celebration of the return of the Sun and the increasing length of the days after the Winter Solstice.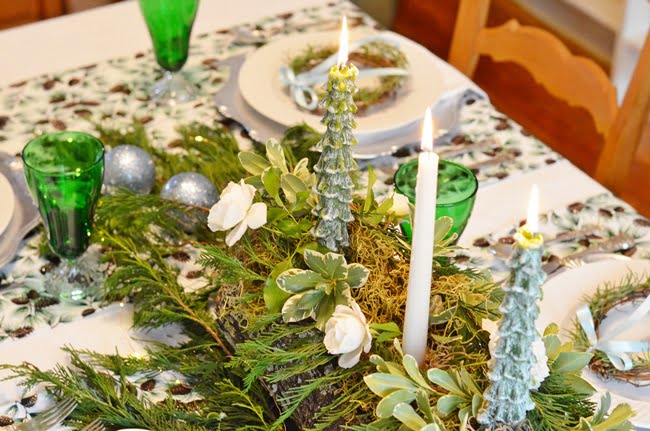 The custom of burning a Yule Log on Christmas Eve eventually spread all over Europe. A tree would be carefully selected, usually a particular species, and would be brought into the house with great ceremony. The log would be lit with the remains of the previous year's log. Many immigrants brought the custom of burning a Yule Log on Christmas Eve to America although I will say that my family never did.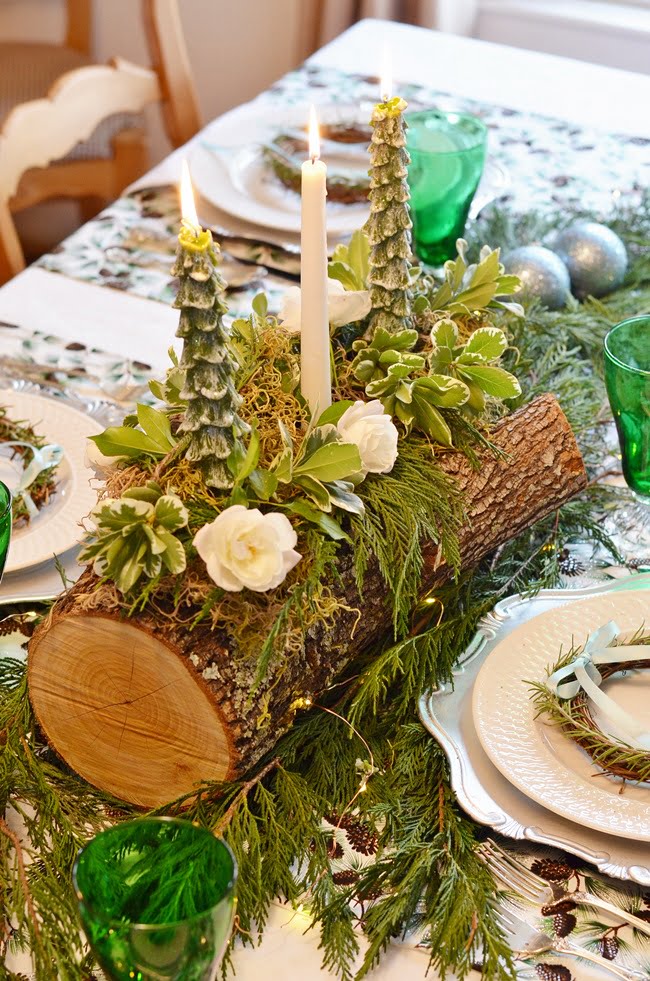 But when Hurricane Matthew blew over one of our trees in our yard, Leo spend days cutting up and removing the limbs. Looking at some of the logs that he saved, I got to thinking that one would make a great centerpiece on our Christmas table. So I asked if he would drill 3 holes in one of the logs to hold candles and he was happy to oblige.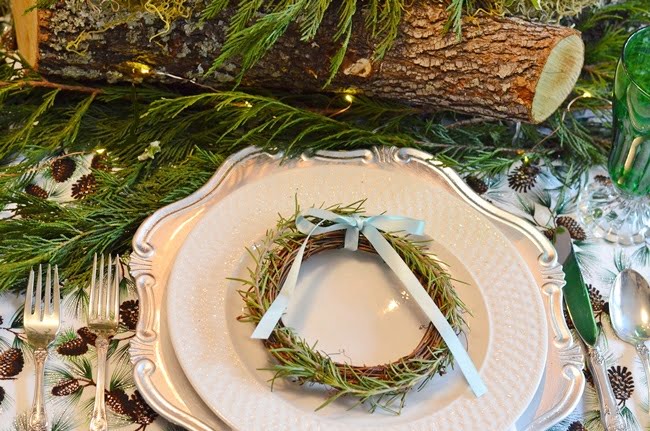 But when I requested that he cut up part of the stump to create some large wood slices to use as chargers, that's when I got a look that I interpreted as a BIG NO!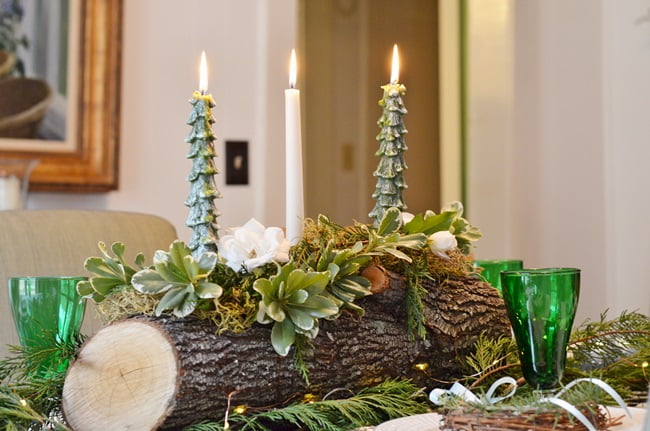 So silver chargers had to stand in but do add a bit of elegance to the rustic table, I think. I happened to already have 2 of these tree shaped candles on hand. I think that I purchased them at Pier One a few years ago, but I did a search online for some similar. I did find these (affiliate link) birch bark candles on Amazon that I thought would look great in a Yule Log.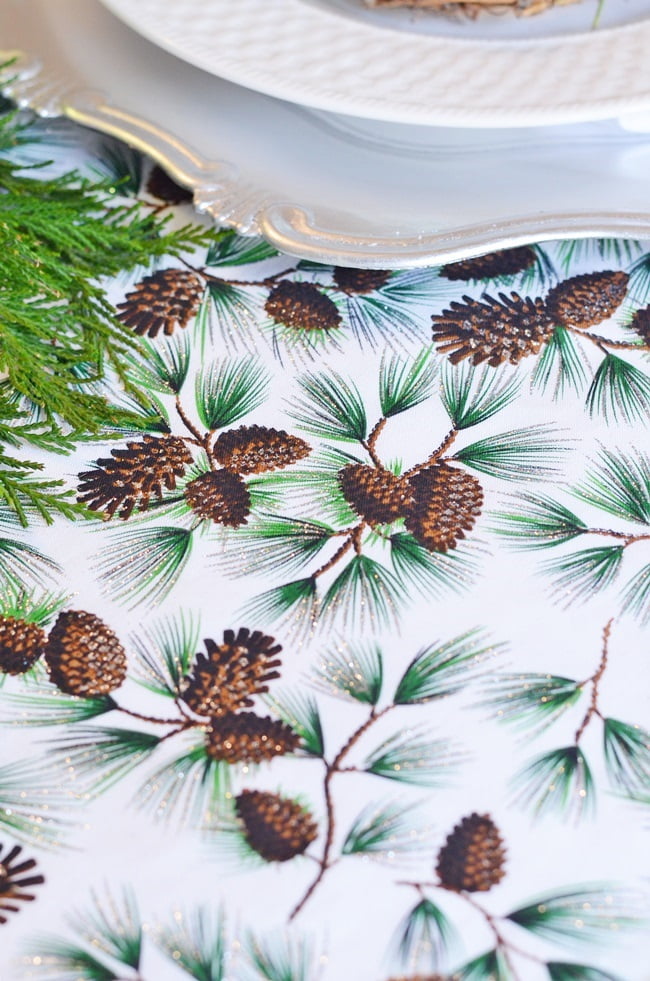 Remember how I told you that I now have a sewing machine in my previous post? Well, I found this pine cone fabric at Joann's and made 3 table runners to go on the table. If you look closely, the fabric has a little sparkly to it which goes well with the silver chargers.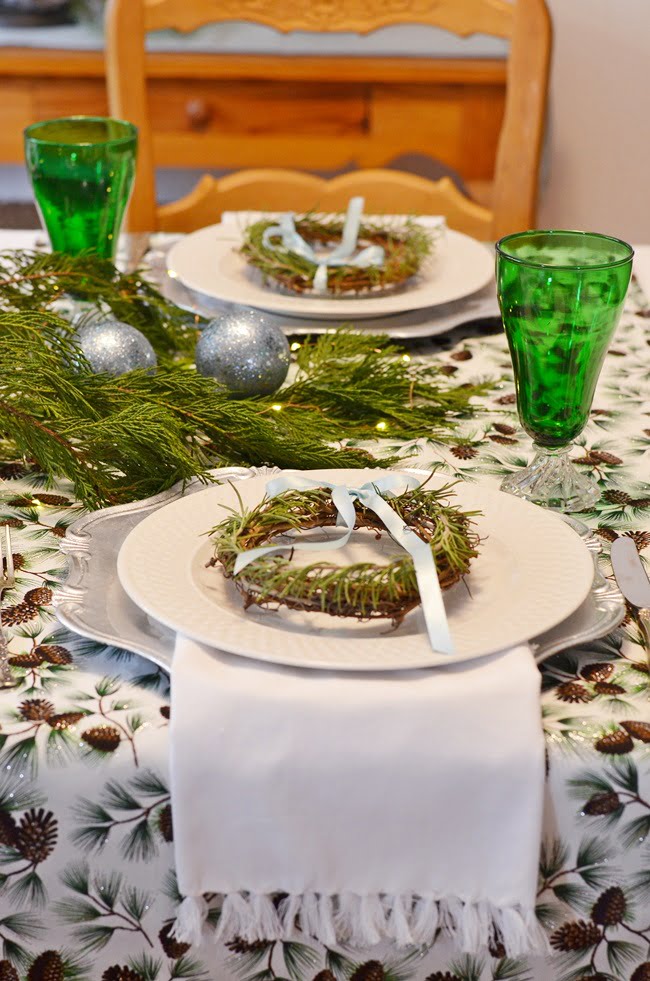 Underneath the runner is a white linen tablecloth so I decided to use white napkins and white dinnerware. In each plate is a rosemary wreath to further carry out the nature theme.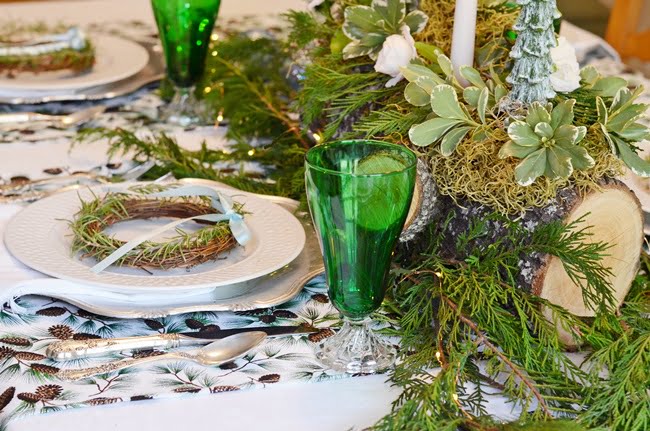 I must point out the gorgeous emerald green vintage stemware that I borrowed from my sister-in-law. We have both been admiring it and she has started a collection of it. Isn't it beautiful?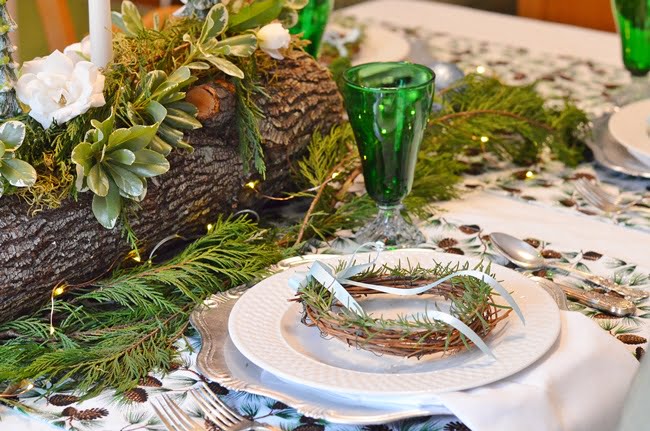 I decided to bring in a bit of blue by tying blue ribbons onto the rosemary wreaths and adding a few blue ornaments onto the table.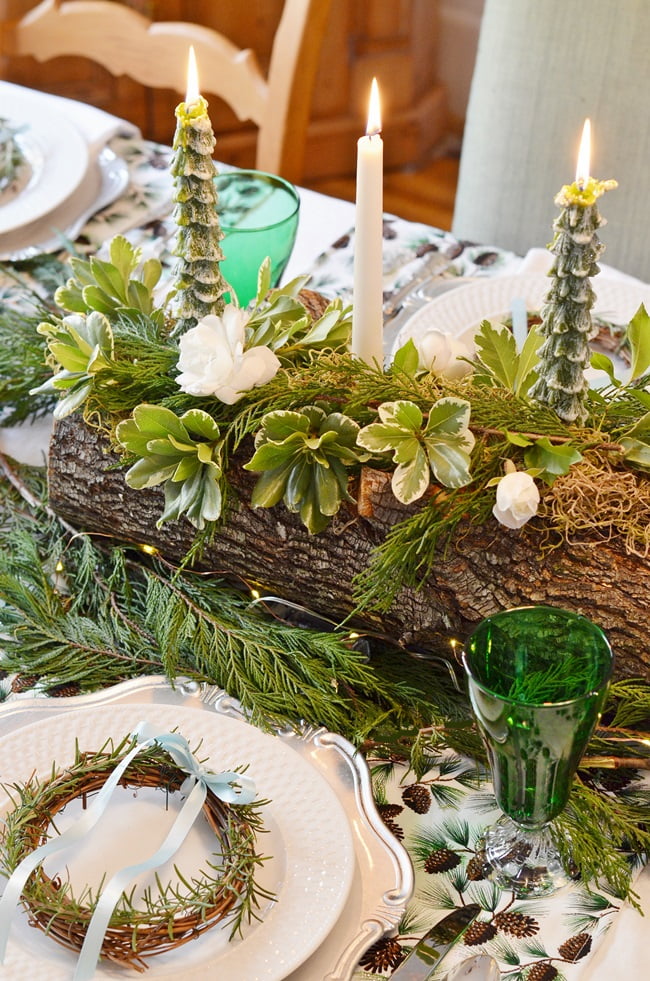 To adorn the Yule Log itself, I first placed some moss on the log and then went out into the yard to cut some variegated pittosporum and Leyland cypress.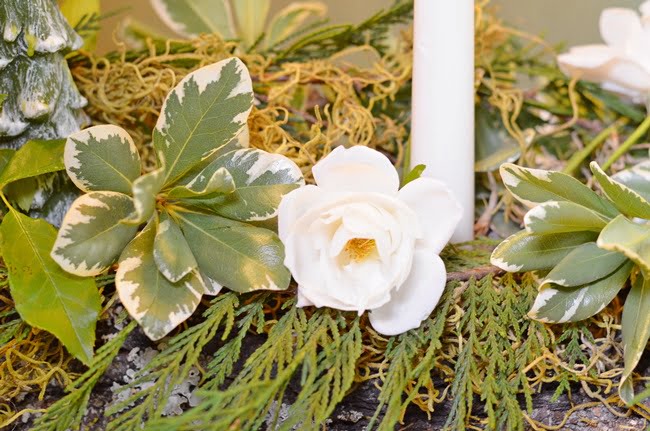 Imagine my surprise when I stepped into the garden and found that I still had some white roses blooming, even after we have had frost a few nights!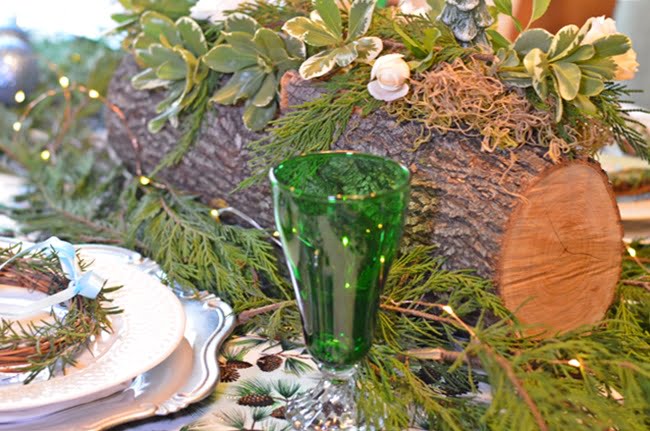 The finishing touch to my Yule Log tablescape was tucking in 2 sets of fairy lights into the greenery. Those fairy lights definitely add some magic no matter where you place them!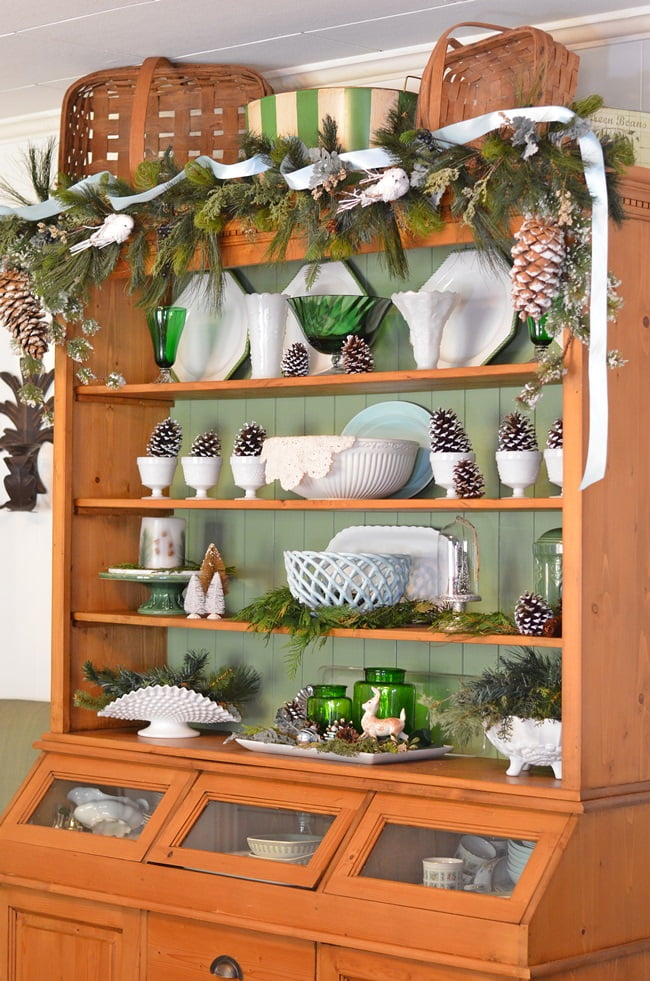 To continue with the blue and green theme, I added some blue items to the pine cupboard in the dining room along with more pine cones and greenery.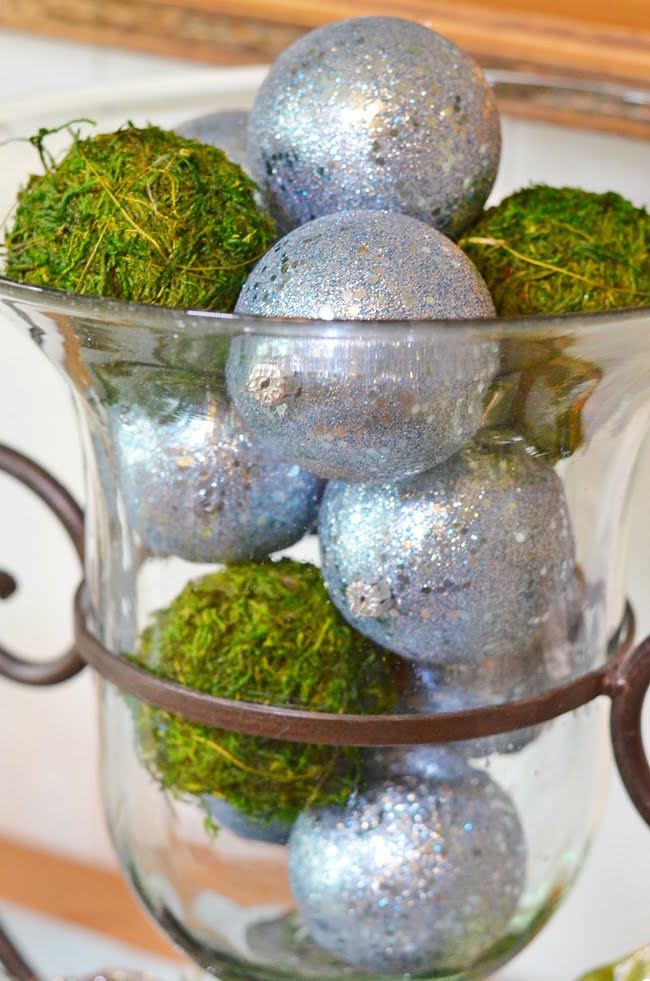 And the container on the server got a mix of green moss balls and blue ornaments.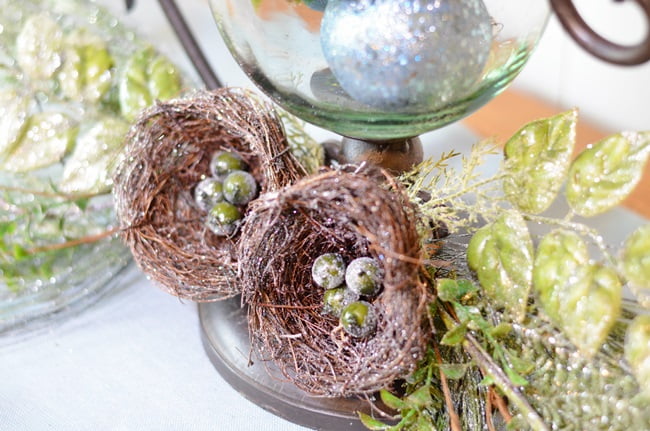 And I added these bird nests at the base of the container to compliment my Yule Log tablescape.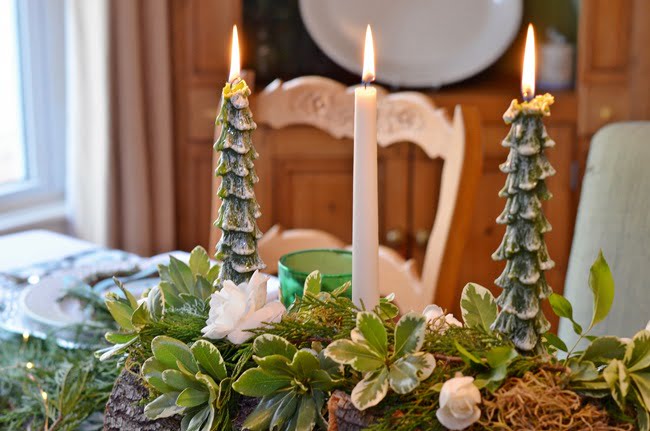 Today the custom of bringing a Yule Log into homes has frequently been replaced with a log-shaped sponge cake served as dessert. It, too, would make an awesome centerpiece for a table. But I cannot wait to tell the granddaughters who will be here Christmas Eve that the table's centerpiece came from the tree that they watched fall during the hurricane.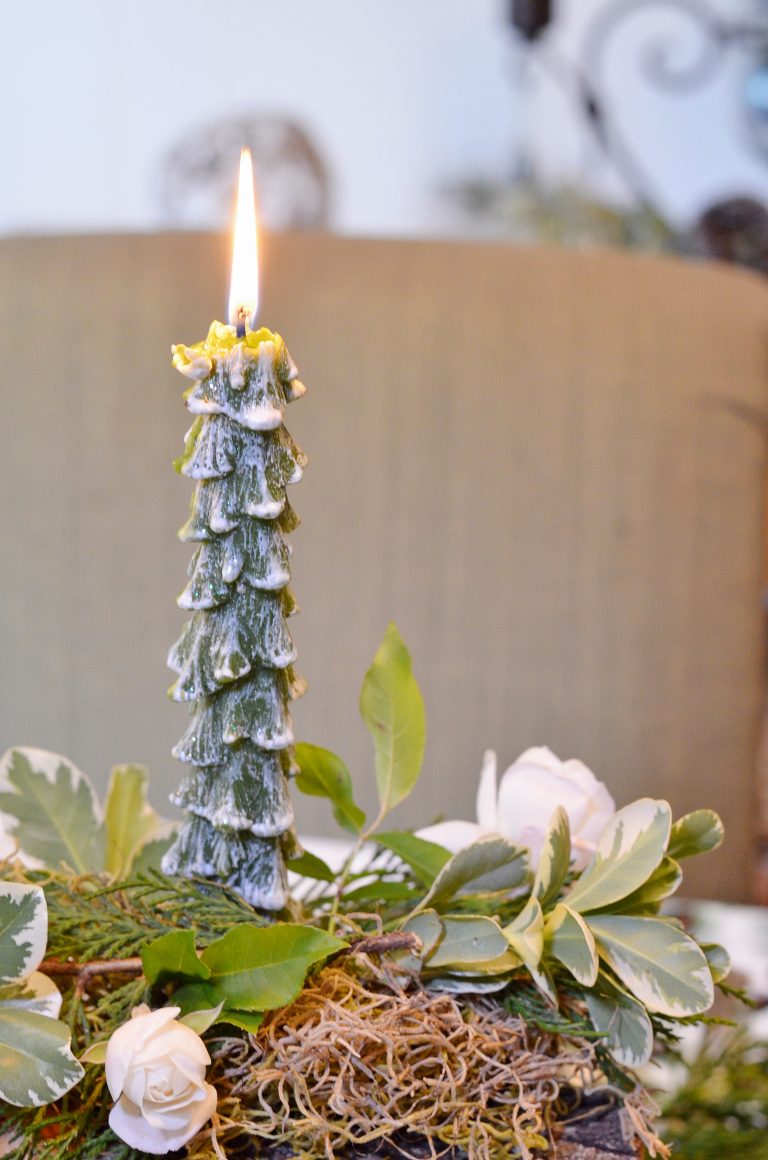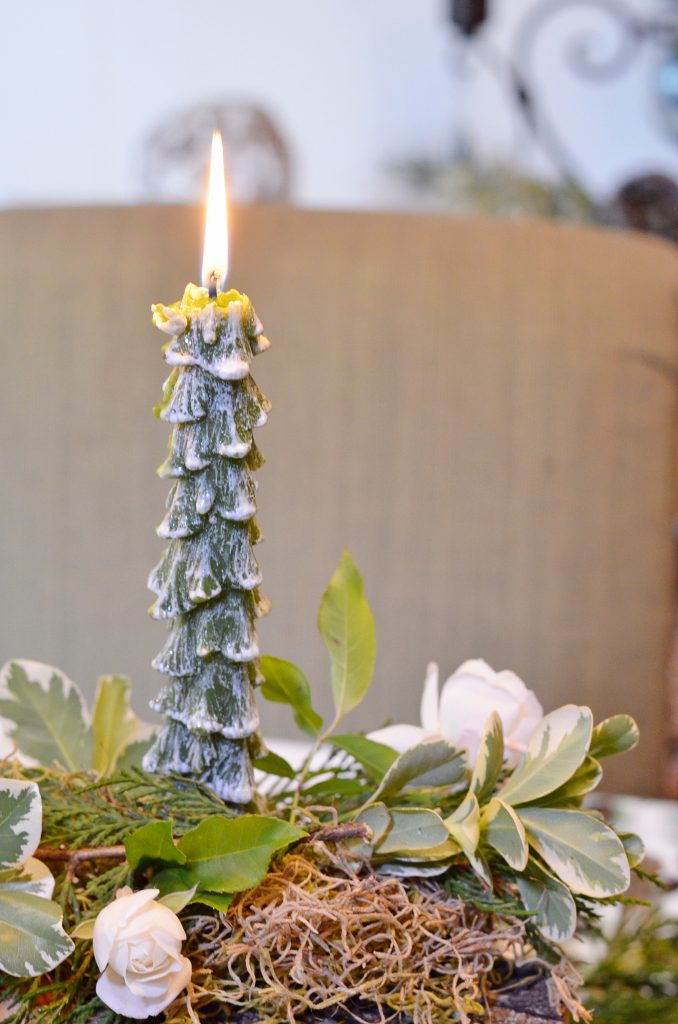 I think that we've started a new tradition here at Windhams' Crossroads!