It's easy to make a thrifty Christmas ornament wreath using just a few inexpensive materials. Perfect for displaying in a small tobacco basket for that country cottage look.
Hello friends! I'm winding down with the Christmas decorating, but I wanted to show you a very thrifty Christmas ornament wreath that I created today. It's a last minute creation because I looked at my tobacco basket and thought it needed something to coordinate with the ornament garland that I made a few weeks ago.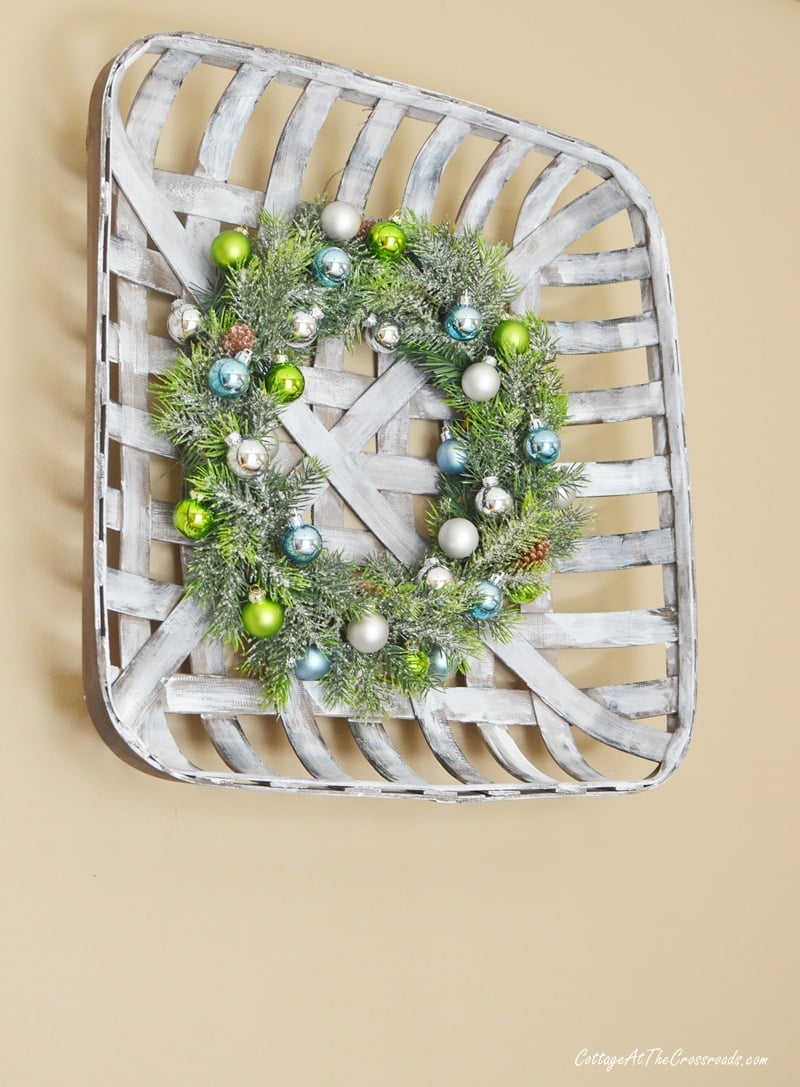 I'll just have to say that I'm in love with the whole blue and green combination that I have going on this Christmas.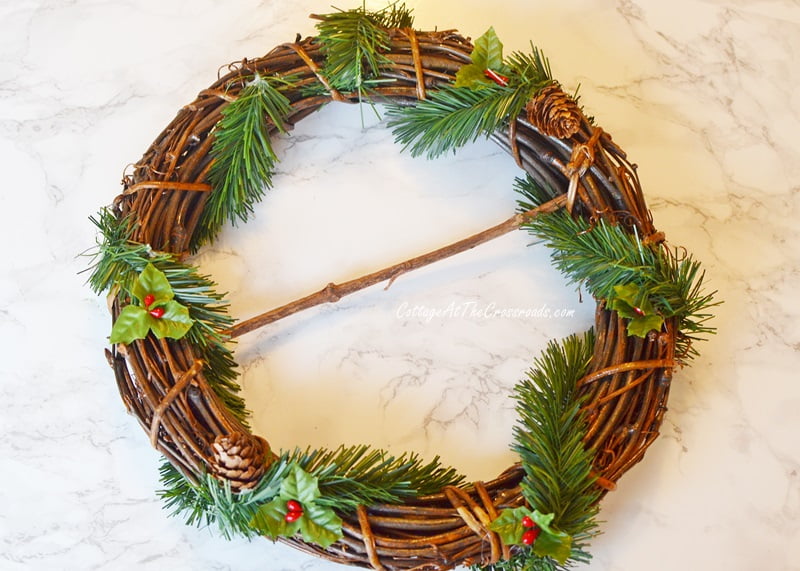 I really didn't want to spend much money making the ornament wreath, so I used a small, old grapevine wreath that I've had a long time.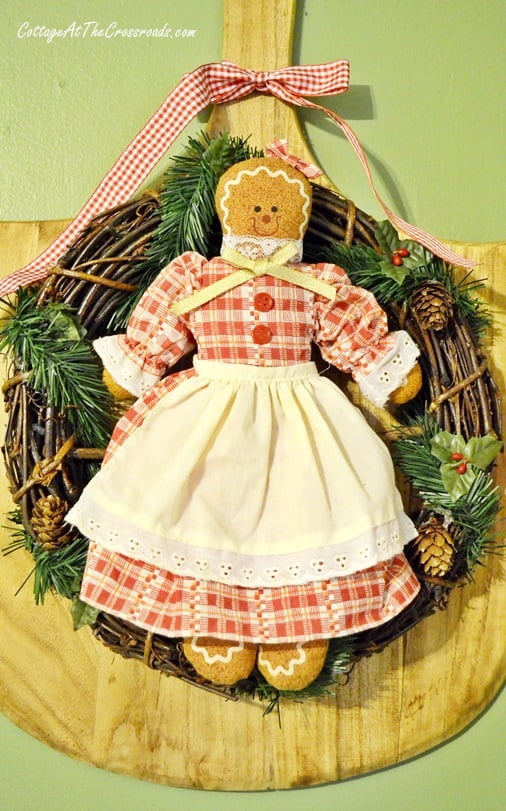 In fact, back in 2013 I used the wreath to decorate our Christmas kitchen. At some point, I had removed the gingerbread girl from the wreath. In fact, she's sitting in a basket in our kitchen right now along with some other gingers!
The little wreath, which measures 10 inches across, languished in my storage building until I pulled it out this morning. I removed some of the greenery and the piece in the middle that the gingerbread girl was attached to originally.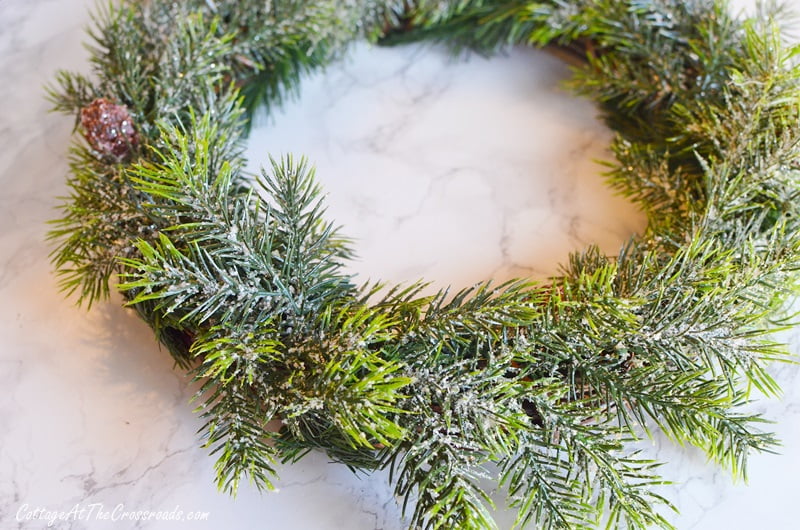 I happened to have this frosted greenery in my stash. It came from a garland that hung in our kitchen one year. I didn't care for it as garland so I had taken it apart. I used floral wire to attach it to the grapevine wreath.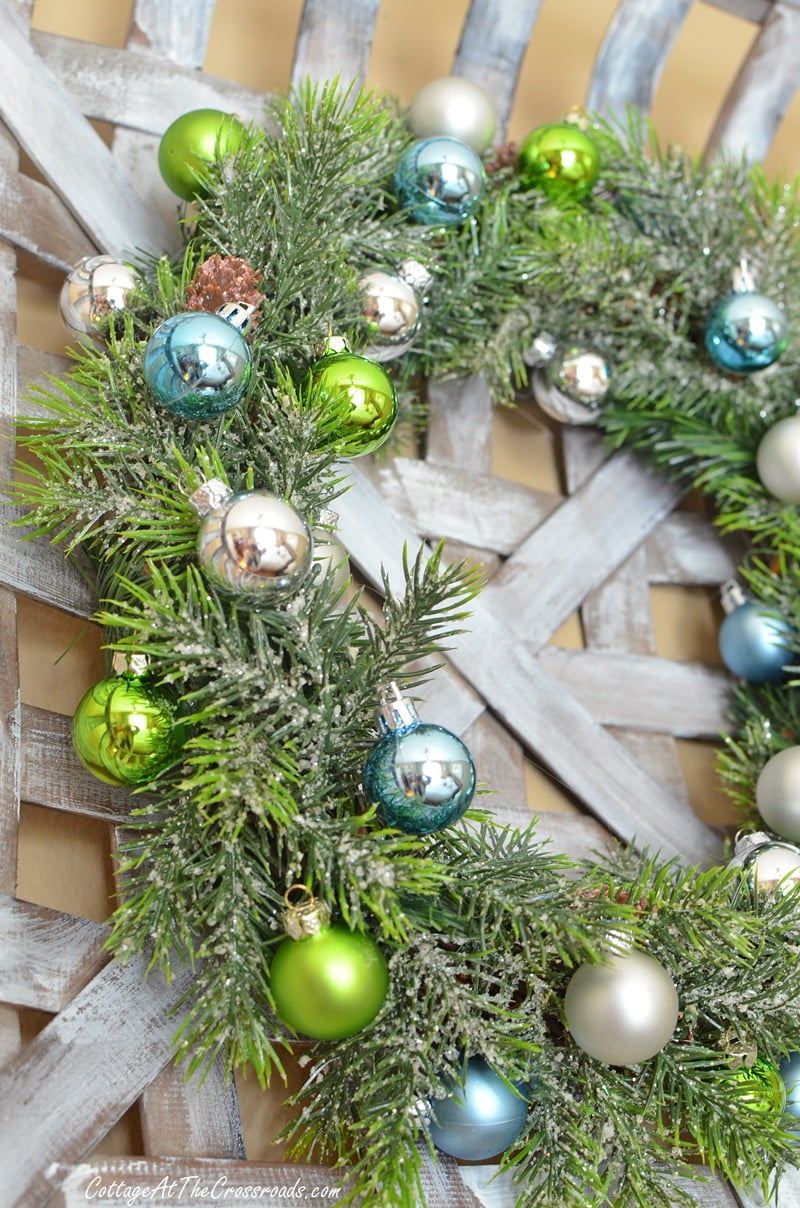 The next step was to attach the wreath to the tobacco basket with some wire, and then I hot-glued the small ornaments to the greenery.
These are the same small ornaments that I used to create my ornament garland. The blue ones were purchased at JoAnn's and the green and silver ones came from Lidl grocery store where they were super cheap!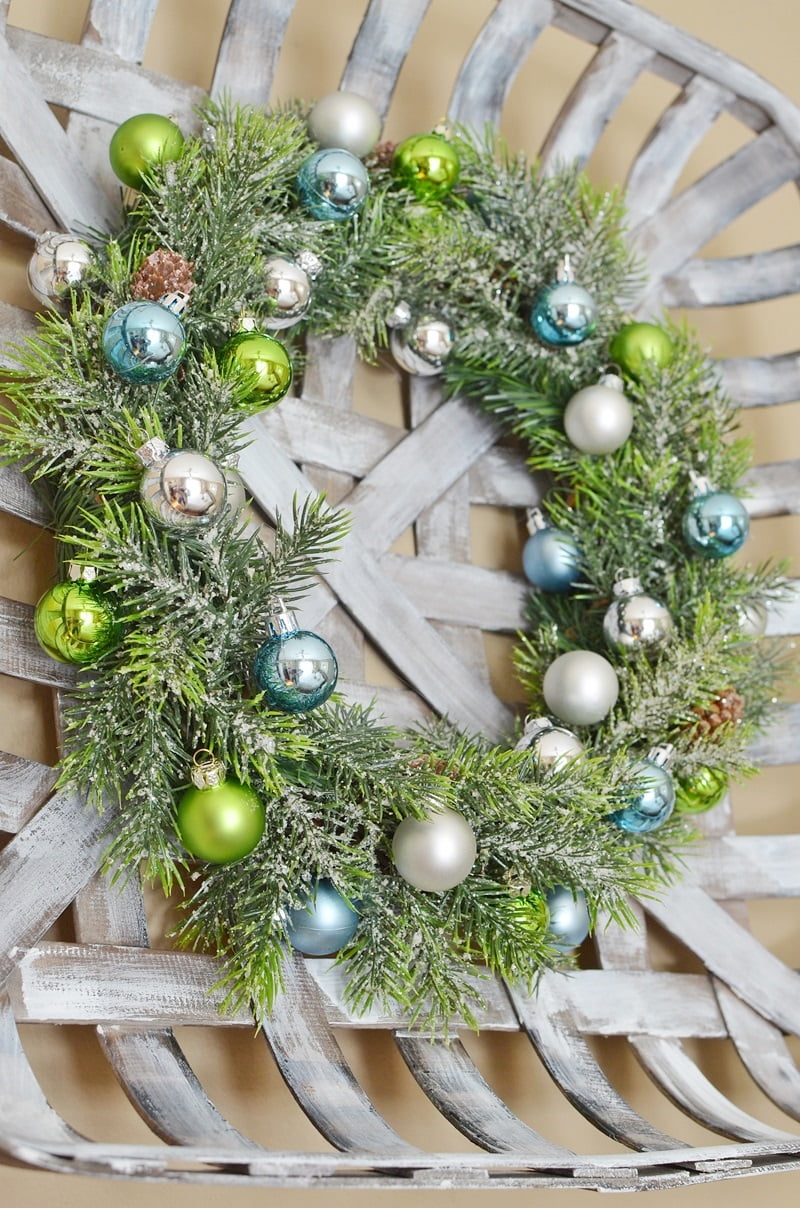 You may be wondering about the wall color behind the tobacco basket. After I finished the wreath, I hung it in our guest bedroom where the light is better. Hmmm! It may find its way in there next year!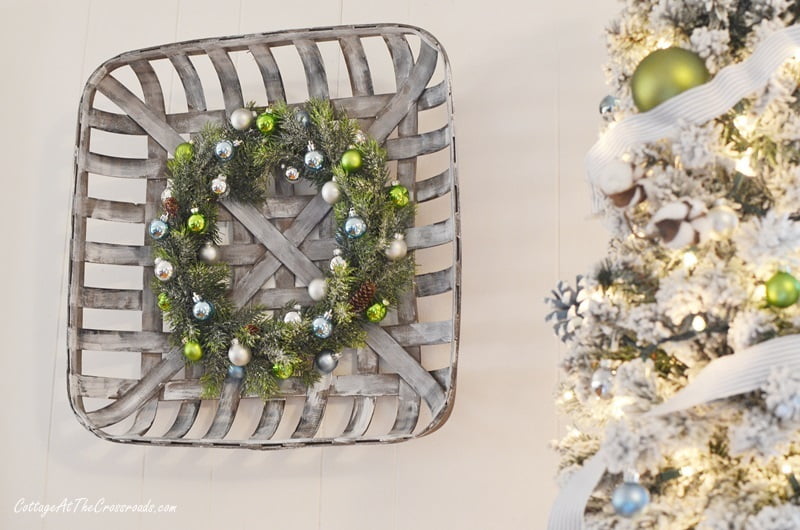 But right now, it's hanging in a spot in between our living area and our dining room.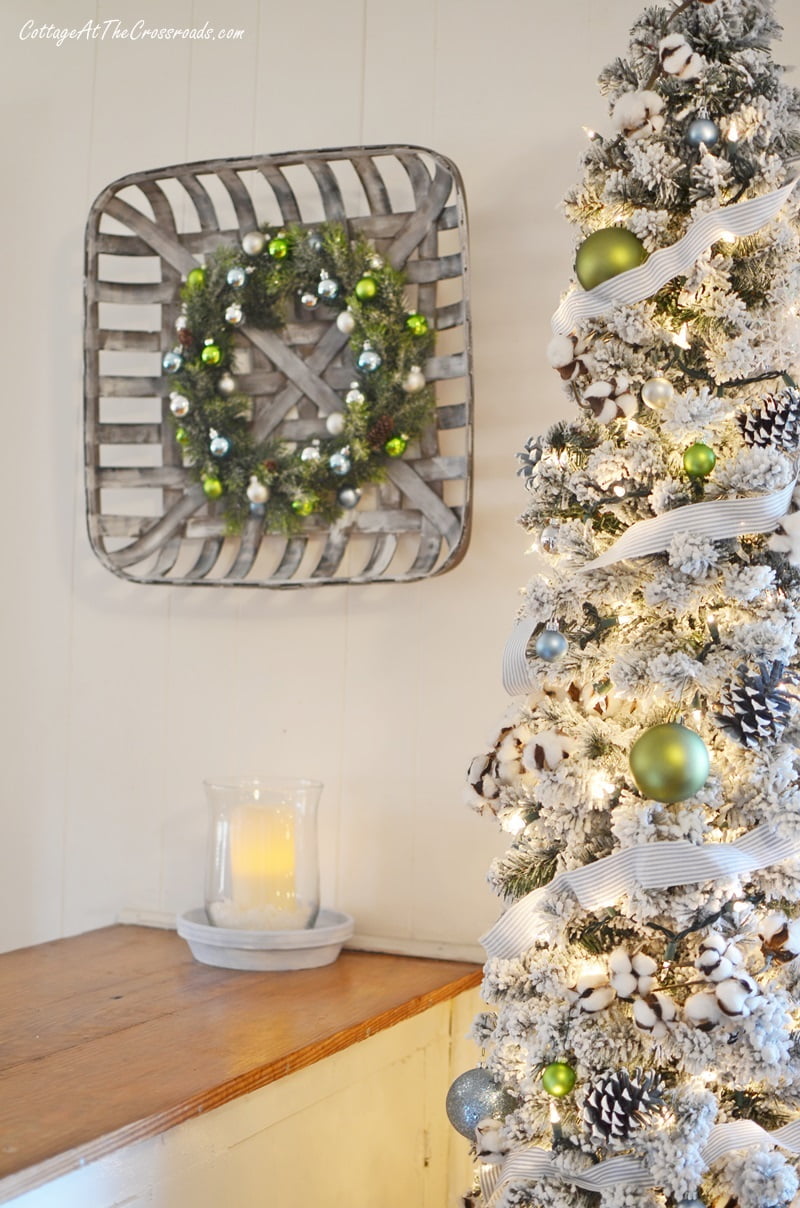 I really hadn't planned on putting up a tree here, but a storm came through over the weekend bringing lots of cold rain. So I moved the flocked tree that was on our front porch into the house.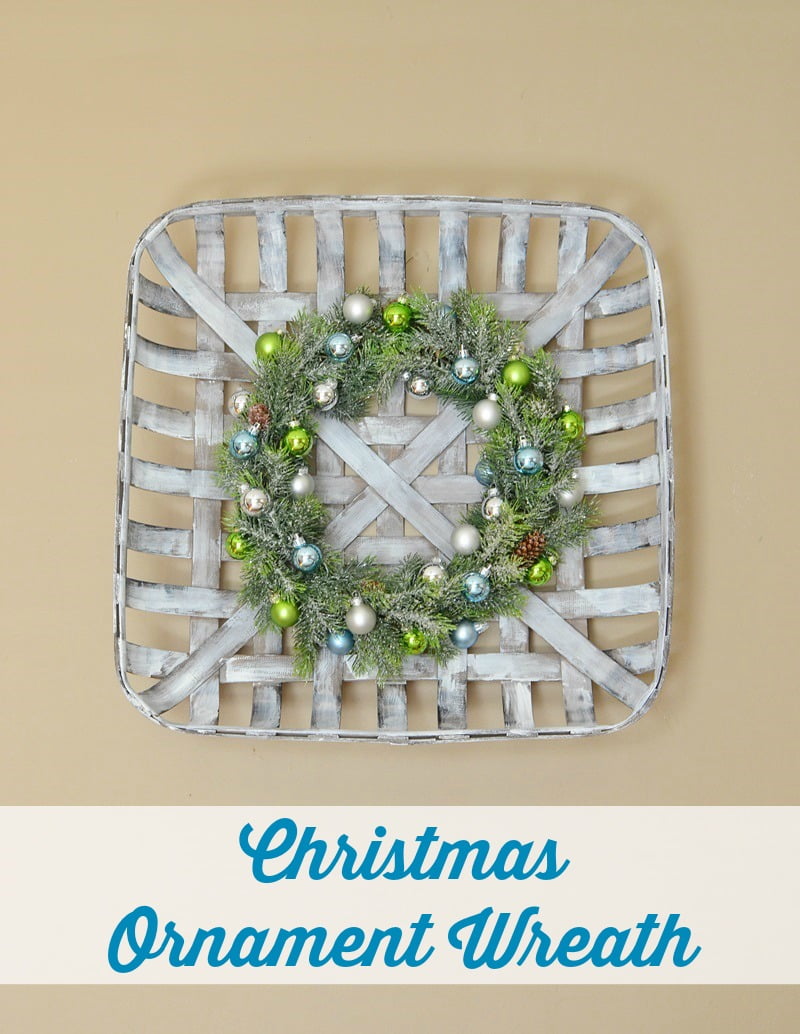 What you need to make a Christmas Ornament Wreath
If you've already finished your holiday decorating, just pin this idea to your favorite Christmas board and stock up on those small ornaments while they are on sale!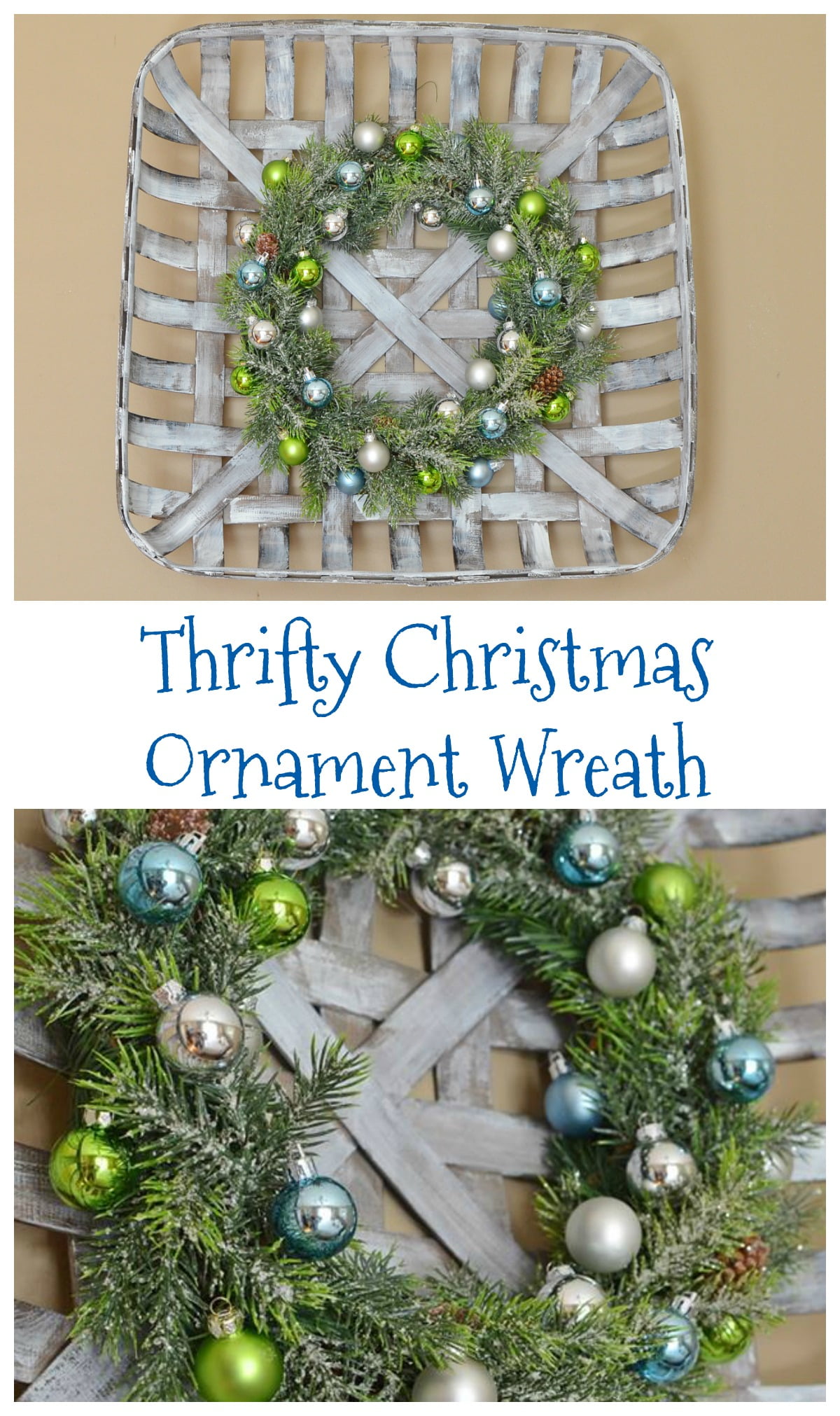 If you're looking for more thrifty Christmas decorating ideas, you're in luck because today the Thrifty Style Team has linked up some more great ideas.