This weekend we did a mini-makeover of our laundry room, which is located on our back porch. It's a small room and not only does it serve as a laundry room, it is our mudroom, our junk room, the cat box room, and the animal food storage room.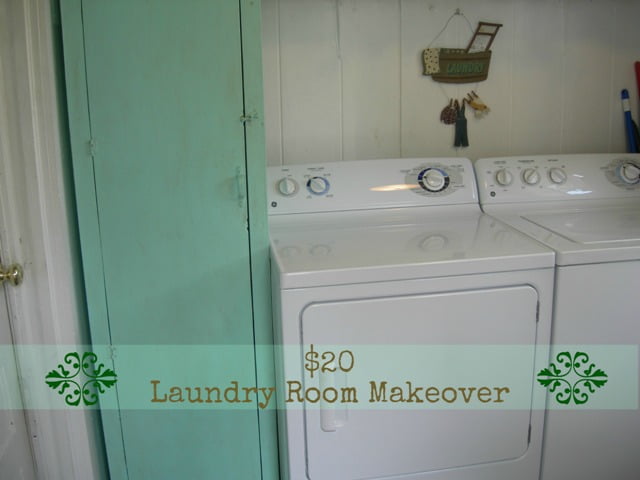 Because it is used so heavily, it gets junky and dirty very quickly. I don't have a before picture, but you can just imagine how much stuff was on our porch. And it was visible to everyone who came to our back door.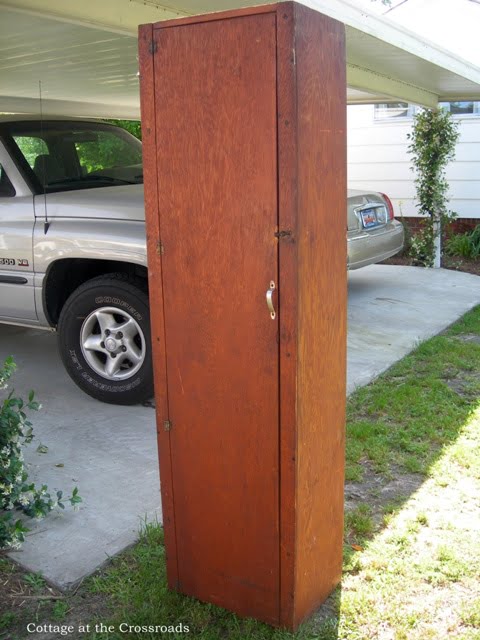 Storage is always an issue when you live in a small house. Last Monday, we spotted a tall cabinet at the auction that we thought would fit beside our washer and dryer. We bid on it and got it for $20!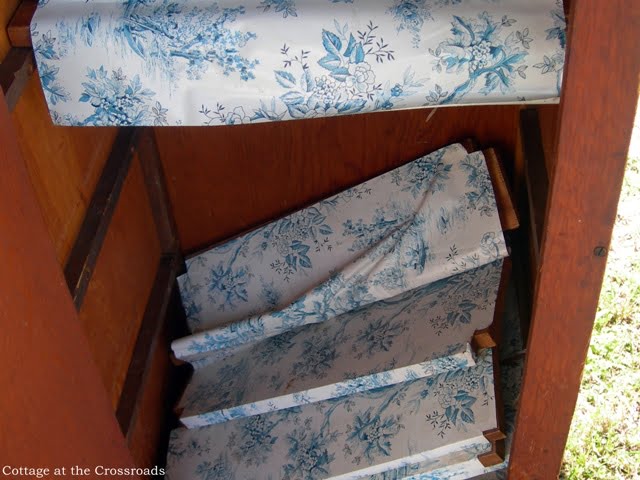 The cabinet had plenty of shelves which were covered with adhesive shelf paper. The first thing I did was to remove that yucky paper!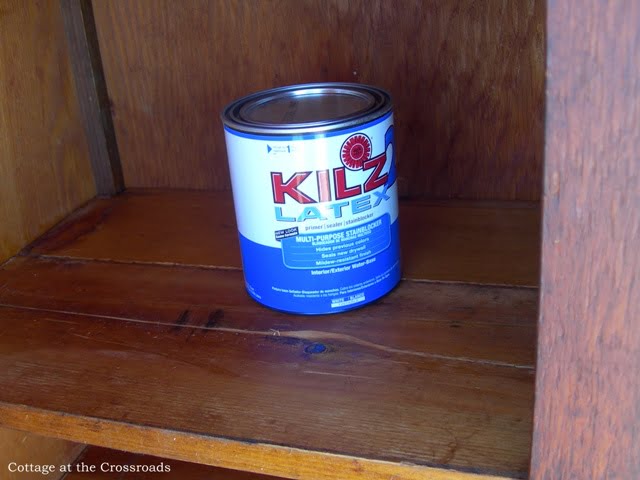 Because I knew I was going to paint the cabinet, I decided to prime it first with Kilz. It took 2 coats to cover the stain.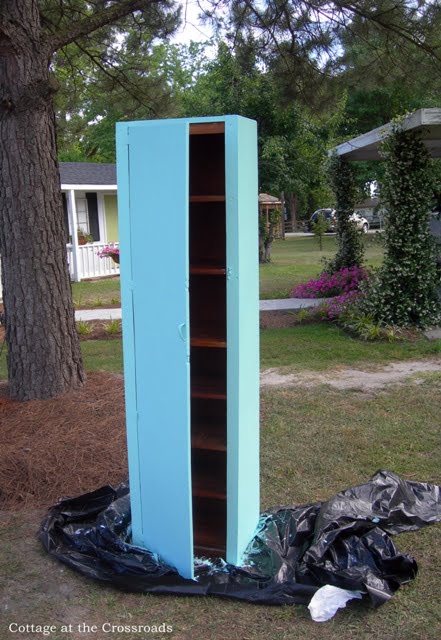 I already had this aqua paint left over from another project. The shade is Aqua Glow by Valspar. I left the shelves and inside of the cabinet unpainted. After 2 coats dried, I pulled out my Annie Sloan waxes. I mixed the clear and dark waxes together to "age" the piece.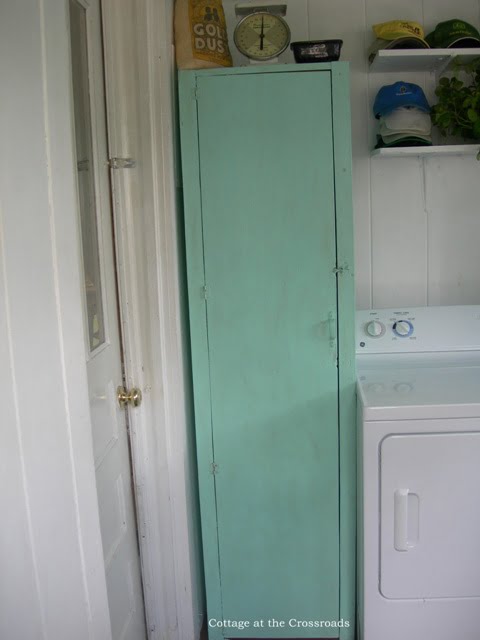 So here it is, and I have to say that I love the color!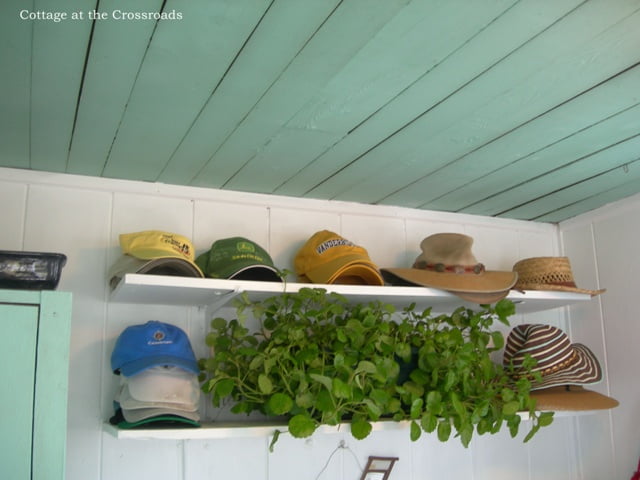 You can see here how well it goes with the original ceiling on the porch.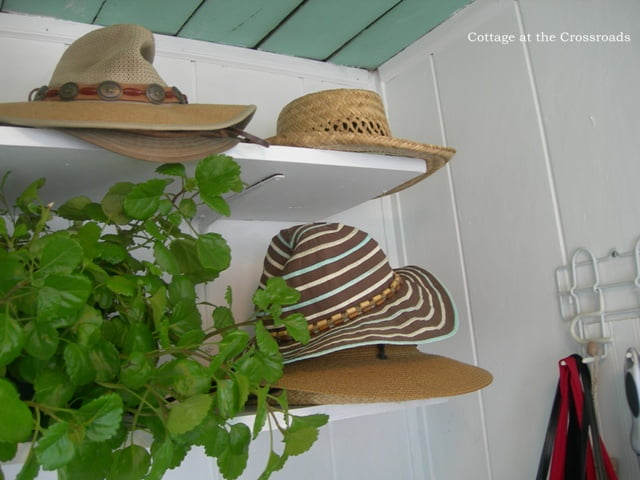 I cleared off the two shelves of detergent and other assorted things which left room for us to store our hats. They are a necessary item when you work outside as much as we do!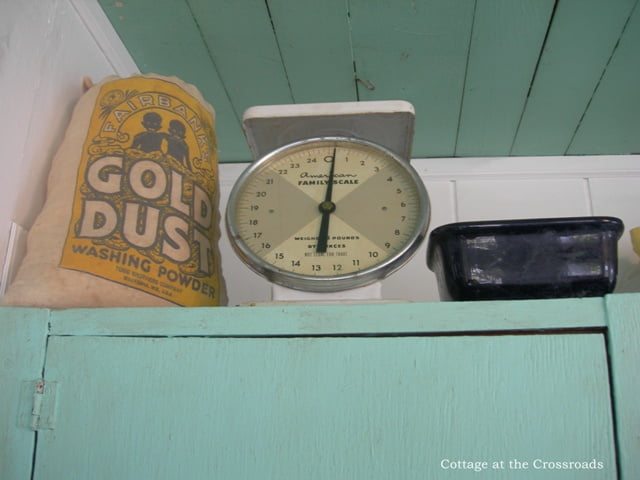 On top of the cabinet are some recent auction finds. LOVE the Gold Dust washing powder bag!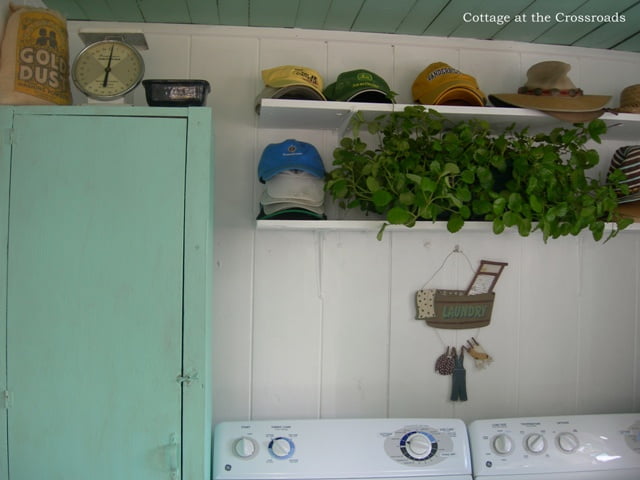 I made room on my shelves for this plant. It stays on the porch year round.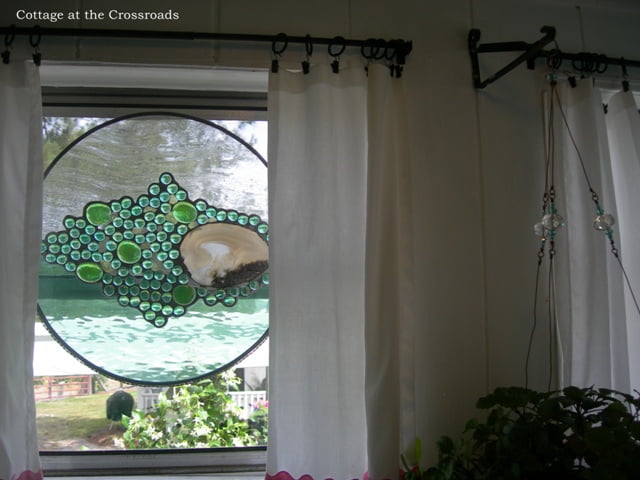 There are 3 windows on the porch, and this piece is hanging in one of them. We had it hanging in our other house in a round window. We bought it in Charleston one year during Spoleto.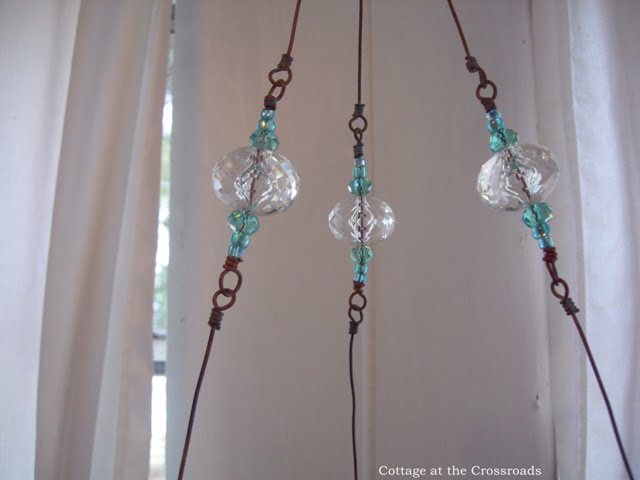 So when I was at a recent flower show, I spotted this gorgeous plant hanger for my hanging basket.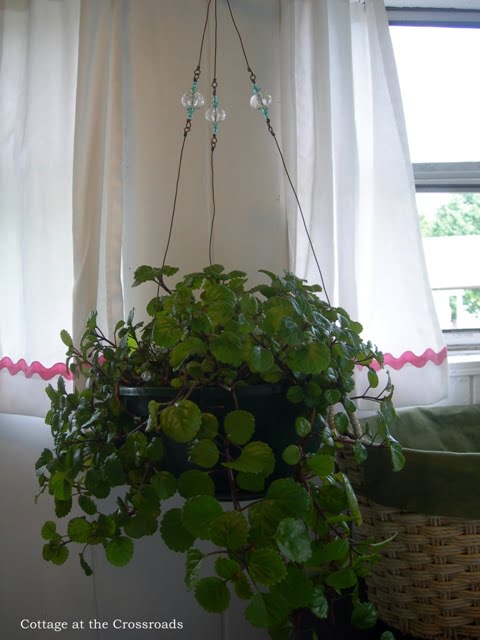 It really dresses up my hanging basket.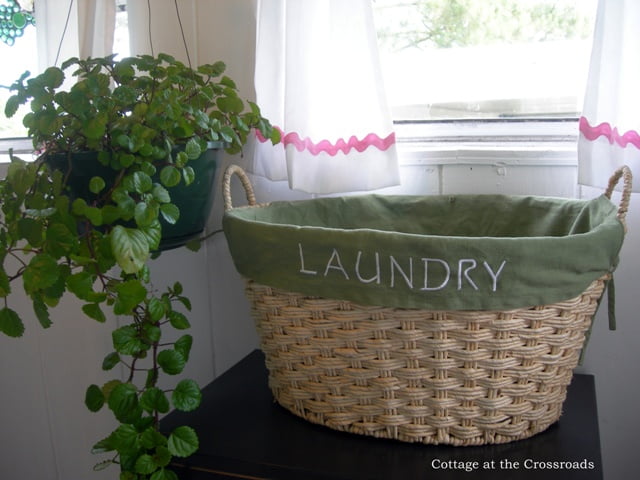 I made these curtains right after we moved here, and I'm going to replace the pink rick-rack with some aqua rick-rack that I saw recently.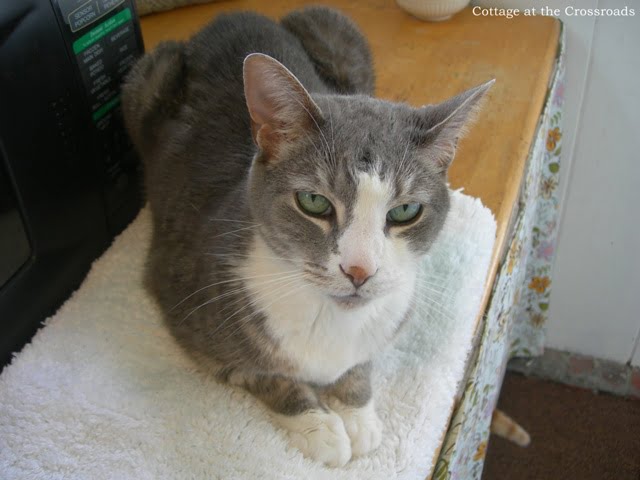 There is a small table on the back porch on which Rascal is sitting. Underneath it is the litter box. If you look closely, you can see Henry's tail as he's going in. And yes, there is a microwave oven on the table. Our kitchen is small, and there isn't much room for it in there, so we store it on the porch. We mostly use it for popcorn.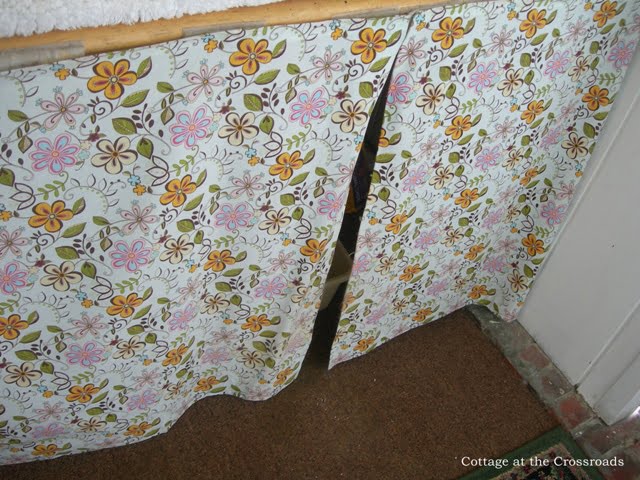 This fabric skirt hides the litter box, but after 3 years, it needs to be replaced. I'm looking for a new rug, and I plan to paint the top of the little table to match the cabinet.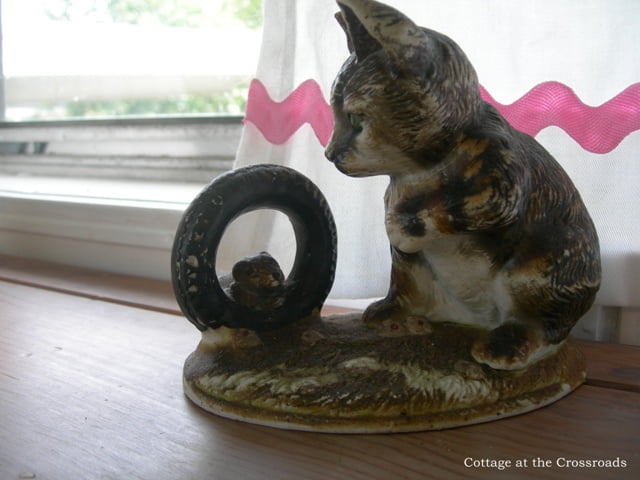 In front of one window, there is a pine shelf that the cats like to sit on to look out onto the world. They are indoor cats. I actually picked up these little figurines at the auction. They were on the ground and no one wanted them.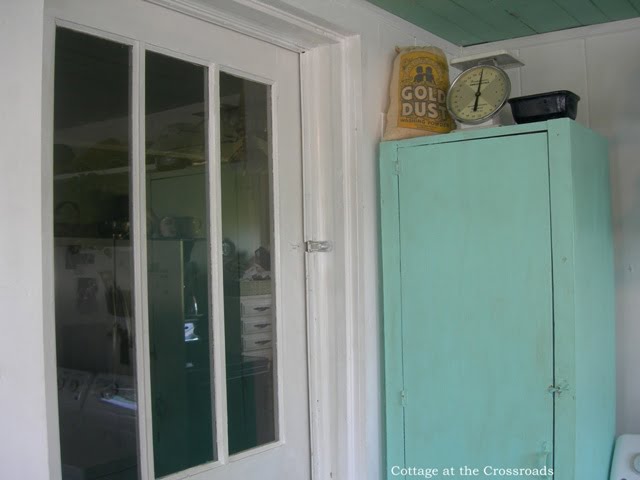 So now when people come to our back door, the laundry room is more organized. All the junk is hidden from sight in our new laundry room cabinet!