Learn how I reclaimed this old wooden nightstand with this gorgeous reclaimed paint kit from Beyond Paint. I choose a beautiful, pale shade of blue called Versailles for my nightstand.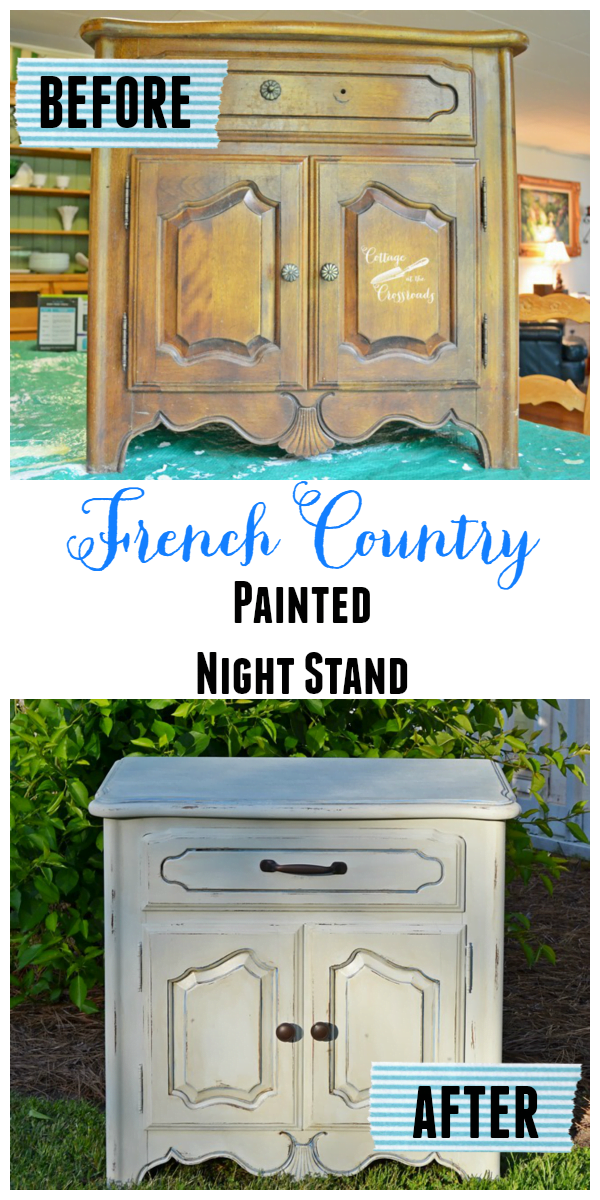 What is reclaim paint?
Reclaim paint is a line of refinishing and decorative paints that bond to almost every surface without any stripping, sanding, or priming required. It is specifically engineered to help you transform and customize any surface in your home or outdoors. That includes cabinets, counter tops, backsplashes, outdoor furniture, and just about anything. It works on wood, metal, plastic, glass, tile, linoleum, masonry, laminate, and even previously varnished surfaces.
Learn how to reclaim a wood nightstand
As soon as my Reclaim paint kit arrived, I was so excited to give my nightstand an update. I selected a beautiful, pale shade of blue called Versailles, and you can see all the other shades on the top of the box.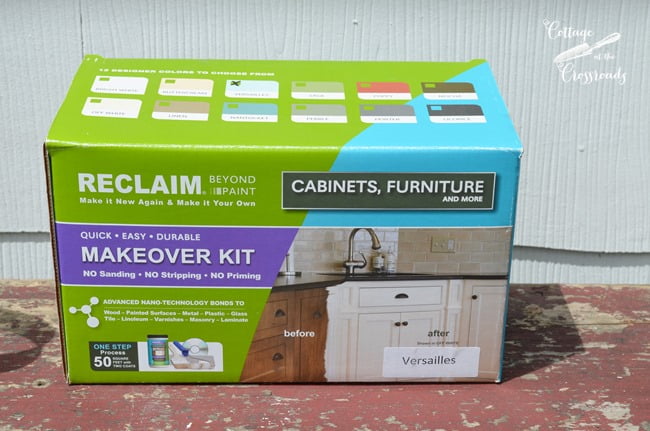 And here's my completed project!!! Ain't she purdy?
Here's how I transformed a 30 year old piece of furniture into a French Country night stand. I had picked up this traditional solid wood night stand for $12 at the auction that I attend all the time.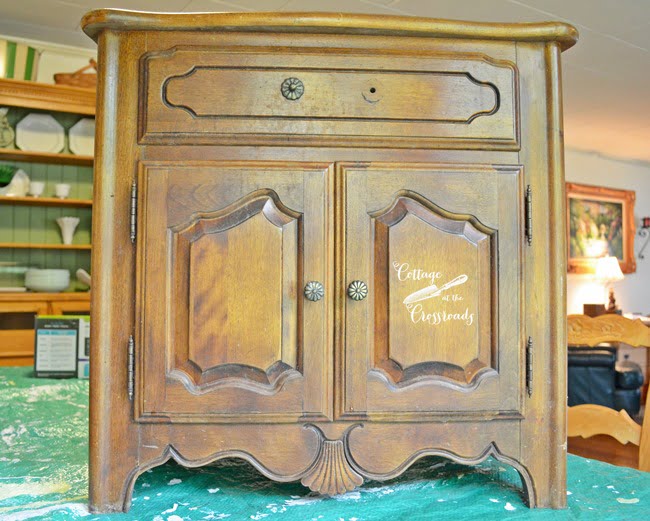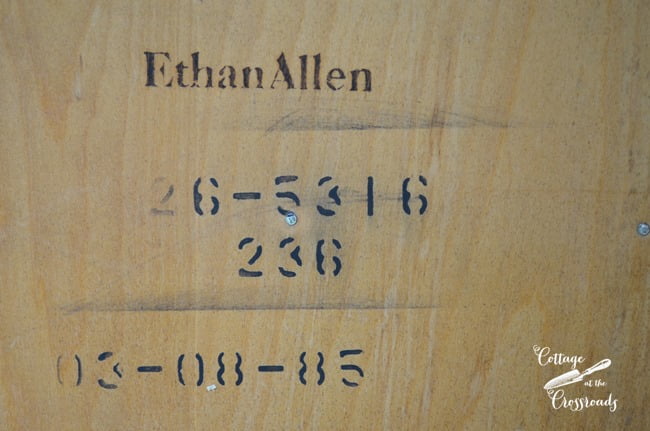 It was marked Ethan Allen on the back and was made in 1985.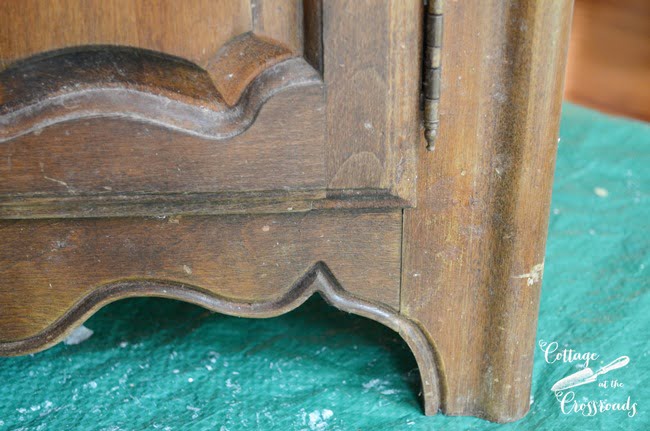 Although the piece was structurally in good shape, it needed to be refinished. A perfect piece on which to try my Reclaim paint.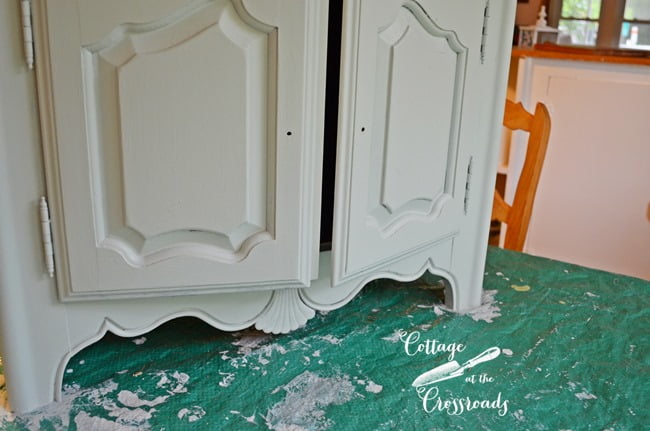 To ensure a good bond, I cleaned the piece with white vinegar to remove any wax and also scrubbed it with a degreaser. After it dried, I applied two coats of paint, letting each coat dry thoroughly overnight. Since Reclaim paint is slightly textured, you apply it a little differently. I used a brush to stipple it into the crevices and then rolled the paint onto the rest of the surfaces with a small roller. After the paint had dried, there were absolutely no brush marks which is the great thing about this paint.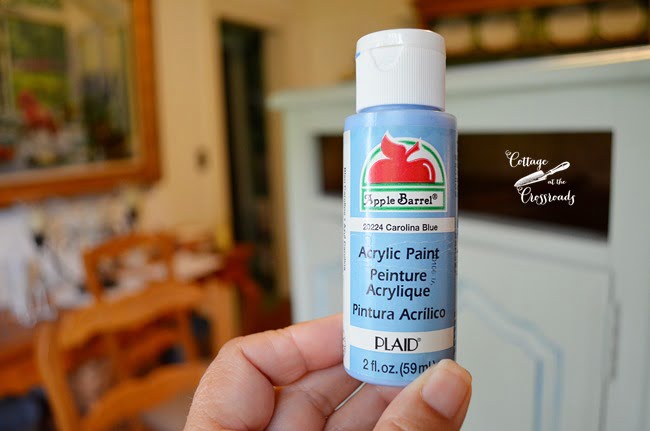 Now because I wanted to give this piece a little "Frenchy" look, I decided to highlight the details of this piece with a brighter blue.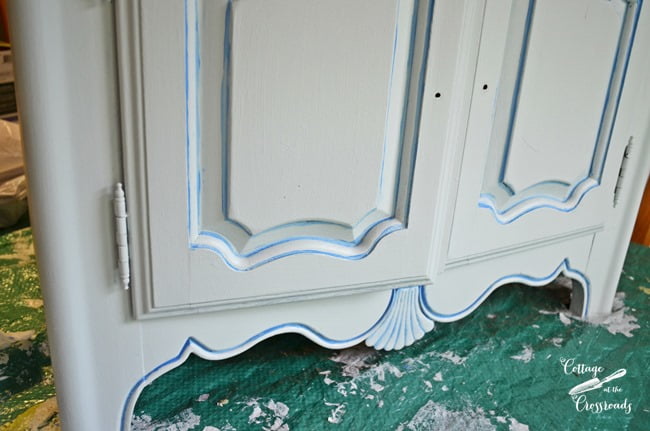 I used a small art brush to get the paint in the grooves.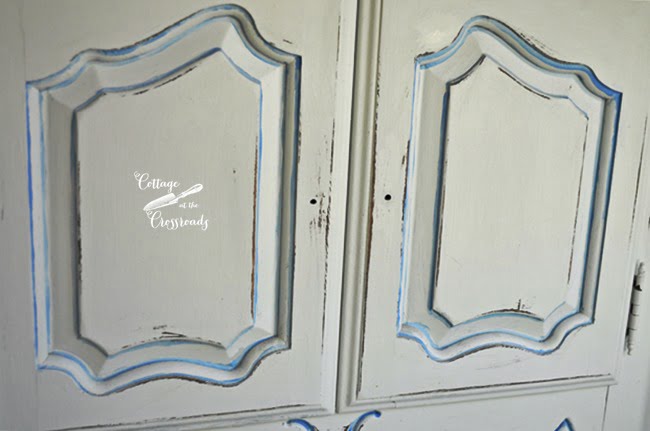 Next I distressed the piece by sanding the paint off in the places that would normally show some wear and tear.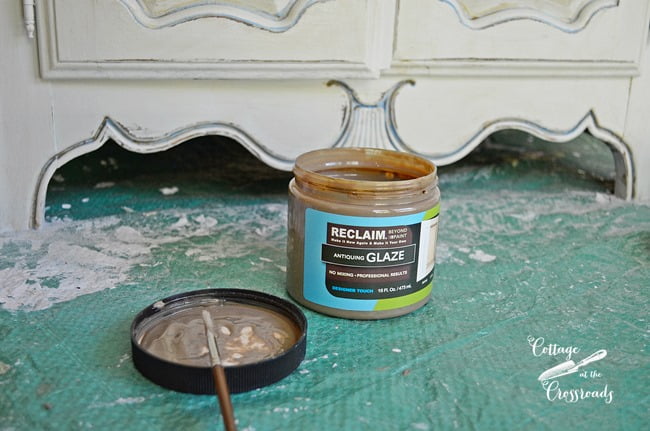 I know some of you are thinking that the Carolina Blue paint was a bit bright, but I had plans for that! Reclaim also makes an antiquing glaze, and I knew that it would tone down the bright blue.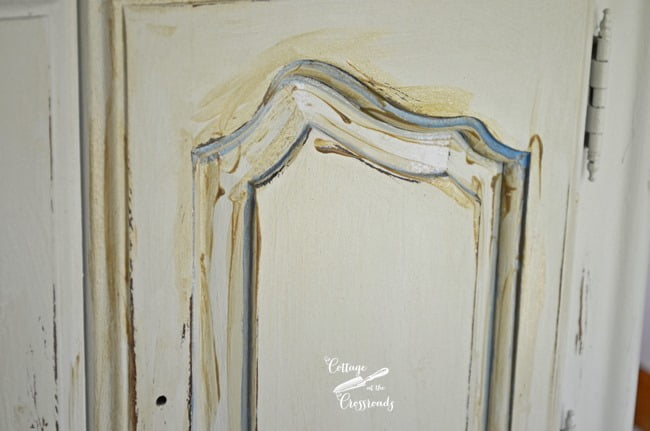 It's so easy to apply and control-it's now my favorite way to antique! I used a small art brush to push the glaze into the grooves, and then I used a dry cloth to rub it onto the other surfaces.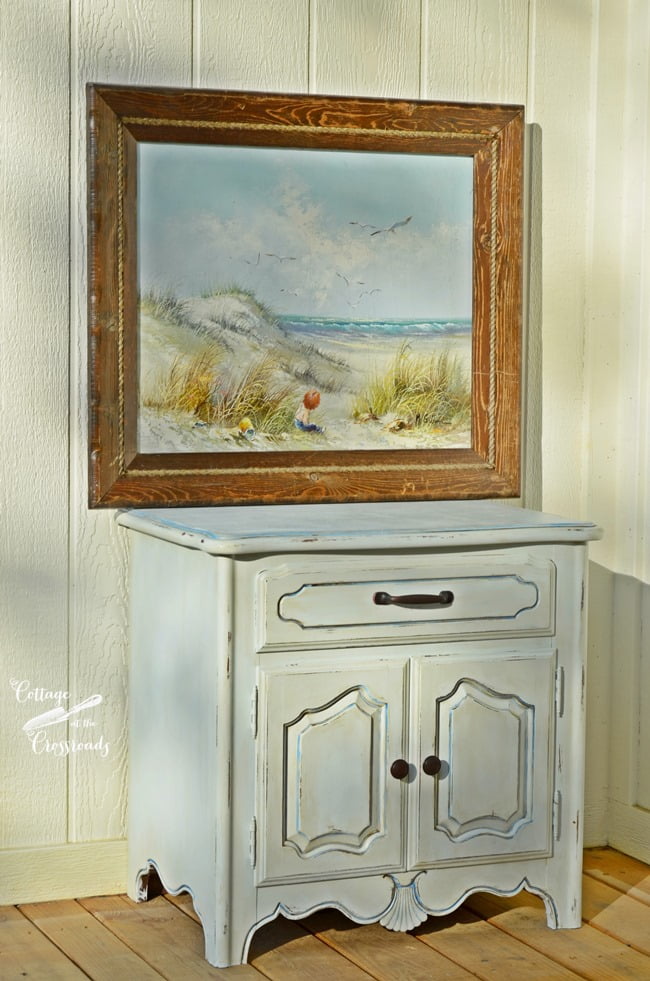 And here it is! I took the piece outside and used my storage building as a white background so that you could better see what the Versailles color really looks like. It matches the beautiful blues in this painting that I propped on top.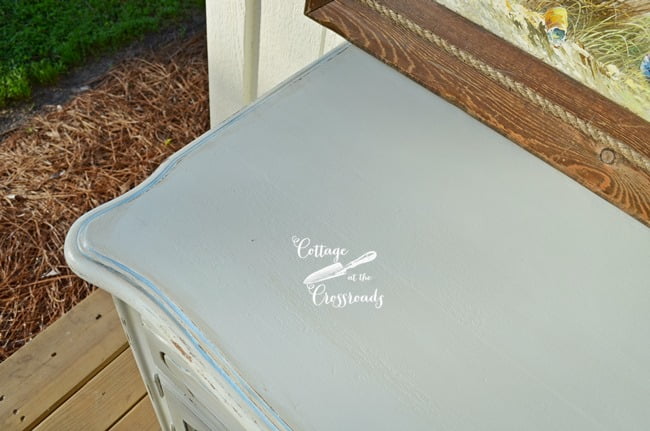 And the top is smooth as butter!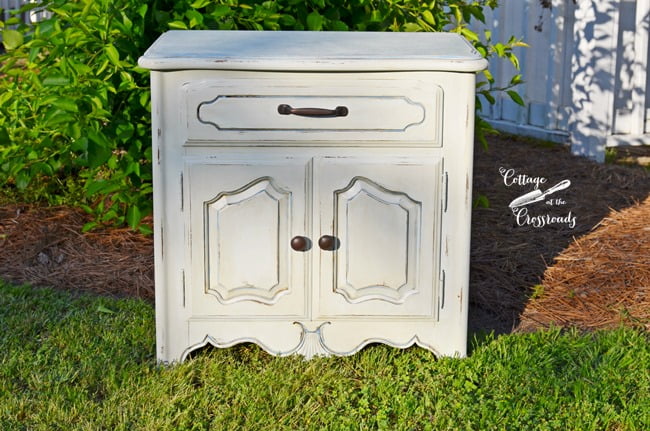 With some new hardware she's all ready to grace someone's bedroom.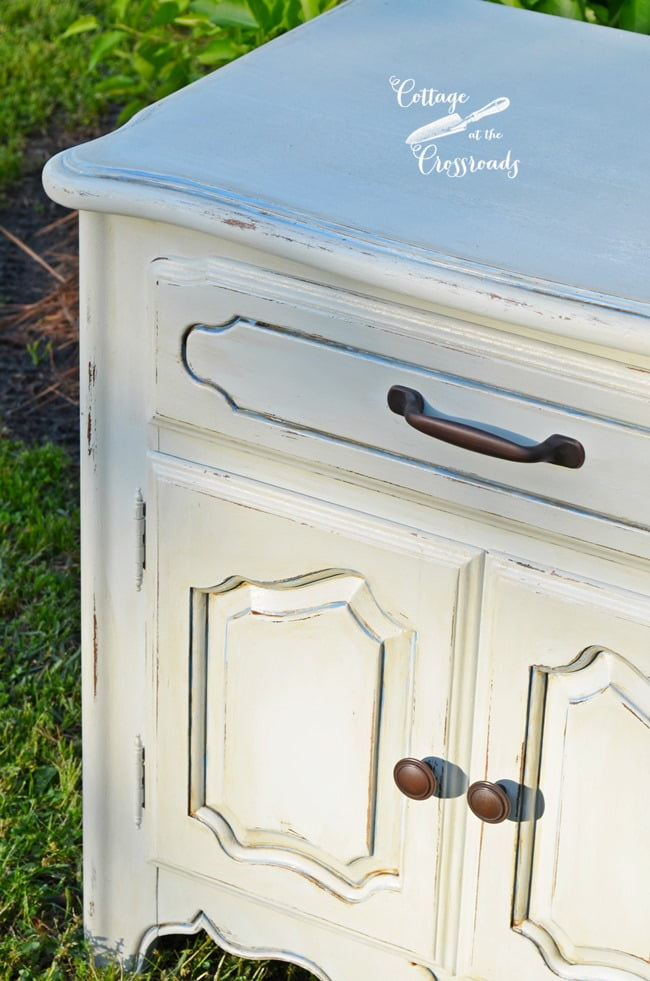 But she's already spoken for. She's going in my sister-in-law's guest bedroom in the new French Country home that she and Leo's brother Woody are building here at the Crossroads! Oui! Oui! C'est magnifique!