This is all part of the lightening and summerizing the guest bedroom that I've been meaning to do for a month now. Nothing like a little company coming to spur you on to finish something on your to-do list. And since Leo won a quart of Duck Egg Blue Annie Sloan chalk paint at the conference, I decided to paint my perfume bottle cabinet with it.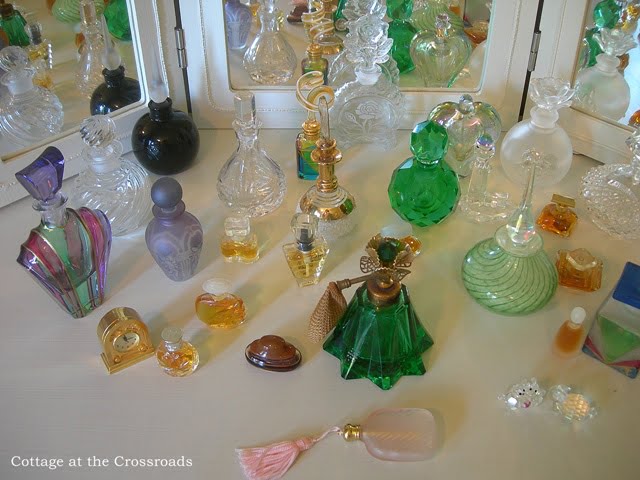 I have a pretty good collection of perfume bottles. I started the collection over 20 years ago right after I met Leo. I have always had an interest in perfume and bottles because I worked in cosmetics before I started teaching school, and I've even had a part-time job selling women's fragrances while teaching.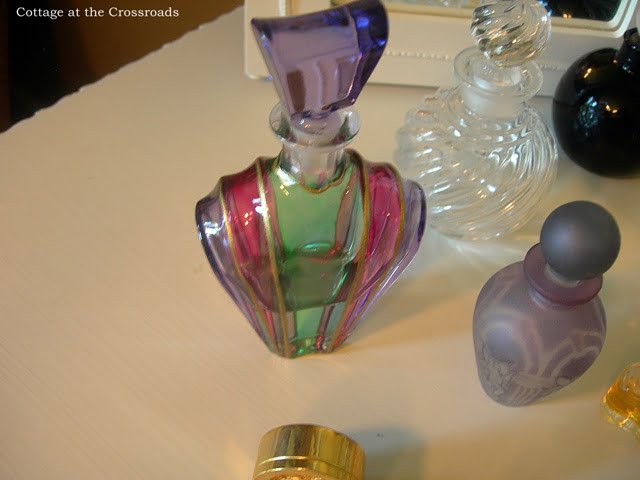 The bottle on the left is one of my favorites because Leo brought back this bottle when he made a trip to California.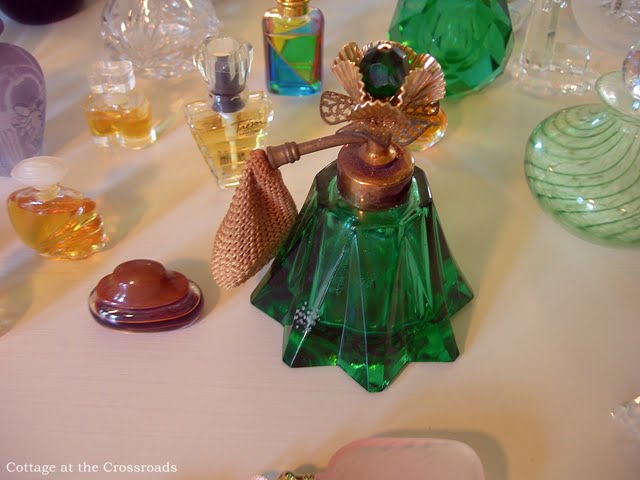 And this antique green bottle is another favorite because it was a gift from a parent of a student of mine. She took the time to find out what I collected and gifted me with this bottle at the end of the school year. What an extraordinary gift which I shall always treasure.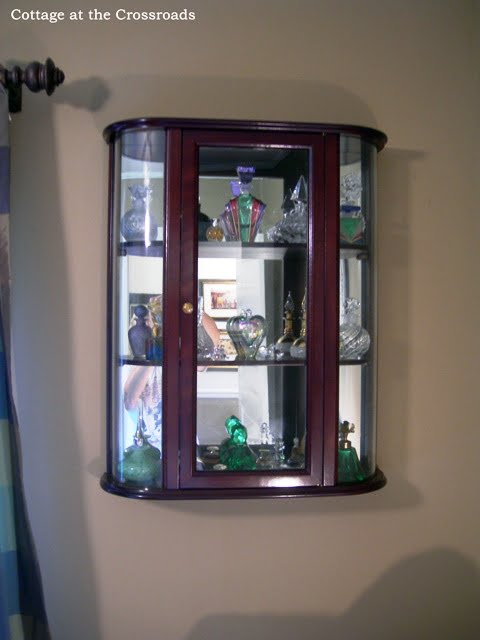 I told Leo that I had always wanted a cabinet to display the bottles, and he bought me one years ago. He bought the cabinet at Bombay (what happened to those stores?), and it had a dark finish which I have always liked, but I decided to give it a little update by painting it.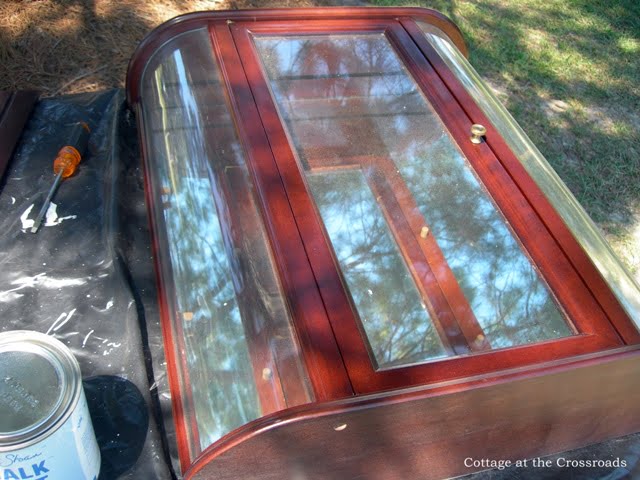 A few days ago, it was so beautiful that I decided to paint outside under a pine tree in our yard.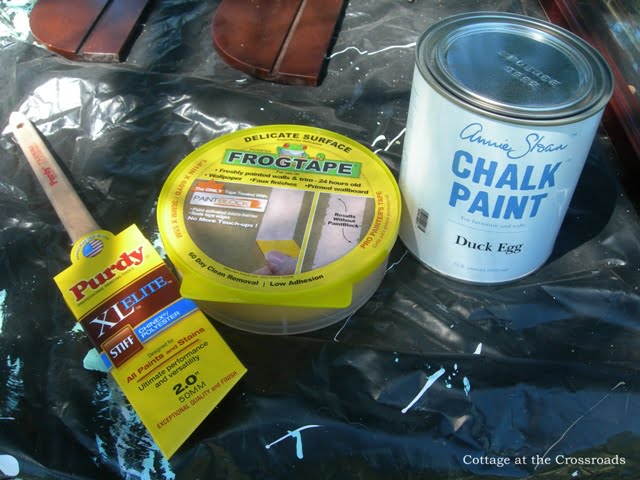 Thanks to the awesome sponsors of the Haven conference, I had everything I needed to make this a totally free project.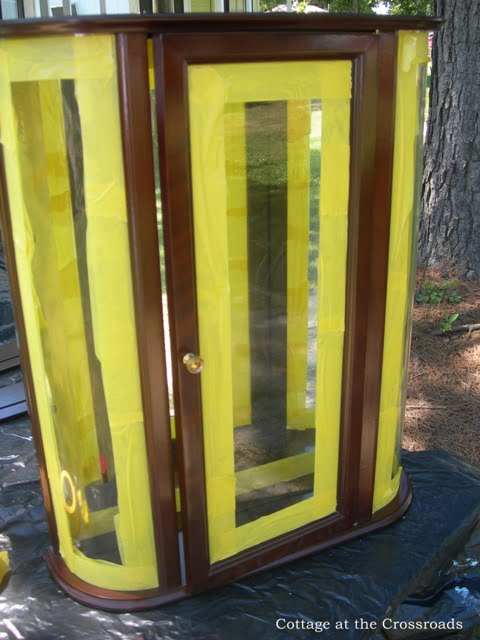 Here's the cabinet all taped up and ready to be painted. If you are unfamiliar with Annie Sloan chalk paint, the main advantage of using it is that you don't have to sand or remove the finish before you paint.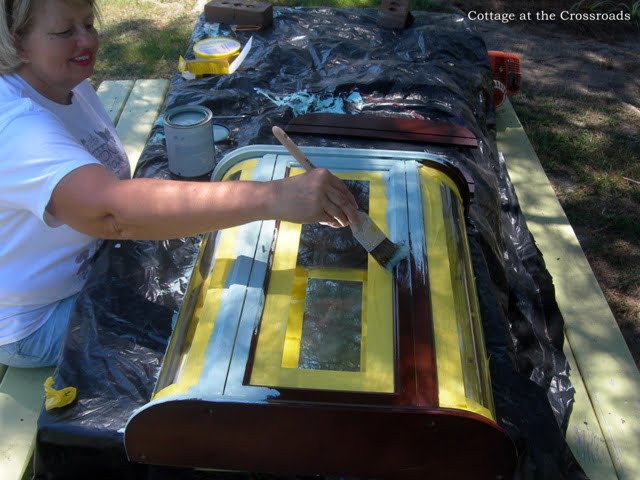 I just started brushing on that gorgeous Duck Egg blue color. It covered the dark stain easily.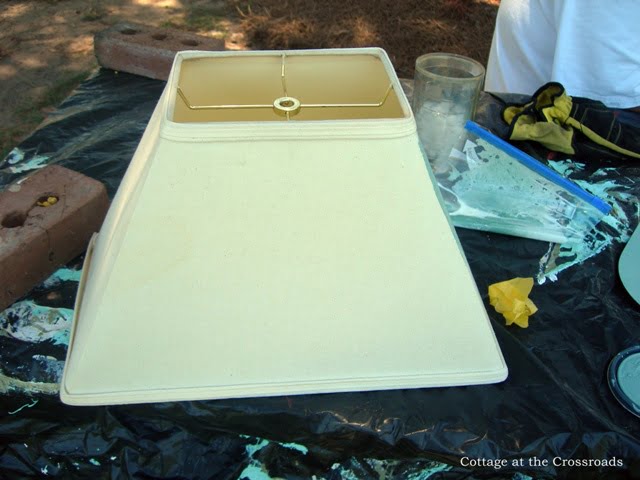 While I was waiting for the first coat to dry, I thought I would try the chalk paint on a canvas lampshade that I had picked up at the auction. I actually picked up a stack of them because no one wanted them. That means they were FREE people! (Now you know why we go to the auction every Monday.)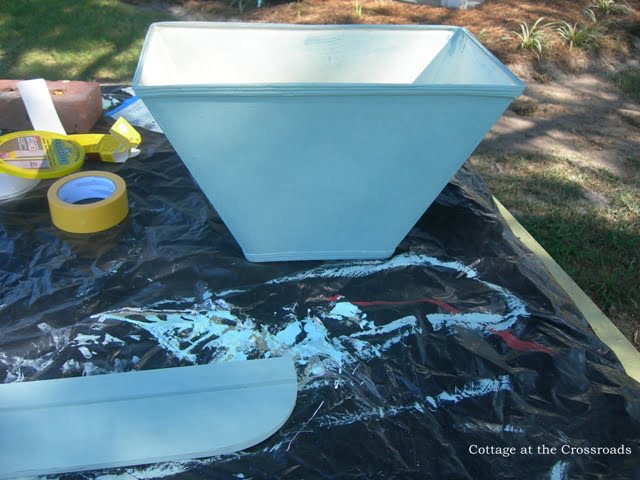 Look at how pretty it looks now!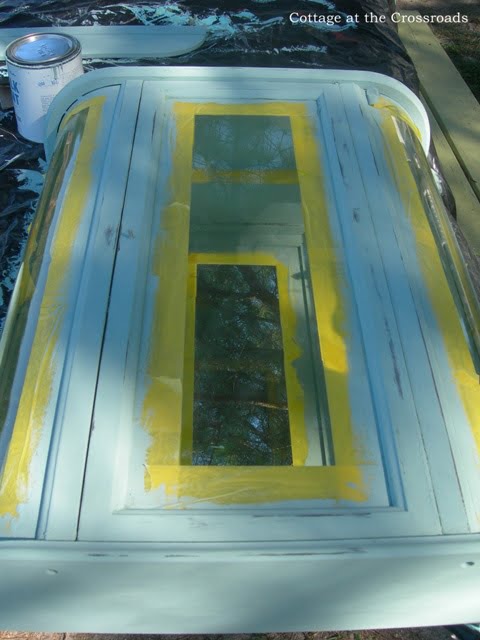 Another benefit of using the Annie Sloan chalk paint is that it dries really fast. Two coats dried very quickly especially with the breeze that we had on Wednesday.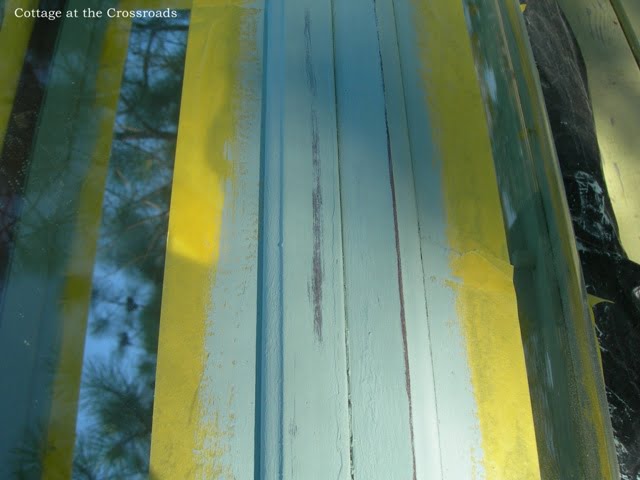 I decided to distress the cabinet by doing a little light sanding to allow some of the dark finish to show.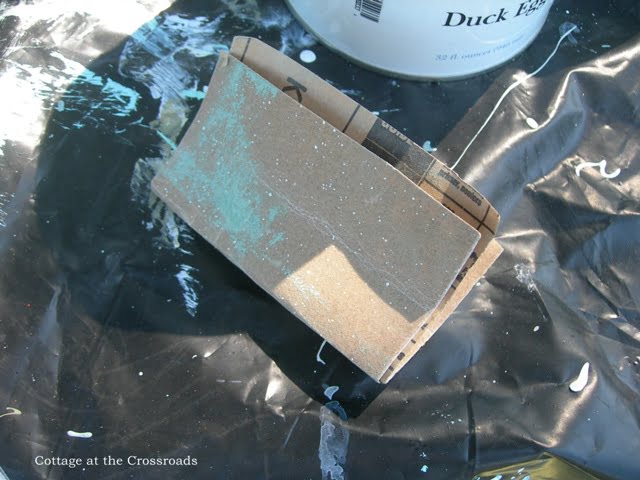 I just use a fine grit sandpaper folded over several times and sand in areas to give it that worn look as though the cabinet was old.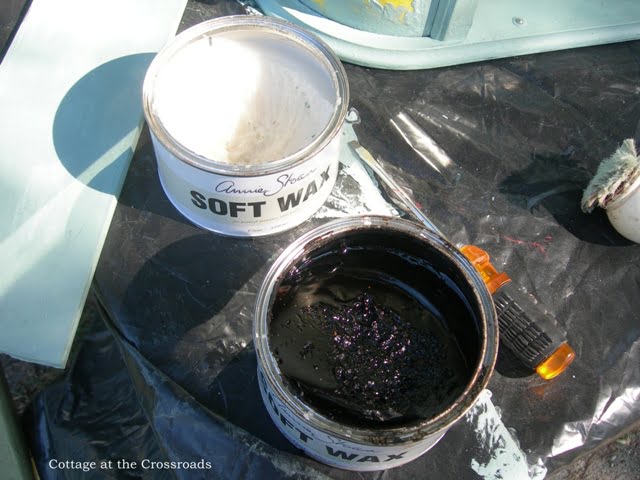 After the paint was dry, I was ready to wax the cabinet. I pulled out my Annie Sloan waxes that I won in a giveaway months ago on the blog Coastal Charm.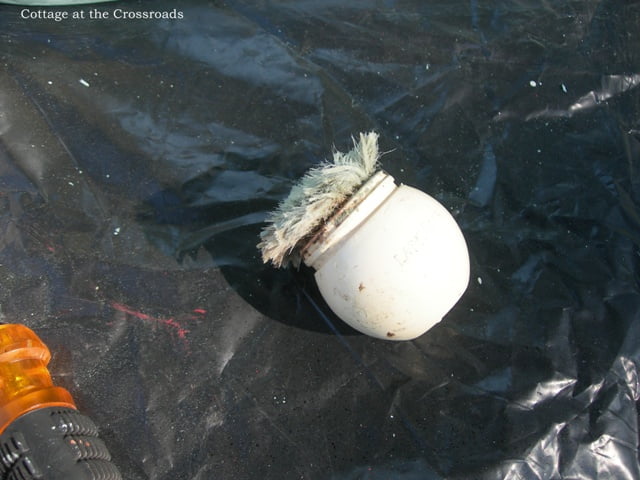 It is the wax that gives the chalk paint a beautiful, lustrous sheen and a protective finish. I use an old Lancome facial cleaning brush to apply my wax. First I waxed the cabinet with the clear wax. The brush helps me to "push" the wax into the paint. After letting the clear wax dry a bit, I started applying the dark wax. I have learned to NEVER, NEVER, NEVER use the dark wax unless you've applied the clear wax first. If you've never used the dark wax, that is what gives the piece the "antiquey" look and adds depth to the color.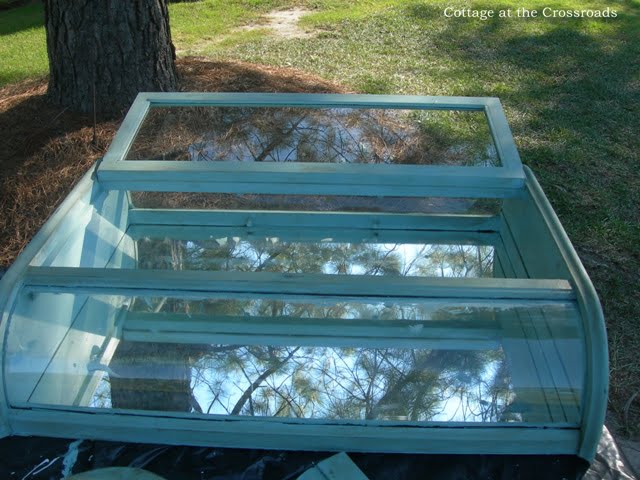 Here it is all waxed and the taped removed. I left it outside for several hours in order for the wax to totally dry while I was canning lots of homemade tomato sauce that day!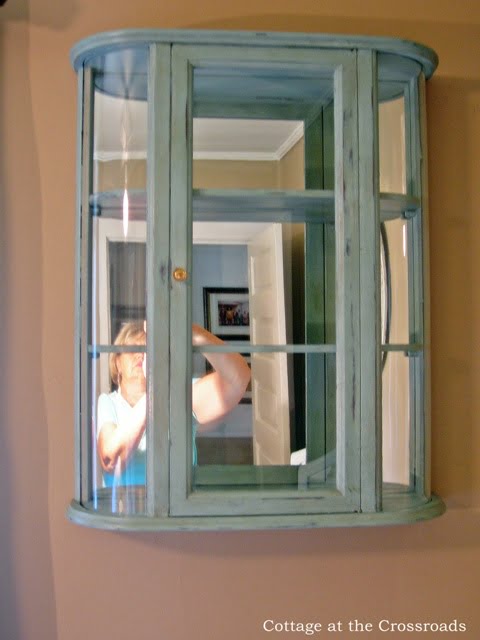 The next day I buffed the wax with a soft cloth and cleaned the glass with some of that awesome Fish Foam Window Cleaner that we got at the conference. Leo hung it back on the wall for me, and I'll have to say that the soft blue "aged" color looks fabulous with the wall color, which is coffee by Valspar.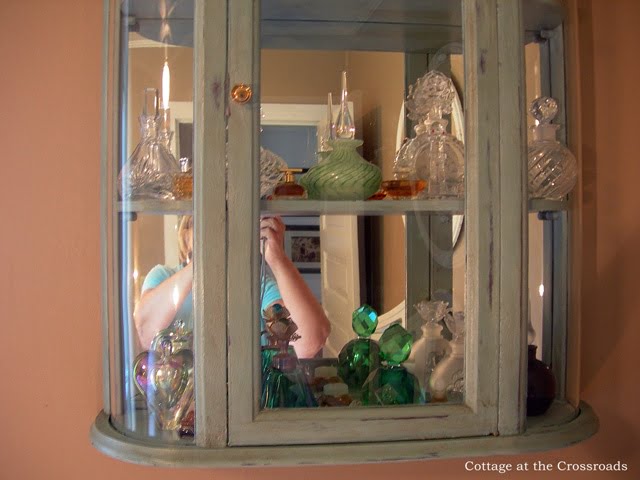 The bottles have all been placed inside.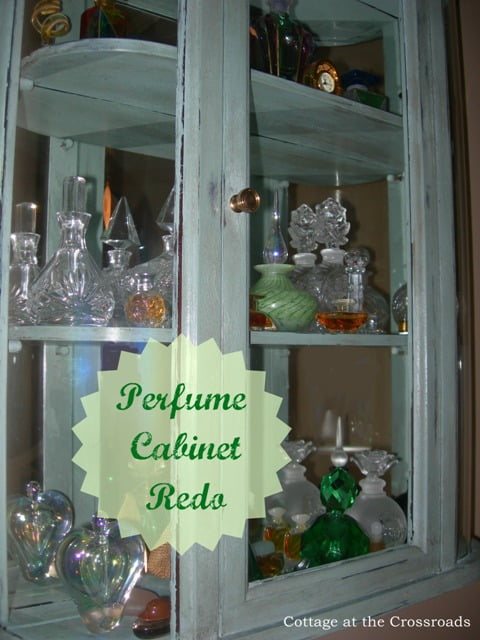 It's ready for my company this weekend, but the rest of the bedroom isn't. YIKES! I've got a lot to do.