I painted a wooden firkin bucket this weekend. What? You don't know what a firkin is? Well, I didn't either until I googled it! But I have a firkin and it's been prettied up with a little paint and look at it now!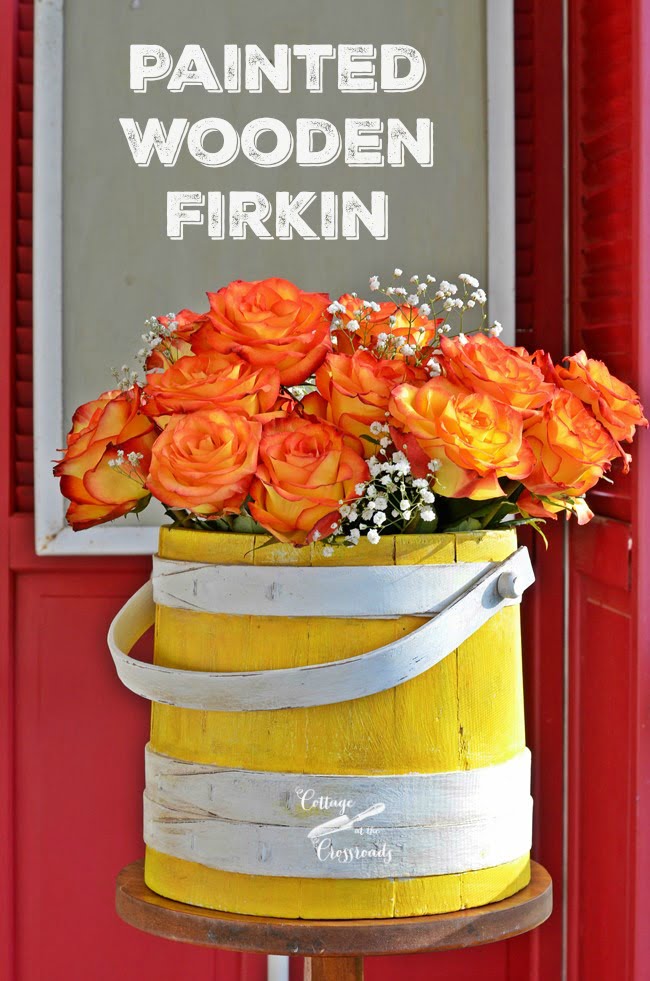 My little bucket makes the cutest flower container that I've ever seen!
Wooden Firkin Bucket
Over a year ago, I spotted this wooden bucket at the auction that we attend all the time. It was definitely old, and you know I love old stuff so I put it in pile of goodies and paid $5 for the whole stack. It promptly went into the storage building and was pretty much forgotten until I got to rummaging around in there. You see, it's that time of year when we are working on putting on a big fundraising golf benefit party and tournament for the Civitan organization in our town. So I looked at the bucket and thought it would make a good container for a centerpiece for our party. But not looking like this, of course!
I'm always curious about the age and use of things so I googled some images of similar buckets to mine and that's when I discovered that it was called a firkin or sugar bucket. Thinking that the word firkin was unusual and since I had never heard the term, I looked up its etymology. The word comes from a Dutch word "vierdikkijn" which means fourth. A firkin is an old unit of measurement that was a fourth of a barrel. Eventually the word was no longer used as a unit of measurement but as a name of the bucket. These multipurpose buckets became an essential and common item in farmhouses. Often women would paint them to brighten their kitchens. The buckets were not homemade but made by coopers, or barrelmakers, who had perfected the art of making them water and bug tight. If you look at the above photo, you can see the similarity of workmanship between these buckets and barrels.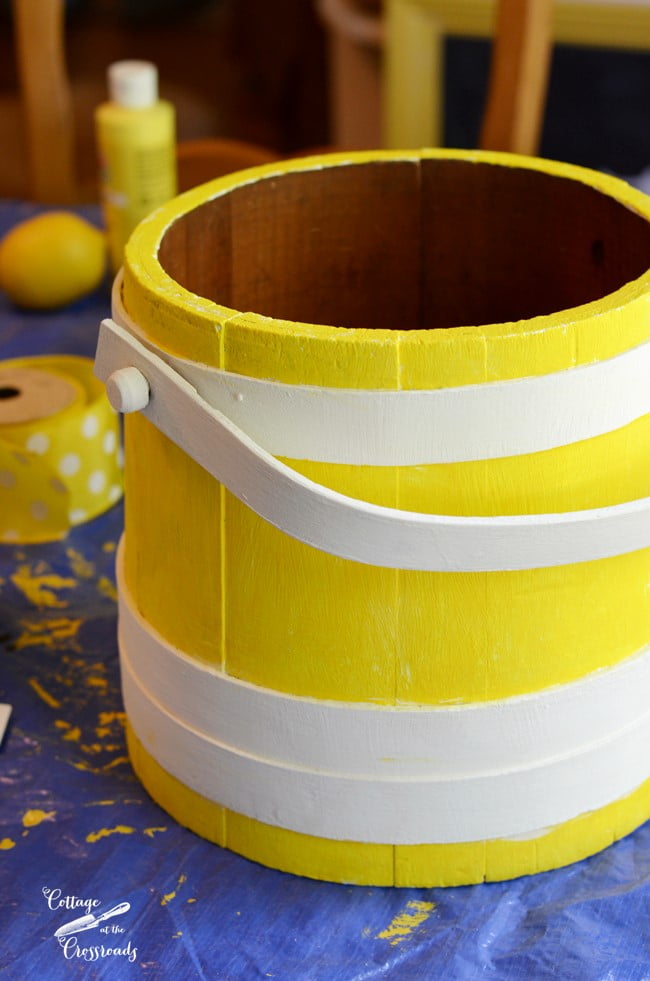 First, I painted the bucket white but that just wasn't suiting me so I added some lemon yellow paint to it since that is the color that we're using for our golf benefit party. The bucket was starting to look very happy and sunshiny!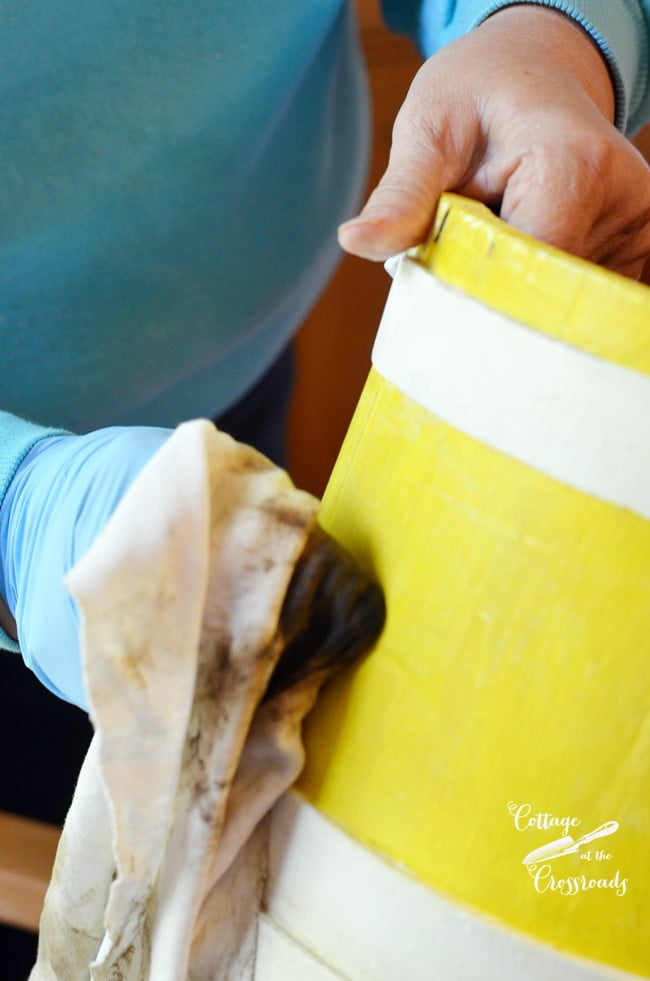 Wanting to "age" the bucket a bit, I applied some Annie Sloan clear and dark wax. I was just thinking that working on a small project like this is a great way to practice working with waxes if you've never used them.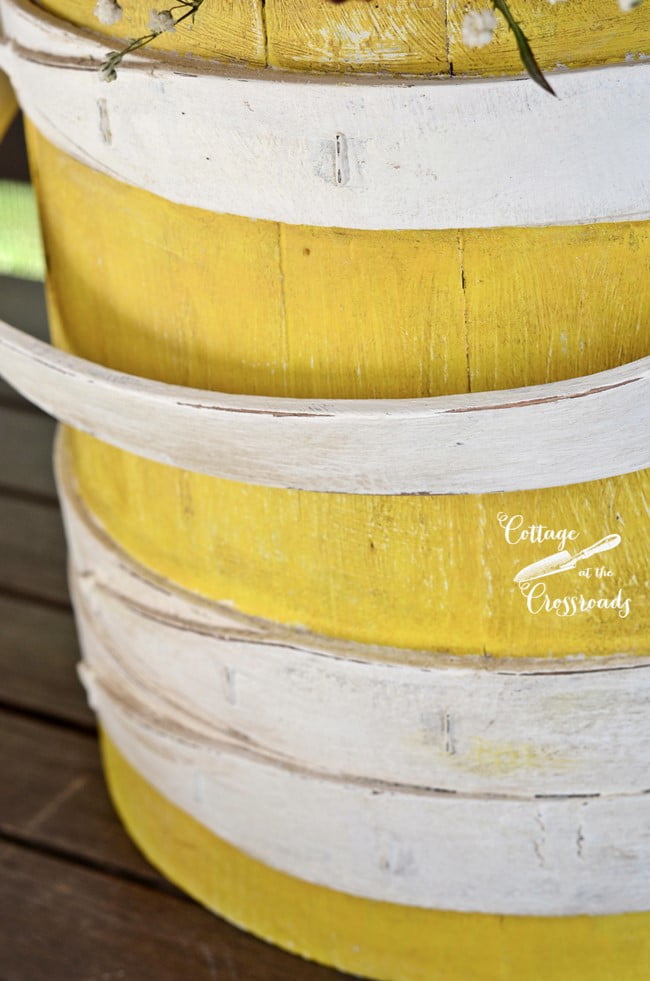 You can see how waxing and distressing the paint changes the color and adds instant patina. We can't have an old bucket looking totally new, can we?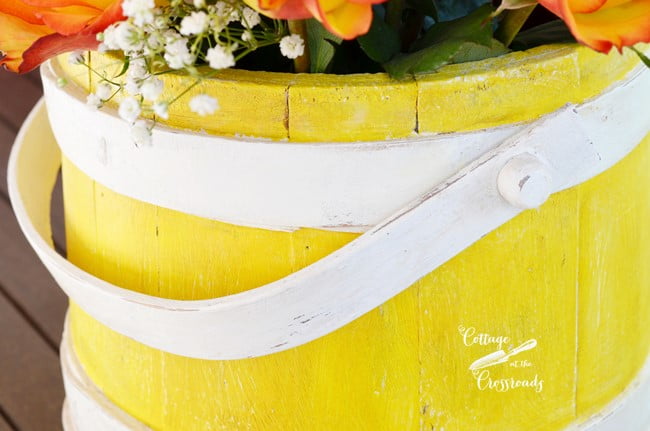 I just adore the wooden swing handle. I forgot to mention that these wooden firkin buckets had a wooden top but mine did not come with one.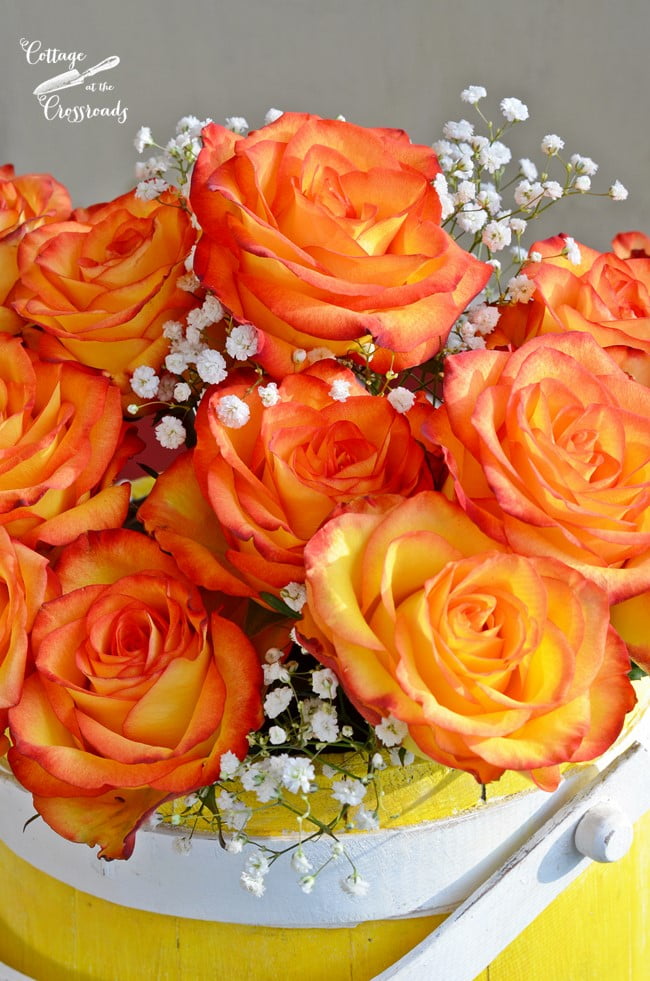 Now it just so happened that I had a dozen of the most gorgeous roses that Leo had brought home last week. Isn't he the sweetest thing? He knew that these are my favorite rose colors so he surprised me with them.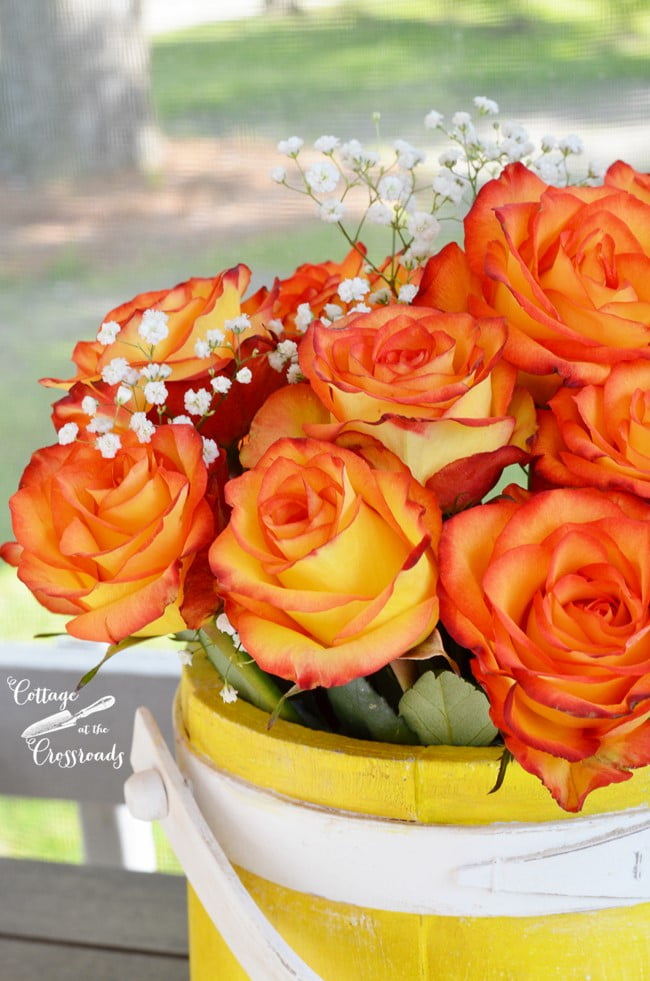 Oh my gosh! I don't know which I love more-the yellow painted wooden bucket or the gorgeous roses!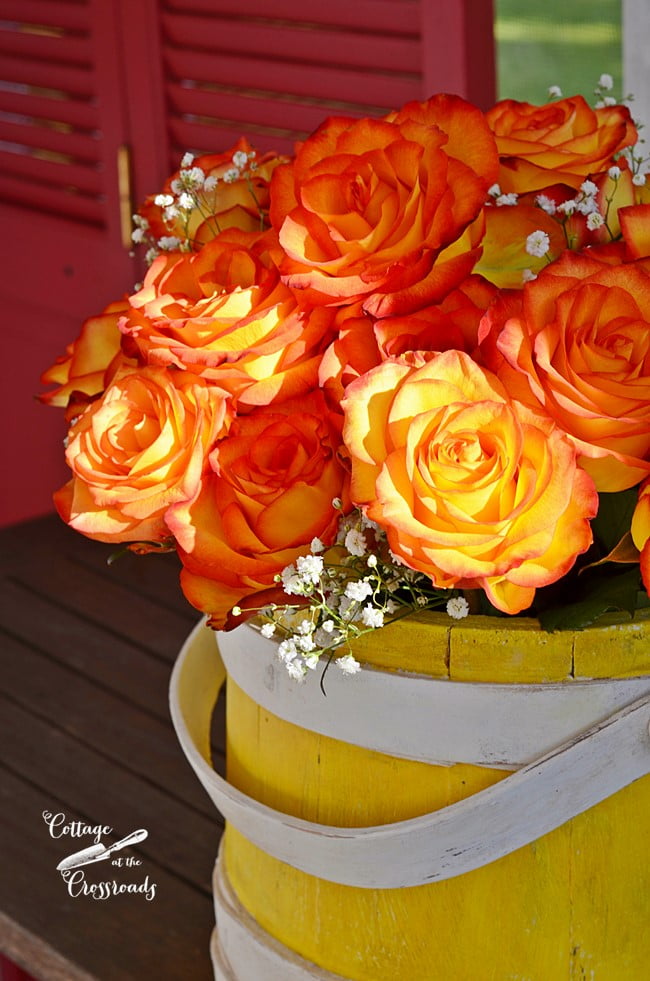 I'm in love with how the sunshiny yellow color pulls out the yellow in the roses.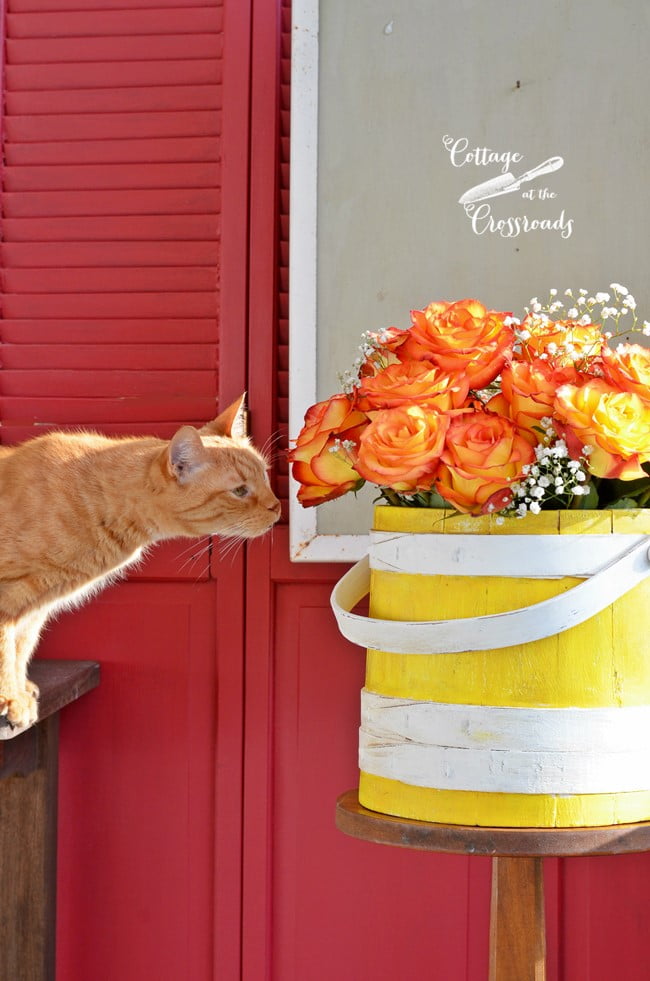 As I was photographing the bucket, our cat Henry came over to smell the roses.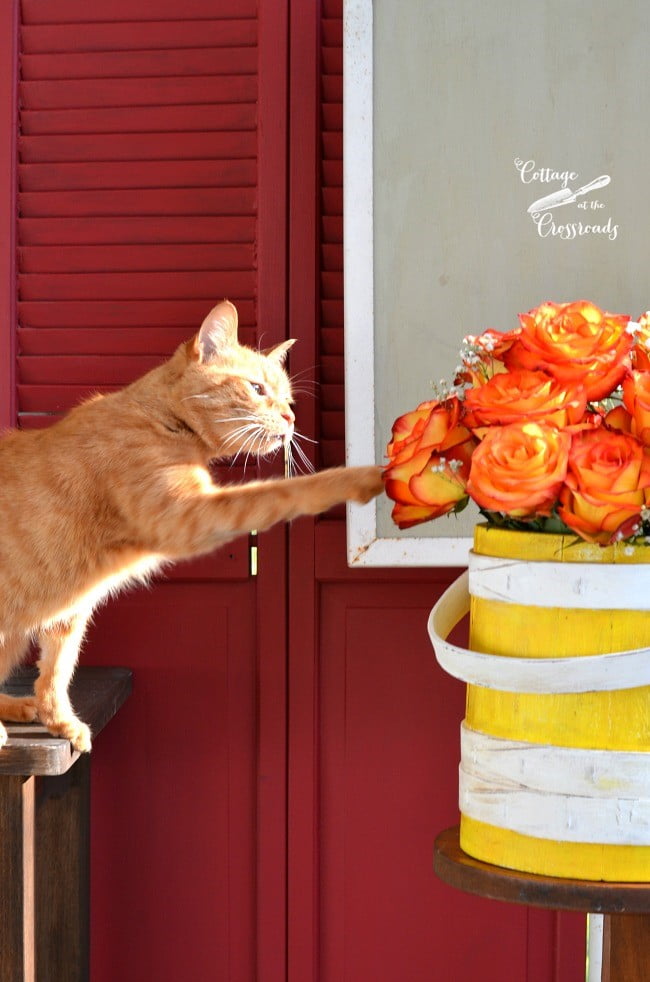 He was admiring them, too! I think he thought the roses kinda matched him!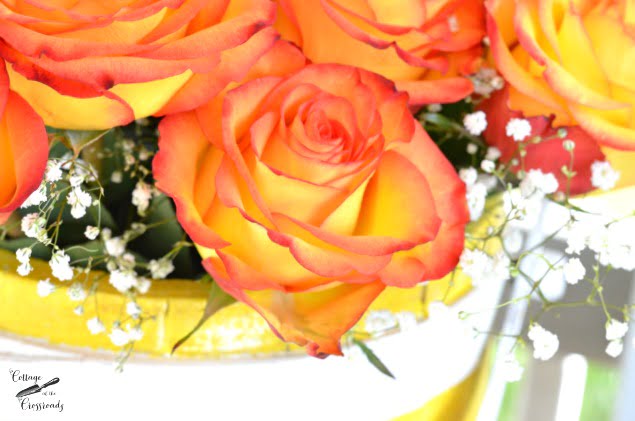 I had to keep snapping the photos because the combination of the yellow bucket with the beautiful roses was a match made in heaven!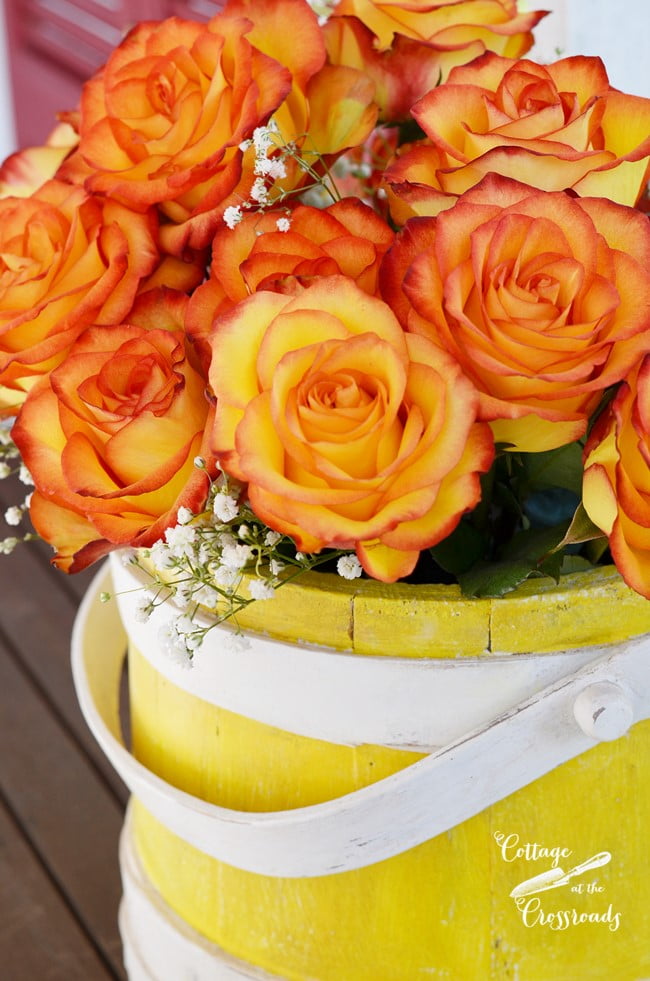 And I can imagine that the yellow bucket will accentuate any type of floral arrangement, especially colorful zinnias from the garden! For the party, I think I'm going to use daisies. What do you think?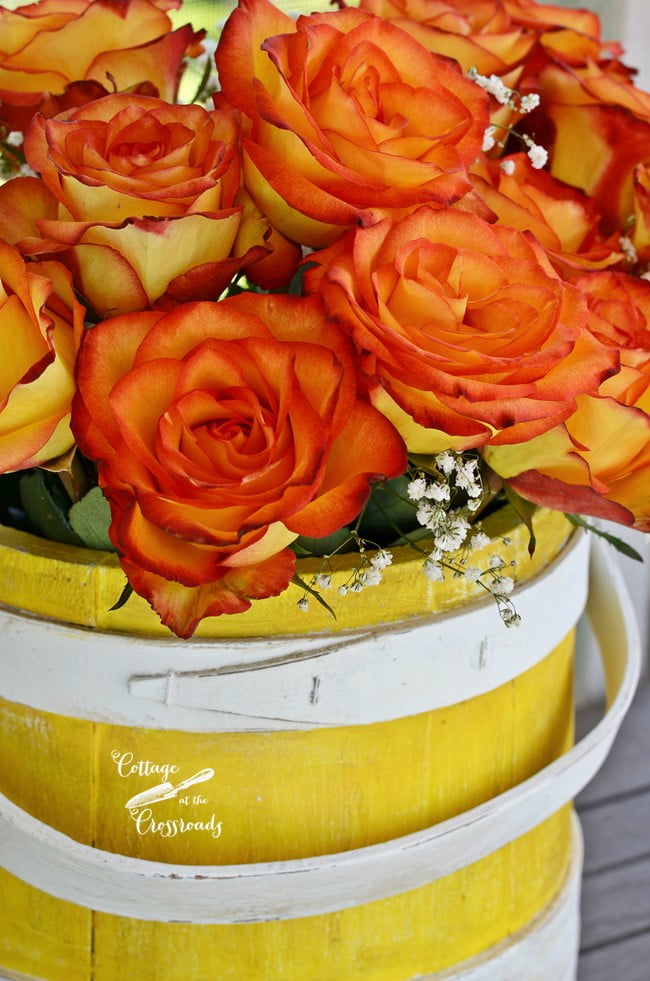 I'm loving this lemon color for spring and summer, but I'm thinking that the bucket would be pretty painted in just about any color.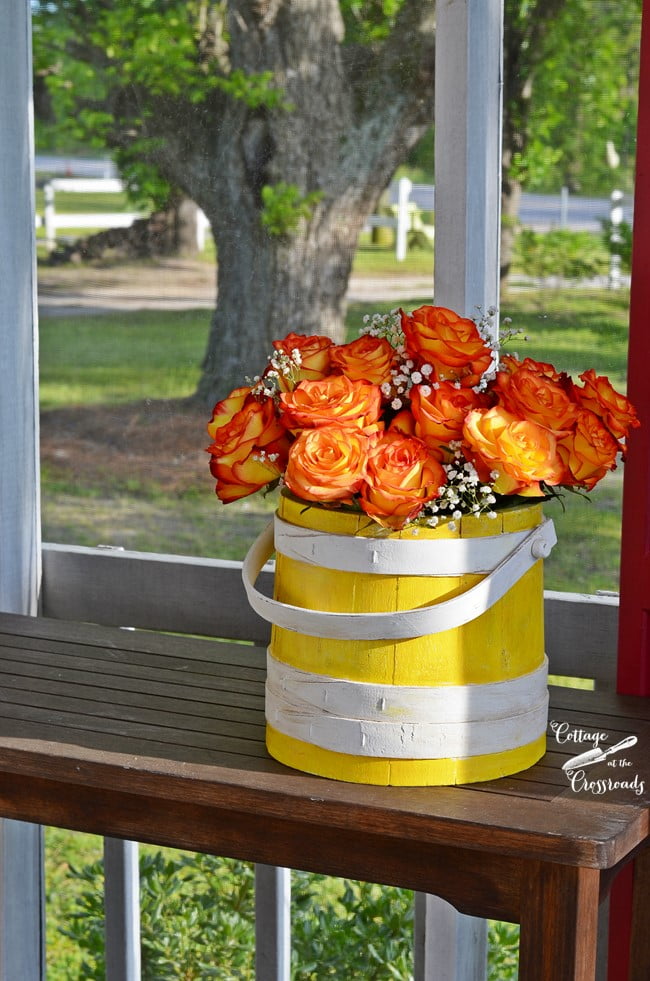 So the moral to this story is......if you ever see an old wooden bucket, GRAB IT!!! And in the meantime, Leo found a song about a bucket that you might enjoy!