In this post you'll find a very thrifty painted bottle spring centerpiece! Who doesn't like thrifty?
Hello sweet friends! Today is Valentine's Day and I just want to take a moment to tell you how much I love and appreciate our readers! Without you, there would be no reason to blog.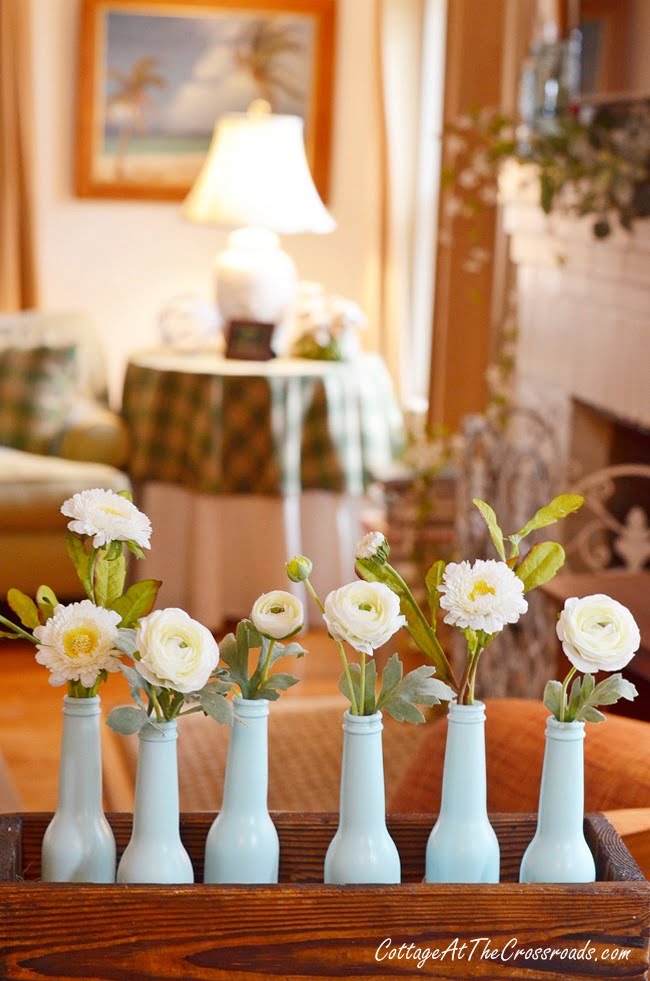 Right now I have it on the sofa table, but I'm sure I'll be using it in several places this spring. I just love the pretty aqua blue bottles.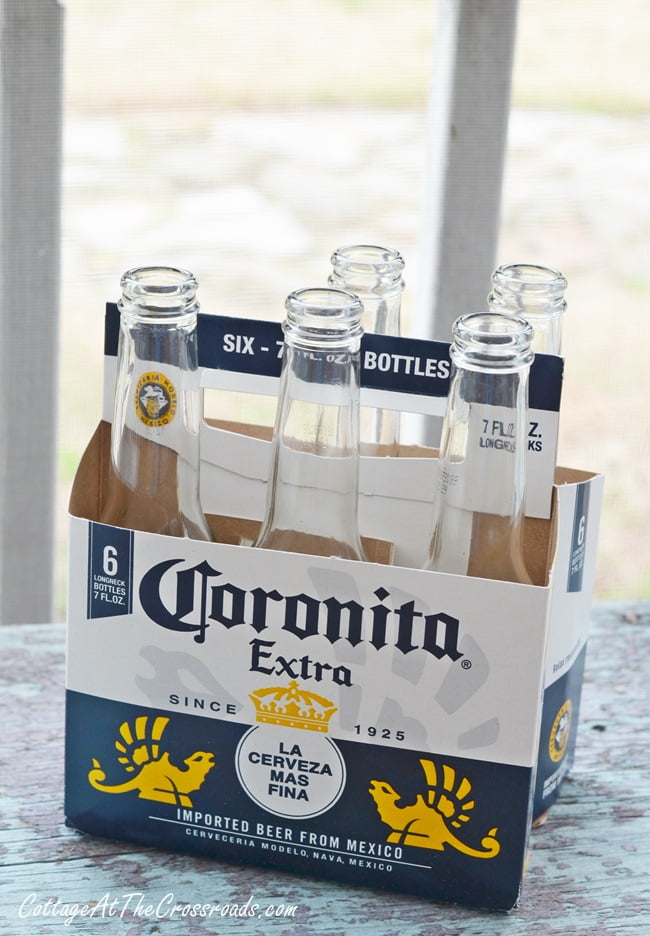 Did you recognize the bottles? They are small beer bottles. Now first, I need to tell you that I am not much of a beer drinker but when I get really thristy, there is nothing like a beer to quench my thirst. Usually I drink only 1 beer and sometimes don't even finish it.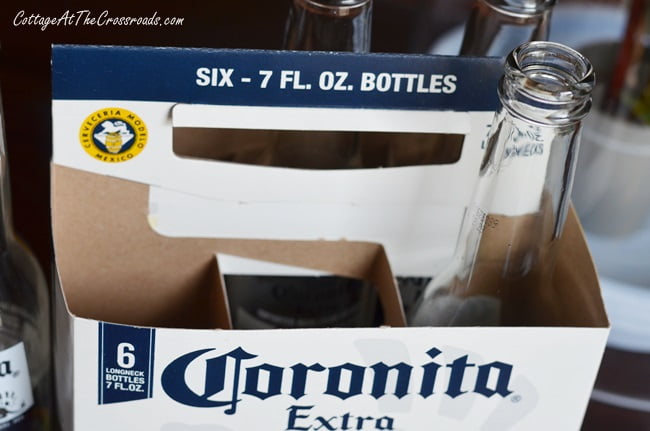 So one time Leo went to the grocery store for me and came back with these Coronitas. He explained that the word "Coronita" means small Corona. Seven ounces is the perfect size for me, and when I finished up a six pack, I thought I'd do something with the little bottles other than recycle them.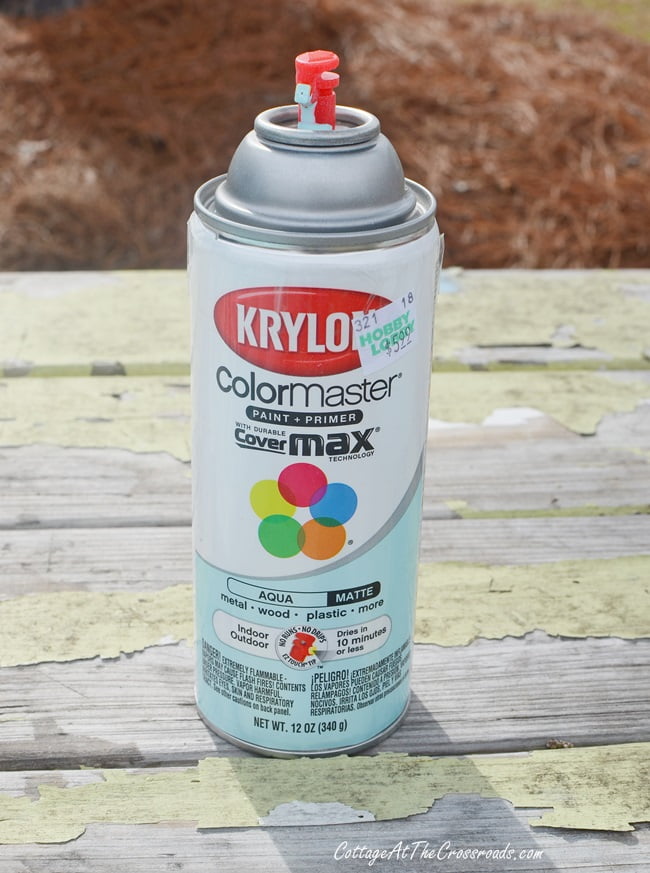 When I was in Hobby Lobby recently, I picked up this pretty soft shade of aqua in a matte finish.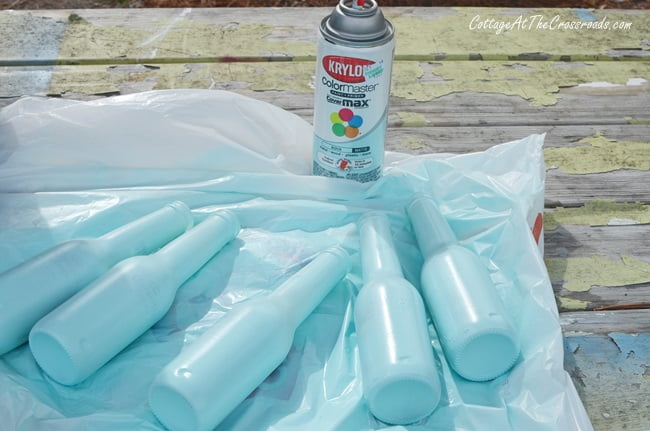 Quick tips for painting bottles
Wash and dry your bottles.
Choose your spray paint color in a matte or flat finish.
Prep your area with newspapers, cardboard, or plastic in a well-ventilated area.
Spray a very light coat on one side of the bottles. Don't spray too closely. Allow to dry thoroughly.
Repeat the process on the other side and let dry.
Apply several more light layers, if needed.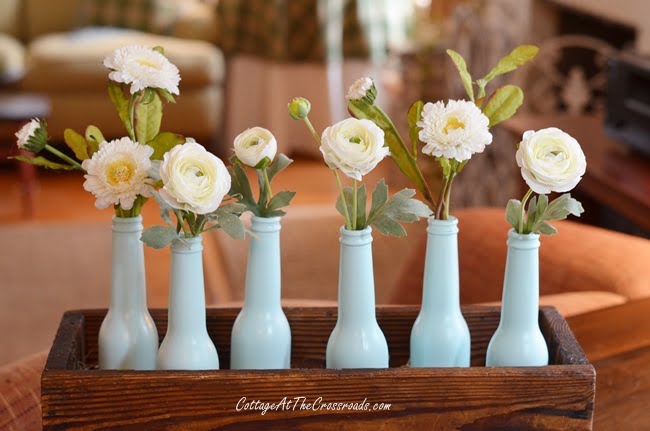 I placed my bottles down inside a pine box that I already had.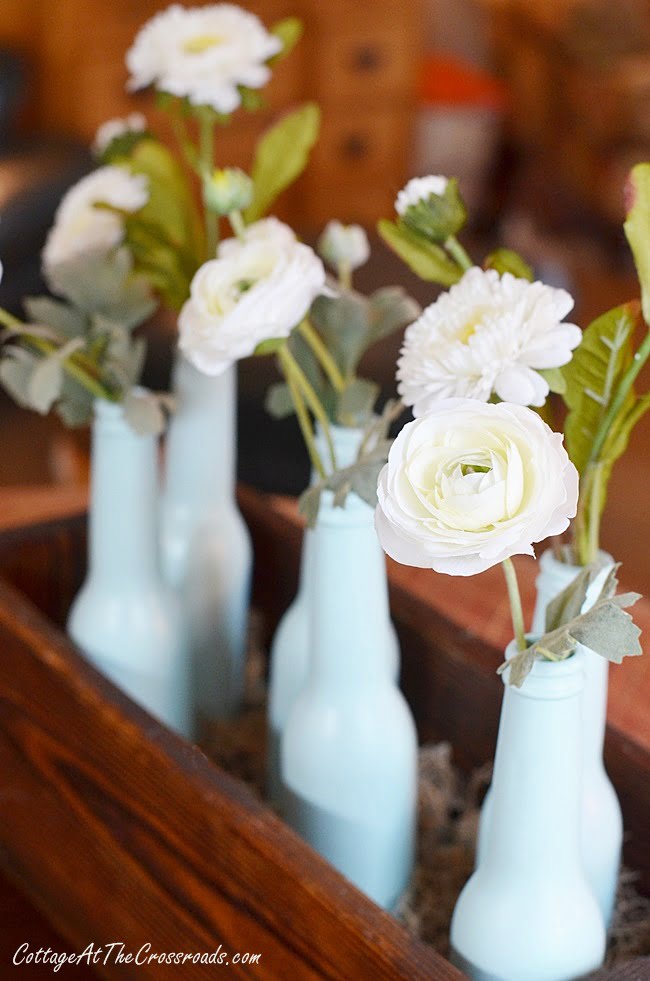 I happened to already have some white faux flowers so I tucked those down inside. Can you imagine how pretty these would look with real ranunculus or perhaps white tulips?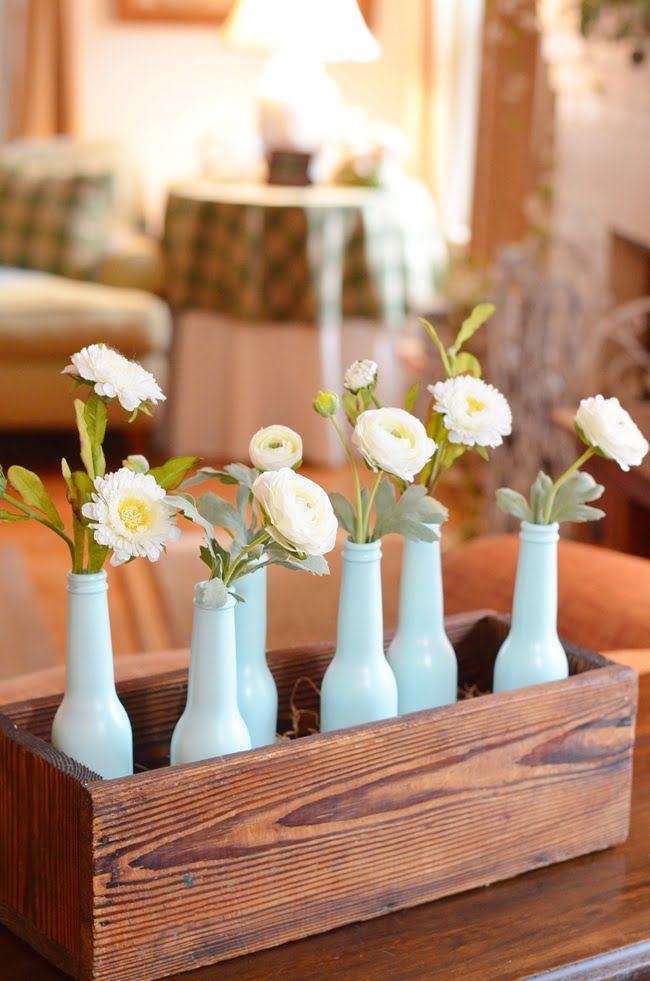 But since it is not even spring yet, the faux flowers are bringing a breath of fresh air into our living area.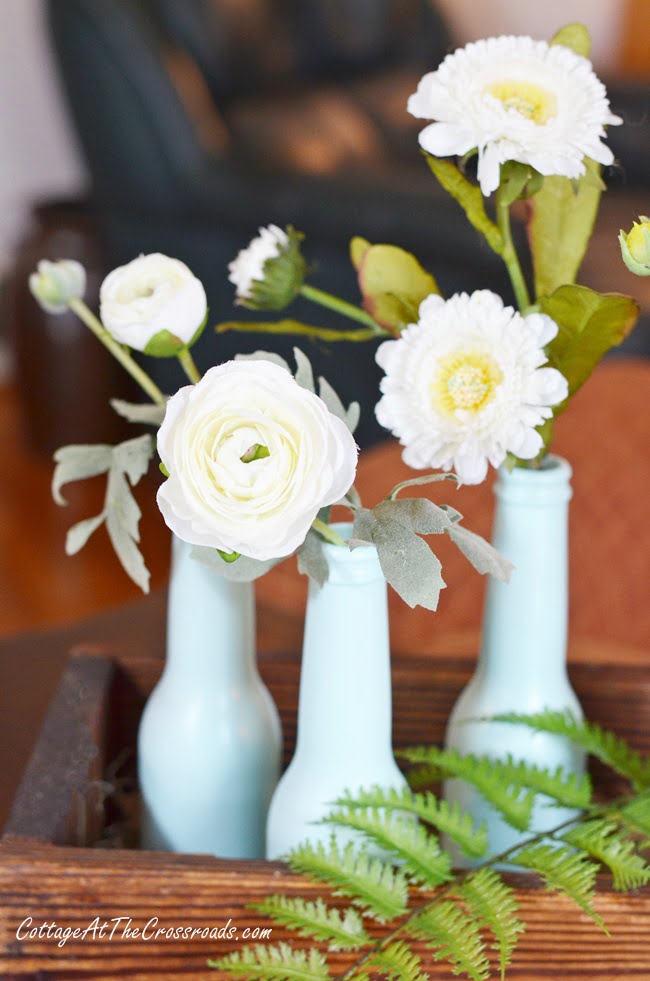 I'm loving the white flowers in the pretty aqua bottles, but I'm imagining all sorts of color combinations. Who knew that beer bottles could be so pretty!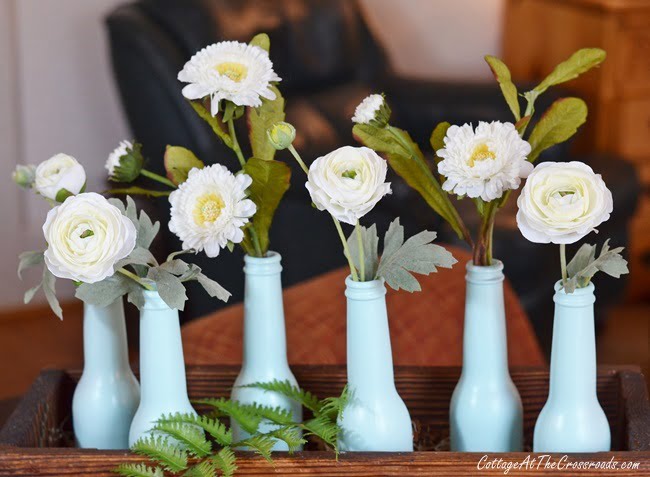 I can't stop looking at them! They are so darn cute! You guys know how much I like to make something from nothing, right?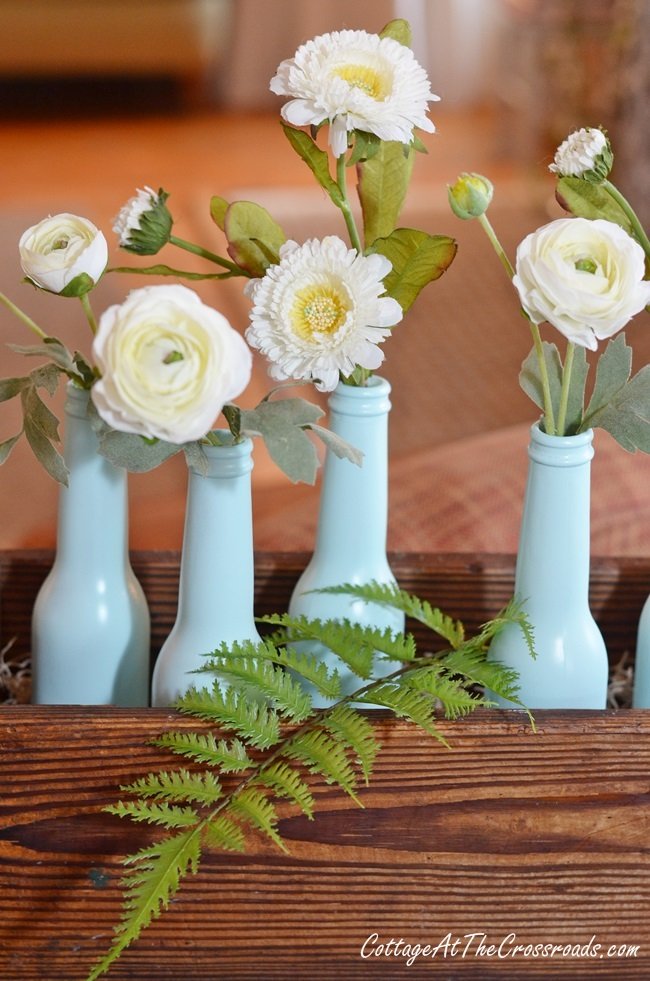 Right now as I'm writing this post, I'm dying of thirst. If it weren't so late, I'd send Leo after some more Coronitas!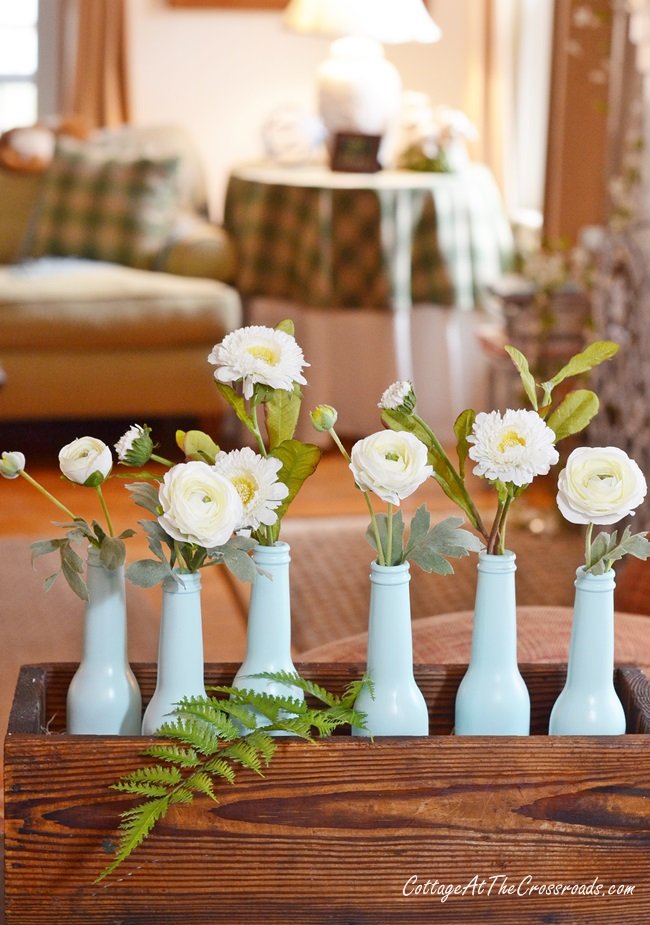 Then I would get double enjoyment out of them!