About a month ago, Leo and I were at the auction that we always go to on Mondays. I spotted a box of vintage china on the ground, and when I looked inside the box, I recognized the maker and pattern. Inside the box were many pieces of the china I had read about the day before, so I bid on the china and got it for a ridiculously low price because no one else seemed interested in it.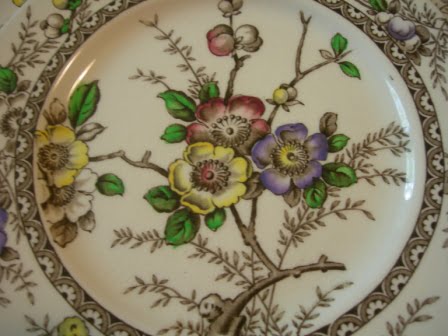 The china pattern is called "Medway Decor," made in England by Alfred Meakin.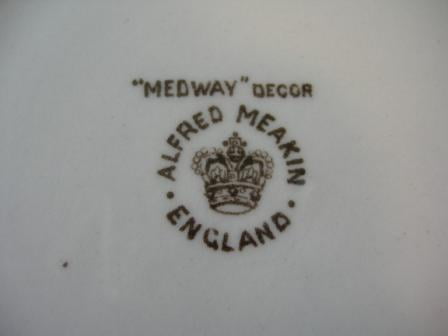 Here is the maker's mark. I'm certainly no expert, but after doing a little online research, I have concluded that this china was made somewhere between 1907-1914. That means the china is possibly 100 years old! And it is in remarkably good condition to be so old.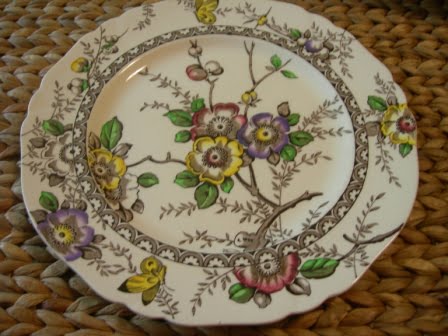 I just love this china. The background is ivory with a beautiful bouquet of purple and yellow flowers accented with dark brown branches and other designs. A few of the pieces have chips, but that indicates to me that this china was lovingly used. I can just imagine a family using it at each holiday. The colors in this china remind me of autumn, so I decided to pull all of the pieces out of the box and create a tablescape.
First, I looked through all my tablecloths to see what would go with it. I'll have to admit that this china would be stunning on an eggplant colored tablecloth, but I don't have anything that color. So I settled on using a light butter-colored cloth and napkins that I already had.
I did go shopping for some purple napkin rings, but I didn't find any. So my next thought was to spray paint some old wooden ones, but I couldn't even find any of those.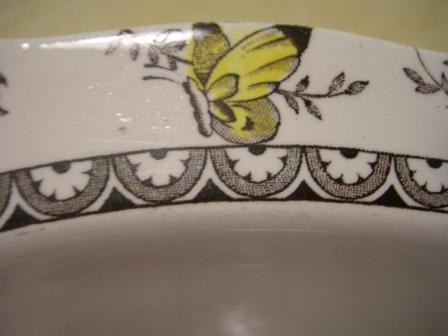 Since one of the details on the china is a yellow butterfly, I decided to make some napkin rings using butterflies. I even found a graphic that closely matched this butterfly, but I happened to be in Big Lots when I spotted some outdoor lights with butterflies (on sale-50% off!) Some of the butterflies happened to be purple and yellow, just the colors I needed. So when I got home I took the lights apart and removed the butterflies.
I still didn't know what I was going to do with those butterflies until I was in Hobby Lobby the next day and spotted these.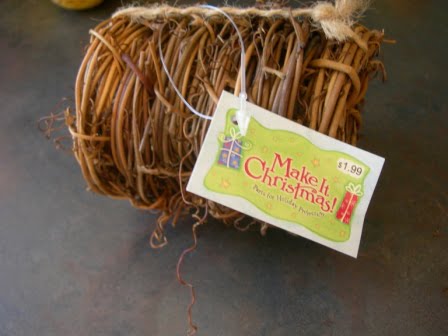 These are little grapevine wreaths that I knew that would be the perfect size for napkin rings.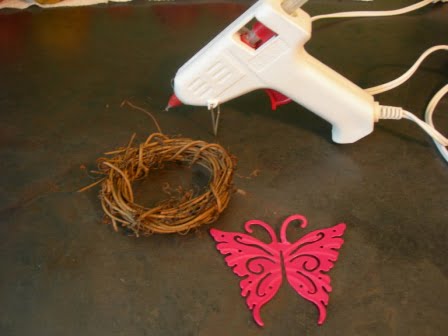 So when I got home, I used the glue-gun to attach the butterflies to the wreaths. (Here I'm experimenting with a pink butterfly. I have all colors of butterflies now.)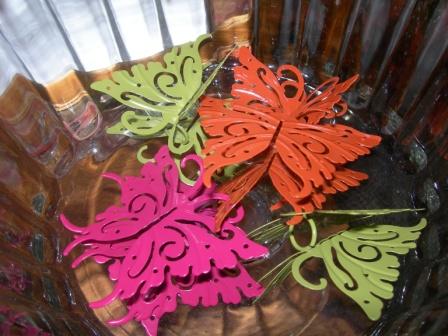 Once I had my napkin rings, I was ready to proceed with creating my tablescape. I decided to use my dough tray since several bloggers have mentioned them lately. A dough tray is a wooden bowl that people used to use to mix up their dough for bread and biscuits. I've had mine a long time. It was given to me by an elderly gentleman who said that his children didn't care about it. He knew that I would love it so he gave it to me.
Earlier this week, I had found a vase in a local antique store that had some hand-painted flowers that were similar to the flowers on the china.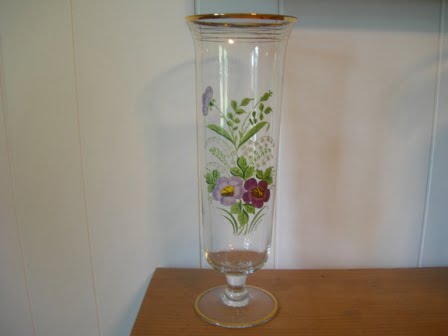 I got this vase for a very nominal amount of money! Yay!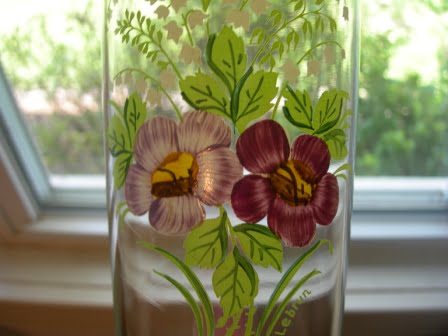 Here's a close-up of the handpainted flowers. The colors were just right!
So I went to the grocery store to get some flowers to go in this vase. I didn't have much in the yard that was purple, but I did find a few things to add to the bouquet.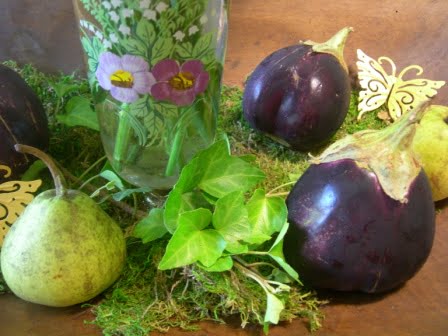 Since I wanted to use the dough tray and the flowers, Leo suggested that I put the vase in the tray. And I added some eggplants from the garden and some pears from the pear tree in the yard along with some ivy that I have growing. (And a few of those butterflies, too!)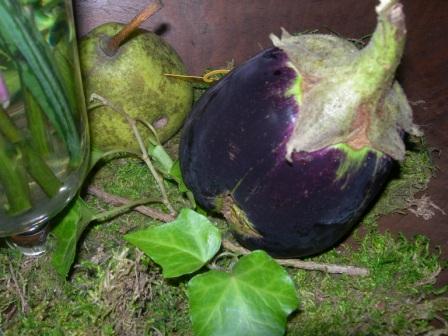 Sorry for all the pictures. I've been working on my photography skills lately.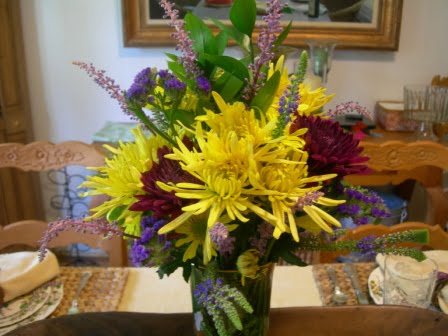 Remember the flowers on the china? I just happened to notice that almost the same flower is on the back of our dining room chairs.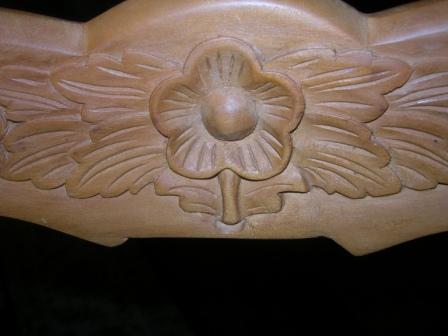 So since I had a flower theme going on, I pulled out my sterling because it has almost the same flower on it, too.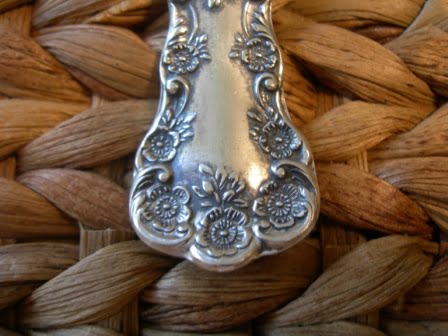 The pattern is Buttercup by Gorham. I have some pieces of Chantilly, a pattern I picked out when I was younger. But I have always admired this pattern that a friend of mine had. So when I completed my set, I finished it out with Buttercup.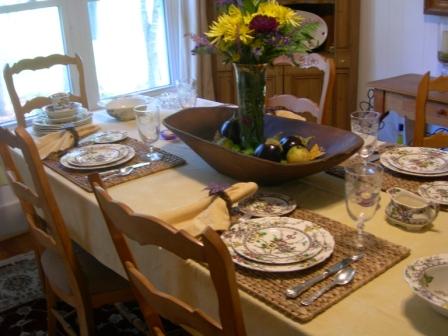 So here is the tablescape with my new vintage china. I have to show you this.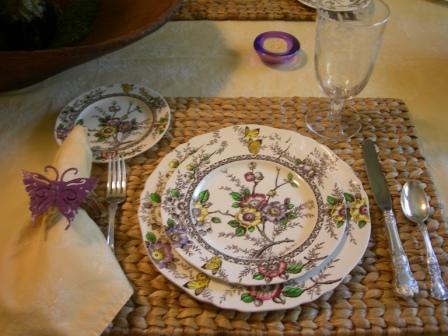 See the stemware? Here's a close-up for you.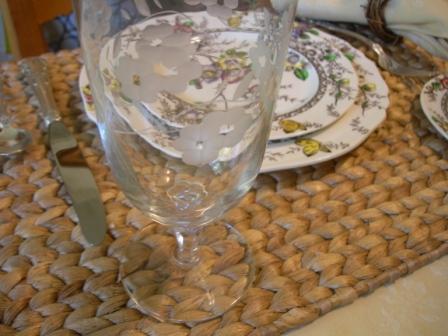 Do you see the etched flowers? This stemware belongs to my mother. I don't know anything about it other than it was used at our house for as long as I remember, and I have always loved it.
When I first got the china, my idea was to sell it. But now that I've done a tablescape with it, I'm thinking I'll keep it.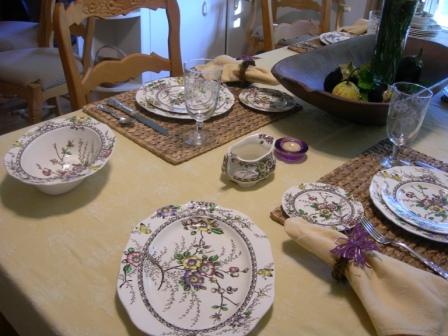 In the box were several serving pieces.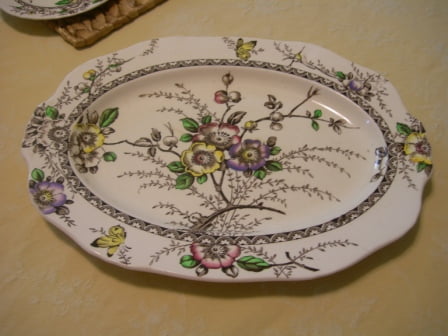 an oval platter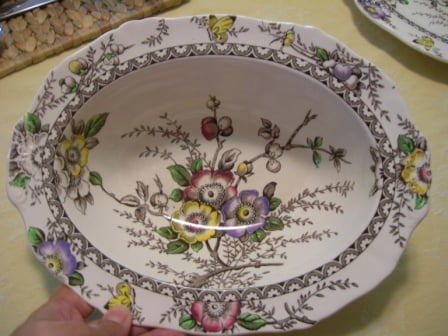 an oval vegetable dish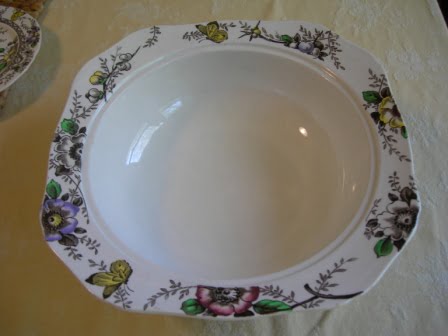 a round vegetable bowl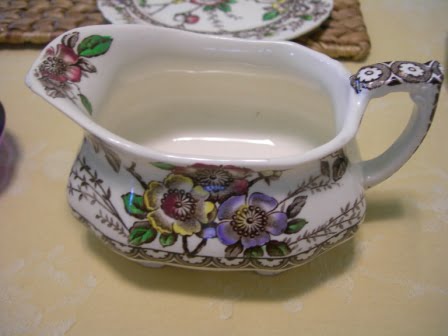 and the cutest, darn creamer I've ever seen!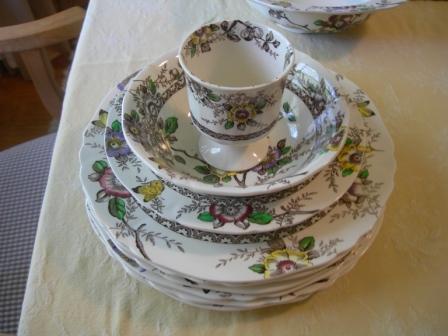 Here are some additional pieces of the china. Look at that egg cup! I do not have a complete set by any means. Not sure that I want to sell this anymore.
Since this is my first, real tablescape that I've created for the blog, Leo said I was just playing house.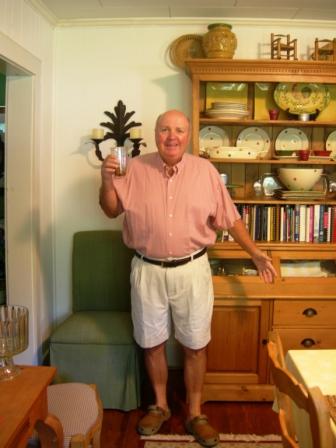 So maybe I am. I can see where this can be tablescape buff.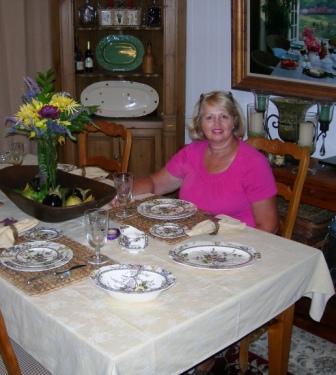 Do you like my new vintage china? Won't you join me for dinner?