The weather here has been absolutely beautiful for the past week or so with bright sunny days and low humidity which is perfect weather for painting. Leo and I cleaned out and reorganized our storage building, and I found two small pieces of furniture that I'd almost forgotten were in there. So I decided to redo one of them by painting it red.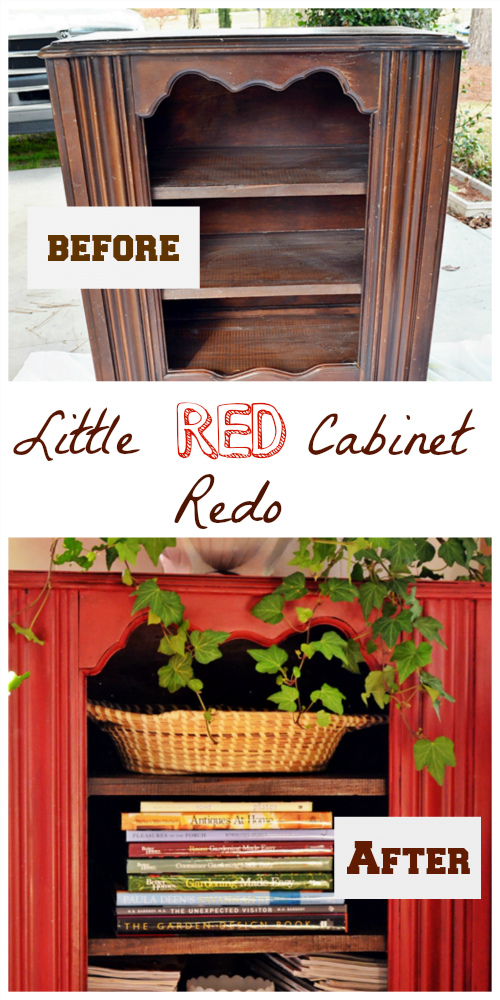 We had purchased this cabinet for next to nothing at the auction that we attend regularly. The auctioneer called it a music cabinet, and its shelves are about the right size for holding albums (remember those?) or sheet music. I tried googling music cabinets, but I never saw another one like it. So perhaps it's just a pretty little bookcase. Either way, I planned to put it in our den to hold.......MAGAZINES!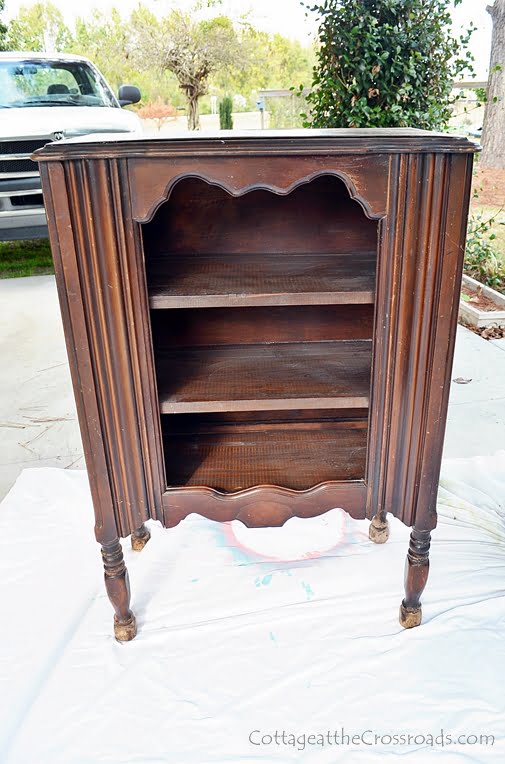 Yes, magazines! I subscribe to a number of them and love them dearly. Even though I go through them from time to time to discard them, they tend to pile up. Especially since I hang onto my favorites for about a year before I can bring myself to dispose of them. And since our home is small, every thing needs it own dedicated space. So I decided to turn this music cabinet/bookcase into a magazine rack. The original finish on the cabinet was worn and parts of it were veneer so I decided to paint it.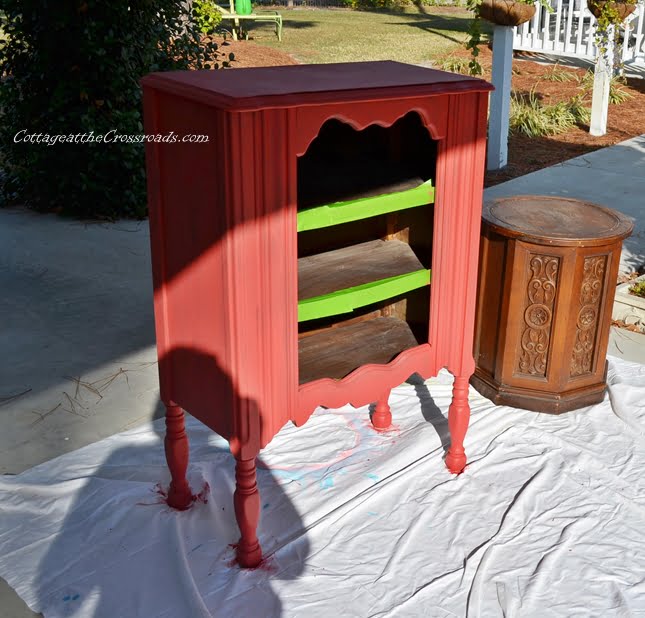 I mixed up some of my own homemade paint that has a chalky finish by using latex paint with Plaster of Paris. The reason I do this is because you don't need to remove the original stained finish before painting. The color that I used was Emperor's Red by Valspar and I mixed 2 parts paint with 1 part Plaster of Paris mixed with a little water. It's hard to give you an exact recipe but this is how I do it. I use a quart sized plastic container and pour about ½ cup Plaster of Paris in the bottom. Then I slowly add about ⅓ cup of warm water and mix thoroughly. If the plaster mixture seems thick, I'll keep adding a little more water until I have a nice mixture that is not too watery. Then I pour in about a 1 ½ cups of paint and stir A LOT until it's all blended together. I do need to tell you that the plaster tends to lighten your paint color so keep that in mind when you are choosing your paint color. After two coats of the chalky paint on the cabinet, I decided to deepen the color by pouring in a darker shade of red paint and applying another coat.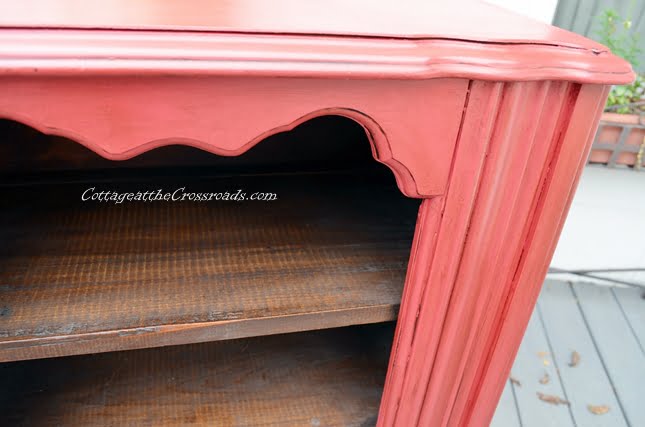 I did not paint the shelves inside the cabinet because I like a little contrast (and it's easier and quicker) to do it that way. After the paint had dried thoroughly, I waxed it with a layer of Annie Sloan's clear wax and then added some dark wax. The dark wax seeps into the crevices, adds definition to the piece, and deepens the color. I just love the finish that the deep wax gives to a painted piece! I let the waxes dry overnight and then I buffed it the next day with a clean, dry cloth.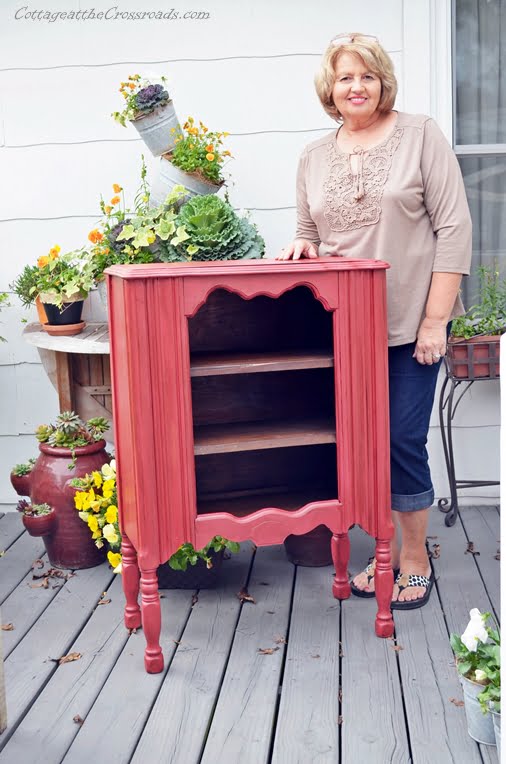 Here it it all ready to move into the house. I'm just always amazed at how paint can totally transform a piece of furniture. Leo grabbed the camera and snapped this pic of me with the little red cabinet.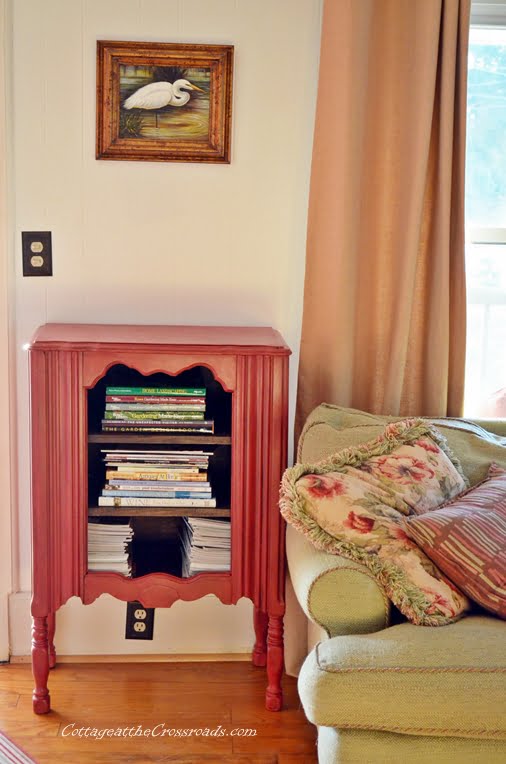 I placed the cabinet next to the sofa where I previously had a basket where I stashed my magazines. I started loading it up with books and magazines (I had to peruse a few of them while I was doing that) and left it that way for a few days.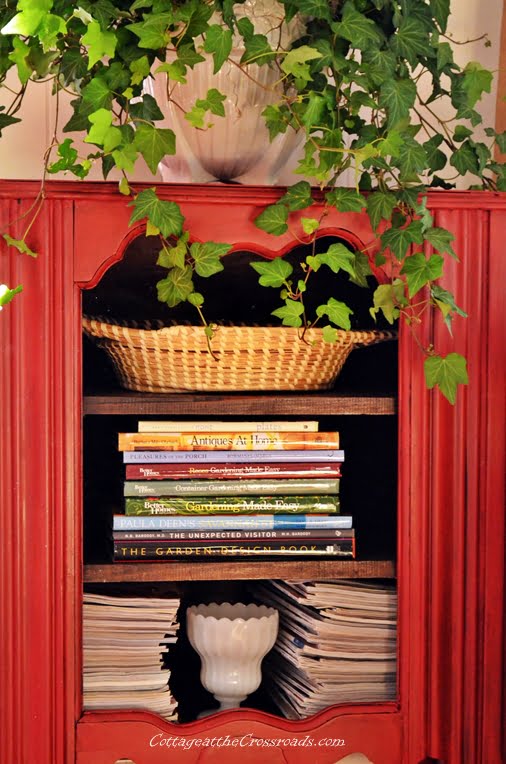 Until I got around to doing a little better styling of the shelves. The one thing that bothers me is that magazines are different sizes. Does that bother you? Consequently, they don't stack neatly. Really wish they were all a consistent size but I understand that some magazines increase the size to "stand out in the crowd."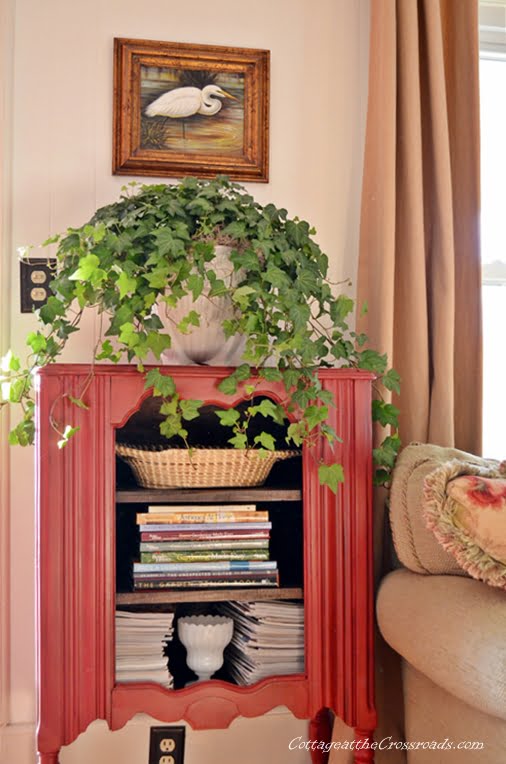 The newly painted cabinet is also the perfect place for the ivy, but Leo says it won't be there for long. Shortly it will have some Christmas decoration on top.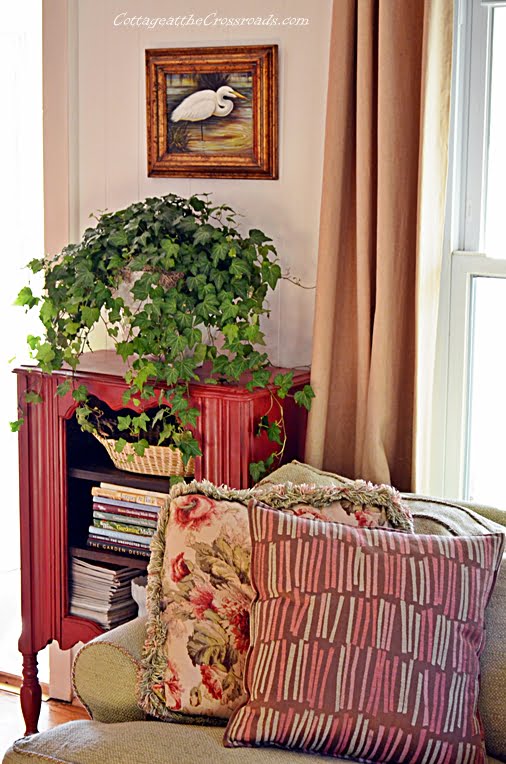 You can see how the red makes this little area pop and blends with the other colors used in the room.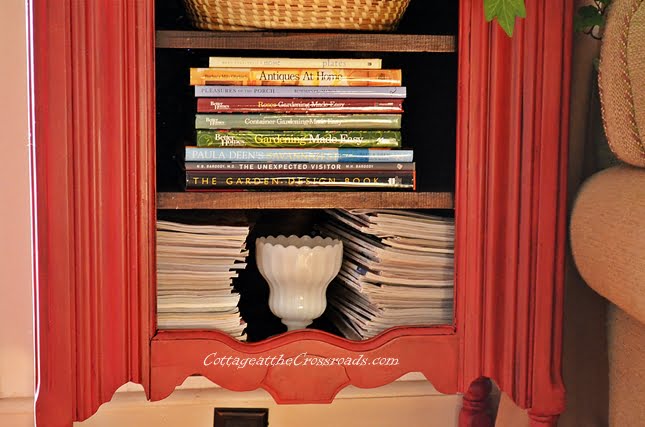 The magazines all have a new home and are much more accessible than when they were stored jammed into a basket.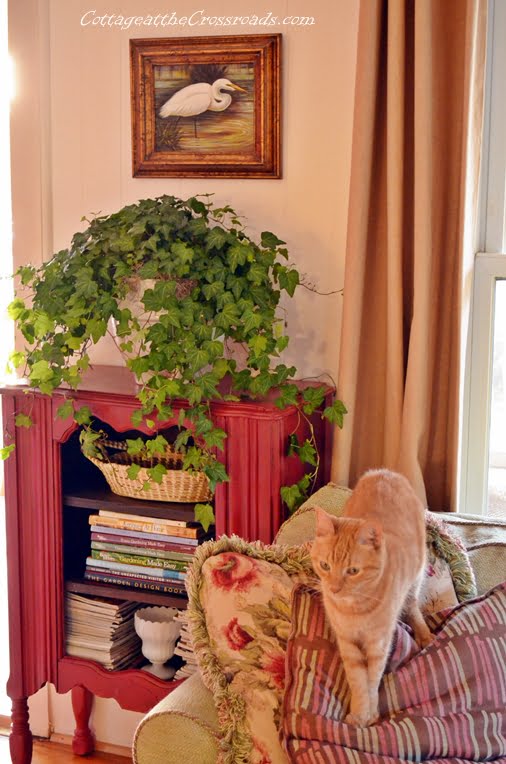 I think even Henry approves of the little cabinet redo!