All home gardeners know the joy of growing their vegetables in a home vegetable garden. Unfortunately, one thing that can easily compromise that joy is the damage in uncovered vegetable crops.
Leaving your vegetable garden beds uncovered leaves your crops exposed to pests and elemental damage, which is why more gardening enthusiasts are now choosing to invest in at least one bed cover for their garden space.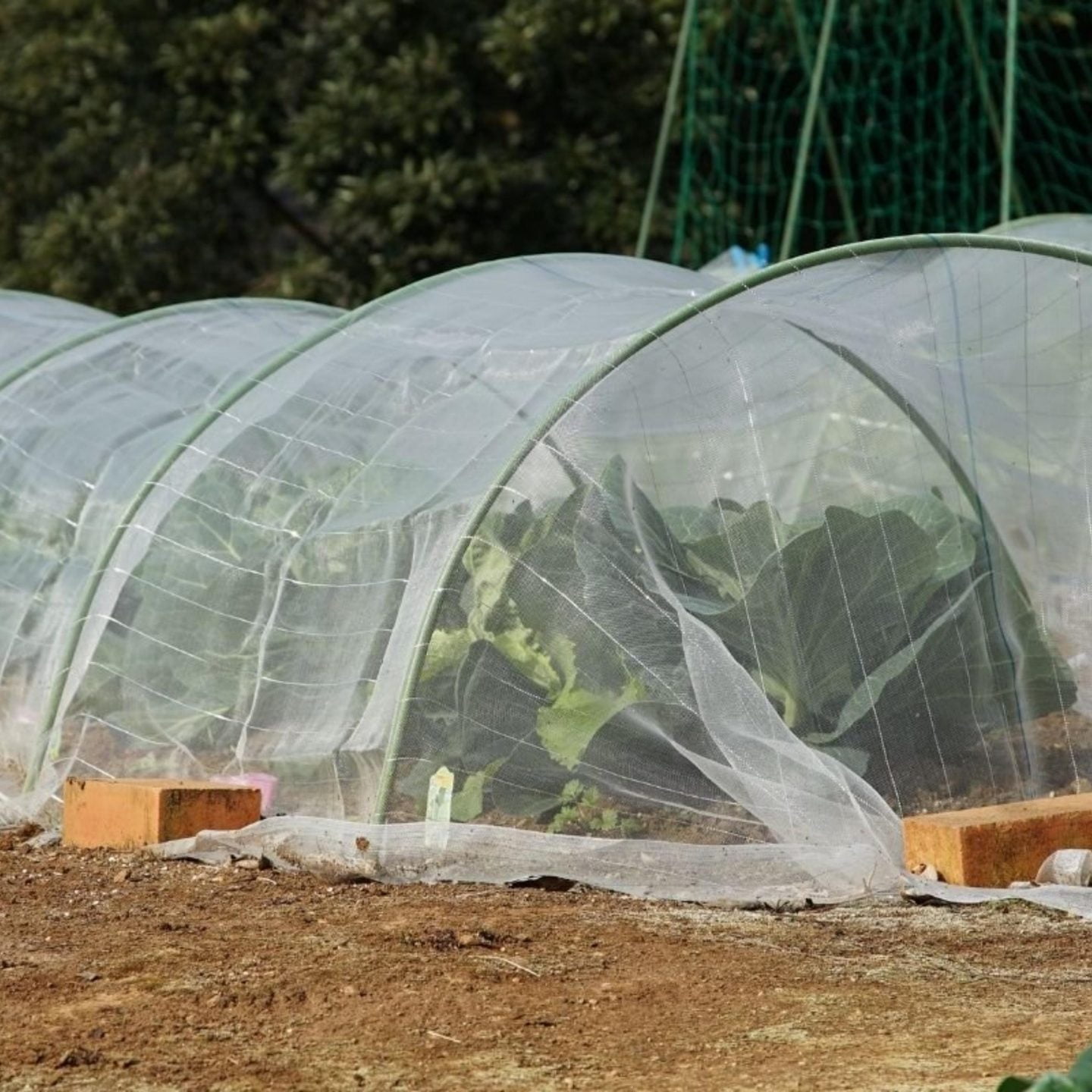 Contents
Vegetable garden bed covers include hoop tunnels, row covers, and cold frames, all of which can help protect your plants in any season.
However, if you're going to use garden covers of any kind, you need to know how to install and use them effectively so that your garden can derive the greatest benefit. That is what I will be explaining in today's article.
Why Should You Use Garden Bed Covers?
There are many reasons why you might want to use a vegetable bed cover to protect your vegetables.
Depending on what you specifically want to shield your vegetables from, one type of garden bed cover might be more beneficial than another.
I'll go into more detail about the different types of bed covers in a moment, but for now, let's think about some of the ways using some structure to protect your vegetables might benefit you.
Weather Protection
You and I might be used to bad weather now again, but a single bad storm can do irreparable damage to your plants. Severe wind and rain are known for destroying gardens.
Many garden owners choose to put up temporary covers when the weather forecast looks concerning. This way, you can have peace of mind regarding your beds, no matter the weather.
Pest Defense
Pests are some of the biggest dangers to garden crops. Pest infestations can take many forms and are often very difficult to reverse.
That's why I recommend using specific materials to defend your crops if you know that your garden is prone to pest infestation, or even as a precautionary measure if you're not sure.
If you're interested in finding out more about the different covers you can use to keep pests away from the fruits of your labor, see my section on netting and mesh below.
Seasonal Regulation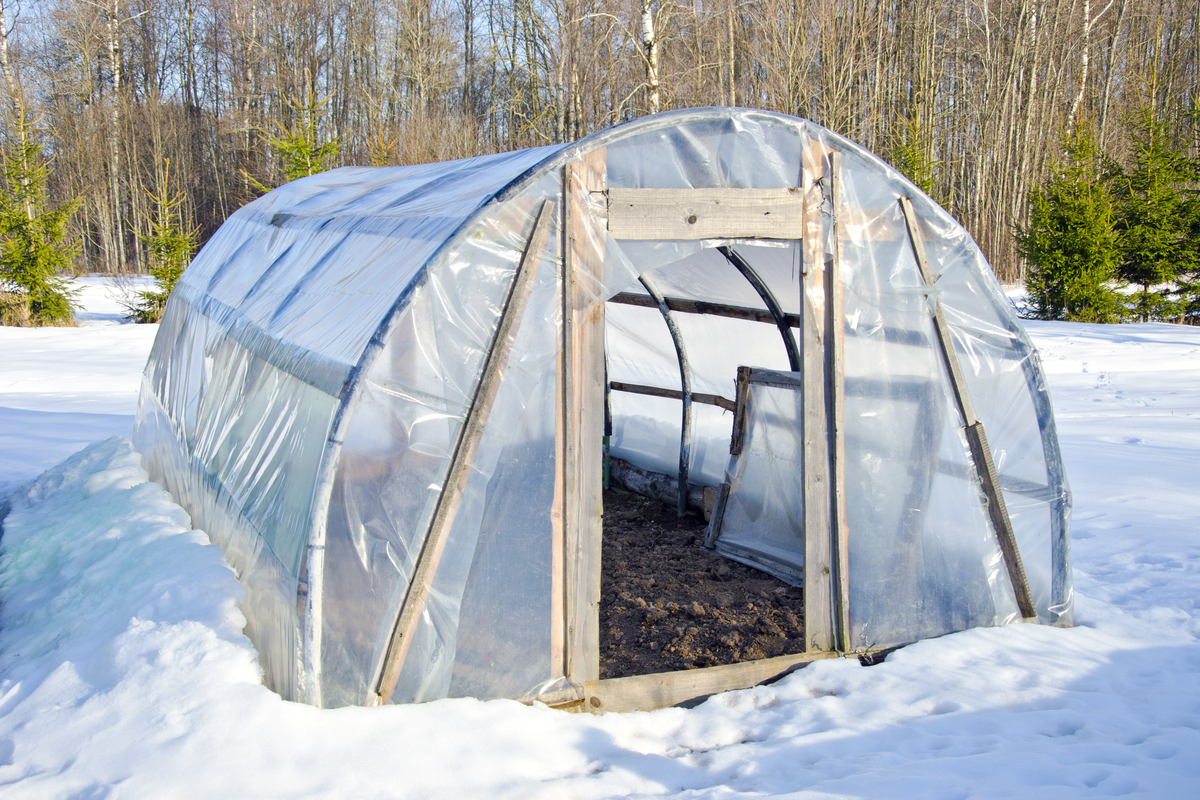 Beyond simple weather fluctuations, the seasonal changes between spring and summer or fall and winter can be difficult for some veggies to survive.
The sudden onset of frost, for example, can cause severe damage to plants that aren't used to these temperatures.
This is why protective structures like cloches, plastic sheeting, shade cloths, and frost covers exist so that you can create the ideal environment for your beds regardless of seasonal changes.
Whether it's spring, summer, fall, or winter, there are ways of keeping your vegetable beds healthy and happy.
Money-Saving
All of the above reasons for using covers and structures to shield things in your garden culminate into one massive advantage: you get to save money!
If your crops don't keep dying out due to weather conditions and pest infestations, you don't have to spend more money on seeds, soil, and other gardening expenses planting them all again.
Additionally, if you sell your garden-grown food for money, having more undamaged plants to sell will save you money over time.
Garden Bed Cover Types
As I mentioned earlier, before you invest in any cover for a garden bed, you need to determine what you want to protect its contents from.
To help you make the best choice, I've made a list of the main types of covers for garden beds, explaining what they are and how they work.
Remember, you can achieve a lot of these cover types through some simple DIY. You can also try different things to see what works for you.
Row Covers
One of the most common and effective covers for garden bed protection is a row cover. You might also have heard people refer to these covers as reemay.
They are covers made out of lightweight cloth or fabric, and their typical use is shielding plants from frost.
Row covers typically come in quite large sizes, which may be too large for your bed sizes.
However, you can always cut them down to size. High-quality versions of these covers are typically made with lightweight material that lets sunlight in without allowing any frost to get through.
Thicker materials might be even more effective at shutting out frost, but the problem is that they only let up to 50% of natural sunlight get to your crops.
Greenhouse Plastic
Also known as polyethylene sheeting, greenhouse plastic is one of the most durable methods of protecting your garden bed.
Some construction-grade plastic sheeting tears surprisingly easily, so it's important to check to ensure that the plastic is thick enough.
Six millimeters is ideal because it won't suffocate your plants by trapping excessive amounts of heat, but it will also be effective against weather damage.
You can sometimes buy greenhouse plastic pre-cut to the size you want. However, it's easier to buy a whole roll and cut pieces out of it. That way, you don't have to make a new purchase each time you need to replace the plastic.
Insect Netting and Mesh
If you're worried about any pest getting to your plants, your best option is to put some netting, mesh, or another kind of insect barrier material over your garden bed to keep them away.
Insect netting should be sufficient for keeping animals like flies, mites, and spiders out of your garden.
However, if you have a problem with a larger animal feasting on your produce, you might need to take stronger defensive measures. For example, many people use chicken wire to keep rabbits and deer.
When choosing netting or mesh to ward off insects, please ensure that the material lets enough light get to your garden bed. 95% of sunlight should be able to reach your crops, as well as water and air.
Hoop Tunnels
If stretching a piece of material over your garden bed doesn't seem to be helping your plants, try making some hoops out of wire or conduit instead.
This way, any fabric or plastic is held away from the crops, allowing for better ventilation and making them easier to care for.
For temporary hoops, use 9 gauge wire and make u-shaped hoops. For permanent structures, hoops should be closer to half an inch thick and made from metal or PVC conduit.
I especially recommend metal conduits if you live in an area with heavy snowfall, particularly during the winter season.
Shade Cloths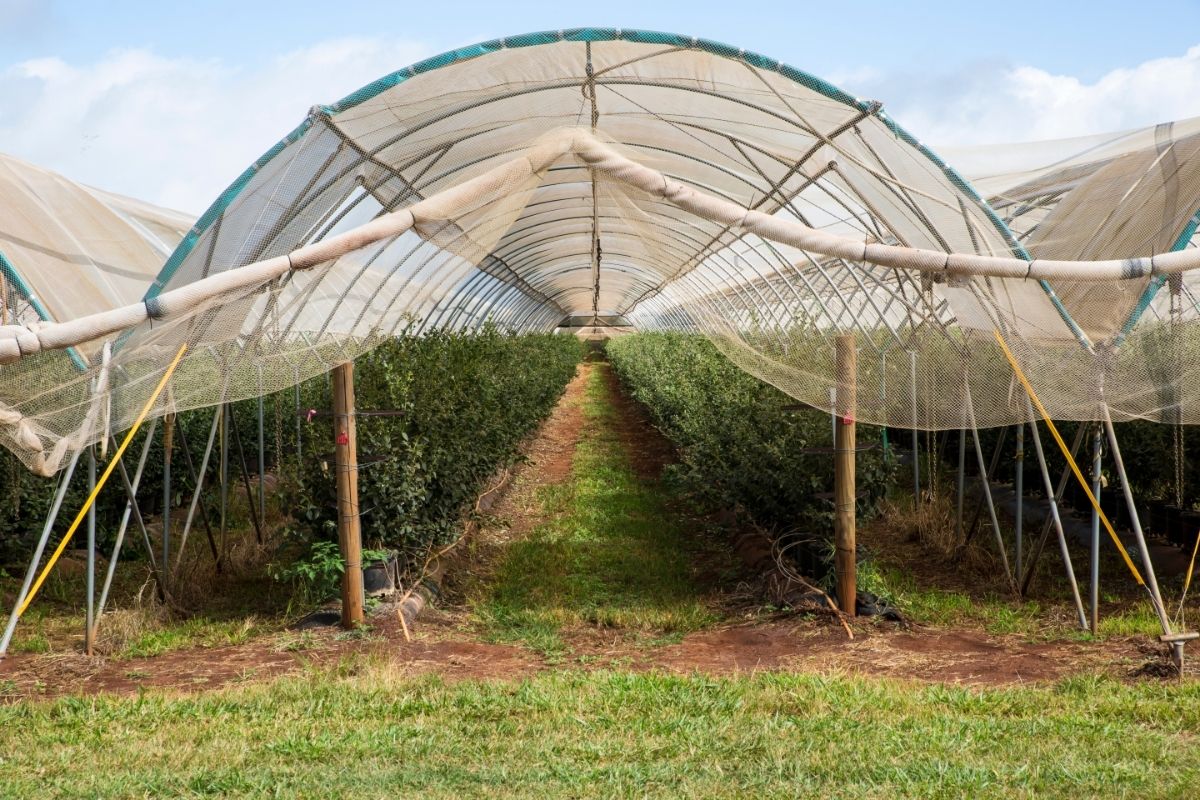 Believe it or not, there is such a thing as too much sunlight when it comes to gardening. Well, technically, the real issue is excess heat, but when you live somewhere with a lot of direct sunlight, this can quickly become the result.
If you think your veg needs a little more shade to thrive and not become dehydrated, one of the best investments you can make is a shade cloth.
Shade cloth is typically a dark piece of fabric with enough holes to let in water and light while shielding the crops underneath from heat damage and preventing the soil from drying out so quickly.
If you have a greenhouse or a garden that's filled with vegetables, you could even try hanging a shade cloth over the whole area.
Temporary Cloches
Cloches are temporary measures of protecting your crops from the cold.
They're not especially useful in winter because strong winds can dislodge them, but during milder seasons like spring and fall, which are still cooler compared to the summer, you can use a cloche to cover a plant that may need extra warmth.
Traditional cloches are made of glass, and while you can still buy these, they're not very practical because they break easily. Today, it's much more common to see cloches made of plastic.
You can also get creative and repurpose old items like empty milk jugs and juice cartons to use as cloches.
Cold Frames
Cold frames are like the bigger, more permanent version of cloches.
A cold frame is a wooden frame with a polycarbonate sheet over it designed to provide a sturdy method of heat retention during fall and early spring when the weather might be colder than your garden is used to during warmer seasons.
By sinking the frame into the soil, you'll be making sure that strong winds don't knock over these frames.
Temporary cold frames usually feature a polycarbonate frame as well as polycarbonate sides.
These frames are more portable, so you can move them around your garden if needed, but they're also more lightweight, so if you get strong winds in your area, it might be best to commit to more permanent structures.
Using Garden Bed Covers for Best Results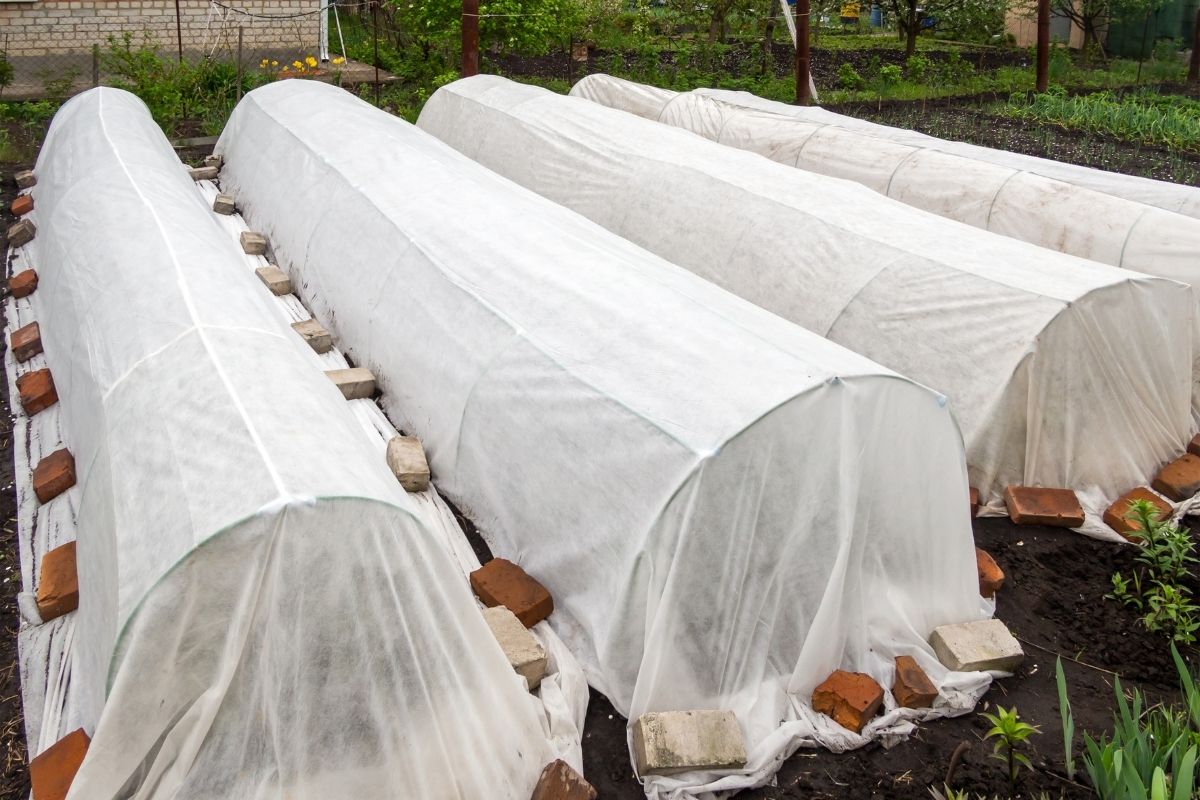 Ensure Proper Ventilation
It's easy to accidentally harm a garden bed by now, allowing for proper ventilation when installing a cover. That's why I strongly recommend using structures like hoops to hold any fabric or plastic up and away from the crops themselves.
Even when using hoops, it's a good idea to check the temperature under your covers using an indoor or outdoor thermometer now and again, especially during the summer season.
If you find that the temperature has climbed to a few degrees above freezing, open the ends of any hoop tunnels to let some cool air in.
Alternatively, if your concerns were purely cold-related and the weather is now warmer, you might consider removing the cover altogether.
Secure Covers Firmly
Whether your covers are temporary or long-term, you should ensure they are secured as firmly as possible to prevent wind, rain, and snow from affecting their positions.
You can weigh the sides of any fabric or sheeting down with stones, logs, or other weighted items.
Alternatively, invest in some snap clamps, which you can use to attach different materials to hoops if that's the kind of construction you're going for. Check on these weighing or clamping measures regularly to ensure they are still in place.
Monitor Pest Presence
Even if you've installed anti-insect mesh, netting, or wire in your garden, you should still check your garden for pests. After all, a single tiny hole in your setup can provide a warm home for mice.
You think you're protecting your crops, and the next thing you know, you have a family of rodents on your hands in exactly the place you were trying to guard.
If you know that you have previously had pest issues in your garden, it's wise to use metal mesh for reinforcement. For example, layer up the sides of your cold frame with metal mesh to stop any unwelcome visitors from slipping under.
Adjust Water Accordingly
Covering up a plant, especially during the summer, can quickly cause heat to build up. This, in turn, can make gardens more dehydrated and cause soil to dry out.
Therefore, if you've recently covered a bed in your garden, you should carefully monitor your plants' water consumption.
Check the moisture content of any soil that is covered by plastic, a shade cloth, or anything else. If the soil feels overly dry or the veg seems to be wilting, add more water. Please don't overdo it, though!
It's straightforward to do this in the winter, but remember that frozen soil inhibits transpiration, so water is much less likely to evaporate from your crops.
Related Gardening How-tos
From planning your garden, building structures, and growing vegetables, you'll find fantastic gardening resources we use in our cottage garden.
Essential Row Covers
Garden row covers are essential for both new and experienced gardeners. Protect your plants from early frost, high winds, and hungry animals.
Frost Protection spring, winter, and shoulder seasons
Tunnel Row Covers
Row protection for animals:
Conclusion
Whether you're worried about a surprise storm destroying your gardening work, or pests munching on your tomatoes, there are covers you can put in place to minimize any damage.
You can install shade cloth, cloches, cold frames, row covers, and plastic for weather-related concerns. To protect against pests, netting, mesh, and plastic can also work.
You can make some hoops out of wire or conduit for better ventilation and easier access.
Using covers for vegetables goes beyond simply installing them. Make sure that you're continually monitoring the temperature and moisture content of the soil, taking care to adjust for seasonal changes where appropriate.
Ensure your structures are secured into the ground and regularly check for pests that might have slipped through your defenses.