Y'all already know that we've had a bumper crop of tomatoes this summer, don't you? Well, it seems like all I've been doing lately is "putting up tomatoes," trying to preserve all that wonderful summer flavor to enjoy this winter. If you'd like to capture that flavor, too, then I have a great recipe for you today.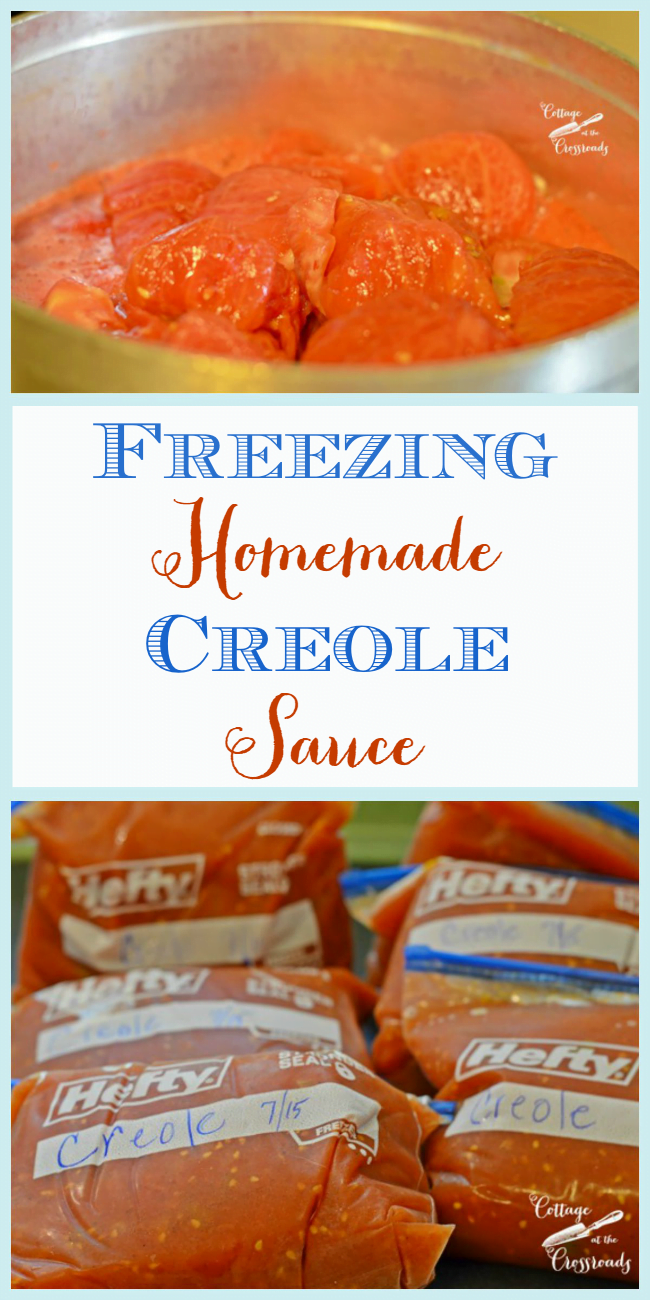 Recently I was talking on the phone with my friend Gay Jeffords, and she was telling me that she uses some of the tomatoes that she and her husband grow to freeze shrimp creole sauce. My ears perked up and I asked her if she minded telling me how she made her sauce. So she quickly told me how she did it without really giving me any specific amounts of the ingredients. So the next day I made a big batch of her sauce and froze 11 gallon size baggies of the stuff! Oh, lawd! This sauce is so simple and so delicious. I'm sure Gay won't mind me sharing her recipe with you guys so here goes.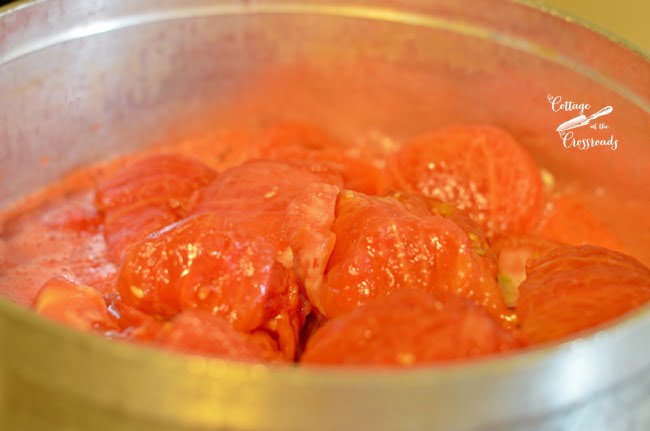 The first thing you're gonna need is some fresh tomatoes and a lot of them! If you don't have a garden, you can always buy a box of them at a farmer's market. I can't really tell you how many pounds of tomatoes you will need because I just skin and cut up enough to fill a 10 gallon stock pot two-thirds full. To quickly remove the skins, just cut a small X on the blossom end of each tomato, dip it in boiling water for about 1 minute, and then place it in ice-cold water. (I put them all in my sink while I'm doing this!) The skins slip off easily and you can core them at the same time.
Once your pot is about two-thirds full, cook the tomatoes over medium high heat until they soften and start breaking apart. To hasten that process, I use a flat end spatula to break them apart which releases all those wonderful juices. Continue to cook them for an additional 30-45 minutes.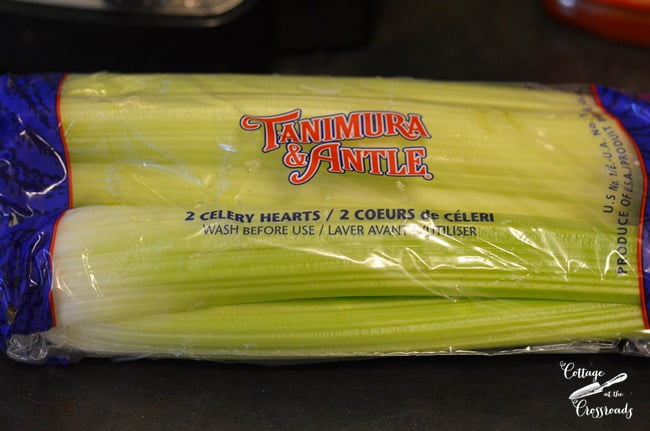 Meanwhile, wash and chop a bunch of celery! I actually used both of these bunches and ended up with about 2 cups of chopped celery.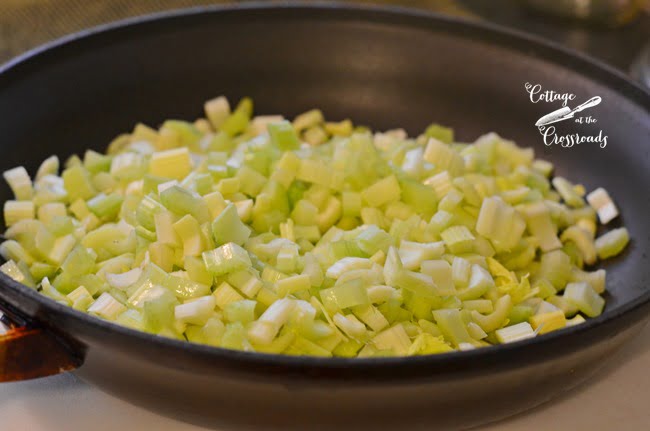 Saute the celery in 1 tablespoon of olive oil and then add them to the cooked tomatoes.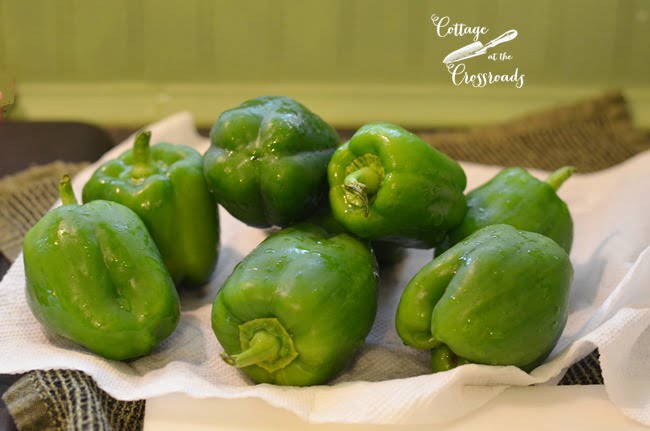 These are some green peppers from our garden, and I washed and chopped about 8 medium sized ones. If you are using larger peppers, you would use less.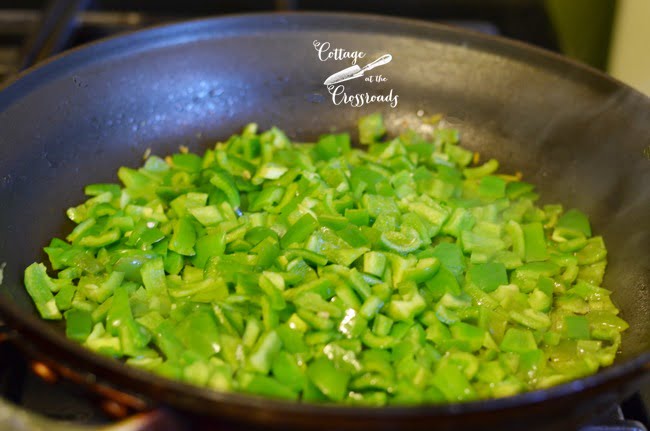 Once again, I ended up with about 2 cups of chopped peppers and sauteed them in another tablespoon of olive oil, throwing them into the pot as well.
Now, to be a true creole sauce, you would use the "Holy Trinity" which is a mix of chopped celery, green peppers, and onions. But I'll just have to admit that I was a little tired of chopping at this point so I left them out thinking that I can just add them later when I use the sauce.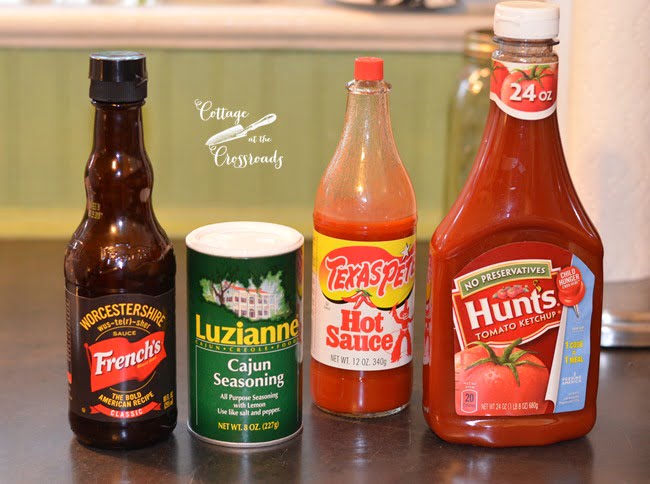 Now it's time to add the seasonings! The actual amounts that you will use will depend on the volume of the tomato mixture as well as how hot and spicy you like it. Just improvise and taste until you get it how you like it. (I've added suggested amounts in the recipe below.) And be careful if you're using Tabasco sauce instead of Texas Pete because it is WAY hotter!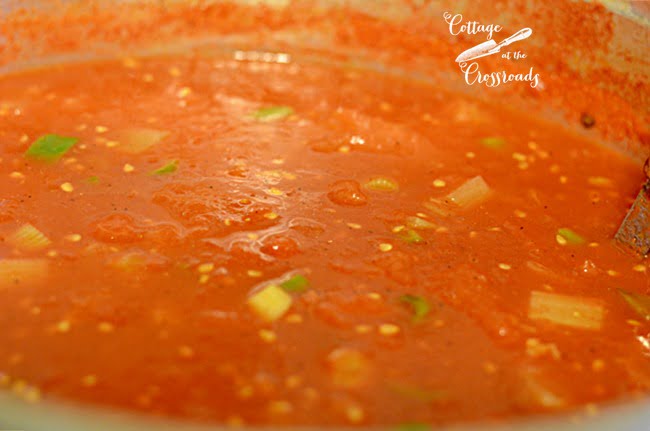 Stir and simmer the sauce for an additional 30 minutes or so. Then remove from the heat and let it cool completely which may take a few hours.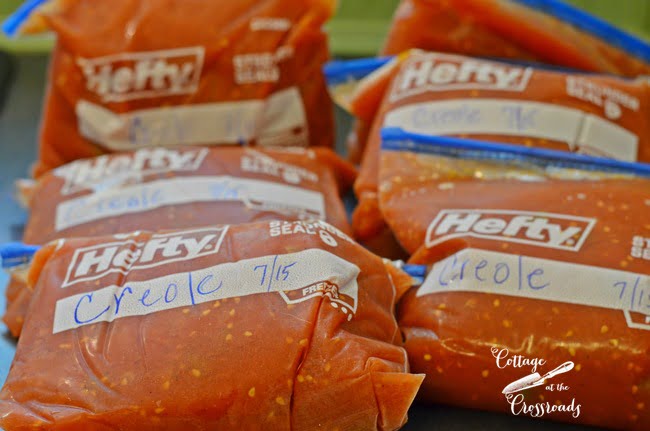 Fill either quart or gallon sized freezer bags with your sauce, removing as much air from the bags as you possibly can. I've found that the easiest way to do this is to lie them flat on the counter, open the zip just a bit, and squeeze out just a tiny bit of sauce and reseal. Wipe the bags to remove any sauce that may be on the outside before placing in your freezer.
Trust me, this sauce is AWESOME! I had some left over when I made the first batch. So I poured it over some cooked brown rice, added some chopped cooked bacon along with some chopped fresh basil. OOOOoooooWEEEeeeee! The essence of summer!
And I can't wait to use it in making some traditional shrimp creole as well in other recipes that call for spicy, diced tomatoes. 
Looking for more canning recipes? Check my best mason jars recipes collection with delicious recipes that you can make at home.
Here's the complete recipe for your convenience but just remember that all measurements are approximate.
📋 Recipe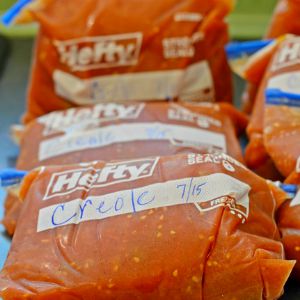 Homemade Creole Sauce
A delicious creole sauce that can be easily frozen to use later.
Ingredients
25

pounds

of fresh tomatoes

cleaned, skinned, and cored

2

bunches celery

chopped

4-5

large green bell peppers

chopped

2-3

large onions

chopped

3

tablespoons

olive oil

divided

4

ounces

Worcestershire sauce

8

ounces

Texas Pete hot sauce

1

24 ounce bottle ketchup

4

tablespoons

dry Cajun seasoning
Instructions
Add the skinned and cored tomatoes to a large stock pot and cook over medium high heat for 30-45 minutes, stirring and chopping occasionally.

Saute the chopped celery in 1 tablespoon of olive oil and add to the cooked tomatoes.

Saute the chopped green bell peppers in 1 tablespoon of olive oil and add to the mixture.

Saute the chopped onion in 1 tablespoon of olive oil and stir into the tomato mixture.

Add the Worcestershire sauce, Cajun seasoning, hot sauce, and ketchup.

Stir to mix thoroughly and simmer for an additional 30 minutes.

Remove from the heat and allow the mixture to completely cool.

Ladle into quart or gallon sized freezer bags, wipe bags clean, and place in the freezer.

Use within 6 months.
Notes
When heating the sauce to use in recipes, add a bay leaf and the juice of half of a fresh lemon.
You are going to enjoy this sauce, I "ga-ron-tee" it!
Laissez les bon temps rouler!