Christmas is a comin' everyone! I've made up a big batch of Homemade Cinnamon Coffee Liqueur to warm those cold, dark nights ahead, and I'm giving it to a few special friends.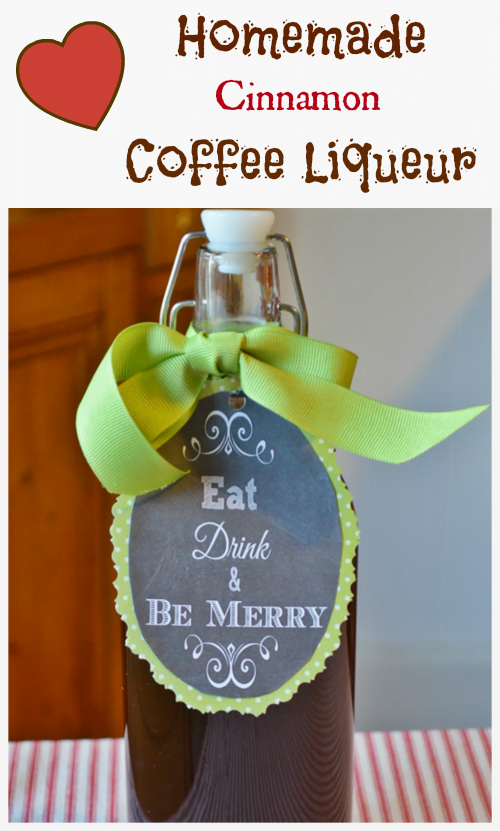 Now why would I want to make my own when you can easily buy coffee liqueur? Well, it's cheaper and tastes so much better. A lot of what you buy is cloyingly sweet, and I go for more intense coffee flavor. Plus I wanted to add a little cinnamon flavor as well.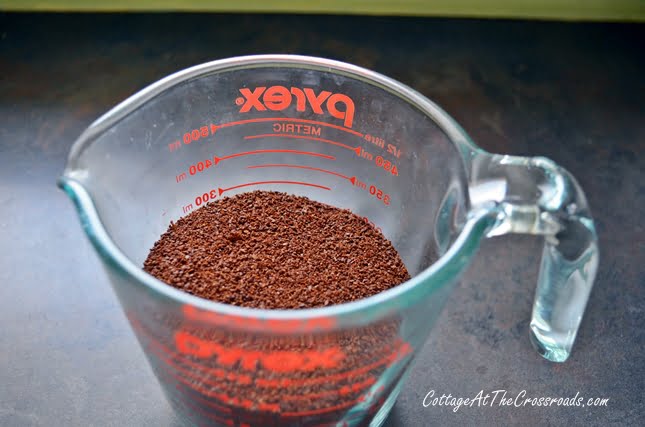 To make this, you will need 1 ¼ cups of finely ground coffee.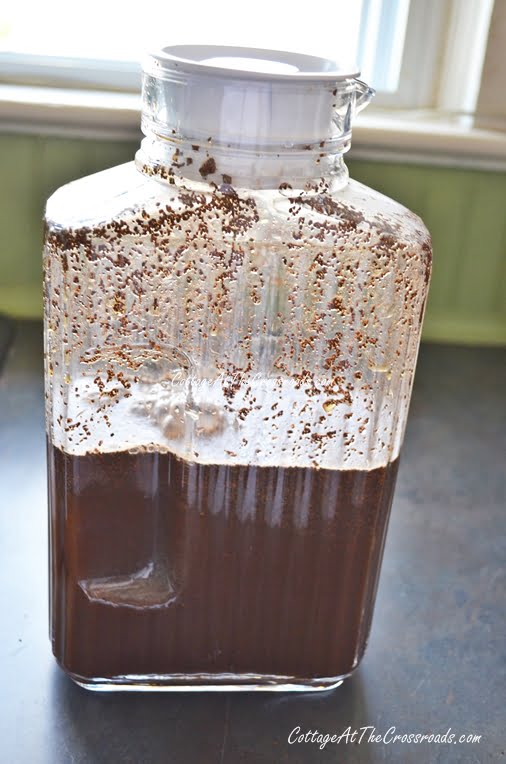 Pour the grounds into a glass container and add 2 ¼ cups water. Shake it up and store in the refrigerator, covered, for 24 hours. This is called the cold brewing method of making coffee.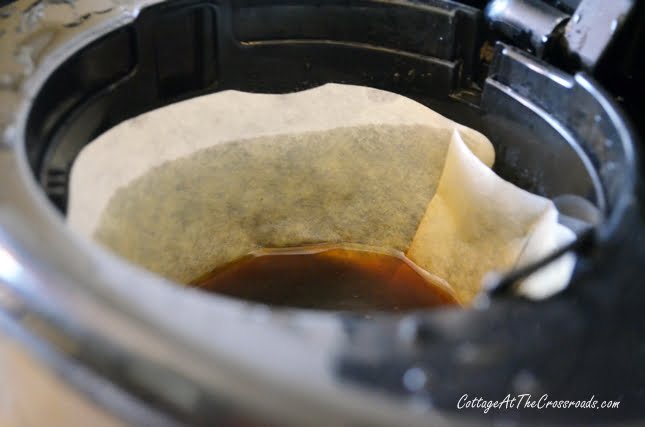 The next day, strain the grounds from the coffee mixture.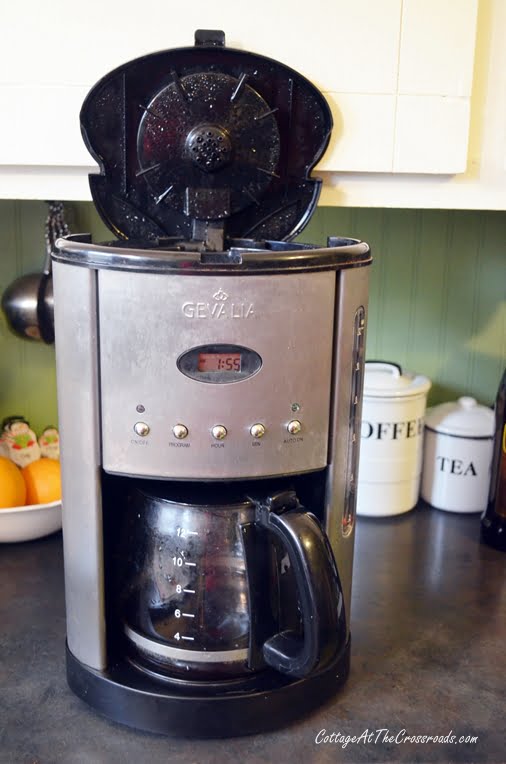 I used my regular coffee brewer to do this, but this is a slow process. Only pour in a little bit at a time and let it drain into the coffee pot. Do not turn on the brewer. You are merely using it to remove the grounds from the coffee. (You could easily use a coffee filter in a strainer but this worked for me.)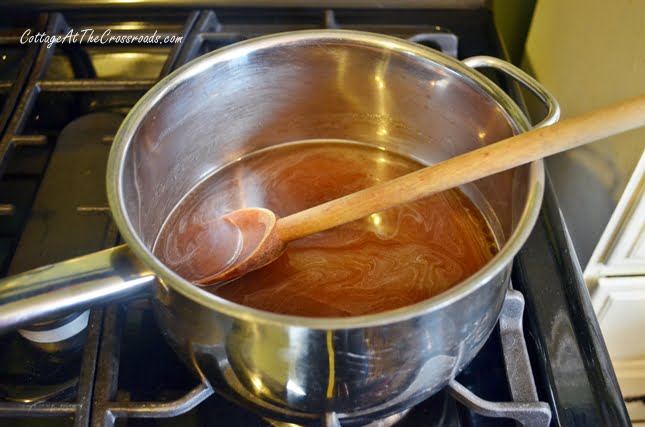 Meanwhile, make a simple syrup by adding 1 ½ cups granulated sugar, ½ cup brown sugar, and 2 cups of water to a saucepan over medium heat. Stir and bring it to a boil and then immediately remove it from the heat. Allow the mixture to cool for 5 minutes.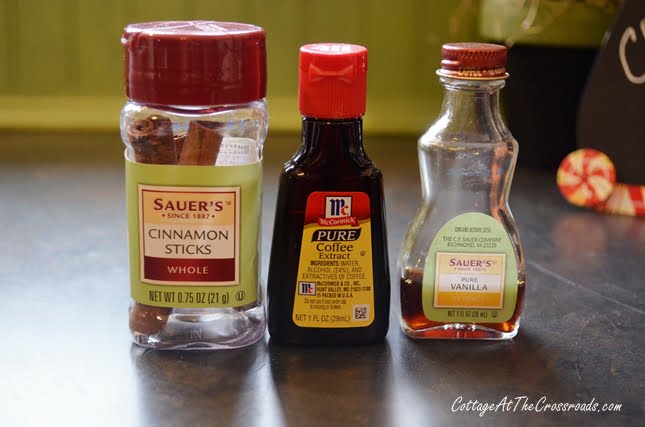 After the simple syrup has cooled a few minutes, add 2 sticks cinnamon, 2 tablespoons each of coffee and vanilla extract. Stir to blend and allow the syrup to cool completely.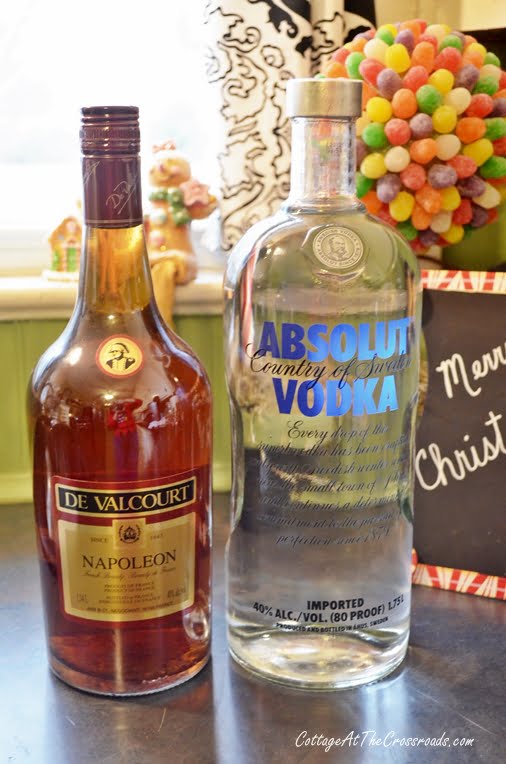 After the simple syrup has cooled, remove the cinnamon sticks and pour it into the glass container with the coffee mixture. Add 1 ½ cups vodka and ¾ cups brandy.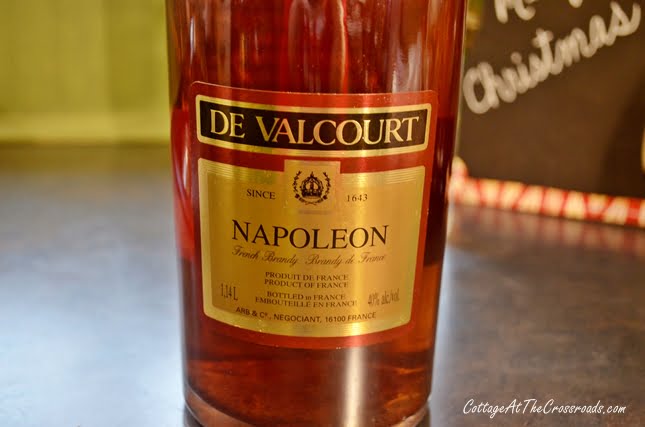 This is the kind of brandy I used simply because I had it on hand. It's been aging in our cabinet for a few years now. This is a medium priced brandy-don't be tempted to use cheap brandy (or vodka either!)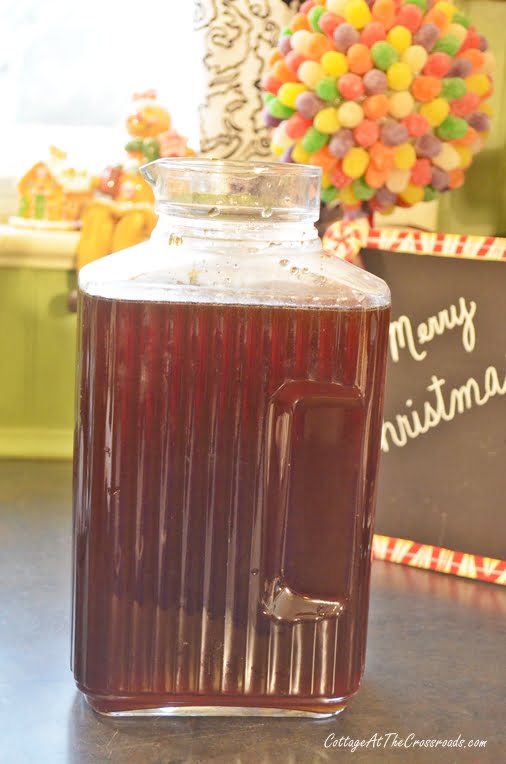 This recipe made almost 2 quarts.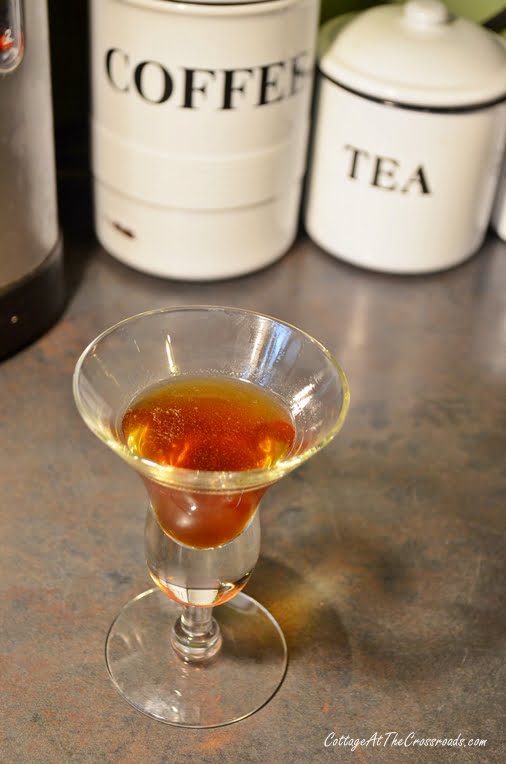 I had to pull out a cordial glass to give it a taste test. Perfect for sipping now, but it will improve in flavor with time.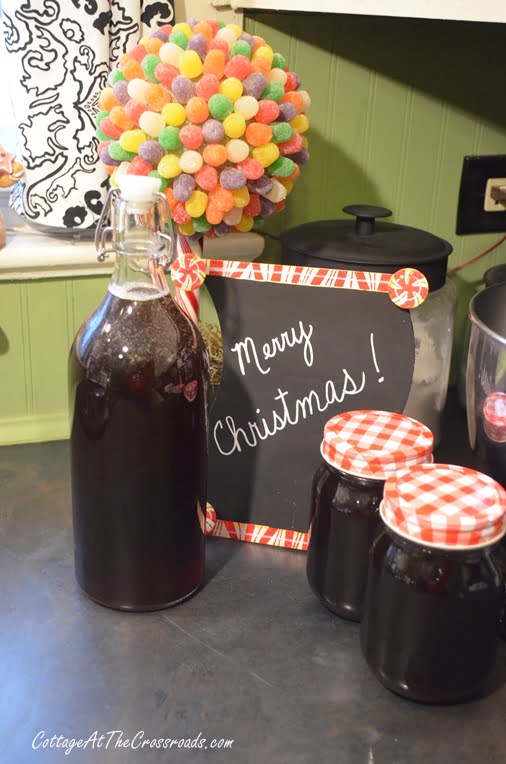 Using a funnel, I poured the coffee liqueur into an Ikea glass bottle and 2 pint Mason jars. I'm pretty sure the Ikea bottle is quart size.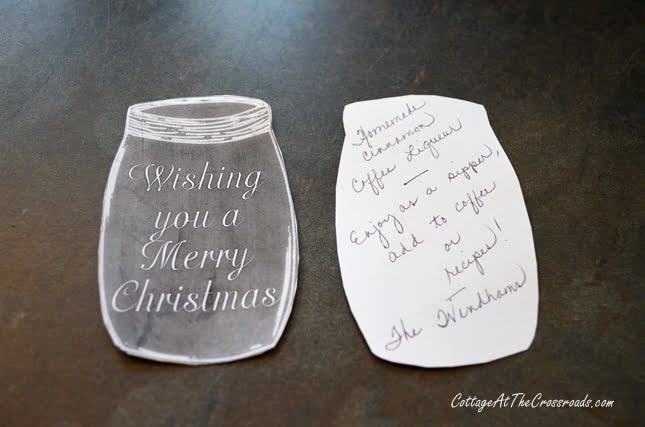 I printed a couple of these mason jar chalkboard gift tags from Crafts with Jars.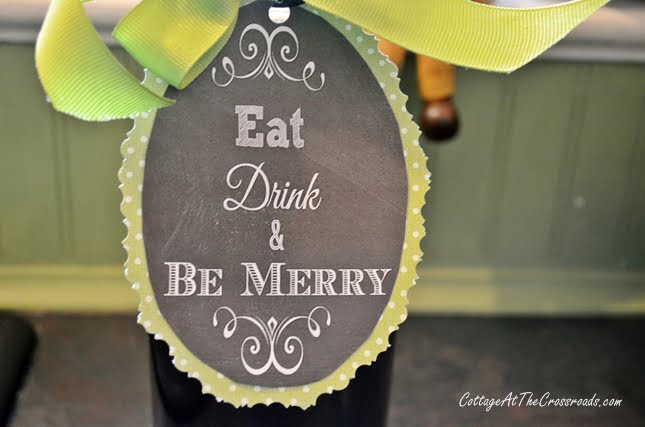 And then I created this larger chalkboard tag available HERE.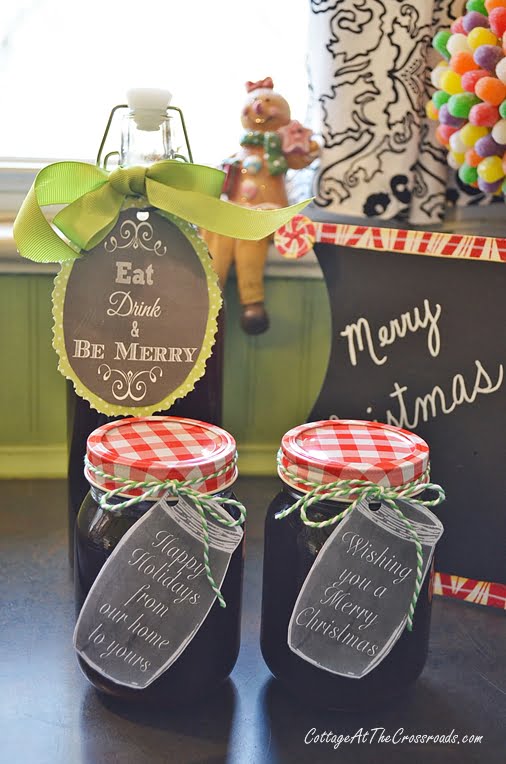 Tied the tags on and this last minute hostess gift is ready!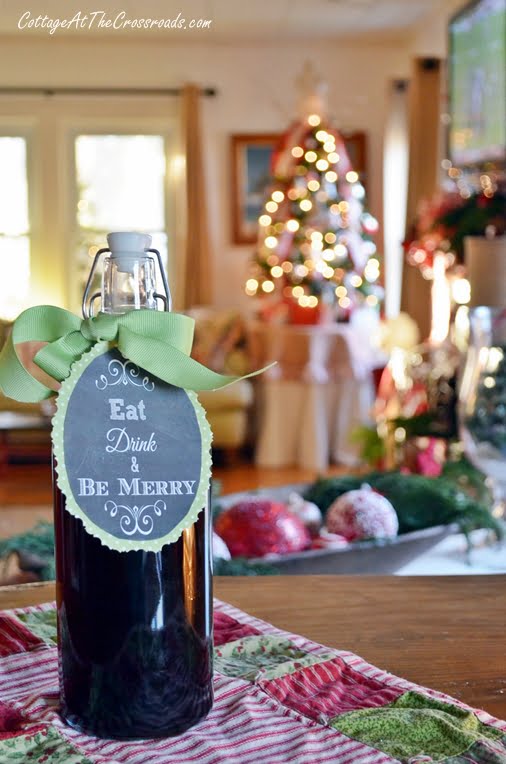 I'm thinking I should make up another batch just in case someone unexpected drops by the Crossroads during the holidays! If you'd like a printable version of this recipe, click HERE.