Mangoes are undoubtedly the "king of fruits," as they bring a unique blend of sweet and tart tastes that can brighten any recipe.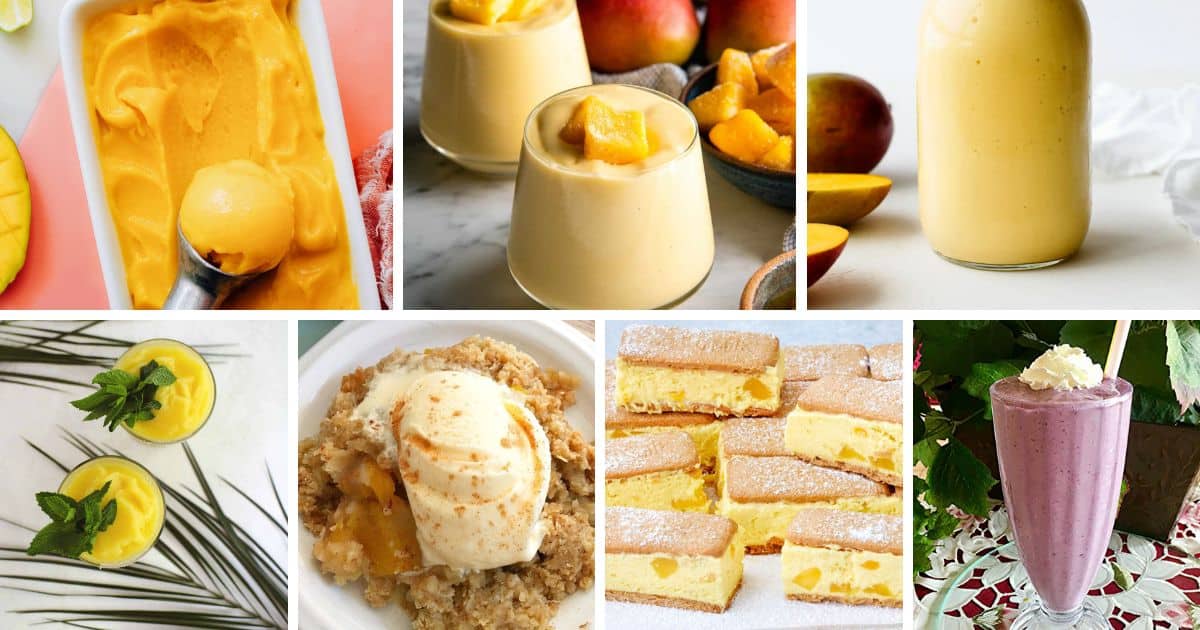 Regardless of the hour or season, a mango-infused indulgence is always welcome. That's why we've compiled 40 Frozen Mango Recipes that offer a wonderful exploration of the breadth and depth of this fantastic fruit.
This adaptable fruit takes center stage in a myriad of dishes, and each recipe was chosen for its innovative use of frozen mango, turning the common fruit into an array of gourmet delicacies.
For example, you can savor the rich creaminess of mango yogurt or the intoxicating coolness of a mango sorbet. Alternatively, if your palate yearns for something more filling, the mango cheesecake and wagyu beef brisket adorned with a mango glaze will certainly impress.
Let's explore!
Contents
This simple recipe combines sweet, ripe frozen mangoes with the smooth creaminess of yogurt and a touch of honey. Perfect for hot summer days, it makes a refreshing and healthy dessert alternative.
If you're inclined towards tropical tastes, this fusion of banana, frozen mango pieces, and cashew butter, amplified by a hint of turmeric, could become your new favorite beverage. Its vibrant, gratifying flavors make it an excellent morning energizer.
This sorbet recipe, made from fresh mangoes, sugar, and lime juice, puts the spotlight on the natural sweetness of the mangoes. Serve it after dinner for a refreshing palate cleanser.
Here's a mango sorbet that requires only three ingredients and no ice cream maker. The addition of maple syrup and lime juice creates a perfect balance of sweet and tart flavors.
This minimalist recipe highlights the natural flavor of frozen mango, transformed into a simple, one-ingredient sorbet. It's a great base for an array of dessert toppings or a refreshing treat on its own.
This recipe brings together fresh mangoes, a frozen banana, and dairy or dairy-free milk and yogurt to create a creamy and satisfying drink. Enjoy it as a healthy breakfast or a quick snack.
This variation of a mango smoothie calls for lite coconut milk and Greek yogurt for a tangy twist. Sweetened by honey and flavored with vanilla, it's akin to a tropical escape in a glass.
This recipe upgrades a classic peanut butter and banana smoothie by introducing an exciting element with mango pieces. It's a protein-rich concoction that will fuel your day and appease your flavor cravings.
This recipe is a harmonious blend of fruits and vegetables, incorporating mango, papaya, carrot, and yellow pepper. A hint of ginger and fresh mint leaves injects an invigorating spark, perfect for a revitalizing breakfast or midday refresher.
This classic Mexican beverage boasts ripe mangoes, lime juice, and chamoy for a fusion of sweet, sour, and spicy notes. Savor it on a sweltering day, with or without a dash of tequila or rum.
These playful and fruity popsicles use Greek yogurt, honey, and ripe mangoes as their foundation. Garnished with a variety of toppings, they're bound to please both children and adults.
This dessert combines frozen mango chunks with a crumbly oat topping, creating a comforting and fruity treat. A hint of lemon juice brings out the brightness of the mangoes.
This intriguing dessert merges the tropical sweetness of mango with the robust flavor of coffee. Accented with vanilla ice cream and pineapple chunks, it offers an unexpected and delightful flavor combination.
This dessert showcases the versatility of mangoes. Enhanced with orange juice and a buttery crumble topping, it offers a delicious contrast of textures and flavors.
This easy recipe turns frozen mango chunks, cream, honey, and lime juice into a creamy ice cream. Enjoy it on its own or with your favorite toppings for a tropical dessert treat.
This version of mango ice cream adds a hint of ginger for a warming note. It's a delightful fusion of flavors that's as refreshing as it is indulgent.
This recipe calls for fresh mango, low-fat cream, and coconut meat to create a frozen dessert with a tropical twist. The addition of lime zest adds a zingy freshness to the creamy treat.
This dessert showcases the lushness of whipping cream and the sweetness of mango puree. A splash of lemon juice tempers the sweetness, making it a delightful post-meal treat.
This smoothie formula brings together banana, mango pieces, cucumber, and spinach, forging a nutritious and tasty drink. The inclusion of cashew butter imparts a smooth texture, while toasted sesame seeds infuse a nutty nuance.
This dessert features layers of biscuits, cream, and thawed mango. Finished off with a dusting of icing sugar, it's an easy and delightful treat for mango lovers.
This sweet-tart drink unites sparkling water, frozen mango, and lemon juice to create a revitalizing beverage. It's the ideal refresher on a scorching summer's day.
Take in the taste of the tropics with these frozen bars that combine refreshing mango puree and tangy yogurt. A hint of cardamom and a crunchy granola foundation transform these into a tasty, guilt-free dessert or snack.
This dynamic mixture of strawberries, blueberries, and mango yields a luxurious, smooth milkshake. Crowned with a potential dollop of whipped cream, it presents a creamy, fruity pleasure guaranteed to inject brightness into any day.
This milkshake combines frozen mango chunks and mixed berries with vanilla ice cream for a sweet, creamy delight. It's the perfect treat for those craving a cold, fruity dessert or a decadent afternoon snack.
This salad dressing brings a sweet and spicy kick to any salad with a blend of frozen mango chunks and minced habanero peppers. The rich mix of buttermilk, mayonnaise, and ranch dressing mix adds a creamy balance.
This smoothie bowl brings together tropical pineapple, banana, and mango, combined with creamy apricot yogurt and nut milk. Topped with crunchy granola and juicy blueberries, it's a nutritious breakfast that feels like a treat.
This hearty breakfast bowl incorporates desiccated coconut, almonds, and dates, with frozen and fresh mango for a tropical twist. A dollop of Greek-style yogurt adds a rich, creamy contrast to the crunchy muesli.
This frozen delight combines mango chunks, a banana, and vanilla almond milk, topped with coconut cream. The addition of goji berries and chia seeds brings a boost of nutrients to this refreshing breakfast bowl.
These margaritas feature tequila, Cointreau, and margarita mix with a twist - the inclusion of frozen mango. The result is a frosty, tropical cocktail that's perfect for summer parties or a relaxing evening at home.
This cake recipe uses yellow cake mix and jello cream cheese pudding as a base, with freeze-dried mangoes adding a burst of tropical flavor. The different flavors, from strawberry to vanilla, add complexity to this delightful dessert.
This simple frozen yogurt recipe combines juicy mangoes, Greek-style yogurt, and thickened cream. Topped with fresh strawberries, rockmelon, and assorted lollies, it's a colorful, fun dessert that's sure to impress.
This smoothie blends ripe banana, frozen mango, and blackberries or blueberries for a burst of flavor. The addition of flaxseeds adds a nutrient boost, making this a great choice for a nutritious breakfast or snack.
These tropical muffins incorporate diced mango into a classic muffin base, resulting in a sweet and fruity treat. Ideal for breakfast or a mid-afternoon snack, these muffins are a crowd-pleaser.
This frozen yogurt recipe combines ripe mango pieces with a hint of zingy fresh ginger. The coconut milk and vanilla extract establish a silky, creamy foundation, culminating in a refreshing and flavorful dessert.
This brisket recipe interweaves sweet and spicy notes by glazing Wagyu beef brisket with a peach and mango sauce. Jalapenos provide a touch of heat, rendering this a perfect main dish for those who appreciate a hint of spice.
This breakfast smoothie blends frozen mango chunks with banana and oats for a hearty start to the day. The addition of orange juice adds a burst of citrus flavor, making this a refreshing breakfast option.
This sorbet is a sweet, tropical blend of frozen mango chunks and creamy coconut milk. The addition of honey provides a natural sweetness, making this a delicious, dairy-free dessert option.
This smoothie is a fusion of apple, spinach, mango, and a hint of lime Perrier, resulting in an invigorating, nutrient-packed beverage. It serves as an ideal energy boost, brimming with vitamins and subtly sweetened by agave nectar.
This recipe gives the classic lemonade a tropical twist by adding ripe mango. It's a refreshing, fruity beverage perfect for hot summer days or any time you need a refreshing pick-me-up.
This tropical cocktail blends rum with frozen mango and mango orange juice, creating a smoothie with a kick. It's a fun, fruity drink that's perfect for summertime parties or a relaxing evening by the pool.