Today I'm sharing our gingerbread decorations in our mudroom/laundry room and I have something new in there, too!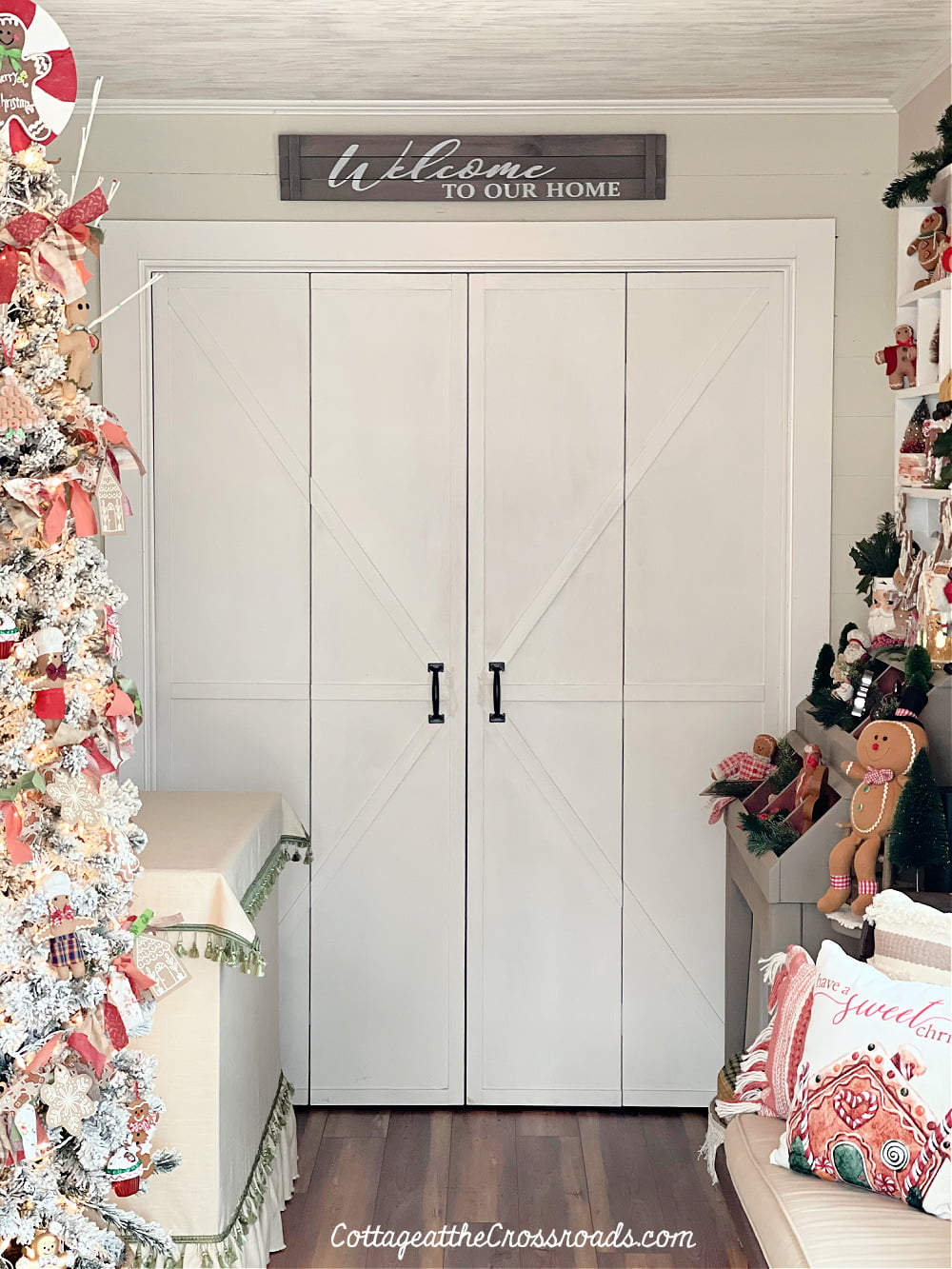 Hello friends! Welcome to our mudroom all decorated for the holidays with a gingerbread theme!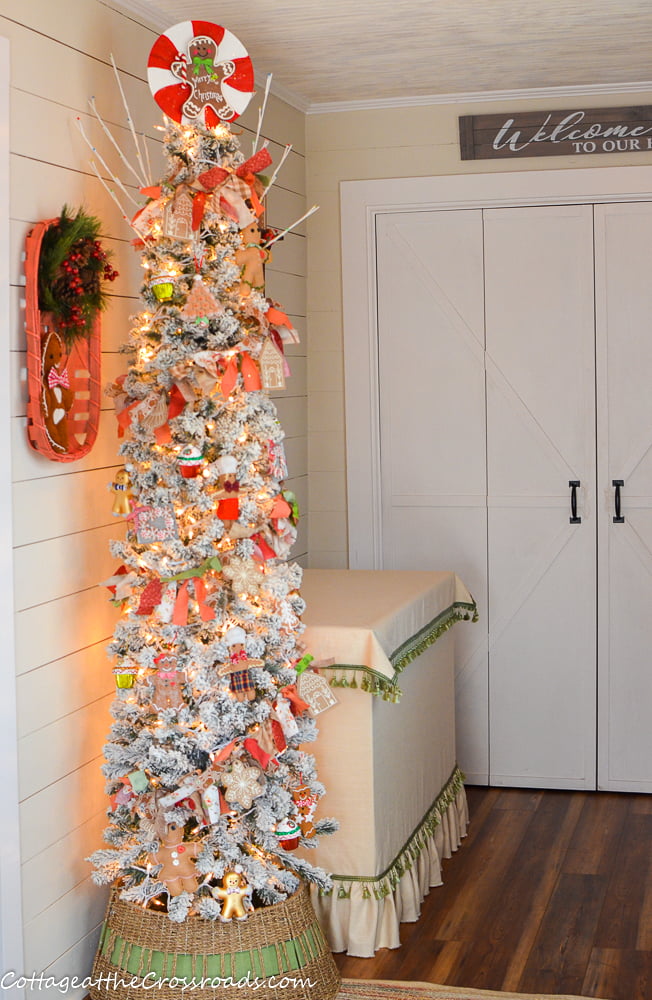 The mudroom is the first thing that visitors see when they enter our home because everybody comes to our back door rather than the front.
This area is fairly new to our home. The old entrance was torn off and reworked to give us a nicer looking entrance, space for a chest freezer, and a laundry room.
The room is long and narrow and is hard to photograph in its entirety. So I took a bunch of photos so that you can see it all!
The tree is the first thing that one sees when they enter. It has a gingerbread theme along with the rest of the mudroom.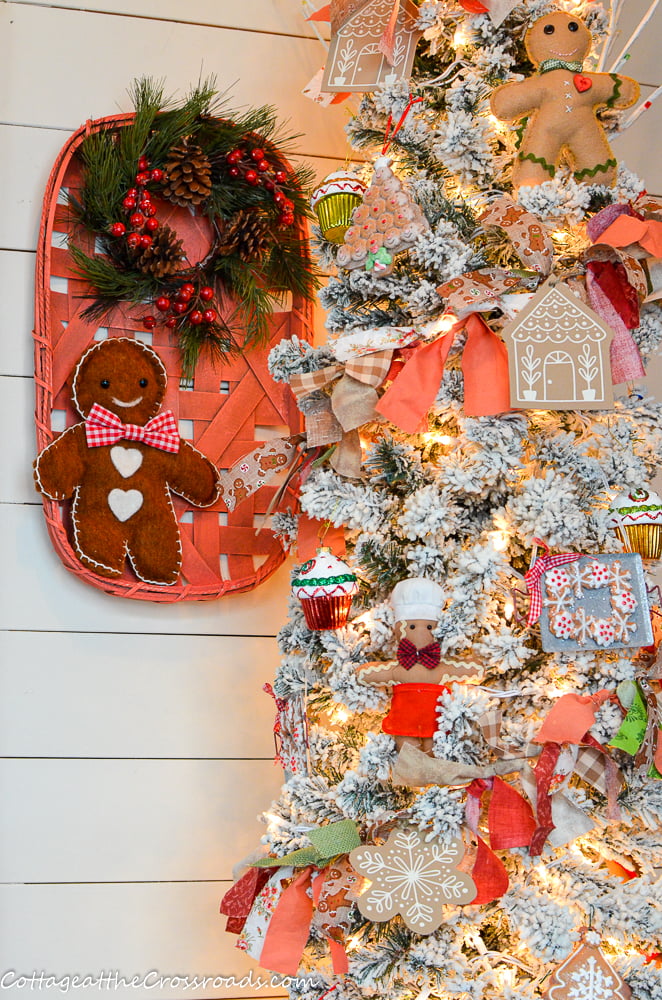 On the tree is a recently made gingerbread rag garland along with some old and new gingerbread decorations.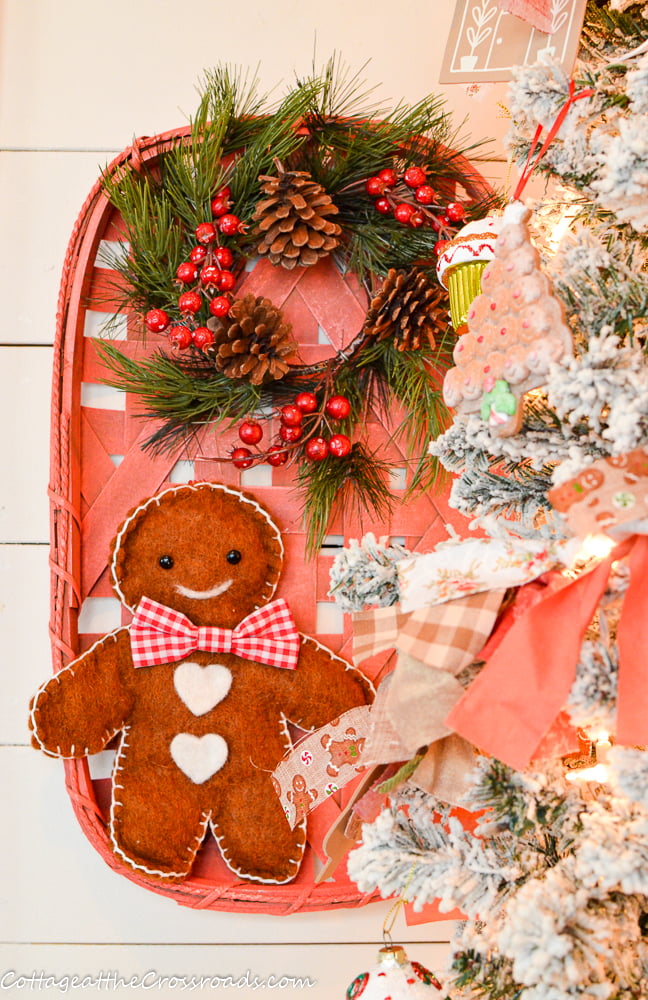 Beside the tree is a gingerbread boy in a painted farmhouse basket.
The colors that I use in this room are coral and green, and I wanted to work with those colors when decorating for Christmas.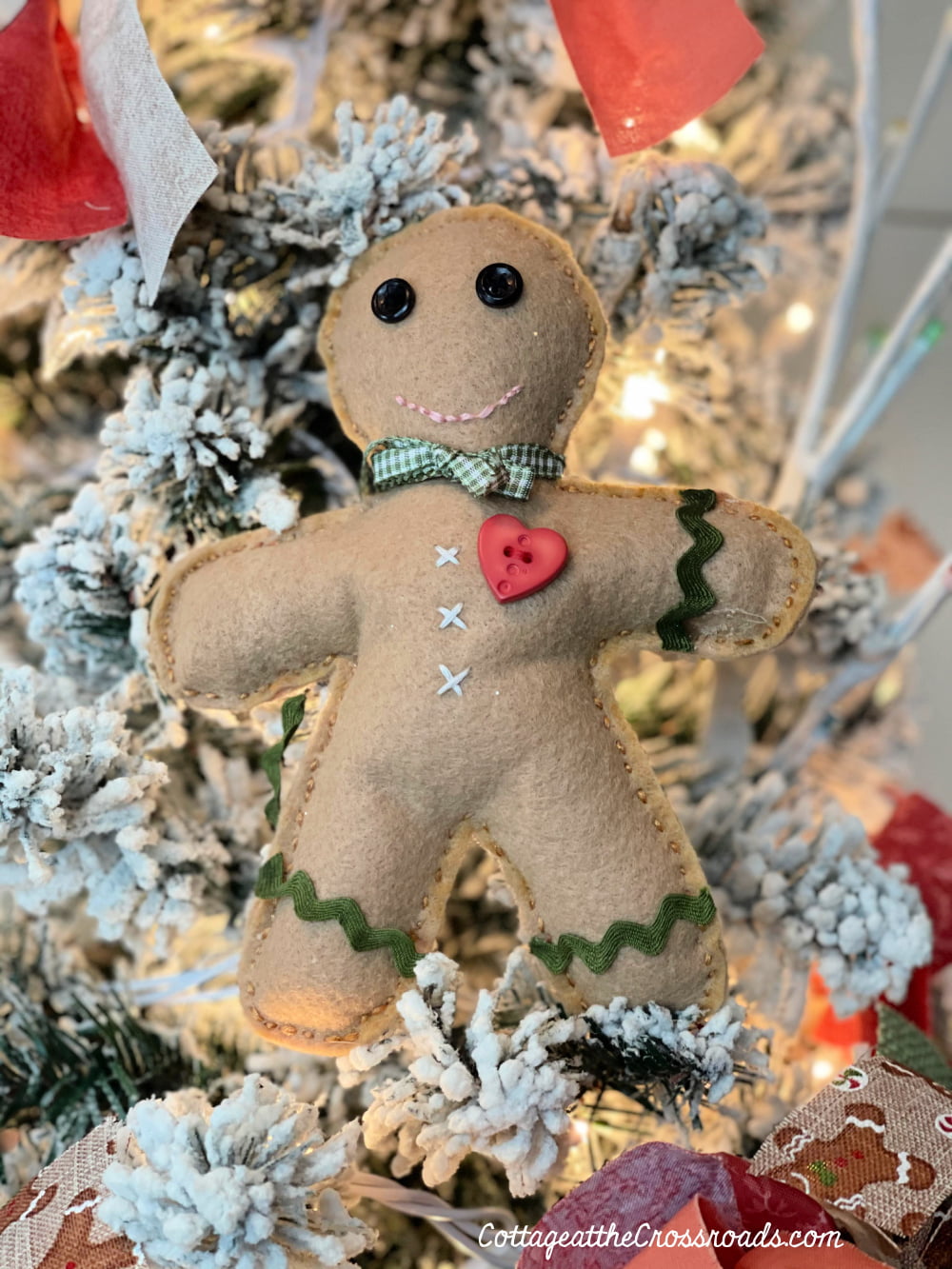 On the tree are some felt gingerbread boys and girls that I made several years ago. They are very easy to make and the directions are here: Handmade Gingerbread Boys and Girls
I notice that one of the boys has lost a little rick rack. He must have been the one that tried to run away! Oh, snap!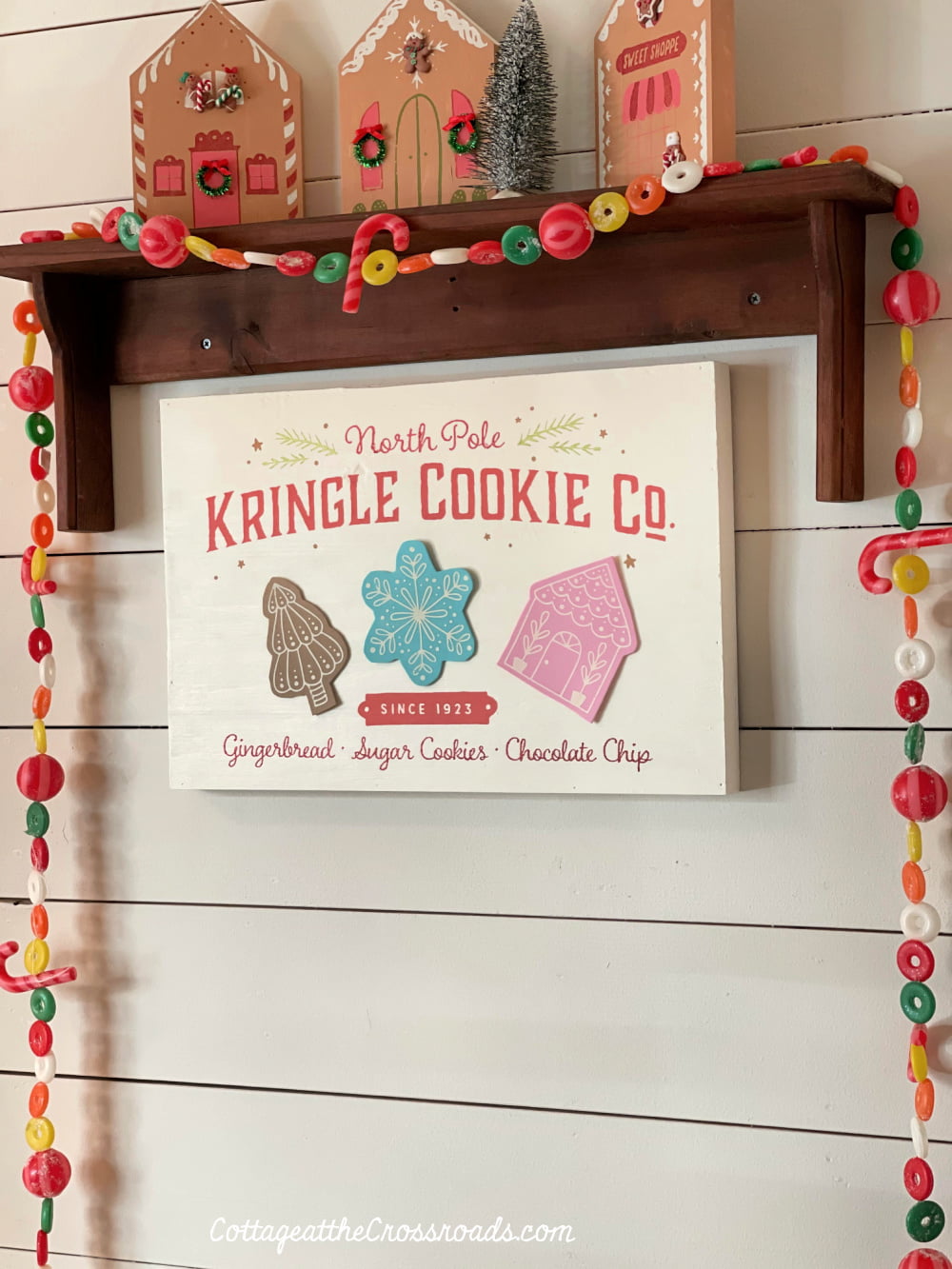 On the wall behind the tree and over the freezer is a wooden shelf that my brother made and gave me. I made the sign and the gingerbread houses using Chalk Couture transfers. The candy garland I have had for a while.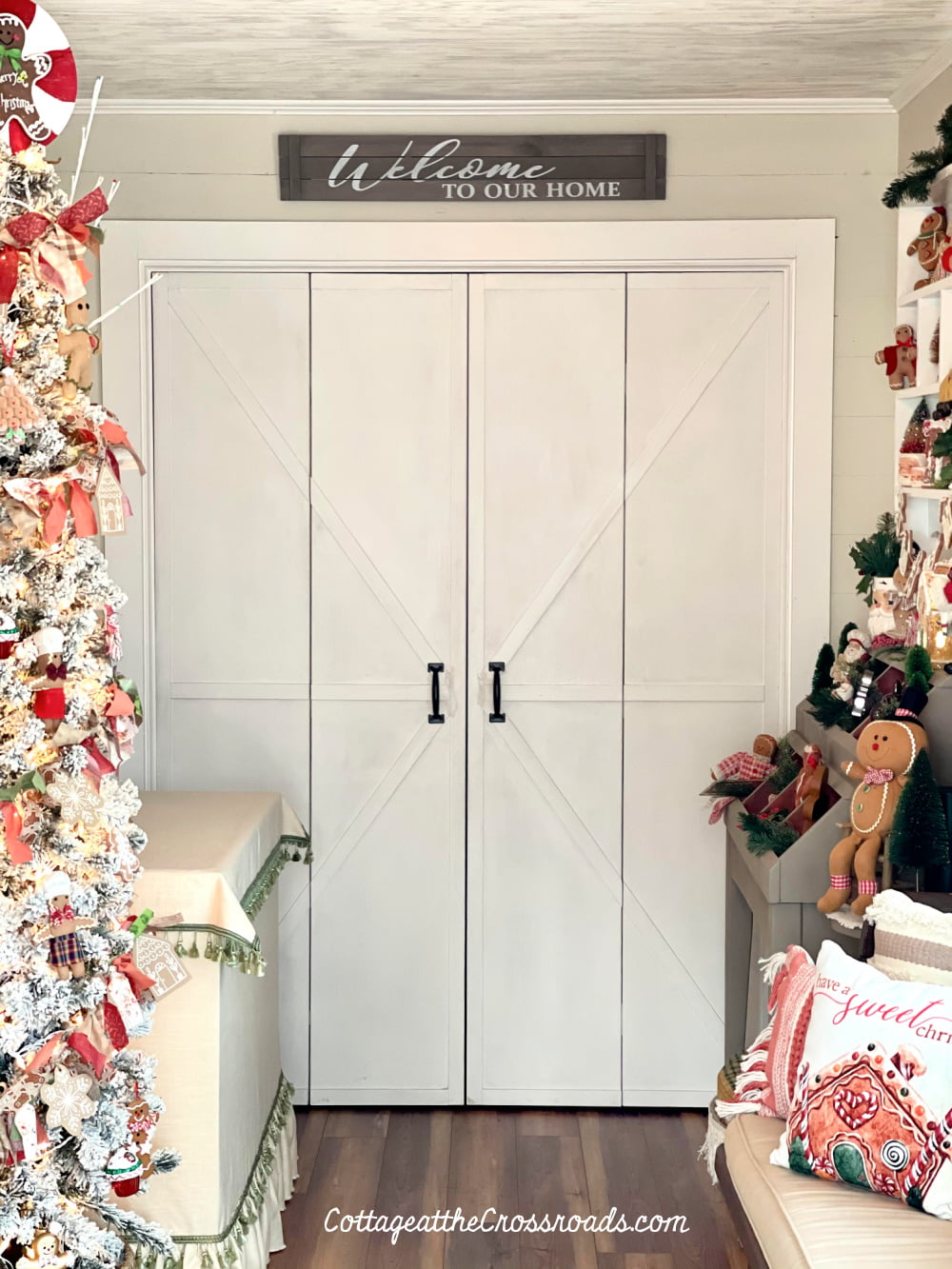 The chest freezer has been disguised with a skirt and topper that I made this past fall. It was a no-sew project and you can get the details here: How to Disguise a Chest Freezer
The washer and dryer are behind the farmhouse doors. They are actually inexpensive bifold doors that my contractor dressed up to be more farmhouse-y. I did give him an inspirational photo!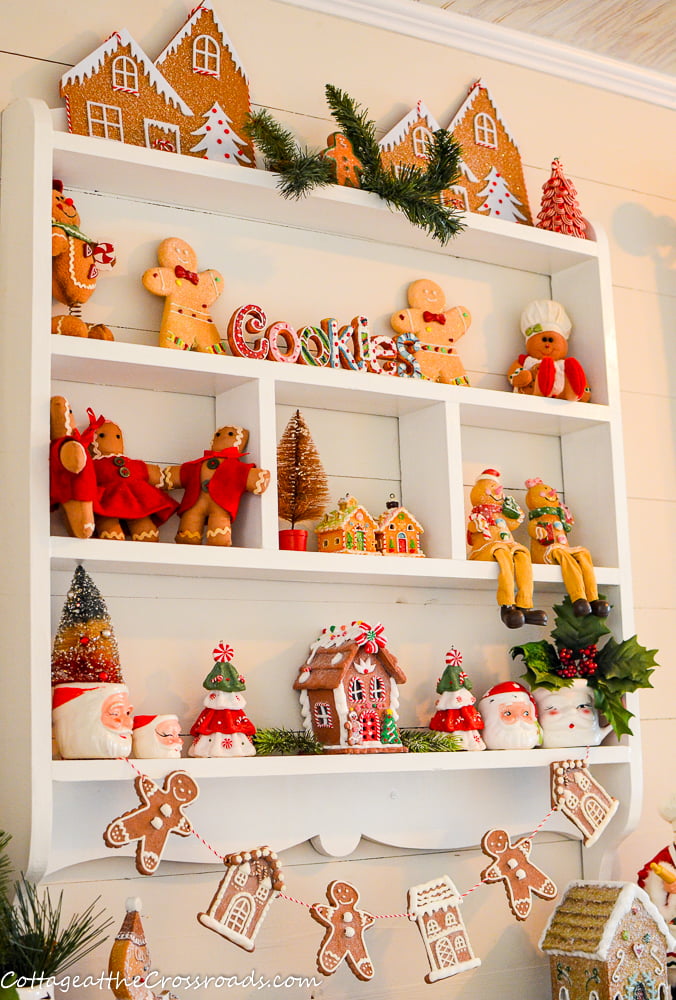 To the right is my new item! It's a wooded wall cupboard that fits perfectly over the piece of furniture with cubbies.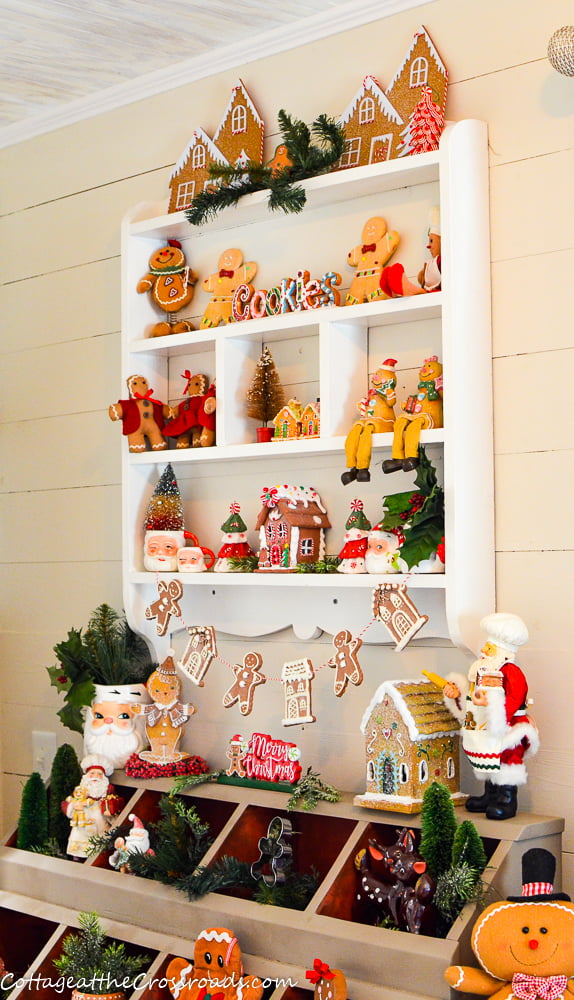 I had fun decorating it with old and new gingerbread decorations. And Santas, of course!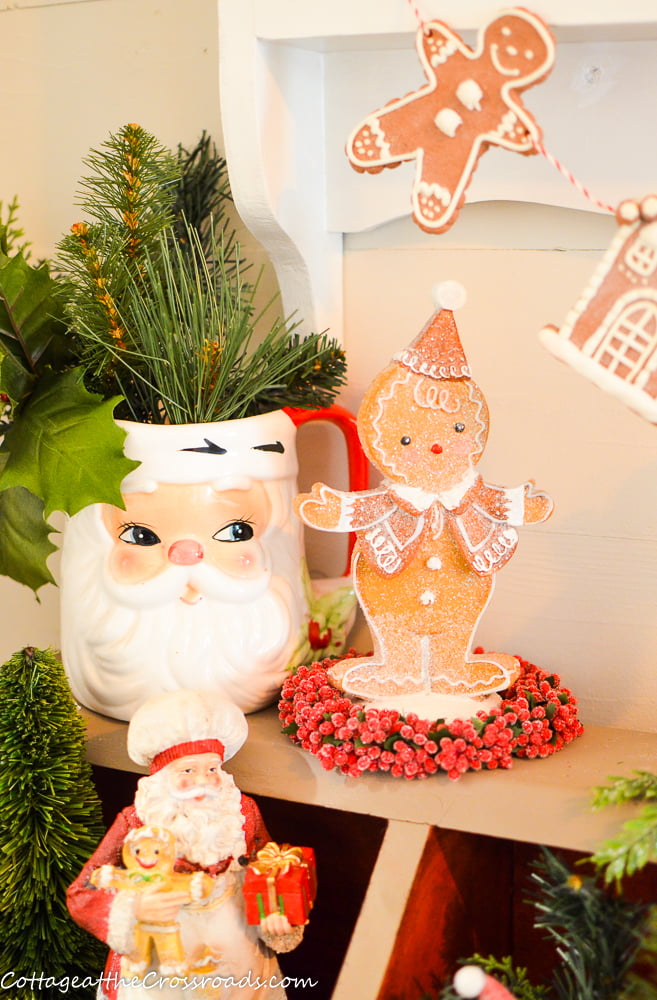 A vintage Santa pitcher is paired with a brand new gingerbread boy!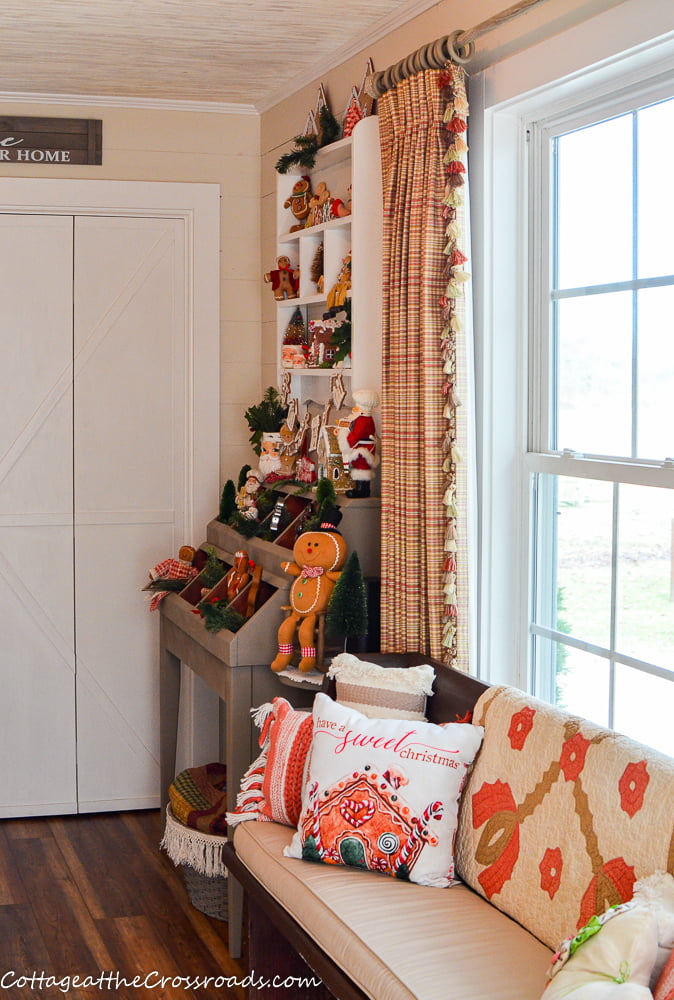 In front of the windows is a church pew with a new gingerbread pillow.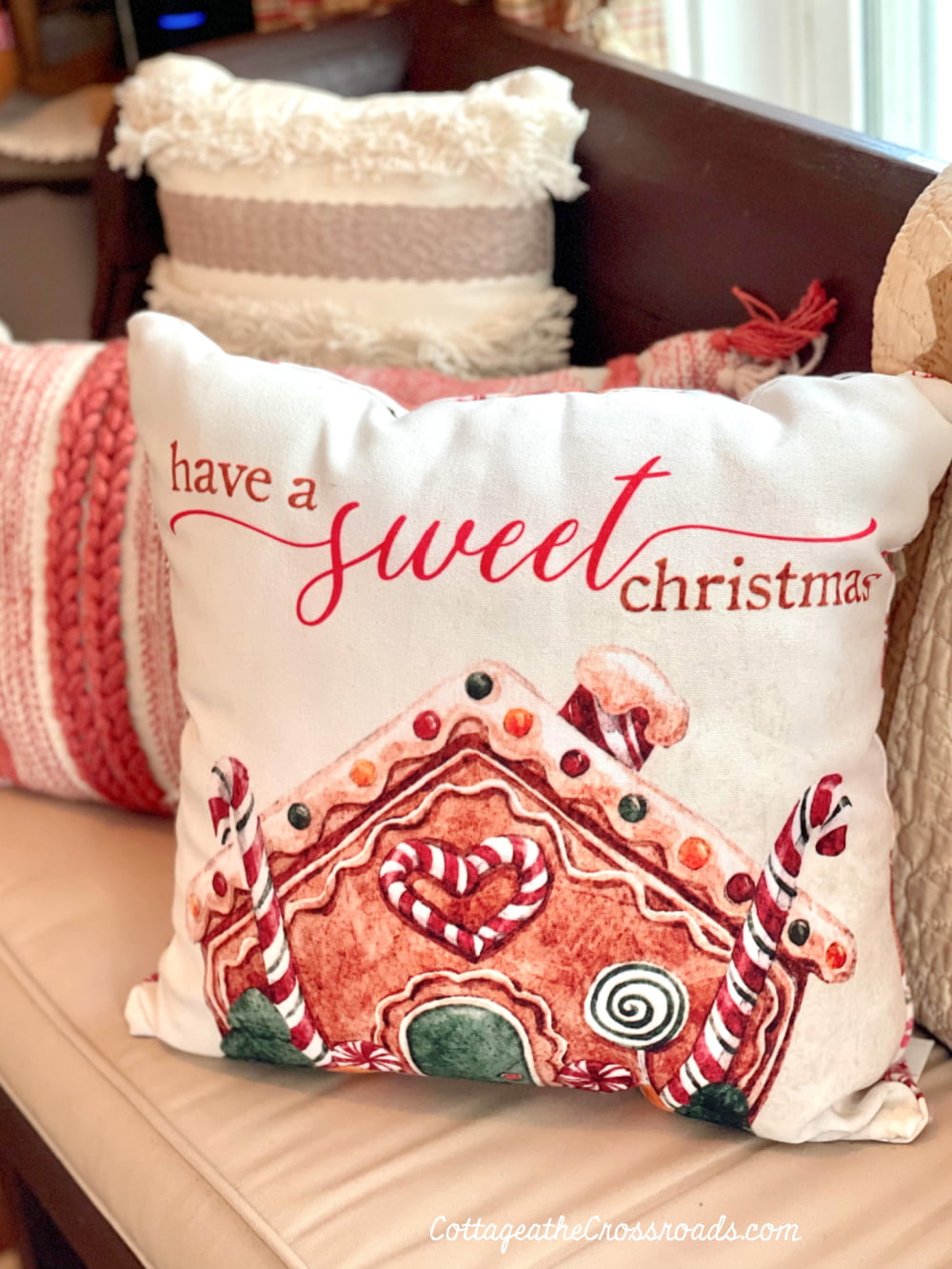 I ordered it from Zulily because the colors were just right!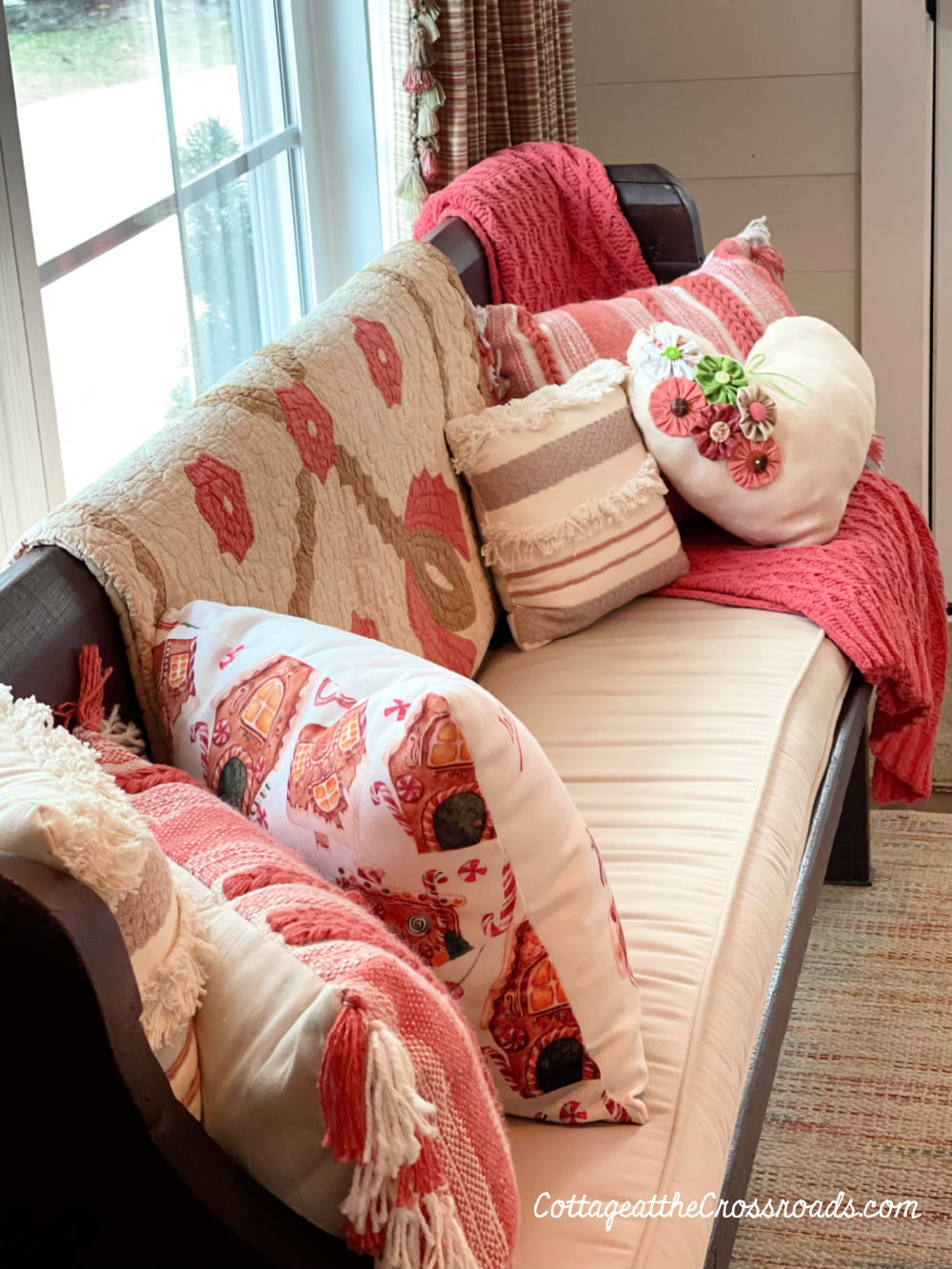 You can see the back of the pillow here. I don't think I've shared the vintage quilt that's on the back of the church pew. One day this summer I was in an antique mall and happened to spot it.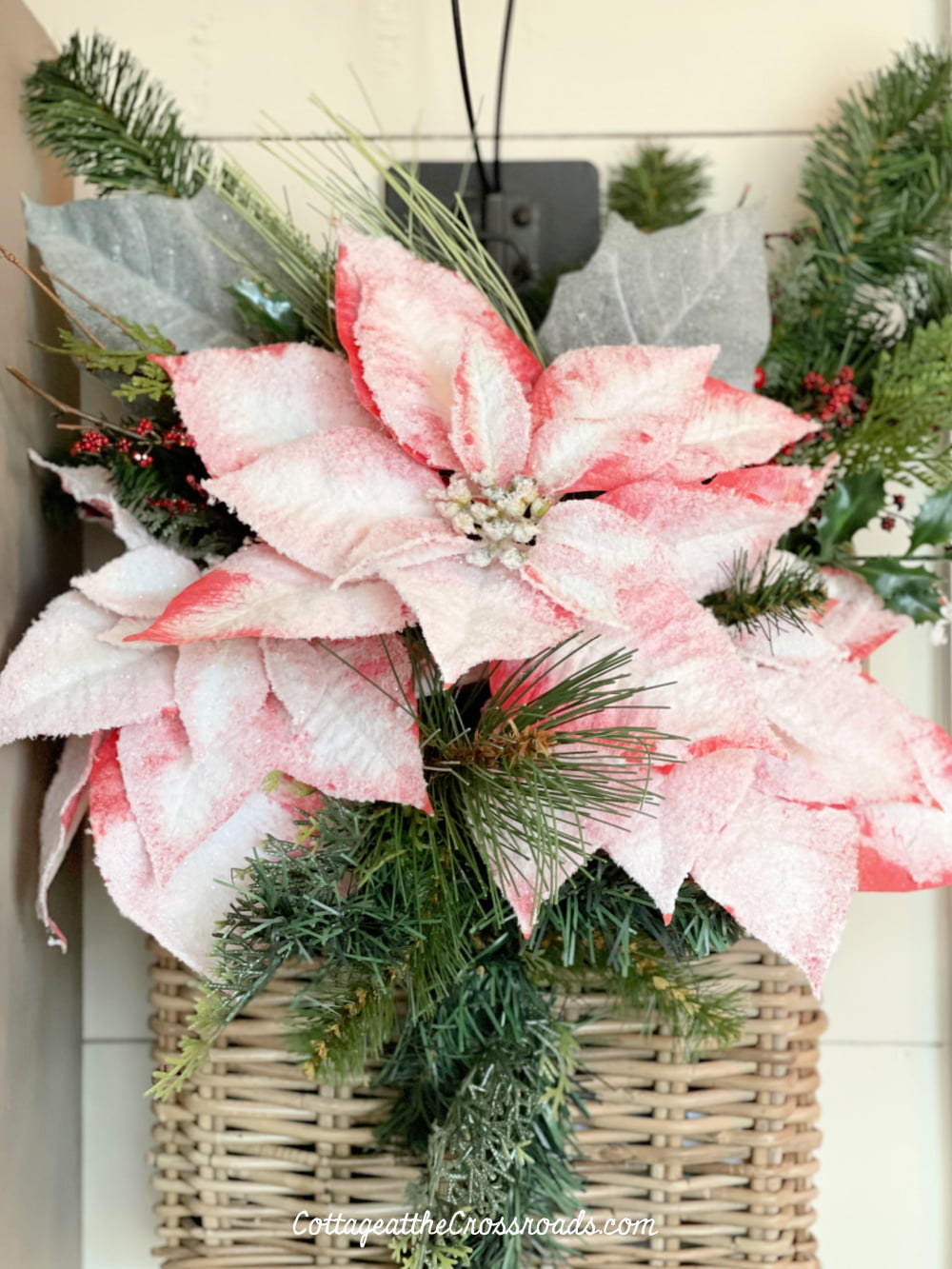 On the wall near the back door is a wall basket filled with faux poinsettias in the just right color.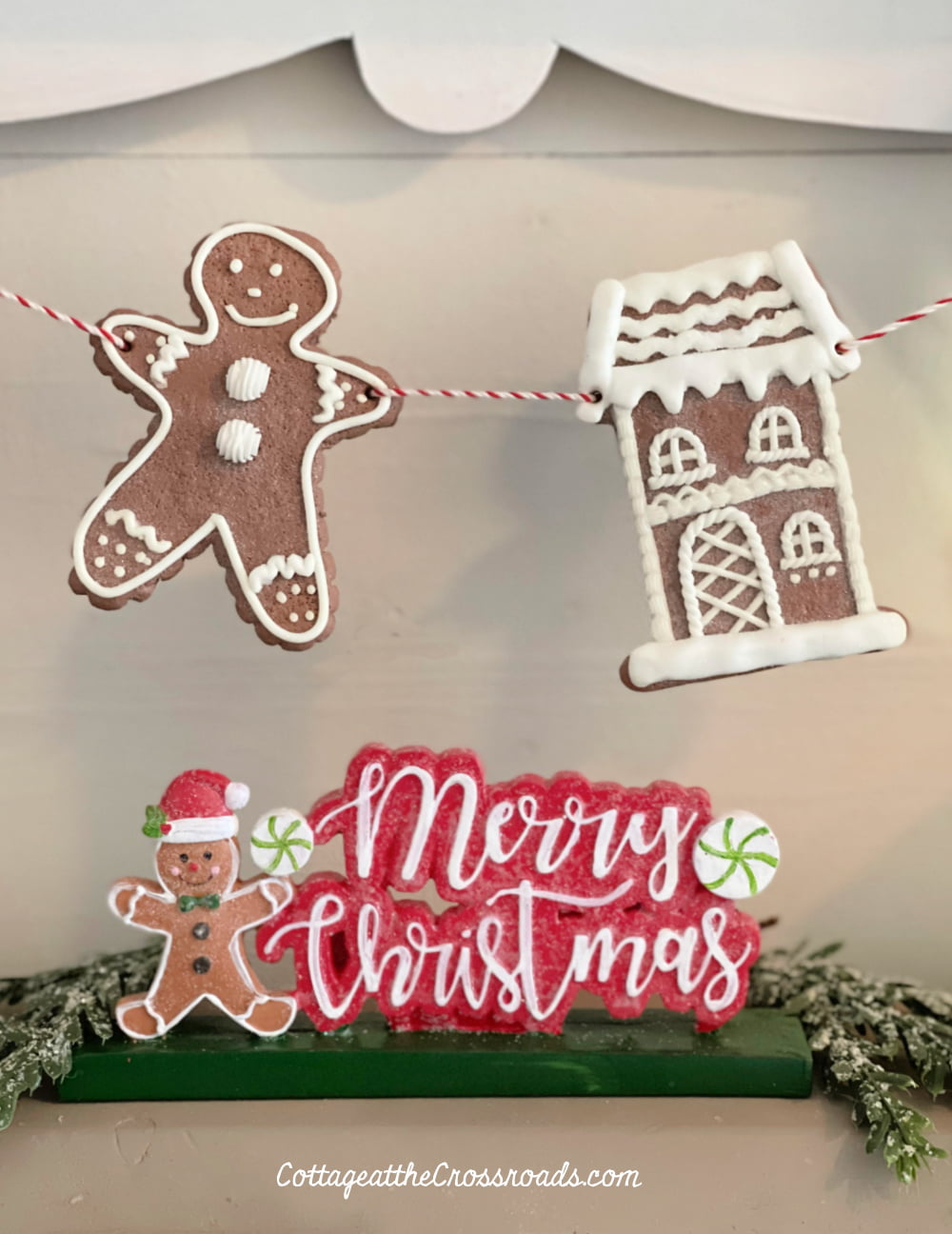 And that's just about all the Christmas and gingerbread decorations that I could fit in this space. I hope you've enjoyed seeing it all!
It's hard decorating for Christmas knowing that our celebrations are going to be different this year but sometimes those decorations are just for us, right?