If you have a Christmas tree that looks like it still needs something, then I have the solution. Make an adorable gingerbread rag garland out of scrap fabric!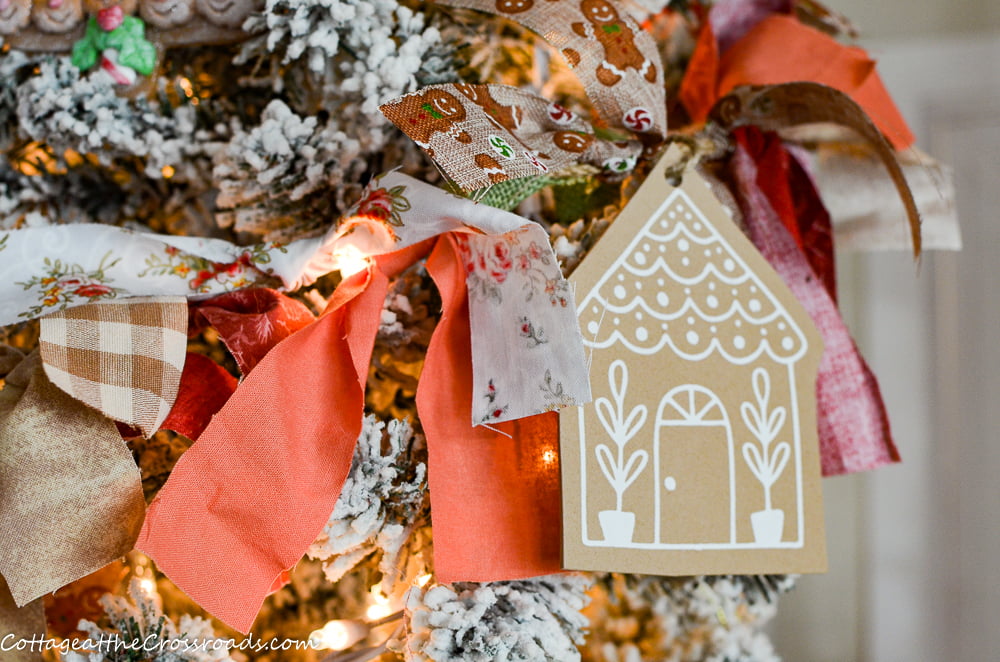 I have had a skinny flocked Christmas tree up in our back entrance/mudroom/laundry for over a month! I had started adding a few gingerbread ornaments to it, but it just was not coming together!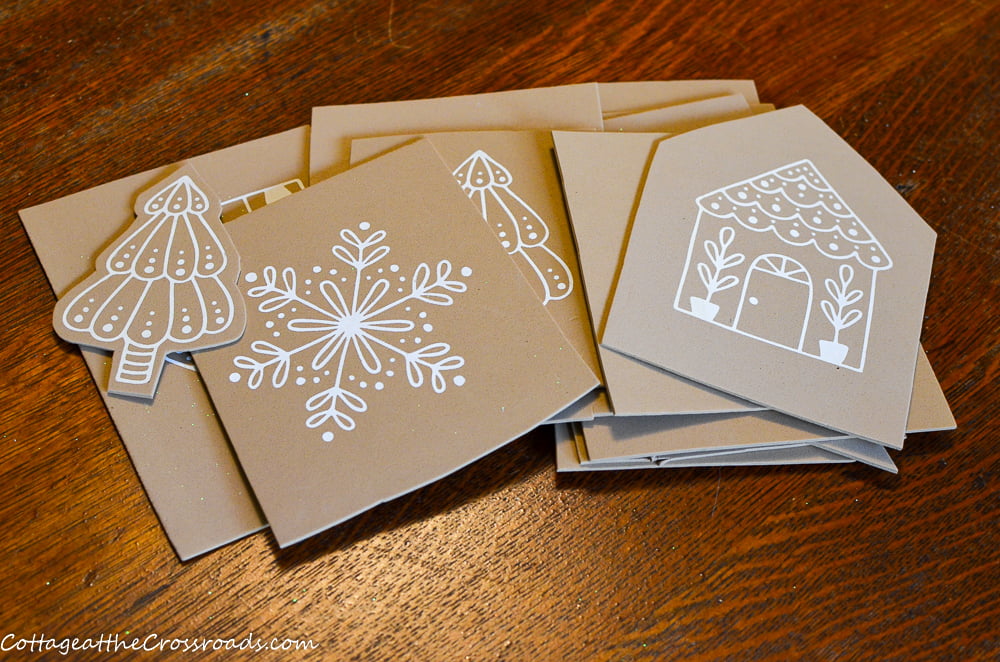 Earlier, I had already chalked these gingerbread "cookies" onto foam using a Chalk Couture transfer. I was thinking that I would just hang them on the tree when I finished cutting them out.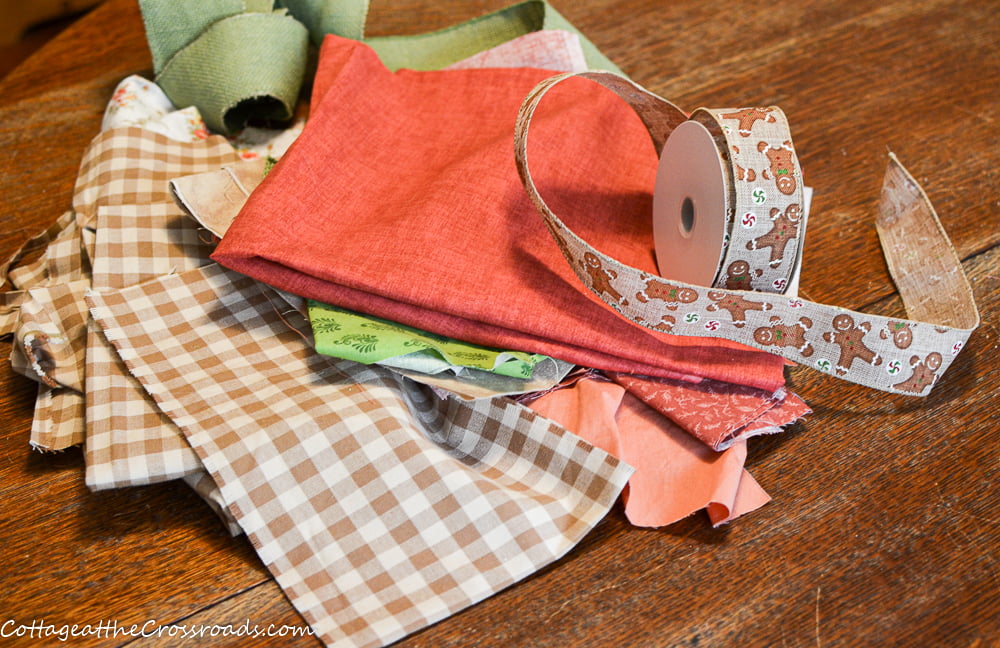 I think what was troubling me was that I needed some color on the tree so it hit me that I could make a gingerbread rag garland using some scrap fabric that I already had.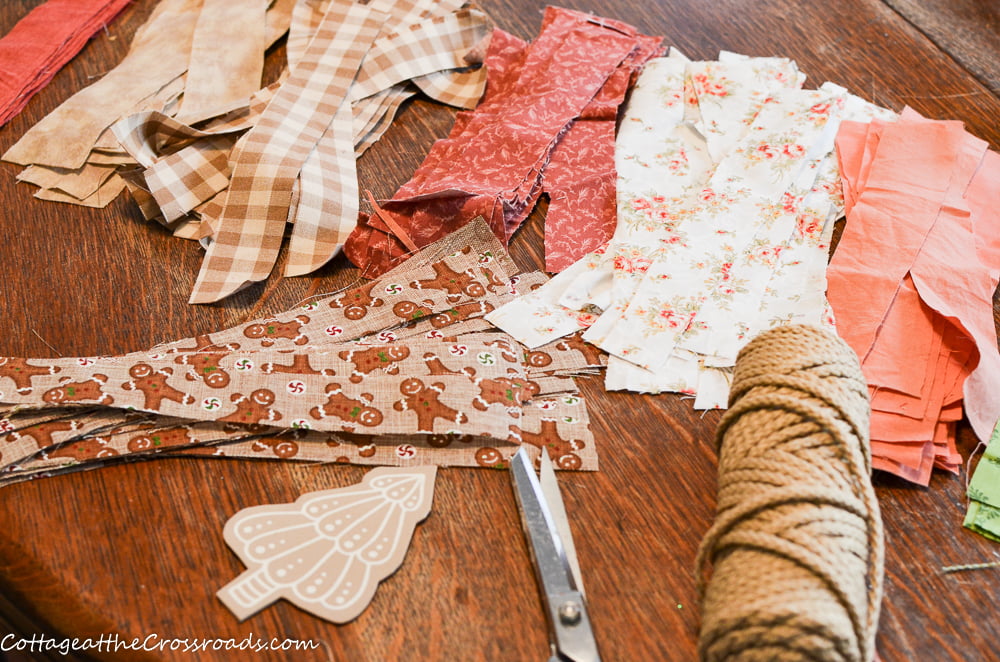 I proceeded to cut each of the 9 different fabrics into strips about 1 inch wide and 10 inches long. Two of the fabrics were actually wired ribbon that I trimmed off the wire edges to make them easier to work with.
I really cannot tell you how many strips I cut of each fabric because I did not stop to count!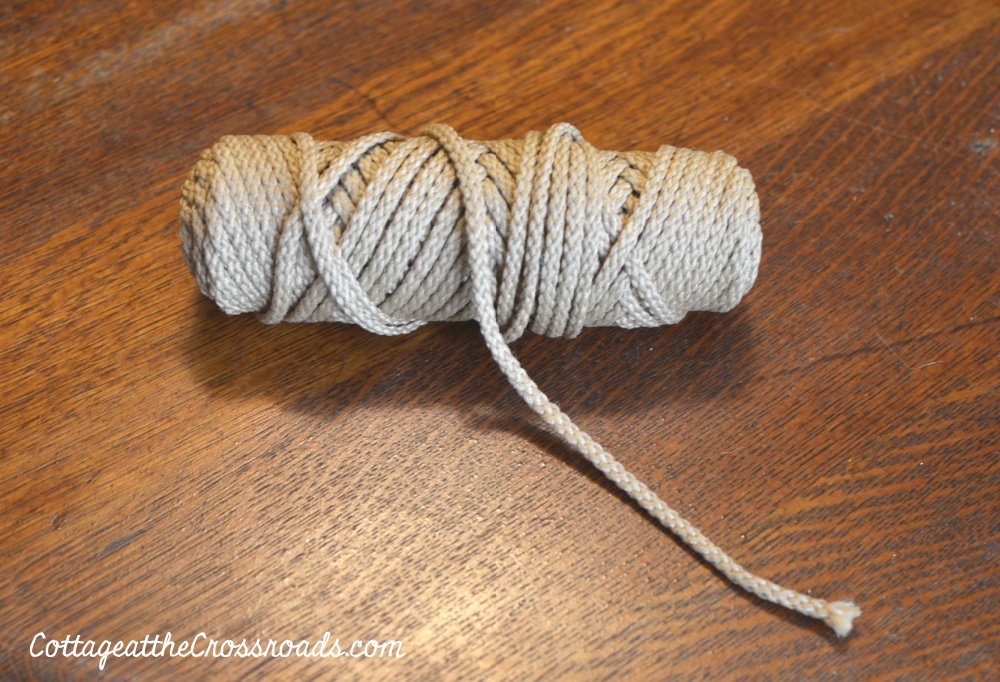 I decided to use this thick craft cord that I already had in my stash to tie the fabric strips onto, and I used some thin twine to attach the gingerbread foam "cookies" onto the garland.
*You could attach the strips of fabric to a strand of Christmas lights but I already had lights on the tree.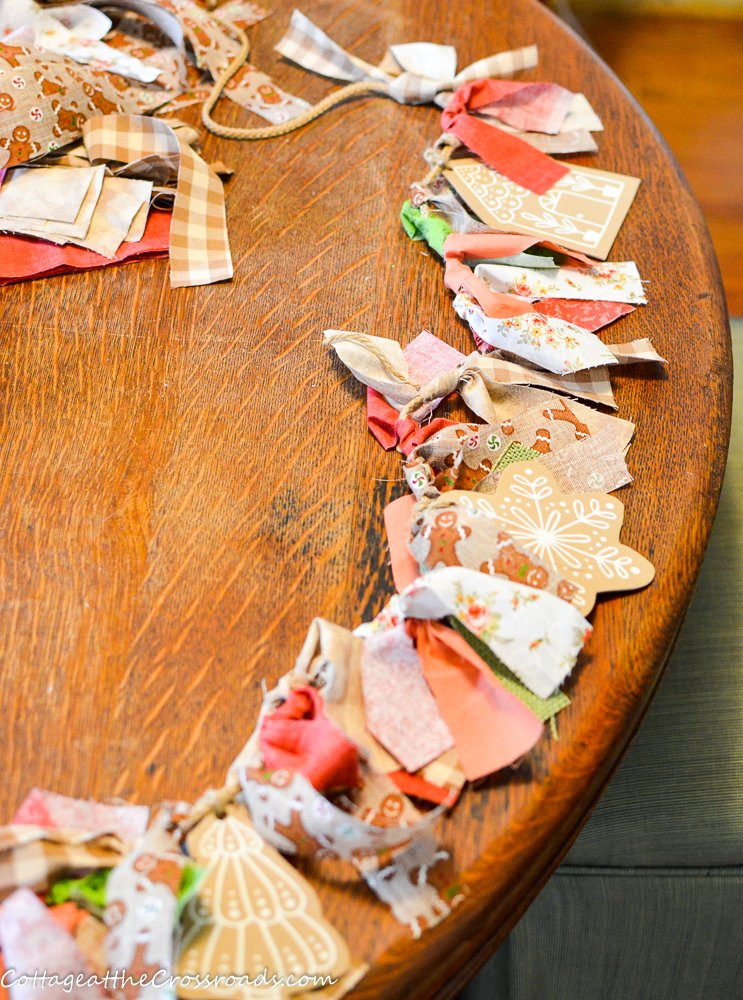 I don't have any process shots but basically I started at one end of the cord and started tying on the strips of fabric. I started and ended each section with the gingerbread ribbon and placed one of the foam "cookies" between the gingerbread ribbon.
Once I decided on the sequence of fabric strips, it didn't take long to create the garland. I really had no specific length in mind. I simply kept working until I ran out of some of the strips!
I stretched it out to measure how long it was and it turned out to be 13 feet long, which was long enough to wrap around my 7 foot tall Christmas tree several times.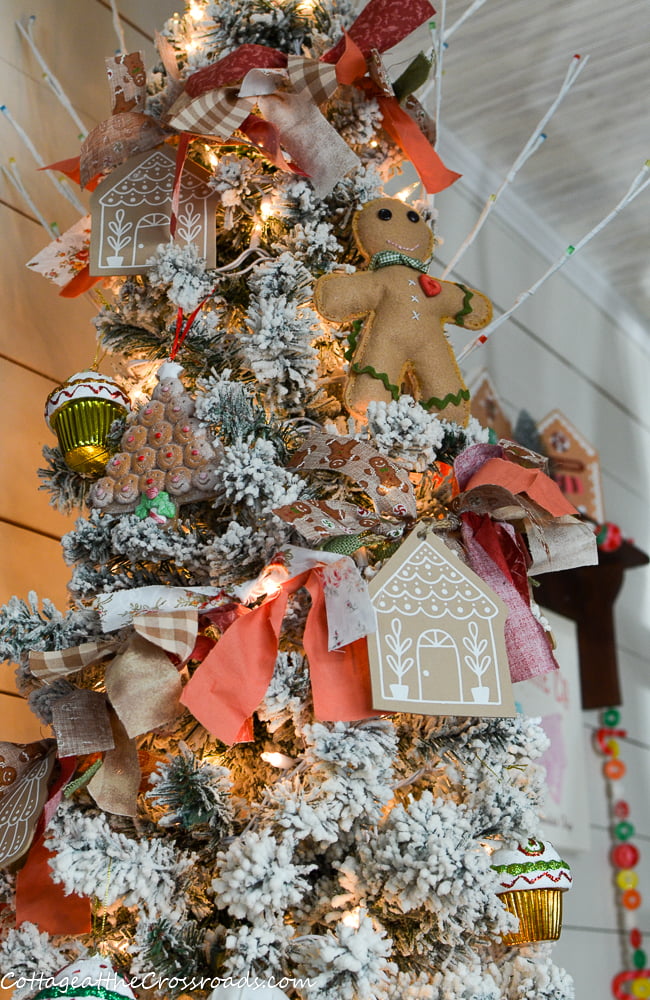 Ta da! Here is it on the tree! I cannot show you the whole tree yet because I'm still finalizing the gingerbread decorations in this room.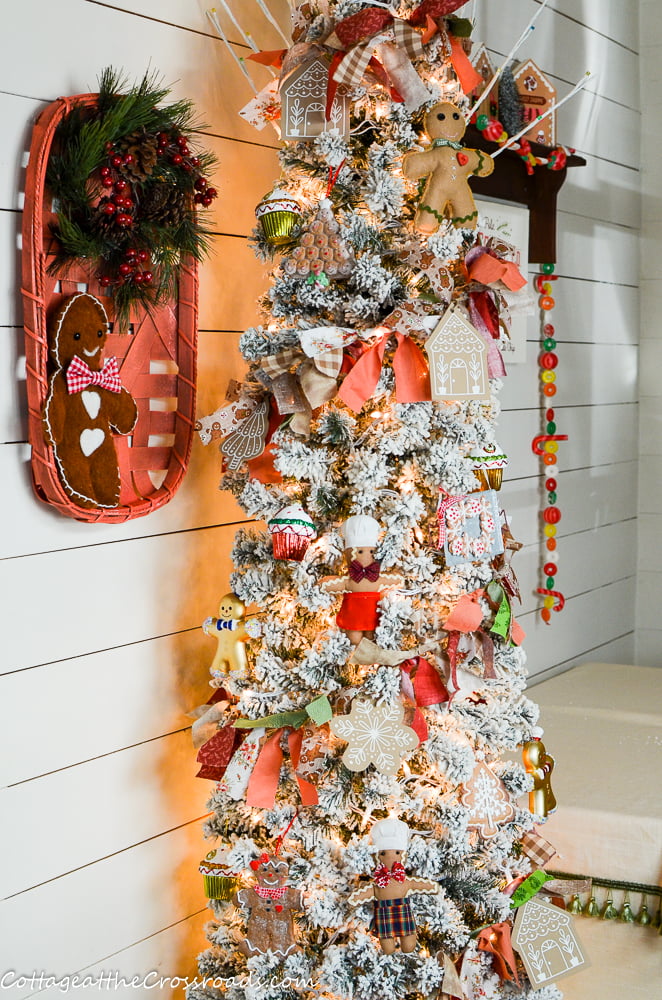 I am loving how the gingerbread rag garland coordinates with the other colors that I use in our mudroom. I can't wait to show it all to you!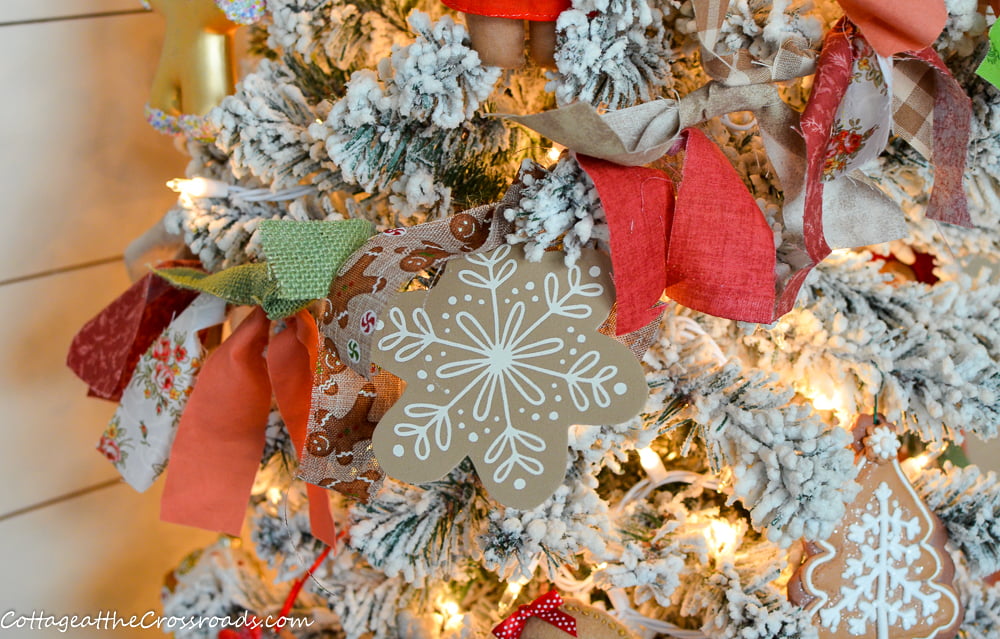 The foam cookies look great on the garland but you could also use foam or felt gingerbread cutouts that you can find in craft stores.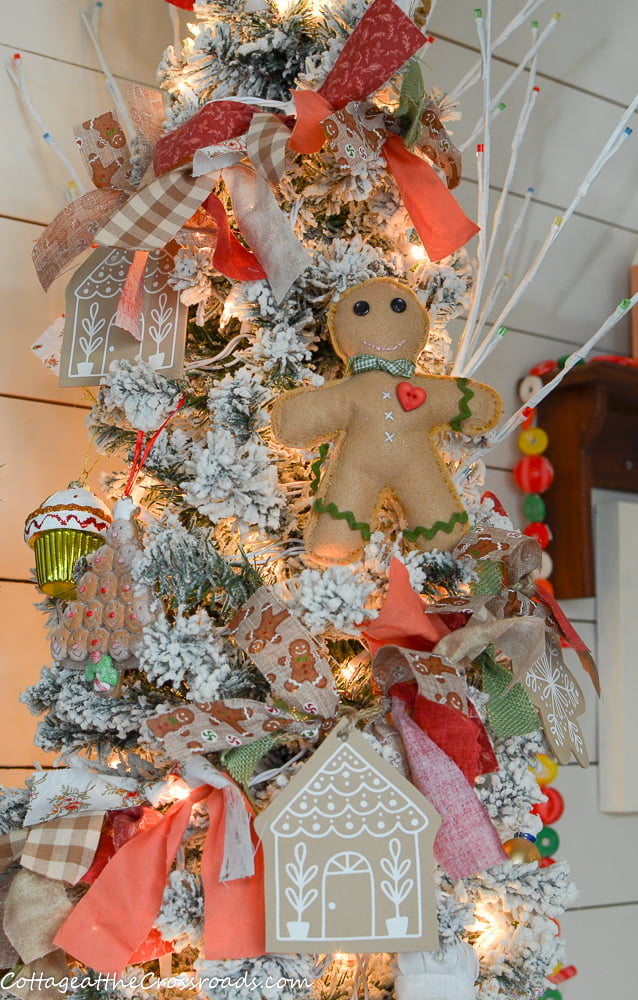 I'm thinking that I'm going to leave up this tree after the holidays and substitute hearts for the foam cookies.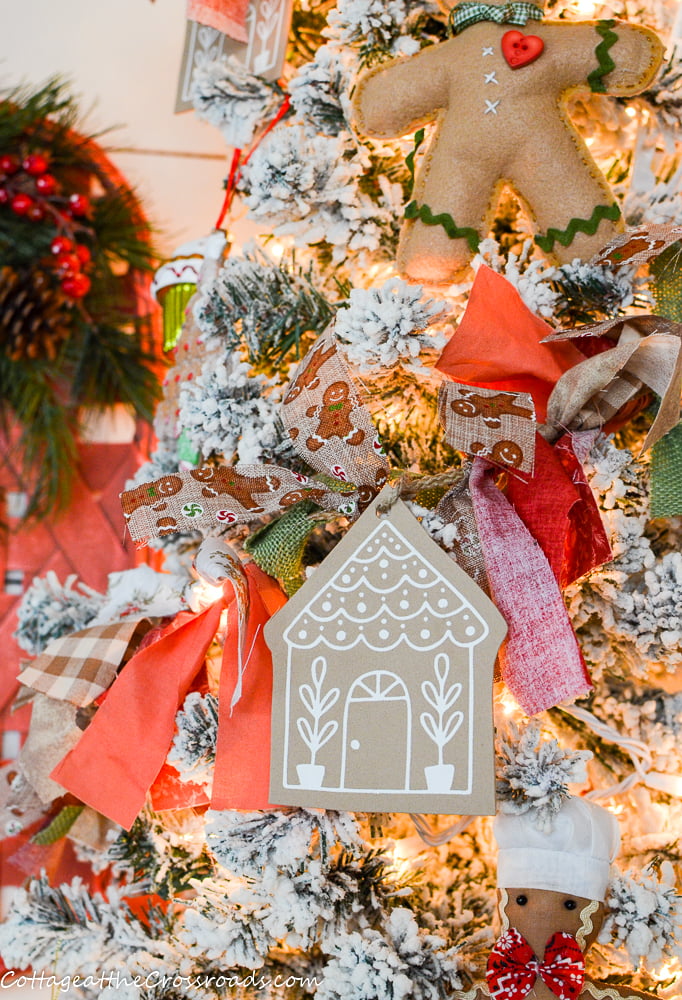 It's just so stinkin' cute and just my style!
I'll be back soon to show you the whole room decorated with a gingerbread theme.
I hope I'm not the only one still decorating for Christmas. Are you still decking the halls?
If you liked this idea, please pin it to one of your Christmas boards on Pinterest.