Today I'm sharing our new mudroom/back entry/laundry room all decorated for fall!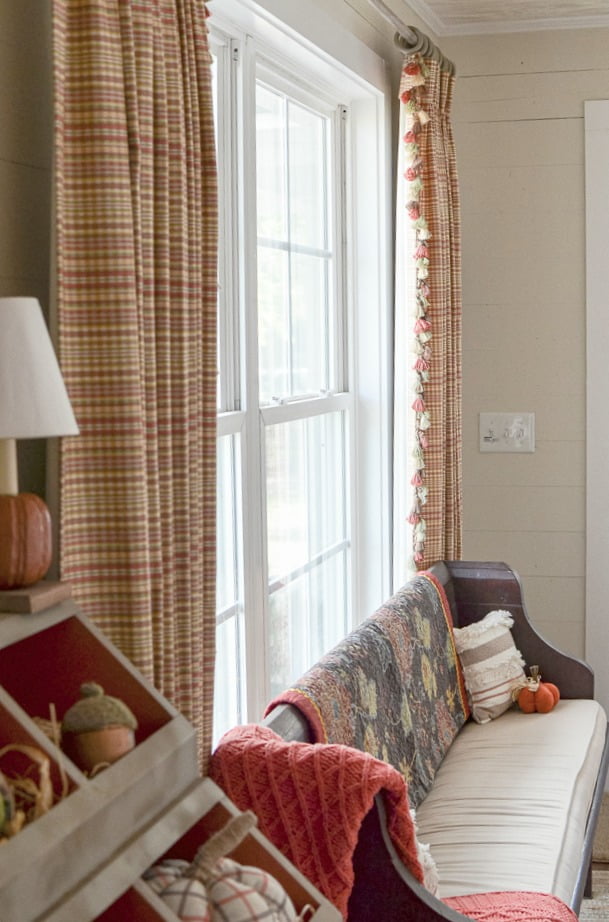 Hello friends! I've had these photos of our fall mudroom loaded for over a week, but I'm just now sitting down to write a post. You see, things have been incredibly busy for me this past week. I have been creating a few crafts and food for our church bazaar, and in the midst of it all, my mom fell.
Luckily, nothing is broken but she has a large goose egg on her forehead. For those of you who don't know, I take care of my mom. She lives in an apartment in our backyard and has been doing fairly well for someone who will be 97 in just a few months.
So I have to squeeze in blogging whenever I can.
Now, back to this mudroom. Earlier this year, we remodeled the back entry to our home and created a new mudroom and laundry. Previously, the washer and dryer had sat on a small back porch, and everyone who came to the back door had a full view of all of that and more!
So the whole back of the house was torn off which you can read more about here: Home Renovations Update
Our new combination mudroom and laundry has been finished for months, but it has taken me a while to get it decorated.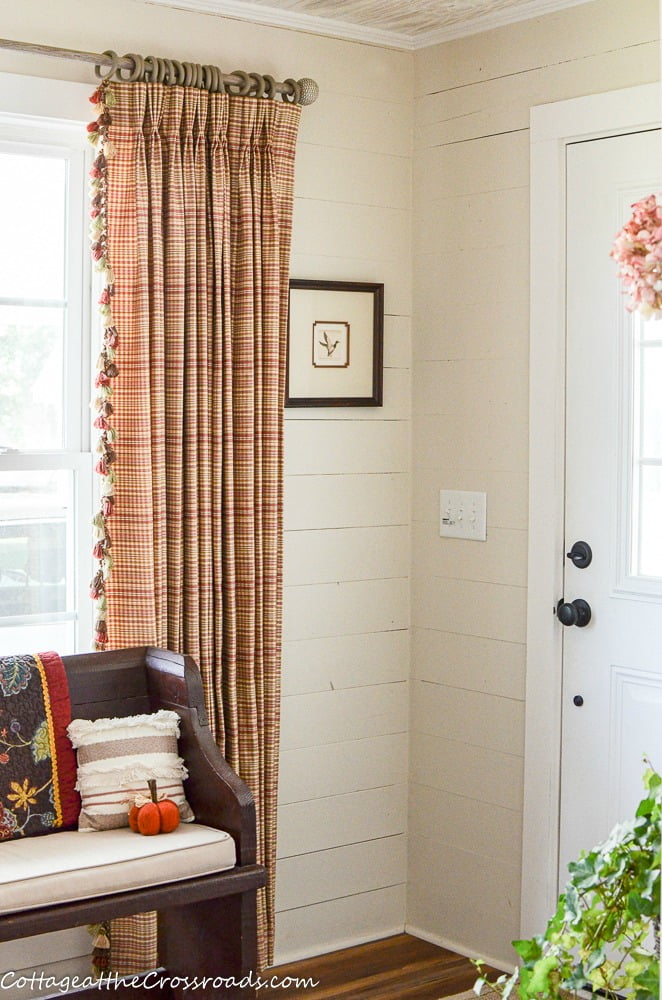 And I'm still not finished. I have one more project that I need to complete, but I'm going to show you what it looks like right now.
The mudroom/laundry is long and narrow. It is about 20 feet long and 8 feet wide.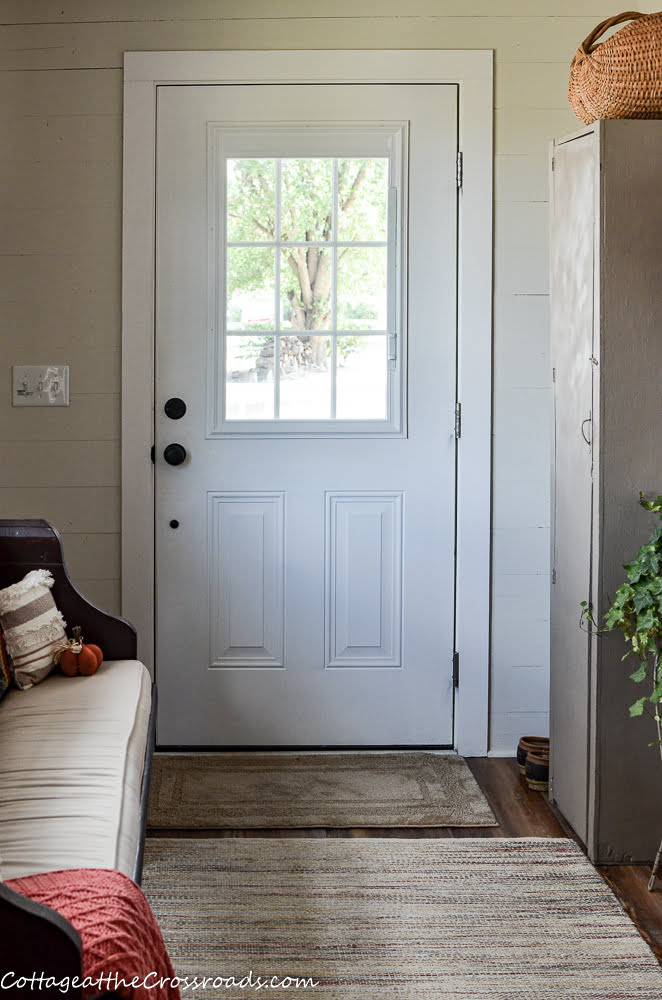 At this end is the back door that goes to the covered deck.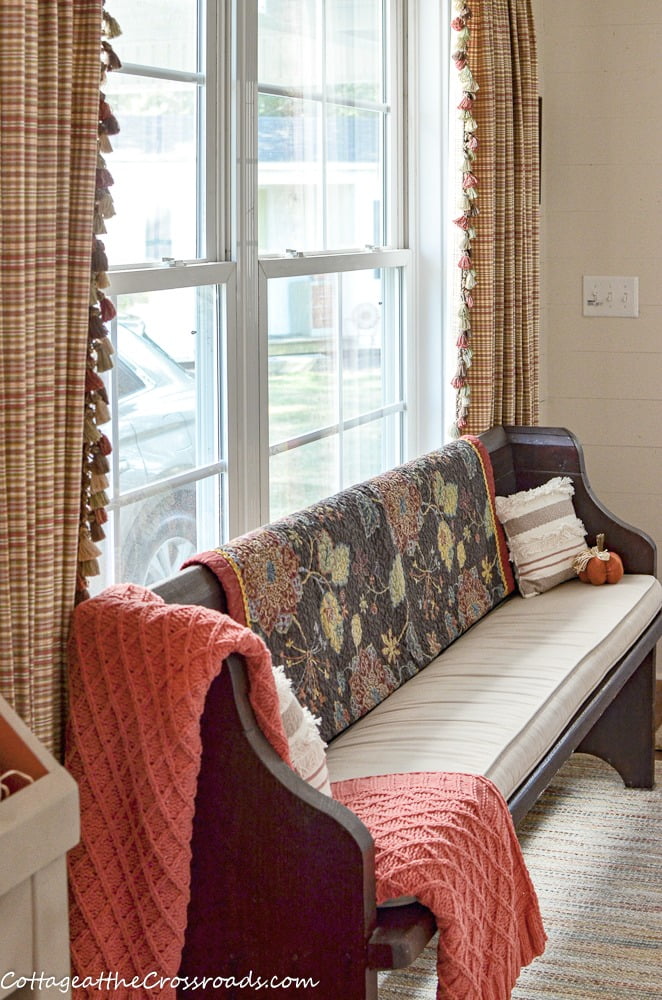 Underneath the double window is an old church pew that I have had for over 30 years. It used to be in our hallway.
The bench gives us a place to remove shoes and a place to drop things when we come in the back door.
The window treatments were in the room that we used as our office which is now a half bath. They got moved to the mudroom.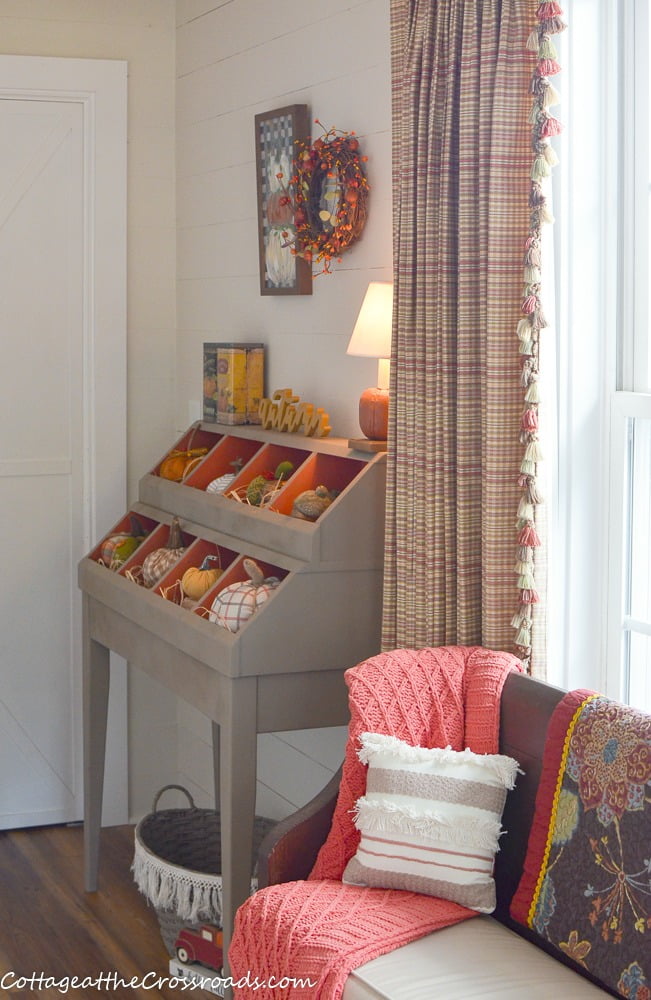 The cubby that I recently painted is beside the church pew. For more details, you can read this post: Country Cottage Cubby Makeover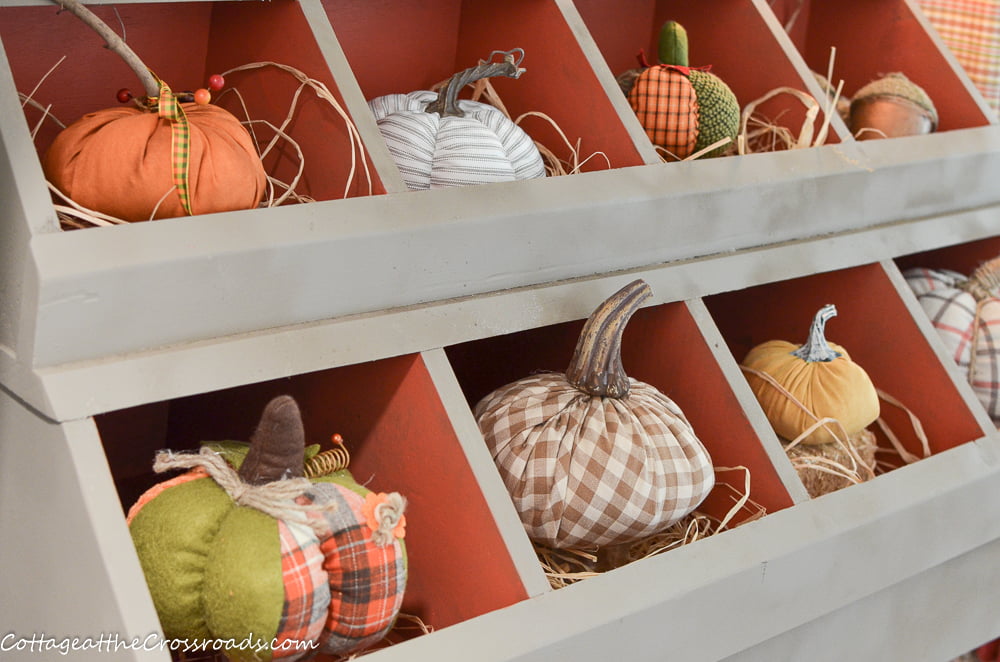 The cubby is now filled with pumpkins (and a few acorns.)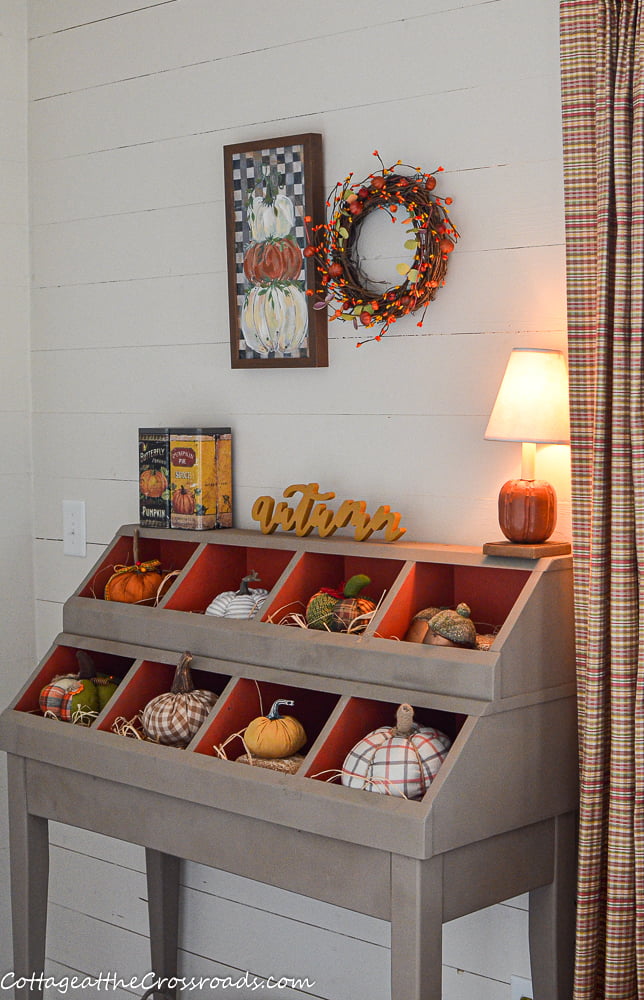 Imagine my delight when I found the little pumpkin-shaped lamp at a local antique store! I keep it on all the time to warm up this corner!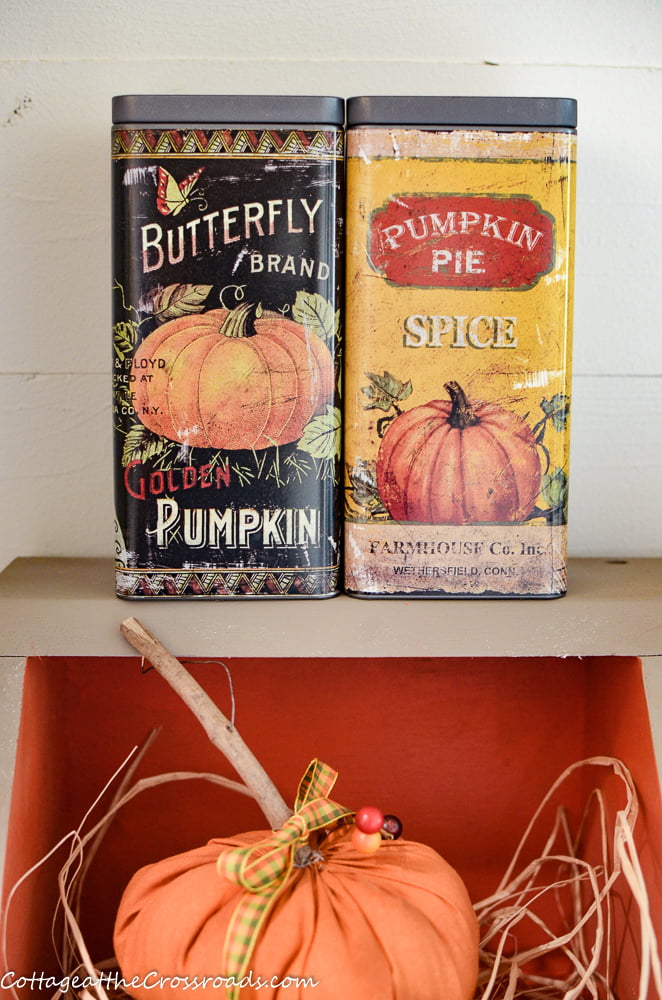 And look at these tins that came from Walmart! I got the last two that they had.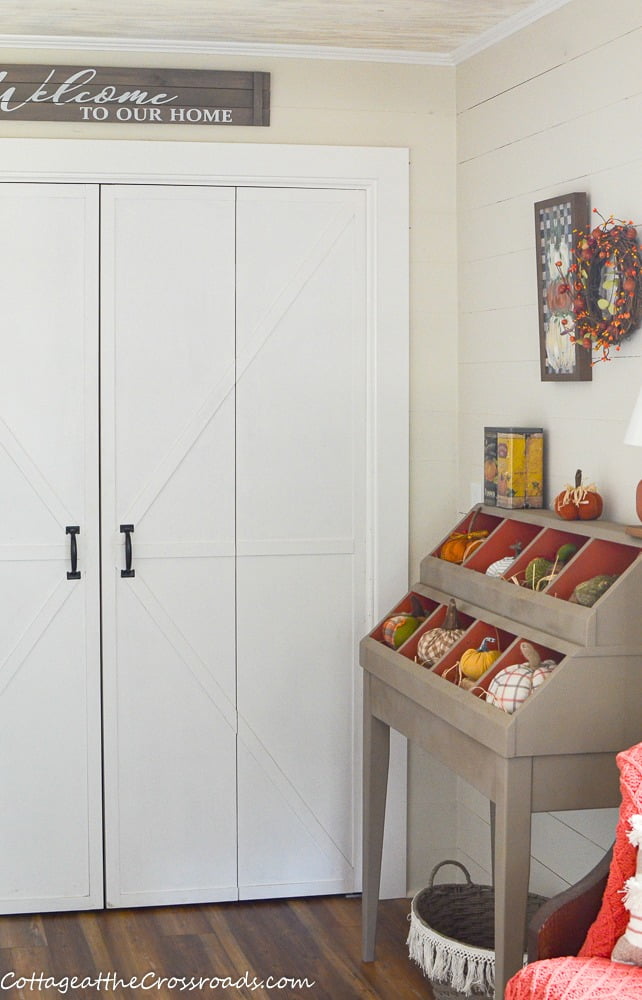 On this end are our faux farm doors that hide the washer and dryer. I thought I'd do a separate post with more details about how the doors were created and other sources.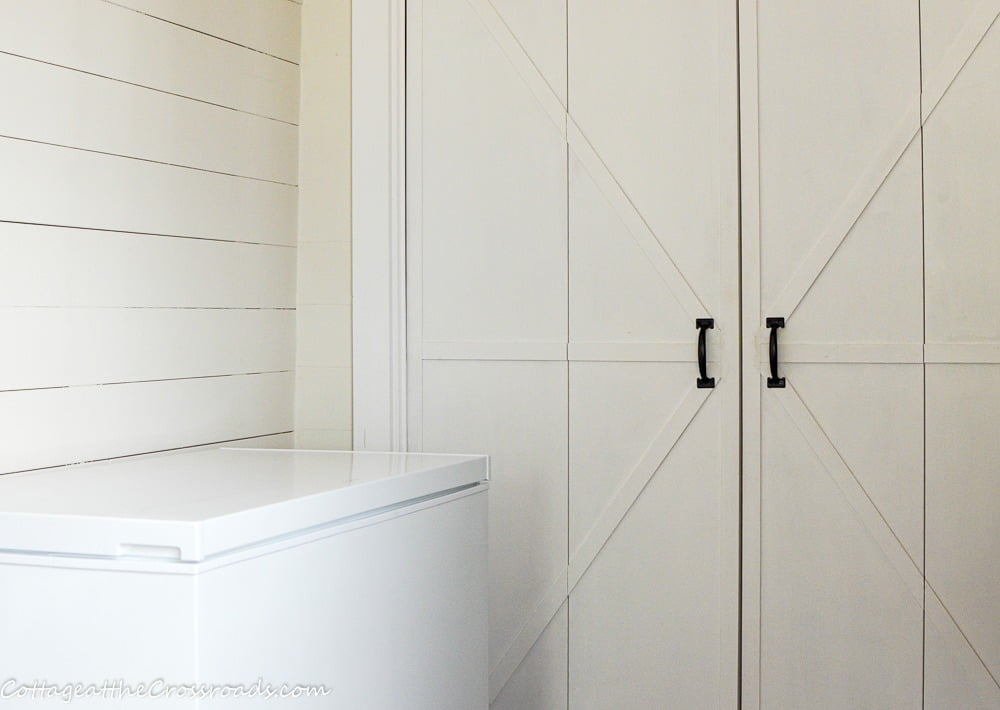 To the left is a new chest freezer. I do have plans to camouflage the freezer, though.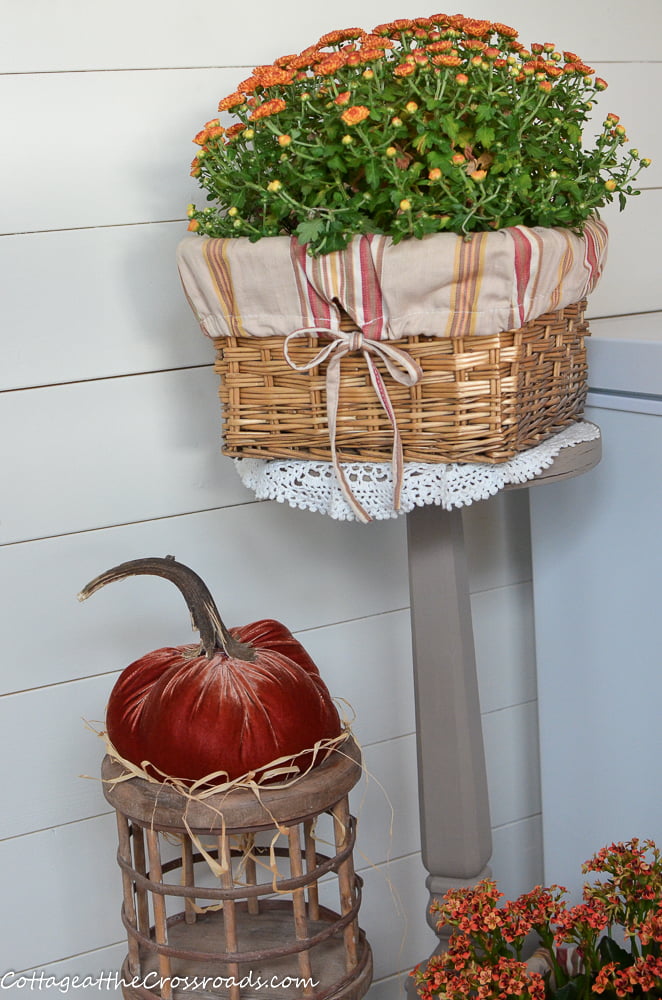 Beside the freezer is enough space for a little fall decor.
This is the door to the kitchen, but honestly, we are thinking about taking it down when we renovate the kitchen.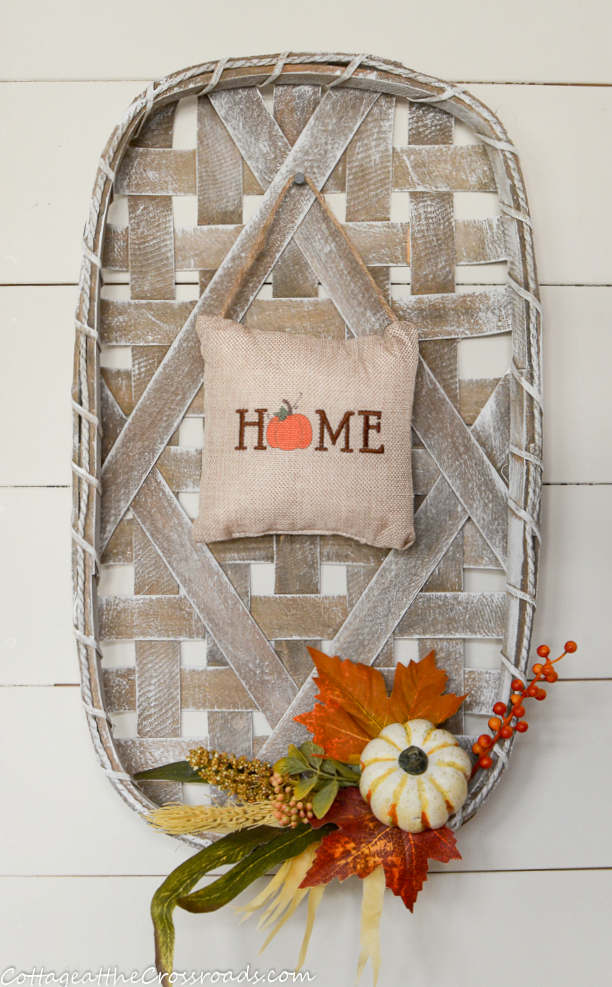 Even though this is an entirely new space, I think it looks like it's always been here.
I just cannot tell you how much I love it and how much more functional the whole room is.
I'll be back soon with more details about our new mudroom/laundry with a source list in case you have questions.