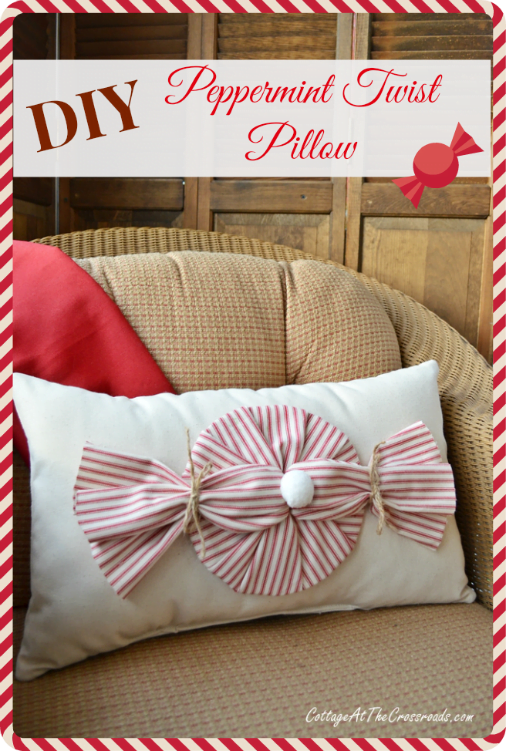 Hi everyone! Dawn, Debbie, Ann and I are back with a new series called Christmas Tidings where we will be bringing you some inspiration and some fabulous giveaways each Tuesday for the next four weeks!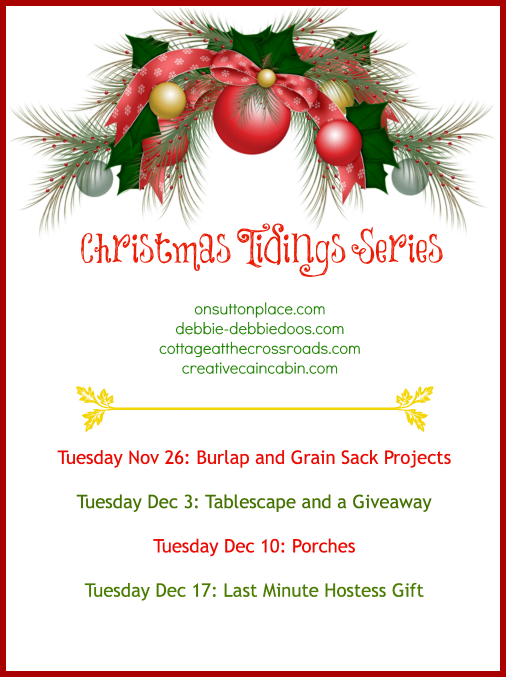 It's so exciting to work with these crazy talented ladies and today we're each sharing a burlap or grain sack project (and in my case, I have a red ticking project for ya!)
And thanks to our fabulous sponsor Holly, we will be giving away these two beautiful wooden signs to two lucky readers!

Either of these handmade wooden signs would brighten your home during the holidays. Holly makes and sells wooden signs with decorative letters on her website Well of Words. In addition to holiday signs, she sells personalized signs for weddings and anniversaries, baby gifts, and all sorts of decorative vinyl lettering for your home.
The "All Hearts Come Home for Christmas" sign is hand painted off white and has red and green vinyl lettering. It measures 7″X 14″ and would definitely add some country charm to your home for Christmas.
The "Believe" sign would brighten up any wall or table display with its cheery red paint and flecks of snow. It measures 6″x 13″.
All you have to do to enter this giveaway is to follow the directions on the Rafflecopter form at the end of this post. The giveaway is open to residents of the continental US only. In the meantime, visit Well of Words to see if any of Holly's signs would help you cross someone's name off your list this year.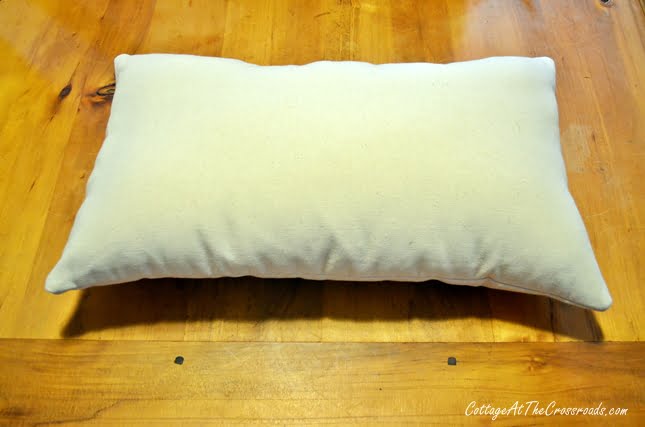 Now, back to my red ticking peppermint twist pillow! First, I'll have to admit that this is not an original idea of mine. I saw a similar pillow on a very famous site that sells home decor and I thought it was the cutest thing, especially since I'm in the middle of having some new curtains made for our front porch. And I don't want to reveal too much, but I will tell you that there will be some red ticking on those curtains! Anyway, this famous site where I saw the pillow was asking $85 for it! So I thought I'd try my hand at making something similar.
The base pillow is made of muslin. A friend of mine sewed this up for me since I don't have a sewing machine. I wanted a very neutral pillow so that I could change the decoration on it to suit the seasons.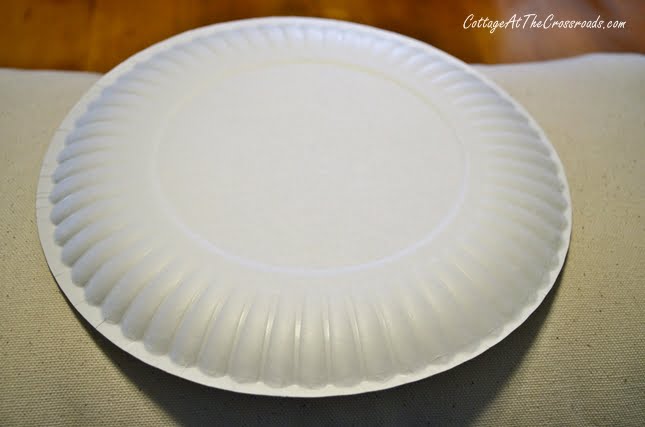 But for Christmas, I wanted to attach the peppermint twist to it so I searched around for a round object to use in making the twist. I thought that a paper plate would work perfectly.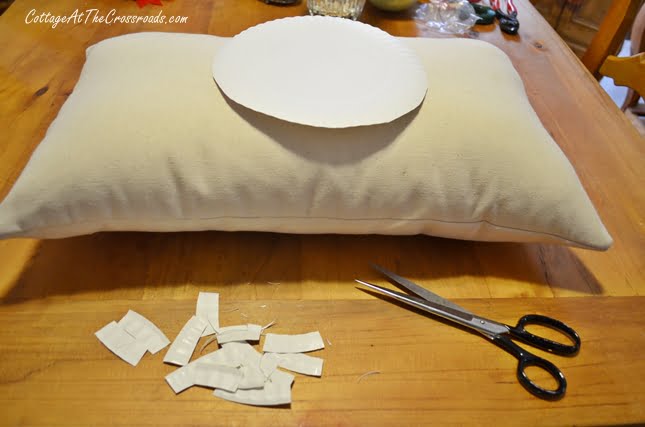 The paper plate was just a bit too large for my pillow so I trimmed about 3/8 inch from it all around. If you try making one of these, just make your plate the size that you want your peppermint twist to be.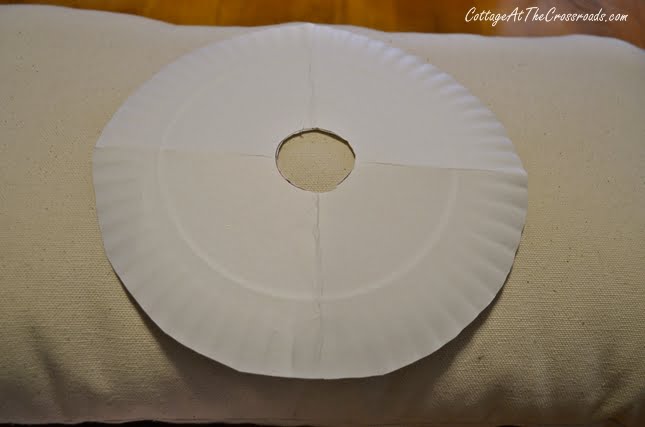 Next, I cut a hole in the paper plate about 1 1/2 inches in diameter. If I were making this again, I would increase the size of the hole and you will see why in a minute.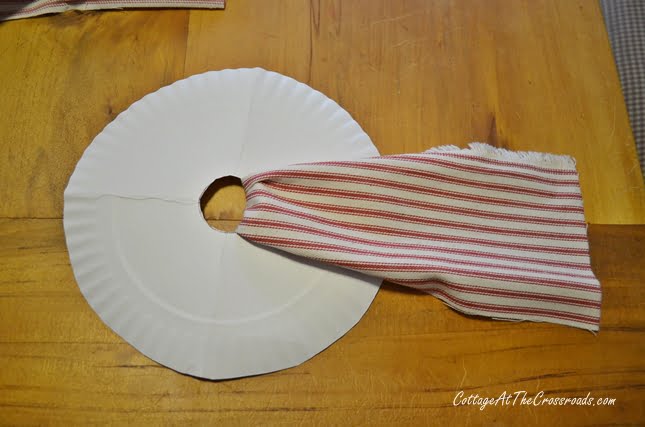 The next step is to cut some strips of red ticking. I used a total of 10 strips that are 5 inches long and 3 inches wide. Pull about an inch of each strip through the circle.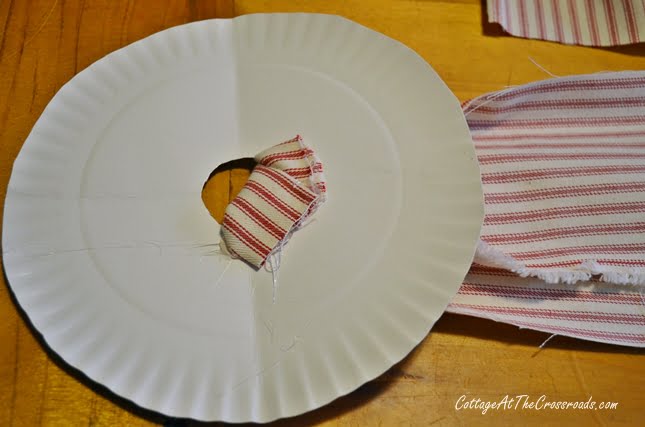 Hot glue the part that you turn back to the plate and then hot-glue the other end also.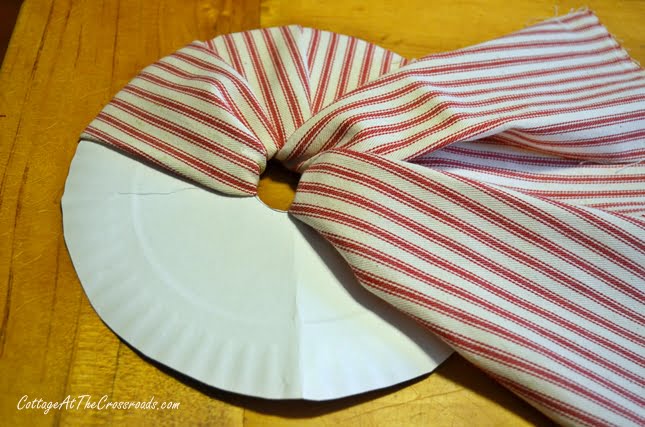 Now, I didn't do this, but if I were making this again, I would go around and cover the entire plate with the short strips first before adding the longer ones. You will need 6 strips that measure 10 inches long and are 4 1/2 inches wide. Now are you beginning to see why you need to increase the diameter of your hole?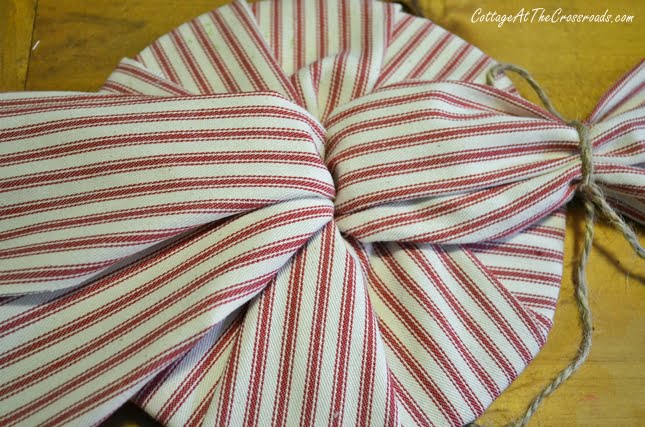 By the time you finish, the entire hole will be filled with fabric! I tied a little twine to my ends to make the "wrapper."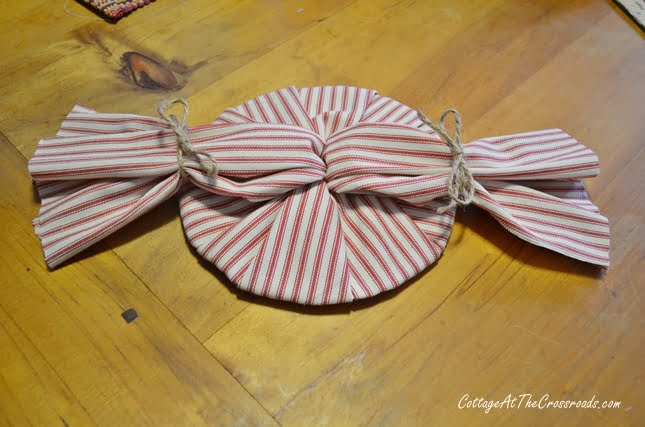 The last step is to trim the ends so that they are all the same length and then attach the twist to the pillow. I used a few dabs of hot glue, and I'll be able to pull the twist off whenever I want to change the pillow.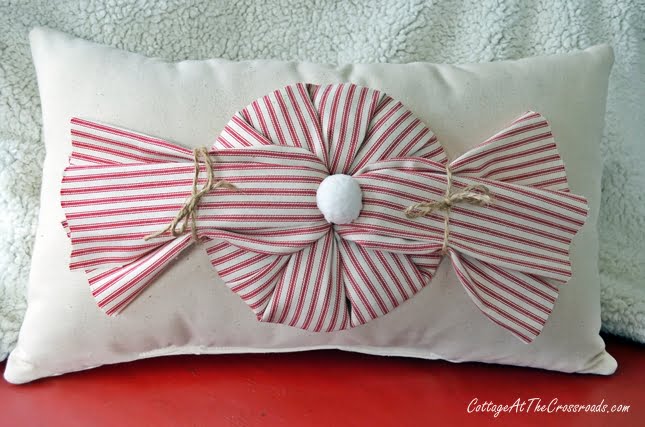 I also added a little stuffing underneath each section to make it a little more rounded and hot glued a pom pom in the center.
Now I can't decide if I like it better inside the house or on the porch. Either place, I love my little peppermint twist pillow and it make me smile to think about how much money I saved by making it myself!
Now go visit Debbie, Ann, and Dawn to get some more inspiration for some projects you can make yourself by clicking on the links under this graphic. And don't forget to enter the giveaway before you go.

1. Debbiedoo's 2. Cottage At The Crossroads 3. On Sutton Place 4. Creative Cain Cabin