When you live in a small house, you are always looking for furniture pieces that give you lots of storage. So I've had my eye out for a cedar chest for our bedroom. I'm happy to say that I found one recently and I'm sharing my cedar chest redo with you today.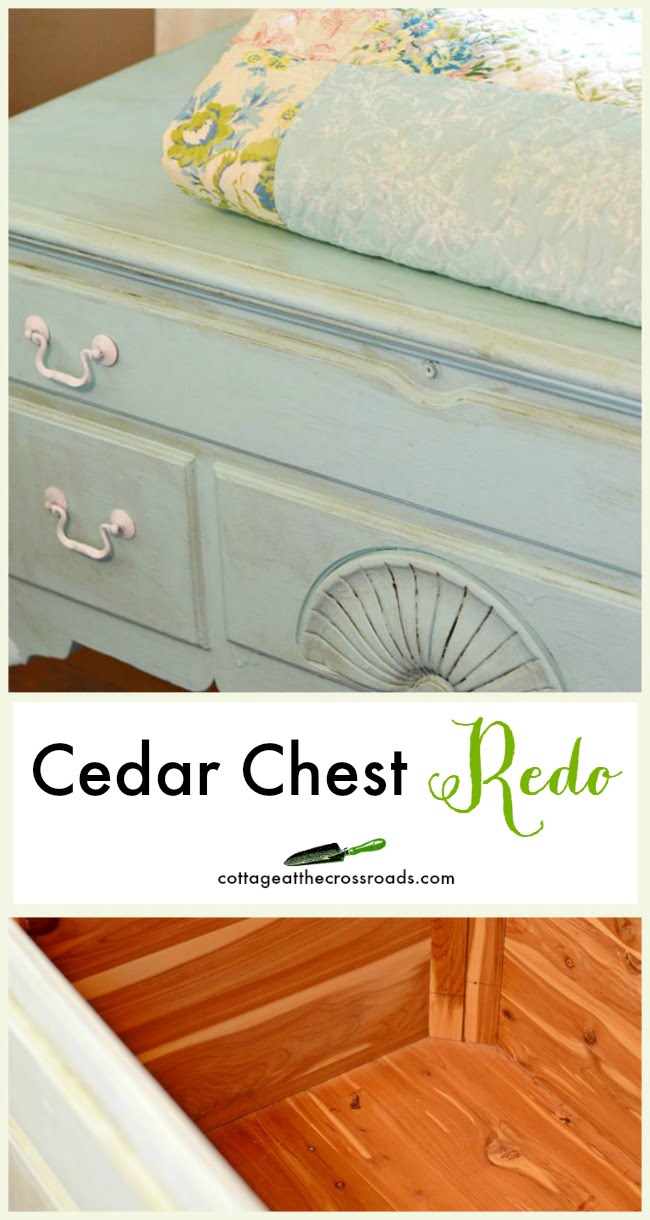 Back in the day, these cedar lined chests were often called hope chests or dowry chests. Young girls were often given one of these chests by their parents and over the years, it was filled with linens and household items that she would use after marriage. I never received one of these nor did I ever ask for one because I had my mind on pursuing a college education.
But last month, we moved our dog Lucy's crate out of our bedroom. It has been in there for six years since we got her, but she never uses it anymore. It was just taking up space so that's when I got the idea that I could really use a piece of furniture to store blankets and linens.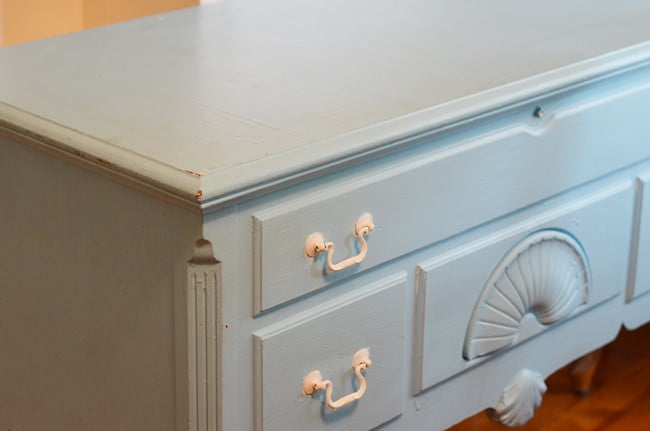 So Leo and I were at the auction that we attend all the time and I spotted this vintage hope chest. It was already painted turquoise and I thought that I could move it into the bedroom and fill it with all sorts of things. I didn't pay much for it but when we got it outside in the sunlight, I could see that the person who had painted it has actually done a poor job with it. Although I liked the white hardware, the paint was all gooked up on it and was messy!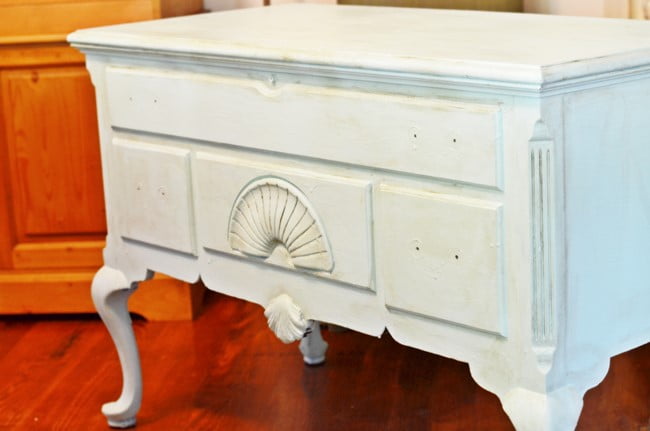 I removed the hardware and soaked it in hot water and was able to easily remove the paint. Since I was going to repaint the piece, I decided to lighten up the color a bit by using some aqua homemade chalky finish paint that I already had on hand.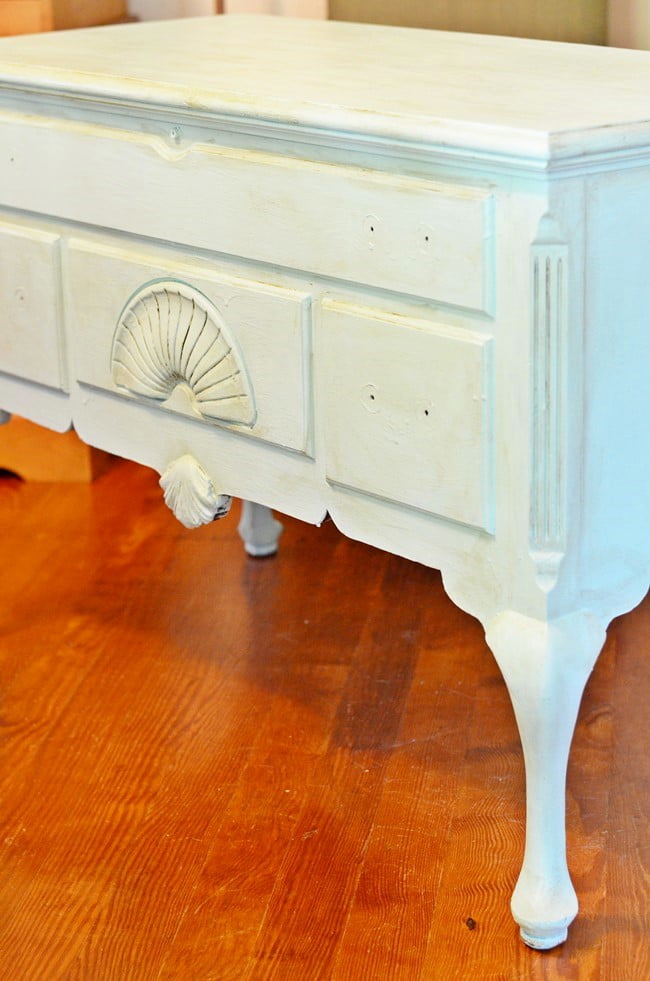 Here it is sporting the new aqua color. Although I frequently mix up my own chalky finish paint, I do use the Annie Sloan waxes because I really like the protective finish that they give to furniture pieces. You can see how adding the dark wax really accentuates the decorative details on this piece. One of the things that I especially love about this cedar chest is its flirty Queen Anne legs!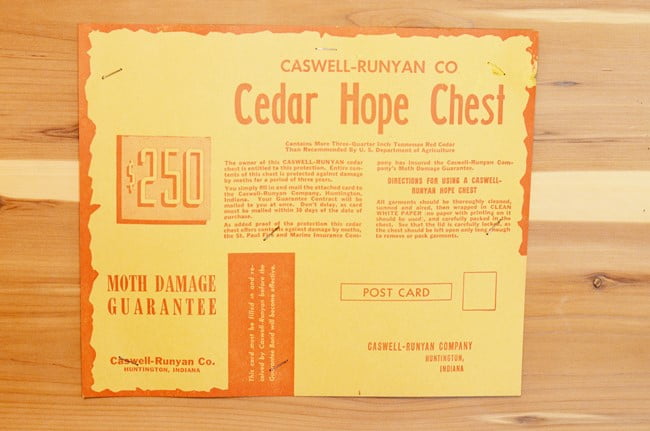 Although this chest probably dates back to the 60s or the 70s, the moth damage guarantee was still attached to the inside of the top. As you can see, this chest was not made by the Lane company as so many of the hope chests made during that period were.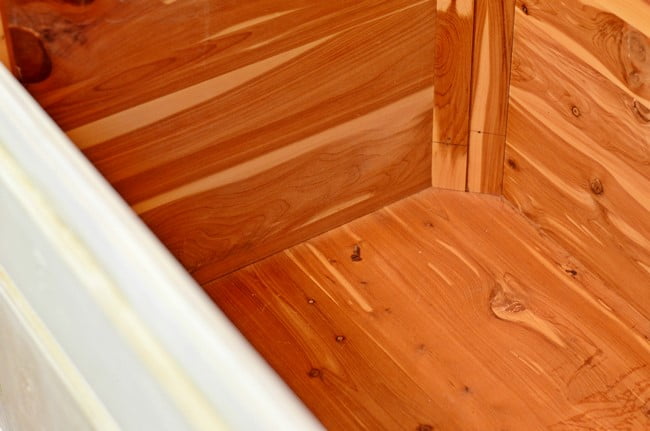 But the cedar inside still has that distinctive smell even after all these years!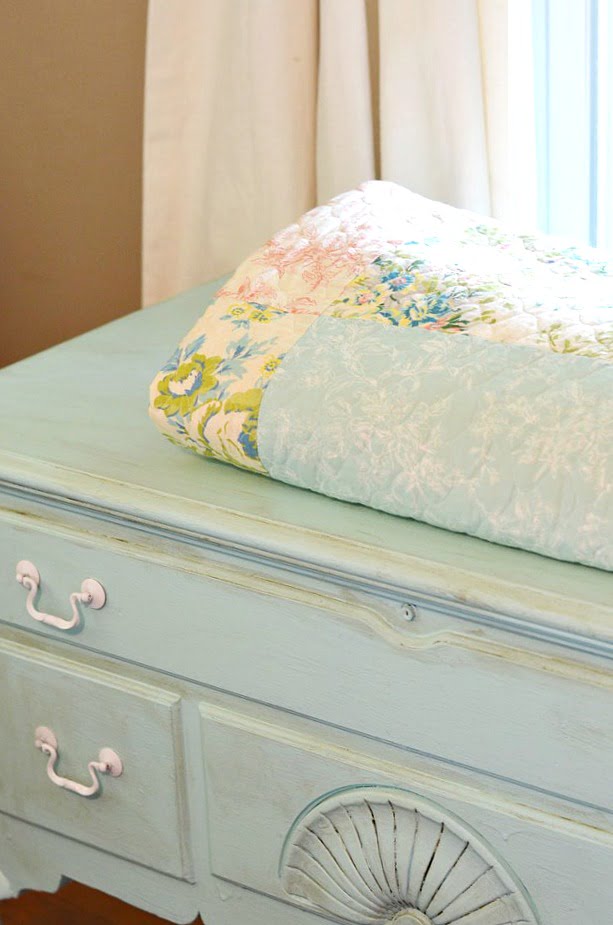 Now you can see why I lightened up the original color with this cedar chest redo. I was matching up the aqua in my new quilt that I purchased a few months ago and plan to freshen up the rest of our bedroom over the summer.
So stay tuned. I have been working on multiple projects recently and I'll share those soon! And I was thinking that I could do some quick videos on how I make my own chalky finish paint and how I use the waxes on painted furniture pieces. Are you guys interested in learning how to do that?