I've been doing a little summer decorating at the cottage, and one of the things I've made is this burlap mantel garland.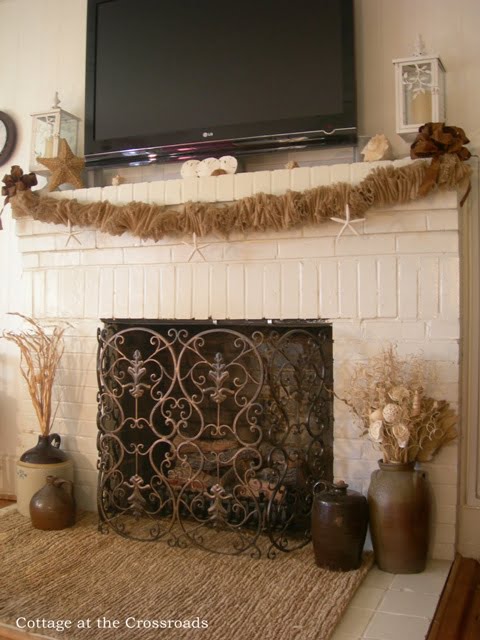 And since I haven't made it to the beach this year, I thought I'd bring to beach to me by pulling out all my shells.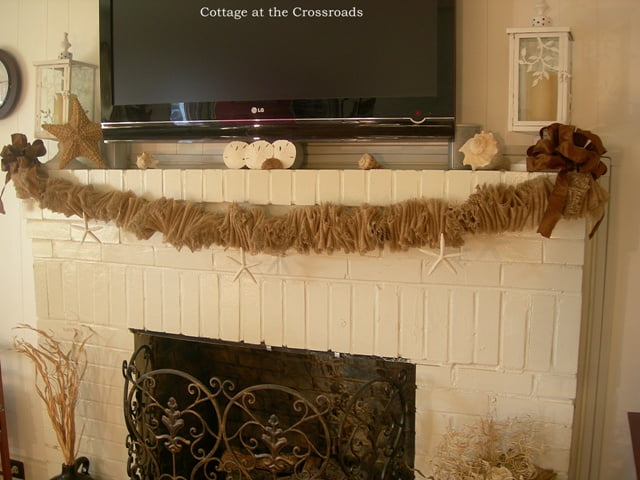 My sister-in-law Jean saw a similar garland on the blog Beautiful Nest, and she said that I should make one since it looked so pretty on a white painted fireplace.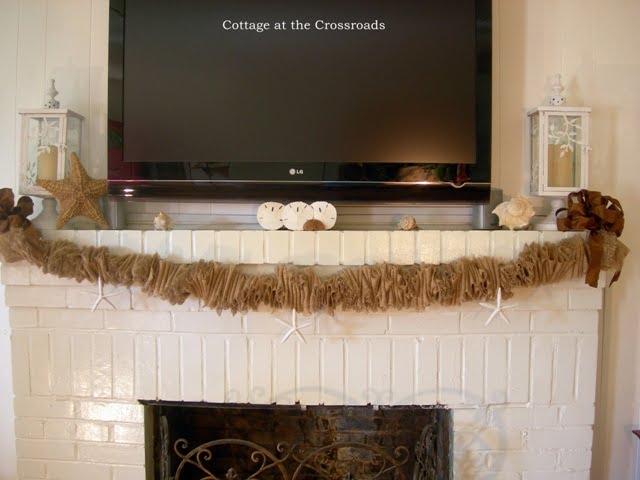 Jenni made her garland out of linen, but I thought I'd try to make a burlap garland.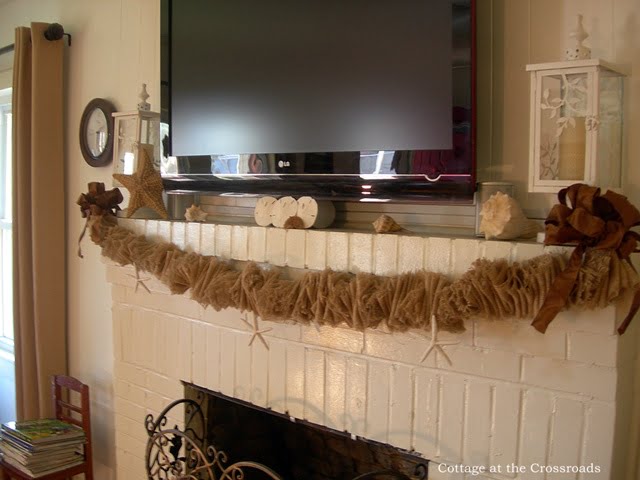 Burlap goes so well with our linen drapes, and I love its texture.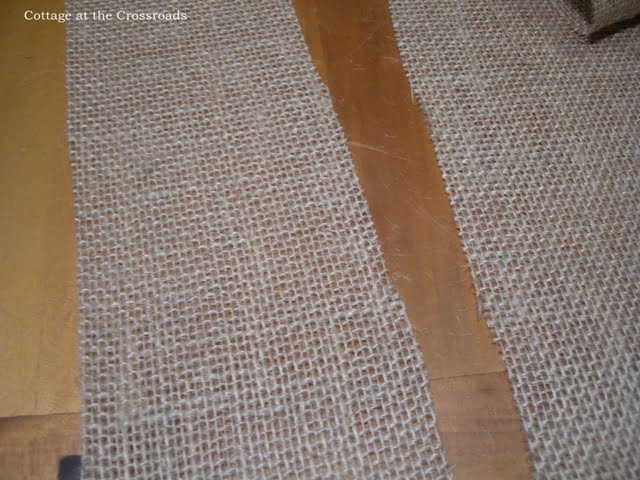 I purchased 2 yards of burlap and cut it into strips about 4 inches wide.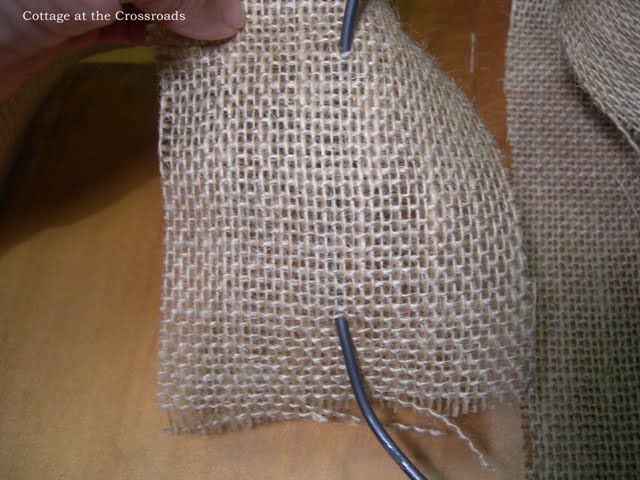 Next I started threading a wire through the burlap. You will need a fairly thick wire, and this is the wire Leo brought back from the hardware store.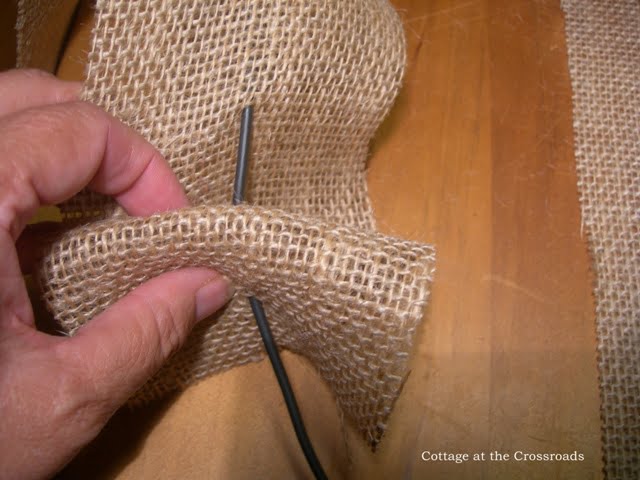 As I was punching the wire through the burlap, I would pinch it together and hold it. I punched through about every 2 inches, and kept pushing the folds together.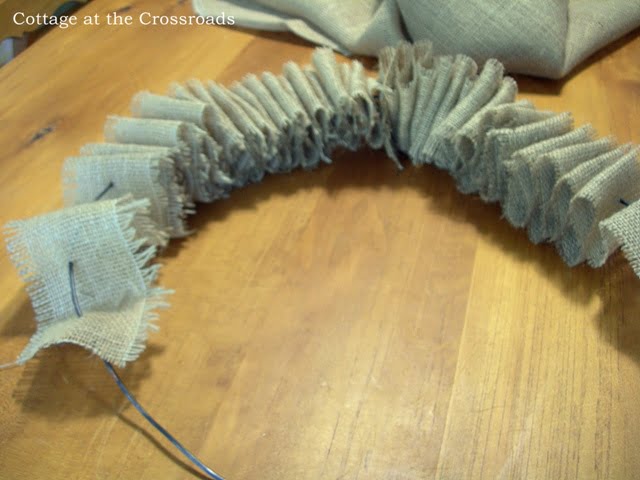 This is one strip that had been threaded on the wire. I ruffled the edges after I got the burlap on the wire. Since I wanted the garland to be nice and full, I used the entire 2 yards of fabric. After I finished the garland, I attached it to the mantel with some additional wire.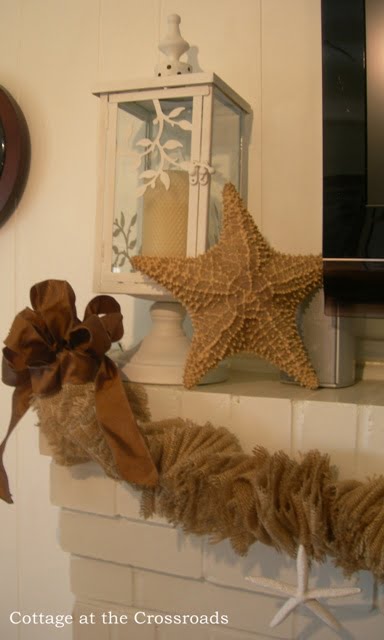 To hide the wire where I attached the garland, I placed some bows that I made. Last week, I painted the lanterns white to use as part of my mantel decorations, and I asked Leo to retrieve my shells from the attic where they were stored.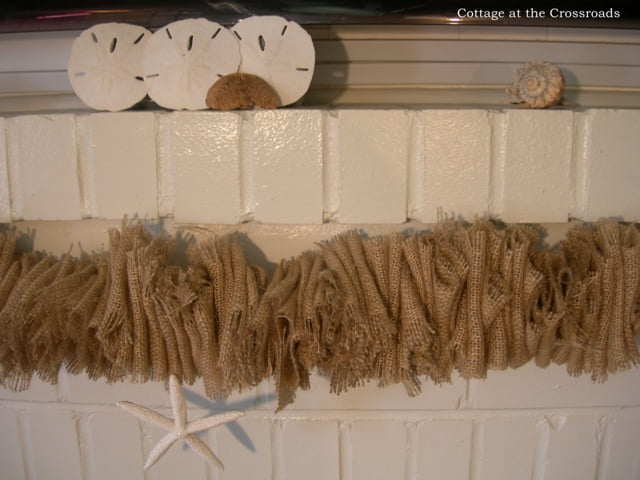 I hot glued 3 starfish to the garland and added some other shells to camouflage the speakers that are on the mantel.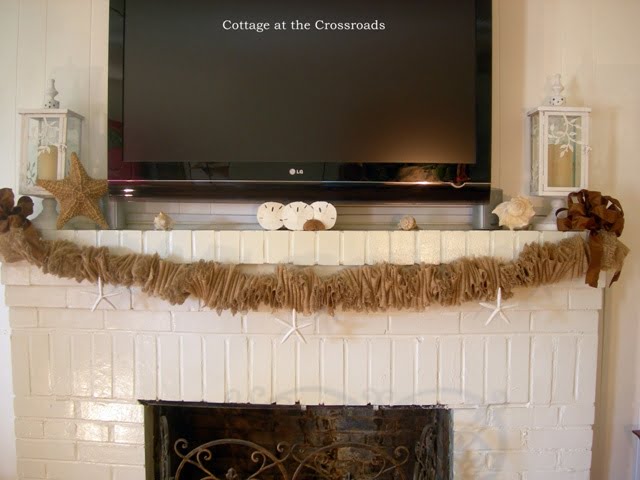 If you look closely you can still see the speakers but they do blend into the background.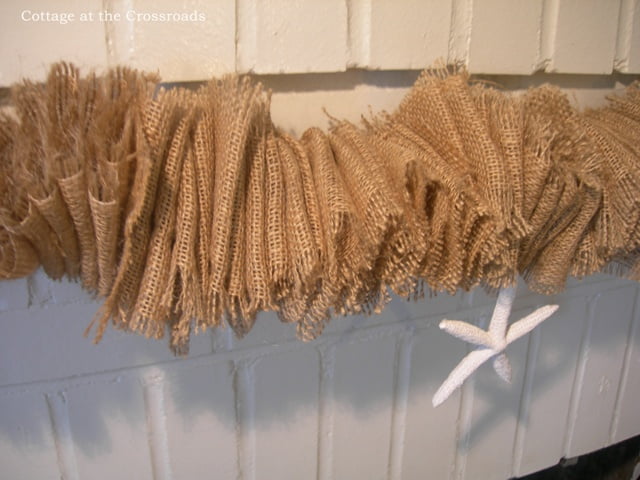 This photo shows how I twisted the burlap folds this way and that on the wire.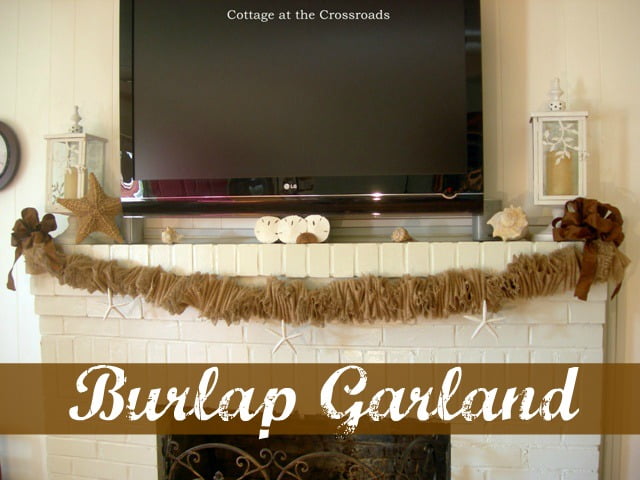 I was so pleased with how the burlap garland turned out!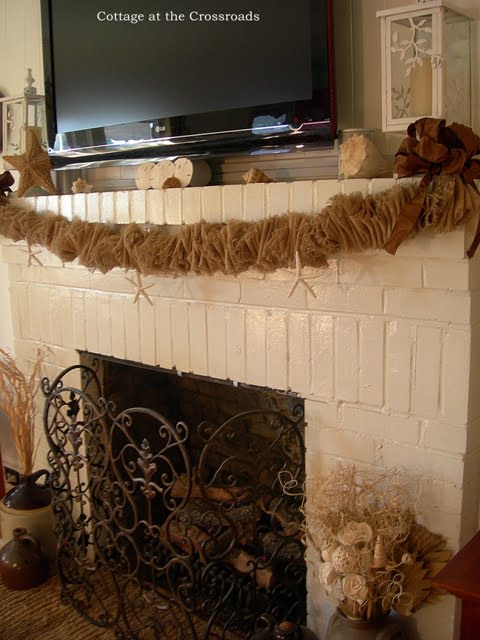 My sweet sister-in-law bought some dried flowers to place in the jugs, and the natural colors compliment the shells and the burlap.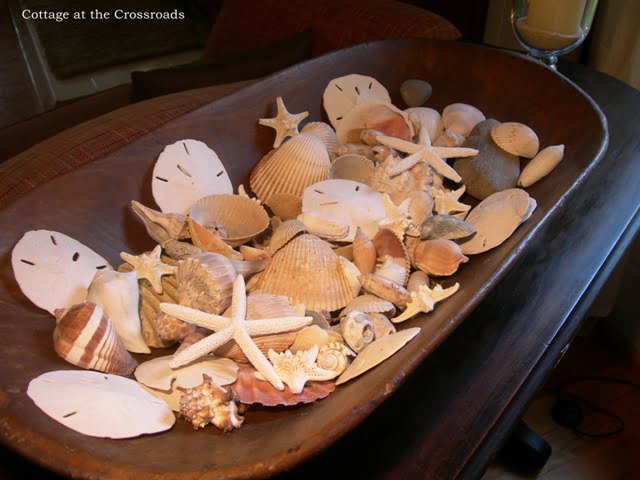 To do some more summer decorating, I put some shells into my dough tray.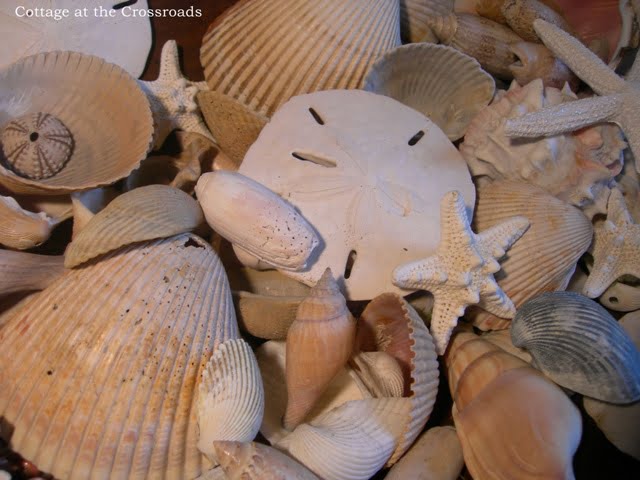 Many of the shells were collected when we lived on the Isle of Palms.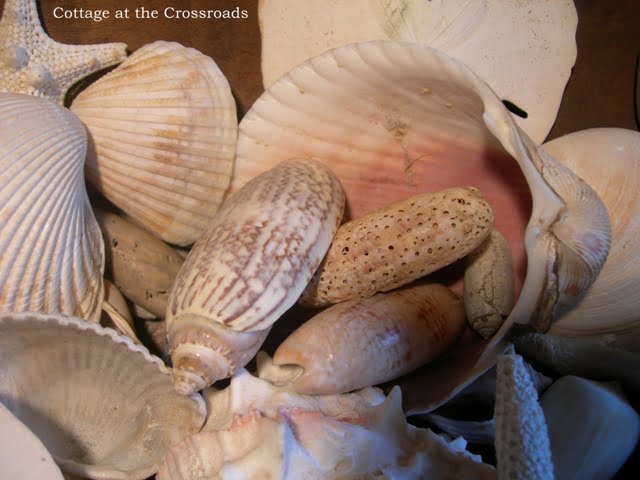 My favorite shell is the lettered olive which is the state shell of South Carolina.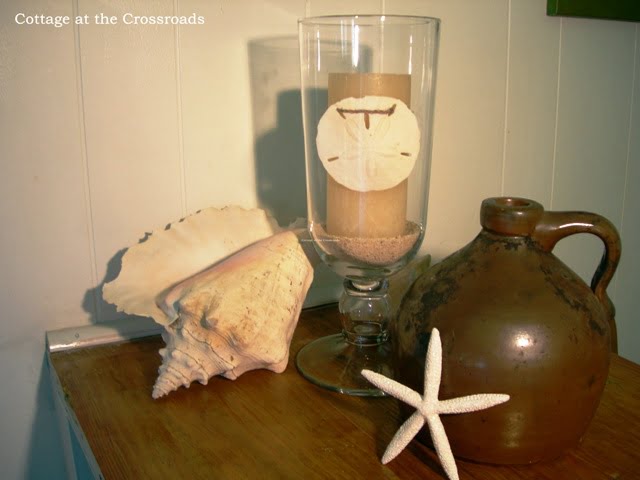 I created some vignettes on top of our two dividers.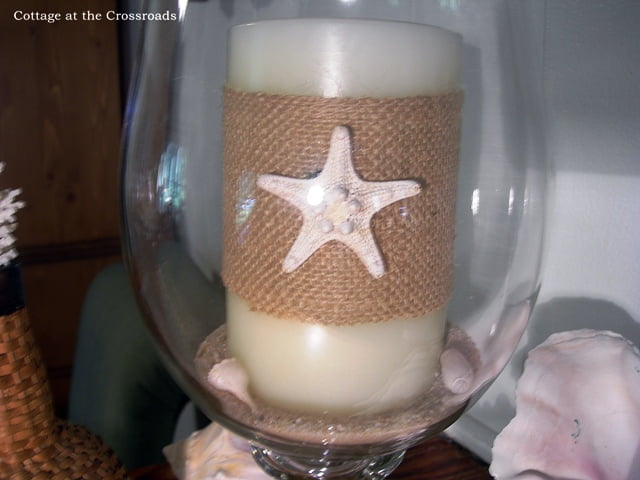 A starfish embellished candle!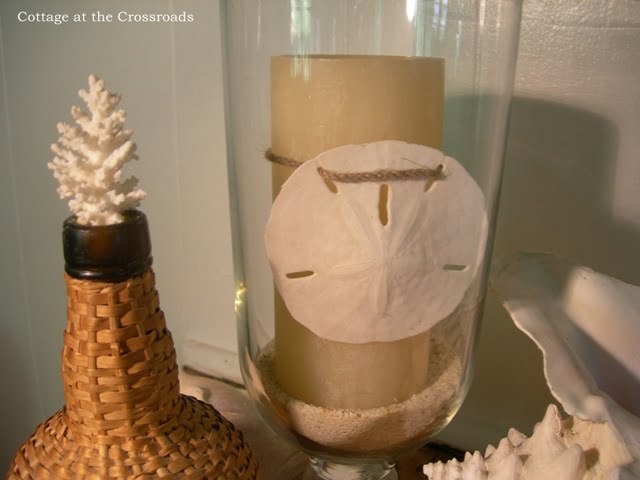 Added a little coral here!
The cottage is ready for summer, and I'm ready for a trip to the beach!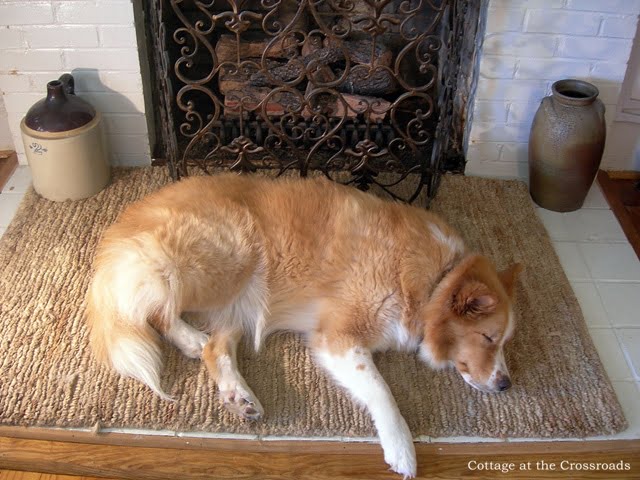 Lucy dreams of the beach, too!