Today I'm excited to share my Aqua Autumn Porch as part of my Fall Ideas Tour. This gorgeous autumn porch is fun to make and looks amazing.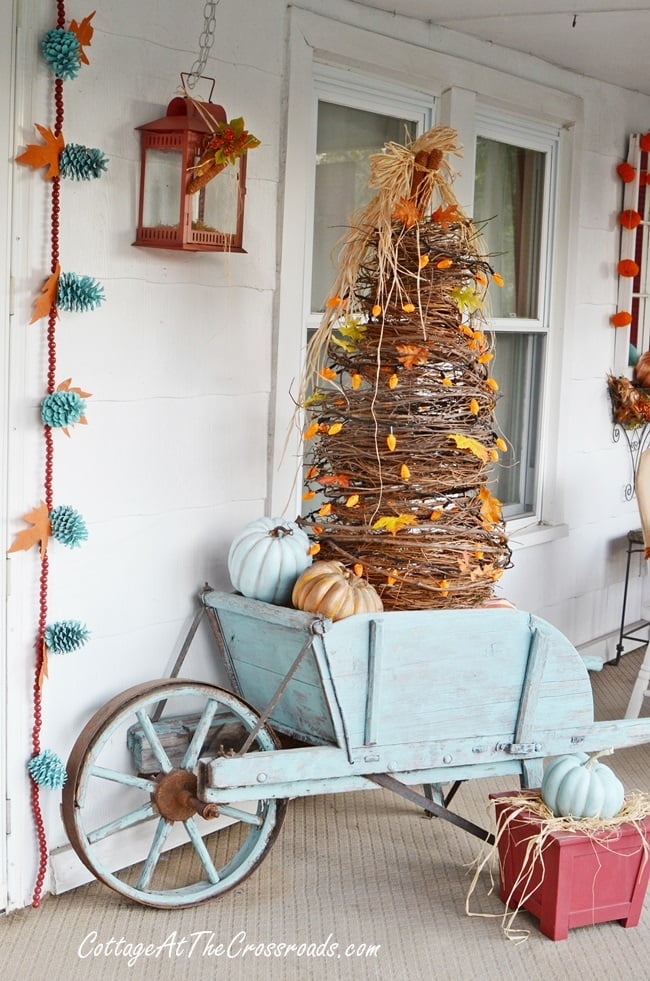 I titled this post "Aqua Autumn Porch" but our porch is decorated with more colors than just aqua! It is surprising how pretty aqua looks with the traditional, warm colors of fall which I have used in abundance on our porch. But aqua is unexpected, and I like to be a little different!
If you're new here, I need to tell you a little bit about our screened porch. It is large and runs across the front of our southern country cottage. For a while now, we've had this old Amish made wheelbarrow on the porch which I decorate around each season. The wheelbarrow is significant because Leo and I have a large garden.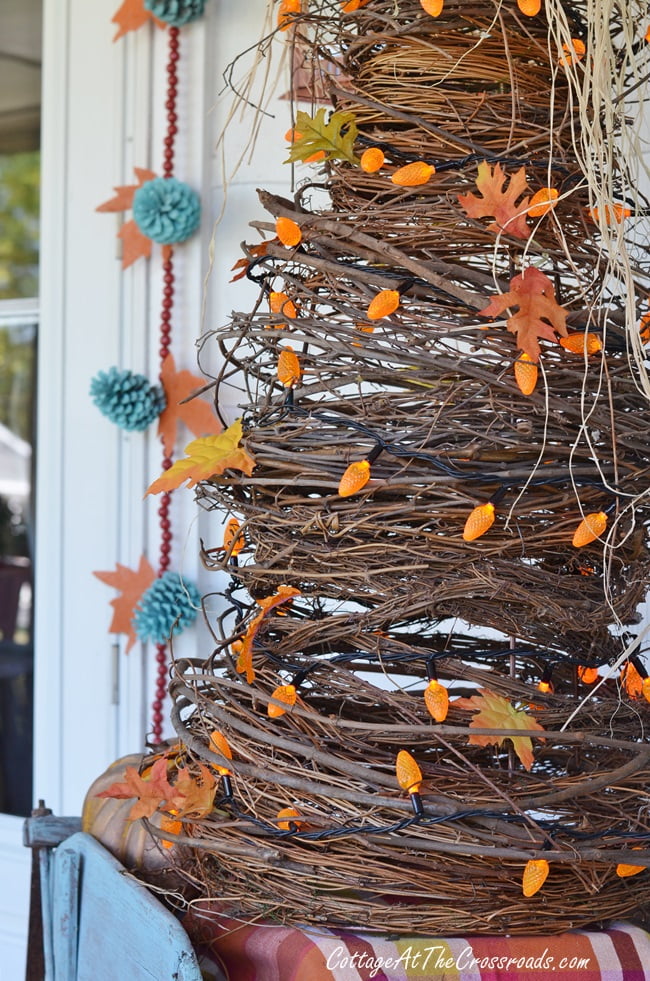 In the wheelbarrow is a handmade grapevine tree that I recently made. I had admired one that my Facebook friend Paulette had, and I finally attempted to make my own.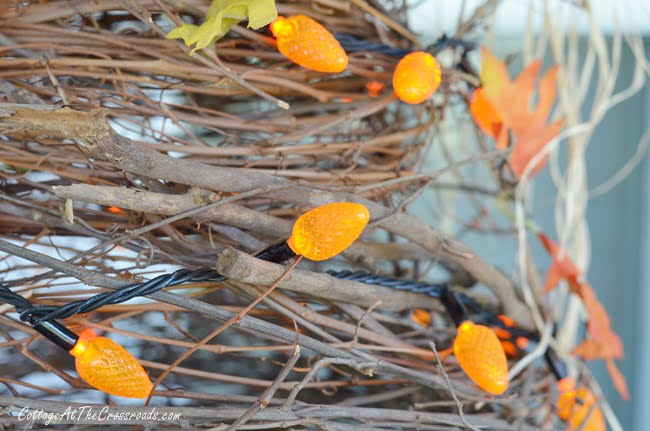 I already had the orange lights in my stash and they look great on the tree during the daytime.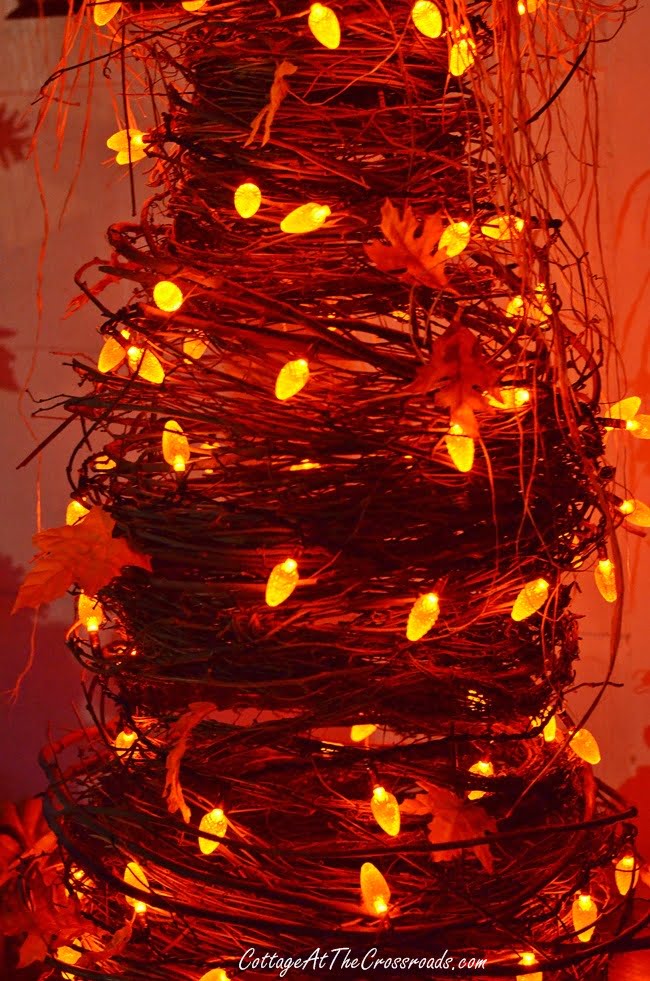 But they look glorious at night! Leo and I have enjoyed their warm glow so much while sitting on the porch.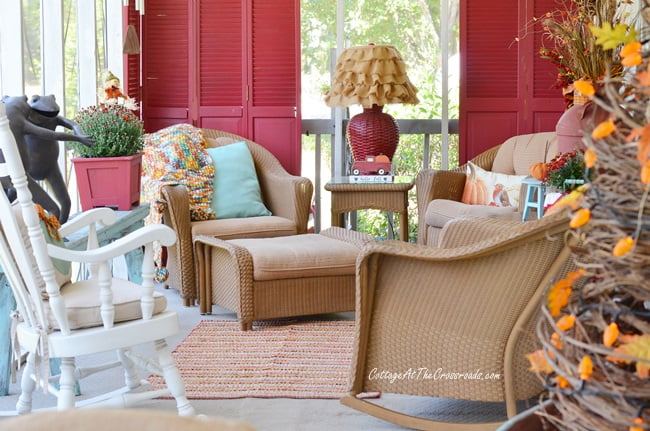 Since our porch is large, it is divided into 2 areas. On this end we have a sitting area.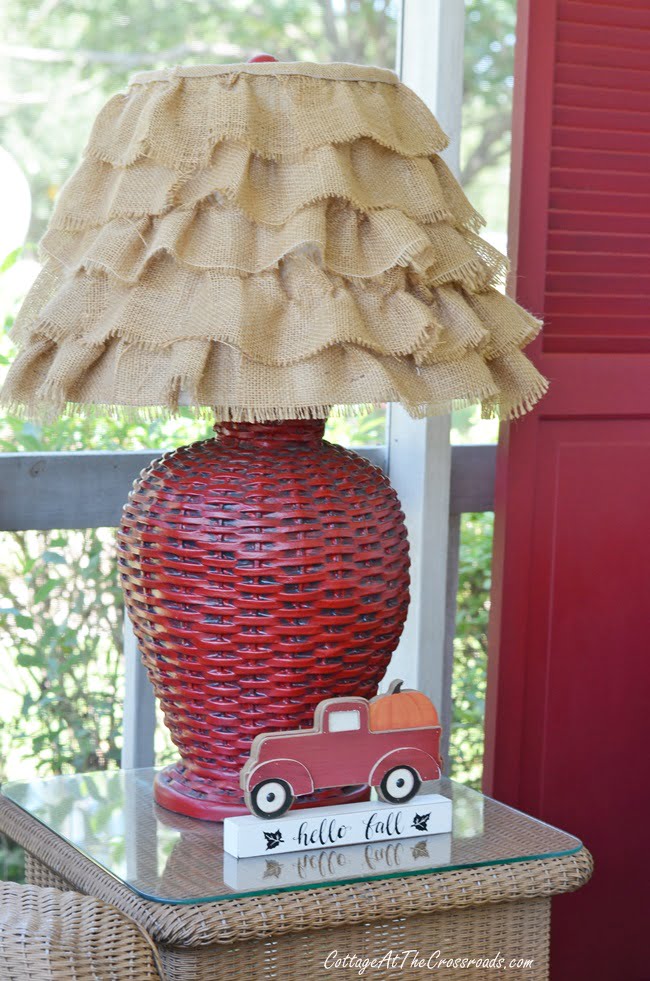 Down here is a red lamp with a ruffled burlap shade that I made several years ago. The little red truck is loaded down with a giant pumpkin!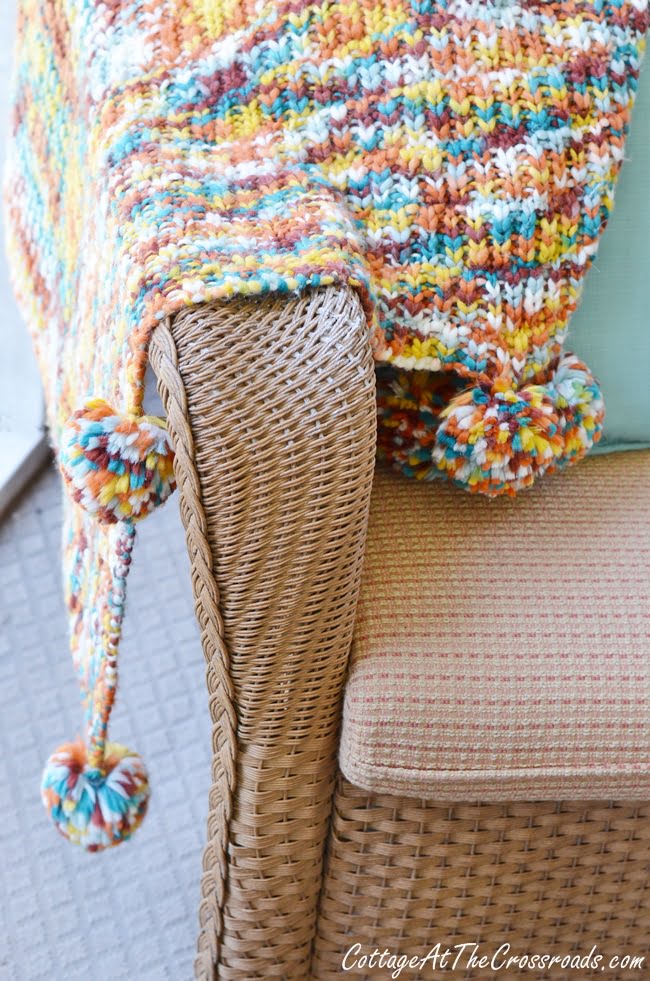 In one chair is a fall pom pom throw that I found and used last year.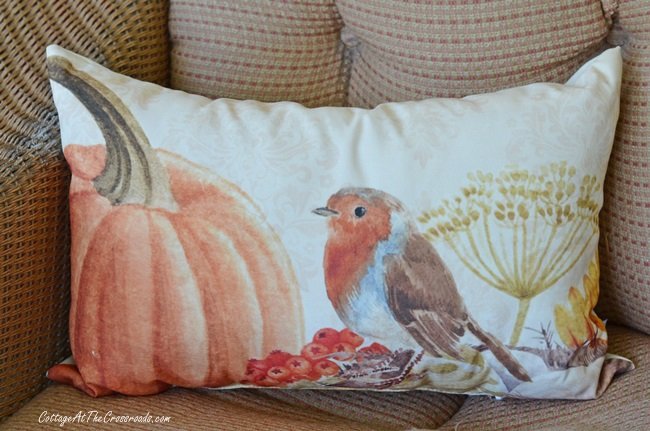 A new addition is this pillow with the adorable bird on it. We spend our mornings out here on the porch watching and listening to the birds.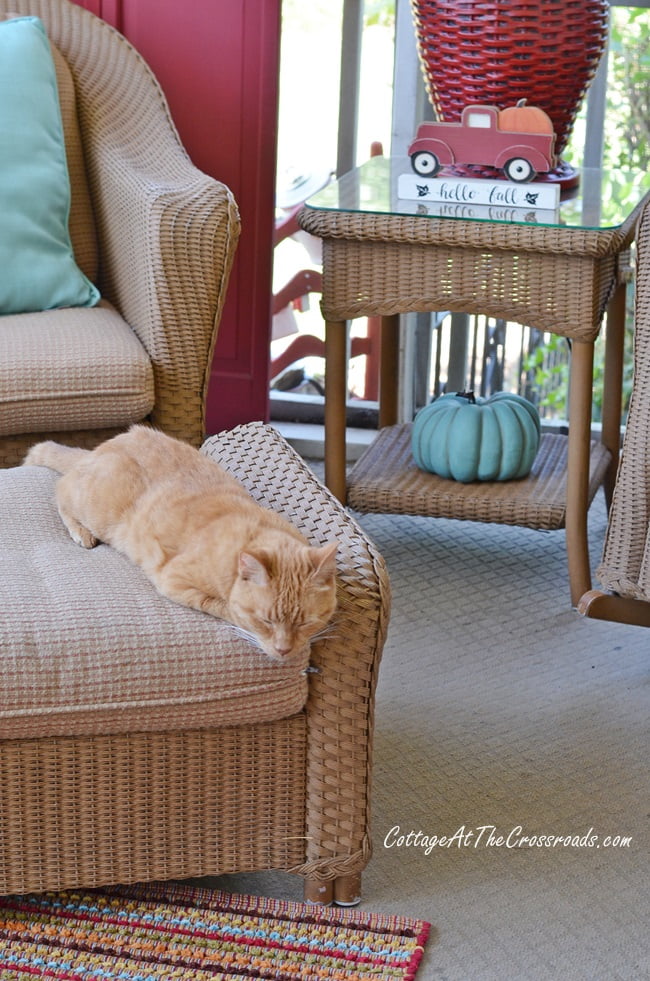 Henry, our cat, had found a perfect place to snooze!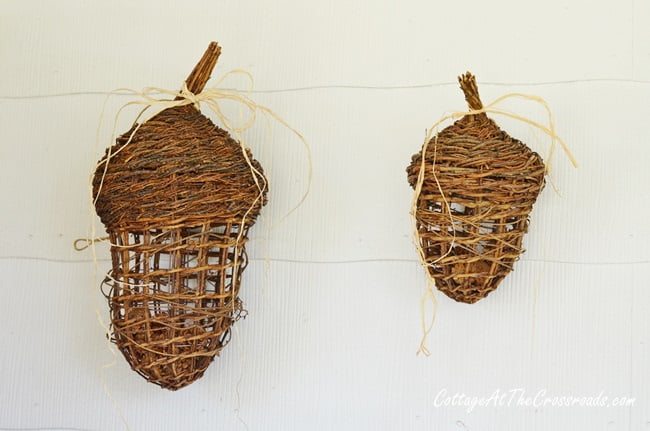 On the wall are 2 giant wicker acorns that my sister-in-law Jean loaned me which add great textural interest.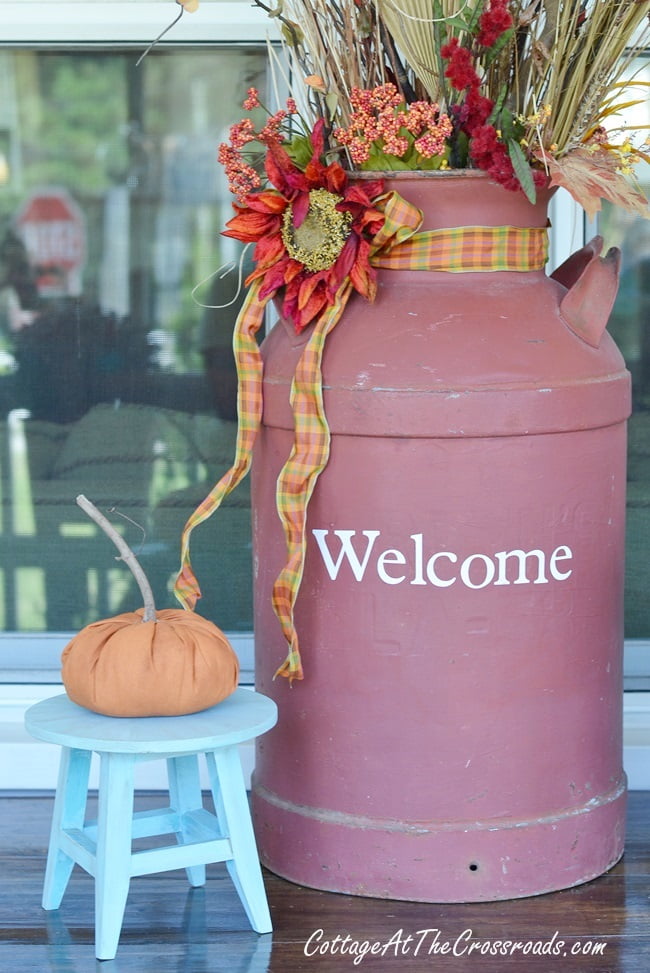 Also on this end is an old milk can dressed for autumn welcoming visitors to the Crossroads.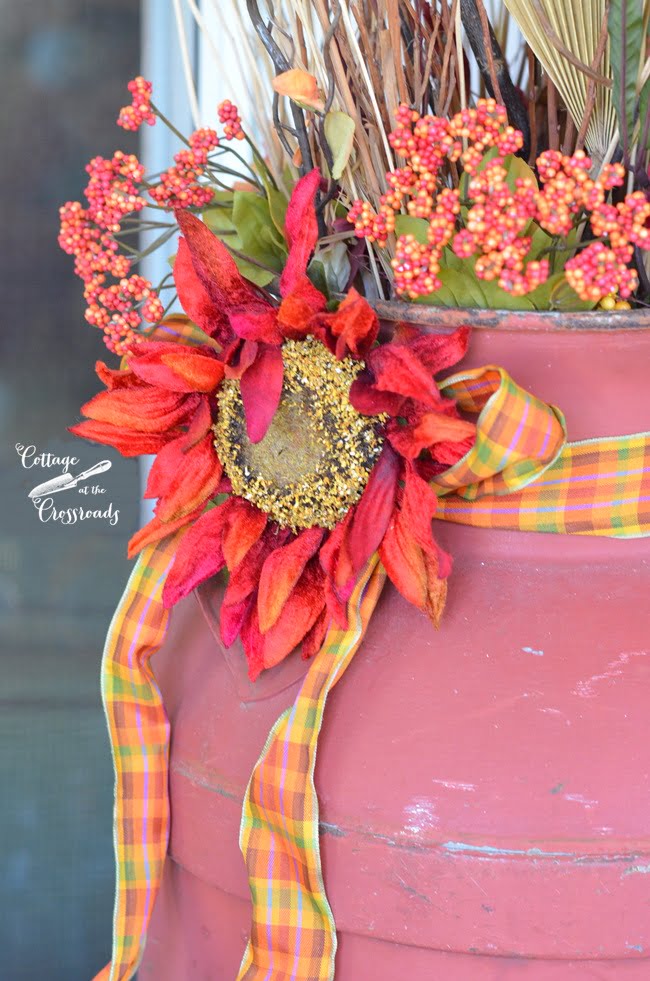 You can tell that I'm a color gal because of the rich autumn colors that I've used in decorating the porch! To me, autumn is a celebration of nature's bounty and the porch is echoing the beautiful, rich colors found in nature at this time of year.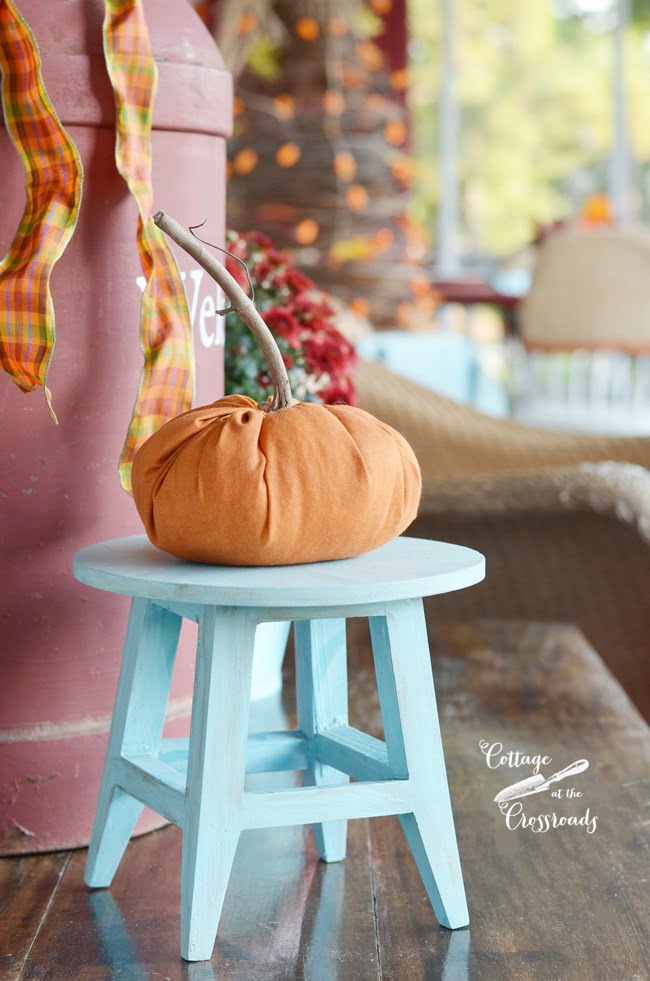 The orange pumpkin gets its own pedestal because it's the first hand sewn one that I've made! A grapevine stem stands in for the real thing!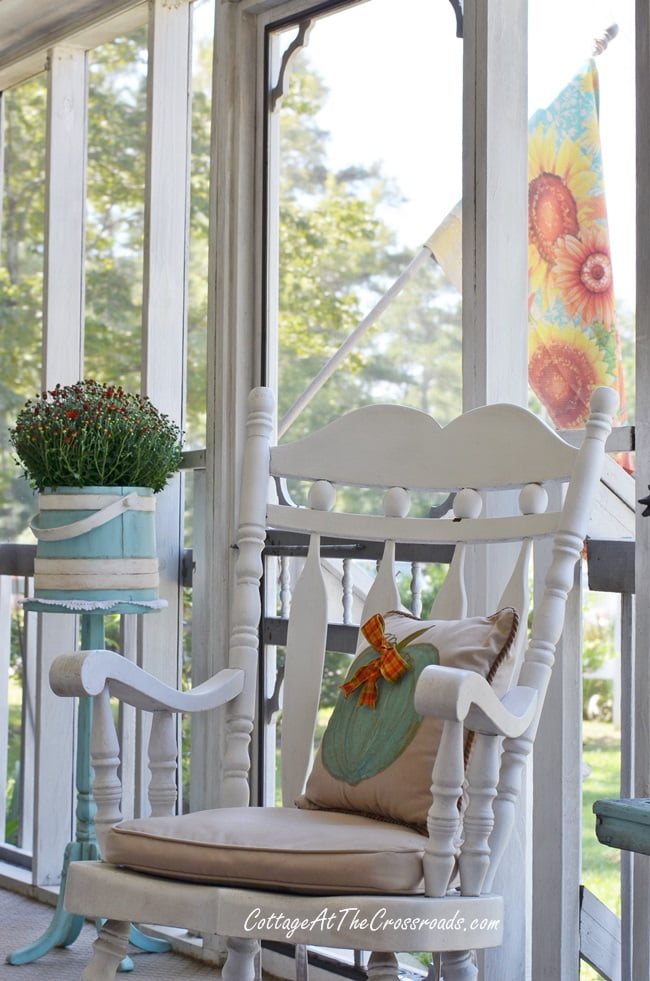 There's an old rocker on this end (can you even imagine a Southern front porch without a rocker???) and you can also see an autumn flag waving on the other side of the screen door. On the left is an antique firkin bucket that I recently painted aqua.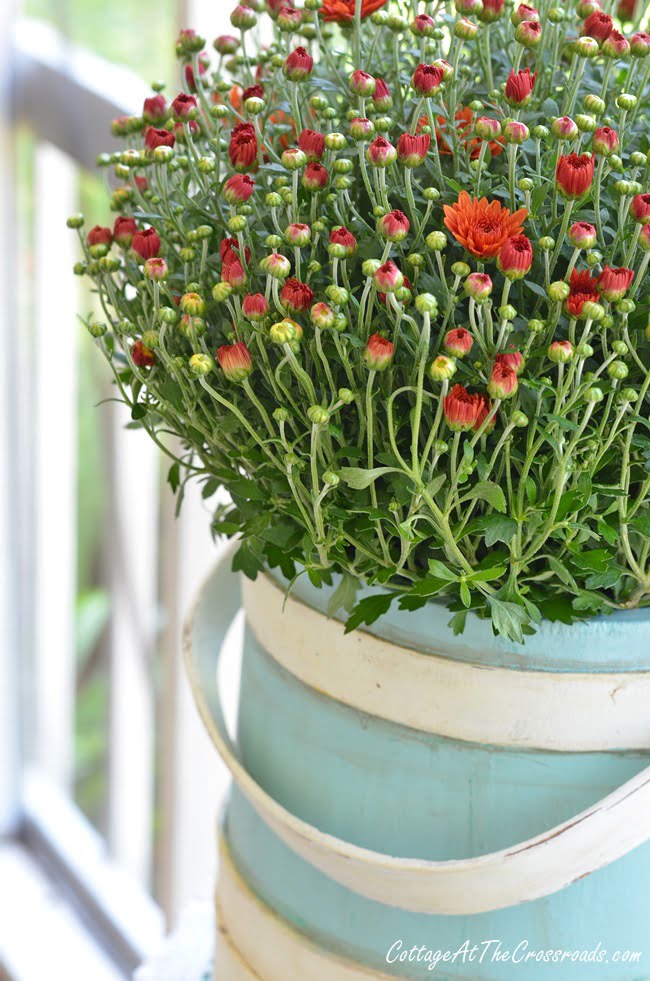 I just love how the rust colored mums look with the aqua! Didn't I tell ya?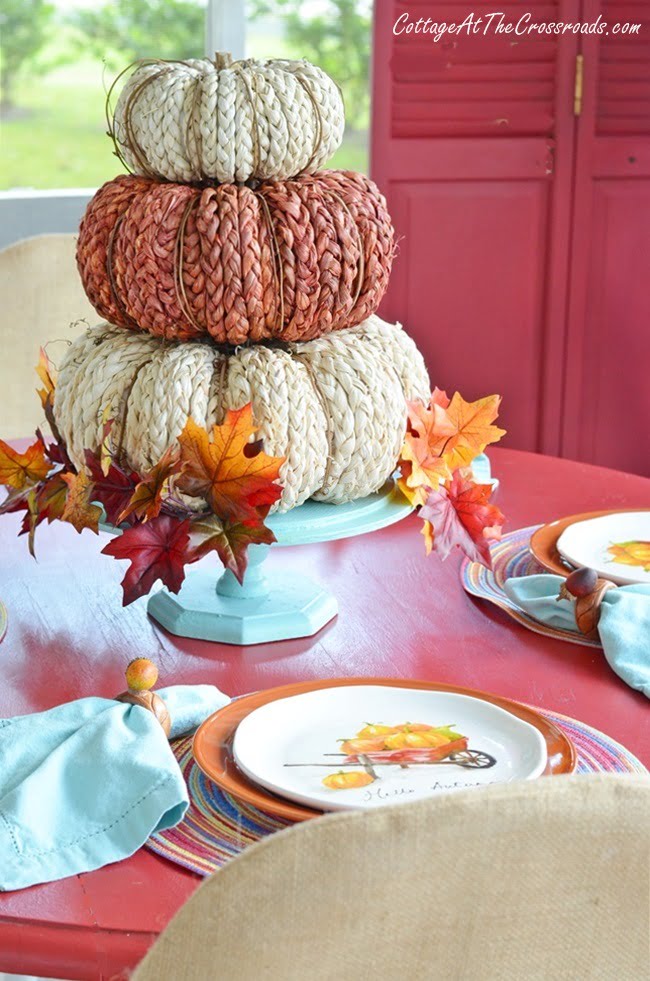 At the other end of the porch is our eating area. My other sister-in-law Jean (yes, both of them are named Jean!) loaned me these braided stacking pumpkins which serve as a centerpiece. I just love their wonderful texture so much that I'm going to have to get some of my own!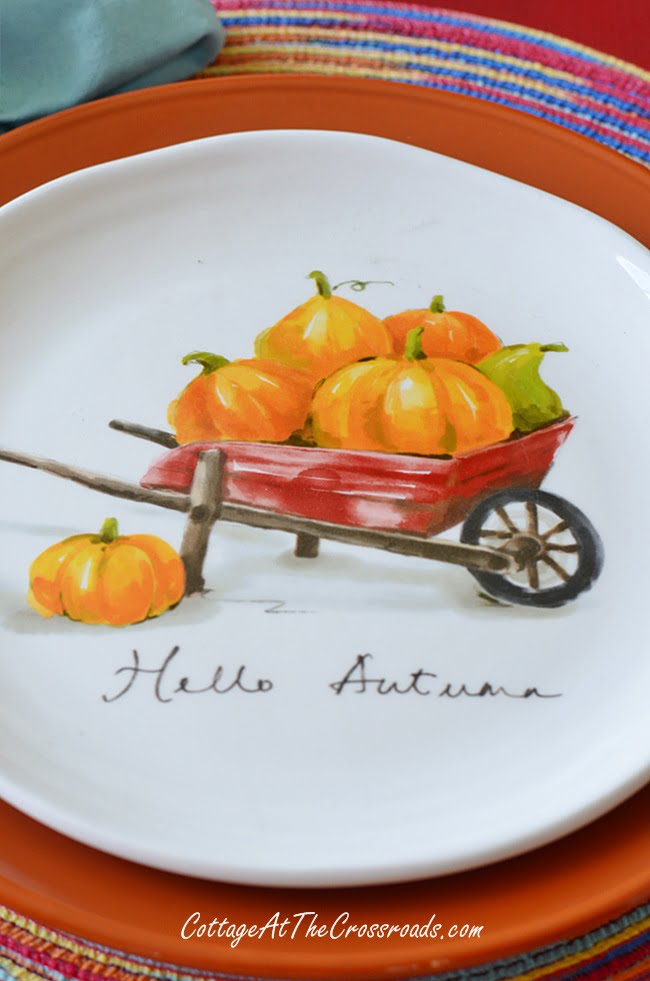 Well, you just know that when I spotted these plates with the wheelbarrows on them that they had to come home with me, don't ya? They and the placemats are from Pier 1.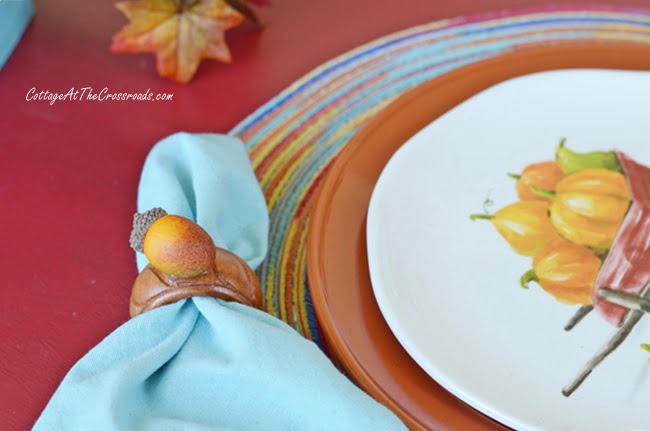 Old wooden napkin rings with acorns hot-glued on them complete the scene. I'm eagerly anticipating enjoying some dinners on the porch on these cool September evenings!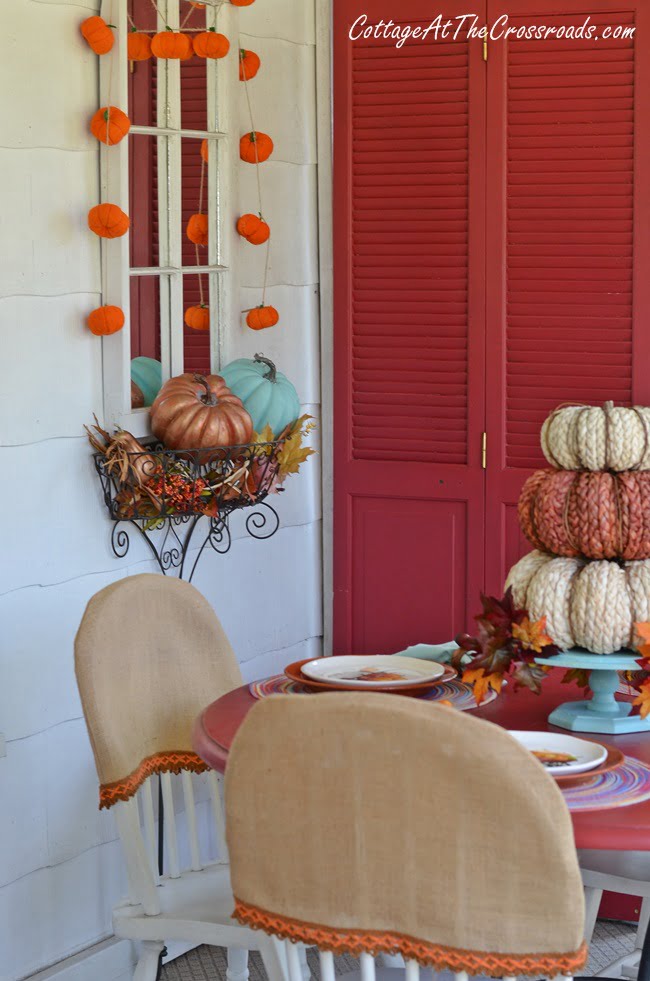 I wanted to show you these burlap chair covers. I made them last year when our church was having its tablesetting fundraiser event.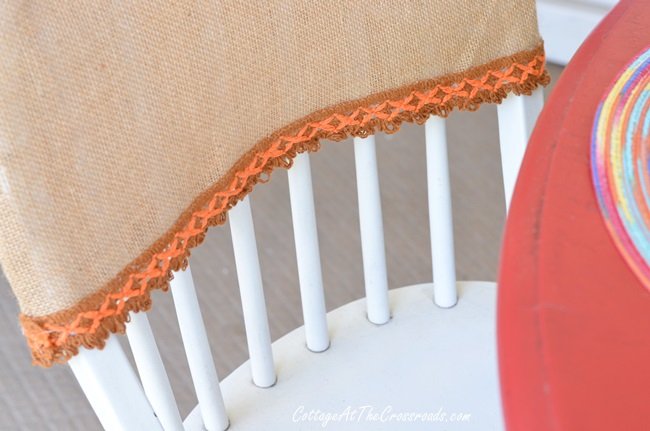 I fully intend to do a tutorial on how to make these because they sure do dress up a chair, don't you think?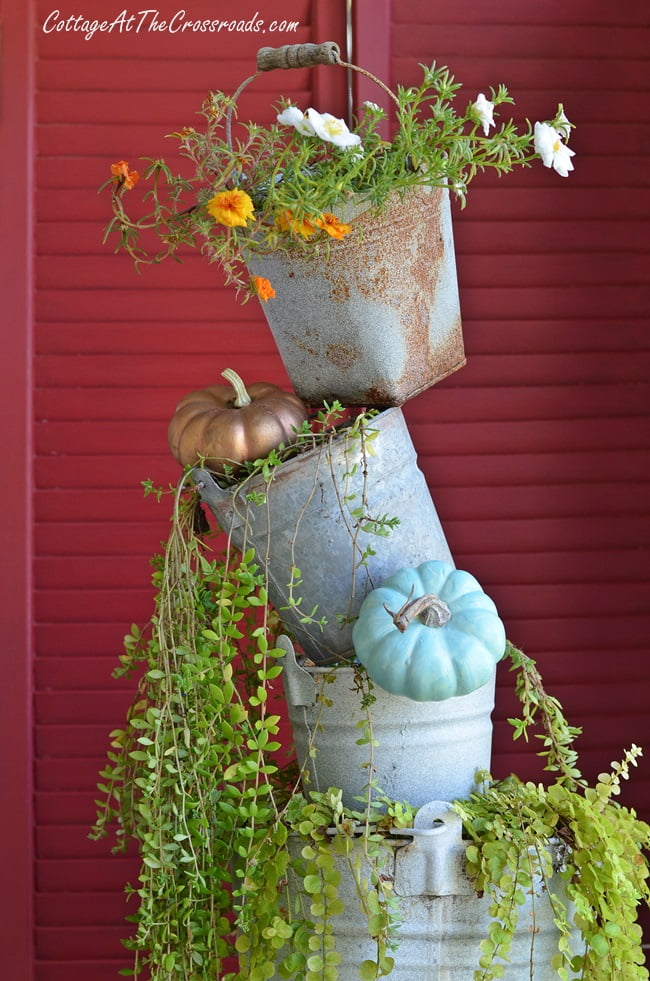 Over in the corner is an aqua painted ladder with some topsy turvy buckets on top. I literally just took this from the yard and popped a few faux pumpkins into the buckets.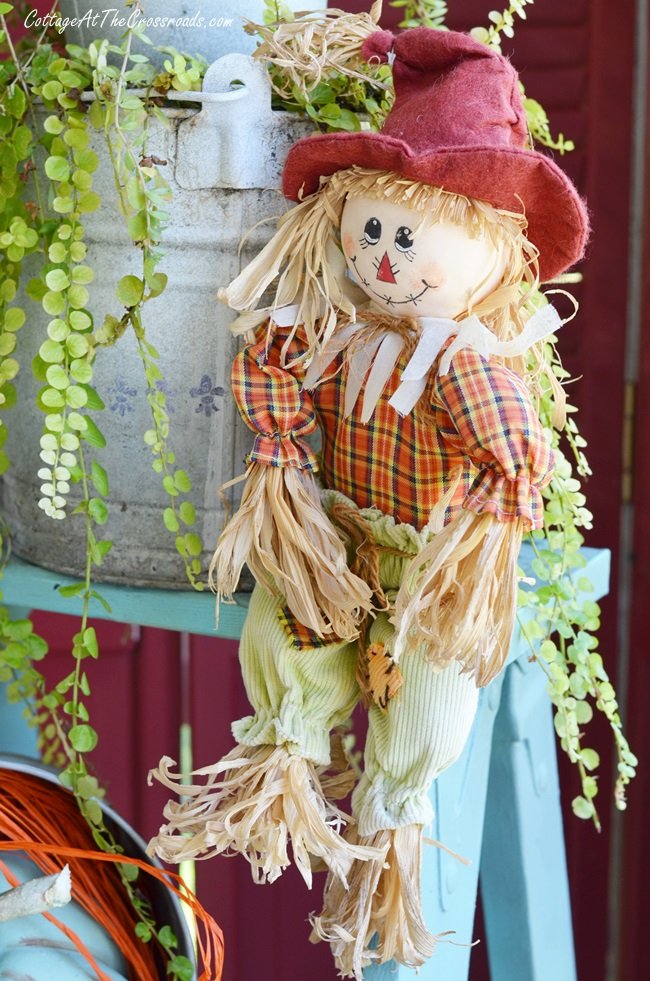 A cute little scarecrow is perched atop the ladder.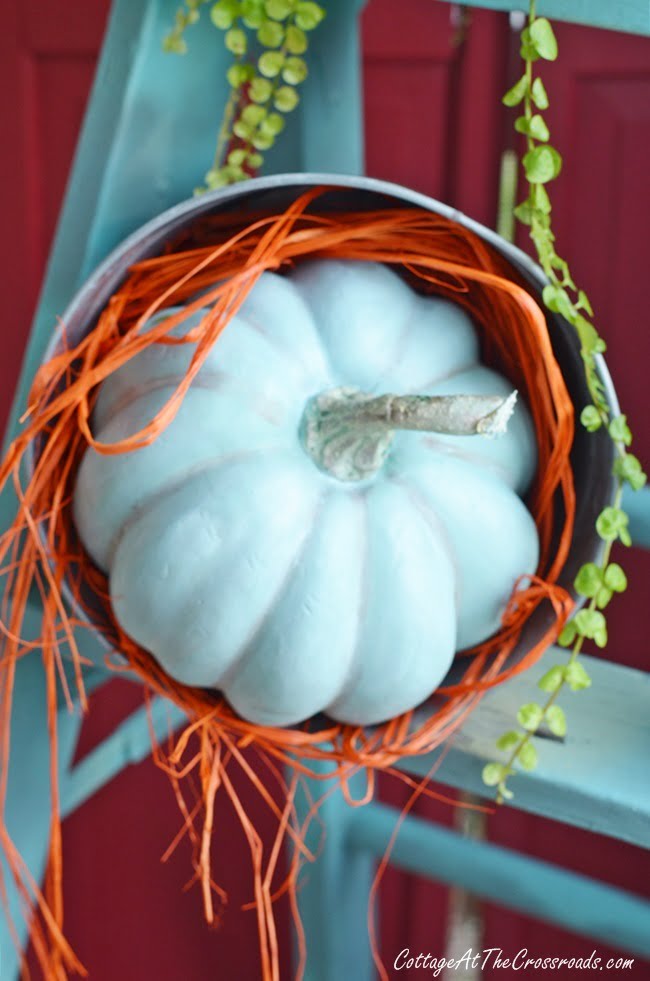 Another bucket holds an aqua painted faux pumpkin.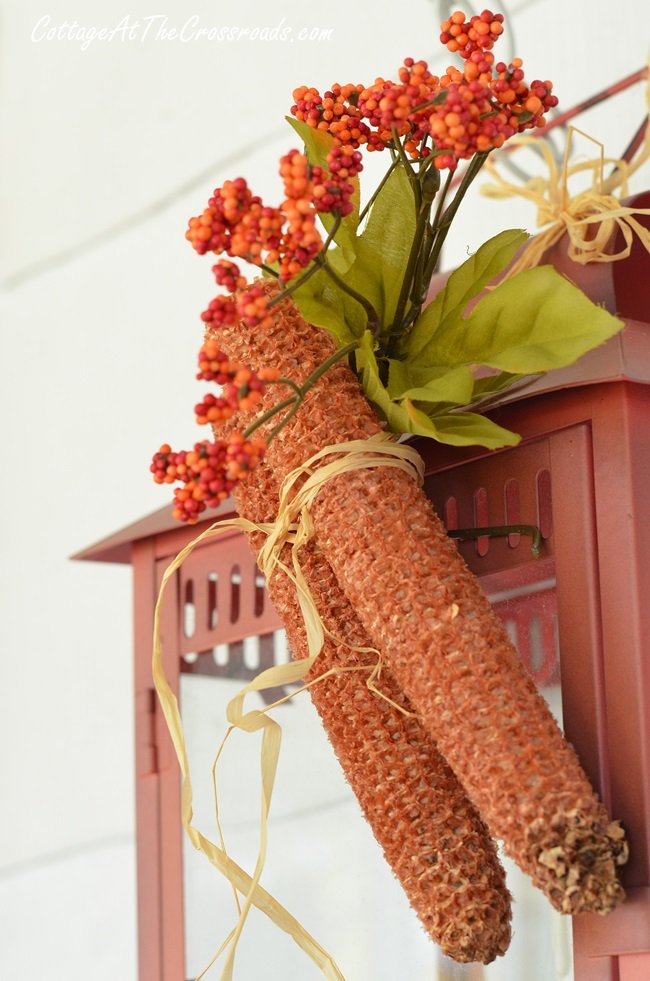 The red lanterns beside the front door got adorned with some corn cobs. And speaking of the front door...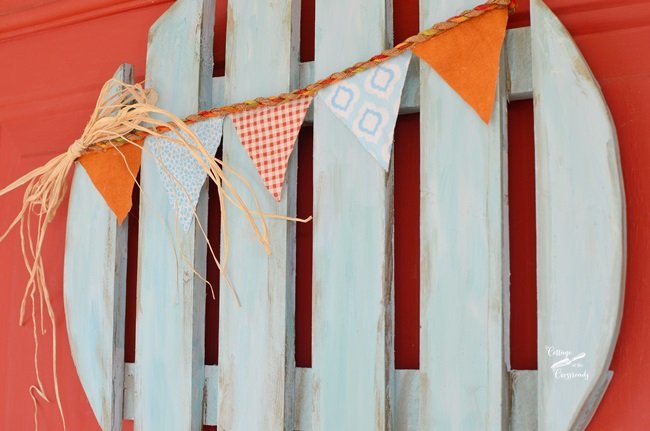 I turned an old wooden plant dolly into a pumpkin shaped fall wreath! More info on how I did that will be coming soon!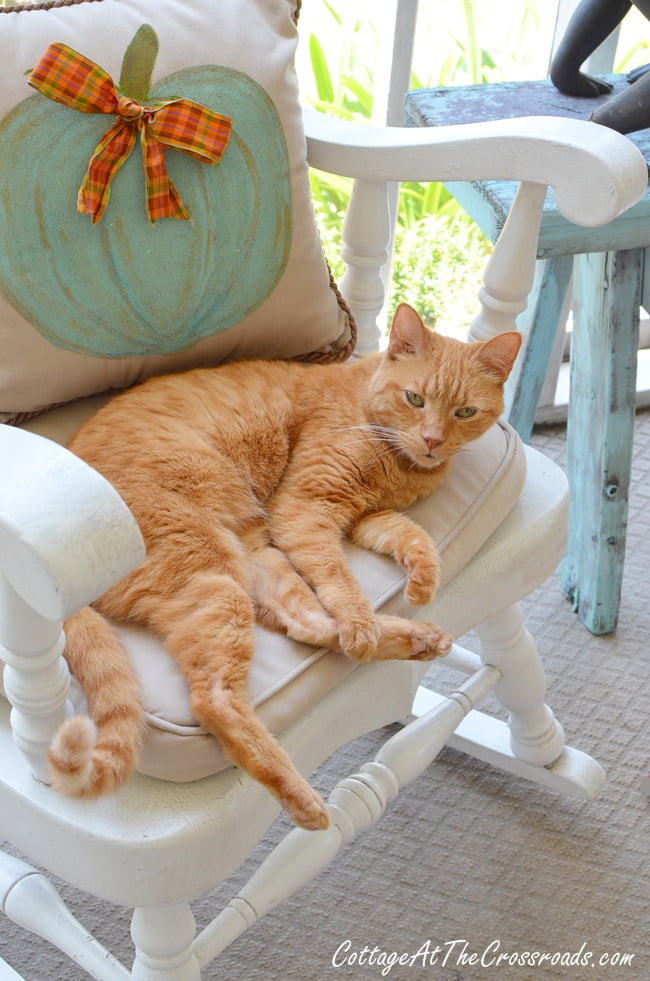 Thanks for visiting our Aqua Autumn Porch today and if you're looking for more fall ideas, you know where to look.