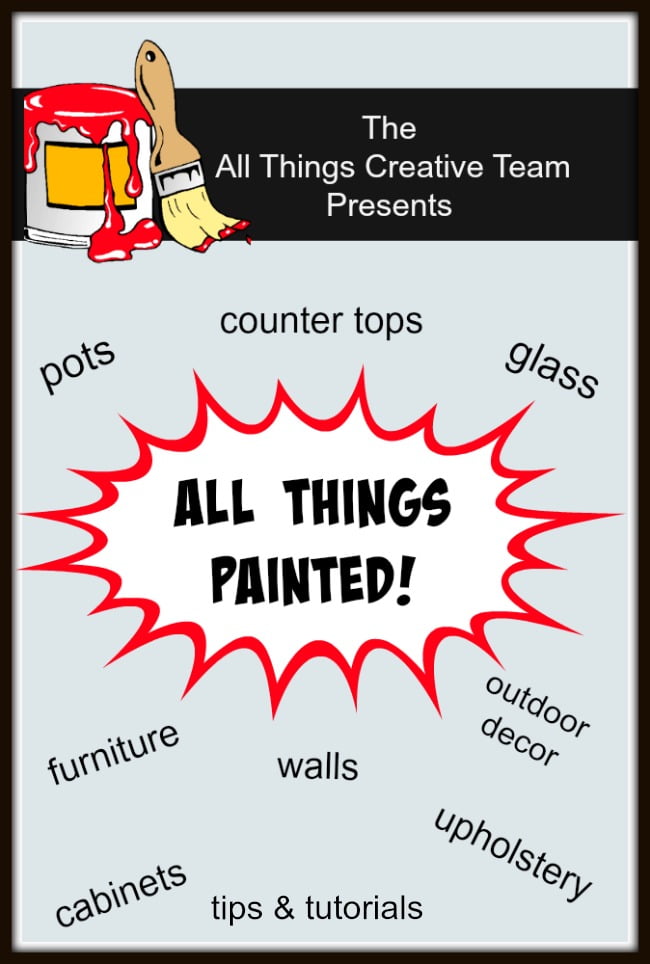 It is almost the end of April and you know what that means, don't ya? It's time for the All Things Creative Party! I always look forward to this monthly roundup because I love seeing all the incredible projects of the members of my team.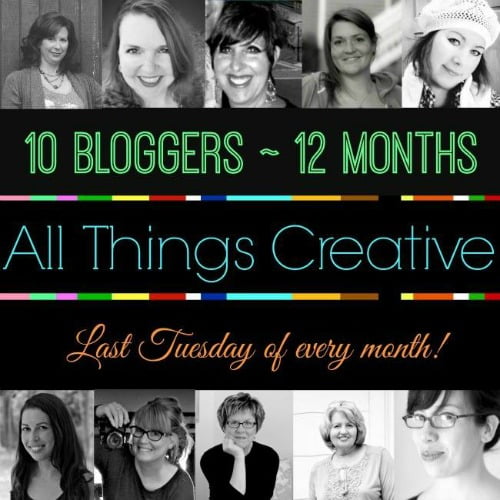 These talented ladies include: Domestically Speaking, A Little Claireification, Debbiedoo's, The DIY Village, Creative Cain Cabin, The Happier Homemaker, Redhead Can Decorate, On Sutton Place, me, and Tried & True.
This month we are doing things a little bit differently. Each of us received some paint supplies from Reclaim, and we'll each show our projects that we completed on our individual blogs. So be sure to click the links above to see everyone's projects.
Are you familiar with Reclaim paint? If not, let me introduce you. It is a line of refinishing and decorative paints that bond to almost every surface without any stripping, sanding, or priming required. It is specifically engineered to help you transform and customize any surface in your home or outdoors. That includes cabinets, counter tops, backsplashes, outdoor furniture, and just about anything. It works on wood, metal, plastic, glass, tile, linoleum, masonry, laminate, and even previously varnished surfaces.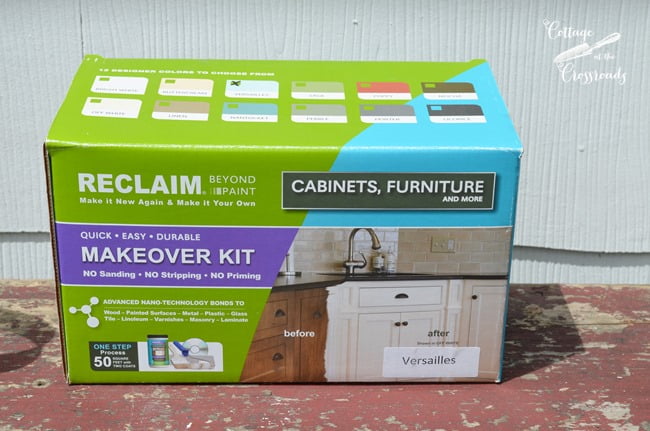 So I was excited when I received my Reclaim paint kit. I selected a beautiful, pale shade of blue called Versailles, and you can see all the other shades on the top of the box.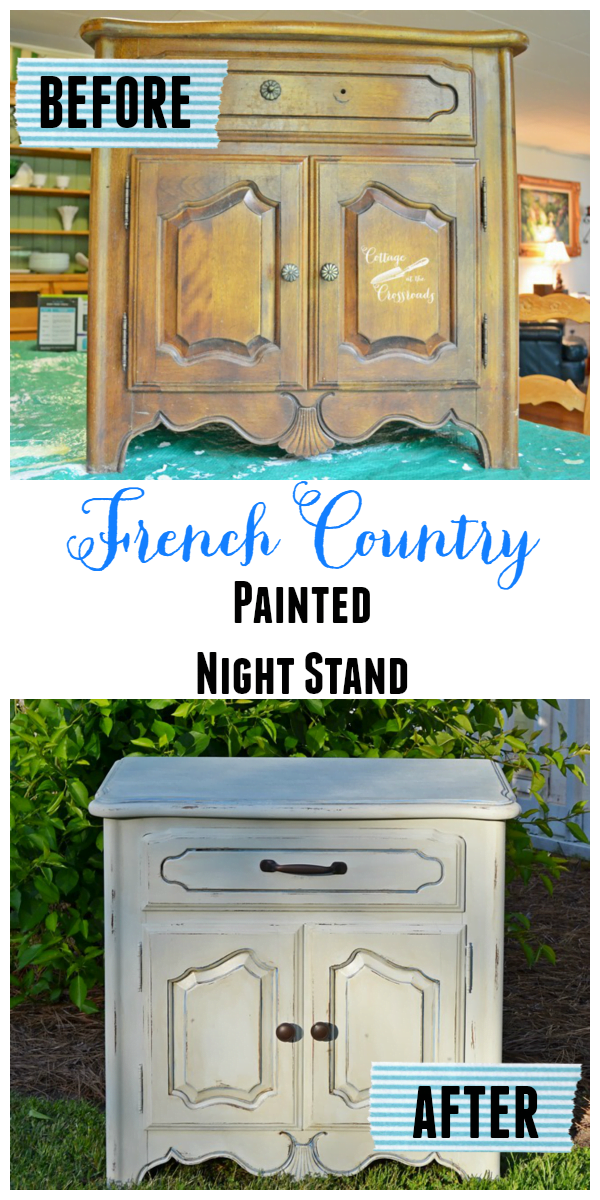 And here's my completed project!!! Ain't she purdy?
Here's how I transformed a 30 year old piece of furniture into a French Country night stand.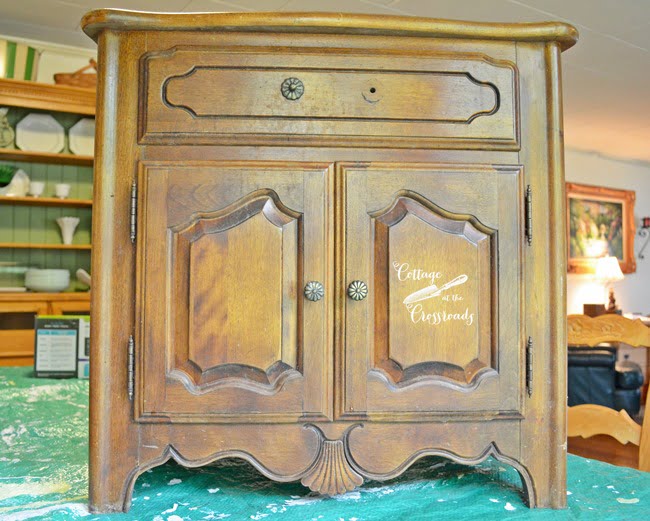 I had picked up this traditional solid wood night stand for $12 at the auction that I attend all the time.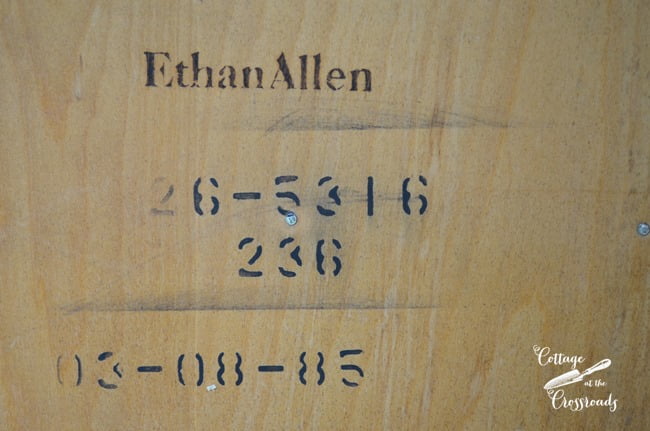 It was marked Ethan Allen on the back and was made in 1985.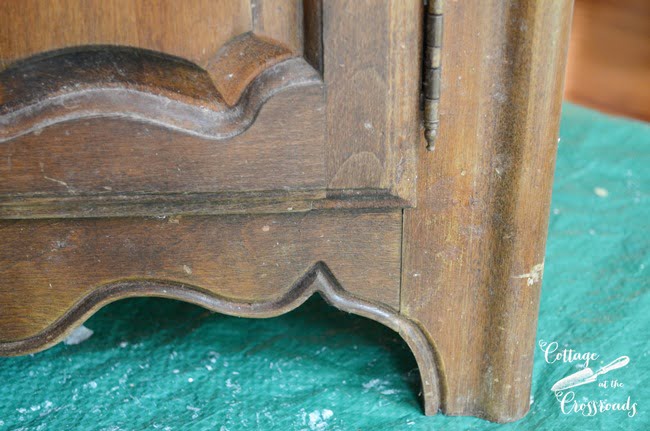 Although the piece was structurally in good shape, it needed to be refinished. A perfect piece on which to try my Reclaim paint.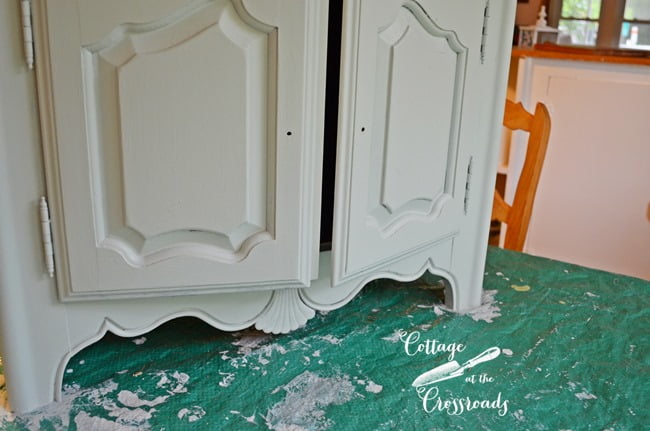 To ensure a good bond, I cleaned the piece with white vinegar to remove any wax and also scrubbed it with a degreaser. After it dried, I applied two coats of paint, letting each coat dry thoroughly overnight. Since Reclaim paint is slightly textured, you apply it a little differently. I used a brush to stipple it into the crevices and then rolled the paint onto the rest of the surfaces with a small roller. After the paint had dried, there were absolutely no brush marks which is the great thing about this paint.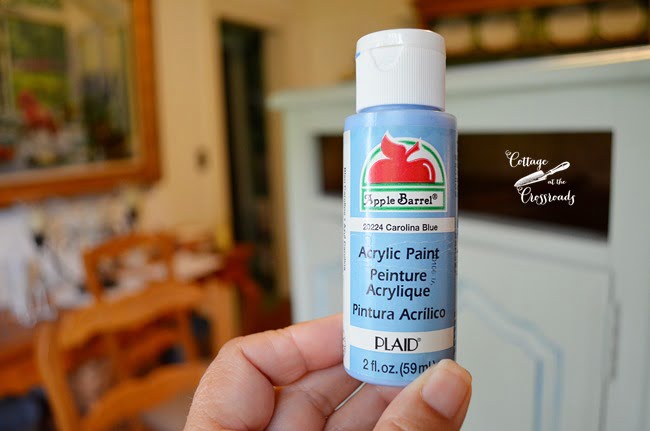 Now because I wanted to give this piece a little "Frenchy" look, I decided to highlight the details of this piece with a brighter blue.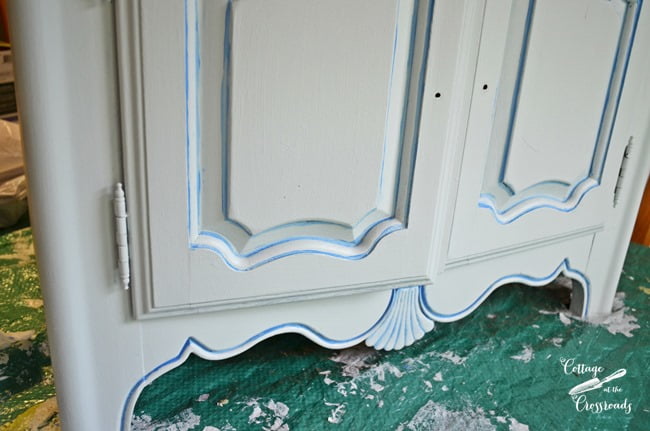 I used a small art brush to get the paint in the grooves.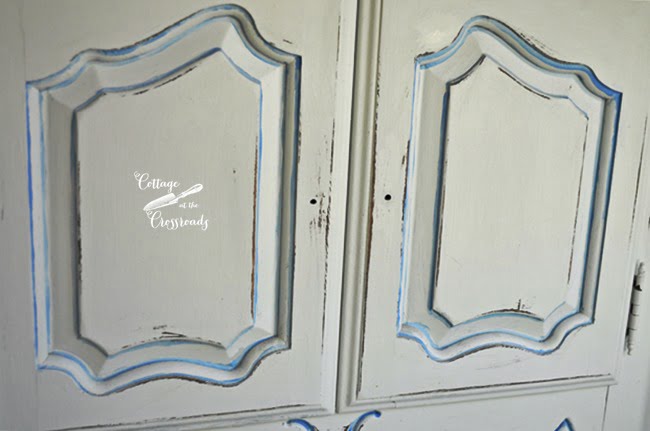 Next I distressed the piece by sanding the paint off in the places that would normally show some wear and tear.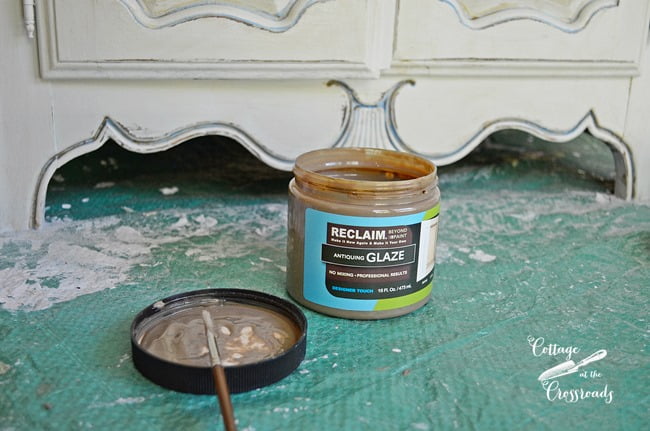 I know some of you are thinking that the Carolina Blue paint was a bit bright, but I had plans for that! Reclaim also makes an antiquing glaze, and I knew that it would tone down the bright blue.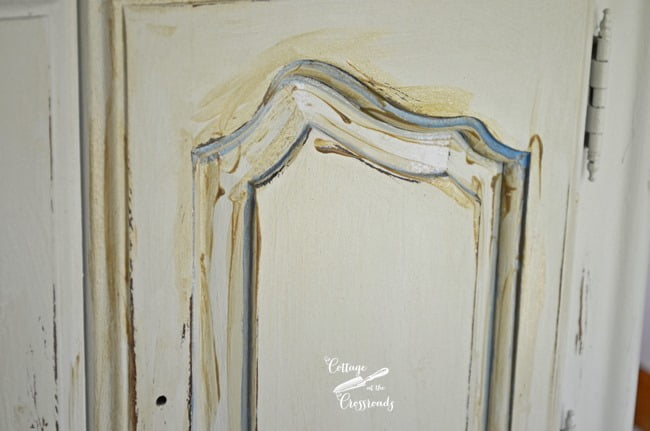 It's so easy to apply and control-it's now my favorite way to antique! I used a small art brush to push the glaze into the grooves, and then I used a dry cloth to rub it onto the other surfaces.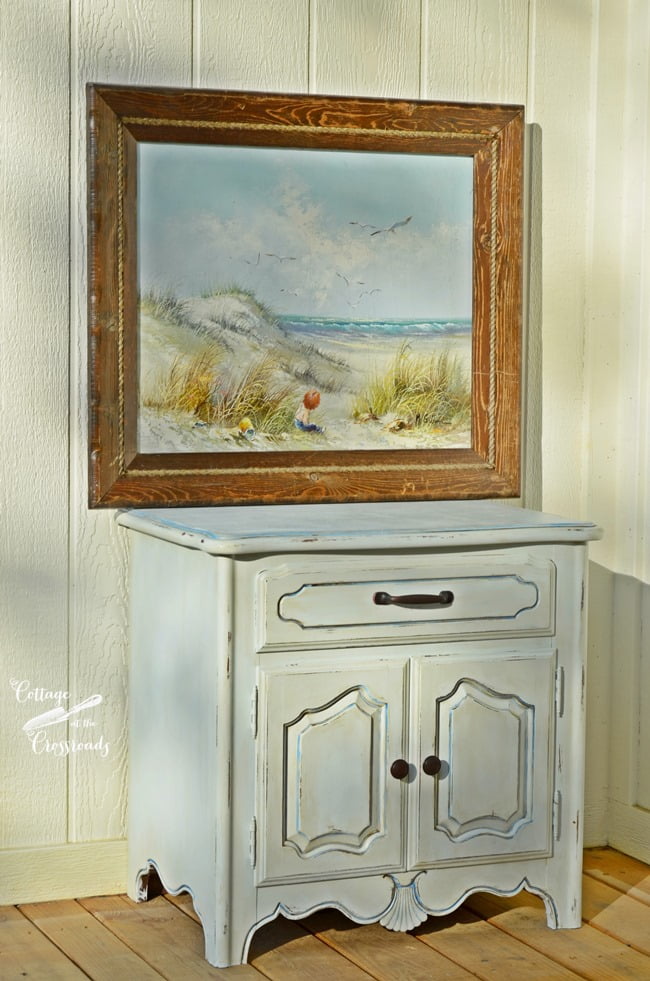 And here it is! I took the piece outside and used my storage building as a white background so that you could better see what the Versailles color really looks like. It matches the beautiful blues in this painting that I propped on top.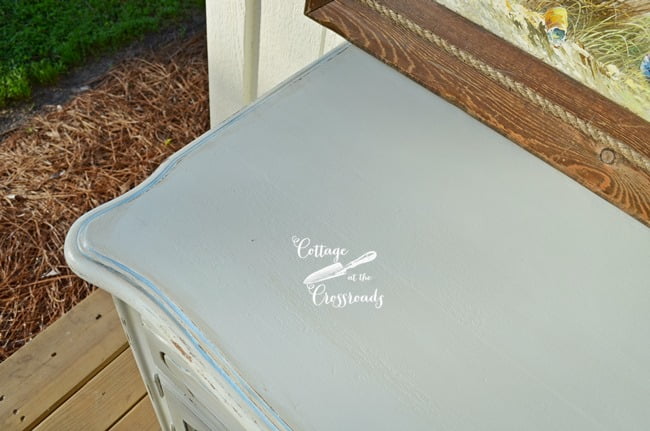 And the top is smooth as butter!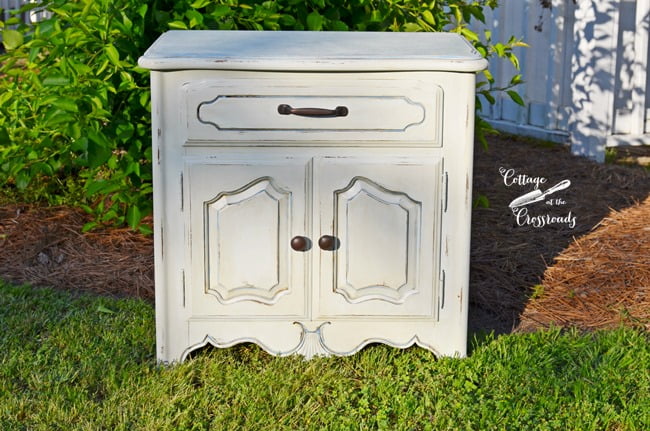 With some new hardware she's all ready to grace someone's bedroom.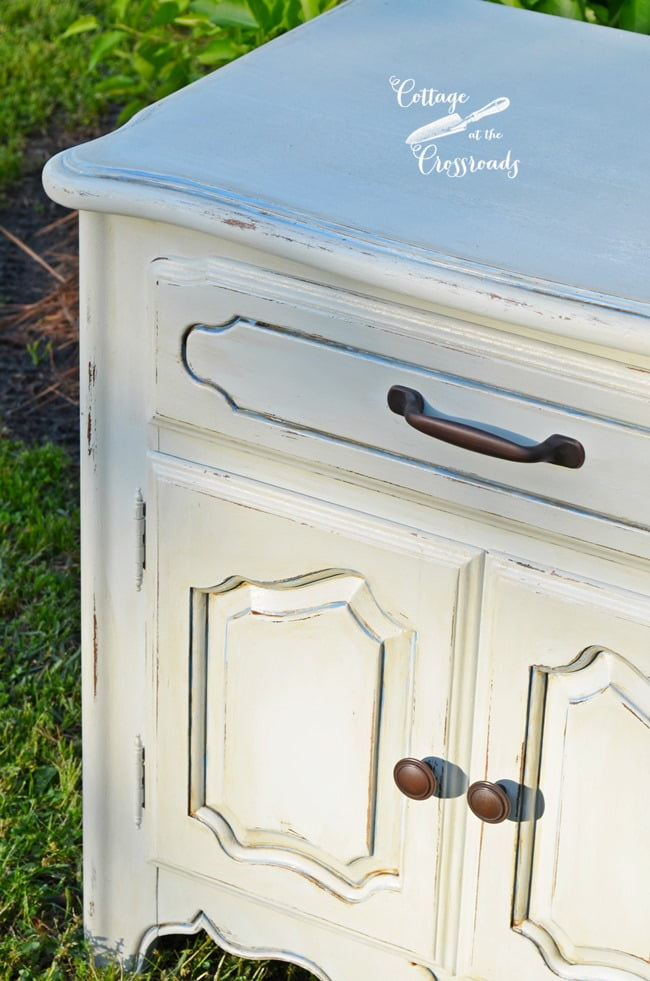 But she's already spoken for. She's going in my sister-in-law's guest bedroom in the new French Country home that she and Leo's brother Woody are building here at the Crossroads! Oui! Oui! C'est magnifique!
Don't forget to scroll back up to click on each blogger's link to see everyone's paint projects this month and to see the different Reclaim paint colors that they used. You can also visit the Reclaim website for more information and check out their blog for more inspiration. Click HERE to find a local retailer.
In the meantime, we're having a giveaway! Enter for your chance to win a quart of Reclaim paint. There will be 10 different winners so maybe you'll get lucky and get to try some of this awesome paint, too! And if you visit Reclaim's Facebook page, winners will additionally win an instructional video from Reclaim. Just follow the directions in the Rafflecopter form below to enter.
a Rafflecopter giveaway
Now that you've entered our giveaway, be sure to click on the links below to see our other paint projects that we've linked up this month.
Disclosure: This is a sponsored post written on behalf of Reclaim Beyond Paint but all opinions are my own.