Leo and I have been preparing for our New Year's Day meal. We were both fortunate to grow up in old, traditional Southern families in which there was only one meal that you could eat on New Year's Day.
And in thinking back, neither Leo nor I could remember a New Year's Day that we haven't eaten this meal which includes collards, black-eyed peas, rice, and pork. Most years, we've had some sweet potatoes, too.
Have you ever wondered why Southerners eat certain foods to ring in the new year? Well, we'll start with the black-eyed peas.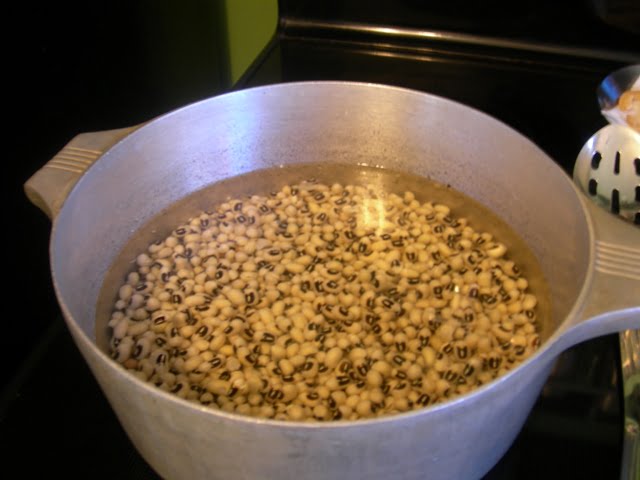 Here I have dried black-eyed peas soaking. The peas swell when soaked and then cooked, which is a sure sign of prosperity in the new year. We all hope our bank accounts swell in a similar way.
When I was a child, my mother always said that eating black-eyed peas meant that you would have lots of loose change during the year. I guess that's why I've always loved to eat them.
There are lots of stories about how this age-old tradition evolved. Many of the stories revolve around the Civil War during which Southerners were literally starving. All the other food had been raided and stolen, but since black-eyed peas were thought to be food for livestock, they were left alone. So the Southerners' lives were sustained by eating the peas.
In the Lowcountry, those folks combine their black-eyed peas with rice and perhaps a little sausage and call it hoppin' john. But Leo and I like our peas served over a dish of hot, steaming yellow rice.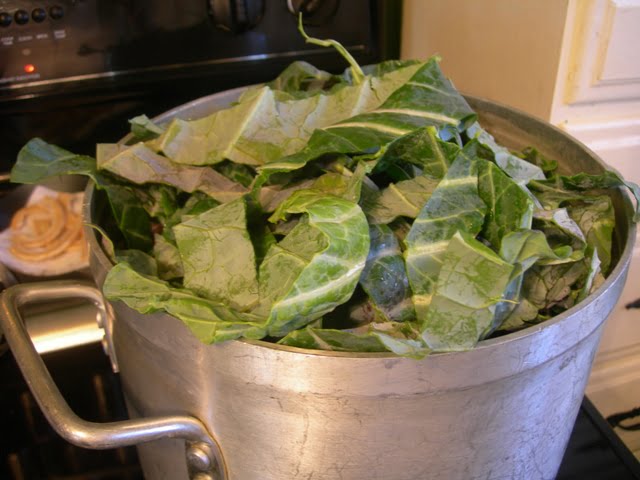 This morning I put on a large pot of collards to have tomorrow. If you want to cook some collards, you can read Leo's recipe here. Traditionally, Southerners eat a "mess" of greens on New Year's Day to symbolize economic fortune in the new year. The greens could be turnip greens, mustard greens, or cabbage. Come to think of it, those collards in the picture do look a little bit like folded, paper money, don't they?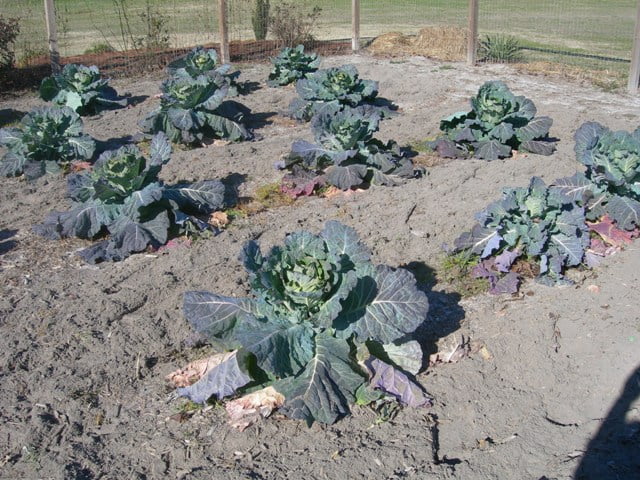 These are all the collard plants that we have left in our garden. Earlier this week, Leo and I cooked a huge pot of them outdoors and put 6 gallon size bags of them in our freezer. Cold, arctic air is on its way to South Carolina, and we will freeze some more of these before we lose them to the hard freeze that is expected.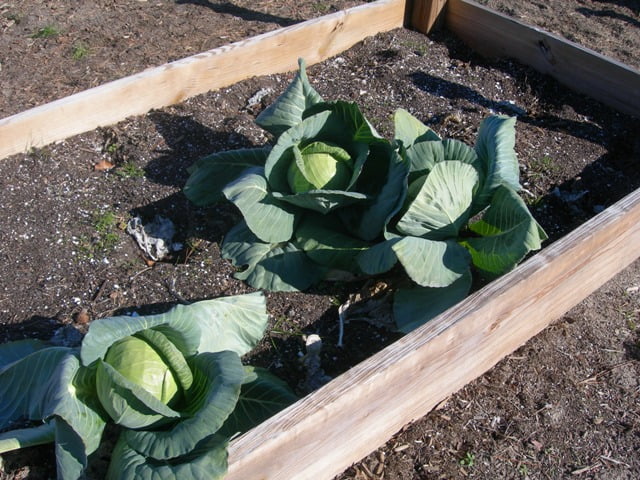 The only other things left in our garden are these 3 heads of cabbage, some parsley, and a little broccoli. It will all have to be harvested before the cold arrives.
Now, no self-respecting Southerner will have a New Year's meal without pork. Here I used a little fatback to flavor the collards that I cooked today.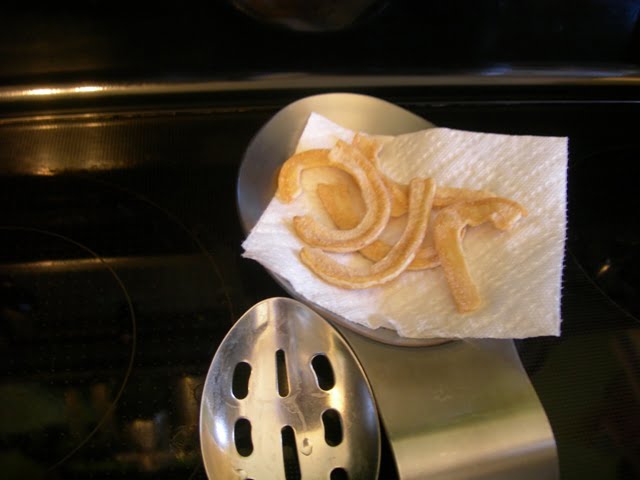 Once the fat is rendered out of the fatback, it becomes a little snack for Leo. And if a hog jowl is used to flavor the black-eyed peas, then you've got the use of pork covered.
Why pork? It symbolizes progress because of its rich fat content. I've also read that pigs root for food and then move forward. You would never dare to put chicken on your table for New Year's because a chicken scratches backwards! Ah, yes, these traditions are still steeped in our culture down here in the South.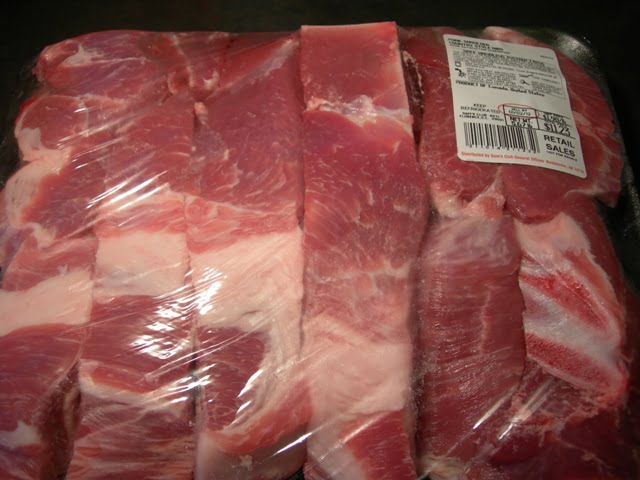 Just to make sure we have plenty of luck in the new year, Leo and I are cooking some country style ribs tomorrow.
Skillet cornbread is usually served with this meal. The cornbread represents gold. I'm serving some, too, just for a little insurance, ya know.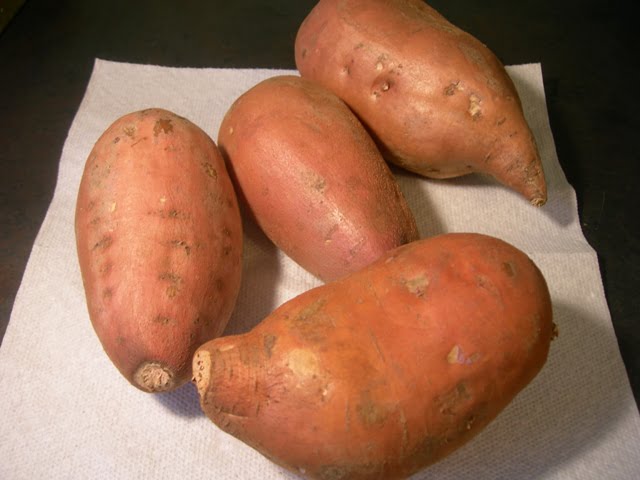 And I have these fine looking sweet potatoes to cook. I haven't decided how I'm going to prepare them. Any ideas?
Wash it all down with some sweet tea, throw in some football, and you've got the makings of the traditional way we celebrate New Year's Day in the South. Guaranteed to bring a happy, prosperous new year, or at the very least, a happy belly!