This collard greens recipe is the perfect quick and healthy side dish that I am sure you and your family will fall in love with.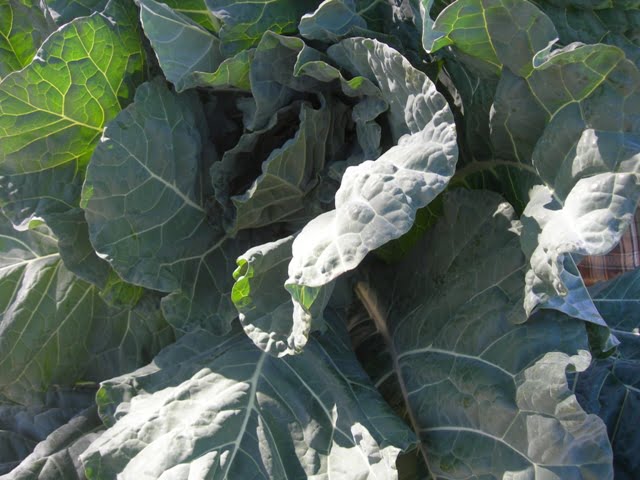 Last week I promised to give you my recipe for the best collard greens that the world has ever known. I'd like to take credit for this recipe, but actually, it came from my mother, Sarah Windham.
I've never had a Thanksgiving or Christmas dinner without collard greens. That's just how we eat at Windham's Crossroads. So here goes.
The first step is selecting your collards. We are fortunate that we can just go out into our garden and cut some.
What you need
Lucy came out to help. If you don't have a garden, I suggest that you buy your collards at your local farmer's market. You may even find a farmer selling collards out of the back of his pickup truck by the side of the road. If you see that, pull over. At the last resort, you can buy them in a bag at your grocery store, but I never have.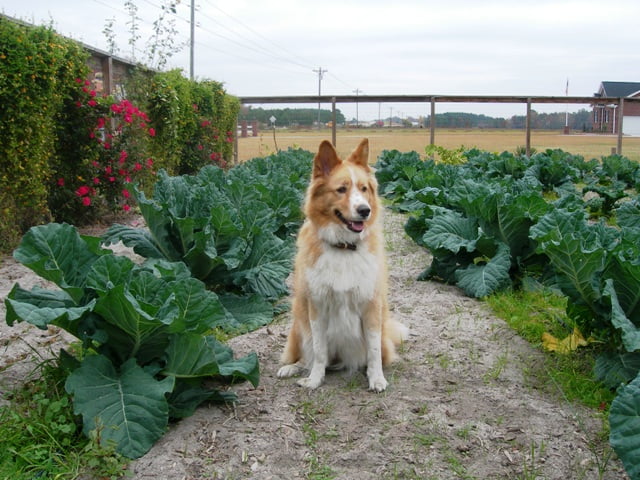 Lucy and I cut two bunches this morning after our very first substantial frost last night. I've always heard that collards are best after a frost. I'm here to tell you that I cooked some last week that were very good, but not nearly as good as the ones that have been touched by frost.
How to make Collard Greens Recipe
Step 1
The first thing I do is to de-stem the leaves. I remember going to a gourmet restaurant in Charleston, South Carolina. I ordered some collard greens as a side dish, and the waiter brought a green glob of something with huge stems in it. I called the waiter over and said, "The chef ain't from around here, is he?" Oh well, I digress.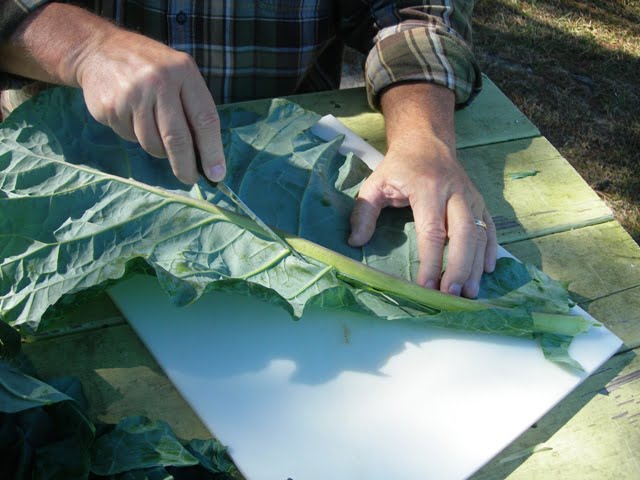 I usually do this outside at the picnic table. Using a paring knife, I make a cut on each side of the stem.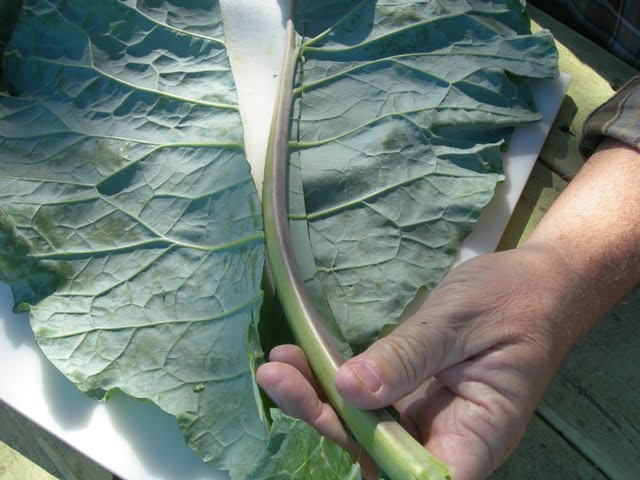 You can throw away the stems, but I put mine in our compost bin.
Step 2
Then I hand the de-stemmed leaves to Jane. She takes them into the house and puts them into the sink.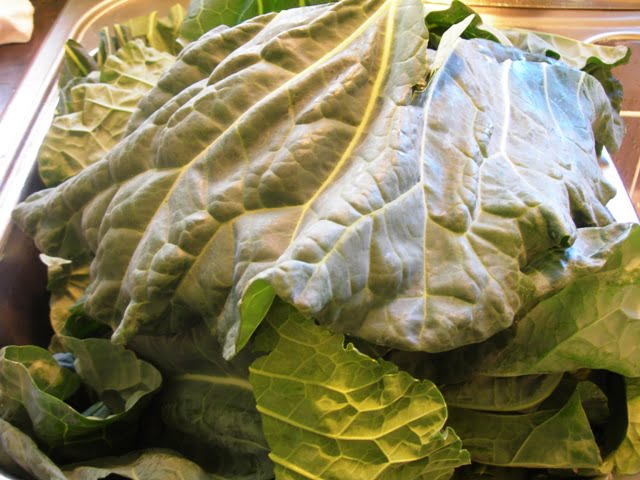 She rinses them with cool water. Our collards are clean, but sometimes you will need to wash them twice to remove all sand or grit.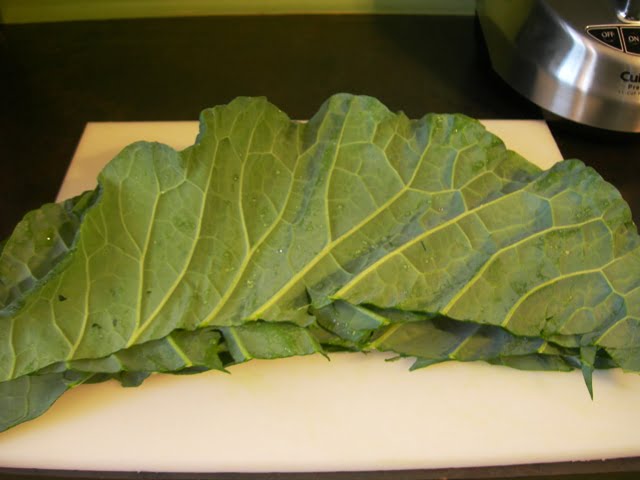 Step 3
Now take 4 or 5 leaves and stack them together. Roll them up like you're making a big, fat cigar.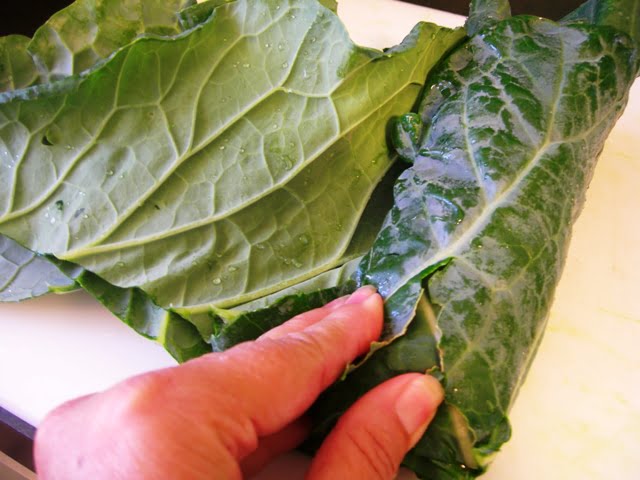 Rolling the leaves speeds up the process of cutting the collards.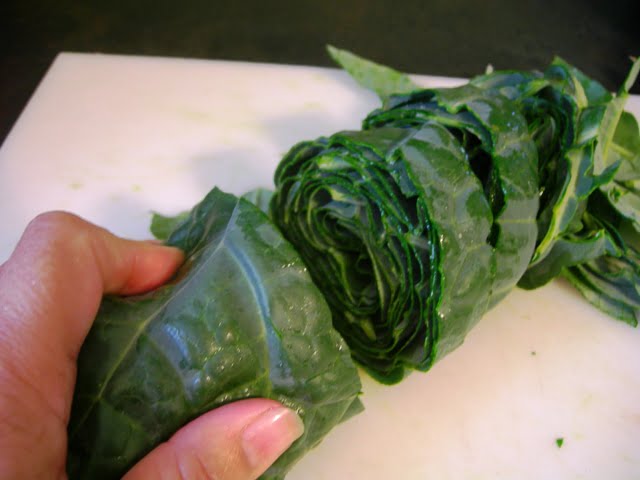 Step 4
Cut the roll every ½ inch, giving you strips of collards.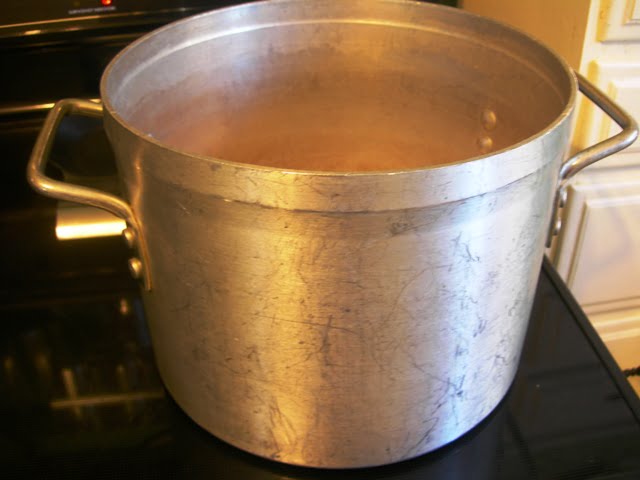 Step 5
Now get out your largest pot. I use a 10 quart pot. You are going to need something to season the collard greens.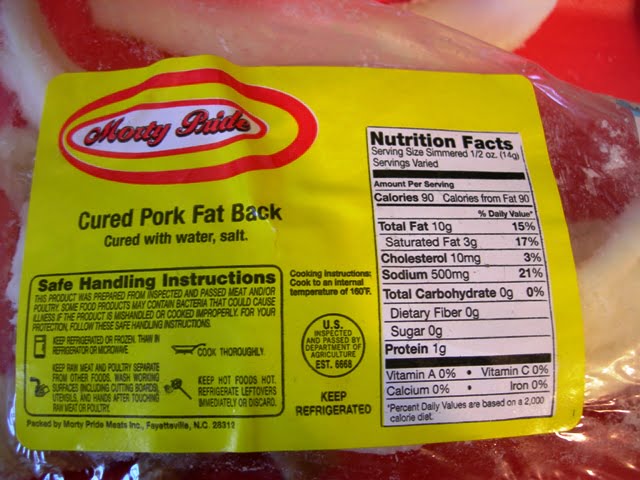 I use fatback (sometimes called salt pork.) Some folks use a smoked ham hock, others use bacon. Once when I was dieting, I used a beef bouillon cube (I won't do that again!)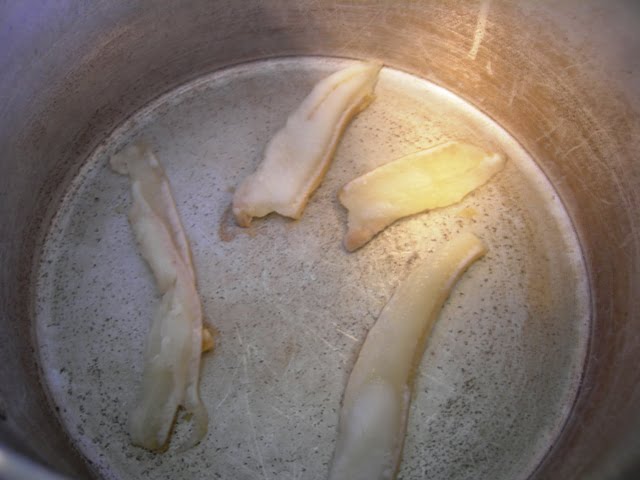 Step 6
Put about 4 or 5 slices of fatback in the bottom of the pot. You need to render some of the fat out of the fatback by cooking it for a few minutes on high. Leaving the strips in, fill the pot about half full of water.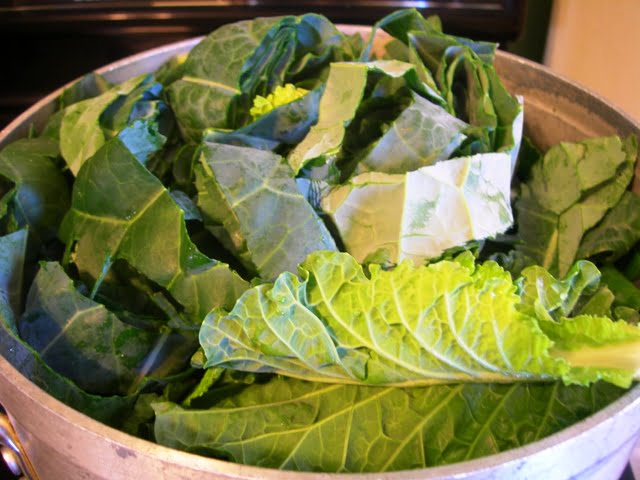 Step 7
Bring the water to a boil and add some of the collards to the pot. You won't be able to get all the greens into the pot at one time. Let them cook down a bit and add some more.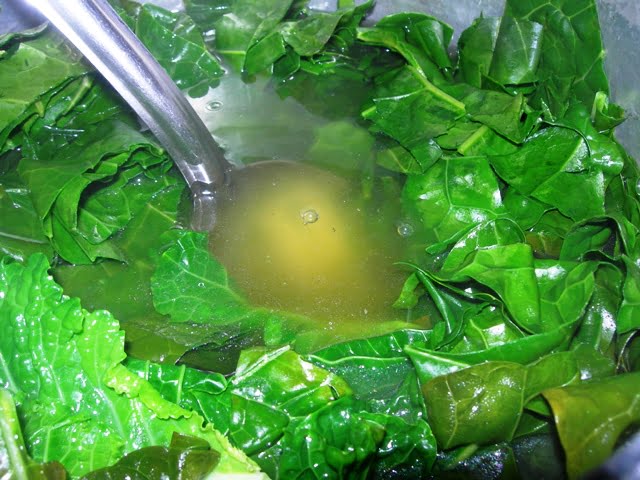 Keep pushing them down into the liquid until they are all in the pot.
Step 8
Add salt, black pepper, and garlic salt to taste. Continue to boil for about 30 minutes, lower the heat, cover and simmer for about 1 ½ hours.
How do you know when they are done? Pull out a strip and taste it. It should be tender and taste good!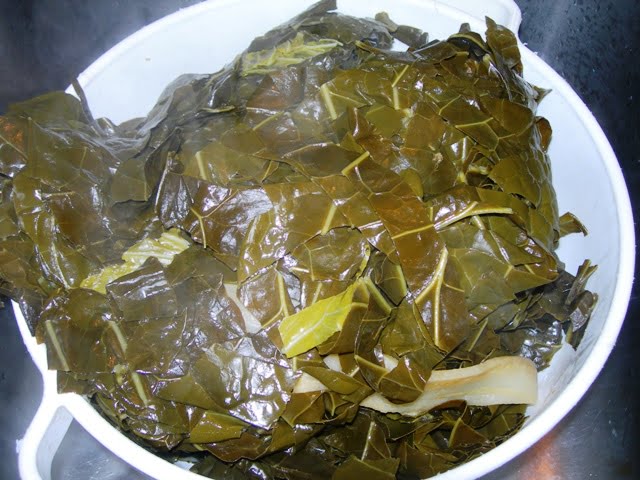 Step 9
Put them into a colander and let them drain. Cooked collards won't win any beauty contests! Remove and dispose of the fatback.
By now your whole house smells like cooked collards. Some people don't like that smell, but I do. Smells like home to me.
While they are draining, get out a large frying pan. Do not use a nonstick pan because you will be cutting the collards in the pan.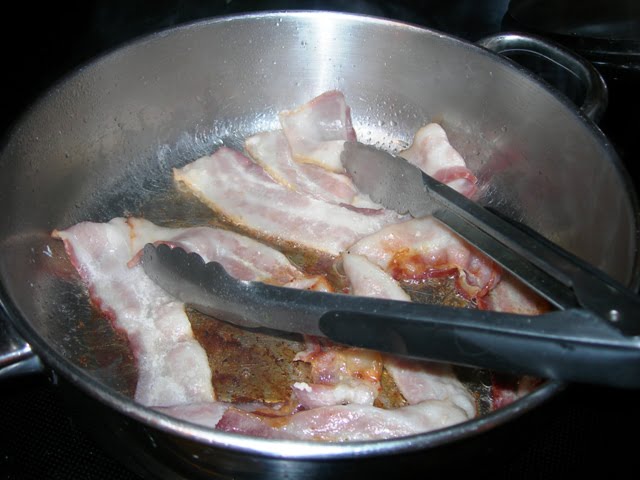 Fry a half pound of bacon. Remove the bacon, and put the collards into the pan with the bacon grease. Reduce the heat to medium. Sprinkle 3 tablespoons of sugar onto the collards.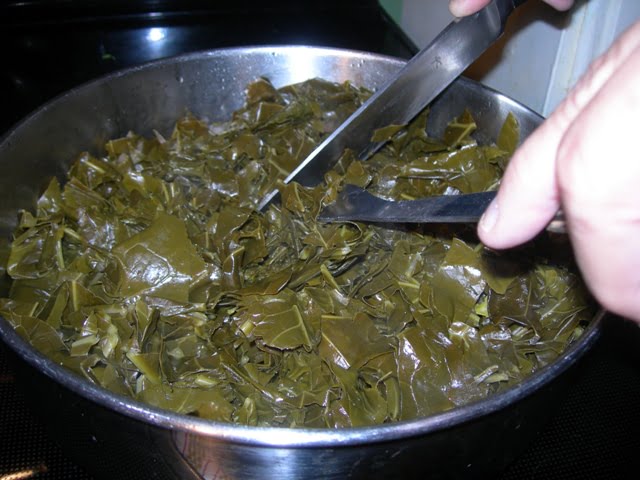 Step 10
Cut the collards into smaller pieces in a criss-cross fashion. Don't get lazy here. You need to cut them thoroughly. Let the collards cook until all the water has evaporated. Be careful not to burn the collards, and stir them occasionally. When all the water is gone, they are ready.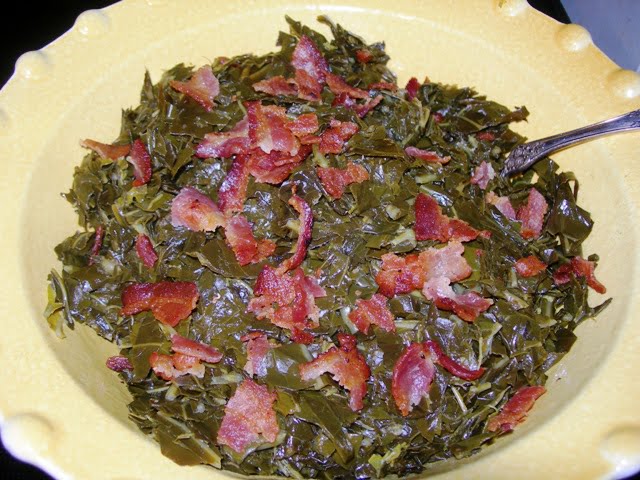 To serve, put the collards in a bowl and crumble the bacon on top.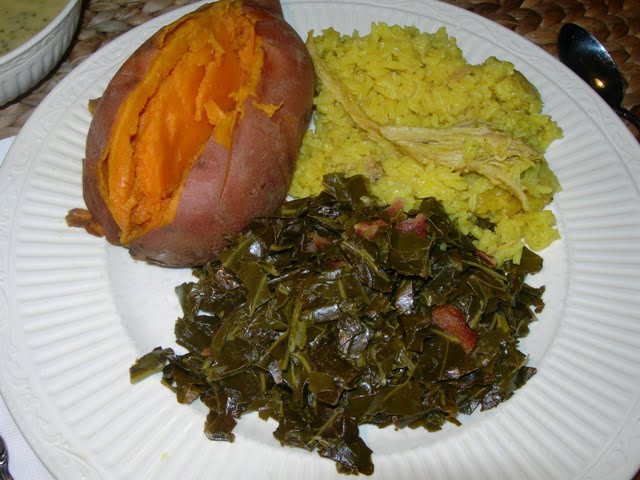 After they've been plated (I heard that term on Food Network) add a touch of vinegar to enhance the flavor. I prefer to use homemade hot pepper vinegar. What do you serve with collards? Tonight we had country ribs and rice and a baked sweet potato. That's about as Southern as it gets. When you look at a plate like that, it makes your tongue slap your brains out trying to get to it. Now that's good eating!