For many, the taste of green beans may evoke nostalgic feelings of family dinners and festive gatherings. This collection of 44 frozen green bean recipes will reignite your love for this simple and healthy vegetable.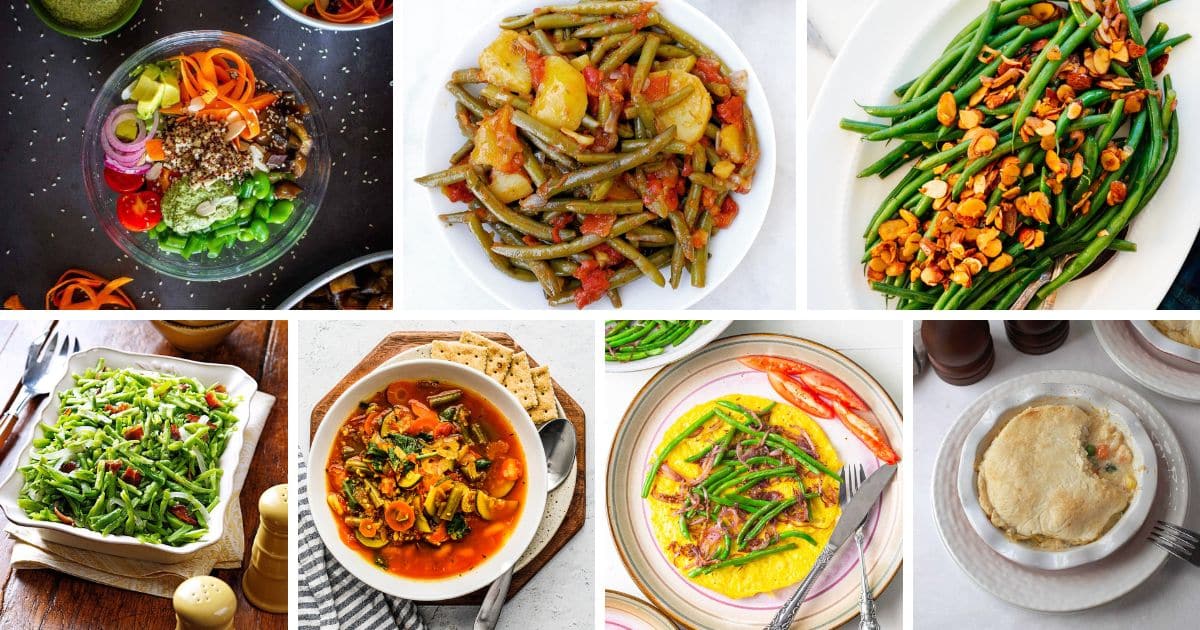 Whether enjoyed on their own or incorporated into more complex dishes, green beans offer a fresh crunch and a delicate flavor that can be beautifully elevated with the right seasonings.
From the classic green bean casserole and green beans almondine to innovative dishes like green bean curry or stir-fry, there's a recipe here to suit every palate.
Plus, these green bean recipes are ideal for weeknight meals, elegant dinner parties, or cozy lunches. So, let's dive in and rediscover the potential of this wonderful, often overlooked, vegetable.
Contents
These roasted green beans are brightened up with crumbled feta and a zing of lemon. Perfect as a side dish or light lunch, they're an enjoyable combination of tangy and savory flavors.
With a simple sauté, these green beans shine as an excellent companion to any main dish. Its simplicity makes it an excellent choice when you need a quick and nutritious side.
This recipe transforms the humble green bean into an Asian-inspired dish with a delightful sesame glaze. They're ideal for those nights when you're craving a bit of take-out flavor at home.
Roasting brings out the natural sweetness of green beans and mushrooms, making this a hearty and flavorful side dish. It's an amazing pairing with a grilled steak or roast chicken.
If you savor rich taste profiles, this dish may well become your next go-to. Green beans luxuriate in a creamy bacon sauce, providing a luscious and indulgent upgrade from your standard sauté.
This recipe brings a taste of the Philippines to your table. It's a flavorful combination of green beans cooked in soy sauce and vinegar, delivering a unique balance of salty, sour, and savory notes.
This one-pot wonder will surely please a crowd. The creamy rice, juicy chicken, and fresh green beans make for a delightful comfort meal that's perfect for busy weeknights.
This recipe gives a tangy twist to green beans. Balsamic vinegar imparts an irresistible depth of flavor, making this an ideal side for grilled or roasted meats.
Combining the traditional almondine preparation with bacon takes these green beans to a new level. It serves as an exceptional accompaniment when your meal calls for a mix of freshness and extravagance.
This vibrant dish brings together crispy tofu, green beans, and spicy peanut noodles. These noodles are appropriate for those instances when a spicy, plant-based meal piques your interest.
This recipe puts a healthy spin on the classic green bean casserole. With fewer calories but all the flavor, it's a guilt-free dish you'll be excited to serve.
Sautéed green beans gain a new depth of flavor with the addition of mustard and shallots. This dish is ideal for those evenings when you want a side dish with a bit of a bite.
Sometimes, simplicity is key. Since roasting automatically enhances the natural flavor of green beans, this straightforward dish is a reliable go-to when you want a quick, healthy side.
Sautéed in butter, these green beans are tender and full of flavor. They're a comforting side that pairs well with everything from poultry to seafood.
This Instant Pot recipe delivers perfectly cooked green beans in a flash. It's an ideal solution when you need a quick, nutritious addition to any meal.
Another green bean recipe that's as easy as ABC is this green bean salad, complete with crunchy pecans, salty Parmesan cheese, and a honey and mustard-based dressing to pull it all together.
A dash of sesame oil transforms these stir-fried green beans into a simple yet flavor-rich dish. They're an ideal pick for evenings when a quick, Asian-inspired side is in order.
This stir fry is an excellent, dynamic showcase for crunchy green beans and soft tofu. It's a satisfying meal for anyone seeking a delicious, plant-based dish with plenty of texture and flavor.
Also known as Lubia bi Zayt, this Lebanese dish pairs green beans with ripe tomatoes in a flavorful stew. It's an inviting taste for those who want to experience Middle Eastern cuisine.
This recipe gives a nod to Asian cuisine by stir-frying green beans with garlic and soy sauce. It's an enticing side dish that pairs well with a variety of main courses.
A staple in Greek kitchens, this dish marries green beans, tomatoes, and olive oil in a delicious medley. It's an easy and healthy option that transports you straight to the Mediterranean.
Green beans infuse a rejuvenating twist into this classic comfort food. Tailored for family dinners, this dish garners applause from both the young and old at your table.
This soup boasts fresh green beans and fragrant garlic, harmonized with crispy bacon and sautéed onions. The surprising twist? A dollop of sour cream and a dash of vinegar for a creamy, tangy finish.
Garlicky and tomato-infused, these Italian-style green beans are a flavor festival. It's a delightful way to savor an Italian culinary experience at home.
A holiday favorite, this green bean casserole is also a great addition to everyday meals. Creamy, flavorful, and topped with crispy onions, it's a comfort food classic.
This green beans almondine recipe is a classic that never goes out of style. It's a simple, elegant side dish that complements any main course beautifully.
For those with a penchant for a bit of spice, this green bean curry delivers. It's a hearty, vegan-friendly main that beautifully accompanies rice or flatbread.
This single-pan marvel merges kielbasa, potatoes, and green beans into a flavorful and substantial meal. Ideal for bustling weeknights when you're in need of a delicious, no-nonsense dinner.
This recipe passes the baton to your slow cooker. With creamy chicken, stuffing, and green beans, it's a comfort meal that promises to delight the entire family.
Green beans star alongside an array of colorful vegetables in this vibrant stir-fry. It's a light, healthy meal that brings a touch of Asian flavor to your table.
Air frying gives green beans a delightful crispiness without the added oil. It's a healthy, quick side dish that pairs well with nearly any main course.
This soup is a nutritious powerhouse, combining green beans, other vegetables, and quinoa. It's a warming, vegan-friendly meal perfect for chilly days.
Green beans, coupled with marinated chicken tenders, form a balanced meal brimming with flavor. It's a gratifying dish for those nights when you're seeking a protein-rich dinner.
A twist on traditional pot pie, this soup features green beans and other vegetables in a creamy broth. It's a comforting, vegetarian-friendly dish that's perfect for cozy nights in.
This recipe elevates green beans in a refreshing quinoa poke bowl. With mint sauce spread on top, this dish is a bright, plant-centric meal that promises to be both wholesome and flavor-filled.
Bacon and garlic provide a flavor revamp to these sautéed green beans. They're a superb side dish when you've got a hankering for something umami and satiating.
This creative dish turns green beans into a tasty, Asian-inspired fried rice. It's a satisfying main course that's perfect for those times when you're craving take-out.
This all-encompassing sheet pan meal brings together chicken, potatoes, and green beans for a no-fuss dinner. It's a nutrient-dense meal that's perfect for the hectic weeknight hustle.
This vegan omelette showcases green beans and onions, creating a robust, plant-based breakfast. It's great to find a recipe that fuels you with protein and fiber while allowing you to maintain a vegan diet.
This green bean casserole receives a flavorful refresh with the addition of cheese and cherry tomatoes. It's a comforting dish that's perfect for family meet-ups or shared dinners.
A low-carb twist on a classic, this green bean and mushroom casserole delivers flavors without the guilt. It's a superb choice when you're keeping a close eye on your carb consumption.
This pot pie takes a luxurious turn with the addition of seafood, beautifully complemented by green beans. It's a hearty main dish that's perfect for those special dinner occasions.
Green beans are healthy on their own, but if you're looking for a heartier, more "comforting" food, you can't go wrong with this smothered green beans dish, complete with fatty bacon and fragrant garlic and onions.
This French-inspired recipe that takes after "haricots verts amandine" isn't as challenging to make as it may seem. And with almonds, shallots, and lemon juice, it may soon become your favorite side!