In this article, we've compiled some of the best zucchini canning recipes that are tasty and easy to make. From zucchini corn relish to sweet and smokey zucchini salsa, you'll find plenty of inspiration for preserving your zucchini in various delicious ways, such as with pineapple, pickles, and more.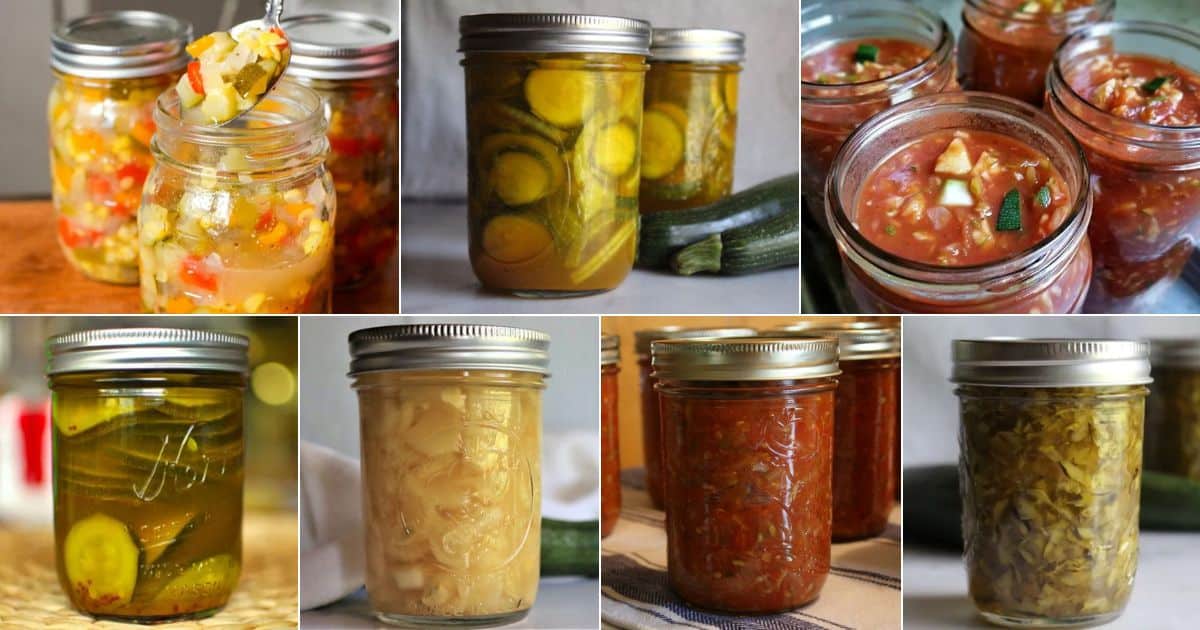 These recipes, which include zucchini corn relish, salsa, and curried sweet zucchini, are perfect for adding flavor to your favorite dishes, and with proper canning techniques, they can be stored for months to come.
Contents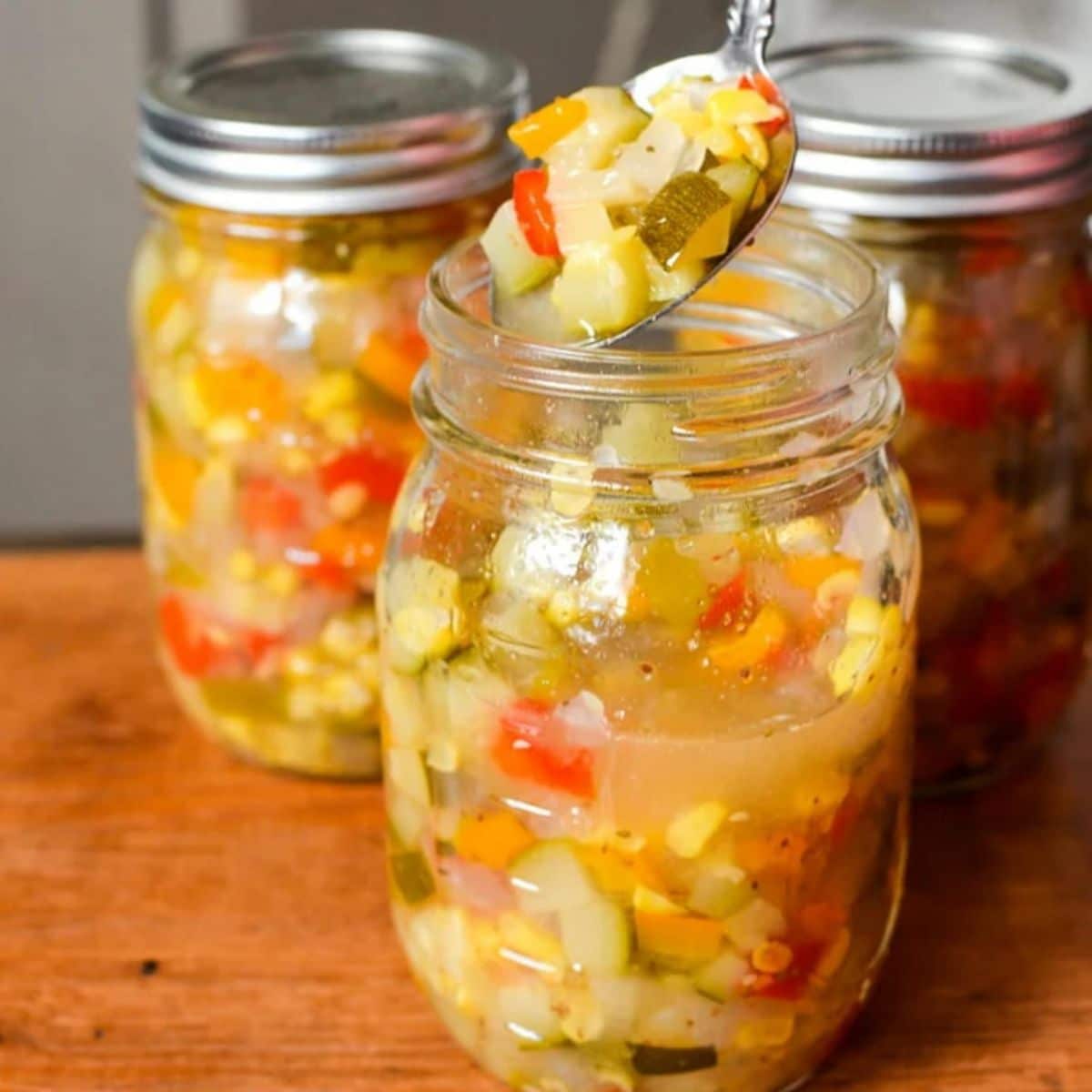 This simple and tasty condiment is perfect for adding zing to your favorite dishes. It's also effortless to make with your canned zucchini.
The relish is made with grated zucchini, fresh or frozen corn kernels, red bell pepper, onion, apple cider vinegar, sugar, and spices like celery seed and mustard seed. The recipe comes together quickly and easily in a large saucepan.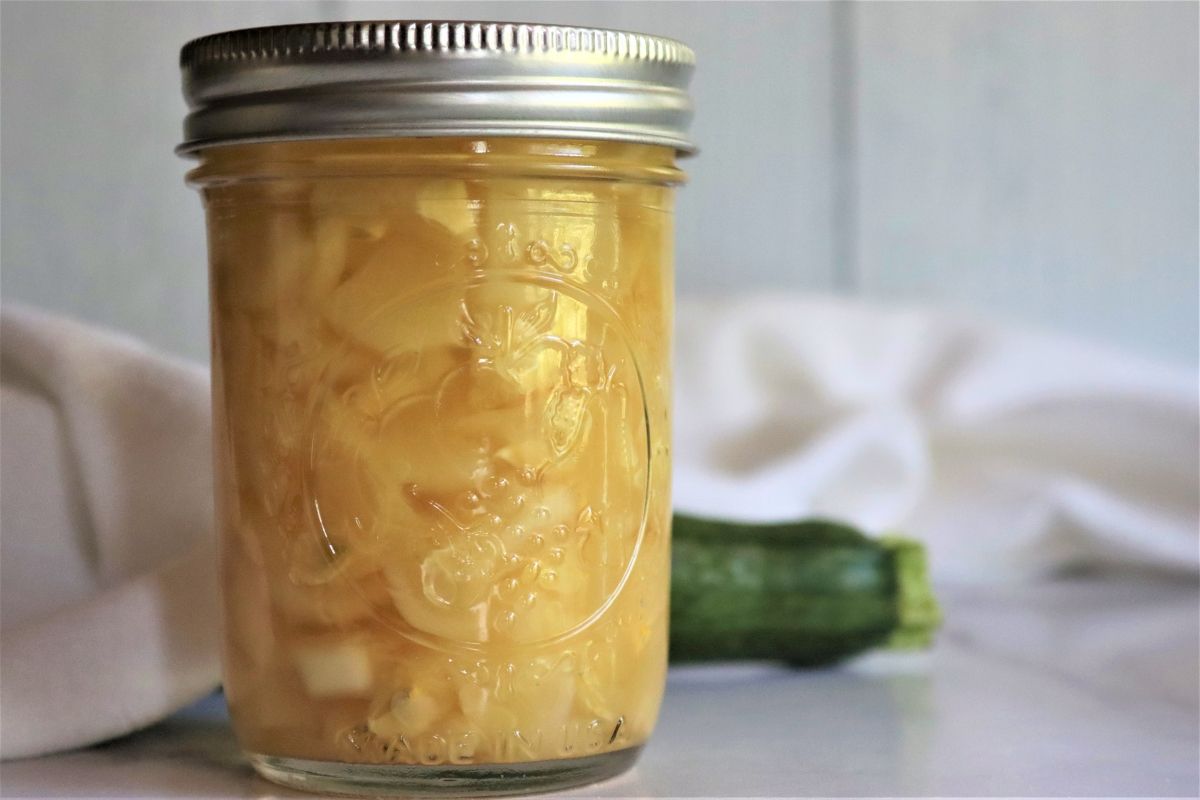 This unique recipe creates a delicious flavor you won't be able to resist. This recipe involves peeling and shredding fresh zucchini and pineapple, then cooking them with sugar, lemon juice, and other ingredients to create a sweet and tangy jam-like consistency.
The result is a vibrant and flavorful relish perfect for adding a tropical twist to your favorite dishes. This zucchini pineapple relish can be used as a topping for sandwiches or burgers, a chip dip, or even a standalone snack.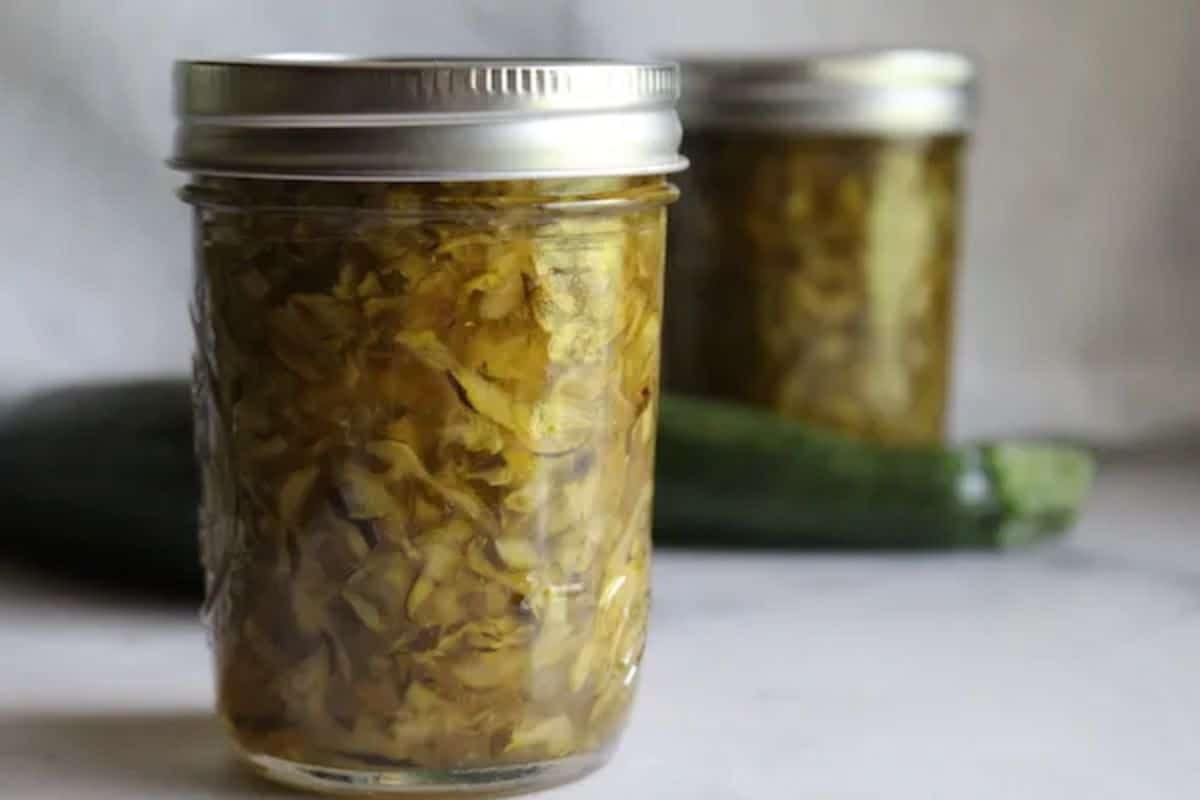 This delicious zucchini marmalade recipe takes the humble zucchini and turns it into a vibrant and flavorful marmalade that will elevate any dish it's paired with.
The zucchini marmalade is made with grated zucchini, orange and lemon juice, sugar, and other ingredients cooked to create a jam-like consistency.
The recipe could include a few spices like cinnamon and nutmeg, adding a warm and aromatic flavor to the marmalade.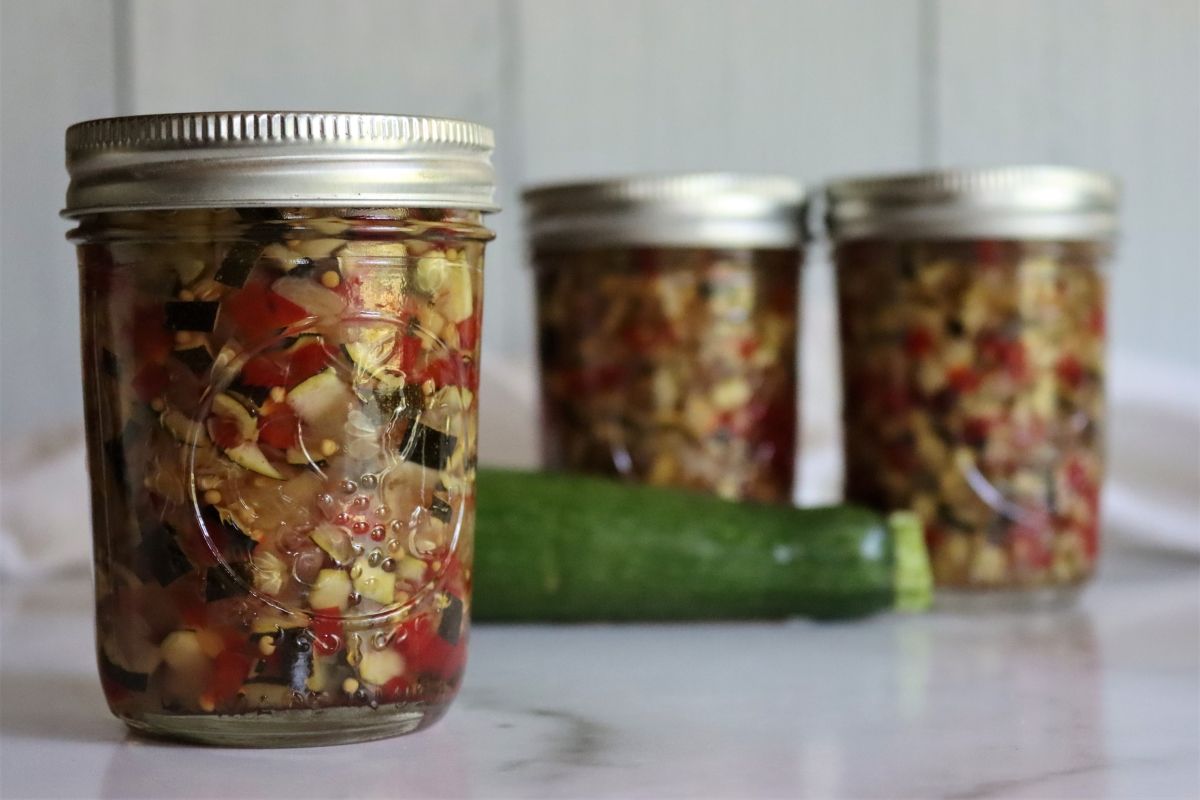 If you've successfully grown zucchini this year, this could be a great recipe to test out. The relish is made from a lot of grated zucchini, onion, red bell pepper, and a few other ingredients that come together to create a flavorful and tangy condiment that can be used in various ways.
What's great about this zucchini relish recipe is that it's easy to make and can be used in so many ways. You can use it as a topping for hot dogs or burgers, mix it into salads or pasta dishes, or even dip for crackers or chips.
The recipe also includes a few spices like mustard seed and turmeric, which add a unique and delicious flavor to the relish.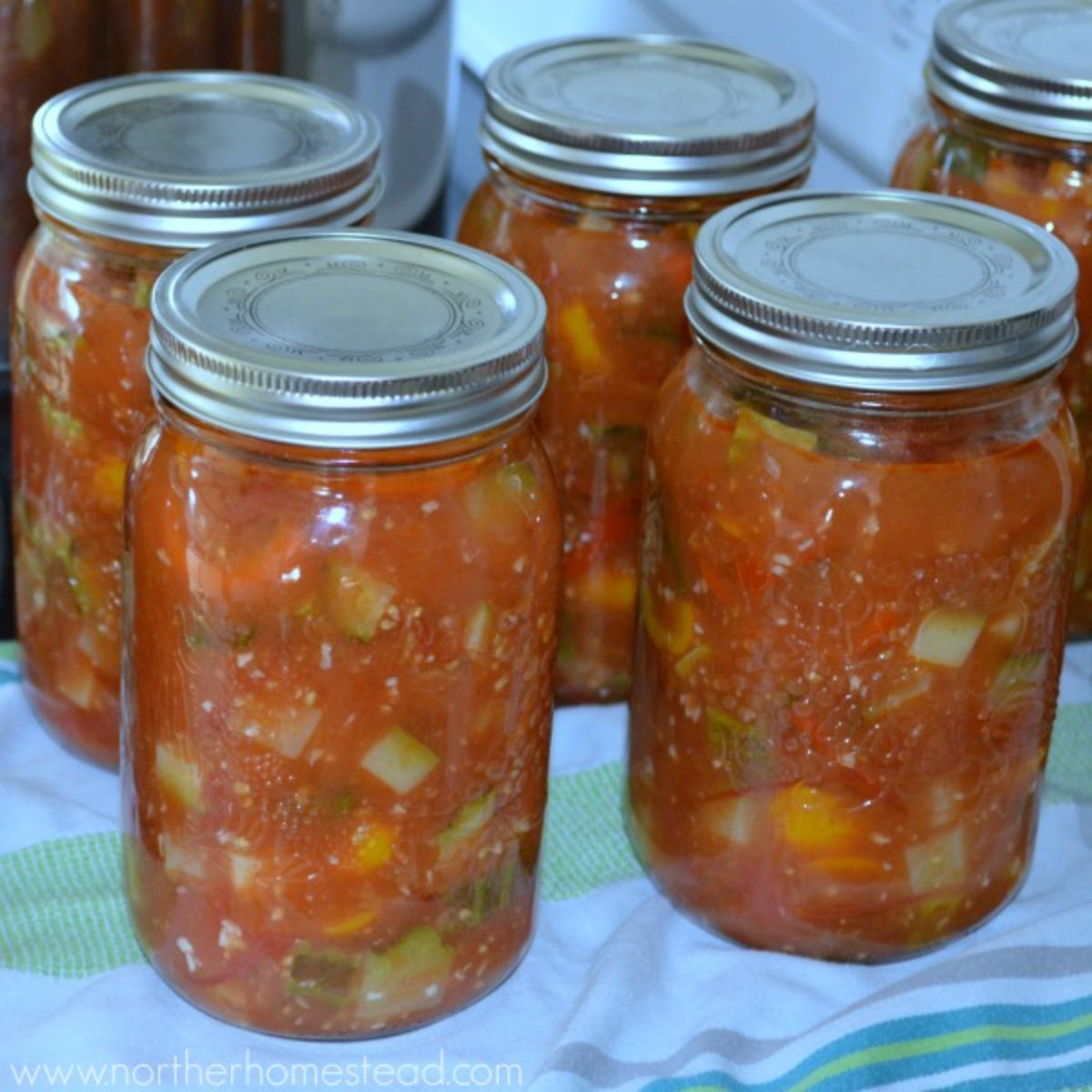 This Russian recipe takes fresh zucchini, tomato, and green bell pepper into a delicious and healthy salad that can be enjoyed as a side dish or a light meal.
The recipe involves cooking the vegetables in a vinegar and sugar mixture until tender and flavorful. Adding mustard seed, celery seed, and turmeric gives the salad a unique and delicious flavor that is tangy and slightly sweet.
What's really great about this recipe is that the canned zucchini salad can be stored in your pantry for up to a year to enjoy the taste of fresh zucchini all year round.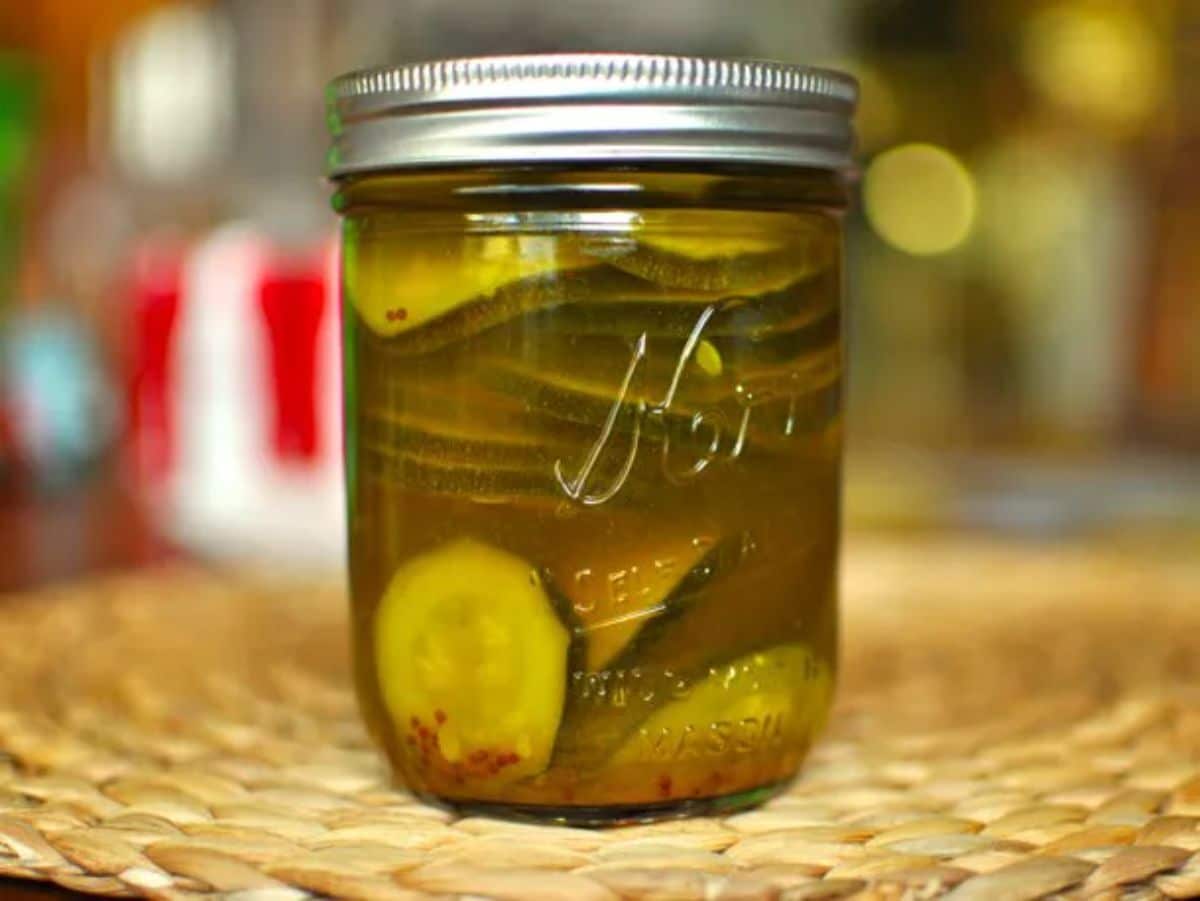 This slightly sweet zucchini curry recipe is another great way to can your zucchini. It requires about 2 pounds of zucchini, apple cider vinegar, sugar, curry powder, and other ingredients.
It's pretty easy to make with only a few steps, starting with combining all the ingredients into a large pot to boil. After sealing the jars, you can reopen them in about 48 hours.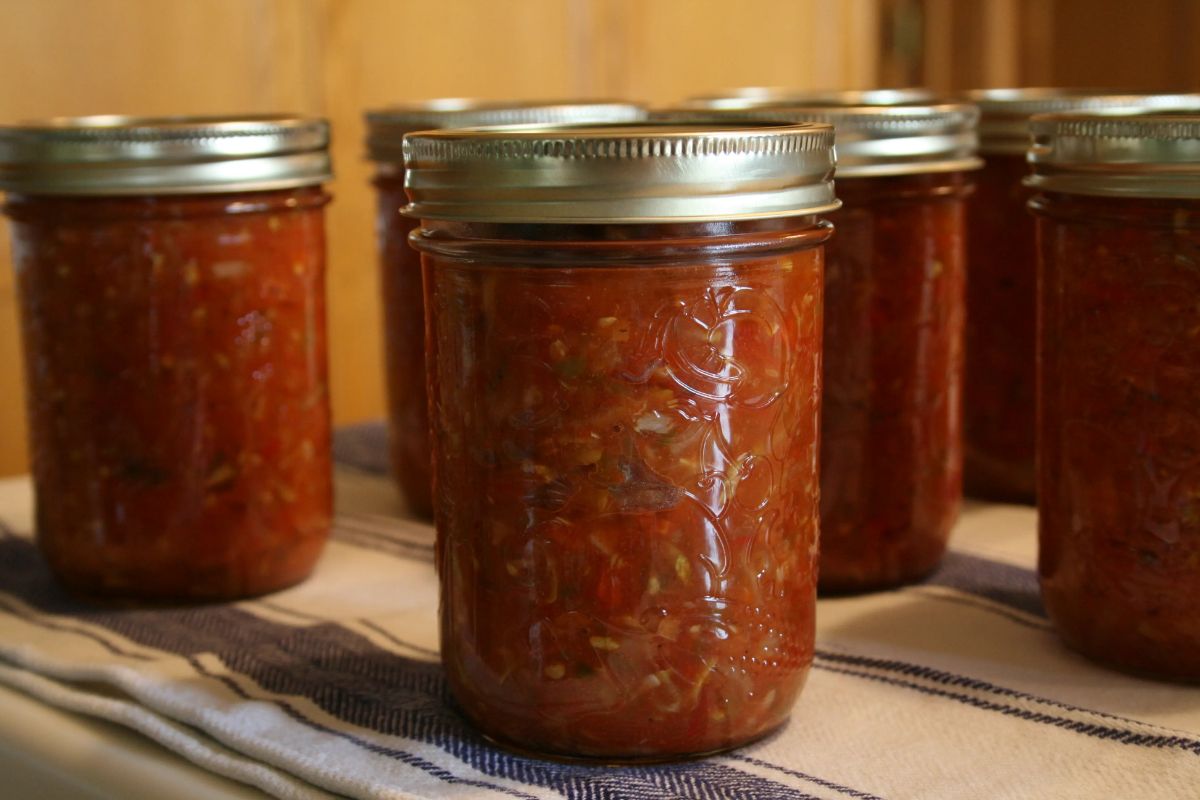 This tasty zucchini salsa recipe is a super easy-to-make and durable option for your crop. It'll only take about 1 hour and 45 minutes to make, and when you're done, you'll have somewhere between 10-12 pints.
It takes about 10 zucchini to finish the whole recipe, along with four onions, two green peppers, some red peppers, mustard, garlic, and more. Depending on your individual taste preferences, you can simplify the ingredients to make the recipe simpler.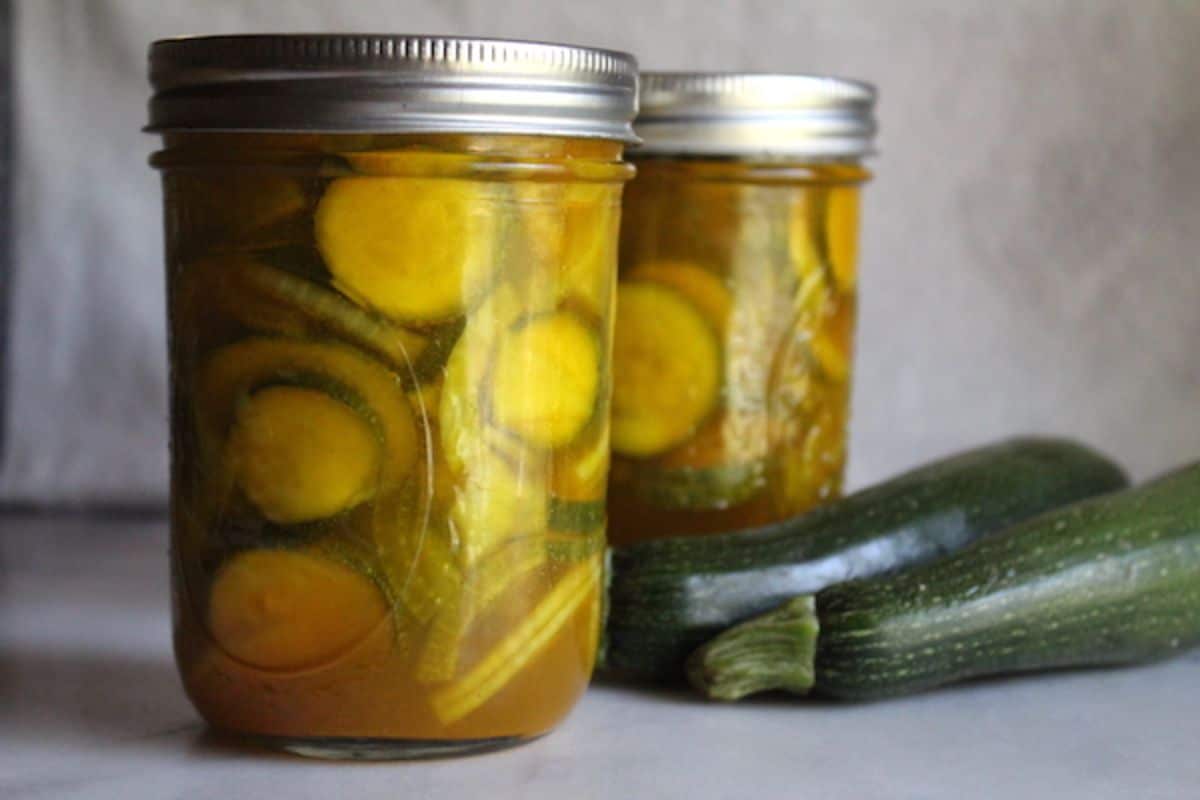 If you have a large crop of zucchini, this is an excellent option for handling them and ensuring nothing goes to waste. It takes about 2 hours to prep all the ingredients but only 15 minutes to complete the whole recipe.
You should have 16 zucchini to complete the entire recipe, along with four onions, canning salt, white vinegar, and a few other ingredients.
You can adjust the amount of sugar and vinegar you use to make the pickles more or less sweet or tangy, and you can experiment with different spices to create your unique flavor profile.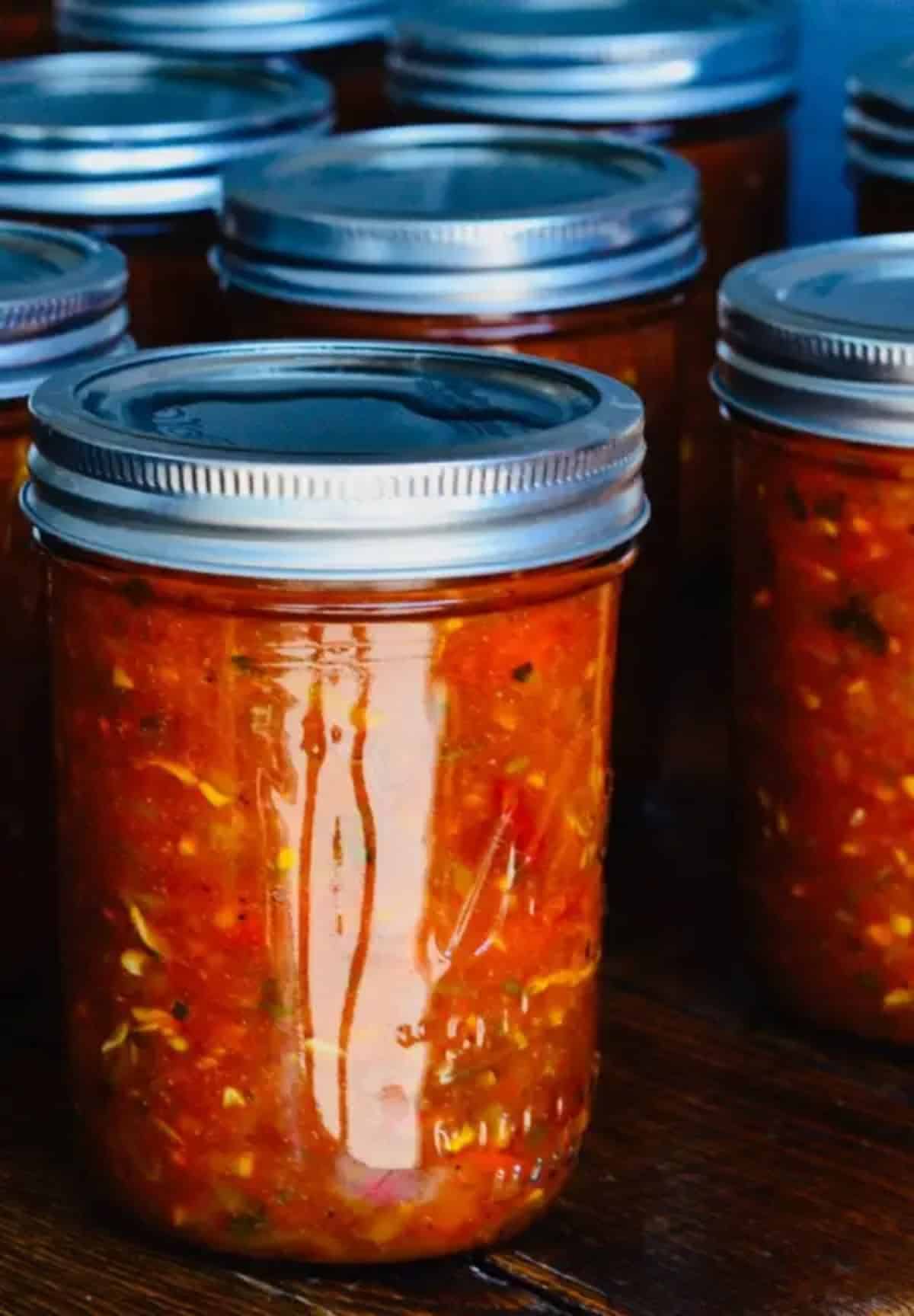 This fantastic recipe yields an impressive 26 pints of salsa. This recipe transforms fresh zucchini into a flavorful and unique salsa that's perfect for snacking or adding to your favorite Mexican dishes.
Finishing the recipe requires a good bit of shredded zucchini, onions, salt, green and red peppers, and a few other simple items. This recipe is versatile and can be utilized in several ways.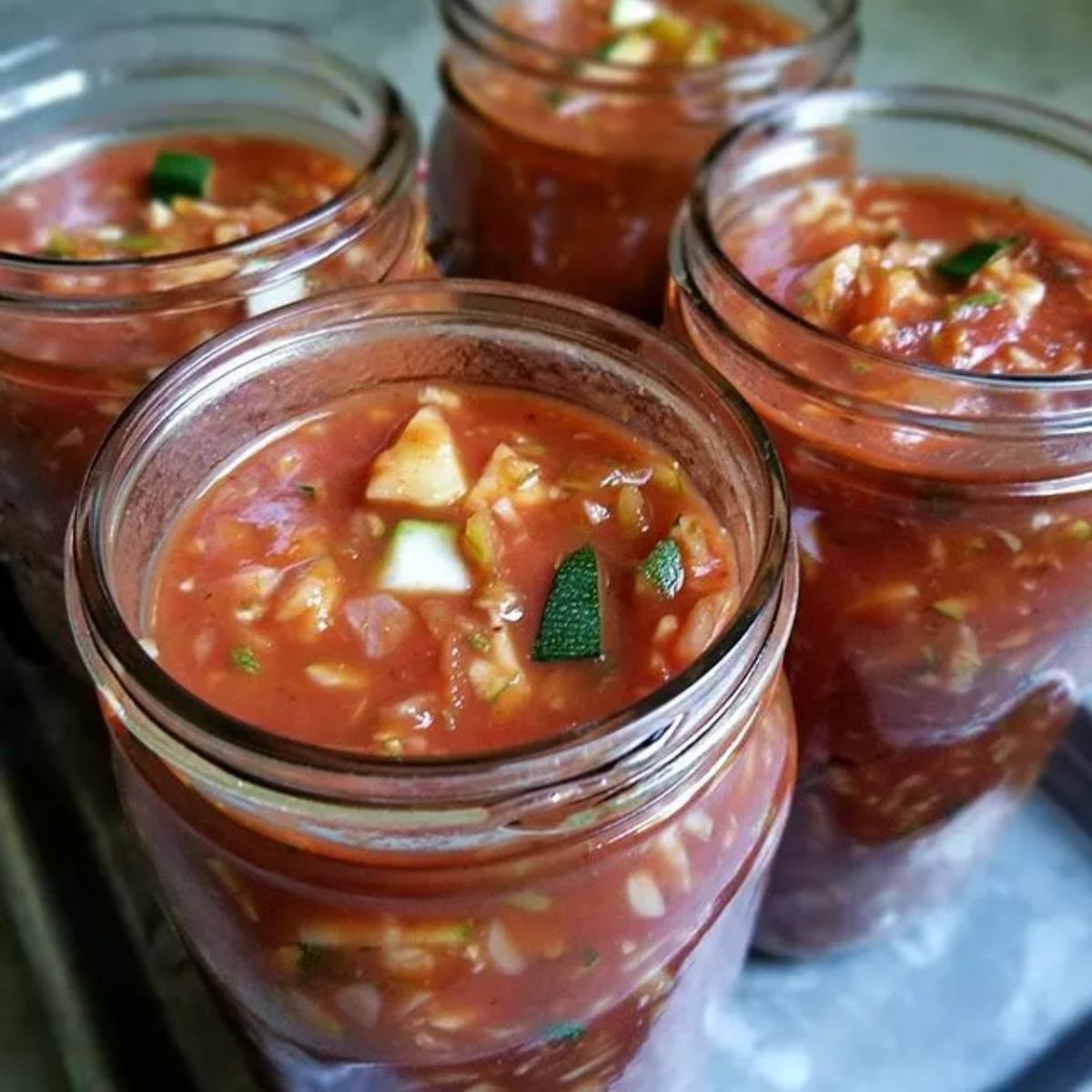 This super-tasting zucchini canning recipe requires only 5 pounds of zucchini and two cans of tomato sauce.
You can include a certain amount of onion, green peppers, and cloves. You'll also need several canning jars that are sterilized.
Depending on your preferences, you could mix this into a pizza or pasta dish.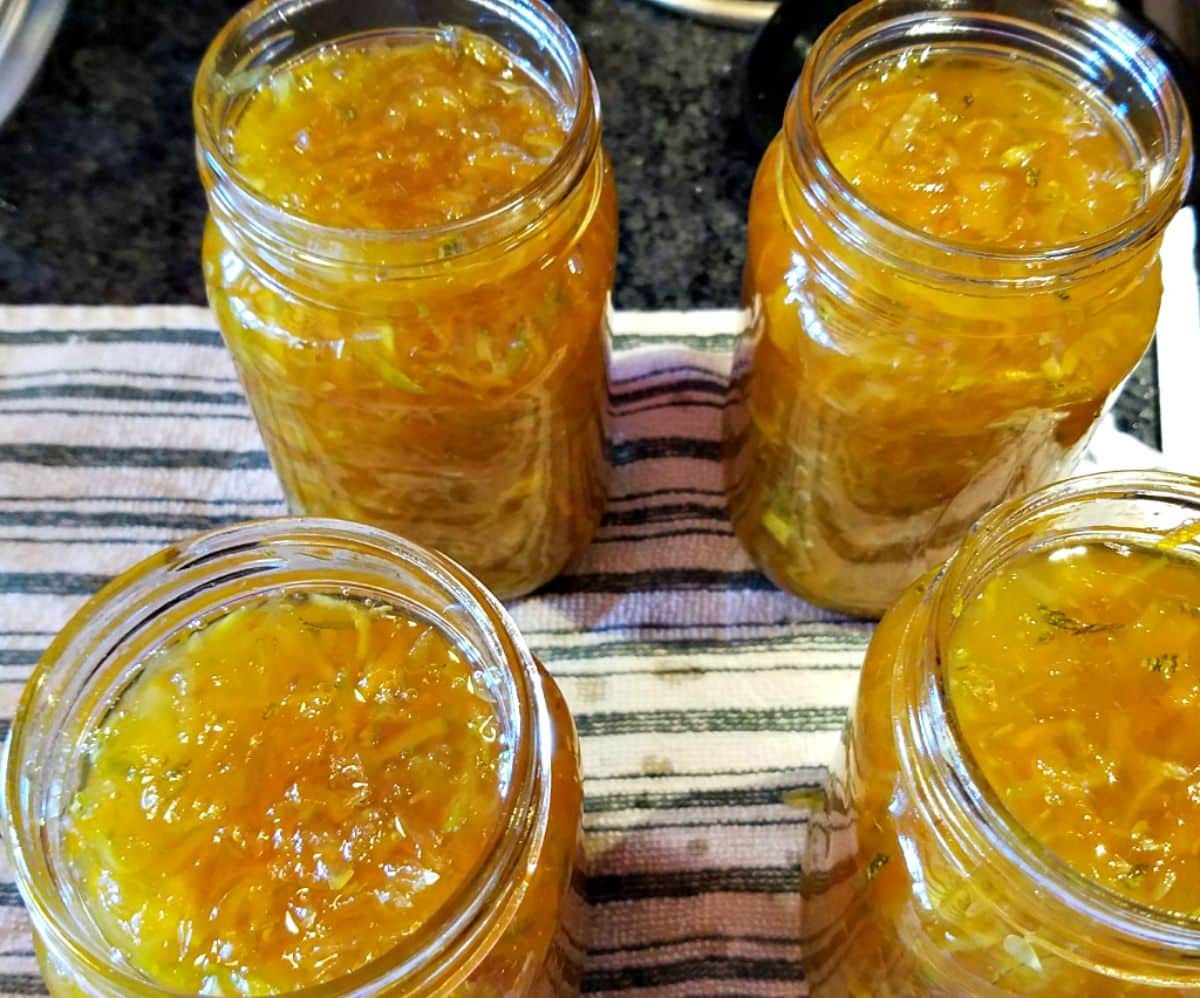 This zucchini carrot ginger marmalade recipe is simple and makes approximately four pints once you've finished cooking. The ingredients include shredded zucchini, carrot, oranges, lemons, apples, sugar, and ginger.
The recipe entails a series of steps that must be carefully followed. First, the oranges and lemons need to be peeled with care. Once the peels have been sliced thinly, they should be set aside.
The fruit should then be removed and cut into small pieces. Afterward, the pith, peel, and cut ginger should be put into a cheesecloth bundle. Next, the apple needs to be shredded, and finally, all the ingredients can be added to a large pot along with the sugar.
Final Thoughts
Zucchini canning is a great way to preserve and enjoy this versatile vegetable throughout the year. With the help of the zucchini canning recipes we have compiled, you can easily create a variety of delicious and healthy condiments, relishes, salads, and salsas.
From zucchini corn relish to sweet and smokey zucchini salsa, these recipes inspire experimenting with flavors and spices to suit your taste preferences.