Leo and I made this wooden garden sign about a month ago, but I'm just getting around to sharing it with you.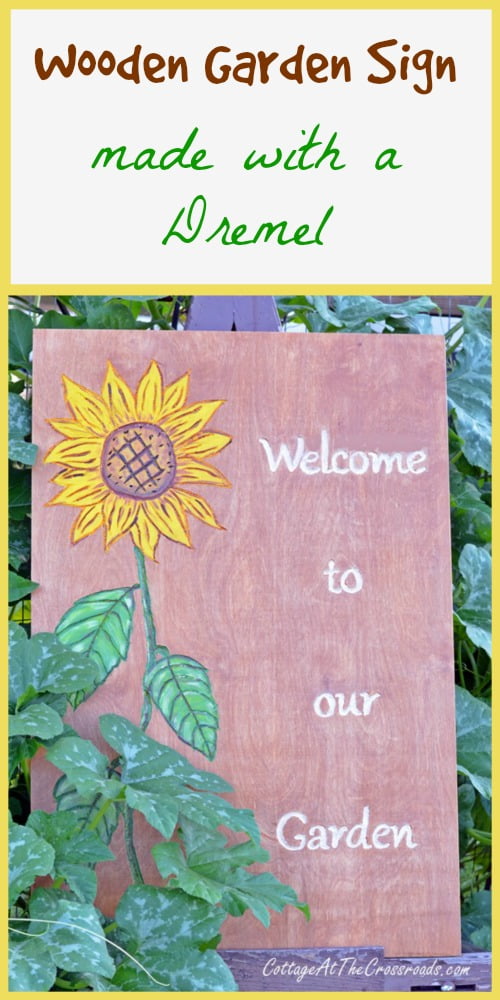 Gosh, folks! It's been a while since I've posted, but we've been super busy with the garden. We've been taking tomatoes out by the bucketfuls, and everything else is producing equally well. I've been cooking, canning, and freezing as much as I can, and we've also been sharing with friends and family.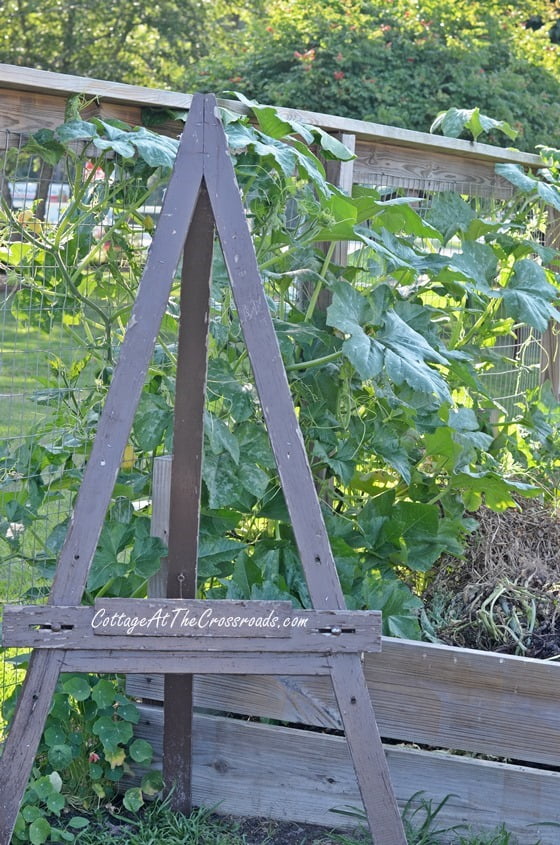 This all came about when Leo and I spotted this old wooden easel at the auction that we always attend. When we saw it, we both thought it would look great in our garden with a sign on it. So it sat in the garden for several months until one day, we received an email from the folks at Dremel asking if we'd like to create a project for them. And we said, "Why, yes, we already have a project in mind!" So they sent us the tools and bits necessary to make our sign.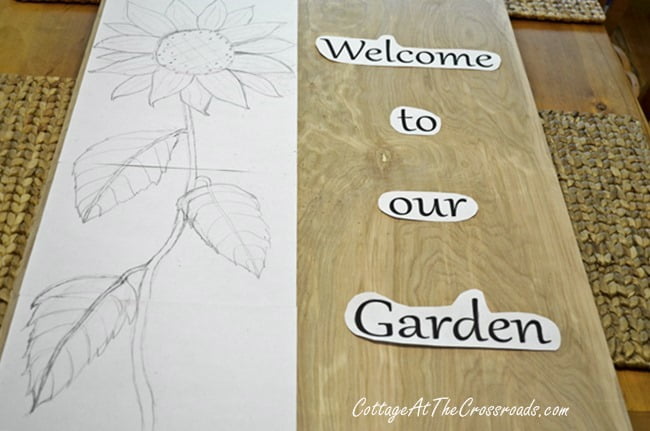 The first thing we did was to purchase a 2'x3' one inch thick birch board. Then we sketched a large sunflower and printed out the words that we wanted on our sign and traced both onto the board using carbon paper.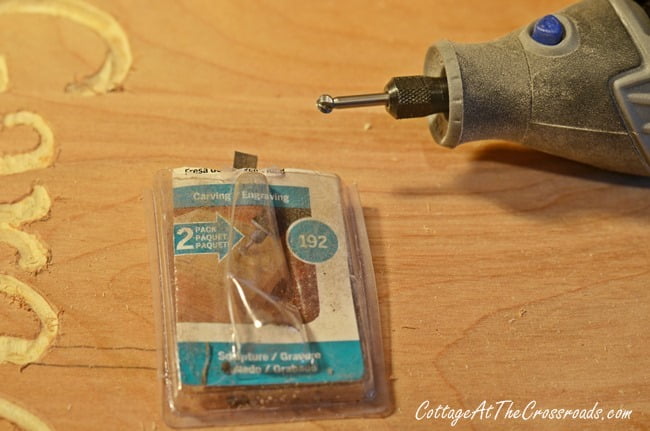 Leo started by using the Dremel 3000 variable speed tool along with a 192 carving bit to rout out the letters.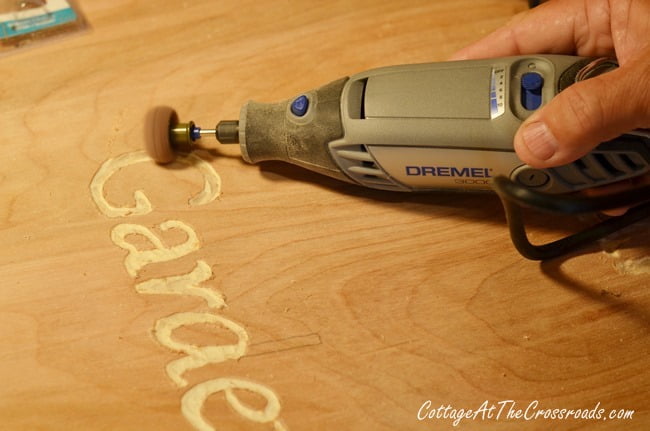 Then he used a 511e sanding disk to smooth the edges.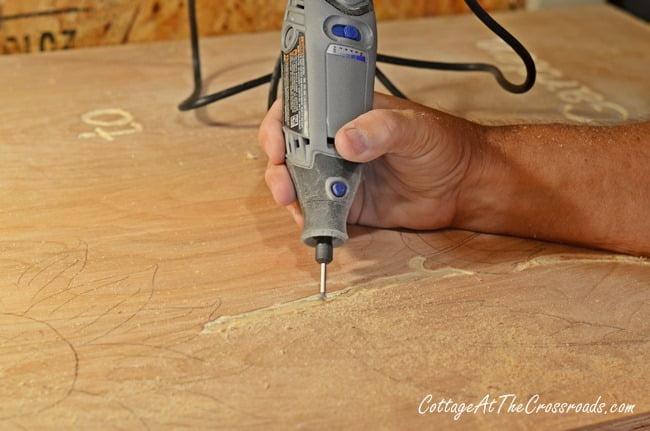 To carve out the sunflower, stems, and leaves, he used an even different bit-a 193.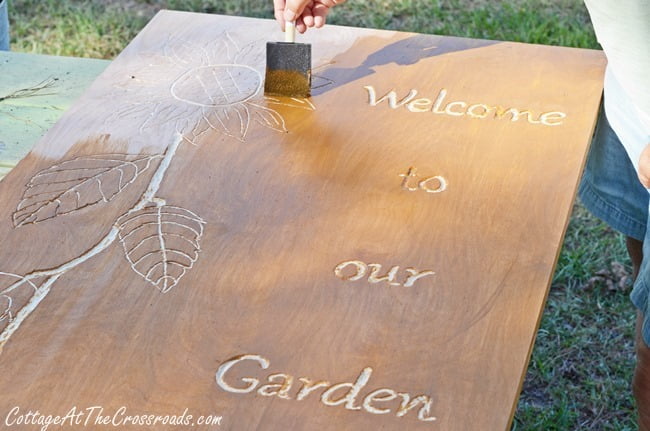 Then he turned it over to me and I brushed some gel stain by General Finishes onto the board. The stain really made the carved out letters and design pop and was very easy to apply.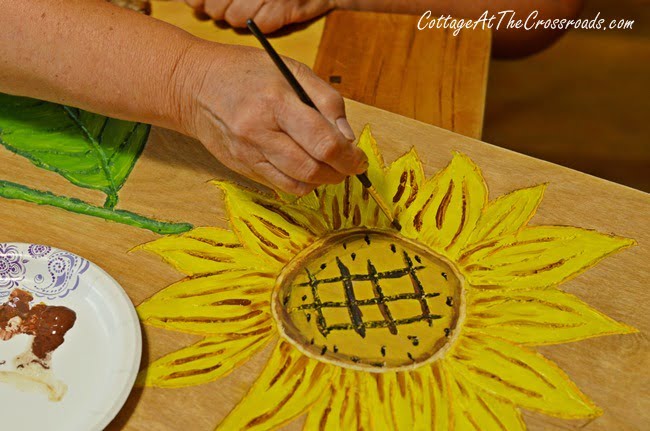 After the stain had dried and was lightly sanded, I painted the sunflower and leaves using acrylic craft paints.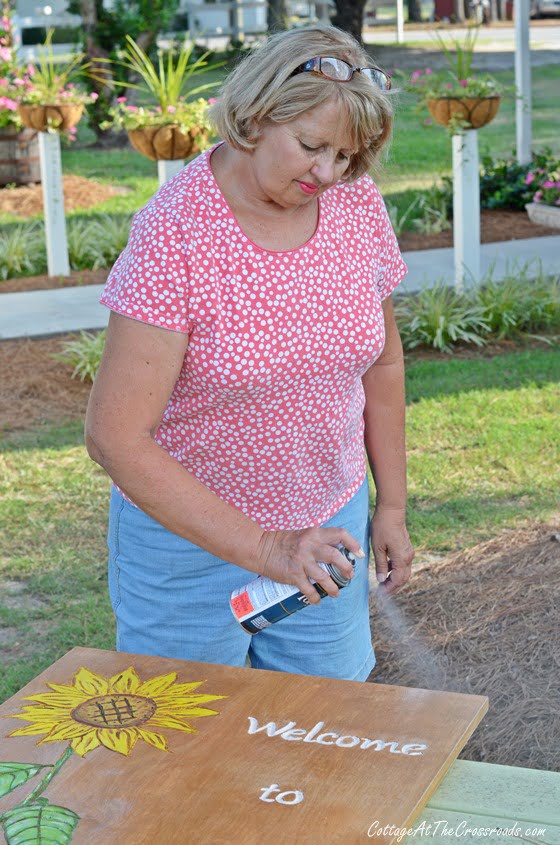 The next day I finished it off by spraying the sign with a polyurethane sealer.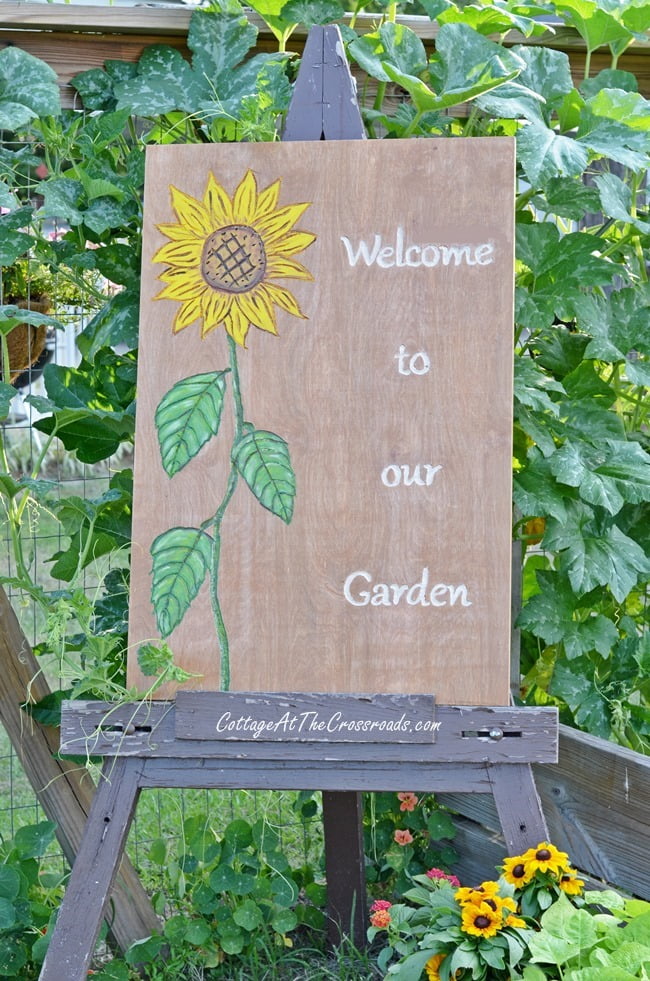 And finally the sign was placed on the easel.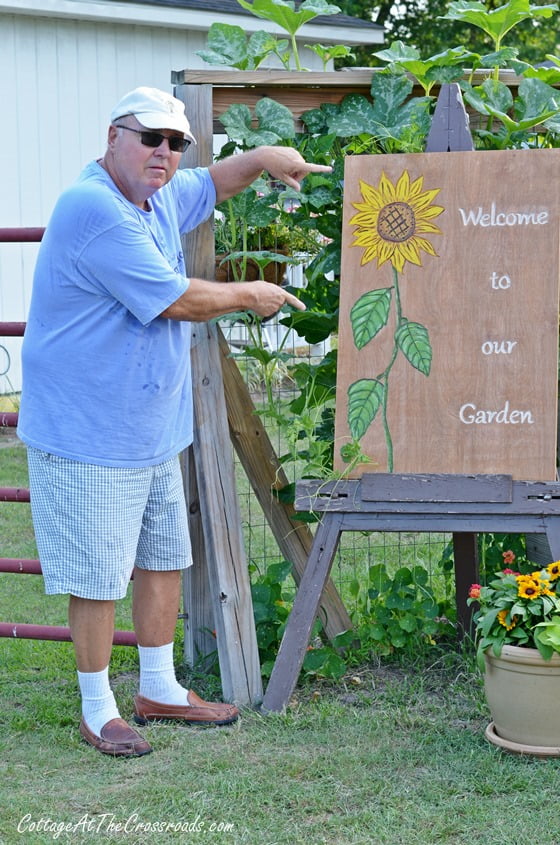 Here's Leo clowning off just a bit after he put the sign on the easel, but overall, we're pleased with how it turned out. You have to keep in mind that we had never used a Dremel tool before we made this.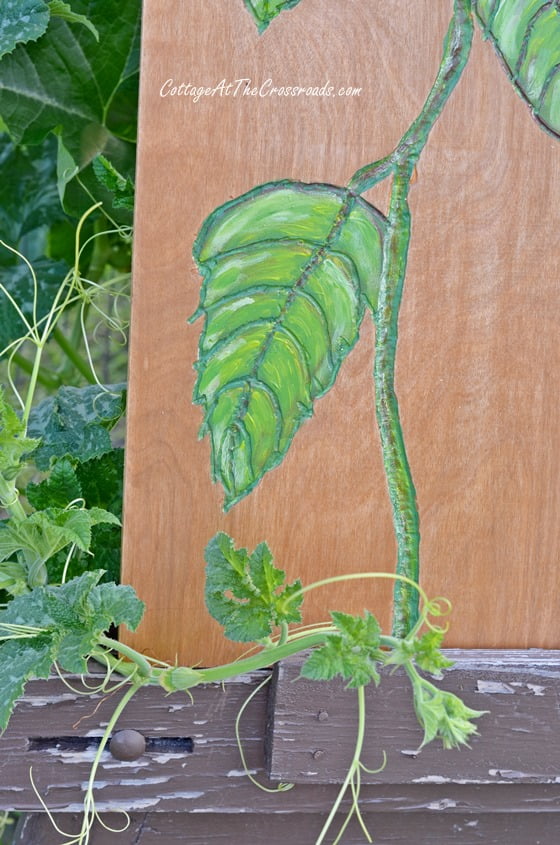 Art for the garden!
The large leaves surrounding the easel are gourd leaves. They are volunteers that came up in our compost bin and we just let them grow because they help to obscure the bin.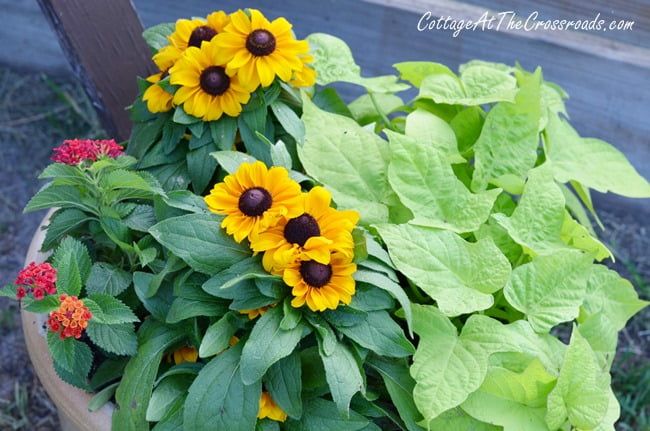 I planted some rudbeckia, sweet potato vine, and lantana in a pot to place beside the easel. Those plants should bloom and grow well into fall.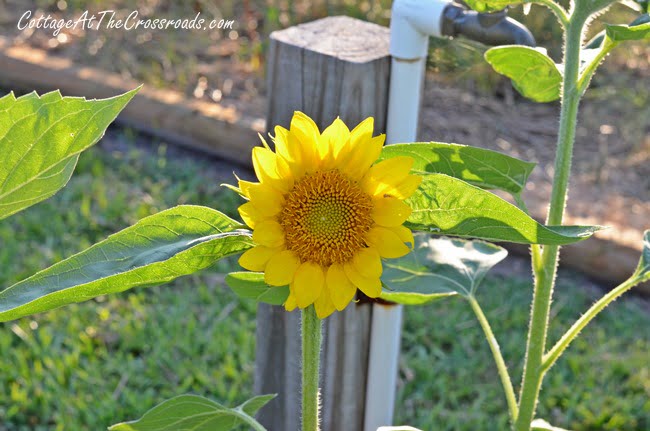 And we do have a few sunflowers growing in our garden. Is there anyone who doesn't love sunflowers???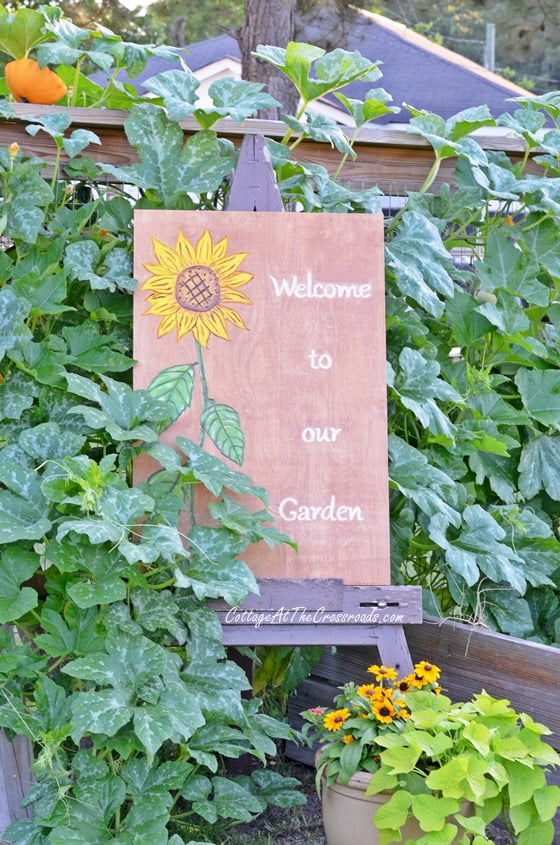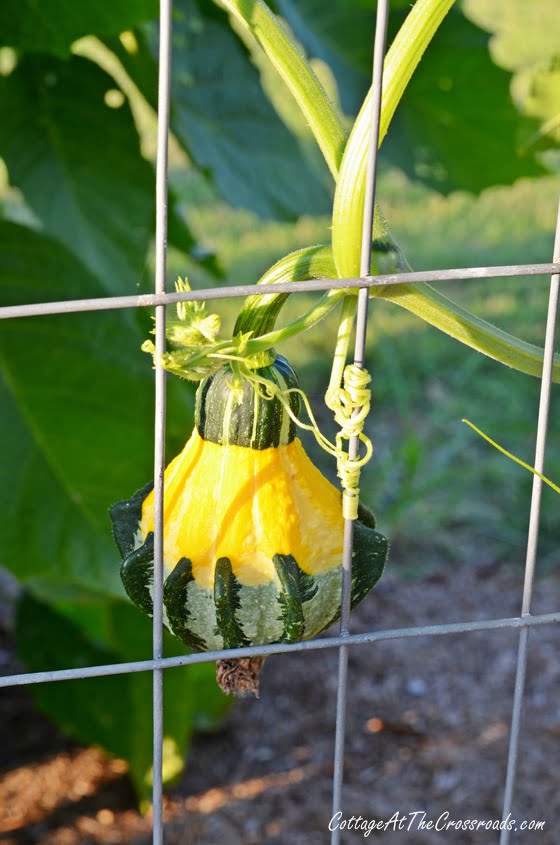 Within a week after placing the sign in the garden, the gourd vine has grown by several feet. And we have lots of pretty gourds growing on the fence.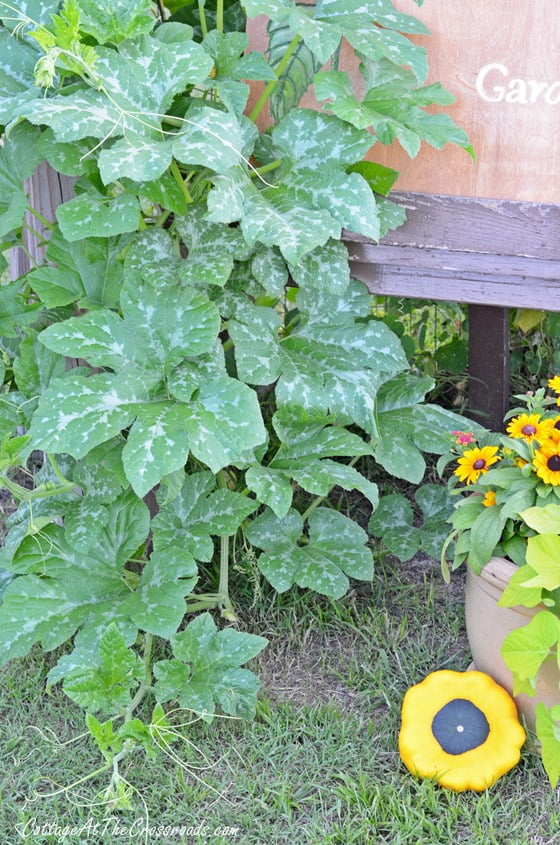 That's a overgrown pattypan squash that's beside the flower pot.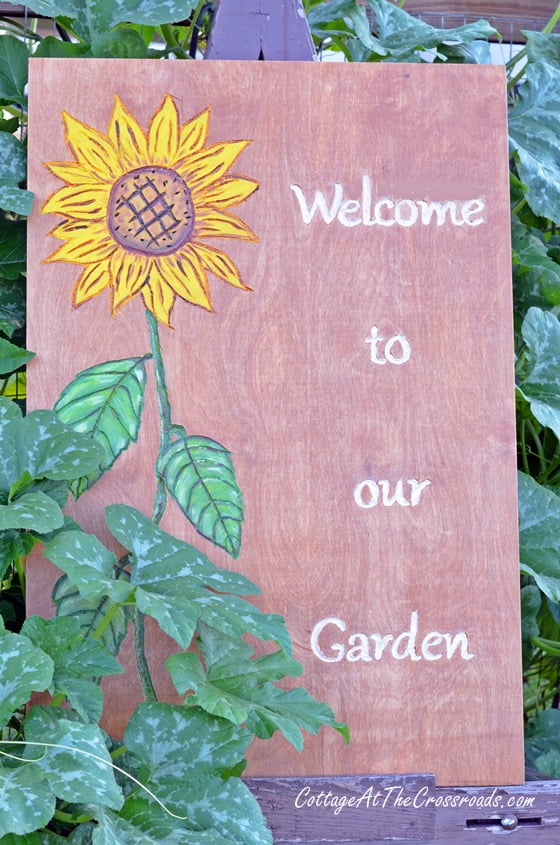 We'd like to thank the Dremel company for sending us the tools to use to create our new garden sign and General Finishes for sending the gel stain along to us as well. We are already dreaming up future projects using the Dremel.