A few days ago when it was cold, rainy, and dreary, I got in the mood to bake some bread. Baking bread has been on my list of things that I wanted to learn to do since I retired from teaching. And I knew the exact recipe that I wanted to try.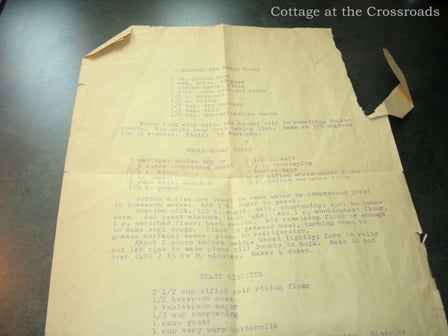 This one! I had saved this recipe from my home economics class in high school. You can see how tattered it is.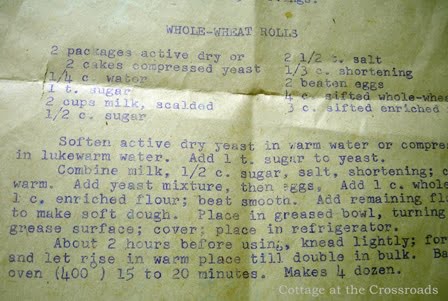 It's a recipe for whole wheat rolls. It was printed on yellow mimeograph paper that was commonly used in schools in the late 60s and the early 70s. I have carried it around from place to place for over 40 years. Occasionally I would come across it and say, "I've got to learn how to make these one day," but I never did.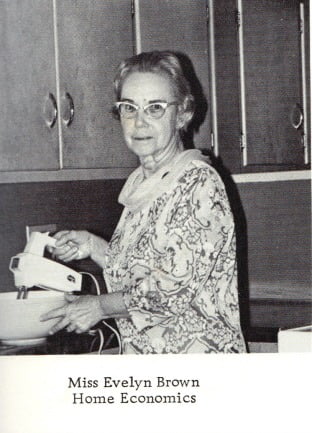 Miss Brown was my home ec teacher, and I adored her. She was an old maid schoolteacher whose whole life revolved around the school.  I scanned this photo of her from my high school yearbook. She attempted to teach me how to sew, but my mind was elsewhere. But I was interested in cooking, and she made the best whole wheat rolls in the world. I  remember some great times when she would take a bunch of us to summer FHA camp where she would make her rolls for dinner each evening. Even after 40 years, I still remembered how I loved those rolls so I decided to make them a few days ago.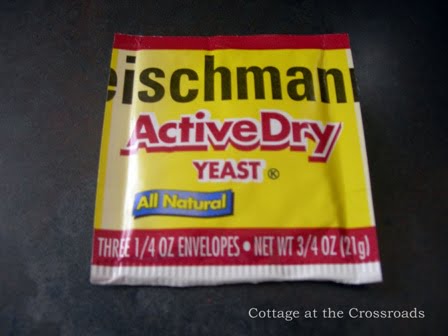 First, I activated 2 packages of yeast by putting them in 1/4 cup of warm water and then added 1 tsp. sugar to the mixture.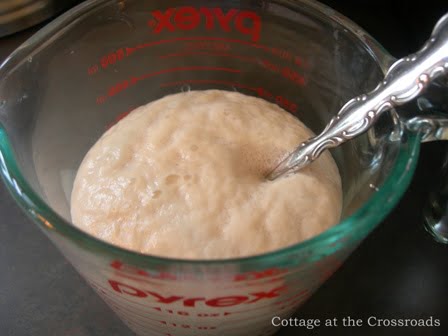 In a few minutes, the yeast looked like this, all foamy and bubbly!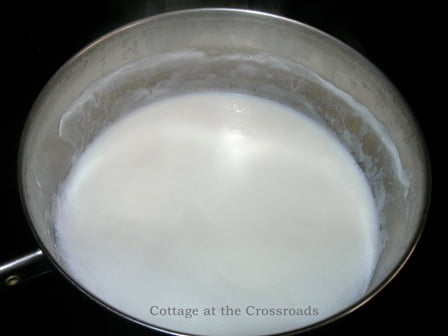 The directions said to scald 2 cups of milk and then add 1/2 cup sugar, 2 1/2 tsp. salt,  and 1/3 cup shortening.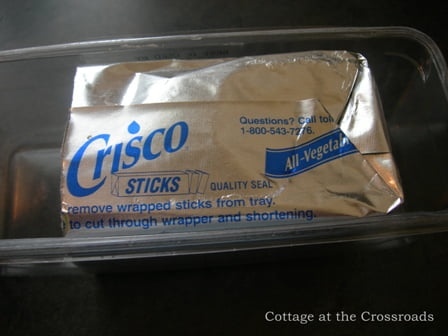 I used this brand of shortening that comes in sticks which makes it easier to measure the amount. The shortening softened and melted in the warm milk.  Next I let the milk mixture cool to lukewarm.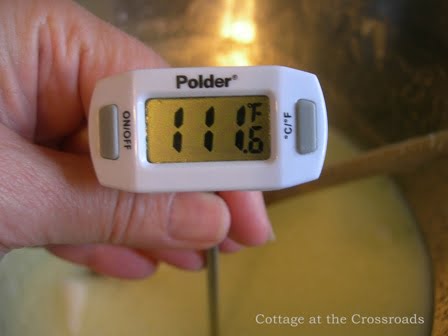 I used my thermometer to make sure the milk had cooled enough so that when I added the yeast, it wouldn't be killed. Look at that hand!  It's beginning to look like it's been out of high school for 40 years! Yikes!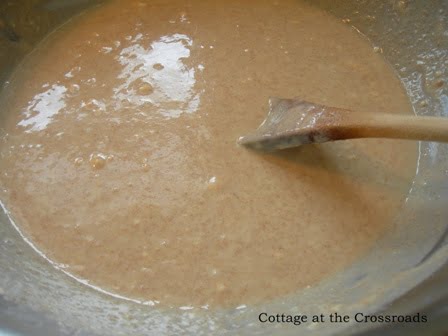 Next I poured the milk mixture into a large bowl and then added the yeast.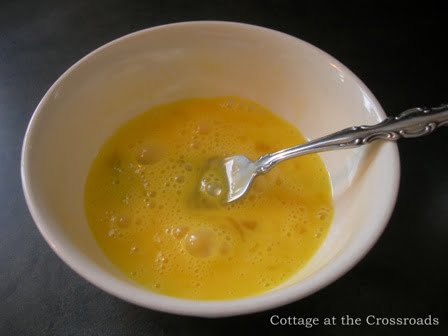 Two beaten eggs went into the mixture, and then I added 1 cup of whole wheat flour.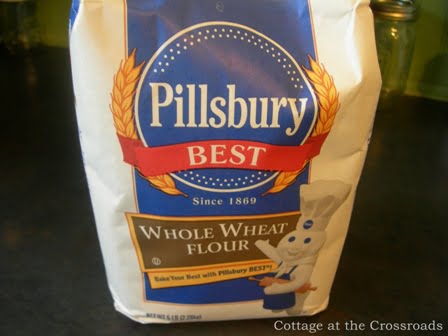 I used the dough boy's flour! Hehe! Can't you just hear him?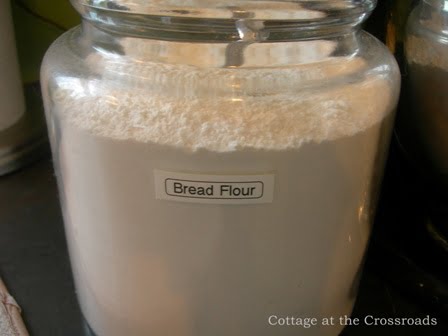 Then I added 1 cup of bread flour. If you don't have bread flour, you can use all purpose flour. I had purchased bread flour a few months ago when I thought I'd be baking my own bread all winter. I beat this together by hand with a wooden spoon. Then I added 3 more cups of whole wheat flour and about 2 more cups of bread flour until it started to come together as a soft dough.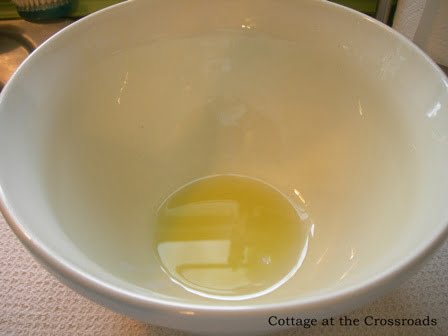 Using a small amount of olive oil, I greased a different bowl. Then I added the dough, turned it around to grease the surface of the dough, covered it with a tea towel, and placed it in the refrigerator.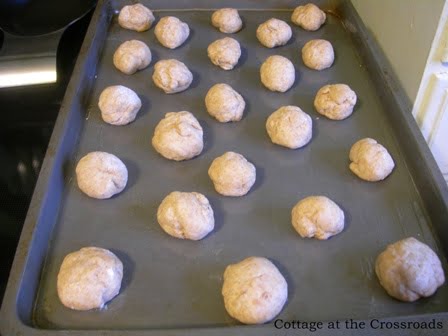 About 2 hours before dinner, I took the dough out of the refrigerator, kneaded it lightly, and formed it into rolls. At this point, I wished I had Miss Brown to ask how large to make the rolls.  So I made some on the small side. I made enough rolls to feed a bunch of hungry teenage girls, except I don't have hungry teenage girls around the house. So I invited Leo's brother Jim and his wife Jean to come for dinner.
I covered the rolls and let them rise again. They rose a little, but they never did double in size like the recipe said they should. I went ahead and baked them at 400 degrees for about 15 minutes.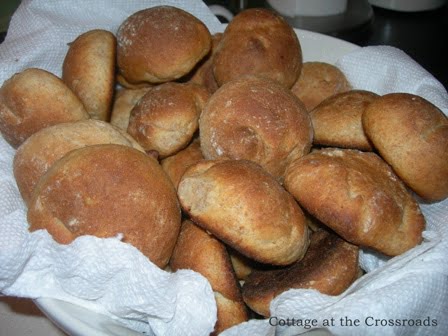 Tada! Here's my first batch of homemade whole wheat rolls!
When I bit into them, they were good, but not like the rolls I always remembered Miss Brown making. I figured it was my inexperience that kept me from making those warm, soft rolls that I remembered. So I got on the internet yesterday and read about 20 different recipes for making rolls and I came upon one from The Frugal Girl.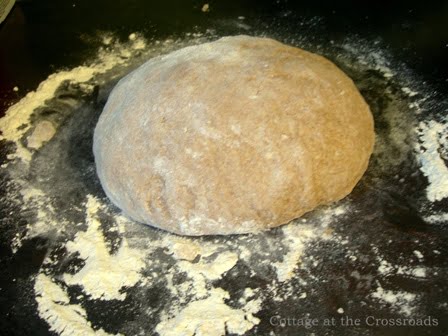 So I followed her instructions and mixed up some more dough.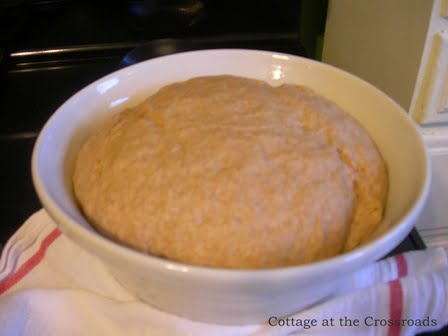 It rose beautifully.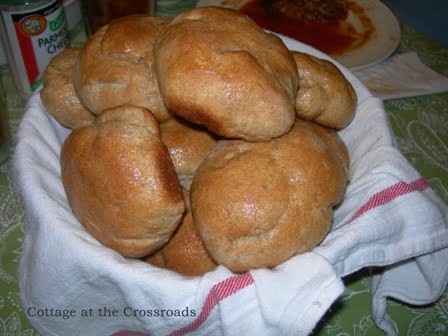 And here are the rolls that we had for dinner last night . At the first bite, I knew I had found the taste that I remembered from so many years ago. The rolls were soft and pillowy.
Even if  Miss Brown's recipe wasn't totally successful, it did bring back a lot of wonderful memories of her and the fun times we had at FHA camp each year.  FHA means Future Homemakers of America, for those of you who are wondering.
And if you're inclined to make some rolls yourself, try The Frugal Girl's recipe. It worked for me!
I'm joining:
Honey for Potpourri Friday@2805
Heather and Vanessa for Inspiration Friday@At the Picket Fence