In this post, you'll find our 2018 "udderly" festive Christmas front porch along with links to 18 other decorated porches and outdoor spaces.
Fa! La! La! Today I'm excited to show you are decorated Christmas front porch as part of the Festive Christmas porch tour hosted by my talented friend Amy from Atta Girl Says. The tour will be going on all this week where you will find plenty of decorating inspiration for any type of porch or outdoor space.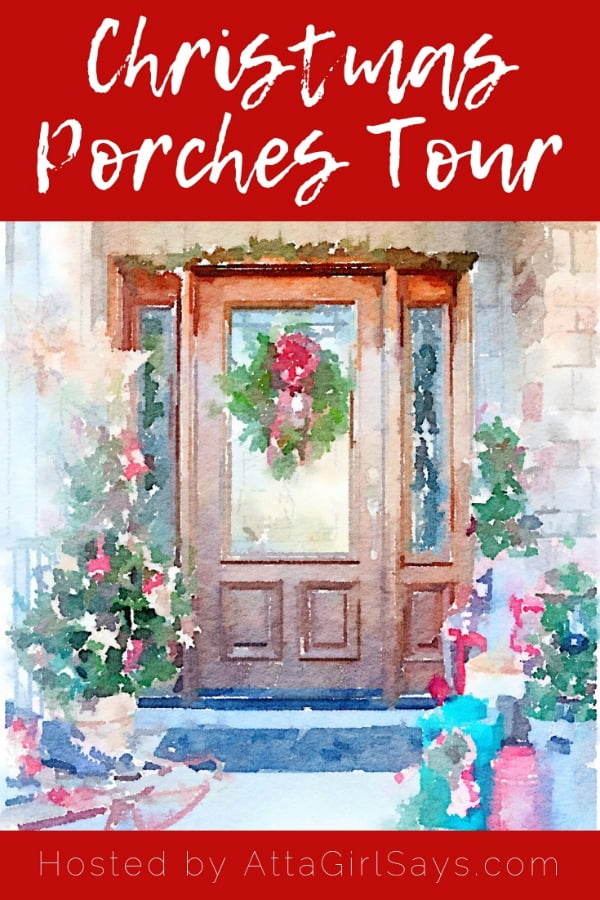 You can find the links to the rest of the porches at the bottom of this post, and I hope you'll be able to visit as many porches as you can.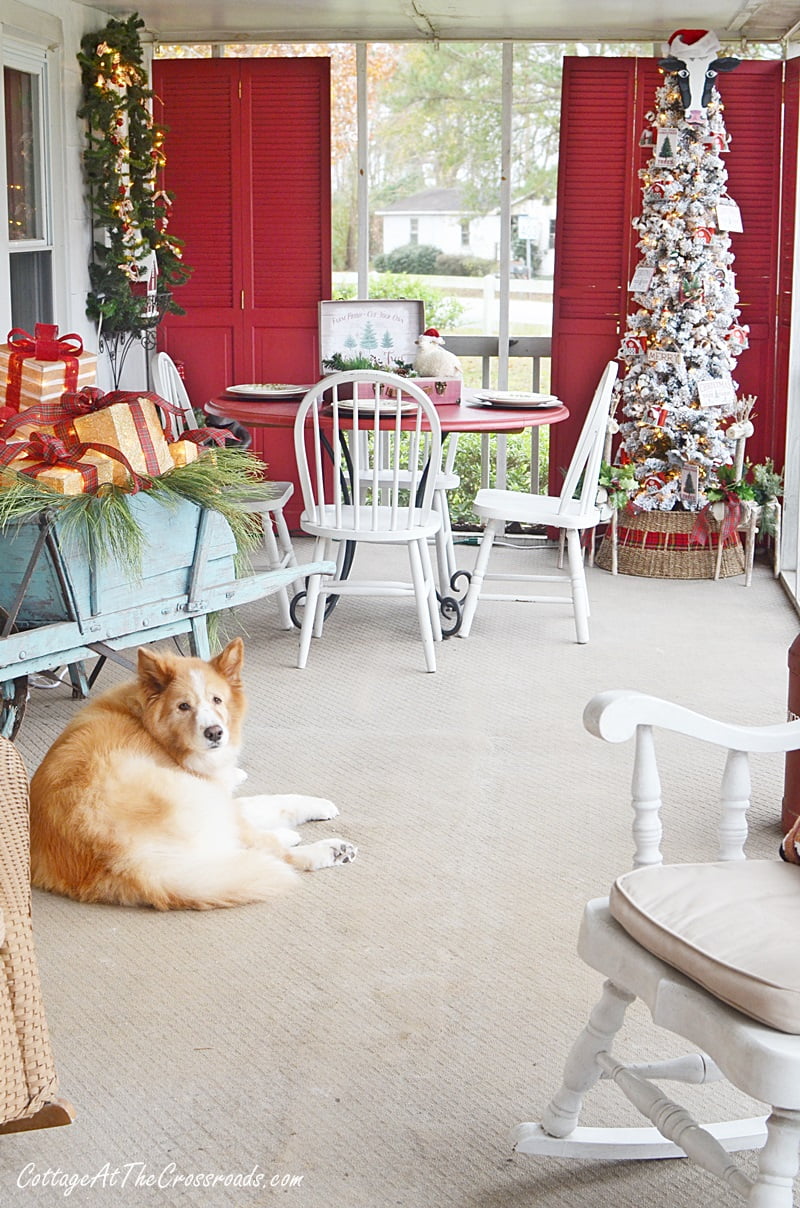 Welcome to our "Udderly Festive Christmas Front Porch!" If you are new here, then I need to introduce myself. I'm Jane, and my husband and I live in a small country cottage located in South Carolina.
This year, I've decorated our large screened-in porch with farmhouse flair with lots of critters, barns, and traditional plaid. You may even spot a cow or two!
On this end of the porch, we have a sitting area where there is a tree with colored lights and plaid bows. It's been a long time since I've used colored lights on a tree, but I am loving them this year.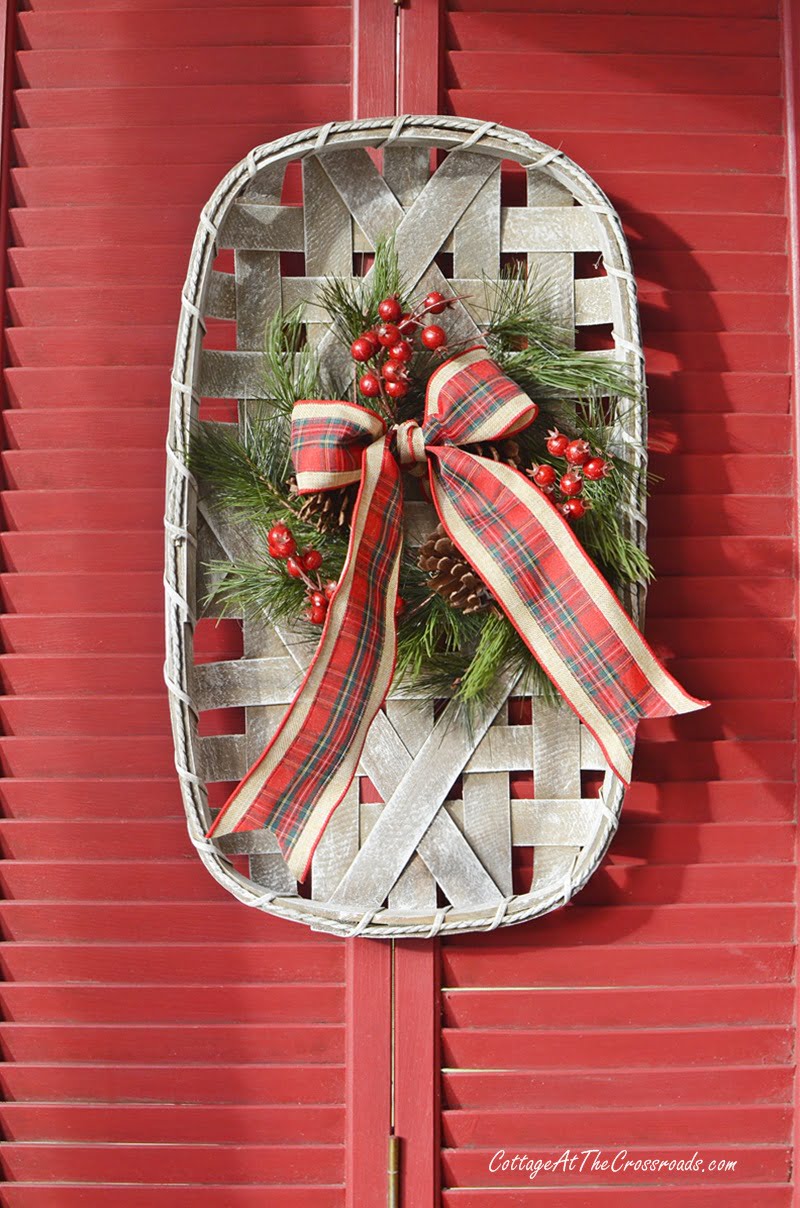 Two tobacco baskets are hanging on the repurposed red doors. A lot of tobacco used to be grown in the area we live in so the baskets are a nod to our agricultural heritage.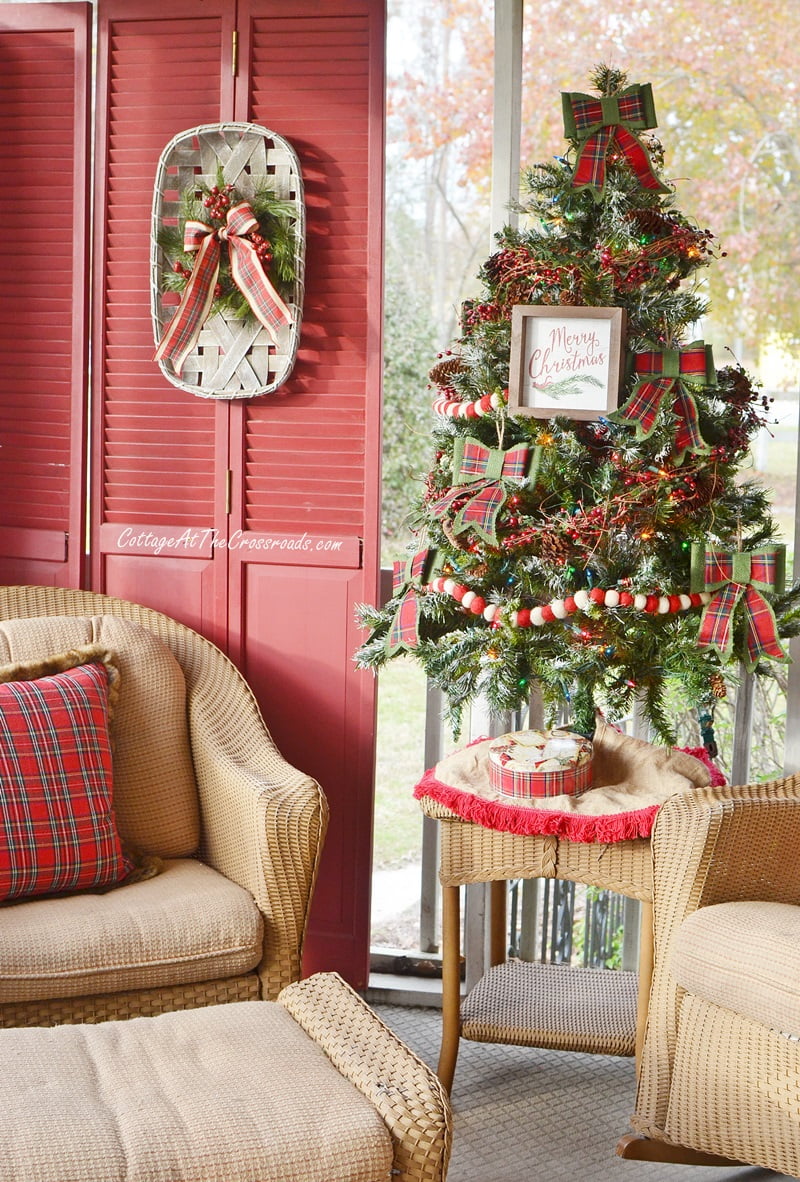 Cookies for Santa will be left in the plaid tin under the tree! He! He!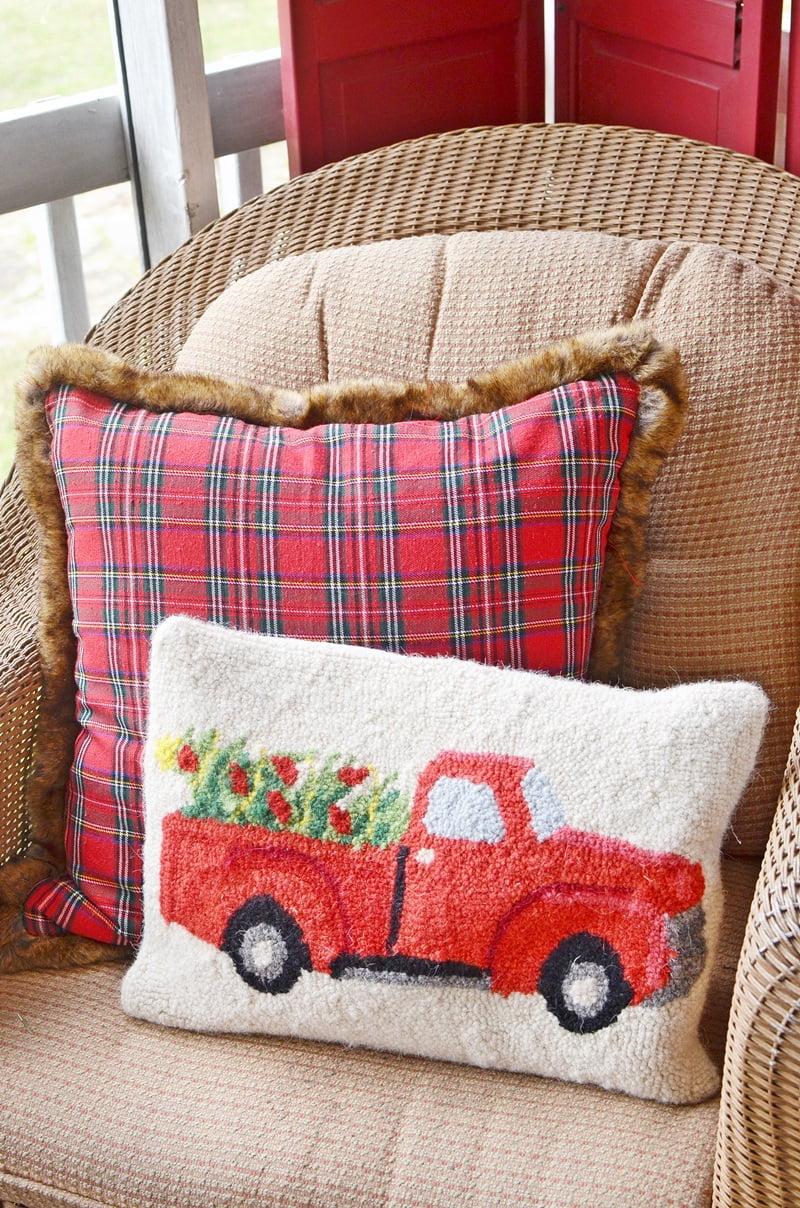 How can one have a farmhouse-y country cottage Christmas front porch without a red truck pillow???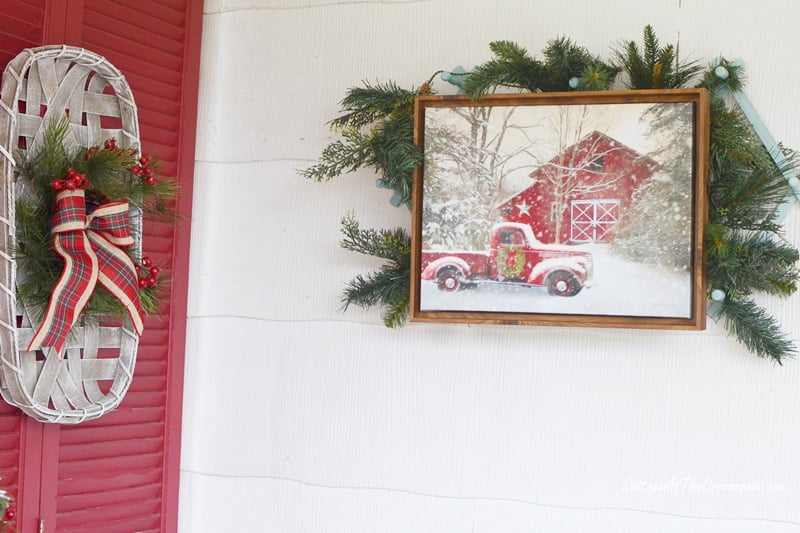 In the corner of this area of the porch is a print of a red barn with a red truck. I grew up in a farmhouse with red barn that looked very similar to the one in the print so I was feeling a little nostalgic when I bought it.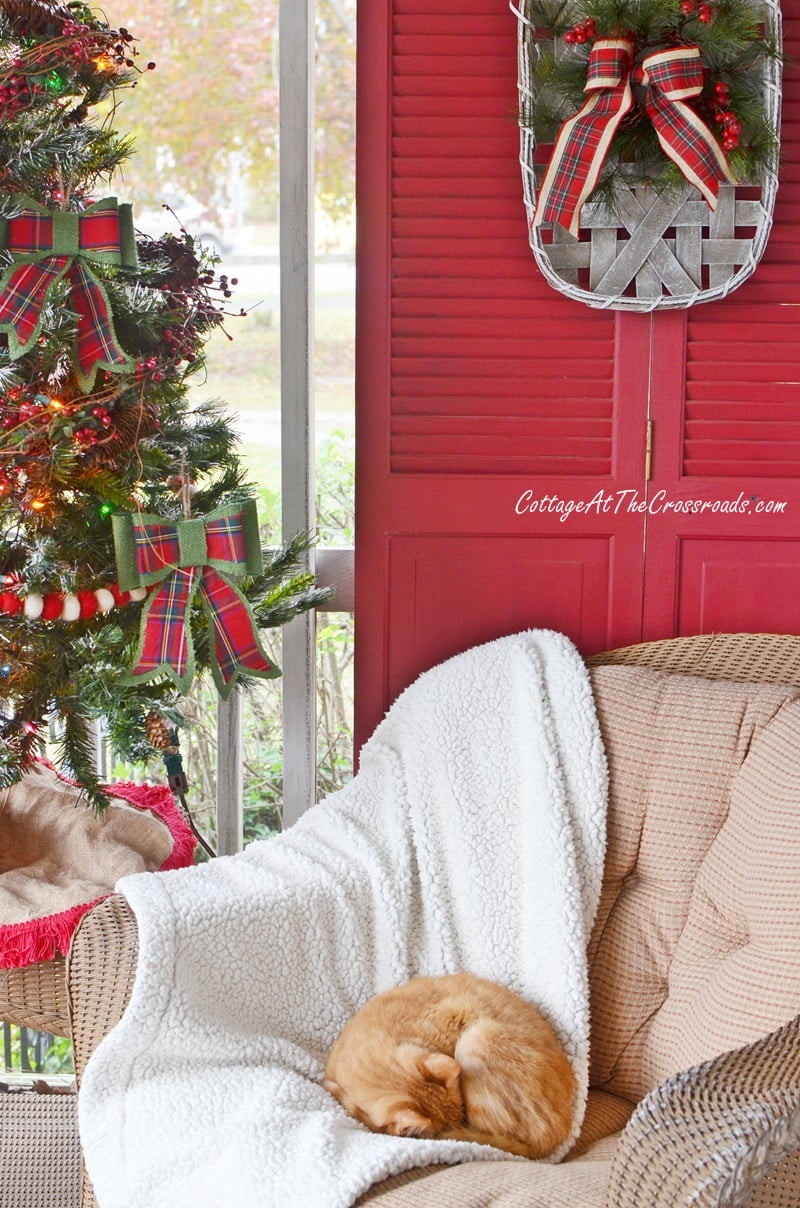 Our cat Henry has found a comfy place to curl up. Our weather has been so crazy lately. It was very cold for a few days but now it's warm enough to sit on the porch.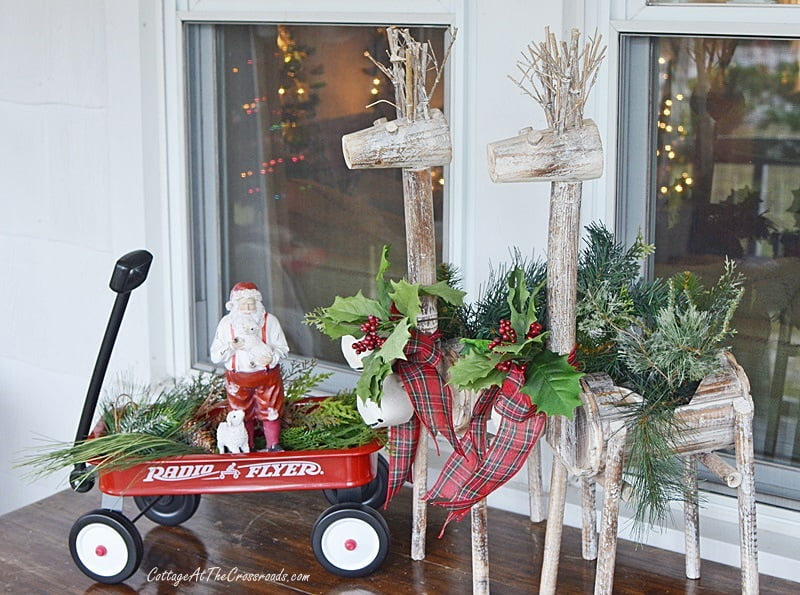 On the table on this end are two wooden deer along with a Santa in a red wagon.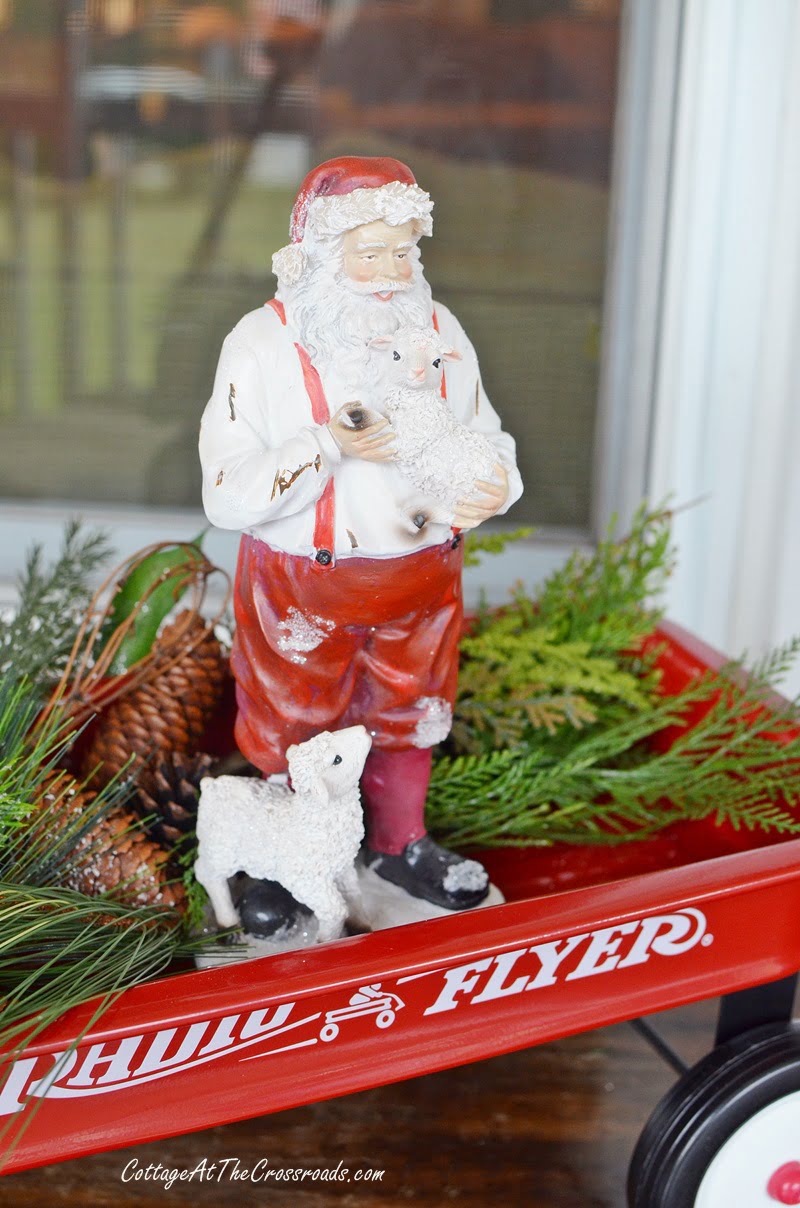 This Santa is obviously a lover of animals!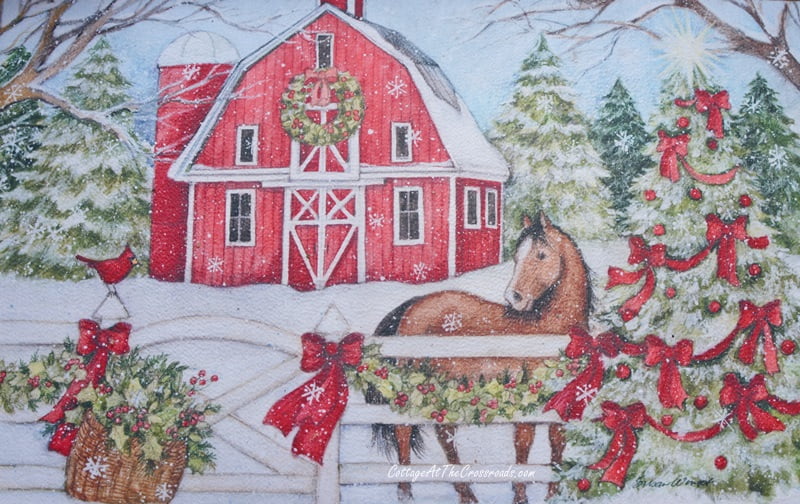 A red barn doormat at the front door will welcome everyone to the Crossroads during the holidays.
On the other end of the porch, we have an eating area. Lucy, our dog, likes this area.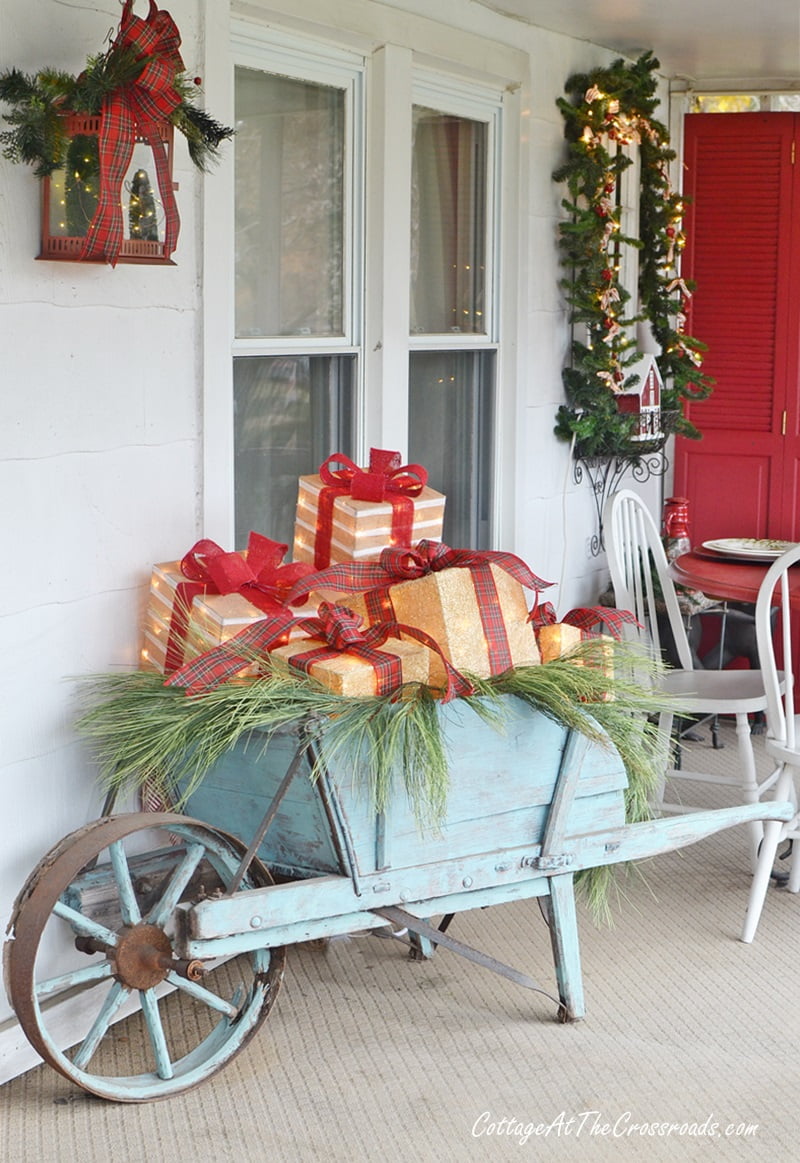 This year the old wheelbarrow is filled with lighted gift boxes.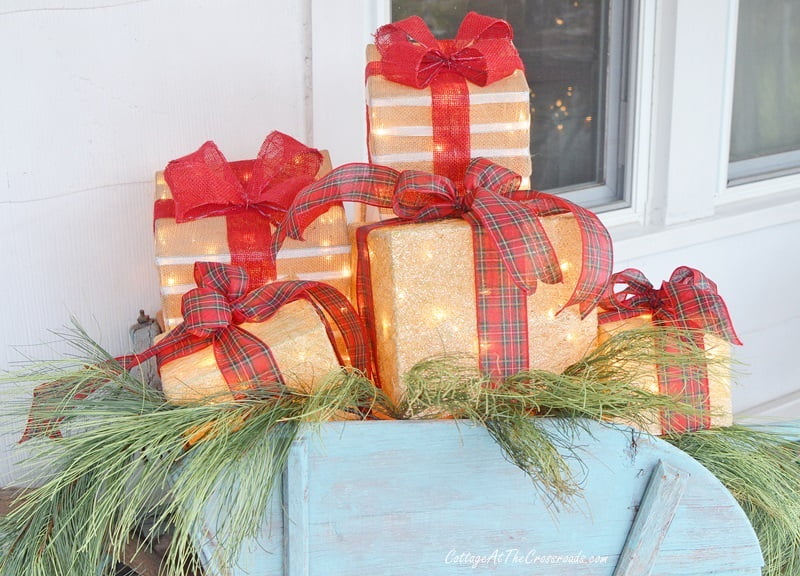 You should see them at night! They are my absolute favorite decoration on the porch this year!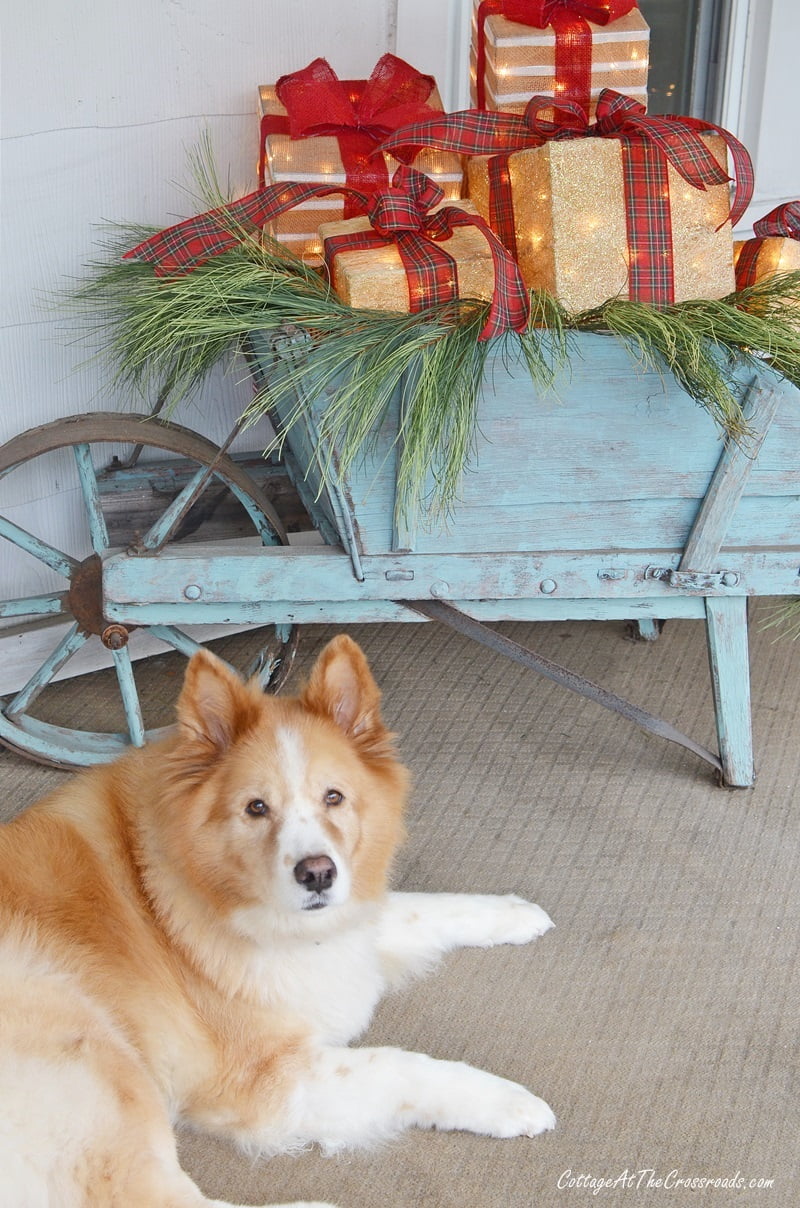 Lucy likes them, too!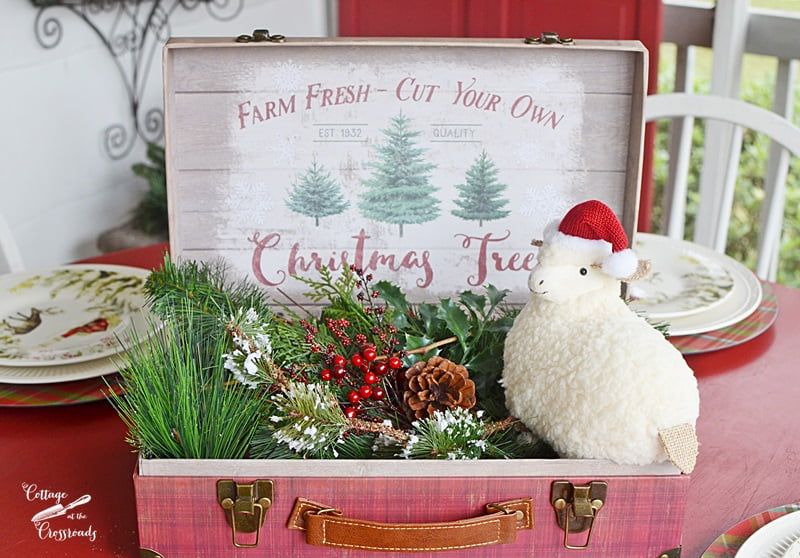 On the table is a farmhouse style centerpiece complete with a sheep. I told you that you would see some critters on the porch!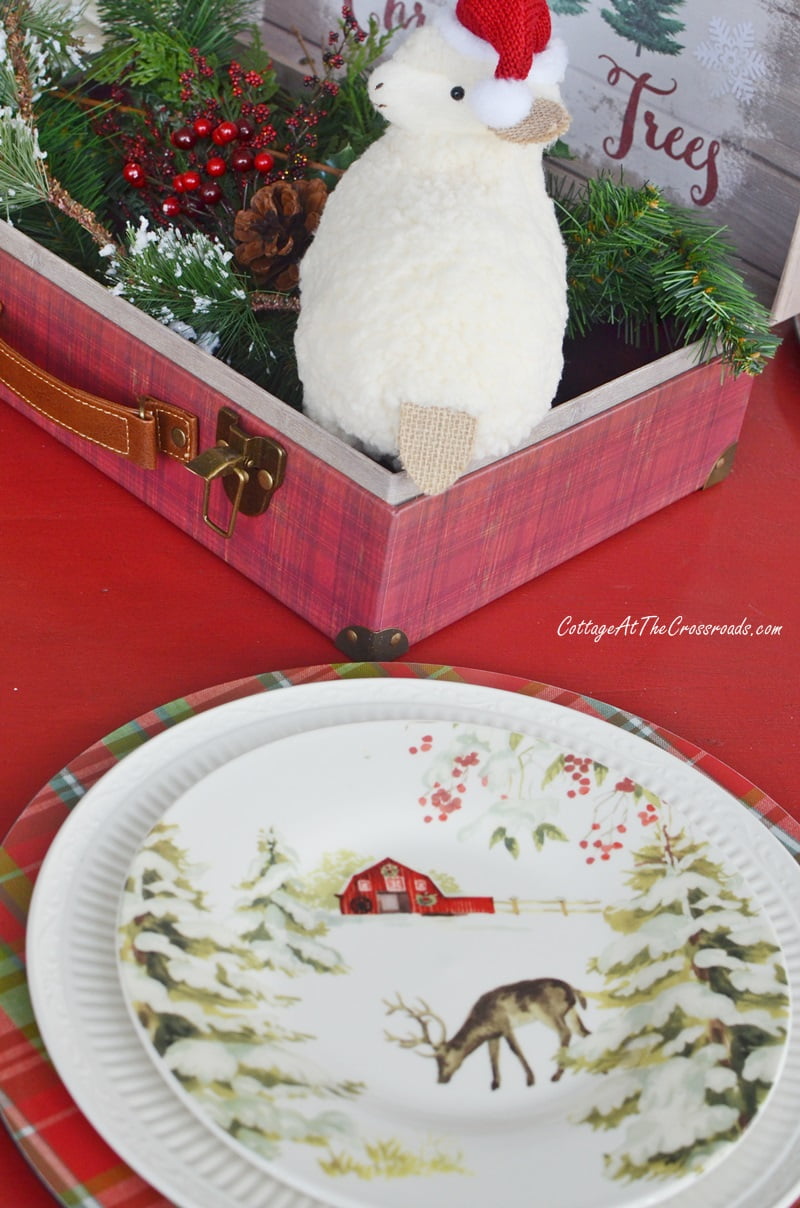 The table is set with the red barn plates that I used last year in a Red Barn Christmas Tablescape.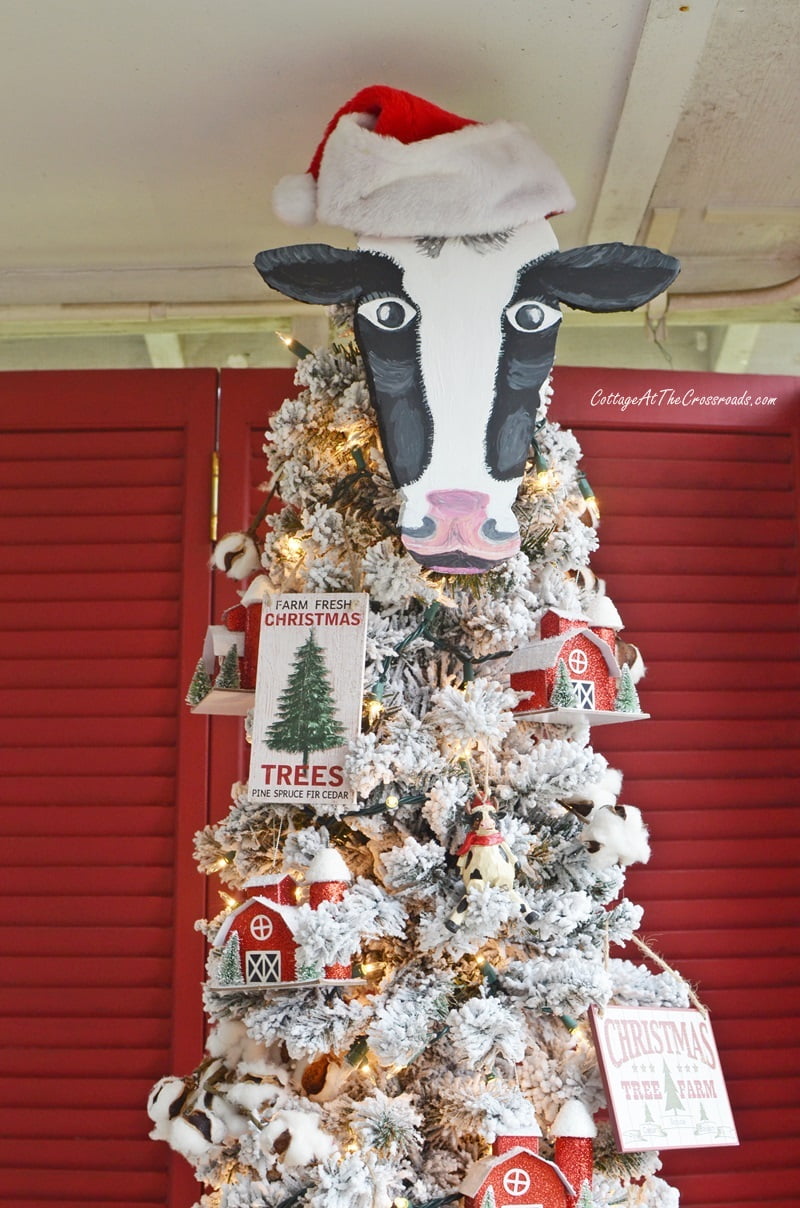 On this end of the porch is another tree decorated with red barns, cotton, and a cow head topper.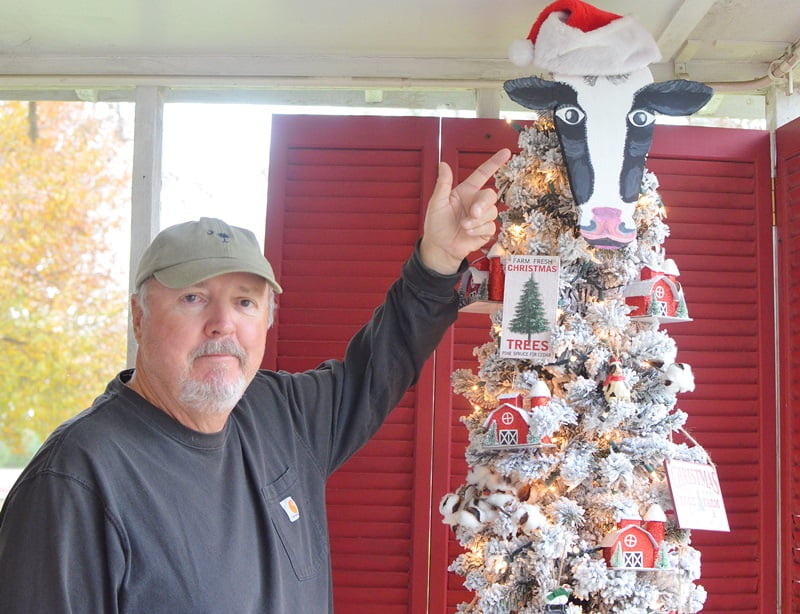 Not sure if Leo was thinking that she looks udderly angelic (or ridiculous!)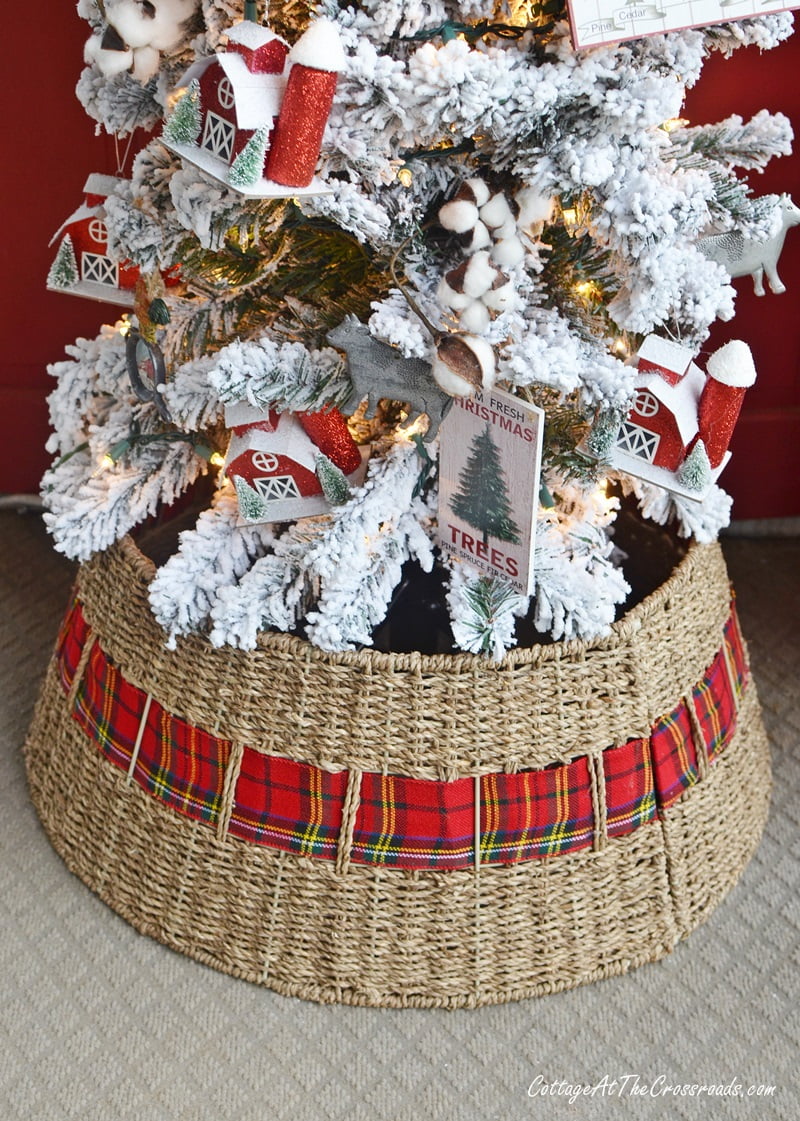 Love the tree collar with the plaid ribbon that I ordered from Amazon (affiliate link) here: Rattan Christmas Tree Collar.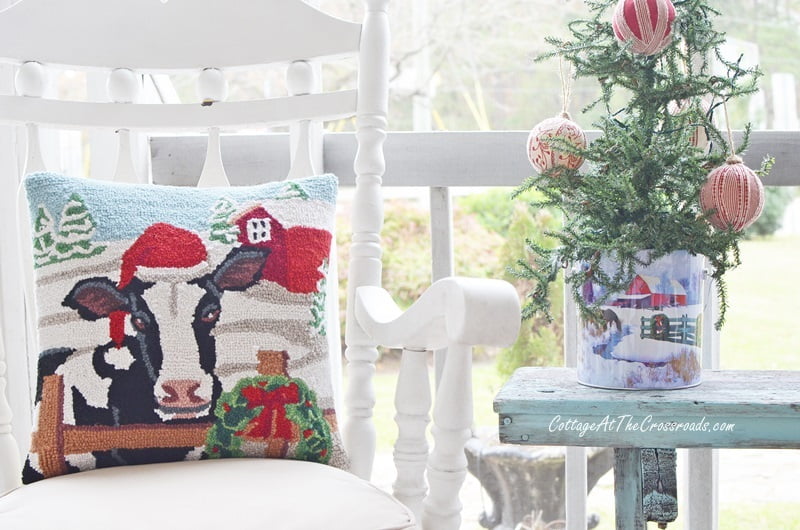 And how could I resist this pillow with the cow and the barn??? A scrappy tree was plucked down inside a popcorn tin that I saved from last year because it had a red barn on it!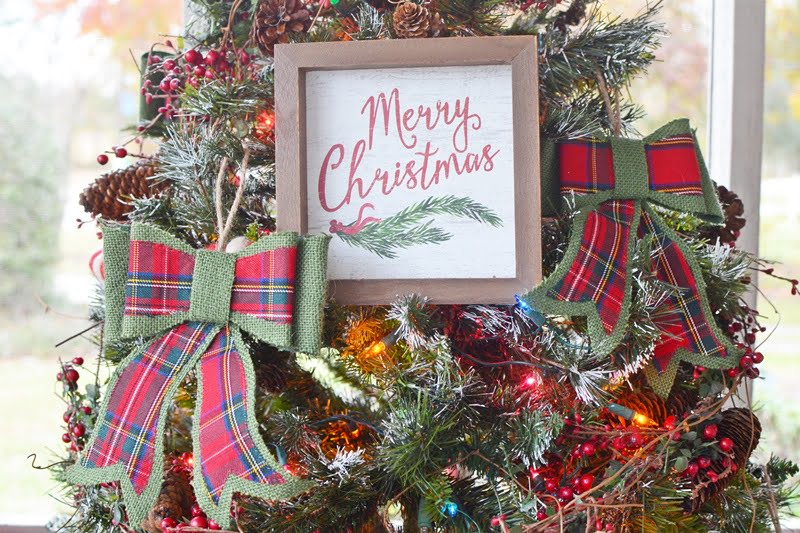 Thank you so much for visiting our festive Christmas front porch today, and I hope you enjoy all the blessings that this season has to offer.
Christmas Porch Tour
Follow the links below for the full Christmas porch tour lineup, featuring 18 home decor bloggers. Be sure to visit everyone for lots of ideas to add festive touches to your porch and other outdoor spaces.
Monday, Day 1
My Thrift Store Addiction // Postcards from the Ridge // Cottage at the Crossroads
Petticoat Junktion // House of Hawthornes // DIY Beautify
Tuesday, Day 2
Sweet Pea // Duke Manor Farm // StoneGable
Sand Dollar Lane // Atta Girl Says // Our Southern Home
Wednesday, Day 3

North Country Nest // My Creative Days // Worthing Court
2 Bees in a Pod // Major Hoff Takes a Wife // Craftivity Designs