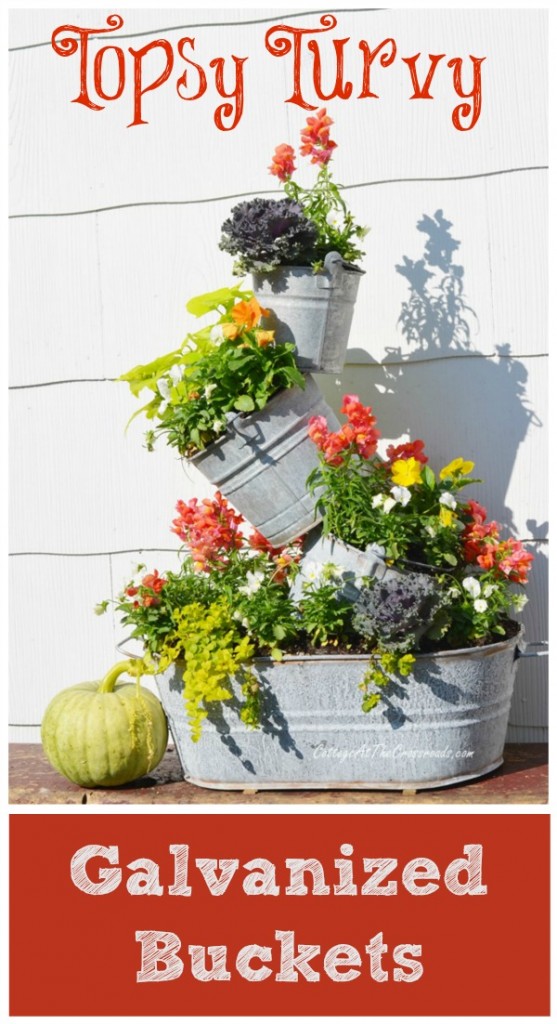 The weather has been just glorious here, and I found some time to finish potting up my topsy turvy buckets on the deck this weekend. The one in the photo above sat on our front porch all summer long, and I asked Leo to bring it around to the deck on the back of the house for fall.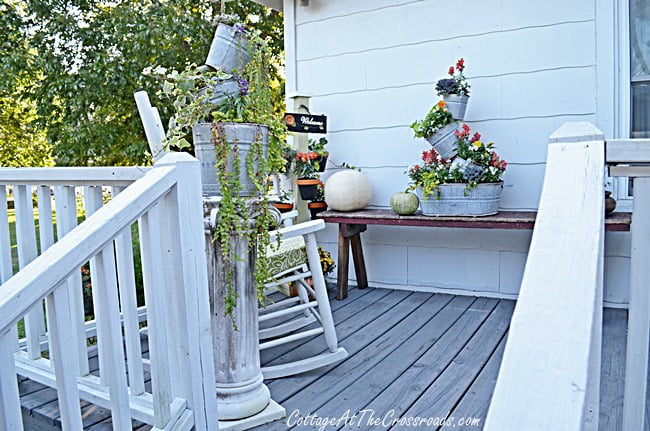 The deck on the back of our house is small, but it's where everyone comes when they visit the Crossroads. Back door friends are the best kind, don't you agree?
This post may contain Amazon or other affiliate links. As an Amazon associate, I earn from qualifying purchases. If you purchase anything through any affiliate link, I may earn a small commission at no extra charge to you. All opinions are my own.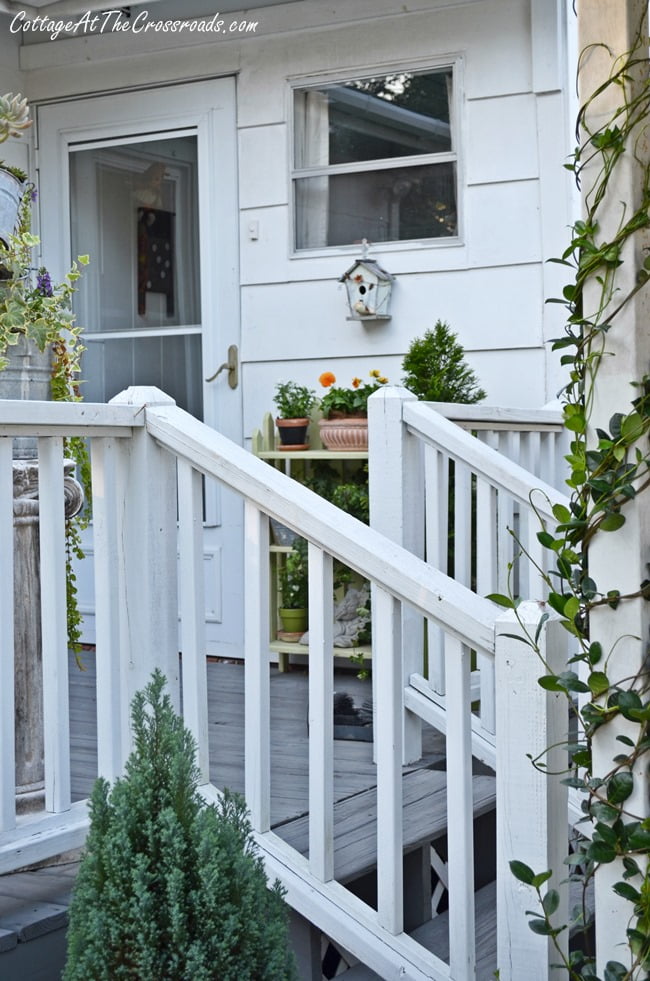 So I like to fill it up with flowers and plants to welcome everyone, even in the fall and winter.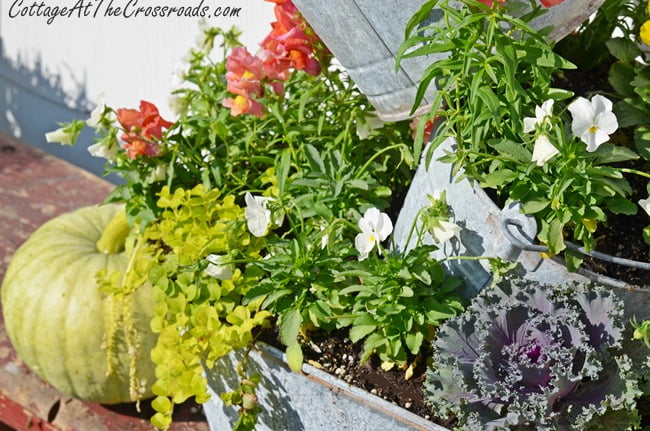 I planted this topsy turvy planter with flowers that will continue to live during the winter such as pansies, snapdragons, and flowering kale.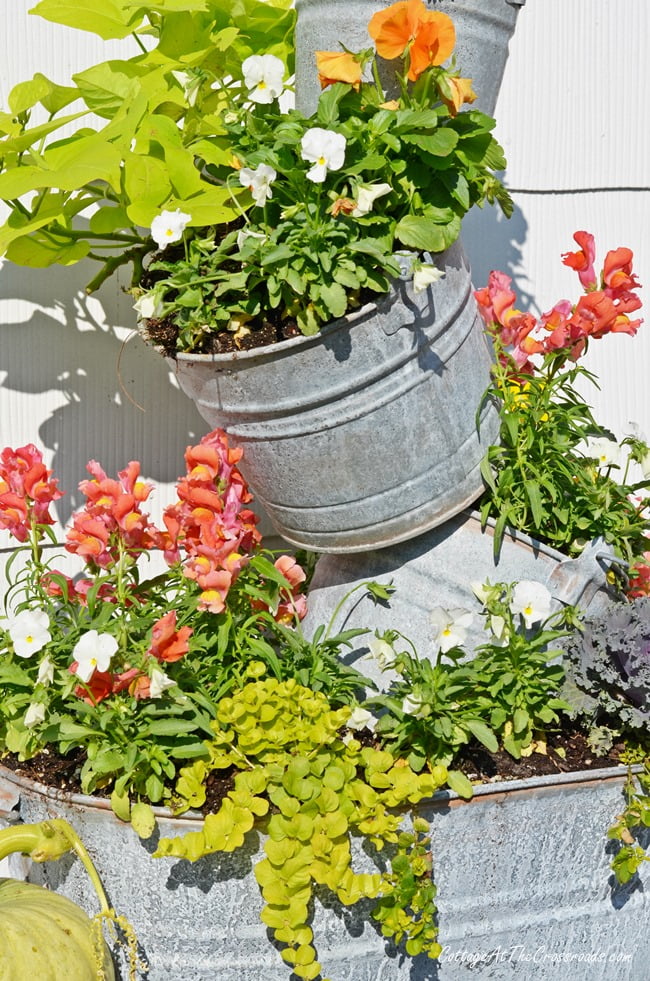 I left a few things that had been growing all summer in the buckets such as the creeping jenny and the sweet potato vine. They won't make it through the winter but they will continue to grow and be pretty until we have a hard frost.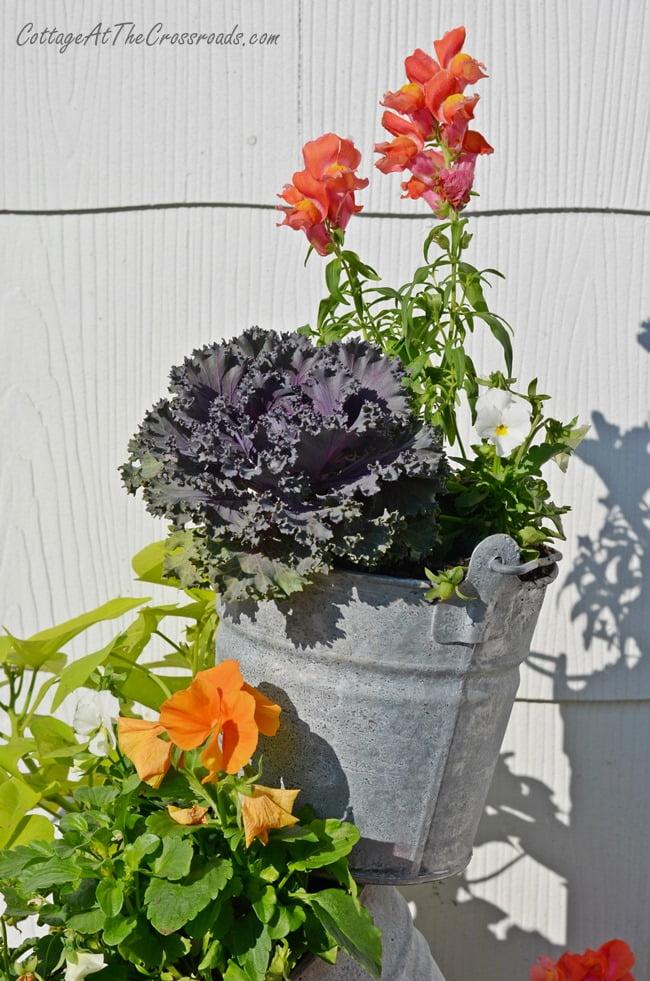 I used a combination of colors that contrasts well with the galvanized buckets such as orange, white, and purple. I have enjoyed this topsy turvy planter so much, and the directions on how to make your own can be found in our post Topsy Turvy Galvanized Buckets.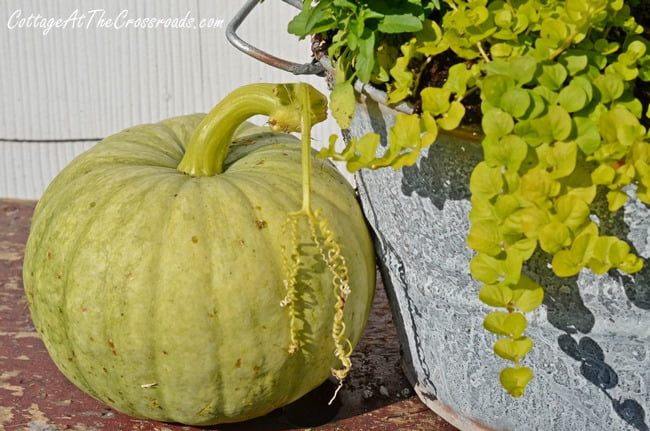 This little green pumpkin came out of our garden recently. We have some Jarradale pumpkins growing, but Leo was using the tiller last week and accidentally cut the vine to this one. So I scooped it up and plopped it here. The color really does look pretty with the other chartreuse plants, but I have no idea how long it will last since it wasn't ready for pickin'!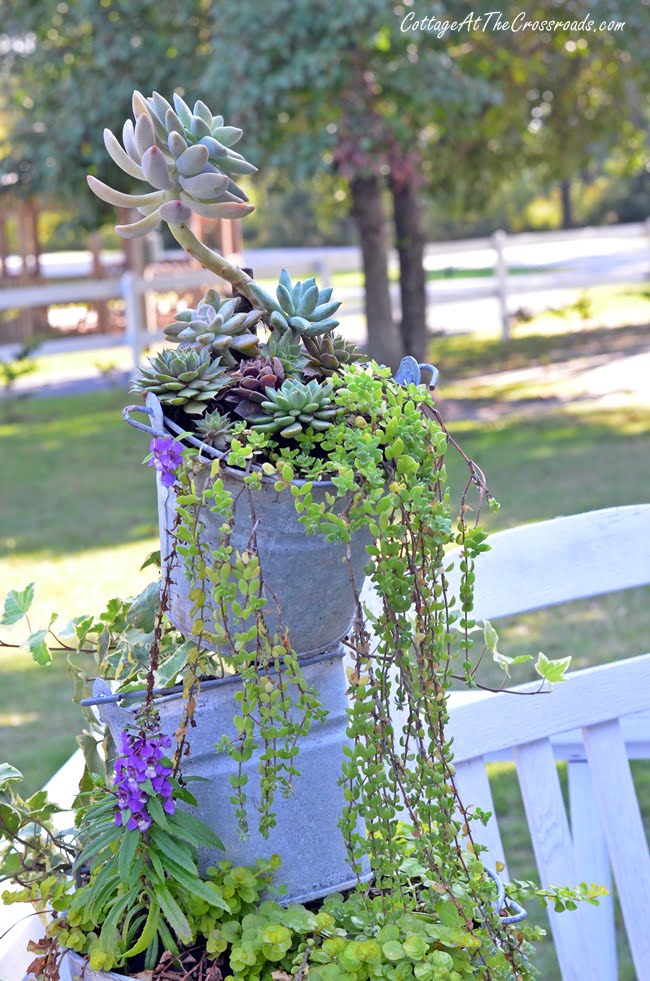 But there's even another topsy turvy planter on the deck. It's a smaller version that I made for a Hometalk video hangout.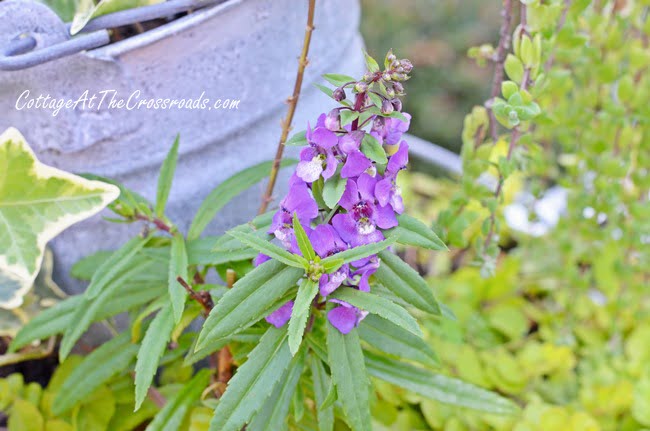 I had planted it with some purple flowers originally, and some of them grew back this spring. The planter has been sitting on our picnic table during the summer.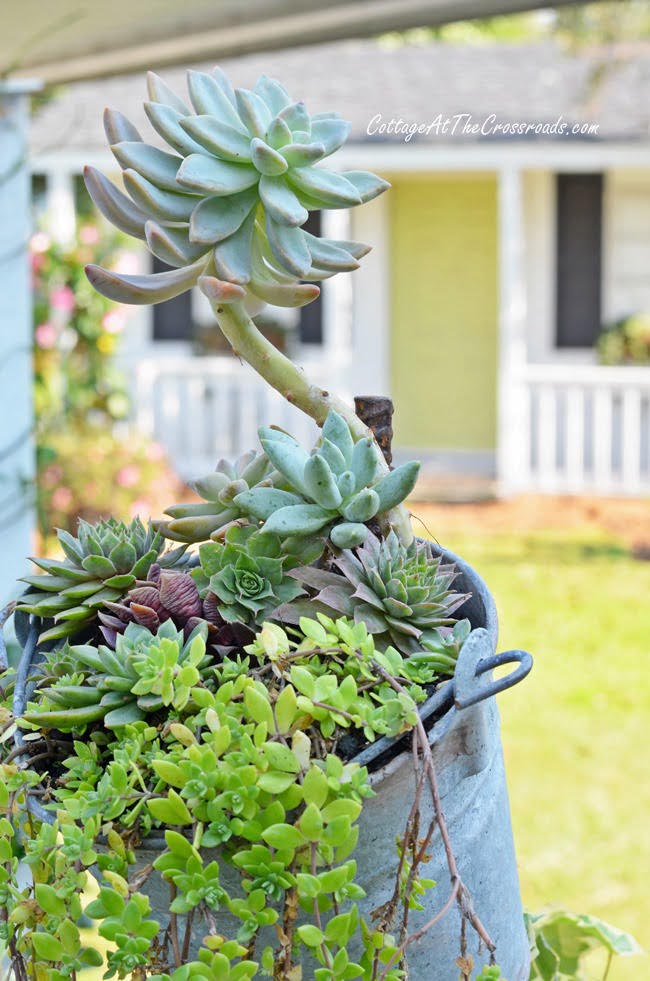 Just recently I tucked a few succulents that needed transplanting into the top bucket. The succulents and the ivy will survive the winter here.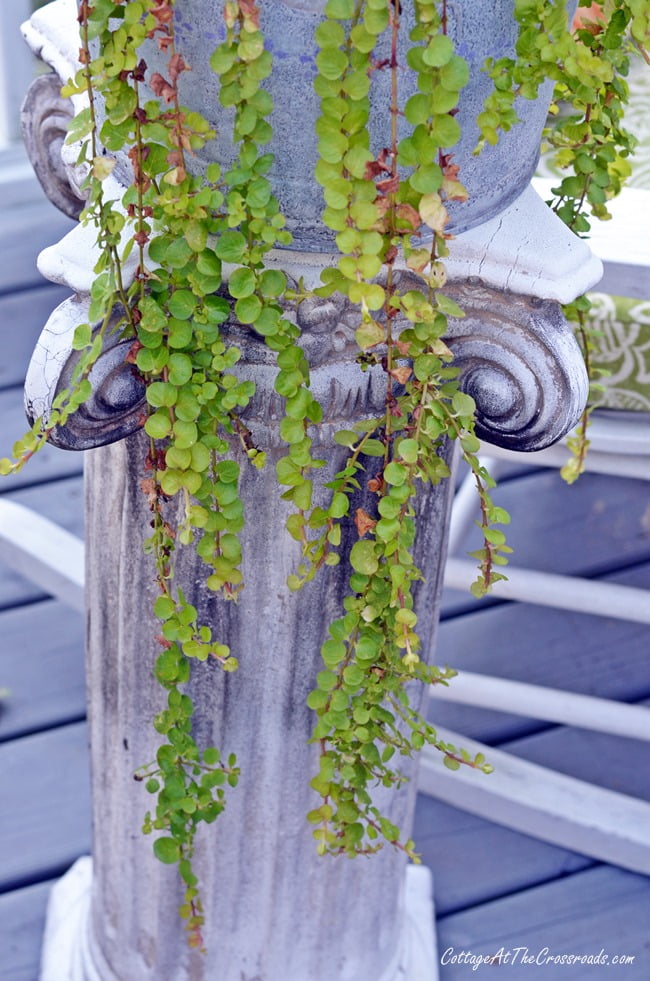 I love how the creeping jenny has gotten so long that it cascades down this column.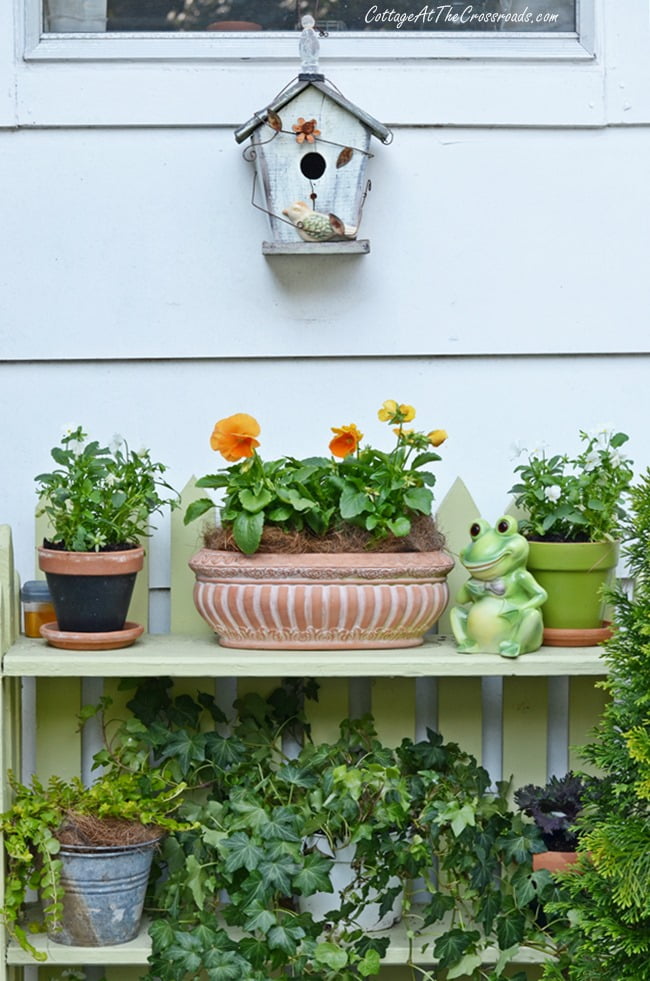 Beside the back door is a little picket fence bookcase that I keep filled with flowers and plants year round.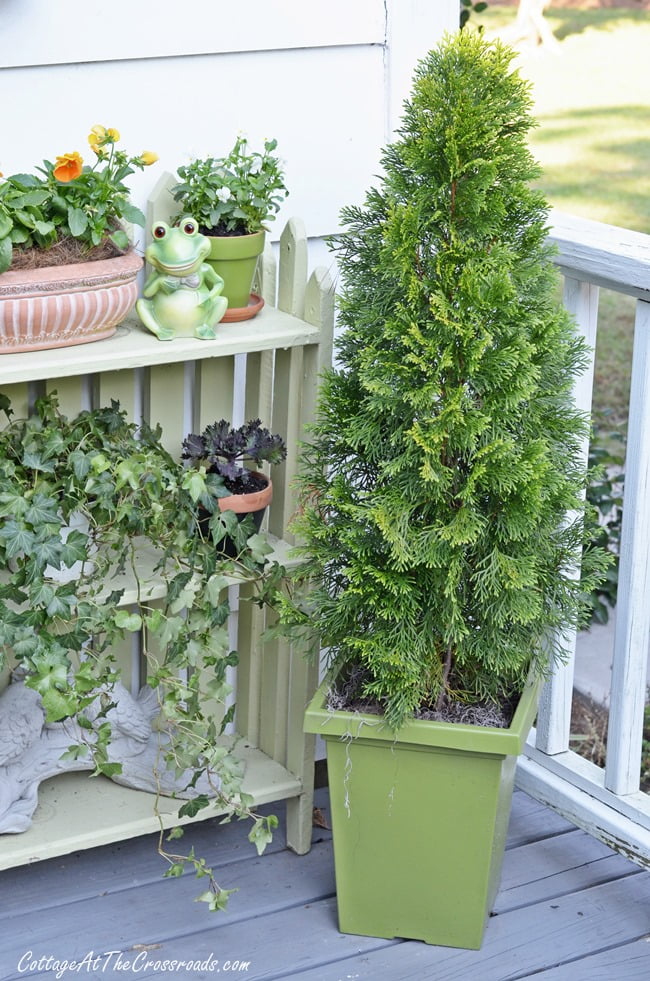 This evergreen tree has been growing in this planter for a couple of years now. It is an Emerald Green Arborvitae, and I'll transplant it into the yard next spring.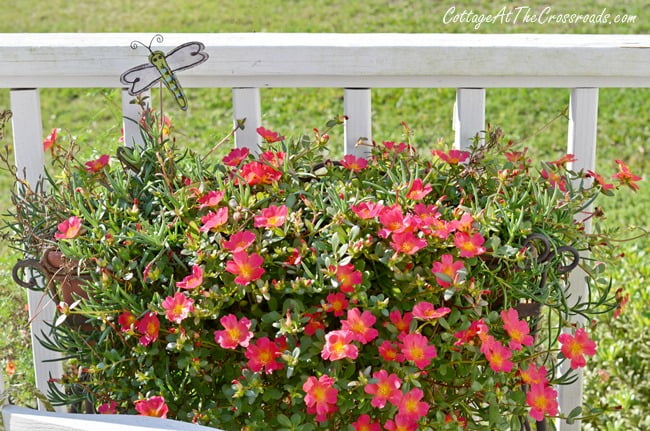 On the deck is this little planter filled with purslane that's still blooming profusely.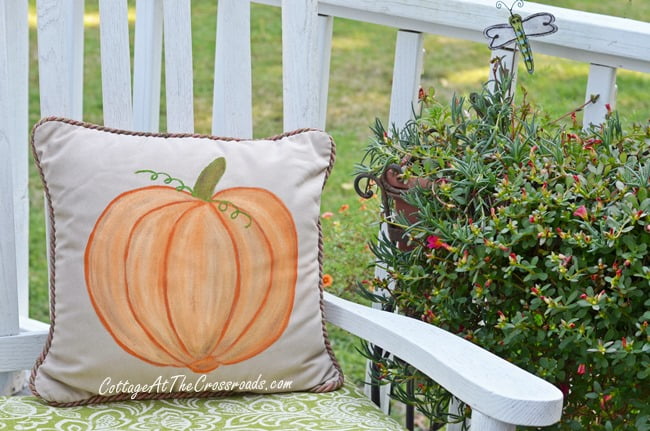 The rocking chair gets a workout and makes a nice spot to sit surrounded by all the flowers, and the pumpkin pillow is one I painted last fall.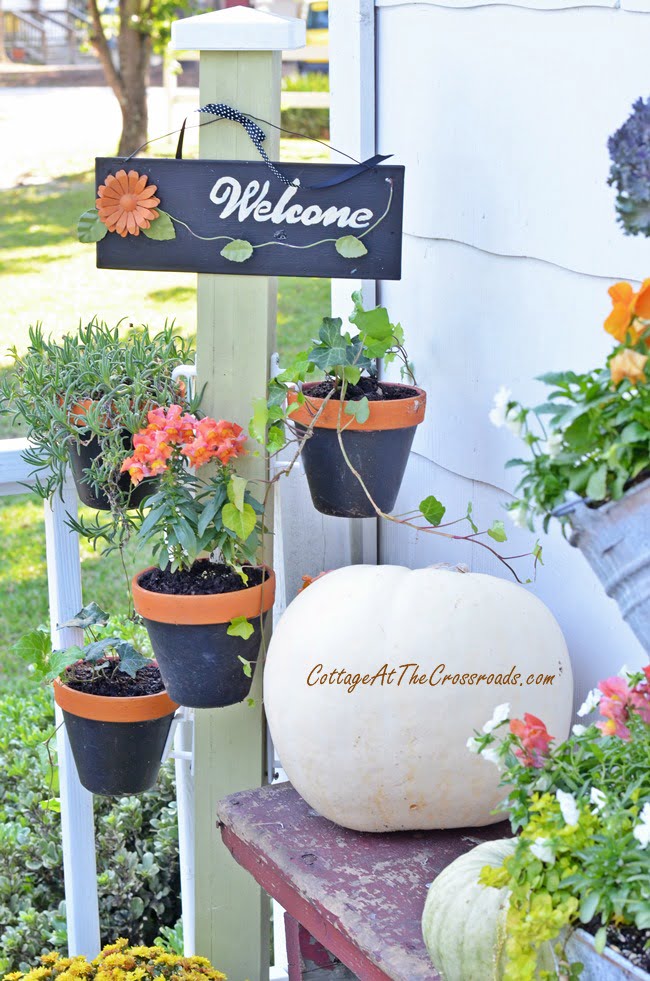 The pot holder plant stand has been hanging out on the deck for over 2 years now. The pots just get repainted with different colors for the changing seasons. The large white pumpkin grew in our garden over the summer so I'm surprised that it has lasted this long. It's a heirloom variety called Moonshine that grew from seeds tossed in the compost bin last year.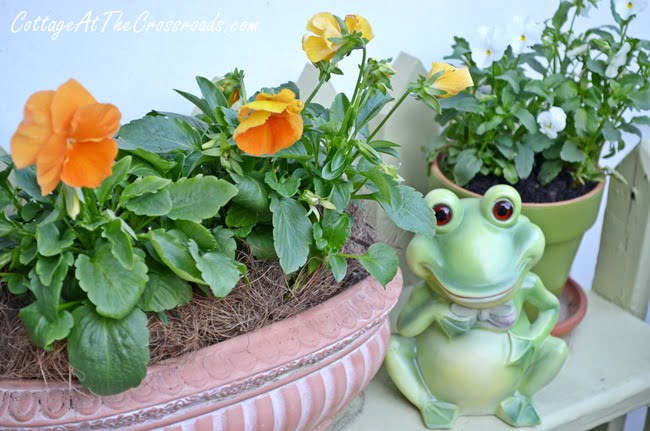 This little toad provides a bit of whimsy and greets our back door visitors. I think he's saying, "Hop on in!"
Sharing at:
Wow Us [email protected]Savvy Southern Style
Metamorphosis [email protected]Between Naps on the Porch