It's incredible the depths of flavor you can create within a seemingly unassuming fish: tilapia.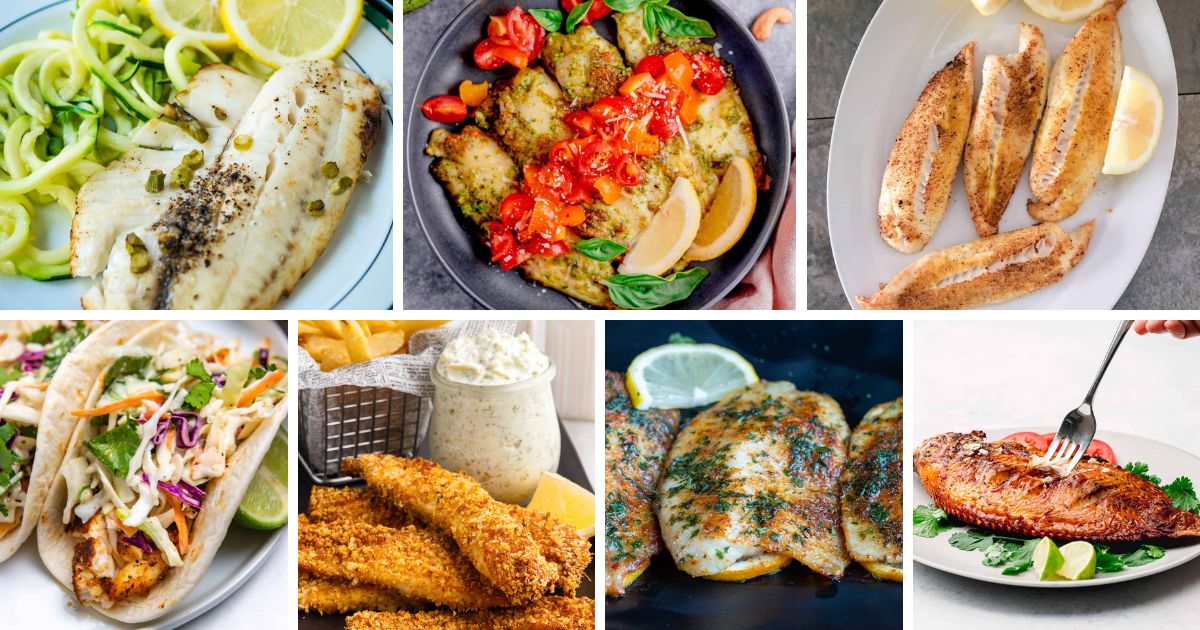 Tilapia is a delicious and healthy fish that is perfect for the air fryer. It is low in calories and a good source of protein. Air frying tilapia is quick and easy, resulting in crispy, flavorful fish fillets perfect for a weeknight meal or a party appetizer.
From zesty lemon pepper-infused filets to the bold spices of Cajun garlic butter, each recipe embarks on a journey to tantalize your senses and redefine the boundaries of seafood cuisine.
Whether you're a fish lover or a culinary explorer seeking new tastes, these air fryer recipes promise to deliver satisfaction in every crispy bite.
In this article, we'll share 31 of my favorite air fryer tilapia recipes. These recipes are for all different tastes, so you will surely find something you love.
Contents
This delicious dish is perfect for those busy nights when you're craving a wholesome meal without the wait. Pair it with a refreshing cucumber and tomato salad for a light and satisfying dinner.
This air fryer tilapia recipe is a taste of ocean-fresh delight. Seasoned with zesty lemon pepper flakes, it boasts a bright citrus kick that pairs perfectly with a side of garden-fresh greens.
Change your game with this irresistible cajun garlic butter tilapia. This dish brings the bold flavors of Cajun seasoning and rich garlic butter, begging to be savored alongside fluffy herbed rice.
This signature air fryer tilapia dish showcases crispy breading that envelops the tender tilapia filets – making it a perfect duo with a zesty dill-infused cucumber salad.
Whether fresh or frozen, the air fryer's touch brings out the fish's natural succulence, creating a melt-in-your-mouth experience in this recipe. Serve it over a bed of quinoa for a wholesome meal.
You can go back to basics with a perfectly cooked tilapia in this simple recipe. The delicate flavors harmonize effortlessly with a medley of sautéed veggies and a drizzle of lemon-infused olive oil spray.
This recipe boasts a mouthwatering blend of fresh lemon juice and fragrant garlic, elevating this dish to gourmet status. You can pair it with a light Caprese salad for a culinary masterpiece.
The bold and refreshing notes of air fryer blackened tilapia crowned with a vibrant mango salsa will transport your taste buds to the tropics. This dish is your ticket to a flavor-packed fiesta.
For a quick Tex-Mex fix, whip up this 15-minute tilapia recipe. With each crispy bite, the tangy slaw and creamy avocado crema create an explosion of flavors that will make you return for more.
The crunch of this parmesan-crusted tilapia is out of this world. Its golden crust, loaded with savory parmesan cheese, pairs beautifully with a bed of garlic butter-infused spinach.
Treat your palate to freshness with air-fried tilapia drizzled with vibrant pesto. It's a symphony of colors and flavors, served alongside quinoa and roasted vegetable medley.
A bowl of the goodness of this delectable tilapia glaze, balancing sweet and tangy, will dance on your taste buds and make every bite a delightful surprise.
The bold flavors of air-fried tilapia, accompanied by a smoky tartar sauce, result in an irresistible twist. This dish pairs exceptionally well with a side of crispy sweet potato fries.
The healthful essence of tilapia in an air fryer with no breading is perfect for your keto-friendly cravings. A medley of grilled asparagus and cauliflower mash completes this guilt-free delight.
If you want to spice up your dinner routine, try this zesty creation that's a breeze in the air fryer. The tangy fish pairs harmoniously with a side of cilantro-infused rice.
You can have a guilt-free indulgence with this lightly breaded tilapia recipe, boasting a delicate crunch that marries exquisitely with a side of quinoa salad and a squeeze of fresh lime.
This simple yet delicious meal is a lifesaver when cooking time is tight. Serve it over a bed of vibrant sautéed veggies for a complete feast.
This air-fried tilapia dish boasts a crispy exterior while staying tender inside – perfect for rolling into fresh tortillas and creating tasty fish tacos.
The bold zest of chili lime tilapia, whether air-fried or oven-baked, is one for the books. The vibrant medley of lime and spicy chili takes your taste buds on an unforgettable journey.
If you want to transport your taste buds to the bayou, try this easy cajun garlic butter tilapia recipe. The air fryer transforms tilapia into a golden masterpiece, loaded with Cajun spices and a garlic butter finish.
Let the rich, smoky flavors of air blackened tilapia whisk you to culinary bliss. The charred spices create a symphony on your palate, beautifully complemented by a side of creamy coleslaw.
This unique coconut-crusted tilapia recipe is a must-try. The delicate coconut crust dances pleasantly with zesty pineapple salsa, creating a taste of the exotic.
This dish marries the vibrancy of pesto with the tenderness of tilapia fillets, making it a perfect companion to a quinoa and roasted vegetable medley.
Have a guilt-free indulgence with this tilapia recipe - the healthiest way to fry whole fish! The air-frying magic transforms this dish into a crispy masterpiece, paired with a lemon-dressed arugula salad.
This dish features a golden crust and a symphony of parmesan and herbs that meld flawlessly with a side of roasted garlic potatoes for a feast of textures and flavors.
Have an unforgettable dinner with 15 minute air fryer fish tacos accompanied by a vibrant cilantro lime slaw. The flaky tilapia pairs deliciously with the zesty slaw and soft tortillas.
This easy keto dinner recipe boasts a delightful crunch without the guilt. You can add a side of sautéed spinach for a perfect balance of nutrition and flavor.
Let the aroma of garlic and lemon pepper seasoning whisk you away with this tilapia recipe. This creation pairs marvelously with a side of sautéed greens for a wholesome indulgence.
This classic comfort fish and chips is sure to satisfy your cravings. The golden crispiness of the fish filets alongside perfectly cooked potato wedges, all without the excess oil, is a plus!
This tilapia recipe is for a quick and easy way to cook fish that is crispy on the outside and tender on the inside. The breadcrumb mixture can be customized to your liking.
This air fryer fried fish fingers recipe is the healthier twist on a beloved classic. The air-fried coating locks in moisture, ensuring a succulent gluten-free bite every time.
If you're in the mood for a delicious snack, these bite-sized delights are perfect for munching or creating a playful meal, paired with a tangy dipping sauce garnish for extra zing.
📋 Recipe
Frequently Asked Questions