Are you ready to transform ordinary ingredients into extraordinary bites of flavor? Whether you're a snacking enthusiast or like to experiment in the kitchen, these air fryer recipes will ignite your culinary creativity.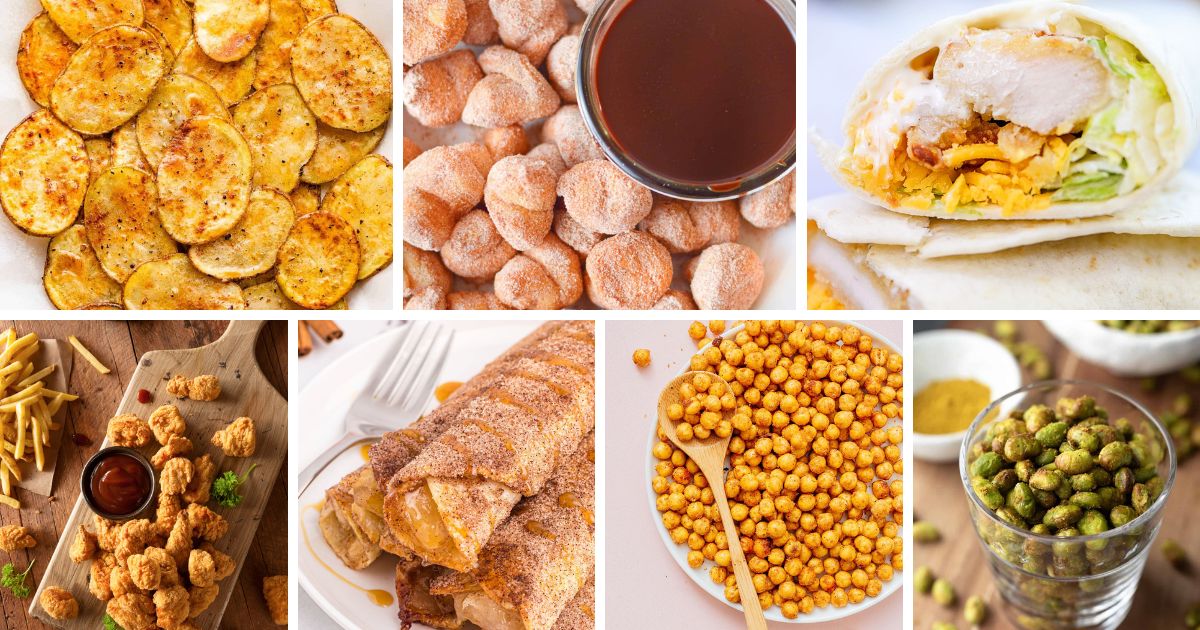 Snacking just got a whole lot more exciting as we bring you a range of delectable treats that are not only delicious but also guilt-free. It's time to reimagine your favorite snacks – think crunchy chicken bites, savory falafel, and even sweet apple chips.
No matter your taste preferences or dietary choices, you'll find options that tickle your taste buds. Plus, with the air fryer's quick cooking times, these recipes are perfect for satisfying sudden cravings or impressing your guests with a spread of tasty nibbles.
Discover the world of irresistible snacking with this collection of 37 tasty air fryer snack recipes.
Contents
This recipe crafts irresistible falafel with a crispy exterior that hides a delightfully tender center. Serve these snacks with cooling yogurt dip for a perfect appetizer or a protein-rich main course.
These fritters combine zucchini and corn into golden delights, balancing crunch and juiciness. Whether air-fried or pan-seared, they pair wonderfully with a dollop of herbed sour cream.
Prepare tofu with a Korean twist, as this dish delivers a fiery kick with every bite. The air-fryer locks in the flavors, making it an excellent companion to steamed rice or a vegetable-packed stir-fry.
These yuca fries emerge from the air fryer with a satisfying crisp, showcasing the beauty of cassava. Whether dipped in ketchup or aioli, they make for a delightful snack any day.
This recipe reinvents nachos with a crispy twist, melding flavors, and textures to perfection. These nachos can be a game-night favorite or a satisfying movie-night indulgence.
These pizza tortilla wraps offer a swift path to pizza pleasure, combining convenience with taste. Air-frying seals the deal, producing a crispy exterior that envelopes gooey cream cheese and savory toppings.
You can elevate tofu to a new level with this recipe, where crispy tofu meets zesty bang bang sauce. This dish is ideal for adding excitement to salads or assembling unique wraps.
The fusion of traditional spices and modern cooking techniques results in this crispy and flavorful air-fried pakora. You can pair it with mint chutney for an irresistible combination.
This dish whips up classic onion bhajis with a modern twist-air-frying. The result is crispy, flavorful bites that complement chai tea perfectly or a delightful appetizer for any Indian-inspired feast.
Transform chicken into sensational tandoori bites with a crispy exterior and succulent interior. Perfect for snacking or appetizer, these bites bring a taste of India to your air-fryer repertoire.
The crispy comfort of latkes with this air-fried recipe is a showstopper. Enjoy these potato pancakes as a delectable side dish, or embrace their charm during celebratory occasions.
Paneer takes on a new dimension of delight as it gets air-fried to crispy perfection. Versatile and flavorful, this recipe pairs wonderfully with vibrant chutneys or serves as a protein-rich snack.
You can embark on a guilt-free snacking adventure with these air-fried apple chips. A symphony of crispiness and natural sweetness makes them a perfect choice for a satisfying bite on the go!
These chickpeas are a crunchy delight, air-fried to perfection in just 15 minutes. The spices infuse them with an irresistible kick, making them an addictive snack or a zesty salad topper.
Get ready for a flavor explosion with these pizza bombs. The air fryer achieves a golden, doughy exterior while keeping the cheese and toppings warm and gooey.
Crispy on the outside and tangy on the inside – these air-fried pickles redefine snacking. The air fryer transforms them into a crunchy delight, retaining their signature flavor.
These aloo tikki are a guilt-free indulgence, thanks to the air fryer. The golden crust encases a tender potato filling, spiced to perfection. Serve them as a hearty burger patty alternative.
These samosas redefine traditional indulgence. The air fryer creates a crispy, golden crust that's a healthier take on the classic. Filled with a savory potato mixture, they're perfect for appetizers or light meals.
Have a great breakfast with this unique take on egg toast. The air fryer ensures a perfectly cooked egg atop a crispy toast slice. Don't forget to season with herbs and spices for extra flair.
These wraps combine juicy chicken with a crunchy exterior, courtesy of the air fryer. The result is a satisfying blend of textures and flavors. This snack is perfect for on-the-go indulgence.
Want to have quick, warm, gooey chocolate chip cookies? The cookies in this recipe maintain a soft interior while having a delicate crunch on the edges. Enjoy it as a sweet treat any time of day!
The air fryer in this recipe renders the bacon crispy and wonderfully twisted. This snack is an ideal breakfast addition or savory appetizer for gatherings.
This air fryer pakora is a delicious and healthy twist on the traditional Indian pakora. This recipe uses an air fryer to cook the pakora, which results in a healthier and crispier version.
Snack smart with these air-fried edamame beans. The air fryer achieves the perfect crunch while retaining its natural goodness. Season with your favorite spices for an extra kick!
These pasta chips are a delightful surprise. The air fryer turns pasta into crispy bites that are perfect for dipping. Sprinkle it with parmesan and herbs for an extra burst of flavor.
Experience the magic of churros in bite-sized form, thanks to the air fryer. The dough turns golden while keeping the inside soft and tender. Dip in chocolate sauce for an irresistible dessert!
These corn ribs are a unique spin on classic corn on the cob. The air fryer brings out the natural sweetness while creating a delightful crunch. Serve as an appetizer or side dish for a fun, summery meal.
In this recipe, you can embrace the cheesy comfort of macaroni and cheese in a new form. The air fryer transforms these bites into crispy delights that encase creamy mac and cheese.
Enjoy the natural sweetness of bananas in chip form. The result is a crispy, addictive snack perfect for all ages. You can enjoy it on its own or as a topping for yogurt and desserts.
These taquitos offer a sweet twist on a classic dish. The air fryer turns them into golden, flaky bites filled with spiced apple goodness. Serve with caramel sauce for a dessert that's sure to impress.
The cheese stays melted in this recipe while the coating turns golden and crunchy. Don't forget to dip in marinara sauce for a classic pairing. This is perfect as a snack or party appetizer.
Thanks to the air fryer's magic touch, these meatballs are a juicy delight. The exterior becomes wonderfully crispy while the inside remains tender and flavorful. Make a batch and freeze it for easy meal prep.
This recipe's tofu turns super crispy, providing the perfect canvas for buffalo sauce. Enjoy these bites as a spicy appetizer or protein-rich addition to salads and wraps.
These chicken bites are a crowd-pleaser, achieving a crispy exterior and tender interior in the air fryer. Serve them as a snack or main course. Pair it with your favorite dipping sauces for extra flavor.
Experience the campfire classic in a new way with these air-fried s'mores. The air fryer melts the chocolate and marshmallows to perfection, creating a gooey delight.
In this recipe, thin slices turn into crispy, golden chips that you won't be able to resist. You can enjoy it as a standalone snack or a delightful addition to sandwiches.
These quesadillas achieve a golden, crispy exterior while keeping the inside filled with savory chicken and gooey cheese. The air fryer's touch transforms them into a delightful meal!
📋 Recipe
Frequently Asked Questions