The humble potato, a staple in culinary history, has always sparked interest among food lovers. With the emergence of the air fryer, this age-old favorite is soaring to new culinary heights.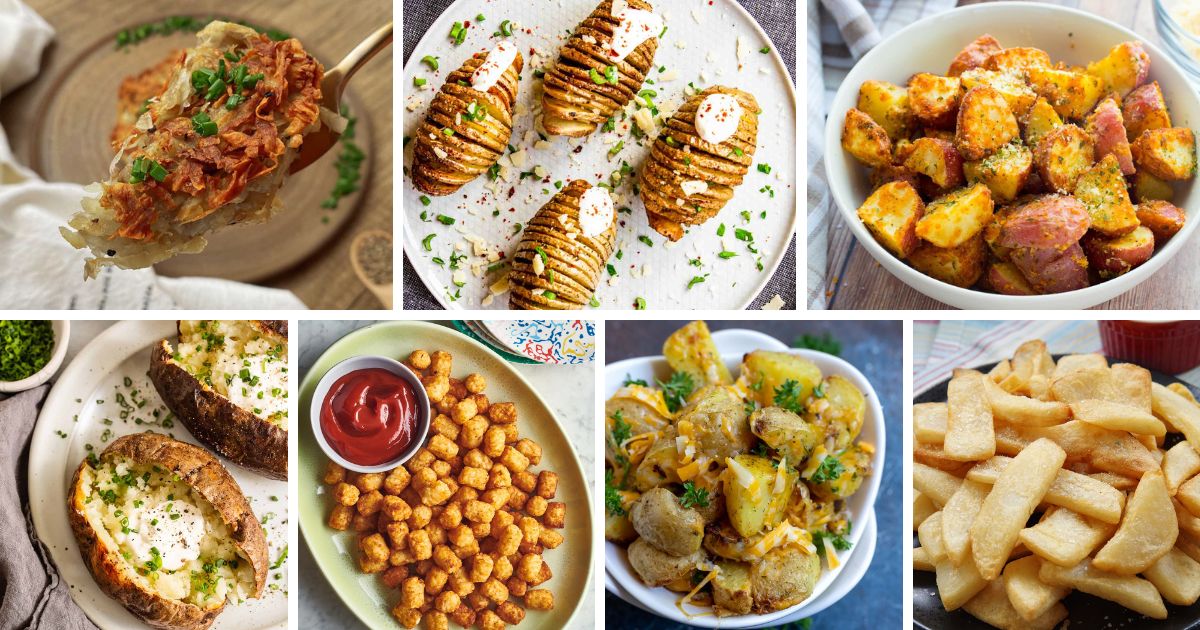 Picture this: after a quick toss with your preferred seasonings, you place the potato cuts into an air fryer basket. Within minutes, the kitchen is filled with a tantalizing aroma. Then comes the moment of truth – a bite into a perfectly air-fried potato wedge. Crispy on the outside, yet incredibly soft inside.
With platforms like Instagram and Facebook raving about the wonders of air frying, and health enthusiasts highlighting the reduced calories and fat, the fusion of this age-old comfort food with modern air frying techniques offers an array of mouthwatering delights.
So, whether you're a gourmet, health-conscious eater, or simply a potato enthusiast, these 21 recipes promise a gastronomic journey unlike any other.
Contents
This simple yet stunning dish features golden Yukon potatoes with a hint of garlic and Italian seasoning. The finishing touch of Parmesan and parsley elevates the flavor, perfect for a hearty side.
Whether you're using a bag of frozen fries or crafting from scratch, these steak fries come out impeccably crispy. With just a hint of salt, they're the perfect companion to your burger night.
This recipe brings together zesty lemon, garlic, and tender chicken thighs. The dill-sprinkled Yukon Gold potatoes make for a Mediterranean treat perfect for any dinner table.
Do you love a spicy kick with your potatoes? These wedges, seasoned with paprika and chili, are crispy on the outside, fluffy within. They're a crowd-pleaser on game nights.
Quench your sweet and tangy desires with these exquisite sweet potato sticks. Accompanied by a zesty tomato-mayo dip, they're bound to become a household hit.
These russet potatoes come out impeccably fluffy inside with a crisp skin. Top with butter, chives, or a dollop of Greek yogurt for a comforting dish.
If you're in the mood for a classic, these tater tots won't disappoint. Seasoned optionally with Lawry's, they're crispy, savory, and perfect for dipping.
This dish marries the aesthetics of sliced potatoes with Italian seasoning and garlic. Every bite is a harmonious blend of flavors and textures.
These thinly sliced Yukon Gold or Russet potatoes are a crunchy treat. Seasoned with paprika and onion powder, they make for a delightful appetizer or side dish.
This dish is a rich blend of potatoes, Parmesan, and garlic. It's an upscale twist on the classic roasted potato, perfect for special dinners.
For those seeking a healthier chip option, these crispy delights seasoned with sea salt and pepper are a must-try. They're a guilt-free snack for any time.
These amber-hued potatoes, crispy on the exterior and tender within, are pure bliss. Adorned with fresh cilantro, they serve as a perfect accompaniment to diverse dishes.
Stuffed with rich cheddar, crispy bacon, and scallions, these potato casings are a flavorful delight. Relish them as a starter or during board game evenings.
Dutch potatoes get a cheesy, tangy upgrade in this dish. Infused with dry ranch mix and Colby-Jack, they're an irresistibly savory side.
Experience the Swiss delight of rosti right at home. Seasoned with garlic and crisped to perfection, they pair beautifully with a dollop of sour cream or applesauce.
This crispy yukon gold fries recipe incorporates a dusting of parmesan, garlic, and parsley and is perfect for those with gourmet tastes. The potatoes come out a notch above the usual and are sure to impress.
These hash brown patties turn out perfectly crispy every time. They're a quick and easy breakfast option for busy mornings, and pair well with bacon or sausage links.
Dive into the dynamic taste of sweet potato accented with hints of chili powder, garlic, and coriander. These chunks are a tantalizing companion to barbecued proteins.
Bite into the creamy goodness of these twice-baked potatoes, loaded with bacon, cheese, and sour cream. They're a decadent treat for special occasions.
This hearty dish features baby Yukon Gold potatoes and Kielbasa sausage with aromatic garlic and thyme. It's a comforting meal for chilly nights.
You can elevate your tater tot game with this deliciously loaded recipe. Crowned with crispy bacon, melted cheese, and spring onions, and complemented by tangy cream, they become the star attraction at any social event.
📋 Recipe
Frequently Asked Questions