Air fryers have swiftly claimed their rightful place in the culinary world, bestowing upon us dishes with reduced sodium and cholesterol without sacrificing flavor.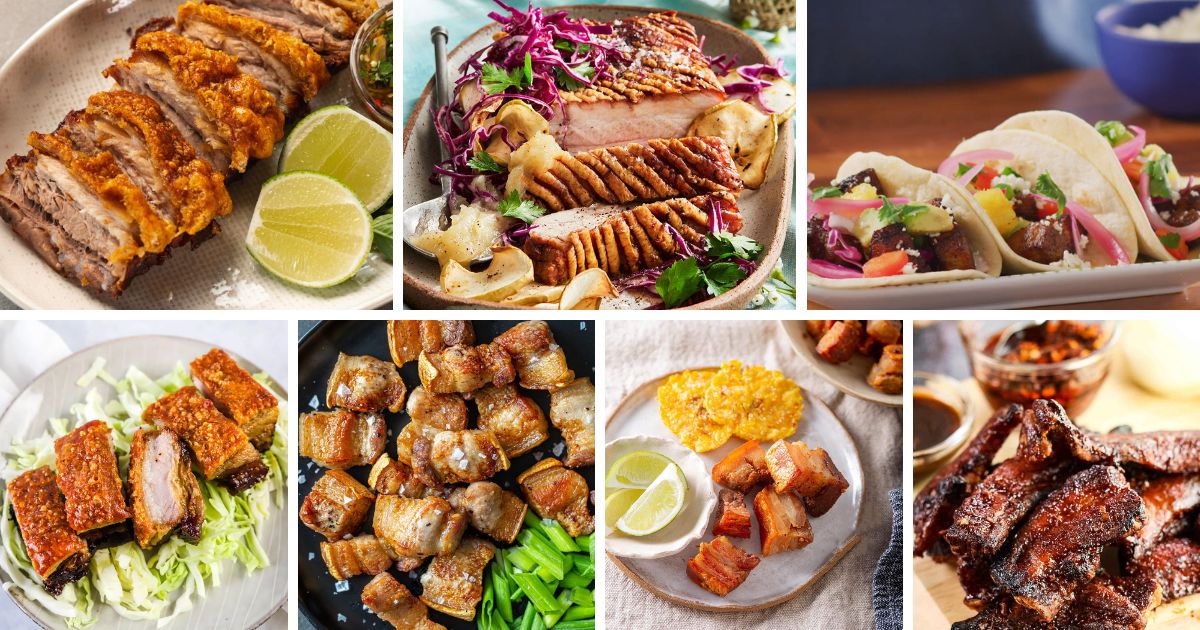 One such treasure is air fryer pork recipes that turn a slab of pork belly into crispy crackling perfection in less total time than traditional methods. With just a sharp knife and a touch of creativity, this versatile piece of meat is transformed into a protein-rich delicacy that's hard to resist.
For those who've ever drooled over tantalizing pork belly photos on Facebook or Instagram, this list is a curated paradise. Beyond the allure of social media, these recipes promise a depth of flavor and texture, effortlessly merging health with indulgence.
Ready to embark on a culinary journey that bridges the gap between hearty tradition and modern convenience? Check out our list of 31 tasty air fryer pork belly recipes below!
Contents
Air Fryer Roast Pork Belly
This simple air fryer roast pork belly recipe combines a boneless pork belly roast with the rich flavor of sea salt. Olive oil spray ensures a crispy finish, perfect for a main course on a special occasion.
Do you enjoy a perfect blend of savory and sweet? This recipe features pork belly seasoned with brown sugar and garlic. The bite-sized pieces make it a great finger food for parties.
These flavorful pork belly slices come alive with a mix of garlic, ginger, and hoisin sauce. The addition of rice vinegar and sesame oil adds depth and authenticity to this Asian-inspired dish.
Experience a blend of spices like paprika, cumin, and brown sugar in this dish. Enjoy the crispy texture alongside fresh salad greens or as a protein-packed addition to your meals.
This mouth-watering pork belly is glazed with honey and accented by oyster sauce and ginger. Enjoy it with jasmine rice for an experience reminiscent of Chinese fine dining.
These easy-to-make pork belly bites are seasoned simply with salt and pepper. Ideal for those who appreciate the natural taste of pork, especially on a lazy weekend afternoon.
Using Costco pork belly, this recipe is elevated with a touch of BBQ seasoning. The BBQ sauce offers a tangy accompaniment, making it perfect for summer barbecues.
This dish boasts a harmonious blend of herbs, including sage, thyme, and rosemary. The cooking oil spray guarantees a crispy exterior, which complements a side of mashed potatoes well.
If you're in the mood for an Asian touch, this pork belly seasoned with Chinese wine and five-spice is your answer. The sea salt adds a delightful contrast to the dish's overall flavor.
This flavorful pork belly benefits from a marinade rich in soy sauce, brown sugar, and balsamic vinegar. Serve with a side of stir-fried veggies for a well-rounded meal.
These pork belly strips, infused with the bold flavor of Filipino BBQ marinade, can steal the show at any dinner table. Ideal for when you want a taste of the Philippines.
This dish elevates pork belly with a unique dry rub and optional hoisin-based sauce. It's a splendid choice for a Chinese New Year celebration or a family Sunday roast.
Savor the simple pleasures with these pork belly slices seasoned with just salt and pepper. Serve alongside roasted vegetables for a classic, comforting meal.
This dish offers a minimalist approach, focusing on the crunchiness of the pork belly. It's an ideal treat for those seeking a simple yet delectable experience.
Delve into this cured salt pork, which offers a taste of tradition. This recipe pairs brilliantly with eggs for a hearty breakfast or brunch.
Experience a Latin twist with this recipe. The combination of lime, oregano, and garlic powder makes it a festive snack or accompaniment to a bowl of guacamole.
These pork belly bites strike a balance between sweet and savory. Their rich seasoning makes them a crowd favorite, ensuring there's never any leftover pork belly after parties.
Relish the balance of sweet maple syrup and salt in this pork belly dish. Ideal for brunch, especially when you're looking to impress.
These pork slices come alive with a hint of paprika and a whisper of garlic powder. They're an alternative to chicken, offering a richer depth of flavor.
Take a culinary trip to Thailand with this crispy pork belly. The Thai dipping sauce, bursting with basil and vinegar, enhances the dish's exotic allure.
This dish is a deep dive into Filipino flavors, using garlic, bay leaves, and soy sauce. The soy-vinegar dipping sauce adds tang, making it perfect for festive occasions.
For those seeking a spicy kick, this dish combines pork belly with a savory gochujang sauce. The addition of kabocha squash offers a delightful texture contrast.
These savory bites, enhanced with Worcestershire or soy sauce, offer a tangy treat when paired with BBQ sauce. They're the perfect appetizer for grill-themed parties.
These tacos, featuring ancho chile powder-seasoned pork belly, are a Mexican treat. Top with fresh pineapple and avocado for a refreshing flavor burst.
This dish, using frozen pork belly, manages to capture a harmony of flavors. Best enjoyed with sautéed greens for a well-balanced, fiber-rich meal.
Indulge in this crispy skin pork belly, which shines with Chinese cooking wine and five-spice. The addition of hoisin sauce makes it a memorable main course.
This dish masterfully pairs pork belly with tart Granny Smith apples. The honey mustard slaw brings a crunchy and sweet counterbalance, perfect for a summer feast.
For those on a keto diet, these pork belly bites offer a delightful combination of sweetness and spice. The chili pepper flakes add a zesty touch to every bite.
Dive into this Asian-inspired delicacy, with pork belly rashers enriched by sesame oil and hoisin sauce. The steamed jasmine rice side makes the meal complete.
This dish offers an enticing blend of spices, from garlic to coriander. The optional addition of cayenne pepper brings a spicy kick, great for chilly evenings.
This recipe combines tender pork belly with the tangy flavor of yellow mustard. Perfect for a unique spin on dinner, the fine sea salt accentuates the mustard's zing.
📋 Recipe
Frequently Asked Questions